Searching for the best bathroom cabinet ideas? Well, you might need to explore this whole page. You'll be provided with a lot of inspirations and tips as much as you need.
Getting an organized and clean bathroom is a pretty challenging job without bathroom cabinets. It's a great solution to keep your toiletries and other bathroom stuff. You can easily organize all the stuff to make the whole bathroom more attractive.
Generally, the bathroom cabinet can be formed into shelves, drawers, cupboards that would be very helpful to be storage for your belongings. So, let's tidy up your bathroom with these bathroom cabinet ideas by Harp Times.
Full Cabinet for Bathroom
1. Craftsman Style Bathroom Cabinet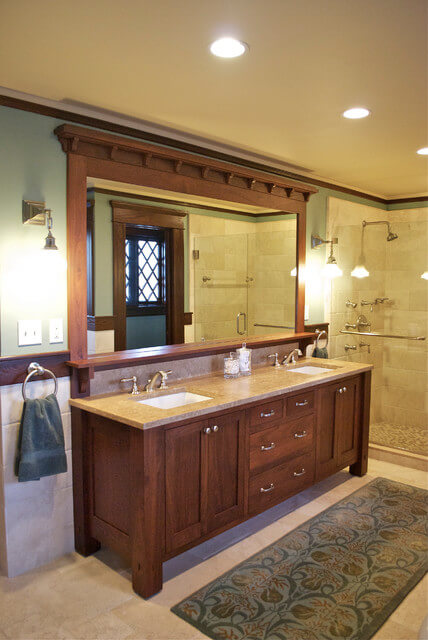 It's perfect for your medium size bathroom which adapts the style of a craftsman.
There's a wide vanity mirror that creates an illusion of space which makes the bathroom even larger than it actually is. An antique lamp on each side of the mirror provides magnificent brightness into the whole interior.
Quote: This remarkable bathroom cabinet is designed by Carisa Mahnken. It has been a great recommendation from many home designers.
2. Oak Mission Style Bathroom Cabinet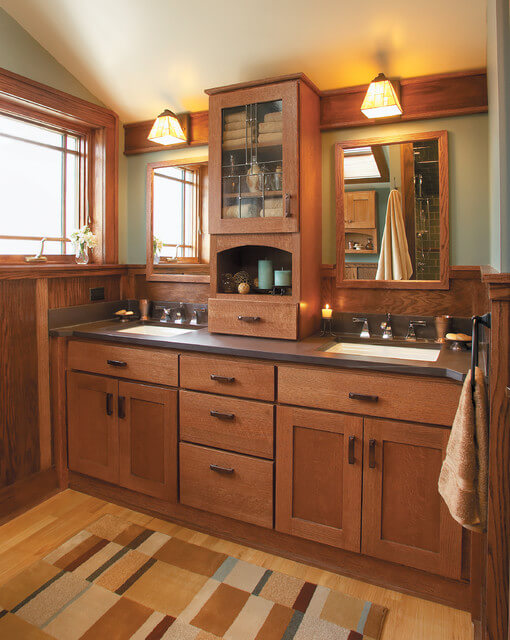 People like to add oak style into a room because they are a fan of its timeless quality and durability. Moreover, the beauty of oak offers a natural look to the whole area of the room. As you can see, this sawn oak mission style cabinet brings you back to nature.
The classic natural look inside a bathroom would be a privilege to anyone who uses it. In addition, a great pair of twin vanity design suits well with the oak charm. Your bathroom would never be the same anymore.
The brightness of this room style would be a little low. So, you have to provide better lighting such as providing enough windows.
3. Gray Cabinets in a Cottage Style Bathroom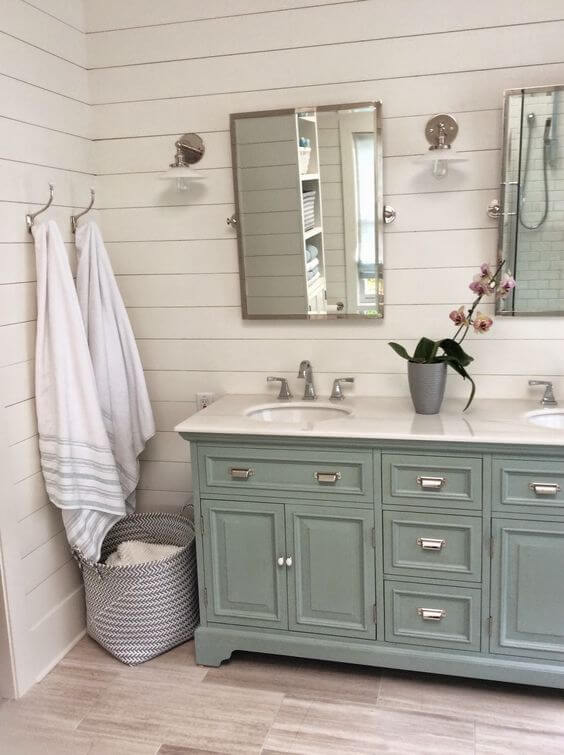 One rustic option you can choose to dominate your bathroom, if you are in a cottage style room, you can rely on this idea.
The designer keeps the design to be minimalist, making sure that there will be not a single element could dominate the bathroom style beside the wall paneling background.
It's your call. If you want to spruce up the bathroom with the wall texture and design, the wall paneling should be the main event.
4. All-White Bathroom with Black Taps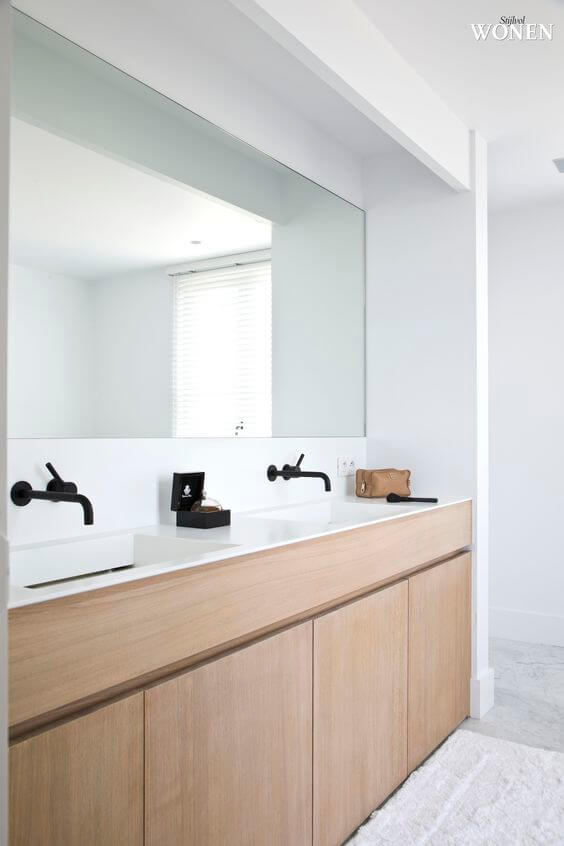 Dealing with an all-white bathroom is pretty challenging in decorating. As you can see, you have to be careful to decide what bathroom color ideas to put in the middle of an all white. Because the chosen color would become the focal point of the room.
Quote: The light brown cabinet sets the right mood to the bathroom which is supported by the addition of the black taps.
5. Beautiful Master Bathroom Cabinet Ideas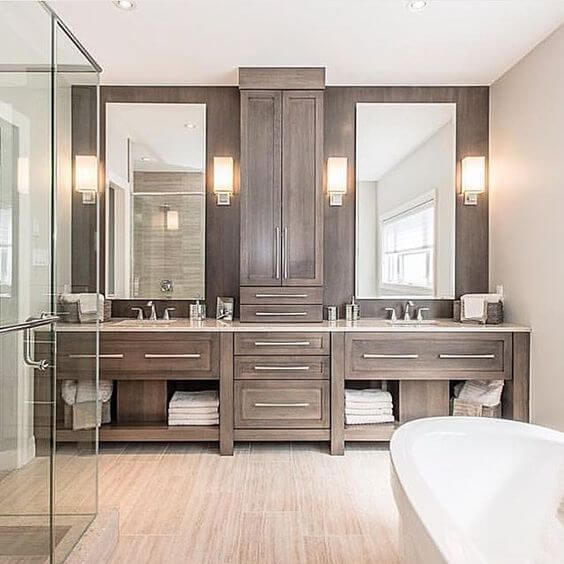 This bathroom decor is a good one for your master bathroom ideas. Because this bathroom is the mother of any bathroom in the house, the design should be superior.
Having this elegant domination for your master bathroom is a good option. The double vanity looks fantastically suits the mood that this bathroom sets.
Quote: That one side of the wall is fulfilled with the bathroom vanity element. Well, who needs a background wall when you have two giant mirrors, right?
6. Walnut Wood Bathroom Cabinet Ideas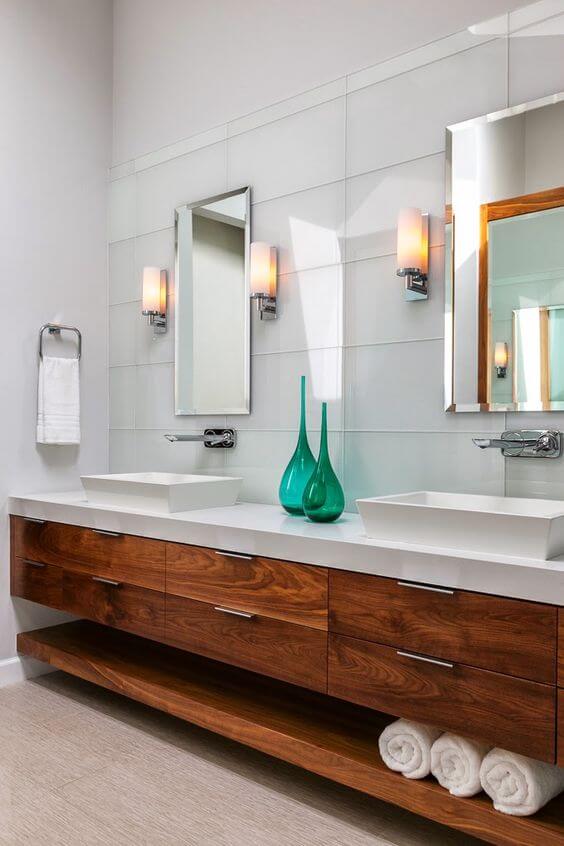 It's one of the great designs from Christine Sheldon that is recommended by some designer online. It's got a fancy modern walnut drawer that can handle your bathroom items. It keeps the bathroom neat while all the items hidden inside the drawers.
A little bit of ornament on the countertop adds life into the whole set of vanity. It's supported by the simple lighting design beside the mirrors.
7. Innovative Bathroom Cabinet Ideas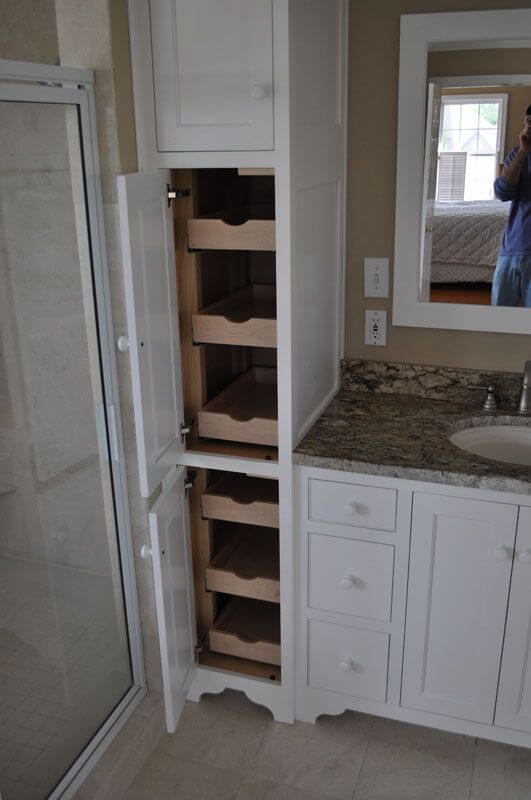 This is a clever way to maximize the space inside your narrow cabinet. This innovative idea allows you to organize the bathroom items way better than before. All you need is some kind of drawers to let you put your stuff neatly.
The shelves inside the cabinet would look better if it's painted with the same color as the cabinet.
8. Gray Colonial Bathroom Cabinet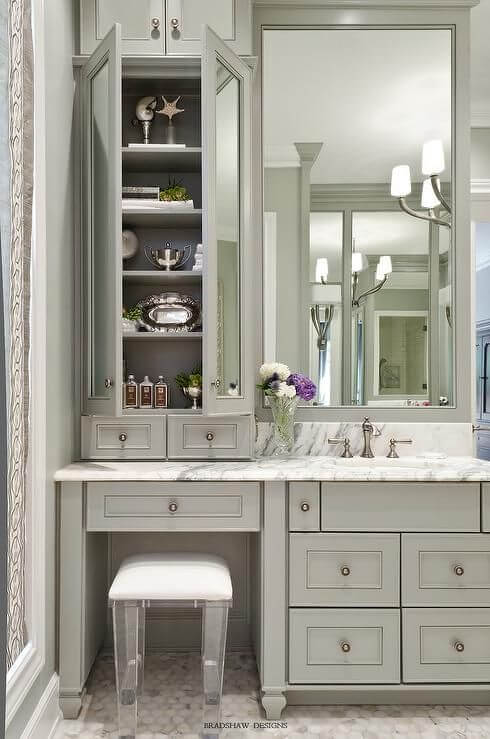 Check out this beautiful bathroom cabinet. The vintage design and color blend together perfectly. The old texture on each drawer makes the whole look of the cabinet more outstanding. The granite countertop design has some gray beautiful accents to suits the feeling.
A cabinet space beside the mirror has a glass door to provide the space for your memorabilia or collection accessories. It would make a great decoration for your bathroom.
9. Traditional Cabinet With For Master Bathroom Ideas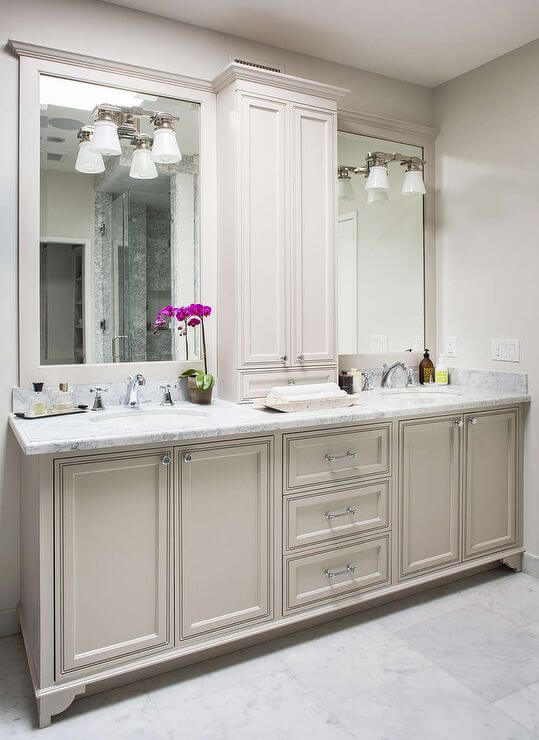 This traditional cabinet has a double vanity feature that allows it to be used for more than one person at once.
A classic neutral color will never regret your feelings. Instead of white, the color of the cabinet could slightly different but still in the same category.
Adding a few accessories can be a good suggestion in order to add color but not to distract attention.
10. Wooden Tower Cabinet for Bathroom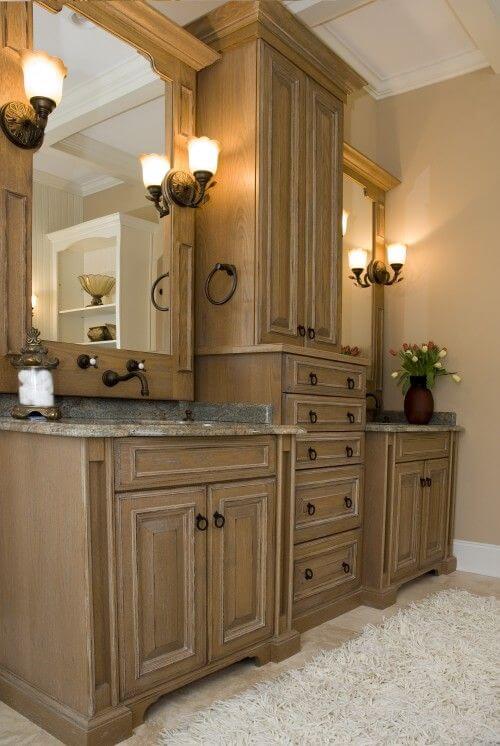 If you are into something more natural and unpainted, you may go with this option. The natural color from the wood is enough to dominate the atmosphere inside your bathroom. A yellow light on each side of the mirror completes the experience that the designer expected.
The combination of rustic and natural could become an eccentric traditional style for every bathroom.
11. White Lacquer Vanity and Cabinet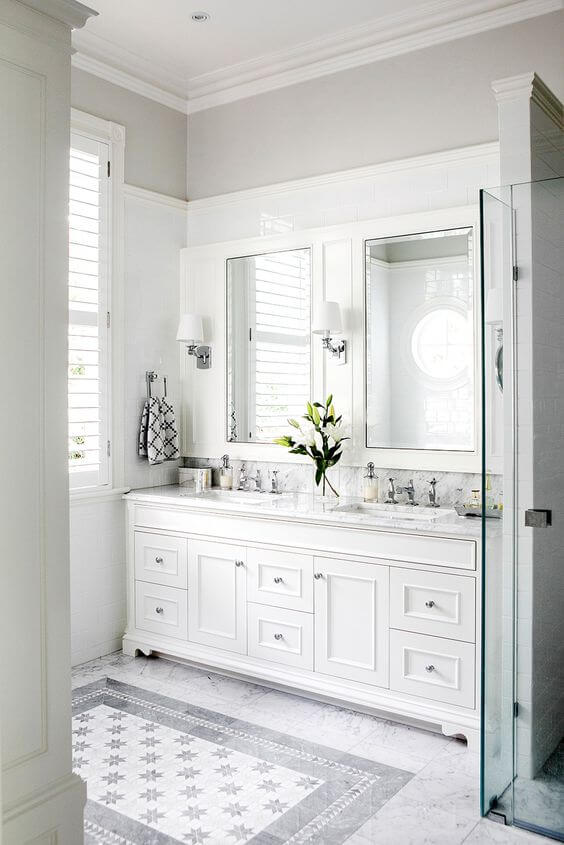 The clean white color of the bathroom cabinet makes a beautiful transitional scene with the herringbone design of the floor tile. The main color of this bathroom is all white but the designer plays with the texture and design to accentuate the atmosphere.
The bathroom cabinet idea looks modern and shiny. That's why it makes a perfect focal point inside the bathroom full of accents.
12. Hampton Style Bathroom Cabinet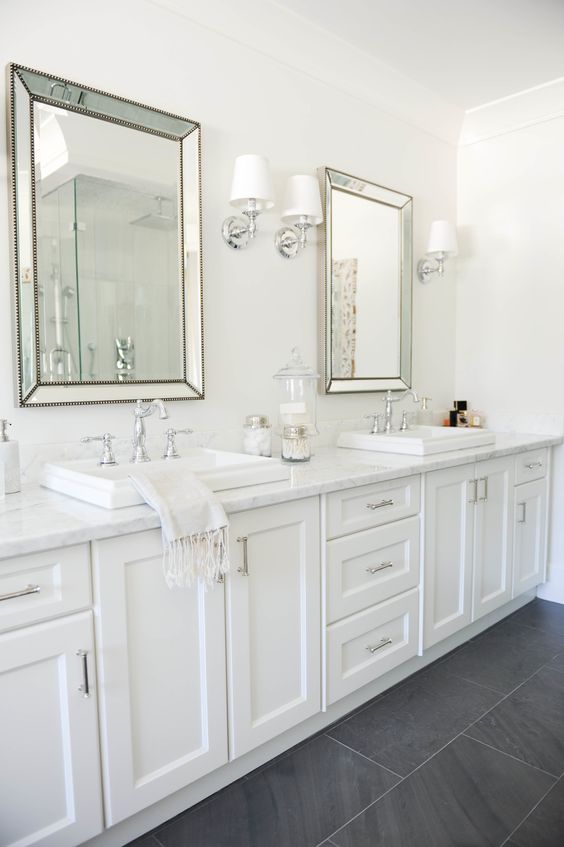 It's a perfect style for your master bathroom. The domination of white would never disappoint anyone especially when it's used inside a bathroom.
The countertop, sink, wall, and cabinet seem to join together because of the same color. The only dark element is the floor in order to dim the light a little bit.
The double sink feature is great for a large-sized or medium-sized bathroom. So, you can have your own space when using vanity at the same time as your partner.
13. Tall Linen Cabinets for Bathroom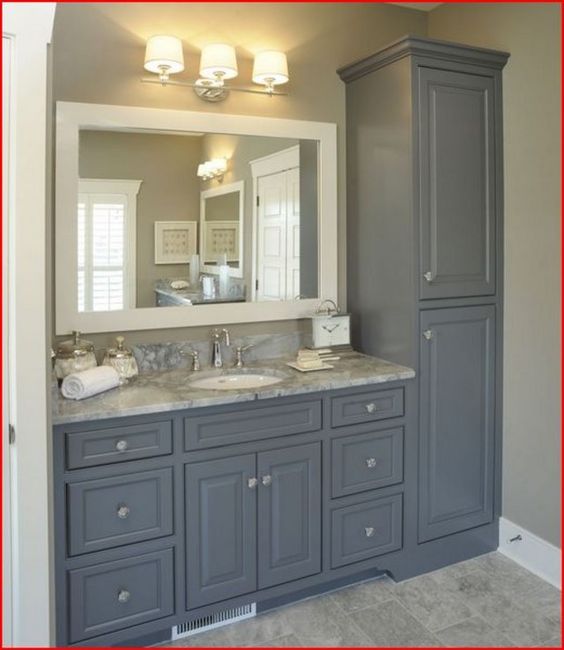 This is an elegant shelving unit for your bathroom that features tall cabinets that you can use for linen and vanity cabinet for cosmetics. It has a pretty look with bluish color.
The cabinet's door and drawer are attached with classy, silver knobs. A marble countertop with sink makes a perfect match as the main element of this vanity.
Adding an extra tall cabinet beside the vanity is a smart move you can make instead of leaving it empty.
14. Gray and White Bathroom with Cabinets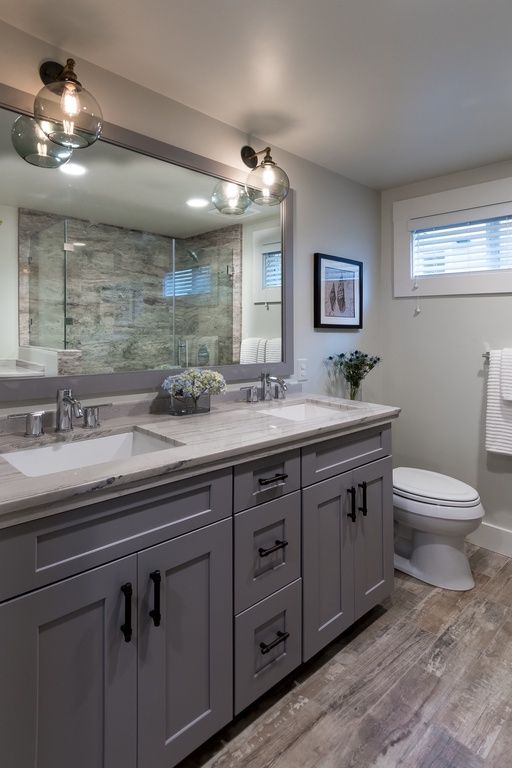 Looking for inspirational design ideas for your bathroom? This one might work for you. The combination of white and gray won't be a disappointment for any style. These neutral colors always blend well.
Gray and white really bring a classic vibe out to all over the atmosphere. Don't forget to provide enough lighting when dealing with a little darker color feature.
15. Affordable Bathroom Remodel with Black Cabinet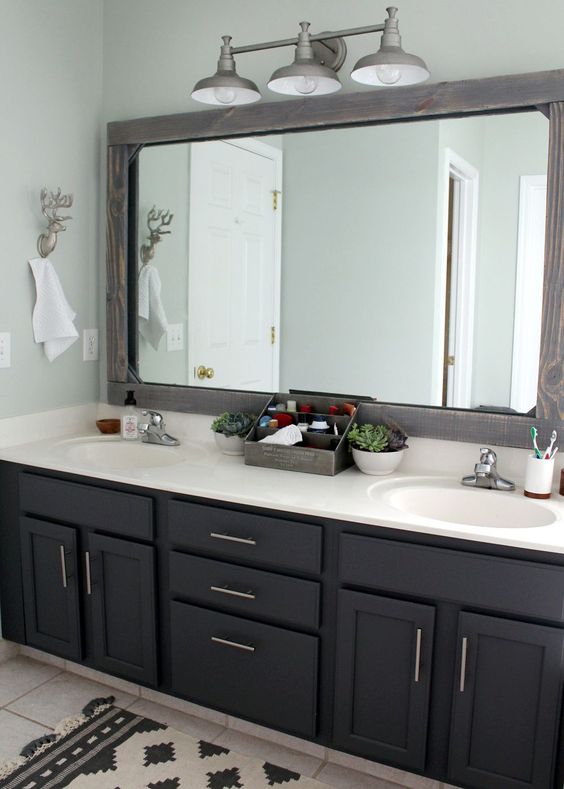 A bathroom with a large dark cabinet is a little bit tricky. You have to find the matching color and materials to pair with that black cabinet.
Check out that wide mirror. It has a gray color with a nice wood texture. White countertop and the sink separate the cabinet and the mirror beautifully.
Adding a matching rug would balance the flooring area with the dark cabinet. The bathroom vanity looks modern and slightly industrial.
Smart Solution for Bathroom Storage
16. White Super Front Cabinet for Bathroom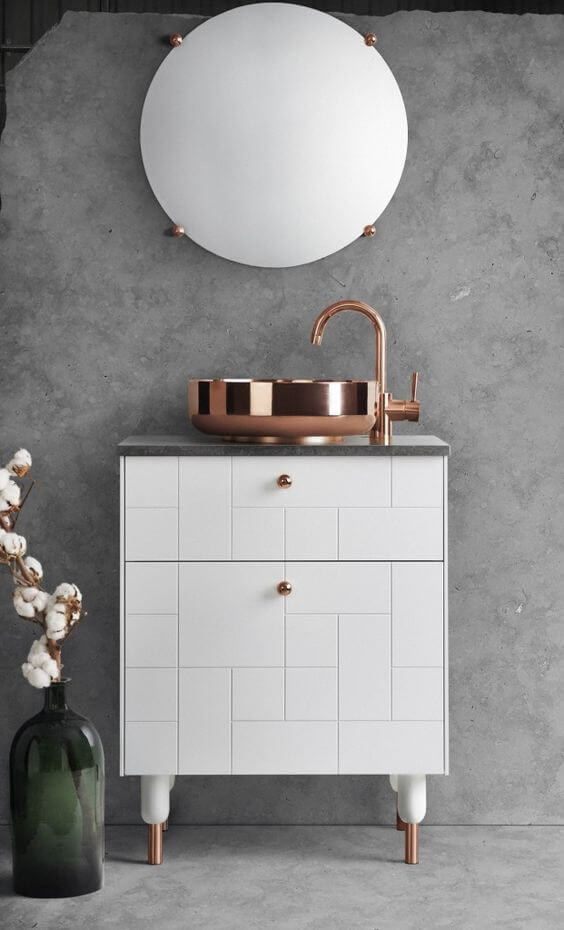 It's one of the most unique choices of bathroom cabinet designs. This is suitable for your small and minimalist bathroom. You don't need to waste a lot of space to dominate the look of the whole atmosphere.
It's a perfect luxurious option with a unique design for your minimalist bathroom. That gold faucet and sink shine perfectly in front of the rustic concrete wall.
17. Traditional Tall Bathroom Cabinet Ideas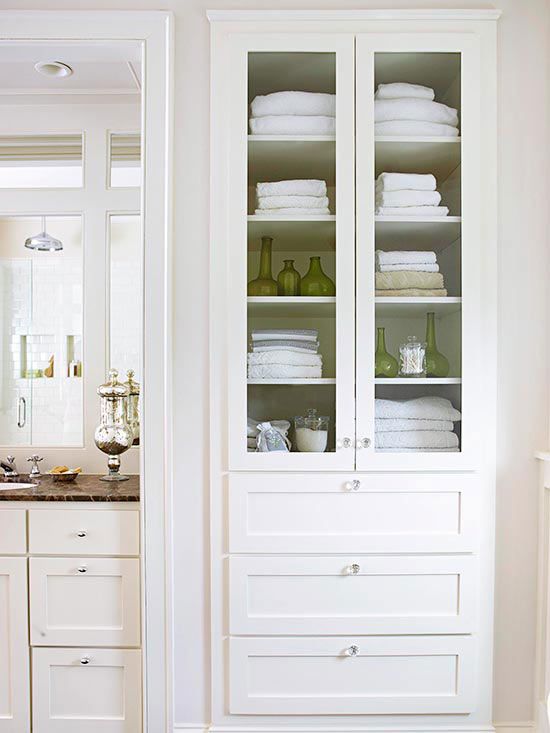 For a more traditional look, your bathroom can have a little bit a taste of a living room or kitchen cabinet. As you can see, this traditional tall cabinet seems to be suitable for your living room in order to showcase your collection.
But, it's also going to be a unique option for your kitchen. Surely, it would make an outstanding addition as your bathroom cabinet.
The glass door and tall sizes are the main features or the reason why this cabinet is so unique for any style of bathroom.
18. Dark Gray Cabinet Ideas for Small Bathrooms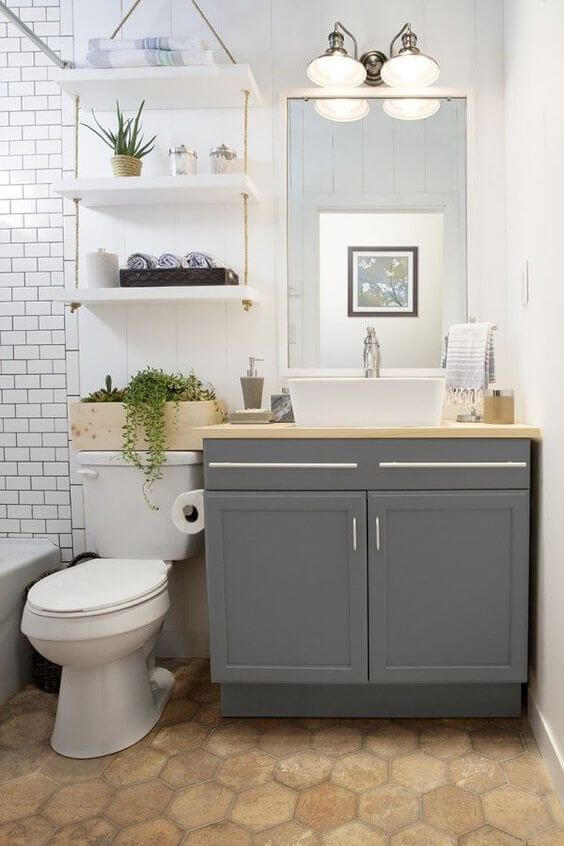 If your creativity is limited by the space size of the room, it doesn't mean that you have to be extra careful dealing with its accessories or decoration. You still need to keep it maximized at some point.
This small bathroom design can be a great example of how you should decorate your small bathroom. The size and design of the bathroom cabinet are so calm. Even though, it's the only element in this bathroom that is painted bold.
19. Shabby Chic Bathroom Shelves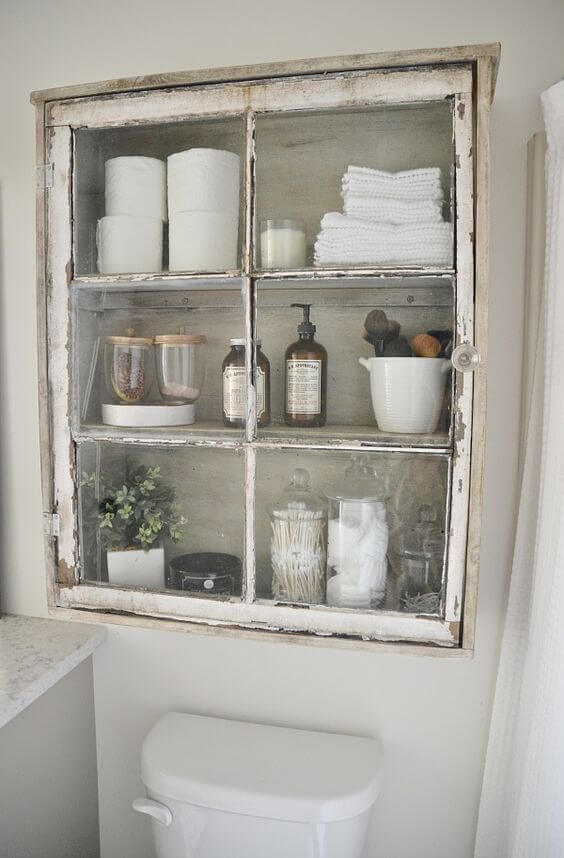 A small shelf for a small bathroom seems to be right especially when it's useful.
This Shabby Chic bathroom shelf seems to be ready to be the eye-catching decoration for the bathroom. The design is very simple; you can even make it by yourself because it's DIY friendly.
Things to note:
It's great for the rustic lover
It looks fulfilling the wall space
Over the toilet, space should be open
The shabby chic decoration would shine great.
20. Creative Tall Bathroom Cabinet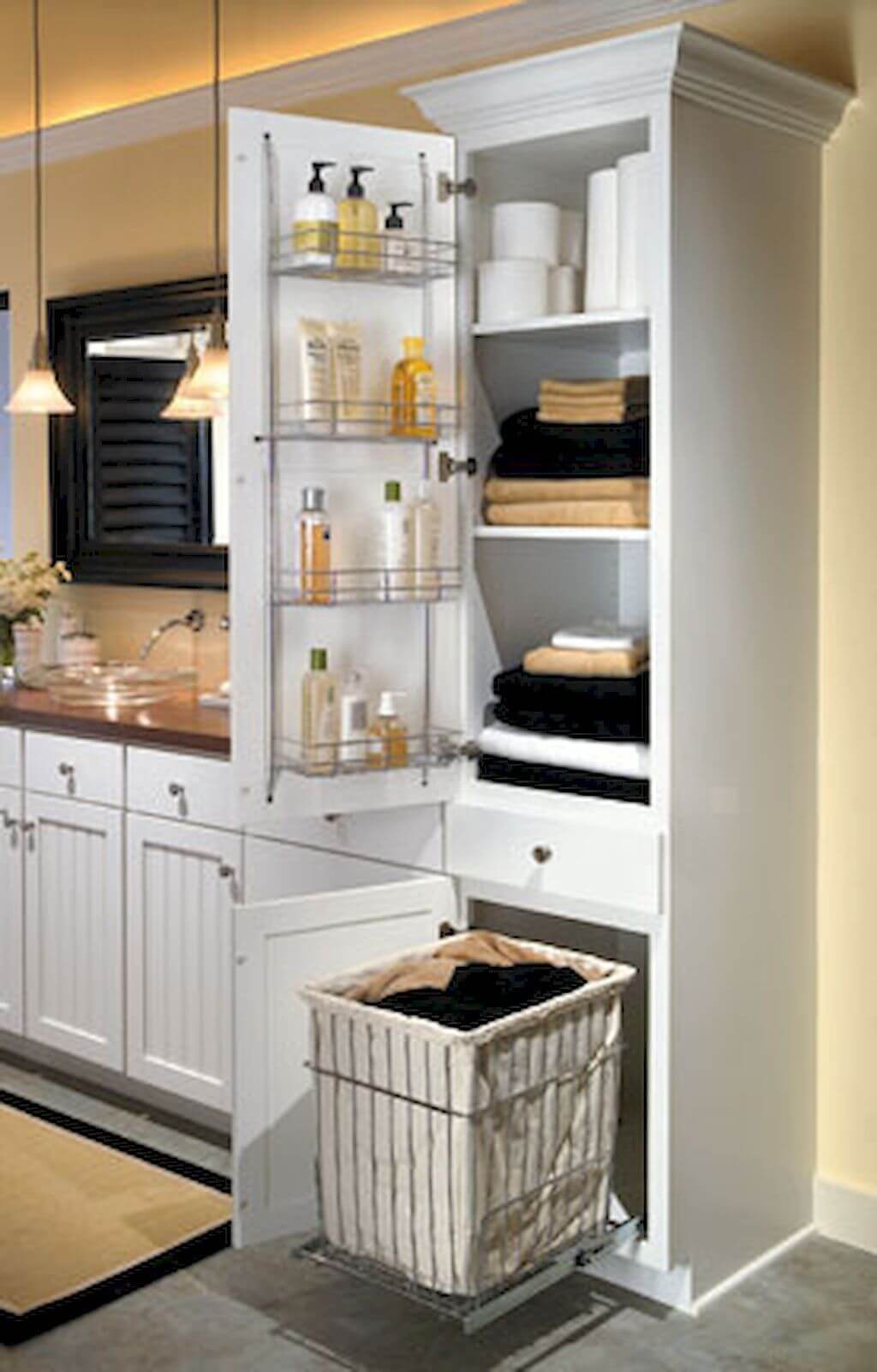 What makes this tall bathroom cabinet so special is the feature inside it. Well, if you think your cabinet space is just not enough anymore, you can add this feature to the cabinet.
As you can see, the lower cabinet provides you with a large laundry basket. Then, on the upper cabinet, there's an extra shelf at the inside part of the door.
It's a smart move for a homeowner who needs to hide all of their bathroom stuff including the basket for dirty laundry.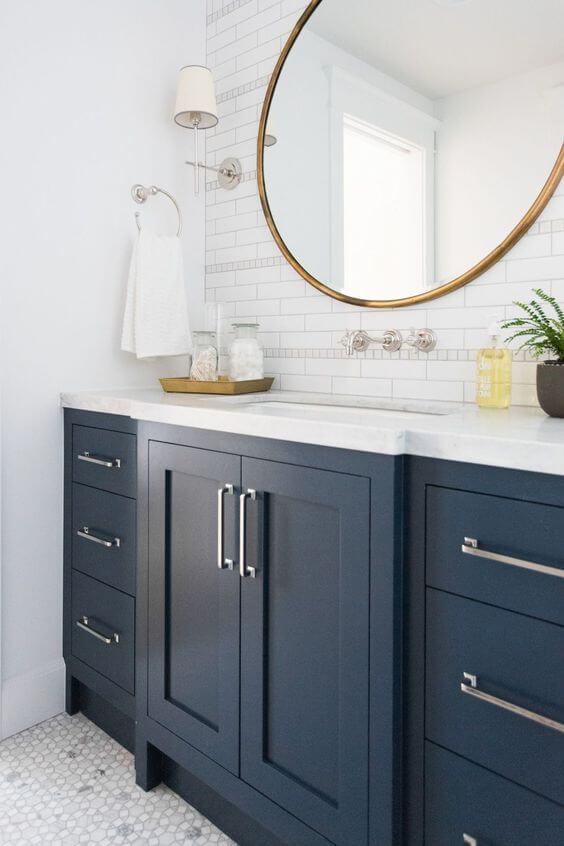 A hale navy Benjamin Moore is a great choice for your bathroom cabinet color. This bold color creates an outstanding contrast with white and bold. A bold-painted bathroom cabinet can change the design according to the needs.
Instead of a square, you can have a circle mirror which is offered as a useful decoration. The white brick wall looks seamlessly outstanding.
22. Bathroom Cabinet Ideas with Under-Sink Drawers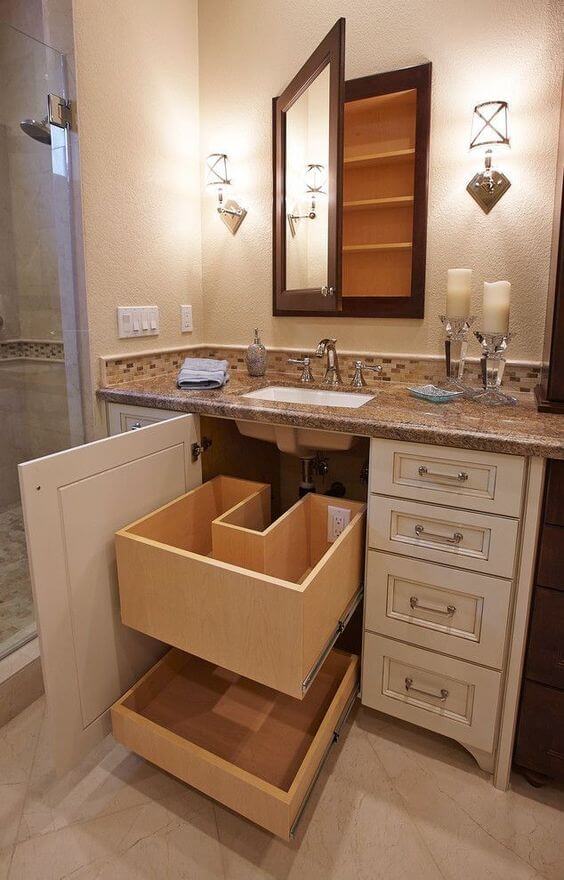 Having drawers under the sink is quite clever. It makes use of the unused space to be more useful. You will have extra space to keep your belongings out of sight in order to make the bathroom vanity neat and clean.
If you have some basic woodworking skill, this is an easy DIY project to start within your spare time. Give more space for your bathroom storage.
23. Bathroom Overstock Space Saver Cabinet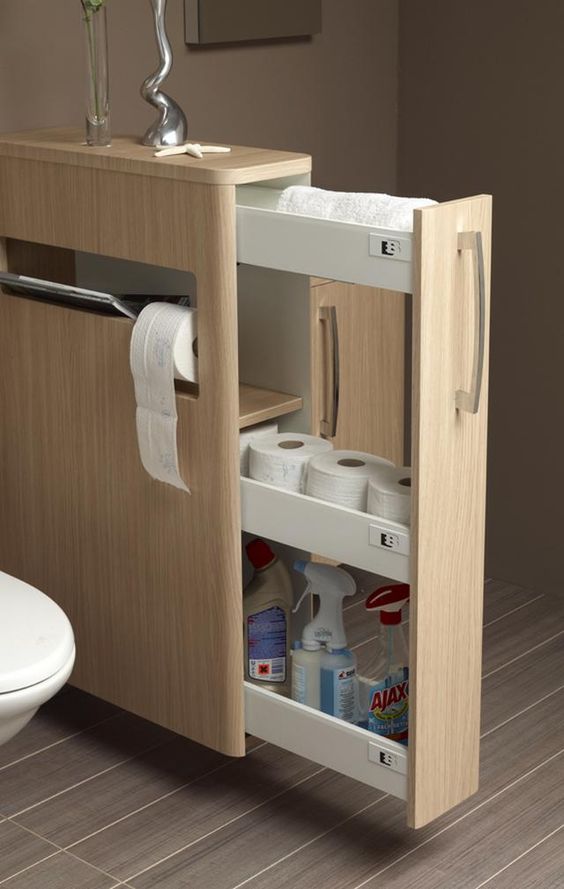 This thin cabinet has a smart space-saving design for your small bathroom. This is a good solution you can choose if you want to keep the minimalism inside your small bathroom.
It's a super space-saving for your limited-space bathroom. You can store some cleaning sprays, toiletries, and some other suitable items.
It's a great element to be used as an additional cabinet. It can't be the only cabinet here because you can't fit all of your stuff inside this tiny cabinet.
24. Large Mirrored Medicine Cabinet for Bathroom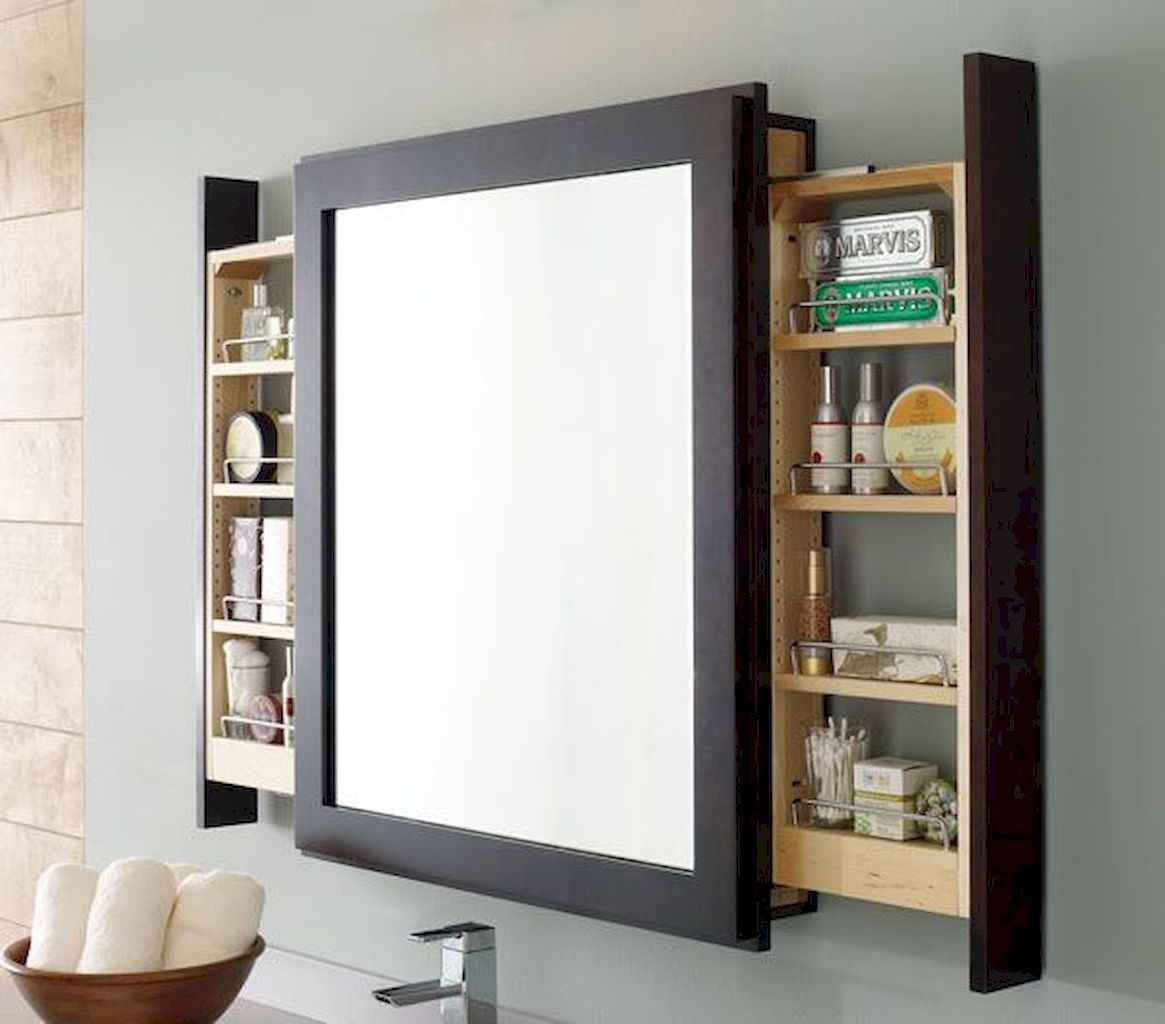 This functional bathroom mirror can make a great element for your bathroom. There's a sliding little shelf on each side of the mirror.
Probably, this is the most useful mirror you can get on this list. It's a great option for you who want to keep the small items easy to reach.
Besides hanging as a vanity mirror and storage, it also makes a great additional bathroom wall decor. Because when the shelves are pulled out, it provides a nice focal point for the bathroom with the gray background.
Other Bathroom Cabinet Ideas
25. Tall Built-In Bathroom Cabinet For Linen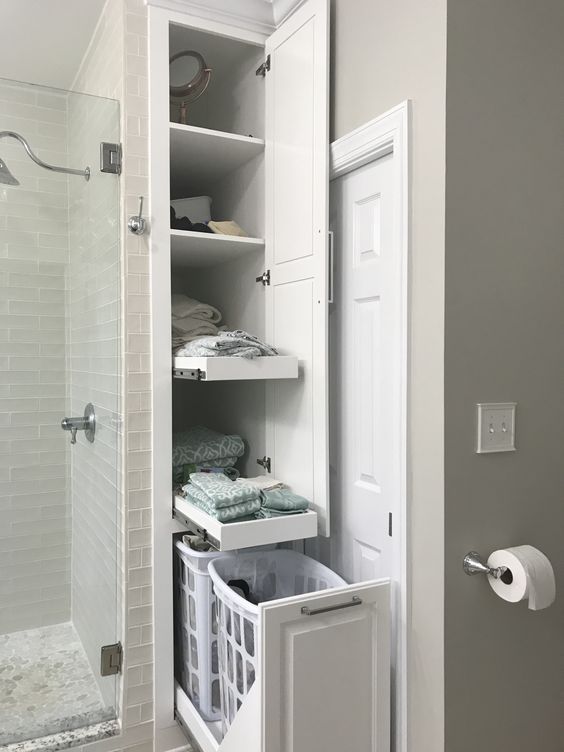 26. Cute Pink Bathroom Cabinet Ideas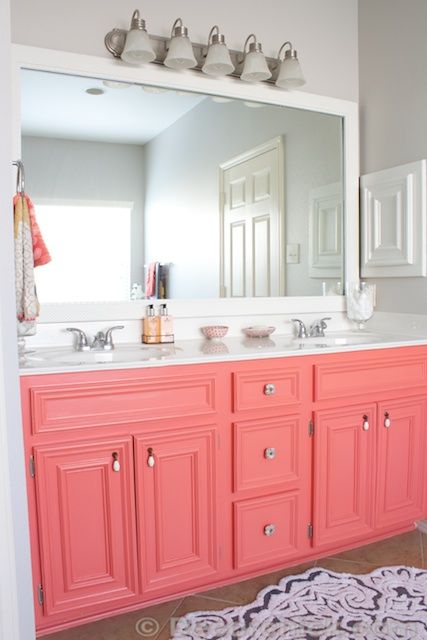 27. Gray Bathroom Cabinet with Mint Green Wall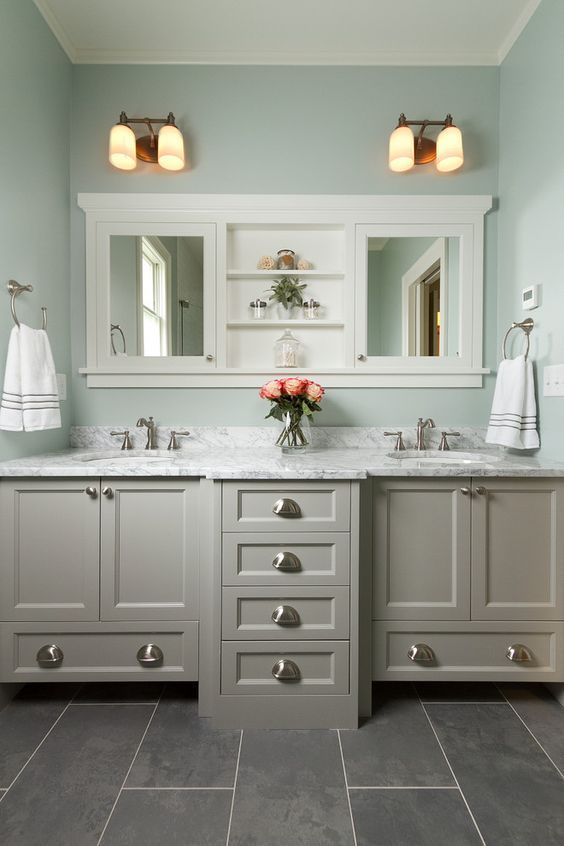 Conclusion
After all, you won't be having a hard time to tidy up your bathroom anymore. Let one of those bathroom cabinet ideas to make your bathroom clean and neat.