Do you love your porch? If you do, we can understand. After all, the porch is the place where we can relax and enjoy the surrounding view. We have some porch railing ideas you can use to make your porch more beautiful and inviting.
Making your porch more beautiful and inviting using railing doesn't have to be expensive. Simple things can do wonder too, which we will show you below.
 Wood Railing with Stair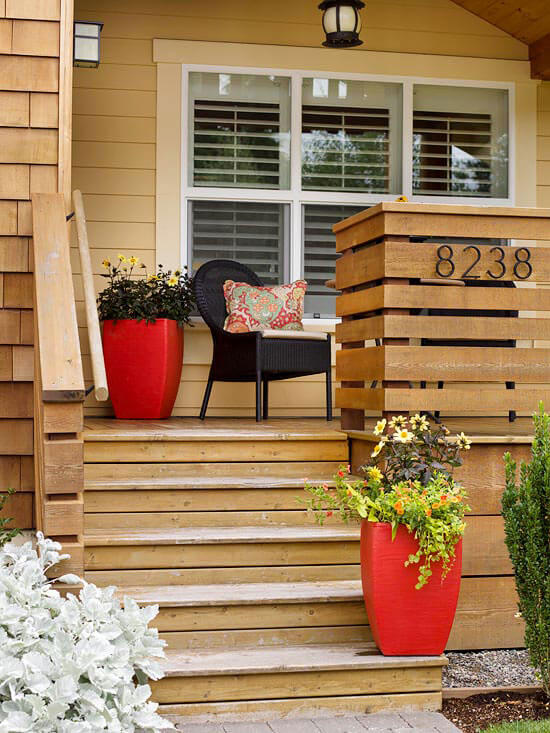 Take a look at the above porch. The wood railings and stair have similar colors to the house. This, complementing the overall look of the house. The railing is quite simple and yet, it looks great. Put pieces of furniture with bold colors and the porch will look very inviting.
This one is among porch railing ideas that provide you with both openness and privacy. The stair leading to the porchoffers you a glimpse look, while the railings provide covering for your privacy.
Stainless Steel Cable Railing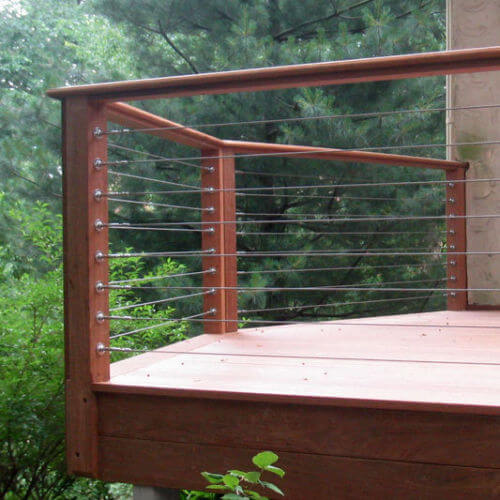 If the surrounding view of your house looks gorgeous, you may want to try this porch railing. This stainless steel railing provides an unobstructed view, allowing you to really enjoy the outdoor panorama. The stainless steel cable provides safety in case you have children and pets.
Another reason to use this railing is that they require little maintenance, unlike wood railings. They are also more resistant to weather and more long-lasting. So if you want railings with little maintenance, this one is a good option.
Simple, 'Rustic' Wood Railings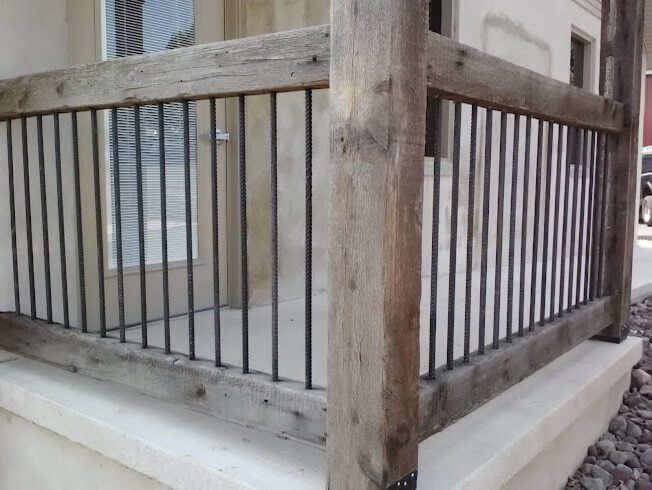 Who says you need complex railings to make your porch more beautiful and inviting? Well, the fact is, simple railings like one above can be great, too. This is especially true if your house has a rustic theme as the railings will complete the theme further.
So if you
have a rustic-themed house
want simple yet beautiful railings
have a small front porch
you can consider simple, 'rustic' wood railings like the above.
Unfinished Wood Front Porch Railing Ideas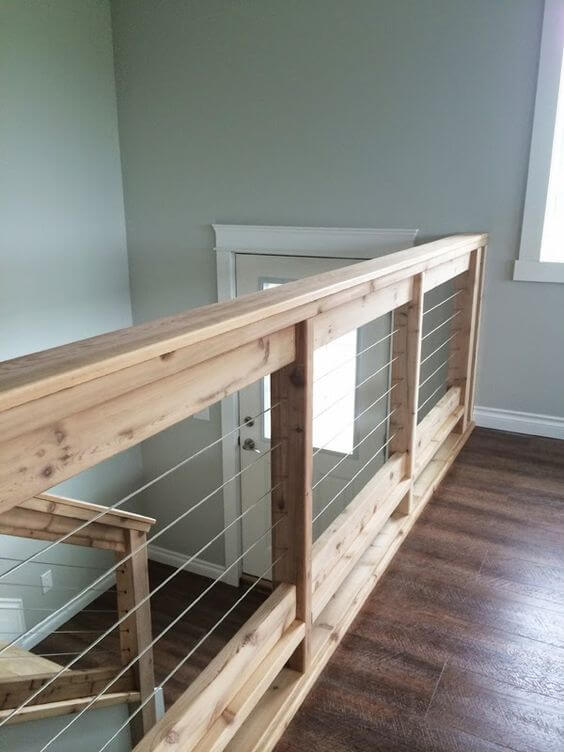 Can unfinished wood looks good as railings? Of course, they can. Unfinished wood, like one in the picture above, will look great when they are installed in a porch. The wire railings in it help to provide an unblocked view.
As good as it is, the unfinished wood railing is not for everyone as not all homeowners like how it looks. If you do love the look of unfinished wood, you may want to consider using it as your front porch railing.
Farmhouse Railing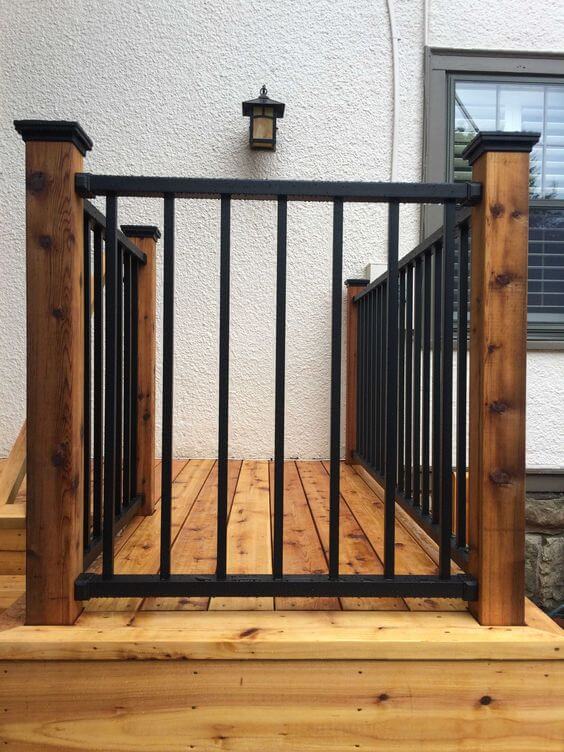 Farmhouse designs are getting popular nowadays. What about railings? Can you design it in a farmhouse style? Well, of course, you can. The above is an example of farmhouse porch railing ideas. Note that the railing provides a farmhouse vibe to the space around.
There are many ways to get the farmhouse vibe for your railings. If you want to have farmhouse railings, some of the key characteristics you can include are wood material, dark colors (like black and dark brown), and metal surfaces.
Open, "Boho' Front Porch Railing Ideas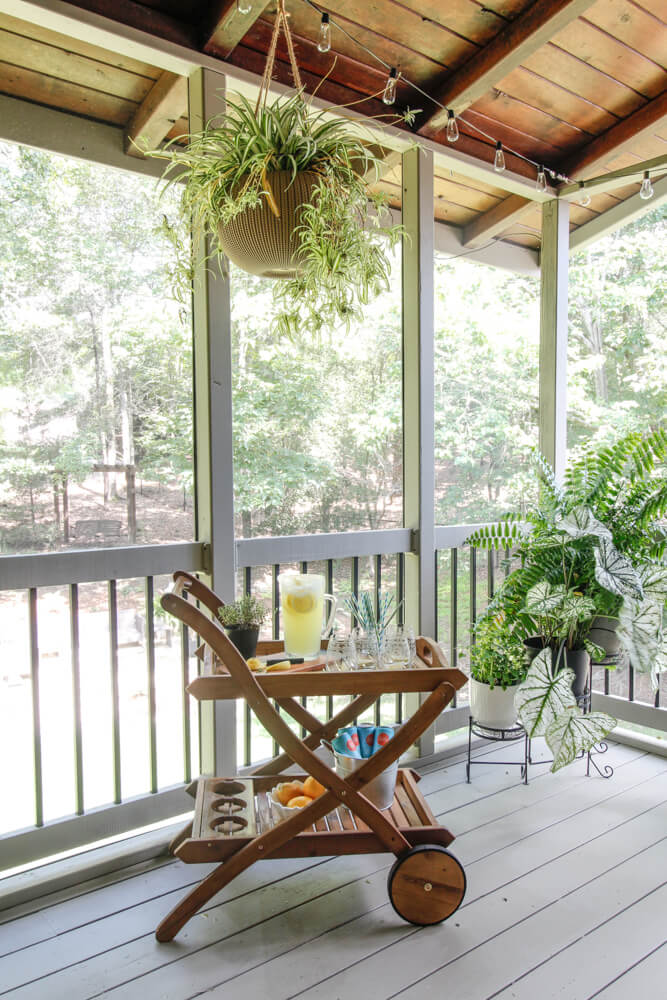 'Boho' designs always have a unique and interesting vibe to it. So do 'Boho' railings. The railing above looks very inviting, doesn't it? The use of white background, bold colors, and greeneries brings the 'Boho' look to the porch.
If you want to have a 'Boho' porch, be sure to add several pieces of furniture with light and bold colors. Doing so will provide focal points and make it even more inviting,
Horizontal Wood Railings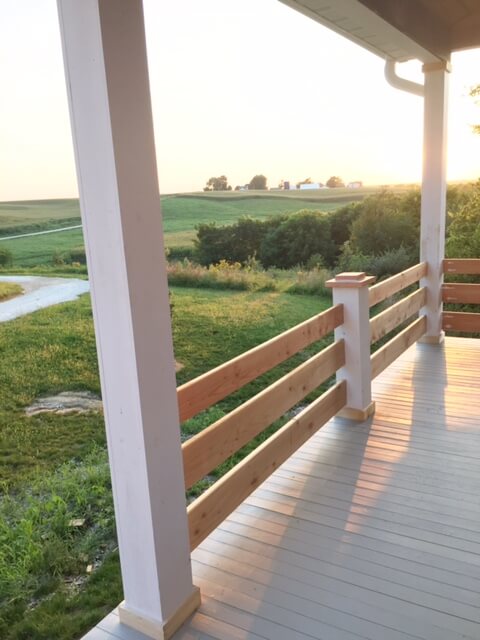 Like we said in the beginning, simple things can do wonder. The above is very simple horizontal wood railings on a porch. What do you think about it? Despite its simplicity, the railings are great additions to the porch. It makes the porch looks more inviting for sure.
If you want simplicity, consider the railings like one in the picture above. We got some deck railing ideas as well, in case you need inspirations to create your own.
Finished Wood Railing with Rebars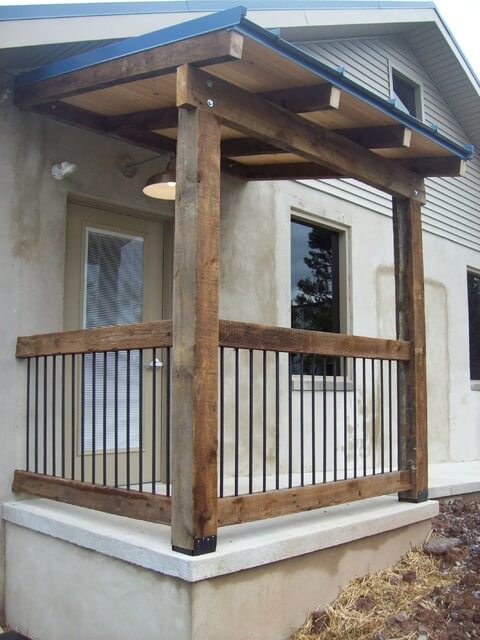 For some homeowners, an finished wood looks better than an unfinished one. If you are among one of these homeowners, consider using finished wood as the railing for your front porch. The finished wood railing in the picture has vertical rebars in it, complementing it while at the same time providing better support.
This idea is also one of the best porch railing ideas if you have a small front porch. It is easy to the eye and makes your porch certainly more attractive.
All White Farmhouse Railing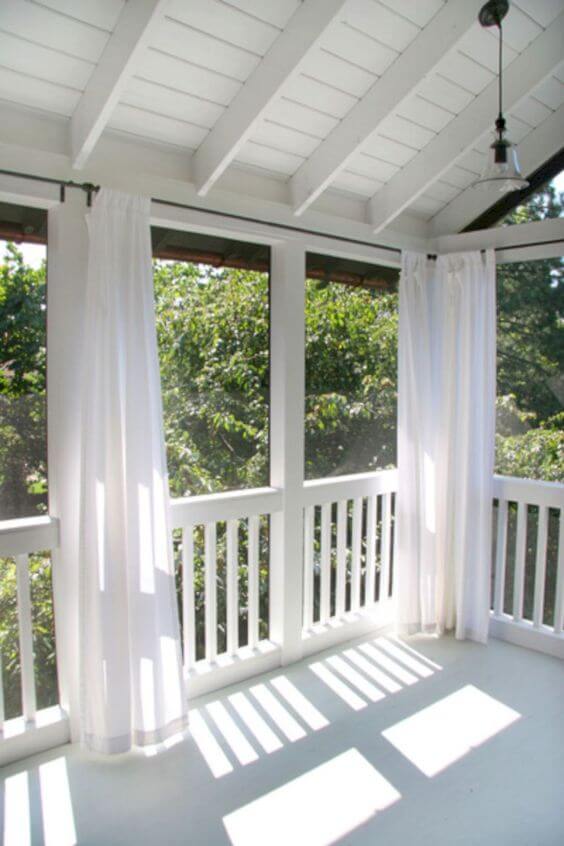 This is another farmhouse railing in our porch railing ideas list. If you don't want to go with dark colors yet still want to try farmhouse design, you can use all white instead. Will look good? Not just good, it looks stunning. If you don't believe it, just take a look at the railing above.
If you want to make the railing better, you can install white curtains in-between the railing. Curtains will make the porch looks even more stunning and at the same time, provide privacy when you need it.
Gorgeous Black and White Railing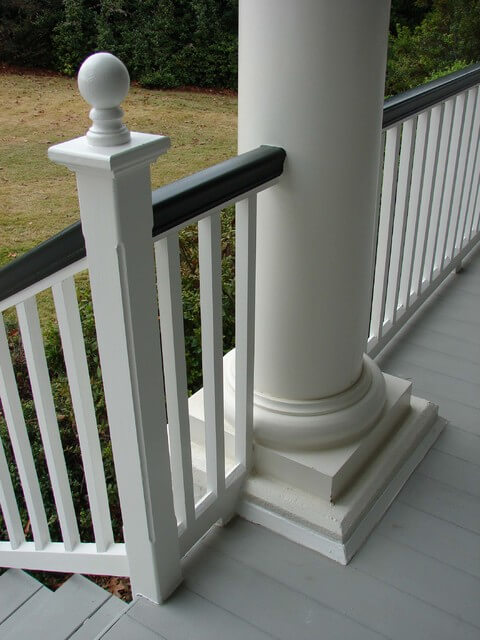 Sometimes, less is more. In this case, the simple railing can make a front porch much, much more inviting. The above railing is an example of 'less is more' principle. The black and white of the railing contrast and balance each other, creating a focal point for the porch.
Railing like in the picture above works well too if you want to connect it with stair. If you want a simple way to turn the railing into a focal point, consider paint it black and white.
Low Farmhouse Railing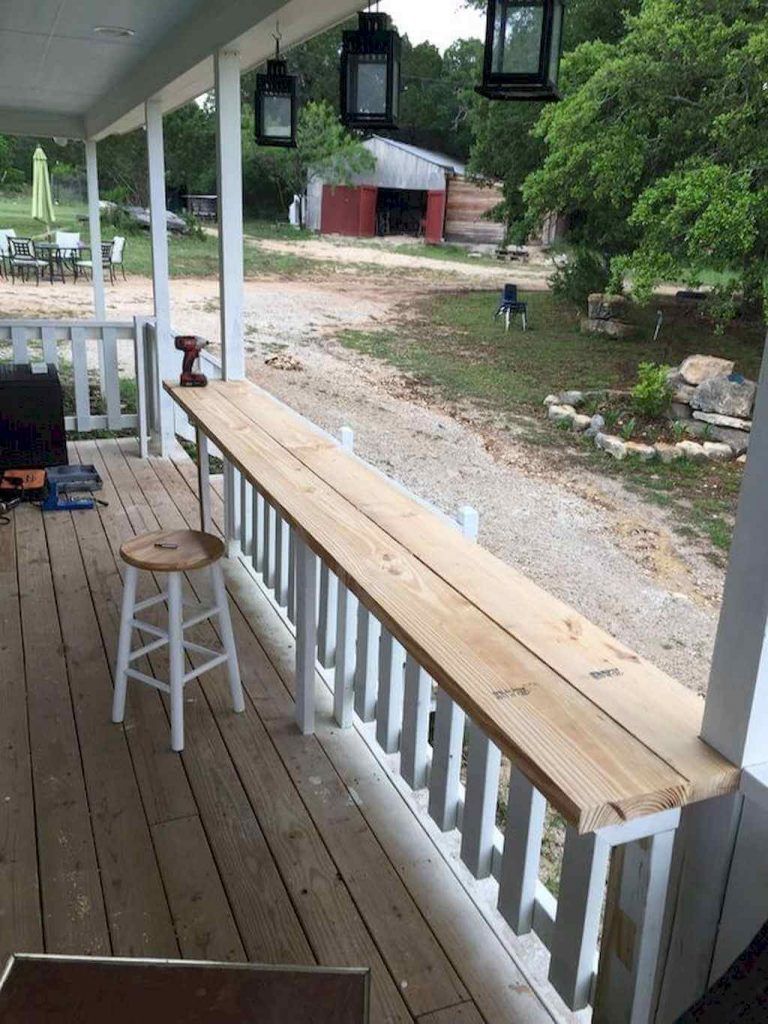 As we have said earlier, the farmhouse design is popular today. As such, we include another example of farmhouse porch railing ideas here. This time, it is a low farmhouse railing. Unlike many other examples, this railing is quite low, thus allowing you to use it as a table as well.
Want to have a nice sitting place in your porch? If you do, consider installing low railing like one in the picture. With such railing, you get a railing and a table.
Wood Railing with Wood Bars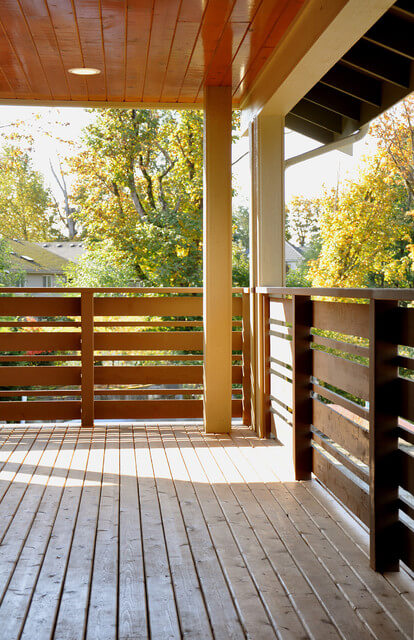 If you want to spend your time in your porch in private, this wood railing with horizontal wood bars is an ideal option. This railing works especially well if you have a spacious porch, although it can work with smaller ones as well.
Wood railing with wood bars is great for just about any porch design. In case you need some ideas, we have some front porch ideas you can use as inspiration as well.
Railing with Diagonal Bars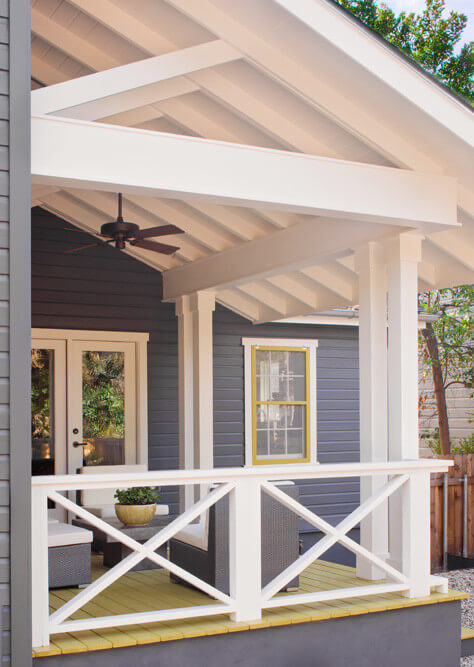 This railing is among unusual porch railing ideas for sure. While other railings usually use horizontal or vertical bars, this one uses diagonal bars. It is a good idea you can try if you want to make your front porch'unusual.'
The diagonal bars help divide the porch with the outside area and at the same time, provide a unique focal point for the porch.
Long Railing for a Large Porch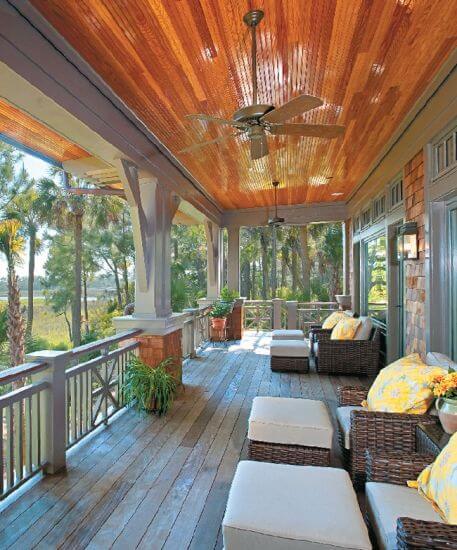 If you have a large porch, you will need a long railing to install around it. You can either use the railing as a complementary part of the port or as one of its focal points. If you want the former, you can try the railingon the picture above.  The railing above complements the whole porch while allowing the focal points to stand out.
Simple Railing with Diagonal Bars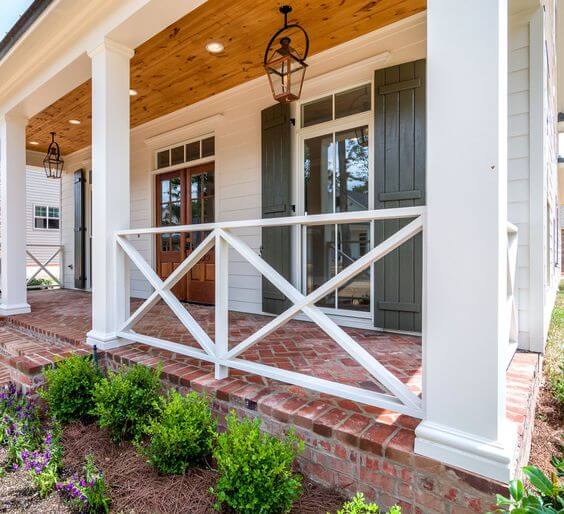 You don't have to create complex railings to make your porch more interesting. As we have shown with examples of front porch railing above, even simple railing can work as well, if not better, in making the porch more interesting.
The picture above is an example of a simple railing. It is white in color and is created in simple shapes. The crosses inside the railing'fill' the empty space between the upper and lower railings and divide the house with the front yard.
Railing with Unique Patterns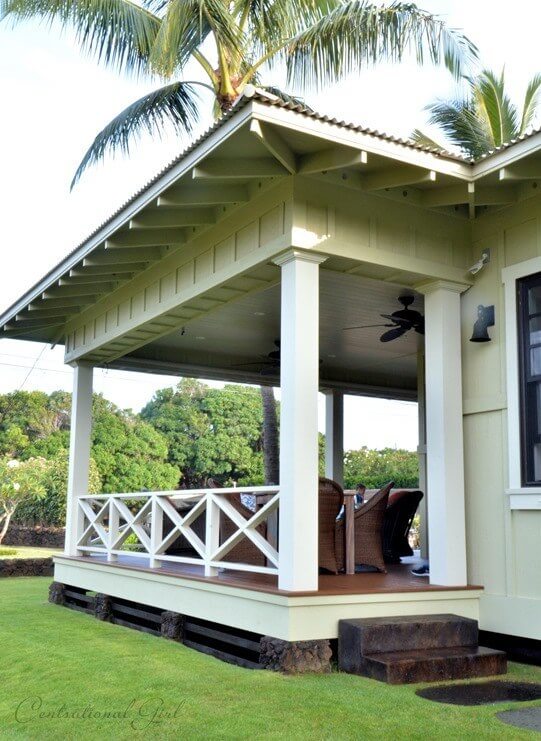 Sometimes, homeowners want to use the railing as the focal point of the porch. To do that, they use railings with unique patterns, like one in the picture above. The unique patterns make the railing stand out.
Of course, you don't have to use the same patterns as the picture above. You can use other patterns as well. Also, you are not limited to use one pattern for your railing. You can use multiple patterns, although it will require more work to create.
The key is to use patterns that are more complex than horizontal, vertical, or diagonal lines. With more complex patterns, the railing will surely stand out.
Very Simple Horizontal Railing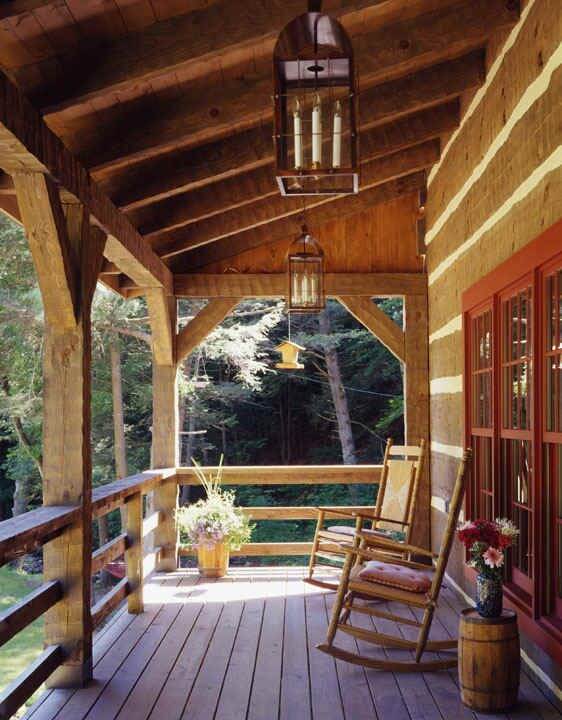 Last but not least in our porch railing ideas, a very simple horizontal railing. The design of porch railing should be compatible with the overall design of the house. If your house has a simplistic design, a very simple horizontal railing like the above can do wonder.
Although the railing above 'only' uses three horizontal lines, it looks very interesting. Why? There are two reasons why. Firstly, it is as simplistic as the design of the house. Secondly, it is made of the same material as the other part of the house, allowing it to blend nicely.