Looking for some outdoor kitchen ideas? Nothing beats eating outdoor under nice and warm weather of summer. You can always bring your grill outside but it isn't as enjoyable as preparing and cooking food outdoors and eating together with family and guests. You need an outdoor kitchen for that.
The key to an outdoor kitchen is to match it with your personality and activity. If you love to grill, a grill is a must. Likewise, if you like pizza but prefer to order it, no need to include utensils to make it. The same goes for design and style, too. Our ideas below will help you design a truly yours outdoor kitchen.
Outdoor Kitchens & Bars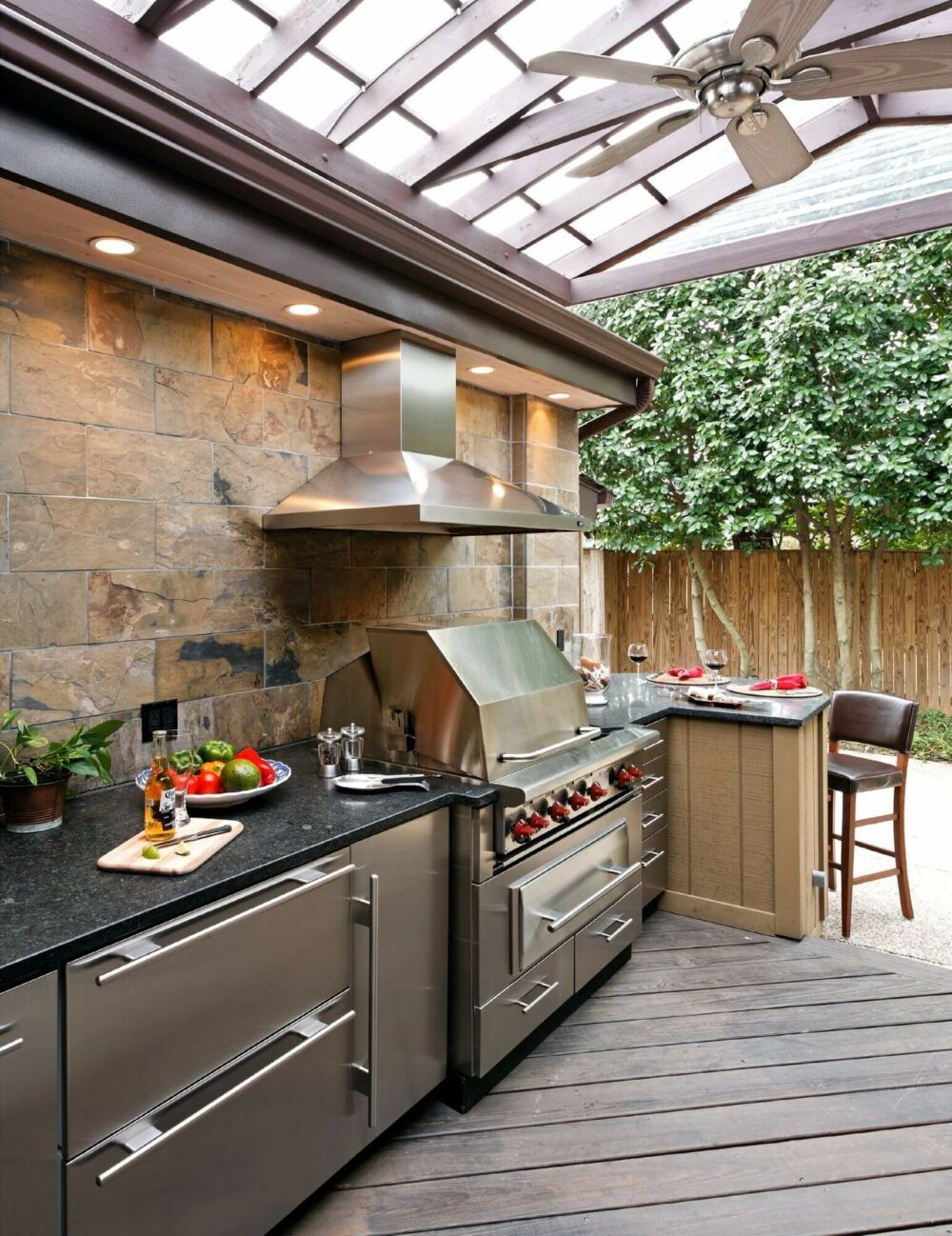 Does outdoor and style fit in the same sentence? Apparently so. Just look at this outdoor kitchen design. While it accommodates preparing and cooking food outdoor, it also looks stylish too. There is a contrast between the natural stones and metal kitchen utensils here, making the kitchen more attractive.
Since the kitchen has various ingredients and utensils, it requires protection from the elements. Especially sunlight and rain. A pergola is best choice for that. The pergola above protects the outdoor kitchen from the elements as well as provides shades to everyone under.
On the Deck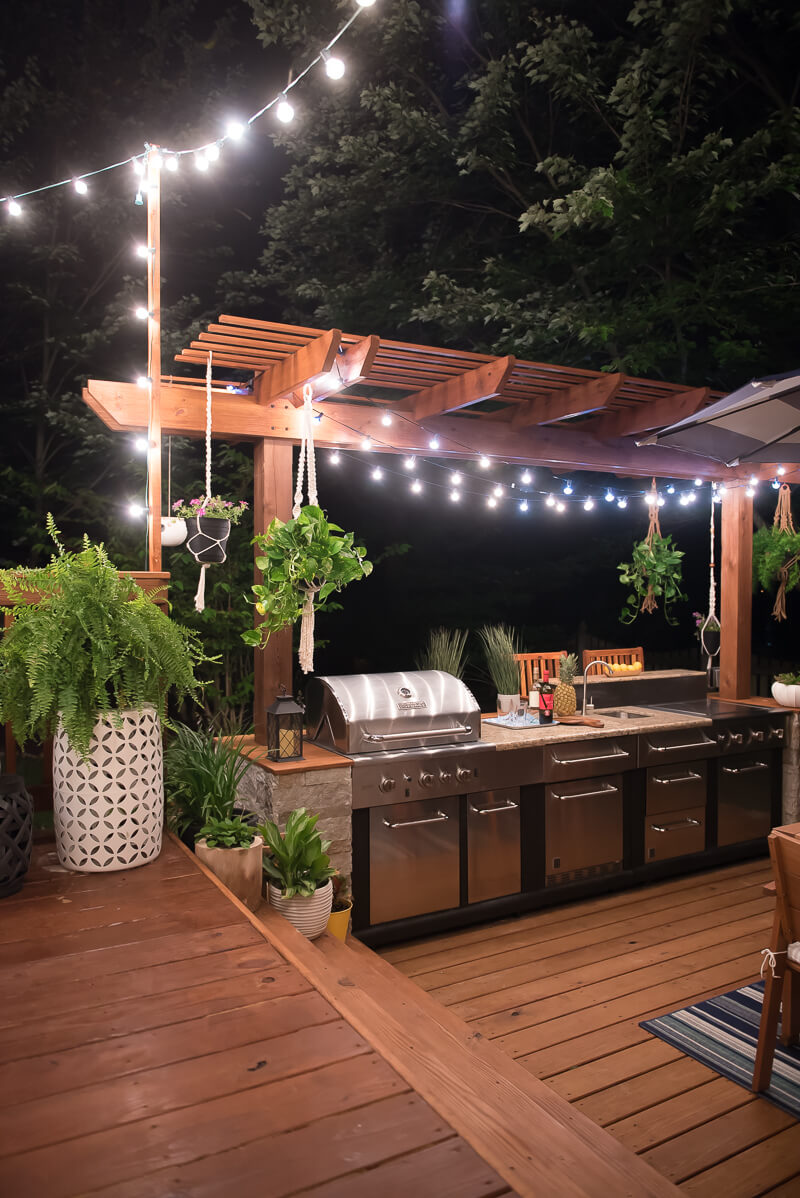 Have a deck? Make a beautiful outdoor kitchen on deck then. An outdoor kitchen on a deck is surely among the best outdoor kitchen ideas whether you just relaxing and enjoying the weather or having a party.
The beauty of a deck kitchen is that you don't have to design it from scratch. Simply choose materials that correspond to the patio.
As seen here, the kitchen is dominated with brown and wooden surfaces, allowing it to blend well with the deck. Add greeneries and various plants to make it looks fresher.
Kitchen in the Backyard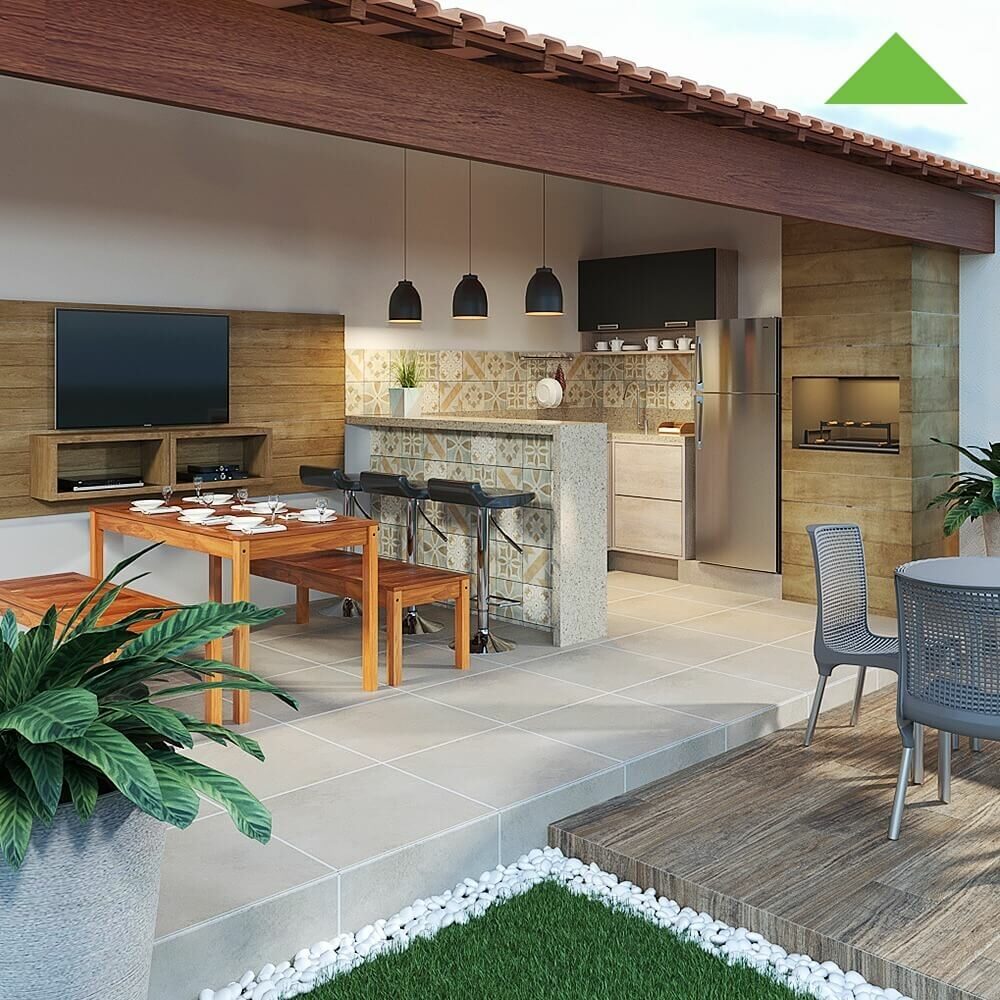 Make an outdoor kitchen at the edge of the house and gets the perks of an indoor one. When we say outdoor, we don't mean the kitchen has to be totally on the lawn or the backyard. A kitchen at the edge of the lawn as seen here counts too.
Here the kitchen is will not be hit by sunlight and rain and is a lot easier to clean as it is on concrete rather than on grass. All that and you still get the breeze and beautiful scenery of summer.
Mortar and Brick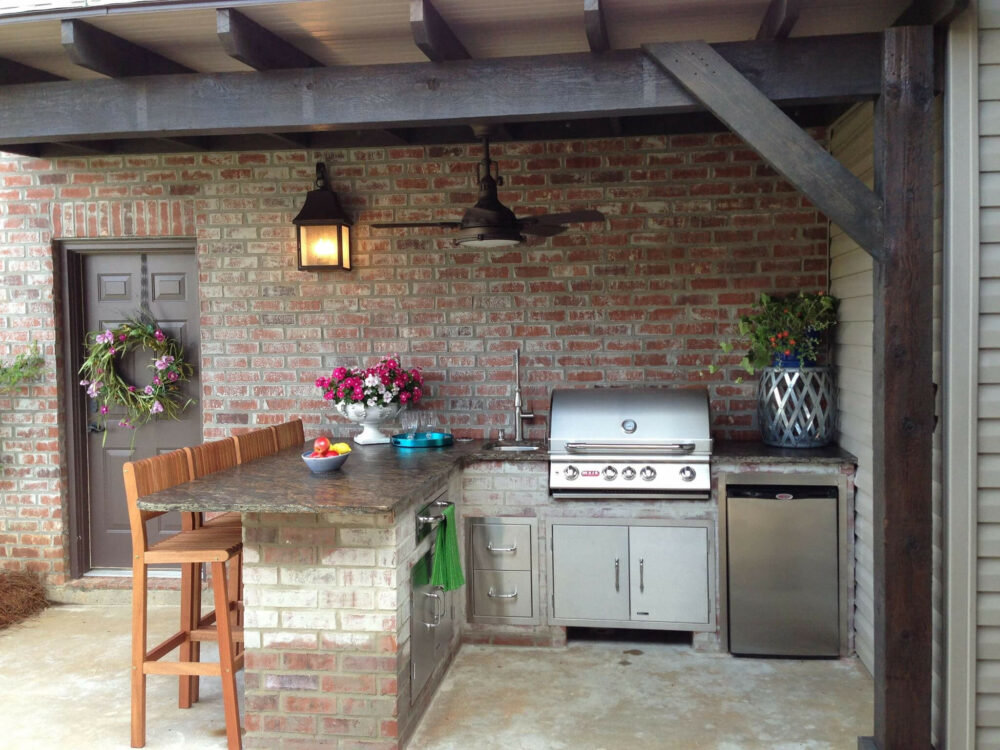 Do you want warm outdoor kitchen ideas? Try mortar and brick. A mortar and brick kitchen always has a certain charm to it. It looks aged, rustic, and warm, which is perfect to create the mood for an outdoor kitchen.
An outdoor kitchen rustic like this can work with most house interior styles. Yes, including ones that contrast with it like modern or minimalist style.
If your house's interior style is anything but rustic, a rustic kitchen will be the perfect escape and relaxing spot for the season.
Simple Barbeque Spot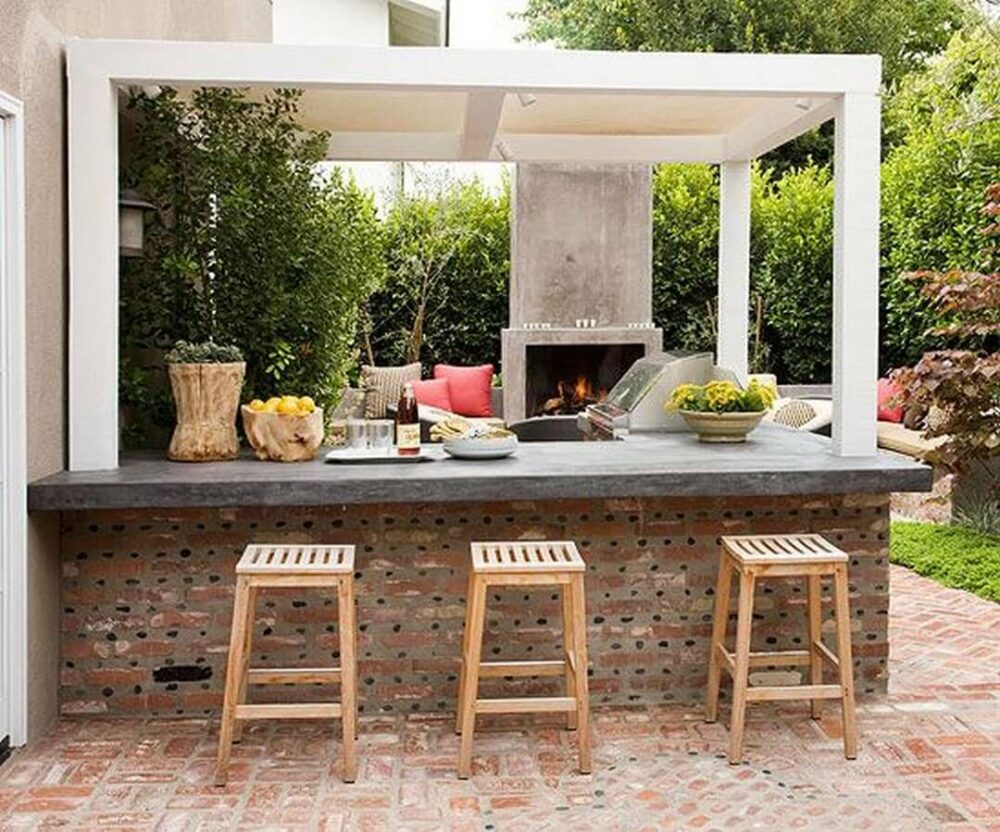 Not everyone likes the idea of intricate outdoor kitchen build. Some of us just want to remodel a part of the backyard on which we can enjoy whatever we want to do, be it preparing food, cooking or chilling out.
Look how simple the styling is. There is a stone outdoor kitchen countertop, tiled table and floor, concrete fireplace and wooden stools. And yet, this exact simplicity is what makes the outdoor kitchen infinitely more interesting.
Garden Bar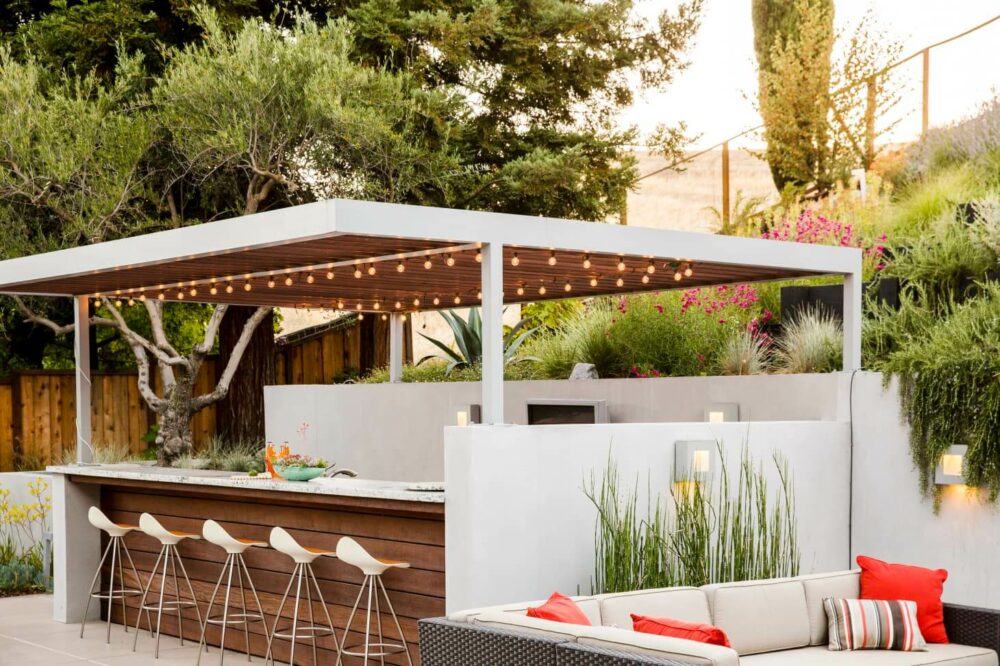 Want to spend the summer with beverages instead of barbeque? Go for a bar outdoor kitchen build then. Will it look good outdoor? Absolutely. A simple bar like this looks very beautiful outside especially since the bar is designed to be open, allowing everyone to enjoy the beauty of the outdoor.
The soft contrast between the white and brown brings attention to the bar. It essentially becomes the focal point of the outdoor.
With wooden surfaces, the bar mingles nicely with the outdoor landscape. This is one of the most-fitting outdoor kitchen ideas for people who like to make beverages and converse.
Rustic Outdoor Kitchen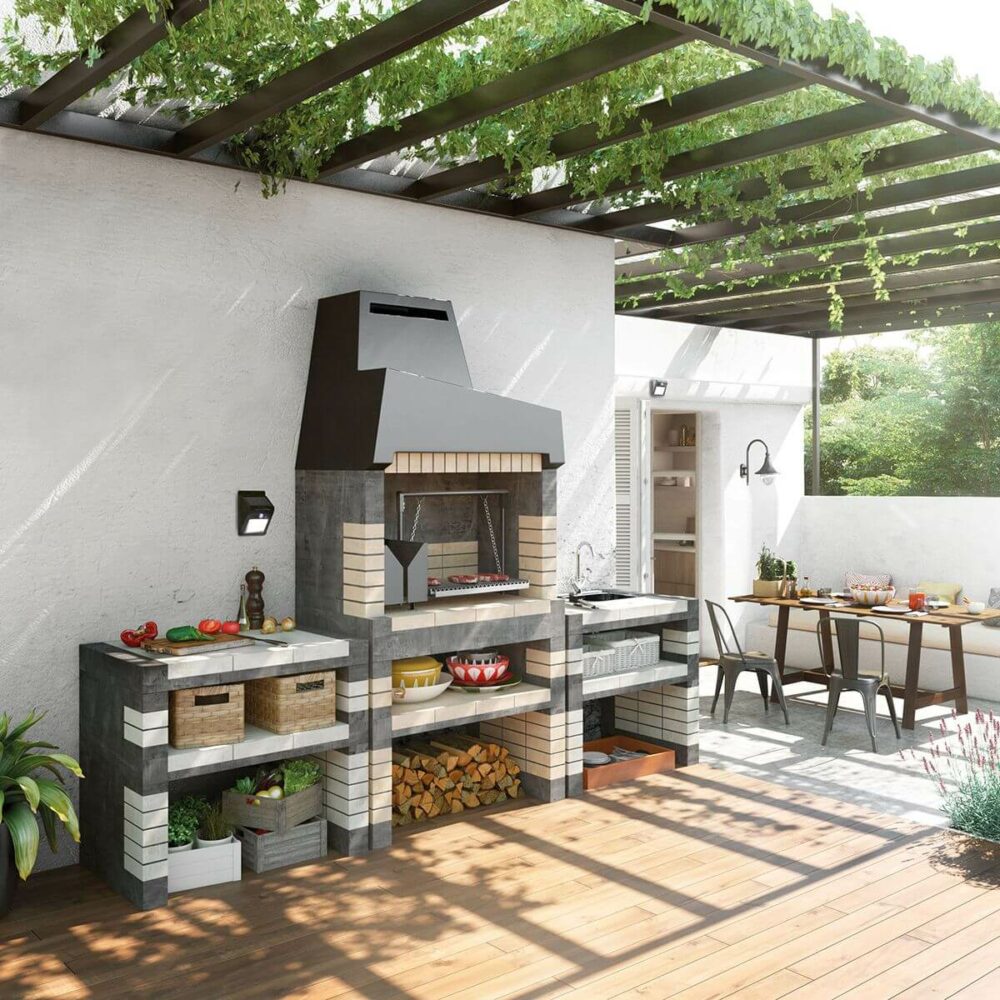 We talk a lot about the outdoor kitchen rustic design for good reasons. Due to the vibe that it brings, a rustic outdoor kitchen becomes the perfect gathering spot.
Be it a dinner, a barbeque party or just conversing. A rustic outdoor kitchen brings warmth and makes everything feels more intimate.
Look how the stone materials stick out from the rest. The kitchen literally sticks out, stealing the attention of the beholders. Up above we have a pergola with plants as the roof, adding a fresh vibe as well as giving shade.
Speaking of design, how does your desk look like? If you need some inspiration to build a comfy and good-looking desk to work in, just check out these desk ideas.
Kitchen Terrace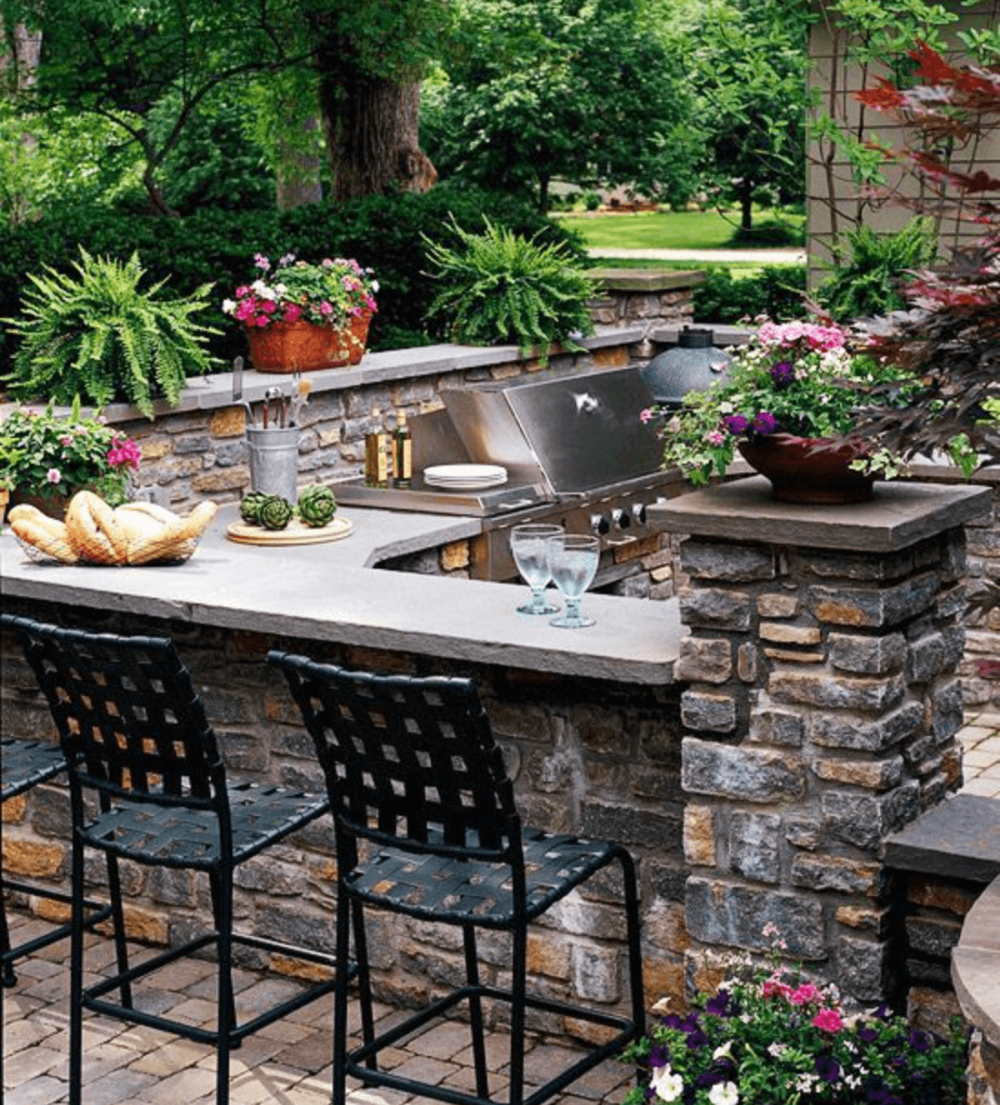 Having a nice and beautiful backyard means nothing if you can't enjoy it. So, create a relaxing spot with an outdoor kitchen build in it.
The kitchen doesn't need to include everything. Adding utensils that you plan to use the most will suffice. Let's say you love to grill, add a grill and other utensils that you need for it.
For a lush green backyard, using natural stones and earth-tone colors is one of the best outdoor kitchen ideas. The kitchen as seen here has just that. It blends nicely with the green surrounding, creating a nice spot to relax.
Outdoor Kitchen Pergola Ideas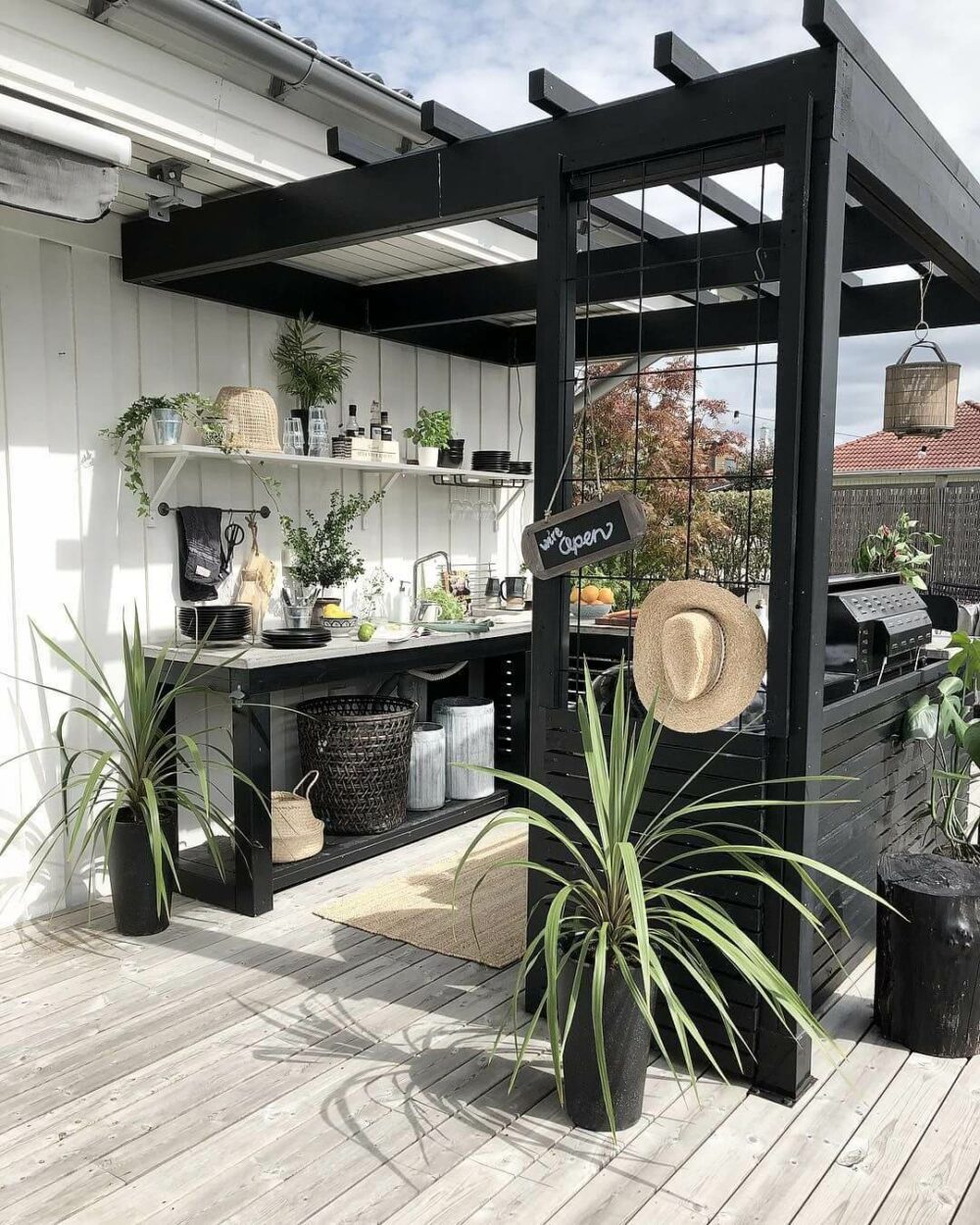 An outdoor kitchen requires boundaries even more so than an indoor one. Without boundaries, the kitchen will look visually confusing.
One of the best options for that is a pergola. A pergola like this one makes it clear where the kitchen ends and the backyard starts.
That is not the only good thing about a pergola, of course. It provides shades and most importantly, makes a statement.
Here the pergola has a balancing contrast with the backsplash, resulting in an awesome black and white outdoor kitchen design.
Outdoor Kitchen Gallery
Of course, extra storage is on our outdoor kitchen ideas list. After all, who wouldn't welcome extra storage when it comes to preparing and cooking food? We all need extra storage even if our existing storage seems enough. So keep the outdoor kitchen storage ready at all times.
Create special storage for the outdoor kitchen and incorporate your personality and activity to it. If it is an outdoor kitchen bar, prepare extra storage for ingredients for beverages, glasses, and refrigerator. Want to use the kitchen for grilling barbeque? Prepare your grilling equipment. And so on.
Outdoor Deck Kitchen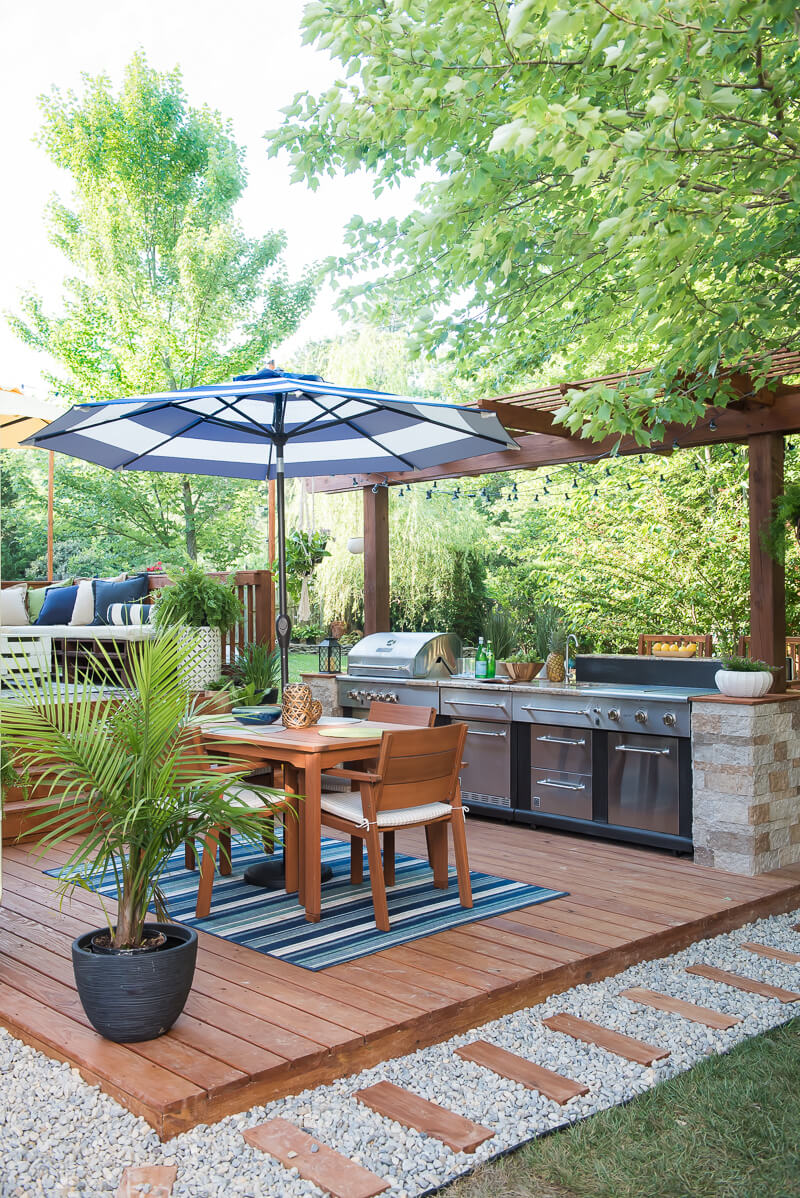 Who doesn't like the idea of an 'open' kitchen? You prepare and cook the food and drinks while enjoying the breeze and scenery.
Isn't that fun? To create an air of openness, add pieces of furniture that are short in stature, about half the height of the average person.
Just look at how 'open' this kitchen feels. Here you can cook and enjoy nature at its finest. When the food is ready, sit in the middle of the outdoor kitchen patio and enjoy the meals. Practical? Yes. Cozy? Very.
Rustic Outdoor Kitchen Ideas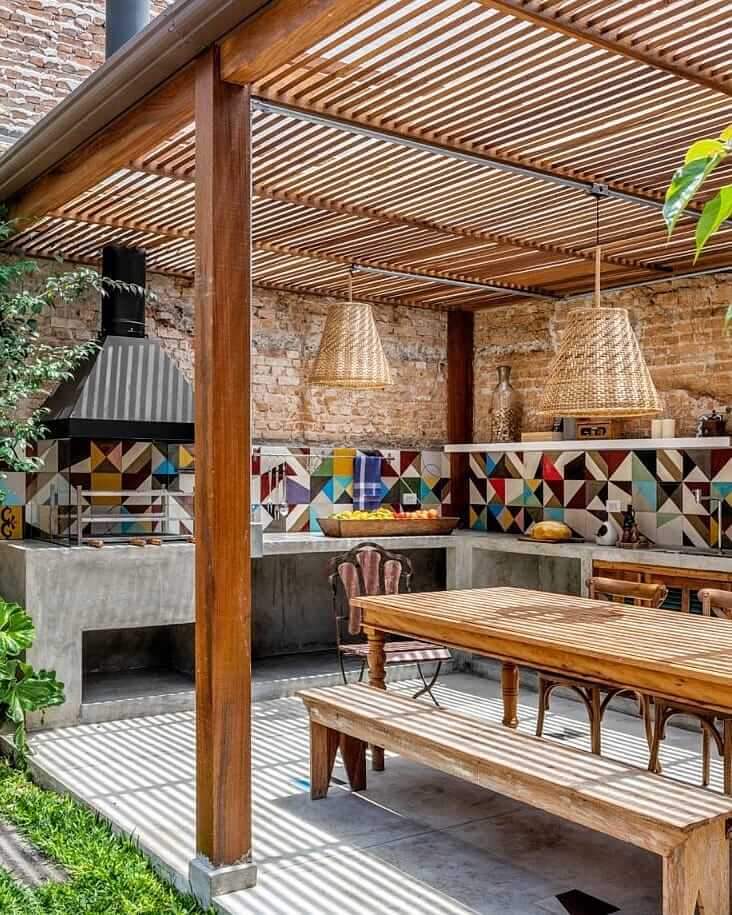 When you search for ideas for outdoor kitchens, you will find so many outdoor kitchen ideas that include complex, delicate, and intricate designs.
What you should know is that complexity isn't equal to beauty. That's right. You can make a kitchen beautiful with simplicity, too.
This nice outdoor kitchen here is a good example. Notice how simple it looks. And yet, it doesn't fail to elicit beauty. The brick walls, the concrete flooring, the wooden furniture, tin roofs, and colorful backsplash, all work together to make an inviting outdoor kitchen.
To make the most out of the kitchen, the backsplash needs to be practical and decorative. Don't know what kind of backsplash to use? These kitchen backsplash ideas will help you decide.
Kitchen for Small Space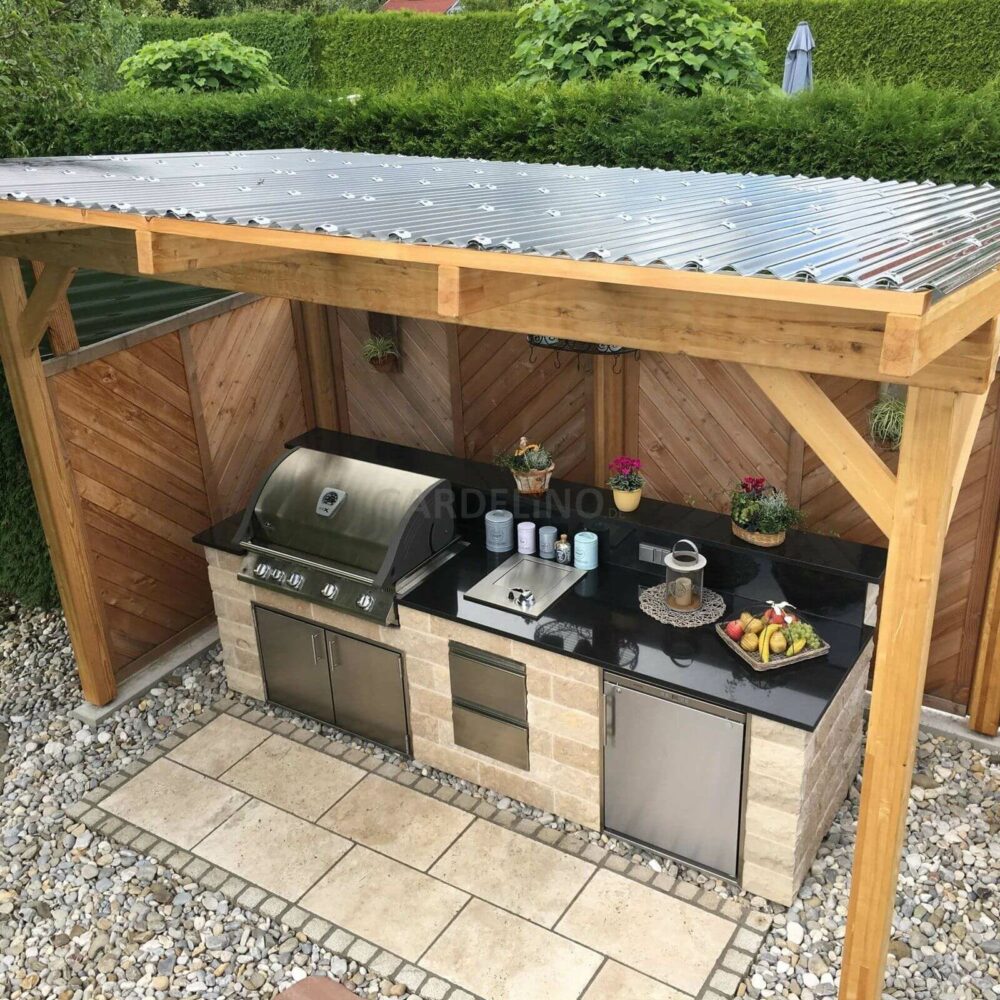 Among the best outdoor kitchen ideas for small spaces is to keep the kitchen compact. Make it a one-sided kitchen. Since you are limited by space, be extra selective in choosing the kitchen utensils and equipment. Allow no clutter.
For the looks, opt for earth-tone colors like this outdoor kitchen. The easy way is to use natural stones and wood materials.
These will give off a warm, friendly, and welcoming vibe. There you go, a nice small outdoor kitchen to welcome your guests.
Minimalist with Style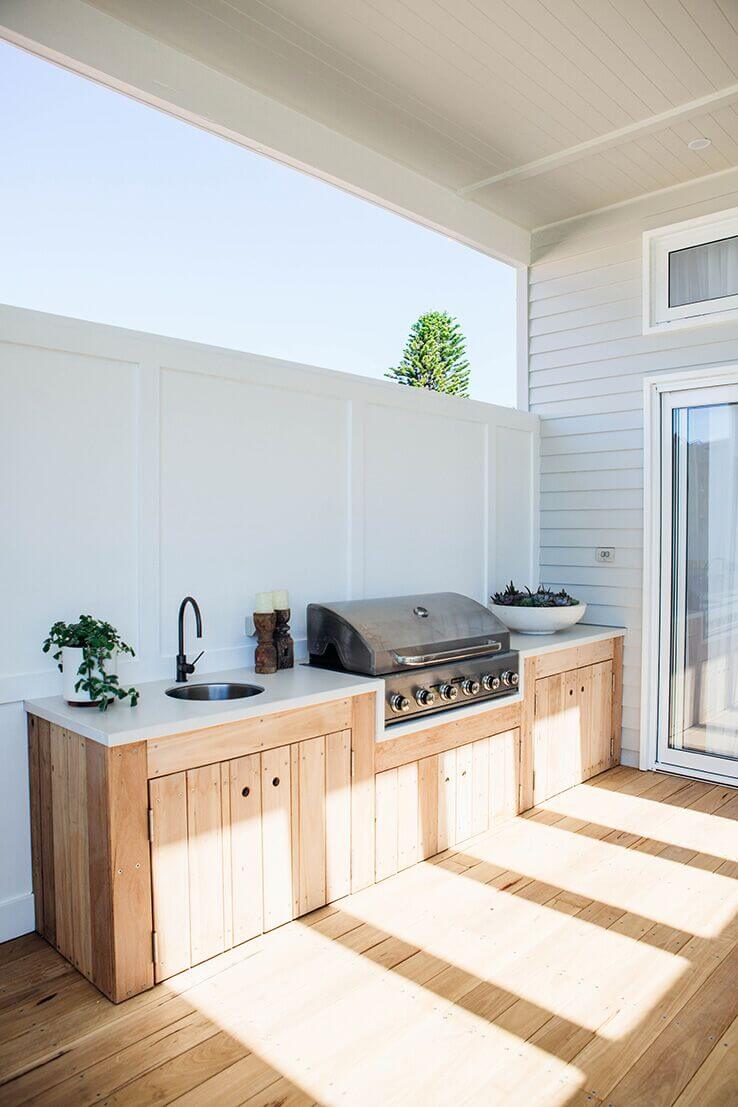 This kitchen is so simple it has only a few colors. The main colors are white and light brown, which occupy the upper half and lower half respectively. The accent colors come from kitchen utensils as well as accessories decorations.
Beauty is in the eyes of the beholder. That applies so perfectly to this minimalist outdoor kitchen design. It looks clean, sleek and simple.
Keeping things down to minimal can have a calming effect. And if that is what you are after, this minimalist with style kitchen is certainly one of the best outdoor kitchen ideas for you.
Feel the Warmth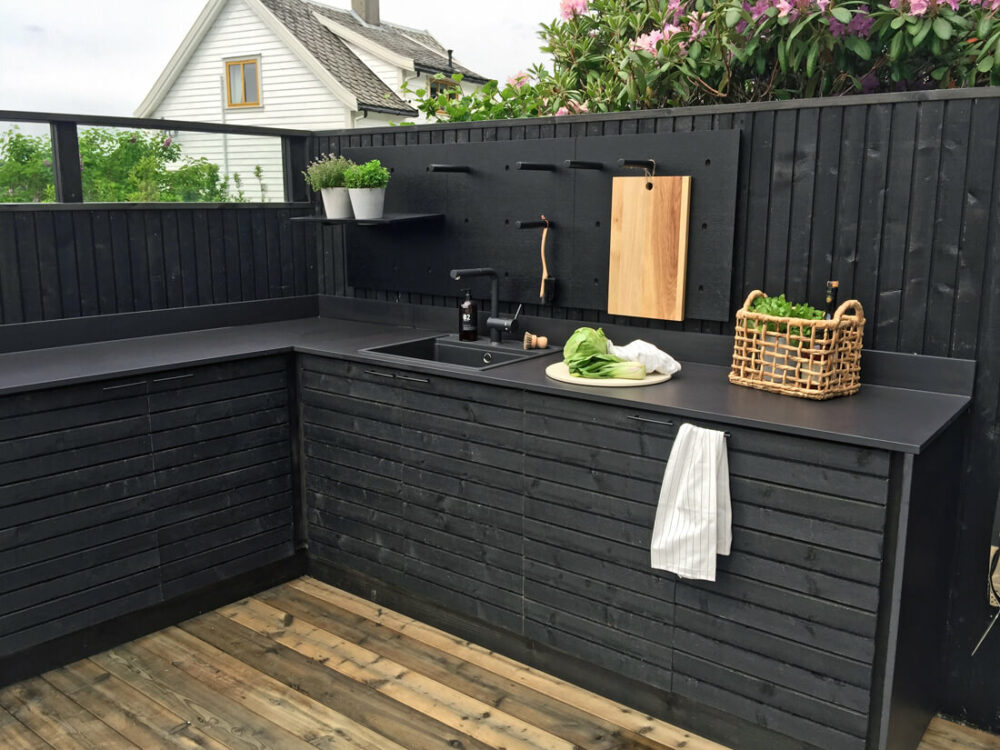 In terms of warmth, nothing beats the farmhouse décor style. Just look at this farmhouse outdoor kitchen design. It has black surfaces, wooden flooring, and metal fixtures on the sink, all of which are the main characteristics of the farmhouse décor style. The result? A warm outside kitchen.
Notice how the black kitchen becomes an amazing background for the utensils and decorations. Here the utensils and decorations add accent colors to the kitchen, making it more appealing to the eyes and preventing it from becoming plain and boring.
The sink is an integral part of a kitchen. Every kitchen must have it. The thing is, many homeowners don't make the most out of their sink. Properly decorated, a sink makes a kitchen more appealing. Our kitchen sink ideas here will show you how.
Black Tropical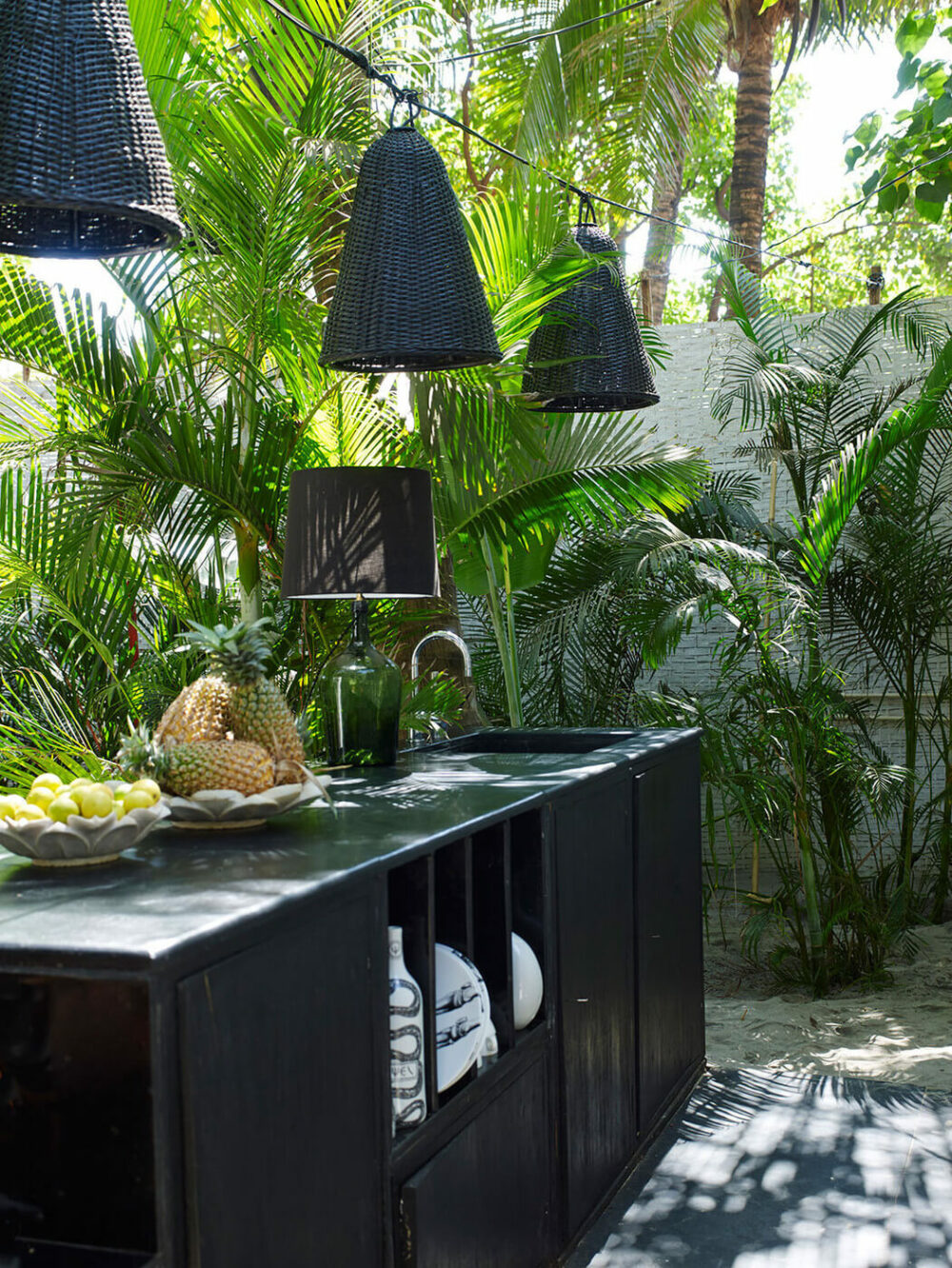 The next in our outdoor kitchen ideas list is for the outdoor kitchen lighting. Lighting is a very important part of a kitchen, indoor or outdoor.
Outdoor, lighting is a must-have if you plan to use the kitchen at night. The question is, what kind of outdoor kitchen lighting should you use?
The best lighting for outdoor is the one that corresponds with the whole theme of the kitchen. For example, this black kitchen has lighting with woven string housing. The lighting here is not merely a functional addition but also a beautiful decoration, too.
Modern and Nature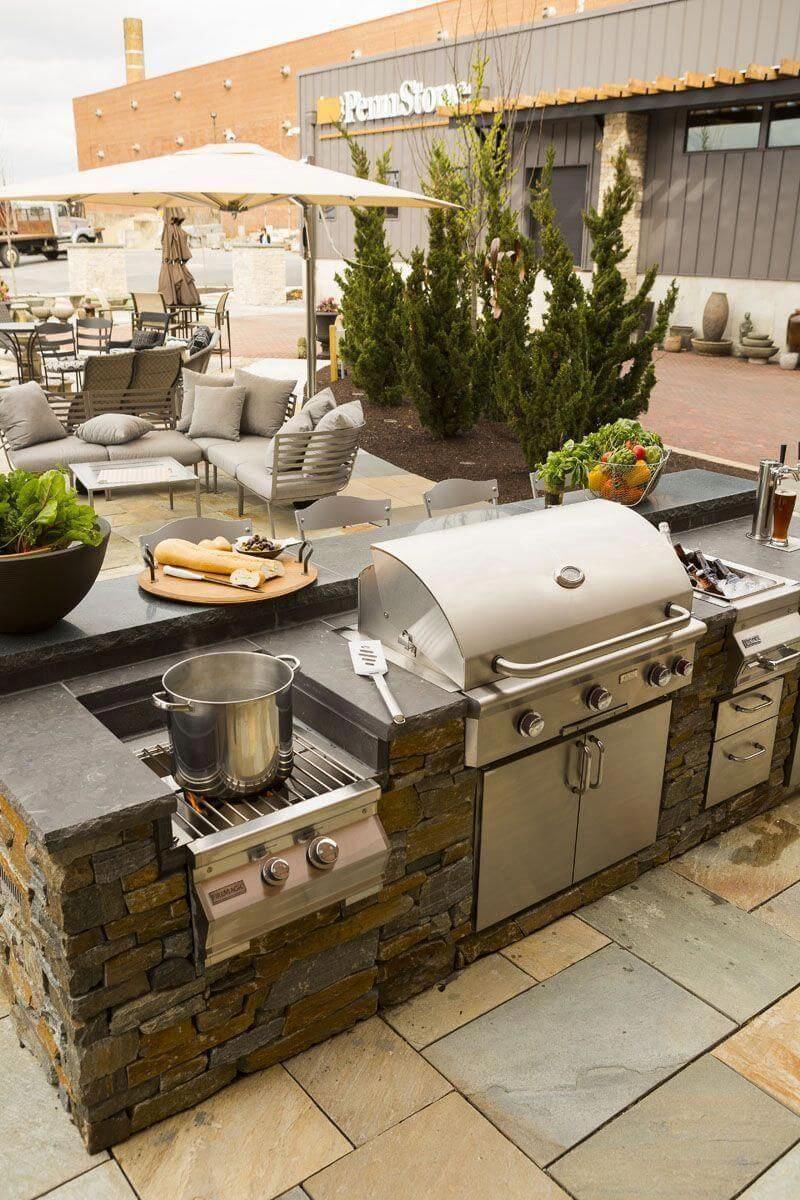 Do modern and natural décor styles fit each other? They do. In fact, they make a beautiful combination especially if used for an outdoor kitchen build.
Here you can see the mingling of modern touches from the metal cooking utensils and natural touches from the countertop, table, and flooring.
The stark contrast in this kitchen creates a unique sight. They seem contradictory and yet, look amazing side by side. Unsure whether to use modern or natural outdoor kitchen ideas for the kitchen? Don't choose. Use both.
Outdoor Kitchen
Want more relaxed dining with your guests? Do it outside. We mean literally, outside. The backyard can be a great dining spot with a bit of remodeling.
Unlike a formal dining room, you won't need as much and delicate furniture. A simple kitchen with a mini-bar like the one here will do just great.
Notice how this dining spot is one with the surrounding. Natural stones, plants everywhere, you can just feel and see the outdoor without any obstruction at all.
Uncovered outdoor kitchen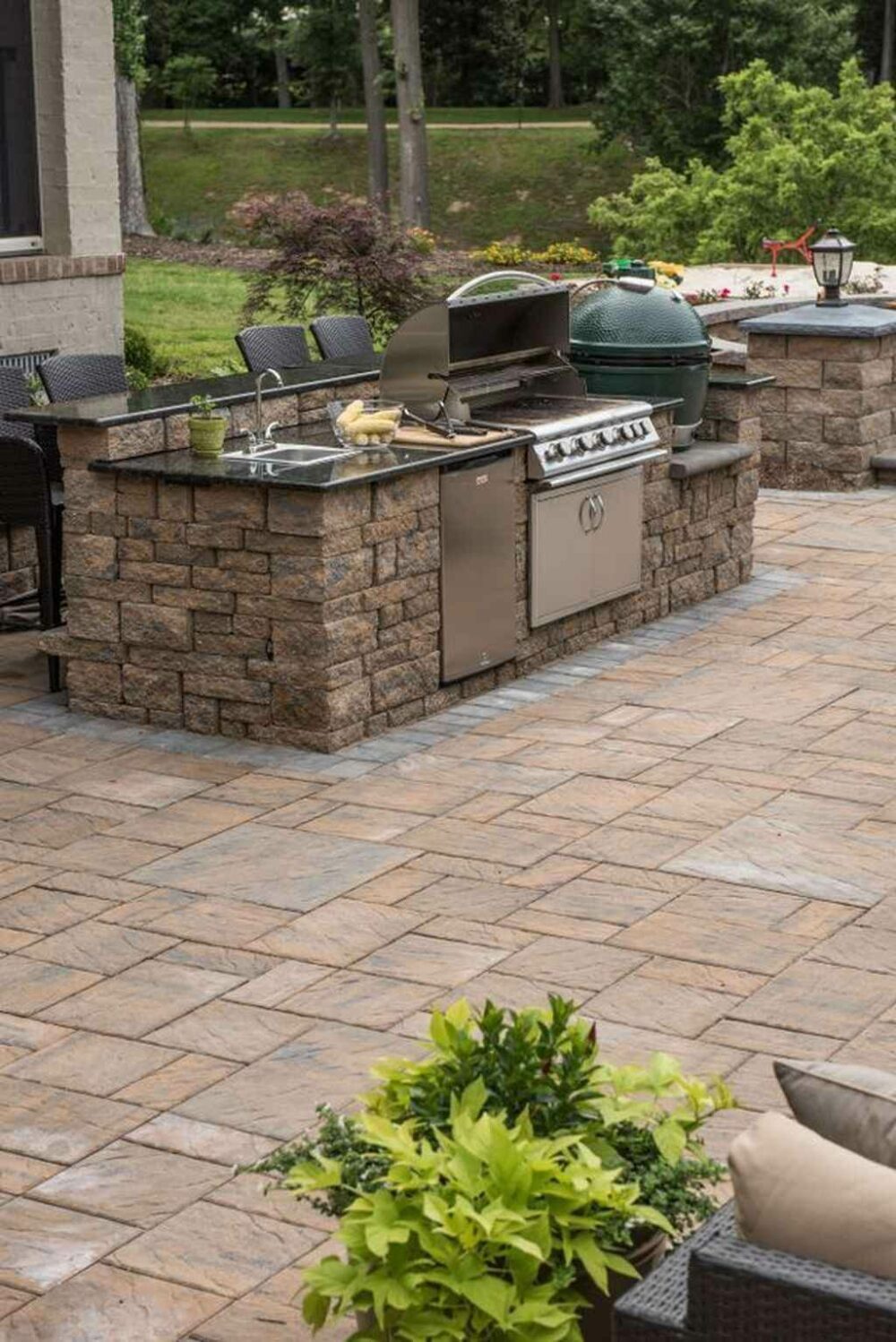 Make your outdoor kitchen build feels more natural by incorporating stones as the main material. Stones, especially ones that have earth-tone colors, make any room feels more natural and give off a homey vibe. As such, an outdoor kitchen filled with stones like this makes a great spot for not just cooking but also relaxing.
Kitchen Pergola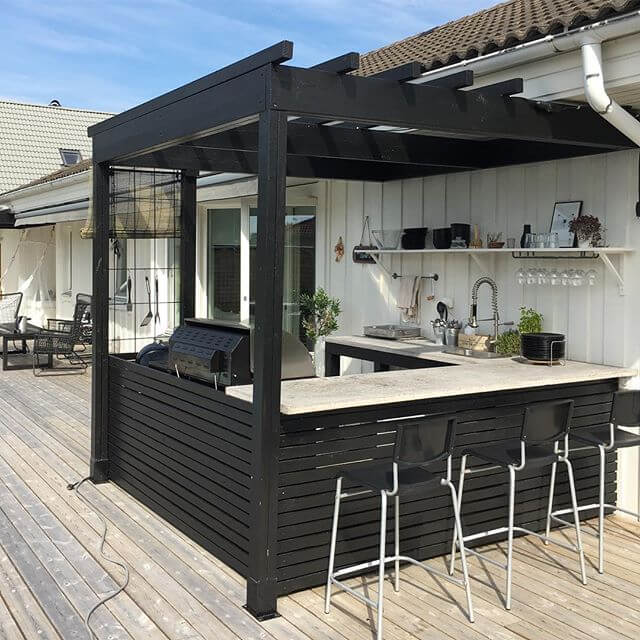 Last but not least in our outdoor kitchen ideas list is to use black and white. Black and white is the most common contrast used.
It is not surprising, considering that black and white is versatile and applicable to just about any room. If you want a foolproof outdoor kitchen design, just go with black and white.