As a place in which your family linger over the delectable dinner, your dining room is supposed to be pleasing rather than mundane.  Dining room wall decor is crucial so that you can acquire a high-quality meal time and talk – well, it is said that some brilliant ideas begin from the dining table.
The problem lies on picking the right adornments. You don't want your dining room end up becoming haphazard, do you?
If you haven't found any best ideas for it, keep reading to find 16 bewitching dining room wall decor ideas that can boost your family mood and appetite.
Why Dining Room Wall Decor?
Many people think that working on the lighting is enough. The truth is you scarcely look up where the lights are hung, do you
You tend to look at horizontally where you can find plain and dull wall. And that is what you have to work on besides bettering the lighting with kitchen lighting ideas.
Accentuating the wall in your dining room can be done in many ways. You can hang some photographs, show your knick-knacks off, or hang some platers. So, what is the best wall décor for your dining room? Check this one out!
1. DIY Dining Room Wall Decor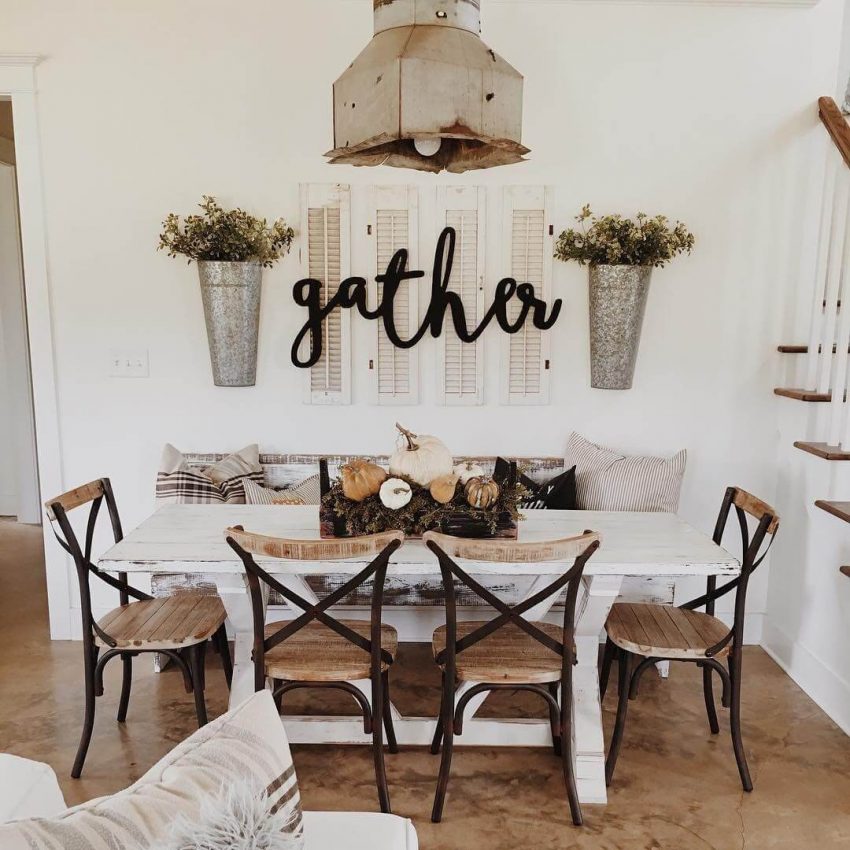 If you just replaced your old window shutters with some new ones, don't throw them away. With those old window shutters, you can make a perfect wall décor without making you penniless.
Quote: A great home décor is the one that accentuates your house beautifully without making you penniless.
To make a perfect focal point in your dining room, you only need to get your old window shutters. Attach them on the wall that you want to be the focal point.
This window shutters will act as the base of a black huge calligraphy. They will make the calligraphy look as if it were floating. Two silver planters attach on the wall. They hold decorative plants that will jazz your dining room up.
2. Mirror, Mirror on The Wall, Who's The Fairest of Them All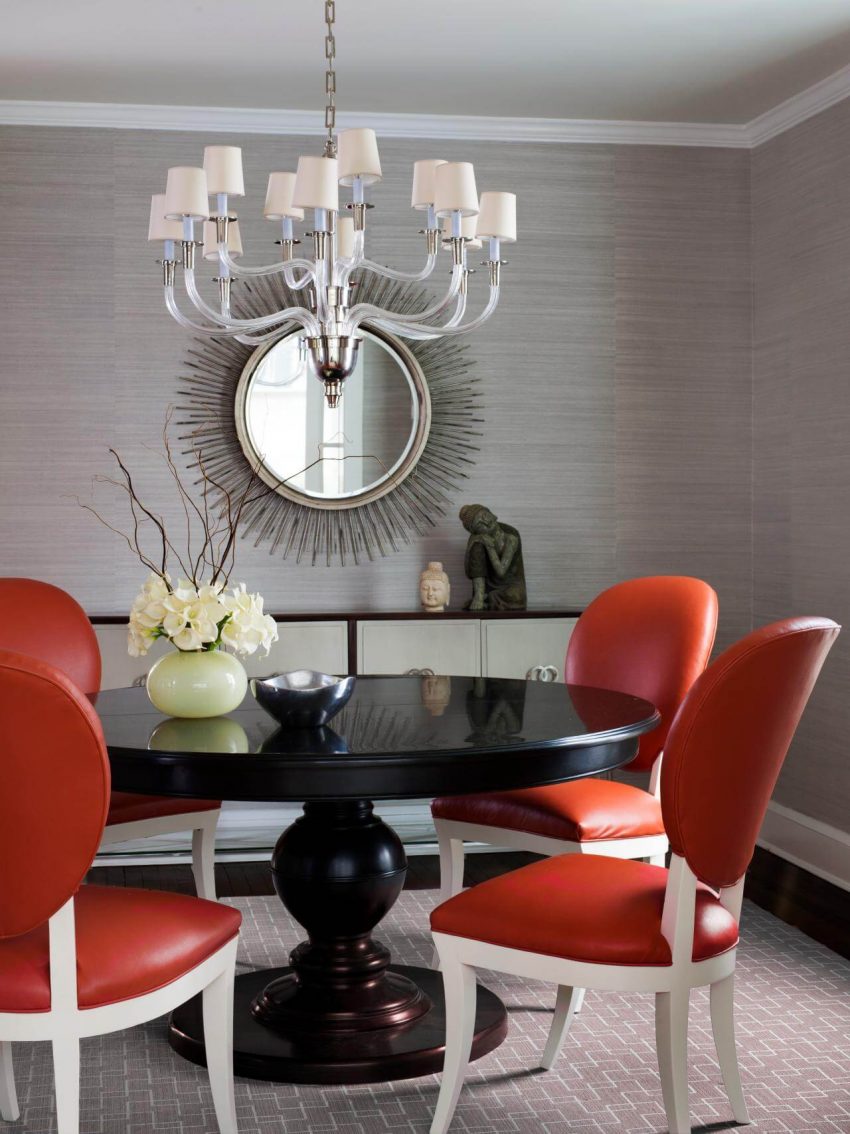 A mirror is such a versatile decoration of any room in your house. It can be your go-to adornment especially if you don't have any idea what to hang on the wall. And this round mirror is something that you need in this dining room.
A single round mirror sits perfectly on the wall and make a splendid focal point because it provides the look of elegance and simplicity.
Although it is the only one adornment hanging on the wall, it serves a more pleasing view than putting odds and ends on the wall all together.
3. A Large Mirror and Some Photographs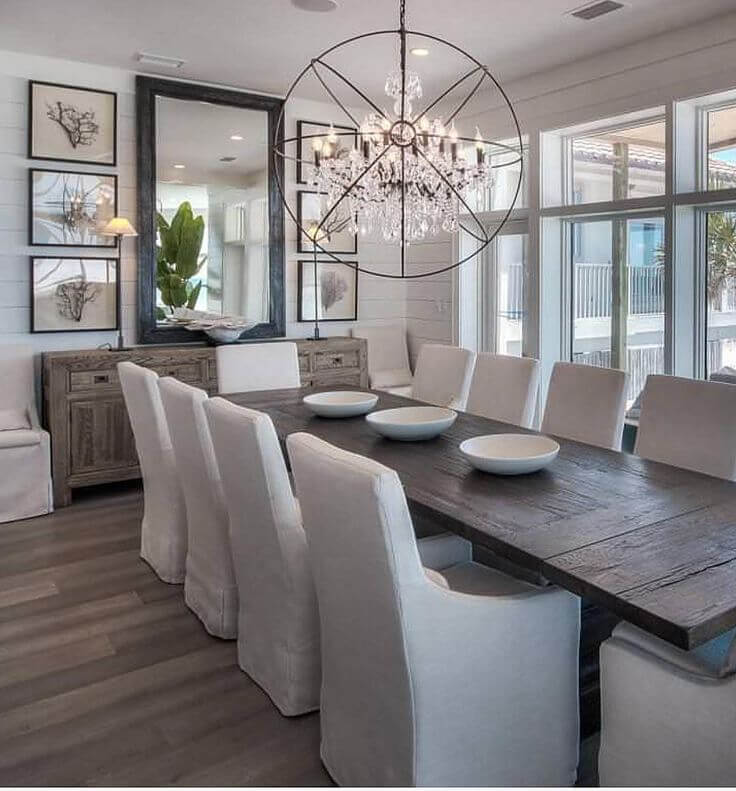 Vintage style is reflected from the interior and the wall décor of this dining room. It is all about the combination of modern and classic furniture just like the pendant light hanging over the dining table.
A large rectangular mirror hangs over the rustic table, complementing the rustic look of the dining table. Distressed wooden frame holds the mirror firmly as well as accentuating it.
The mirror is also highlighted with three photographs of dry trees on both the left and right sides of the mirror. They help to draw people's eyes to focal point of this dining room – the mirror.
Hint:
Placing a huge mirror in a room with limited space can make it look more spacious as the room is reflected by the mirror.
4. Dramatic Painting Dining Room Wall Decor
When it comes to fill in a plain wall, many people will pick a dramatic painting for a dramatic look. The beauty and aesthetic of a painting has been widely used for a decorative purpose in that it can serve a pleasing view in no time. It is really a snap.
This painting features the concoction of various colors that blend together to create a harmony.
Contrasting with the white wall, this painting makes a perfect focal point that people won't miss. Teaming up with a distinctive hook, it adds the touch of rustic look in this modern dining room.
5. Distinctive Accent Wall Ideas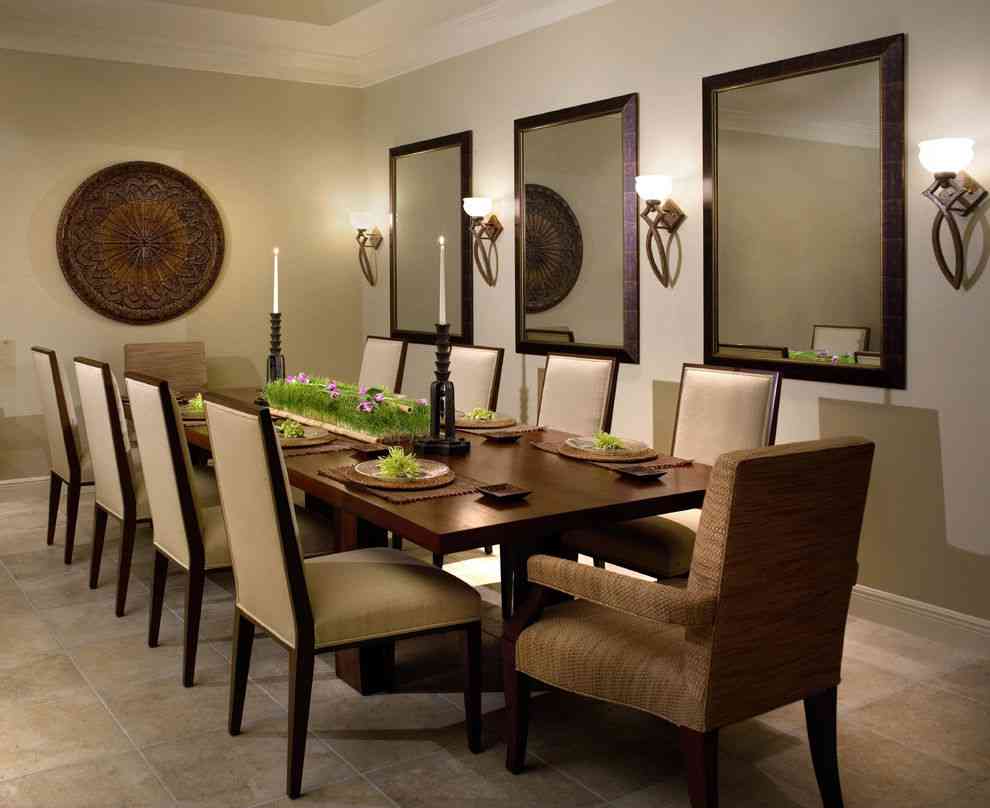 Woven seats and well-used furniture denote the French country style very well. And to perfect the style, a round wooden carved with distinctive look hangs in the middle of the ivory wall.
This antique features perfect details that complement the style very well.
Three rectangular mirrors hanging in a row reflect everything in front of them, making the dining room visually bigger.
Four crystal lights whose holders match the frame of the mirrors are placed between the them, giving the touch of romantic ambiance to the dining room.
Don't Miss: Accent Wall Ideas for Any Room
6. Dining Room Wall Decor with Plates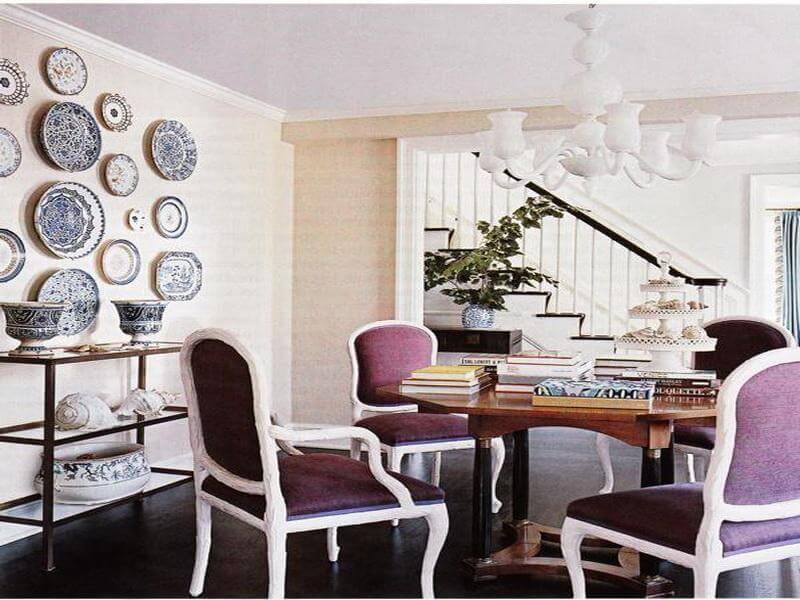 If you have no painting or mirror to hang on the wall, or you just think that they are too easy and not challenging, you can try displaying your platters as your dining room wall decor.
Besides serving meals, plates can be mind-blowing adornments. Just hang them on the wall and you are ready to impress your guests. However, if it is not done meticulously, the plates will look messy.
Arranging smaller and bigger plates will vary the look of the décor. You can place the bigger ones in the middle and the outer rows so that they tie the smaller plates all together.
You also have to keep in mind to not hang too many plates. Make sure that they have enough space between one and another so that they look aesthetically pleasing.
7. The Power of Quotations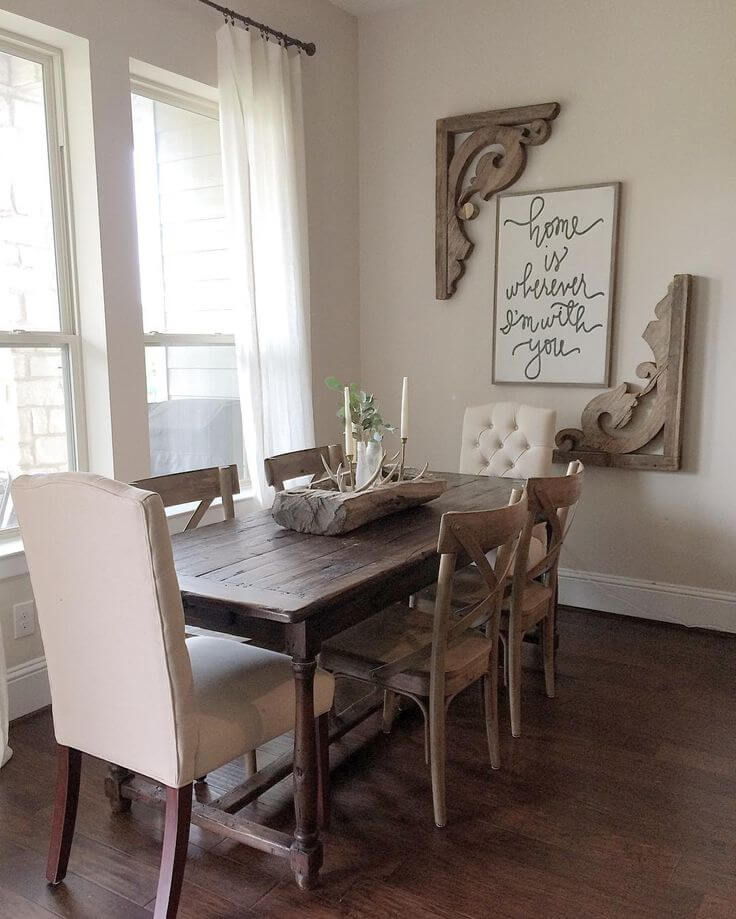 Thousands of interesting quotations can be found anywhere – from books, internets, speeches, and even your minds.
The good thing of a quotation is although it is merely a group of words that creates a meaningful sentence, it can affect other people and express your idea better than a speech lasting for hours.
One of the best quotations is about affection. Why don't you try hanging a quotation on your plain wall in your dining room? It will show how much you love your family.
Quote: Dining room is a place where the entire family members sit together for a dinner. Show them your love through the wall décor.
To make the quotation look more attractive, write it down in a canvas using a handwriting style.
Anchor the floating quotation using wooden carved ornament. These two pieces ornaments frame the quotation very well so that it looks more artistic.
8. Exposed The Stone Wall Decor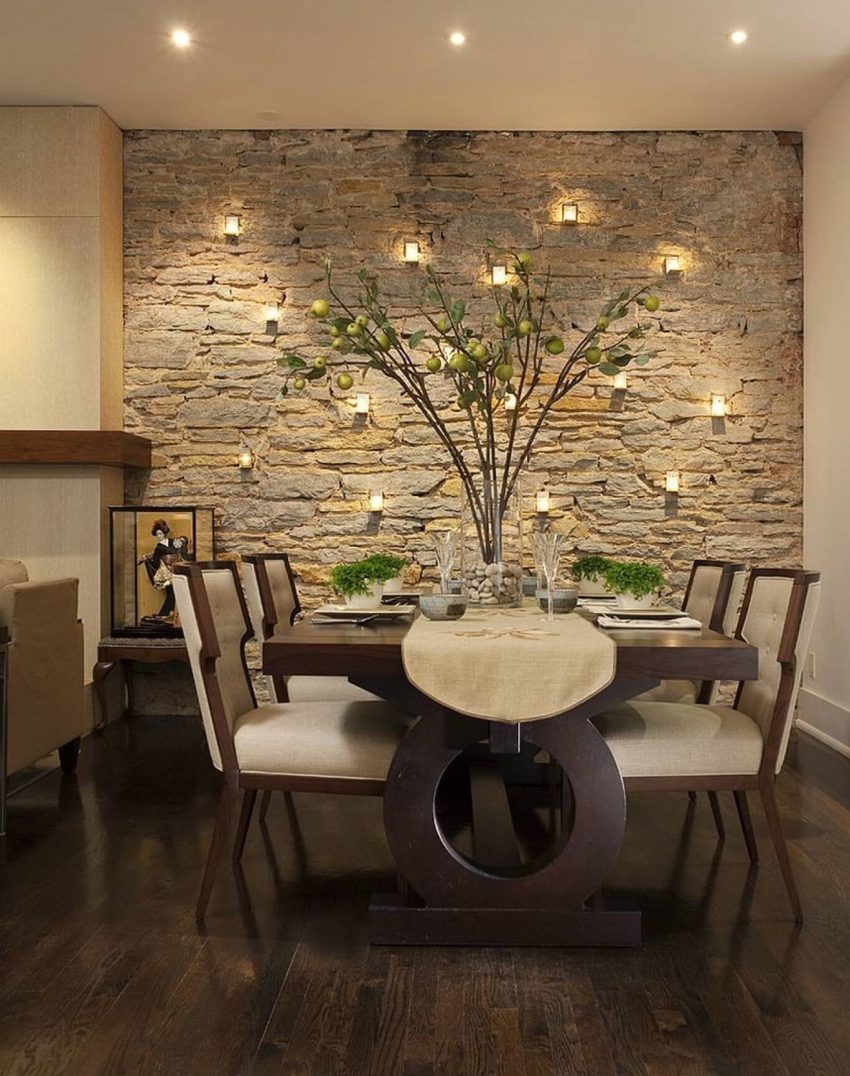 The uneven surface of the stone wall lends an exquisite accent to the wall, making it look stunning and inviting.
Unlike the plain and mundane white wall that needs adorning with mirrors or paintings, this exposed stone wall does not need them. In fact, adding a huge mirror or painting can overlap the natural beauty of the wall.
If you think that exposed stone wall is not enough, you can add some accessories that can accentuate and complement the wall, not overlap it.
One of the most suitable accessories is some candle-like lamps that hang on some part of the wall. The lights will look like twinkling stars.
Also Read: Wood Accent Wall Ideas
9. Show Some Memories Off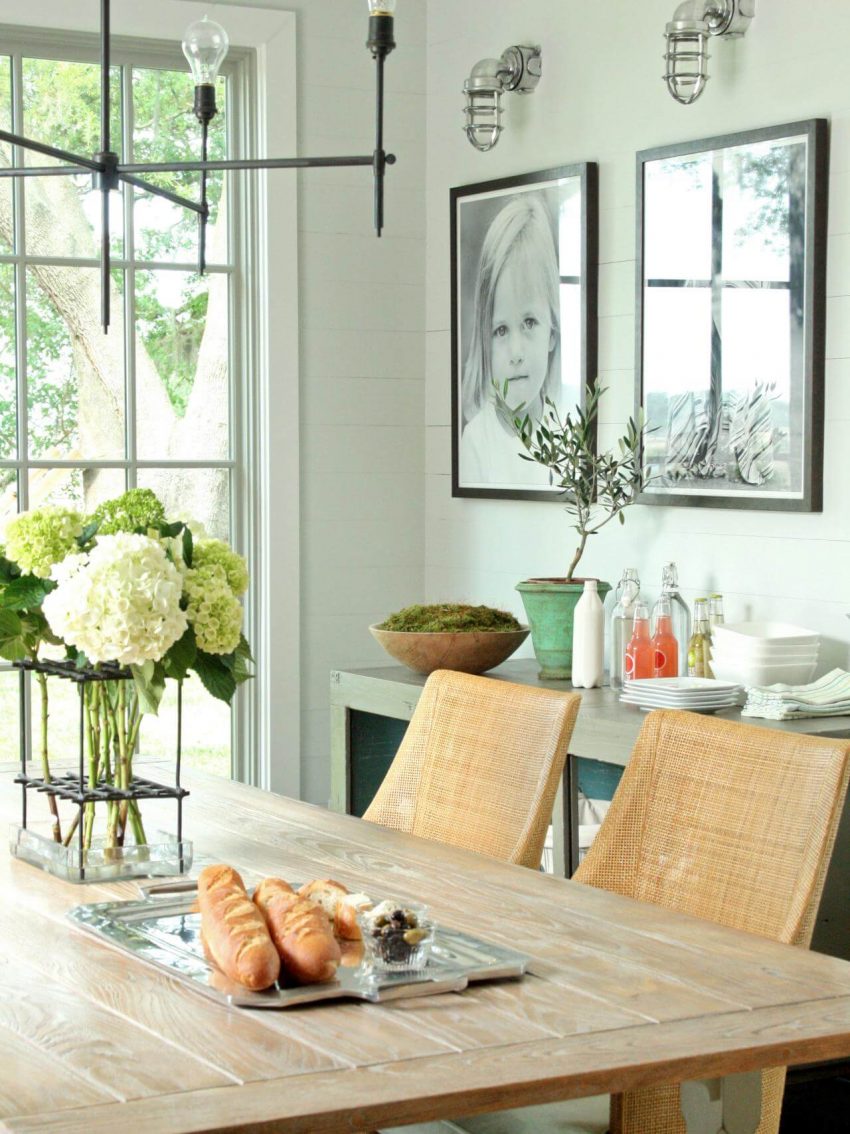 Photographs has never failed to preserve the beautiful memories of the past, something that you wish you could see and experience it all over again.
Unfortunately, you can't. You can only preserve it in a framed photograph so that it helps you conjure up the joy that you had back then.
One of the best places to show off the photographs of your family is in the dining room since this is the place where your family sit together and eat. The photographs will remind them about the priceless memories that they had.
10. Modern Dining Room Wall Decor Farmhouse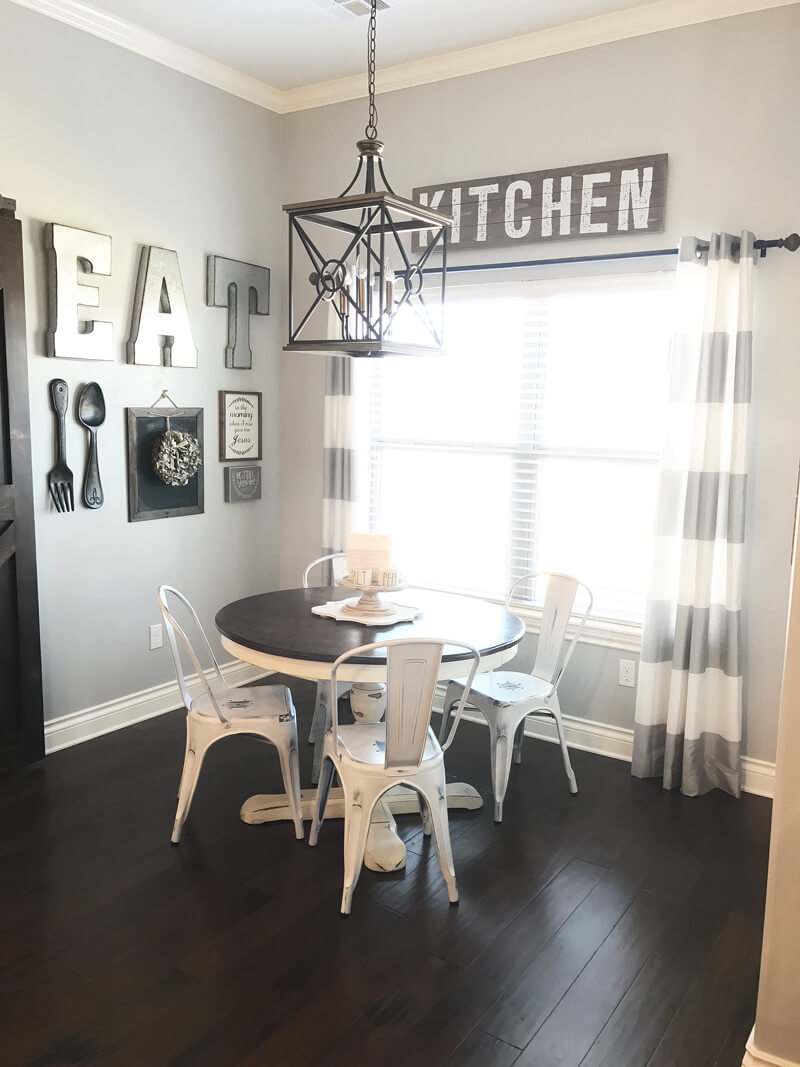 Well, sometimes you can feel overwhelmed with so many great ideas of home décor that you can't decide what to do with your dining room. If you can't choose one of them, why don't you just mix them all together?
Three huge letters forming the word "EAT" fill up the space of the plain wall perfectly. Under the "EAT" word that denotes the room well hangs an immense fork and spoon.
Next to the spoon and fork is a small chalkboard that you can use to leave a message for your family.
They will definitely read it because they always sit in the dining room, right? To balance the look, two small framed quotations hang beautifully.
11. Bring The Nature to The Dining Room Wall Decor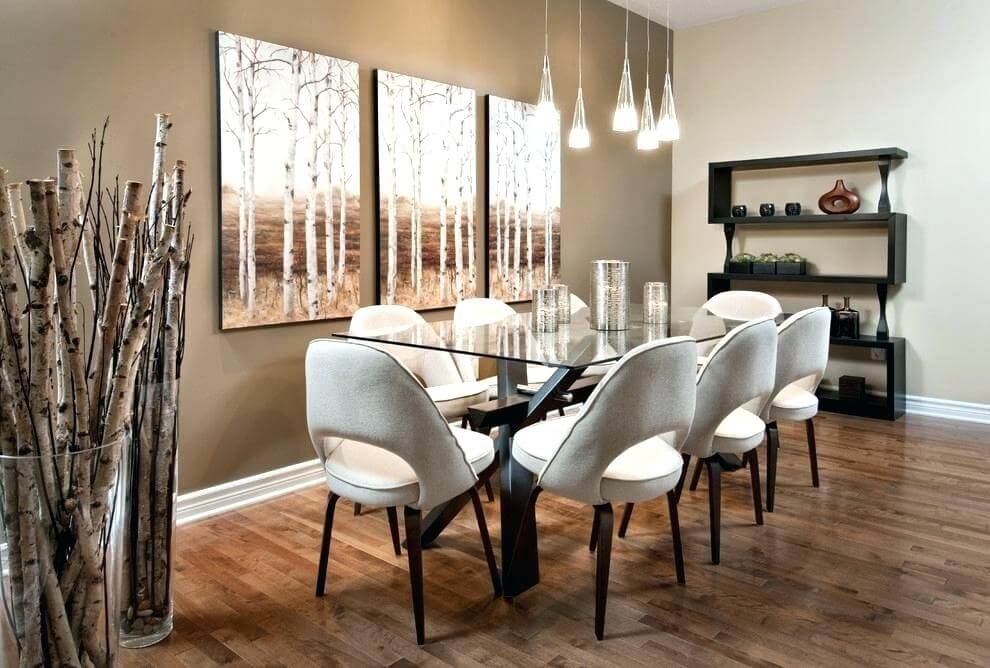 The beauty of nature is really mesmerizing. No wonder people are eager to bring nature to their home even though it may only be a photograph or painting. And you can do the same to accentuate the wall in your dining room.
This dining room is really stunning in a simple way. There aren't many adornments found here. The most conspicuous one is the dry stems and twigs of trees put in two tall glass floor vases.
To complement the vases, three photographs of dry trees in dry savannah hang in a row. Although the pictures are identical, they don't fail in creating a dramatic look to the wall.
Don't Miss: Best Kitchen Decor Ideas 2021
12. Repurposing the Trellises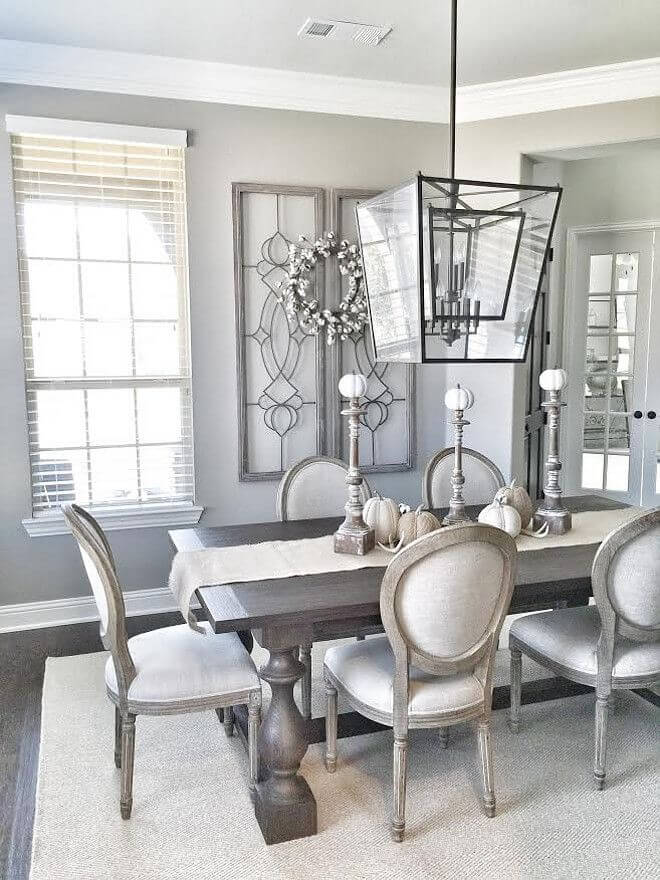 Trellises are used to protect windows from burglars that try to break into the house. As the time goes by, however, the use of trellises is more aesthetical rather than functional. Therefore, they can make a pretty good adornment.
You do not have to throw them away when you replace them with a new one because you can repurpose and turn them into a dining room wall decor just like these trellises.
The elegant designs of these two trellises fill in the awkward space on the wall next to the window. To make them more beautiful, a flower bouquet hangs on them.
13. Modern Dining Room Wall Decor Ideas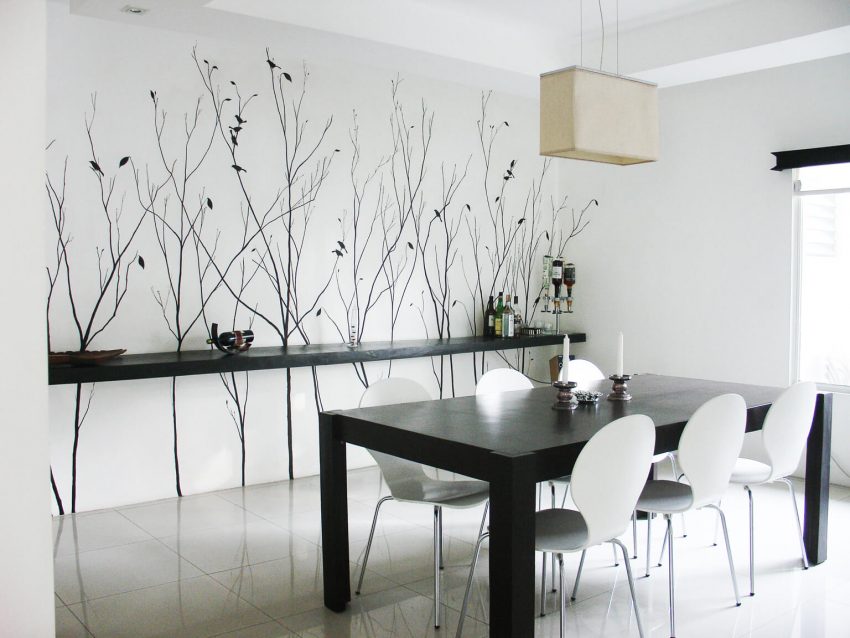 A fantastic wall décor does not have to be fancy. A very simple decoration can surpass a luxurious one.
This huge white wall leaves something that you need to deal with – dullness. To get rid-off the dullness, you need to hang something to accentuate it.
But, rather than investing on a costly painting, why don't you draw something on it and create your masterpiece.
Drawing some dry trees in monochromatic scenes should be less difficult for you. You only need to harness your creativity and basic painting skills. It may be a bit arduous, but the result will not disappoint you.
Pros:
Drawing some dry trees on the wall yourself can help you salt away some money.
Cons:
It will take a lot of time to draw all those trees.
Don't Miss: Kitchen Storage Ideas
14. The '2-in-1' Dining Room Wall Decor Hobby Lobby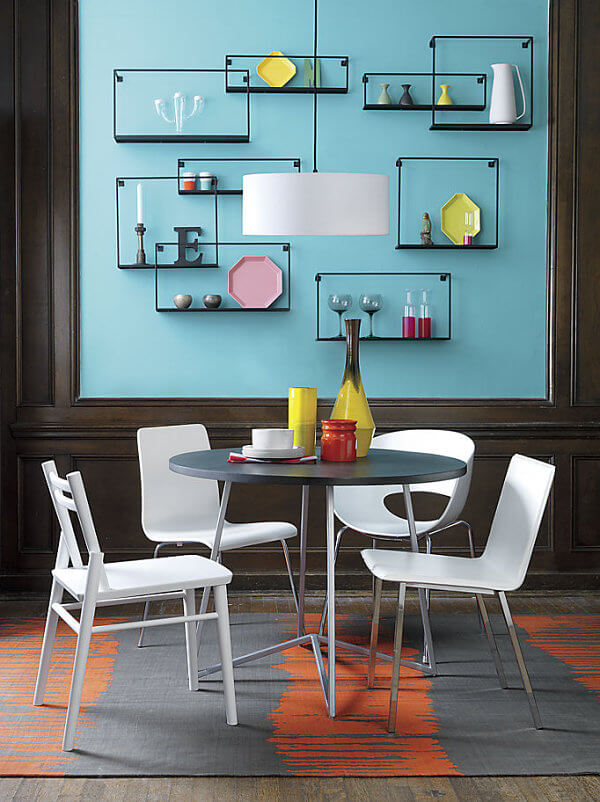 Are they accessories? Apparently, they are shelves. Wait! They are both. It's amazing, isn't it?
These are what you have been looking for. The solution of the dullness and an unorganized dining room.
These shelves do not only provide sufficient storage space to hold the clutter at bay, but also embellish the wall in your dining room.
To better the look of it, you can remove the wainscoting paneling on which the shelves are going to hang. Paint the wall the color contrasting to the shelves.
After painting the wall, you can begin arrange the shelves by using your creativity. Now you can store some plates, knick-knacks, or candles on them.
Make sure that you do not rely on the shelves completely and store anything in it just because you want to eradicate the clutters. It is a big no as it can ruin the look of the wall décor.
15. Bold Wallpaper Modern Dining Room Wall Decor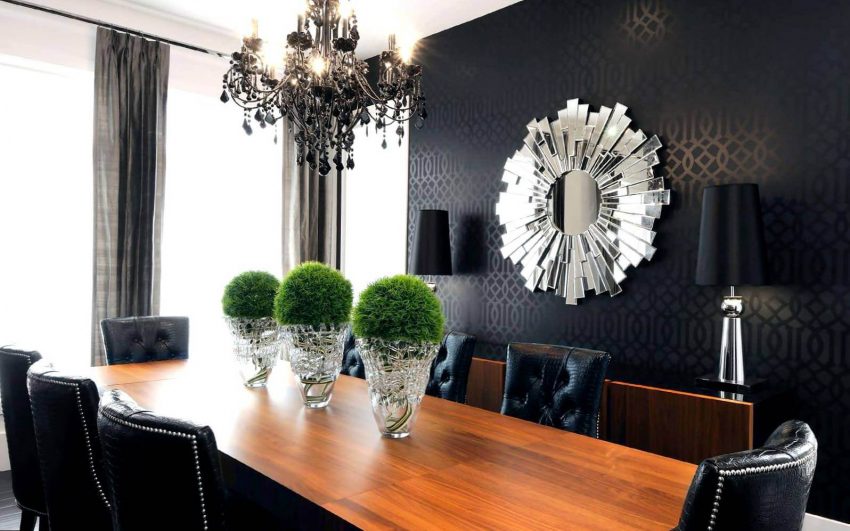 Hanging wallpaper is the most convenient way to conceal the flaws of the wall as well as bettering the look of it. There are many patterns that you can choose, from a colorful to the bold ones.
This wall is covered with a patterned black wallpaper that provides the touch of boldness to the dining room. It complements the chairs, curtains, and crystal light very well.
To make the wallpaper look more appealing, a distinctive round mirror hangs on it. The mirror really makes a pretty good focal point.
Also Read: Best Wall Paneling Ideas 2021
16. The 3-D Photograph Dining Room Wall Decor Ideas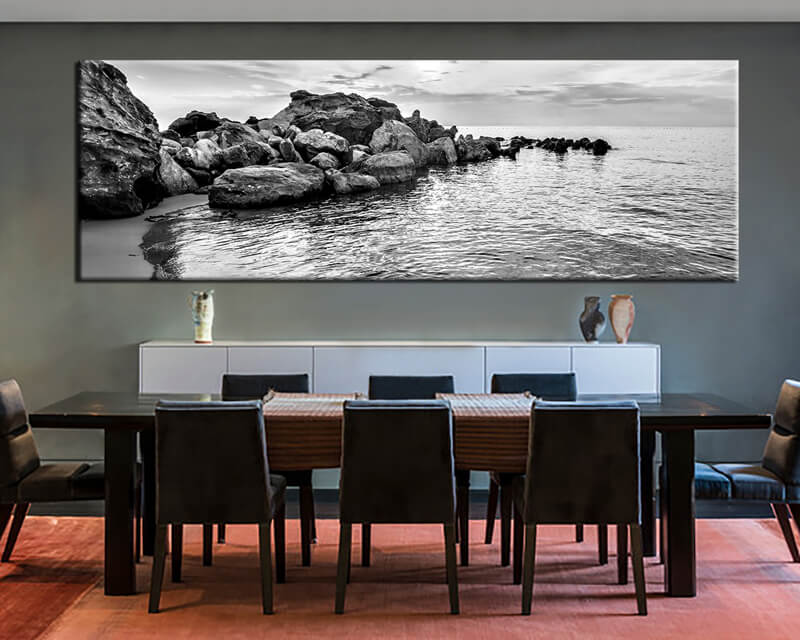 No one can resist the temptation of staring at this mind-blowing photograph. It gives the feel of strolling around the beach while enjoying the beautiful view.
This is what you need for your dining room – a mesmerizing huge photograph that can impress everybody who sees it.
Creating a bewitching dining room wall decor can be done in many ways and styles. Pick the one that suits your style very well so that you feel comfortable when lingering in the dining room while bantering with your family.