There are so many kitchen decor ideas come to mind when you are planning to redecorate your kitchen.  As we know, a kitchen is not just a room for cooking and eating. It's more than that.
The kitchen is the room in a house that has the most activity done by the homeowners. The activity like cooking, eating, family gathering, guests entertaining, and many more. When the expert says that kitchen is the heart of a home, that's so true.
Either for checking the bill, writing a secret family recipe, or even dining with your beloved friends, all can be done by sitting comfortably on your kitchen area. That's why most of the people really picky about how they going to decorate their kitchen style.
So, you may need some inspiration to begin on redecoration your kitchen. Without further ado, these 25 captivating kitchen decor ideas are ready to be explored.
1. Kitchen Decor Ideas in Apartment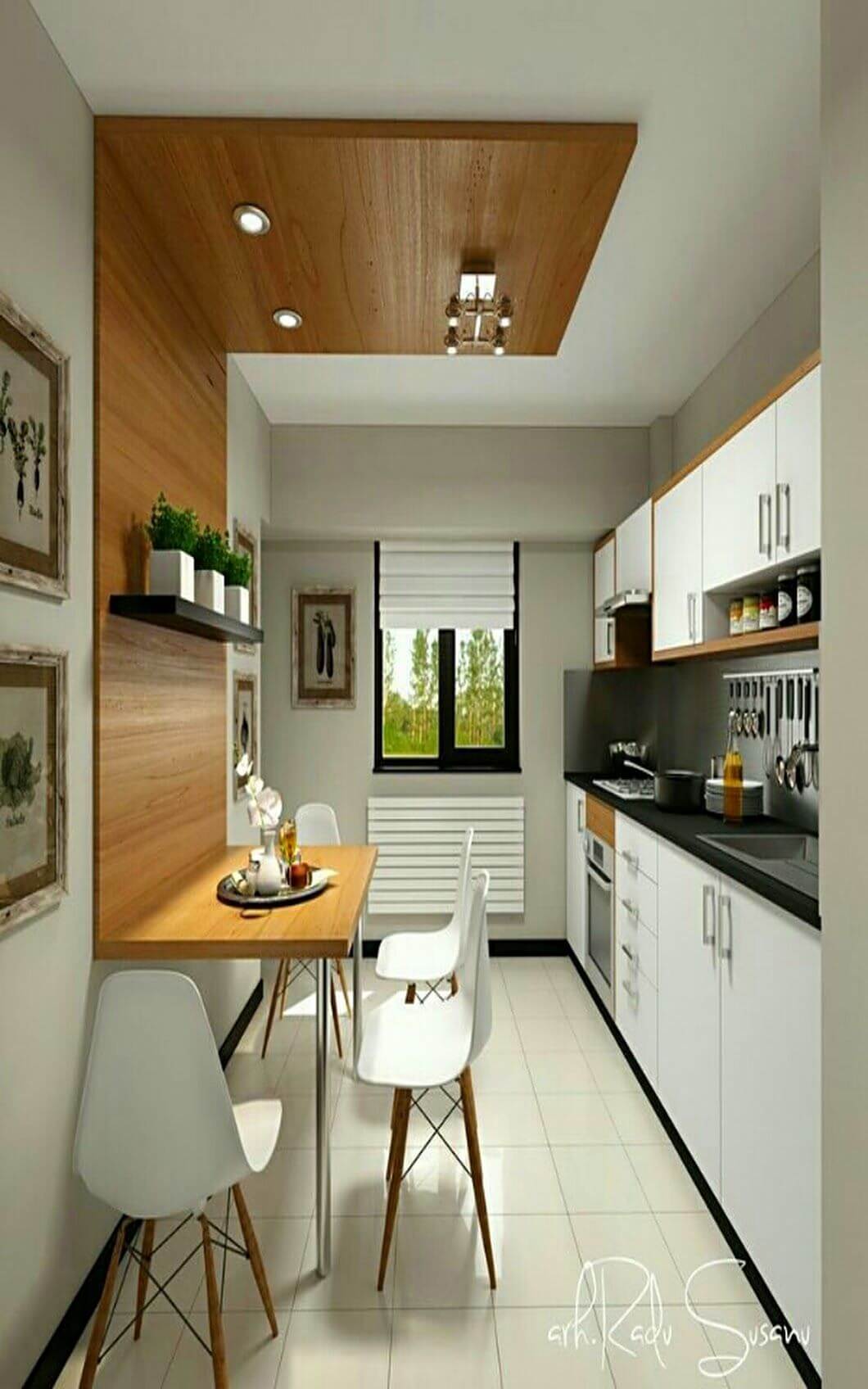 Most apartment owners try hard to get all of the interior space worth using. They need to make sure that all the space they have in a standard-sized apartment would be useful. This apartment kitchen is small but it's so relaxing.
Even though it's narrow, there's still a space to be used for a decorative installment of the kitchen island. It's even better when you know that it's also used as a dining table. The wood material is the perfect choice for this island which increases the sense of elegance.
2. Raccoon Kitchen Design with Brass Hardware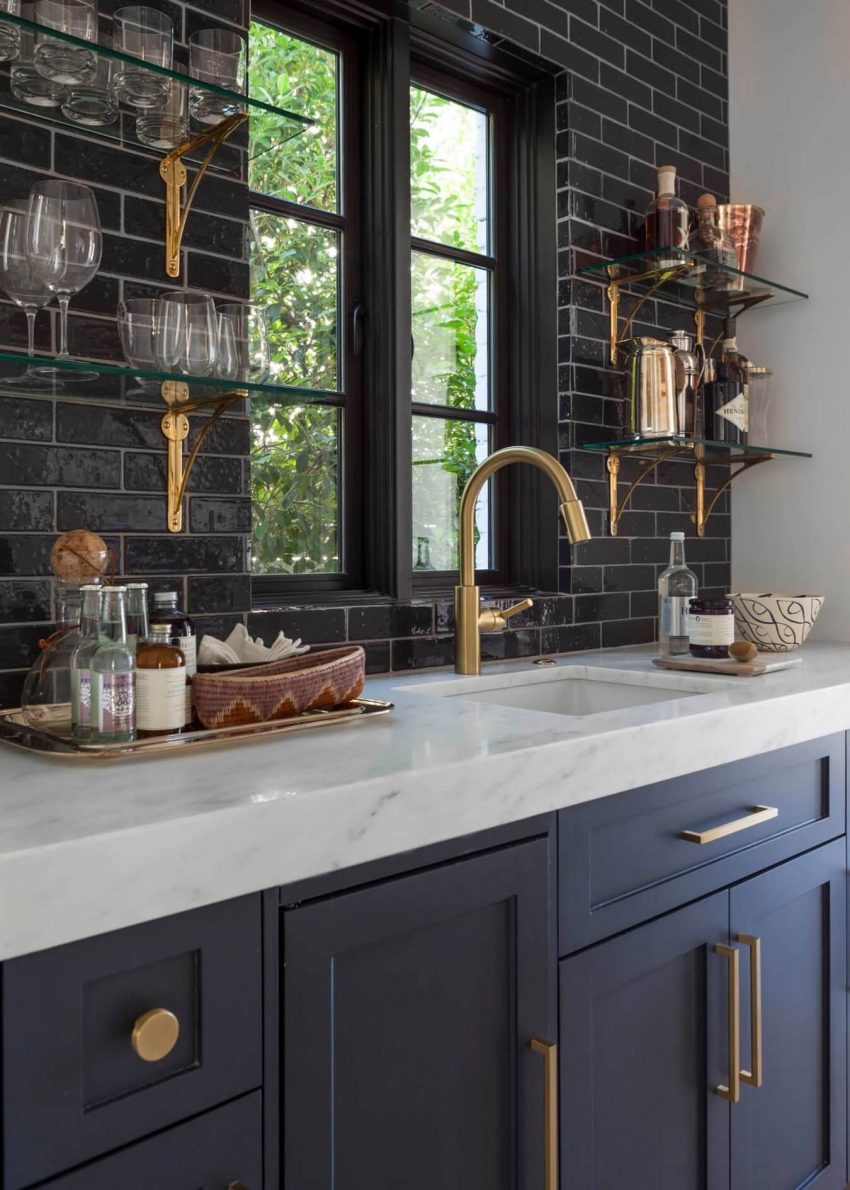 Raccoon is the name of the brand color from Benjamin Moore's collection, Raccoon Fur. That color is applied on the kitchen cabinet. The dark brick tile wall in this kitchen emphasizes the dark theme of the interior.
Glass elements in this kitchen are accompanied by the brass hardware and fittings. From the wall to the hardware, all of the element in this dark kitchen is so decorative. And one thing we need to mention is that the white granite countertop that shines brighter among darker shades.
3. Attractive Small Kitchen Decor Ideas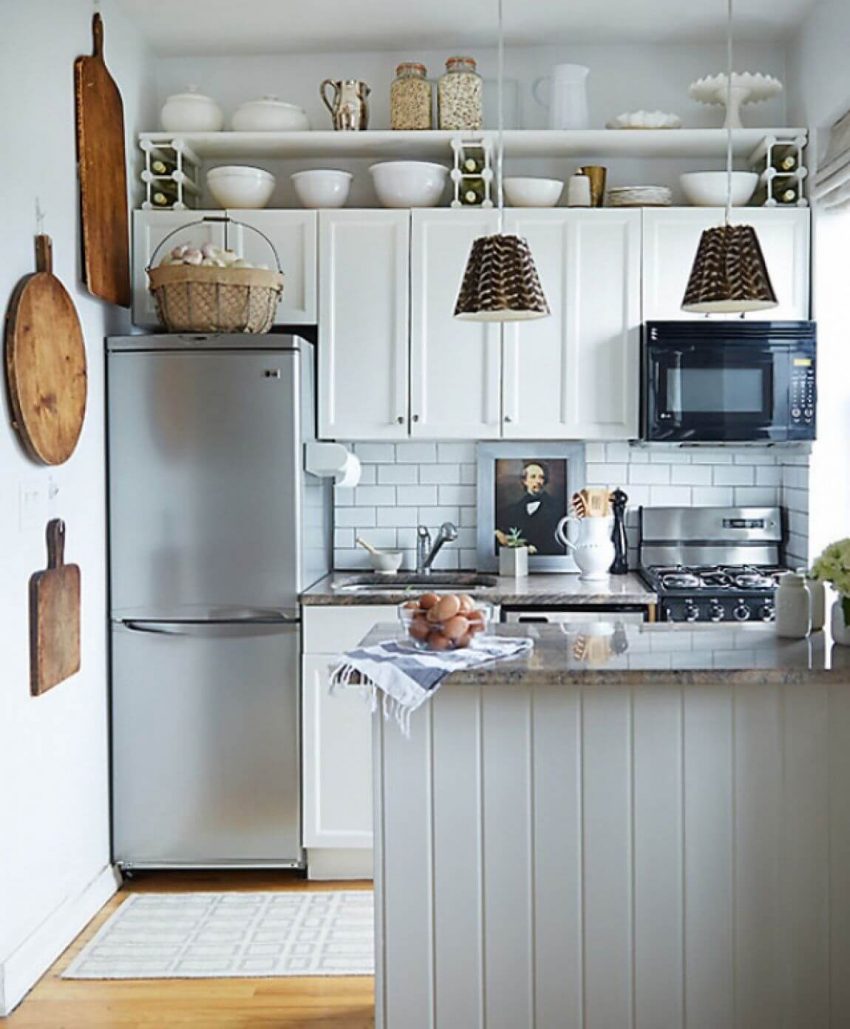 The size of the kitchen is crucial when dealing with design and style. You can actually make your small kitchen look stylish and well-organized like this one. Here are things you need to pay attention to designing a small kitchen:
Bright colors are perfect for a small room to make it spacious.

Some wooden decors on the wall can accentuate the brightness.

Some silver and metal element is needed since it a must-have item for the kitchen.
4. European Kitchen Cabinets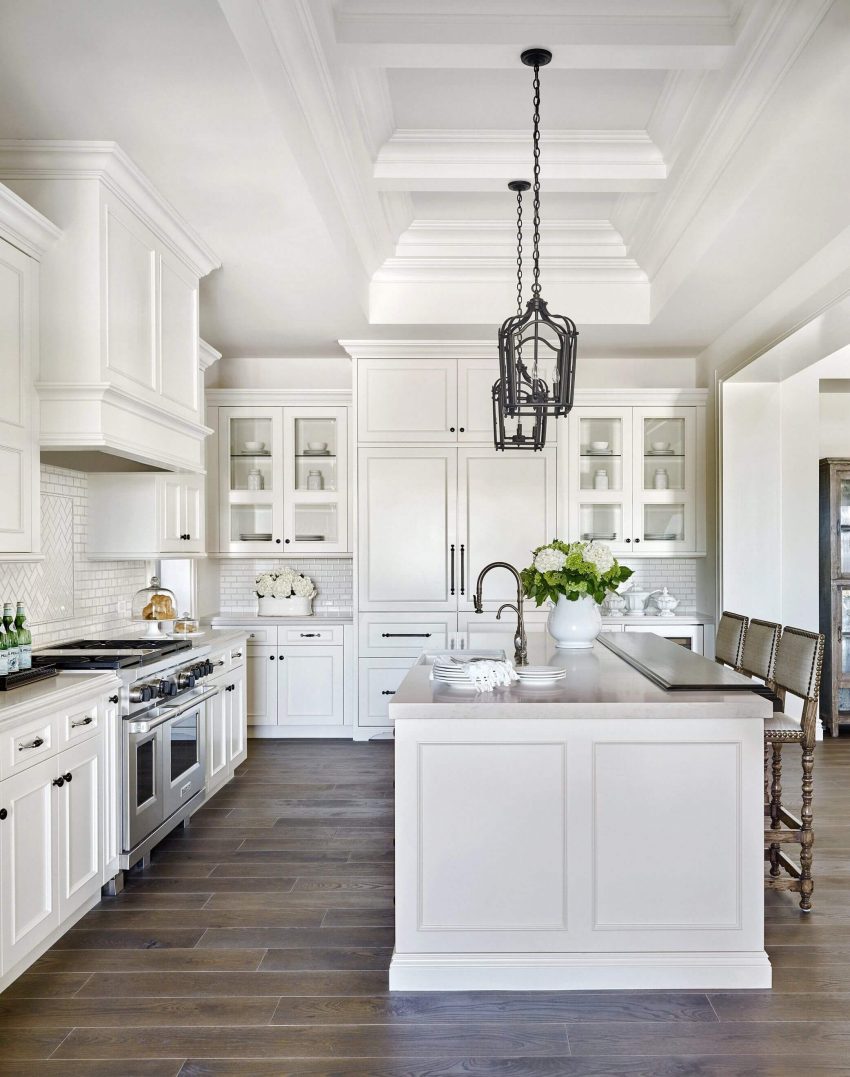 The kitchen cabinet is one of the most important elements in a kitchen. You might not find a cabinet in other places besides the kitchen. In this large kitchen, you can find that the whole thing in this kitchen is white.
I agree that white would spread the sense of relaxation and comfort. In order to lower the brightness of this kitchen, the flooring is using a darker wood. One of the main kitchen decor ideas in this kitchen is that lighting pendants hanging above the island which is also in a dark color.
5. Minimalist White Kitchen Design Ideas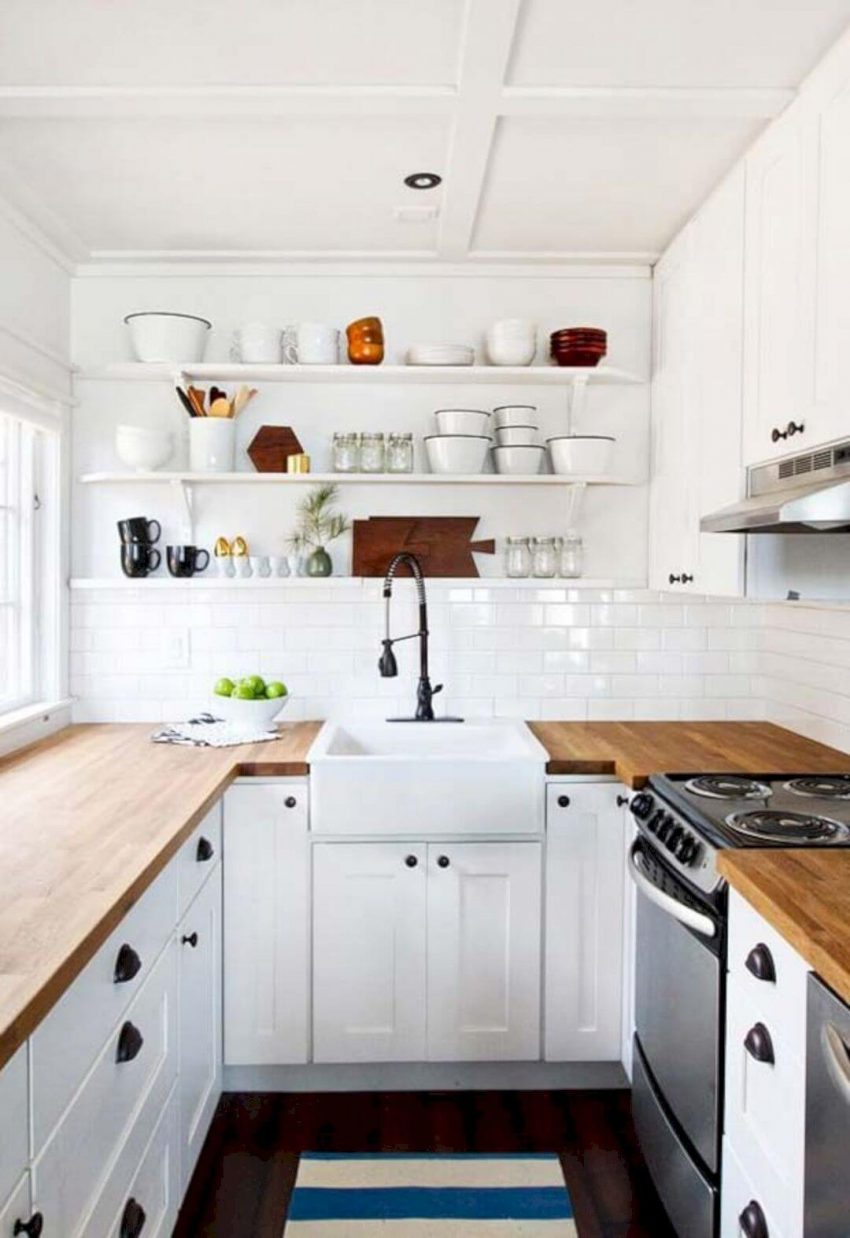 The brightness is the key to maintain the comfortable feeling in a small or narrow kitchen. As you can see, the picture showed how the white tone could intensify the brightness inside the kitchen area. That is why this kitchen looks wider than it really are.
The wooden flooring and countertop manage the atmosphere of the kitchen. Some kitchen decor ideas on that open shelves are used to balance the wall. It's there to lower the brightness to avoid the kitchen being too bright.
6. Gray Kitchen Cabinet Decor Ideas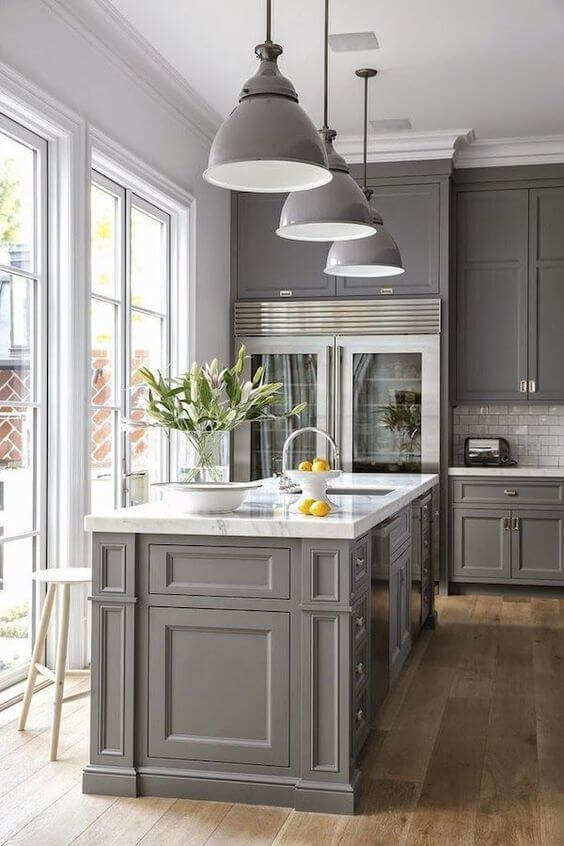 There was the time that gray color could be gloomy but those days are over. It's now become the sophisticated, stylish, and glamorous color. Here is some great gray color to choose for your kitchen:
Silver Gray: It looks silver and luminous in a well-lit space.
Nature's Gray: It gives warmth to the room.
Blue-gray: Undertone gray like this is very cool and it almost has a steel-like look.
Subtle Gray: It's an alternative to white color.
7. Decorative Portable Kitchen Cart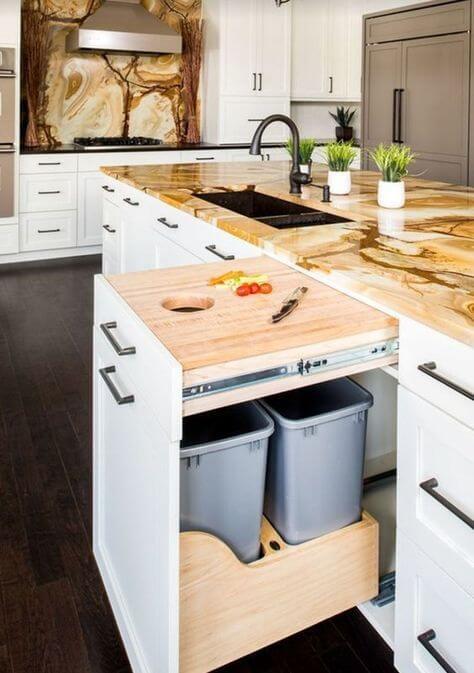 Some kitchen decor ideas can also be somewhat functional for your kitchen. This multifunctional portable kitchen element would be very useful for the kitchen activity.
It's got two trash bin under it and it can also be used as an extra countertop. To avoid stench or rotten smell from the trash bin, you must clean it regularly. A trash bag will be useful to help you keep the trash bin cleaned.
For addition, the color and the wood material look well-combined with the kitchen theme.
8. Warm and Inviting Kitchen Decor Ideas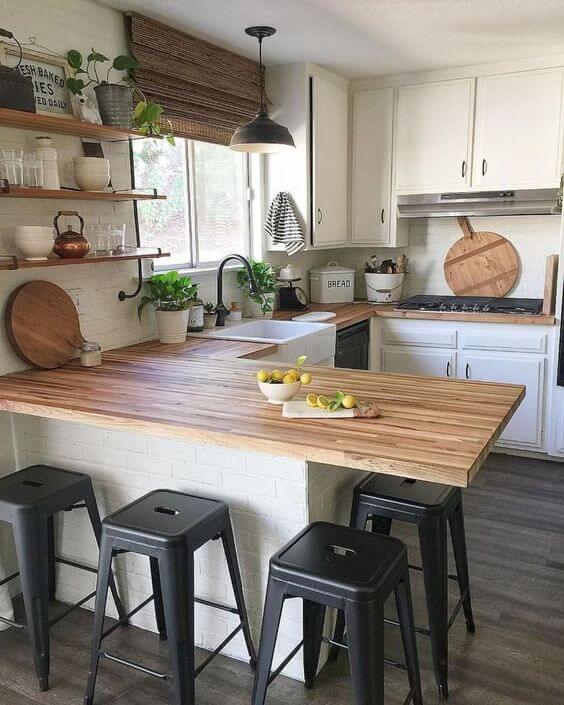 In my opinion, the main attraction of this small kitchen is the wood butcher block as the countertop. It's a clever choice made by the designer. It adds the sense of a traditional charm into the design. It's a great combination between the black and white color with that wooden material.
Highlight: "The natural plant decoration is there to strengthen the power of wooden elements in this kitchen. That open shelves are the key to an outstanding kitchen decor idea."
9. Sliding Kitchen Storage for Tiny Kitchen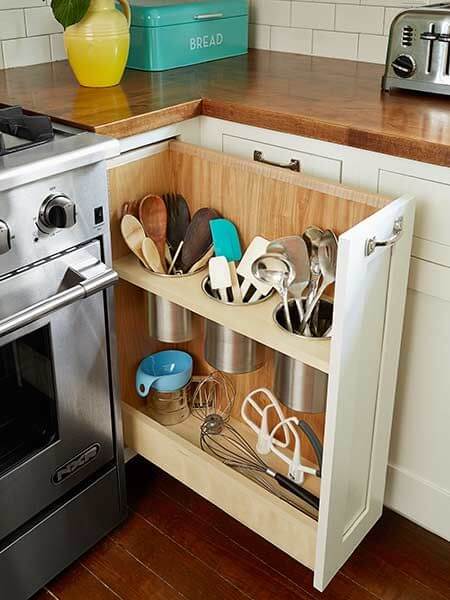 It's a smart corner kitchen cabinet ideas. You should install this in your tiny or small kitchen. It won't waste any space you have left in your kitchen. You can store some of the kitchen utensils. You can just slide it open to take the item you need and slide it closed to get them out of sight again.
It's not a type of kitchen decor idea but it's a great thing to have in your small kitchen. It's also not gonna bother the beauty of the kitchen decor design.
10. Farmhouse Kitchen with Brick Wall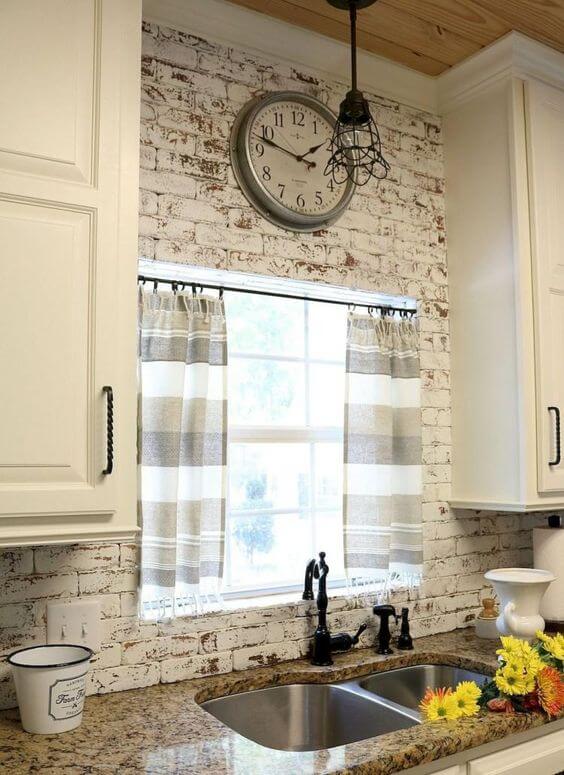 That amazing brick wall design has succeeded in dominating the atmosphere of the kitchen. You can have this kitchen decor idea in your modern kitchen. It can be a great combination of modern and farmhouse element.
I admit it that having a brick wall in a kitchen would require a lot of work and treatment. You need to consider the texture, cleaning, and rustic look before having it for your kitchen wall. But, it does offer an amazing decoration to your modern farmhouse kitchen.
11. Wire Baskets For Kitchen Storage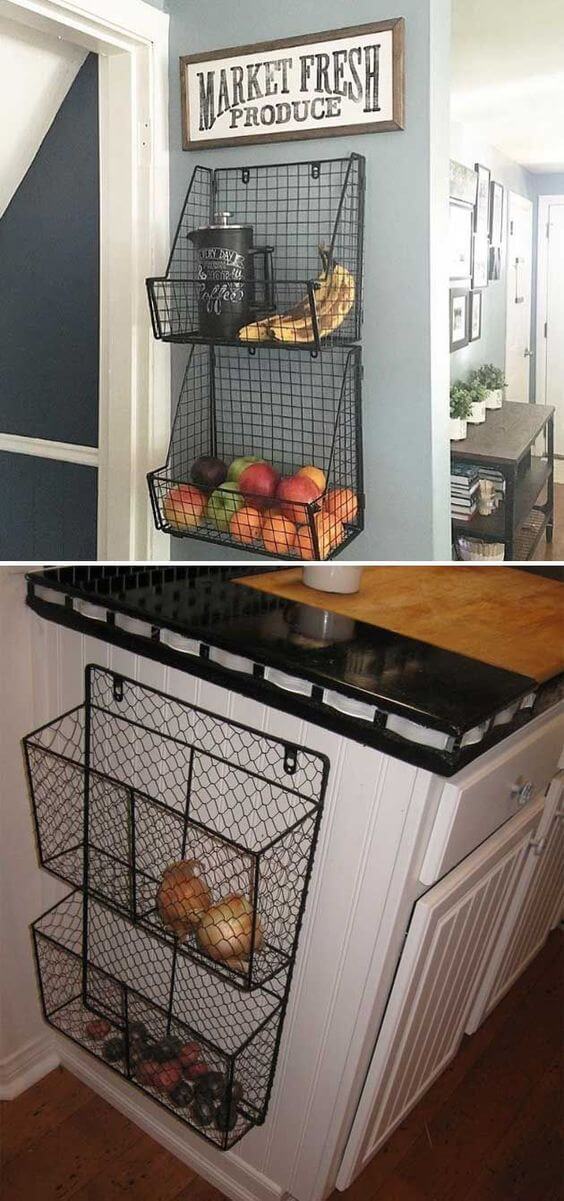 This is a pretty cool kitchen storage ideas. It offers both functions, as a storage and decoration. Just attach these to the wall or cabinet sides in the kitchen. You can use it to store the fruits, vegetables, and other food ingredients.
The stuff inside the baskets can give splashes of color into the kitchen. It will make the spot where you attach the baskets, more interesting. You can call it natural kitchen decor ideas. Well, it is interesting, right?
12. Sink and Faucet in Farmhouse Luxury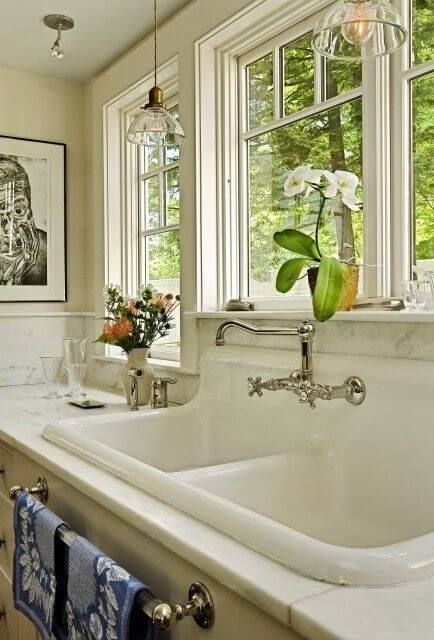 You might want to check out the sink and also the faucet. With that kind of vintage sink design and supported by the faucet, that's enough to build an entire atmosphere of the kitchen around. This is the level of a farmhouse design which is close to the luxury.
Highlight: "Adding the flowers in the middle of the sink as an extra kitchen decor idea is quite clever since it matches the outdoor area."
13. Modern Classic Look of Kitchen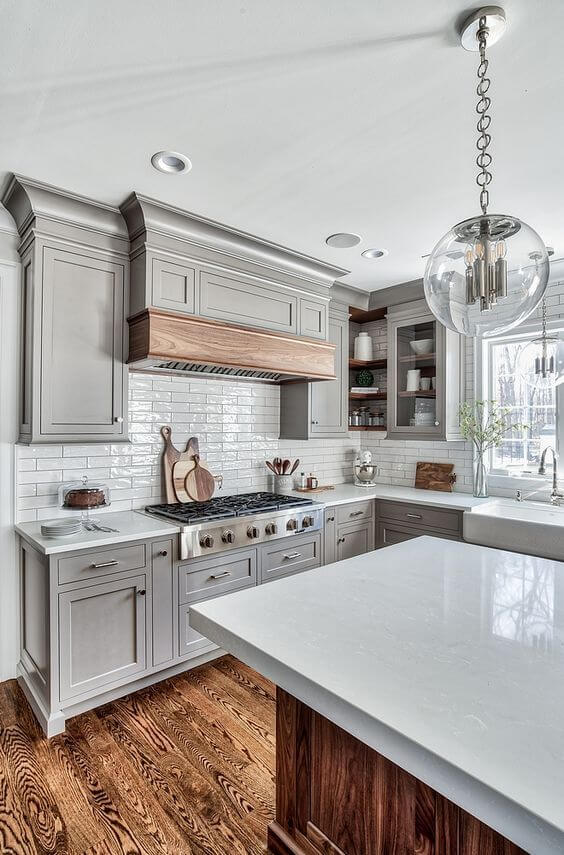 The combination of a modern and classic style is represented by this kitchen. The maple wood flooring looks stunning among other elements with earthy tones. There are three combinations of colors in this kitchen, they are brown flooring, gray cabinet, white ceiling, and the countertop.
I'm impressed with the choice of the light pendant design. It's so catchy and good looking. It's a great way to decide the focal point of this well-designed kitchen. Even more, the kitchen utensils are stored neatly and make the kitchen look really sophisticated.
14. Rustic Brick and Clean White Collaboration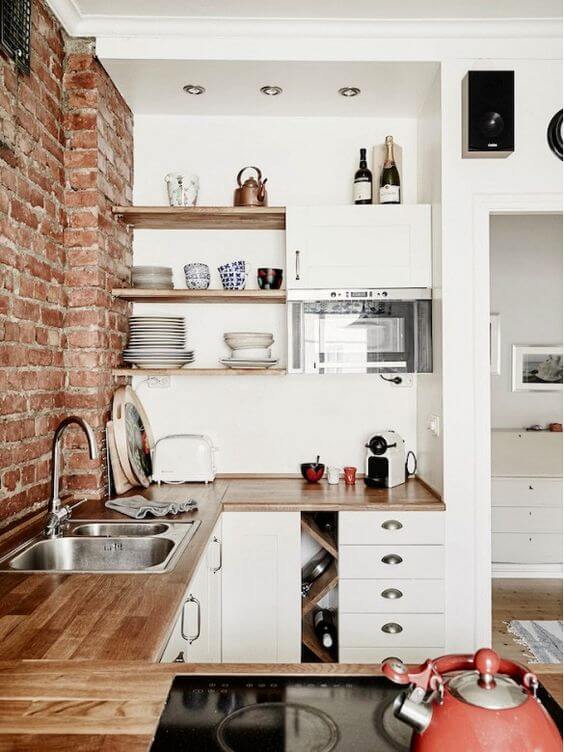 Another kitchen design for an apartment, you can opt to have this rustic modern design for your place. Some people might look at this design as a bizarre collaboration. Don't get me wrong, it's actually a clever idea to make your kitchen more attractive.
The owner decided to have those brick wall in order to add decoration to the room. I'm pretty sure that it would be an interesting attention stealer in your kitchen. So, no one would mention the small kitchen size anymore.
15. Light Tiny Kitchen Design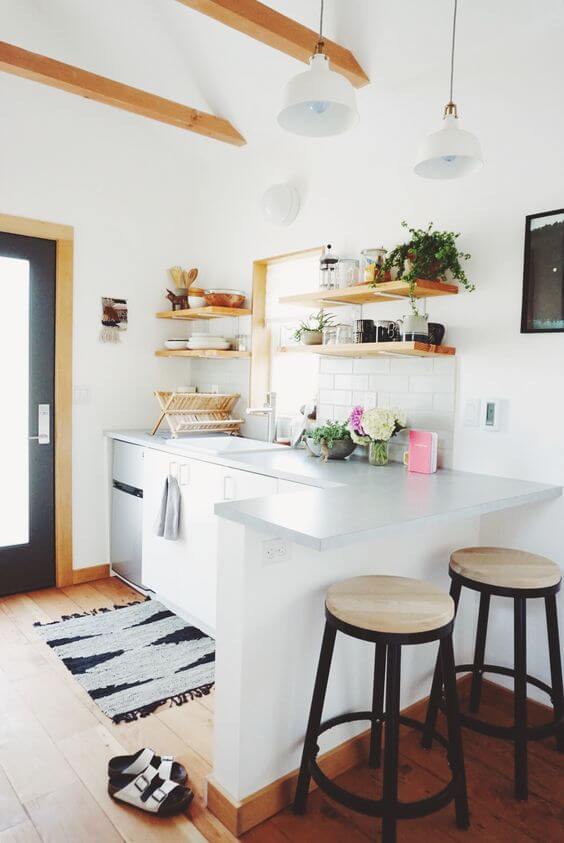 If you have only had a small space for the kitchen, try planning for this tiny kitchen design. The most important element of this tiny kitchen is the light. The kitchen decor looks enough to accentuate. The flooring, shelves, and some other elements are using real wood.
It's the right decision made by the owner because unlike faux wood, real woods would give a warm and cozy feeling all over the kitchen. White is the true color for the small room, it's not a compromised statement.
16. White Oak Village Apartment Kitchen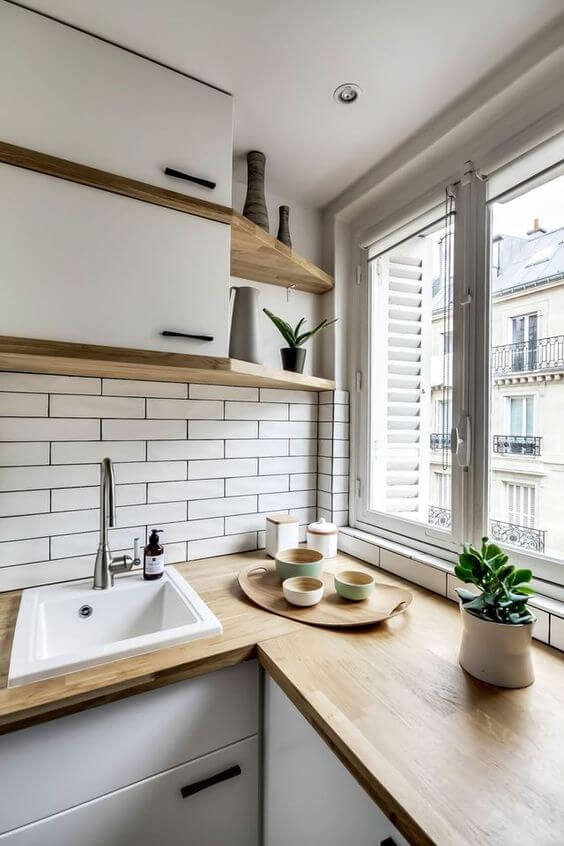 The oak wood material of this kitchen is pretty powerful to decide the taste of the room. The location of this kitchen space is right on the corner spot, facing the window. The light would go straight to the kitchen during the day.
Natural light from the outside could be both good and bad. But, when it comes to a busy place like a kitchen, you need enough light to get your activity more effective. Especially, this kitchen space is small, more lights mean more spacious.
17. Astounding Kitchen Decor Idea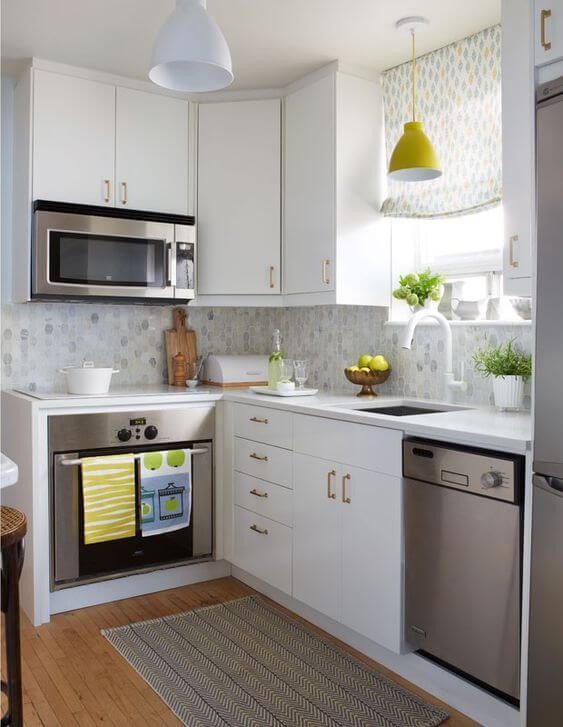 For you who plan to remodel your small space kitchen, this can be a nice idea to begin with. Check out that simple but astonish decoration, it is just enough to get this small open kitchen more attractive, clean and neat.
A splash of a yellow color from the light pendant is not too obvious, which is good. The wall tile or backsplash is playing soft. There is nothing looked too obvious in this kitchen. Everything seems to give in.
18. Farmhouse Country Kitchen Design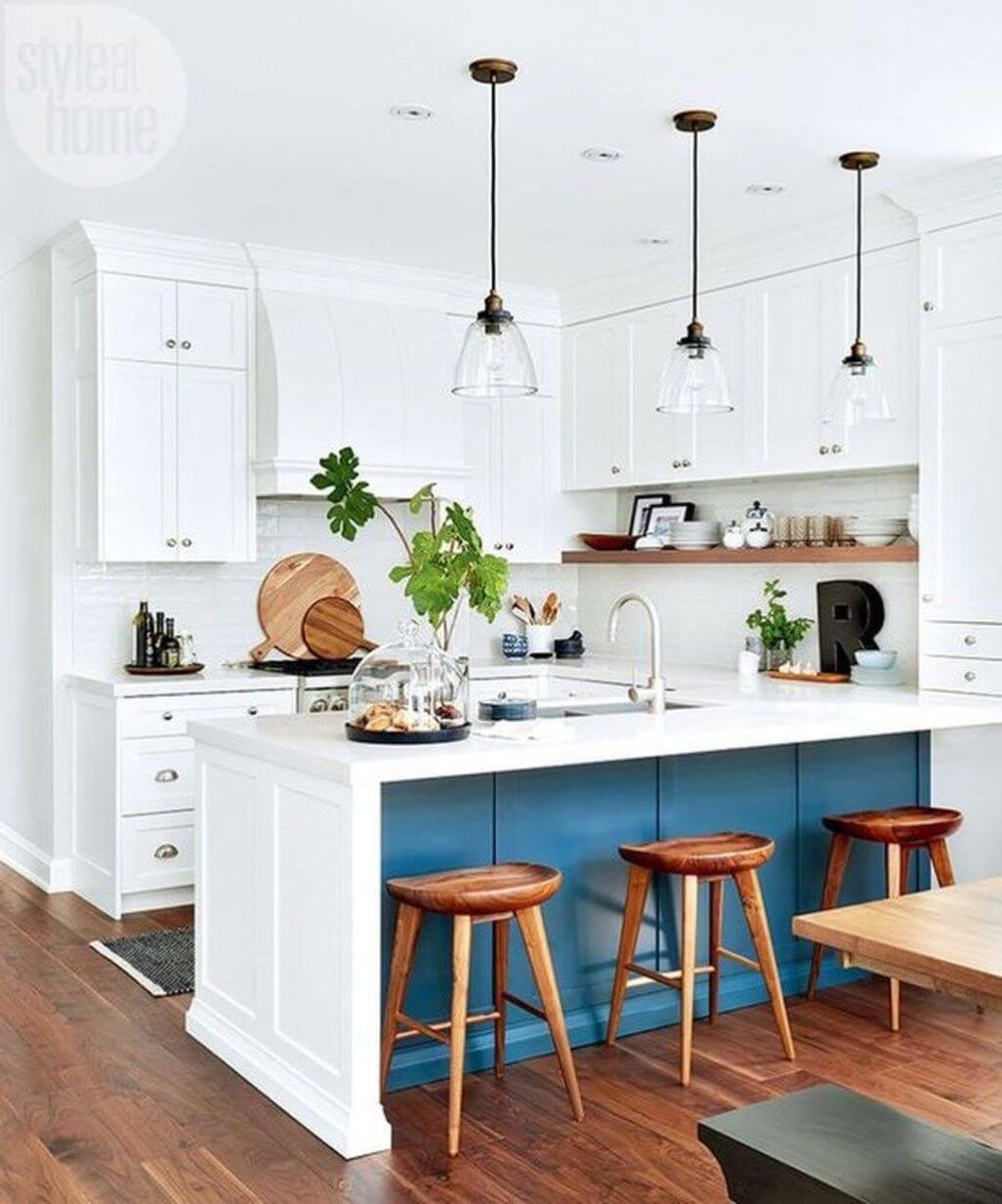 You can't get enough of this kitchen decor ideas. First, take a look at that glass light pendants above the island. That easily accentuates the ceiling to get an impressive look from here. Open shelf is installed under the upper cabinet to give you space for decorating.
The one that catches my attention is that blue color under the kitchen island. It's the only one with blue tone while the other colored with white. Not only this kitchen looks bright, it is also looks fresh and spacious.
19. Kitchen Design with Espresso Floors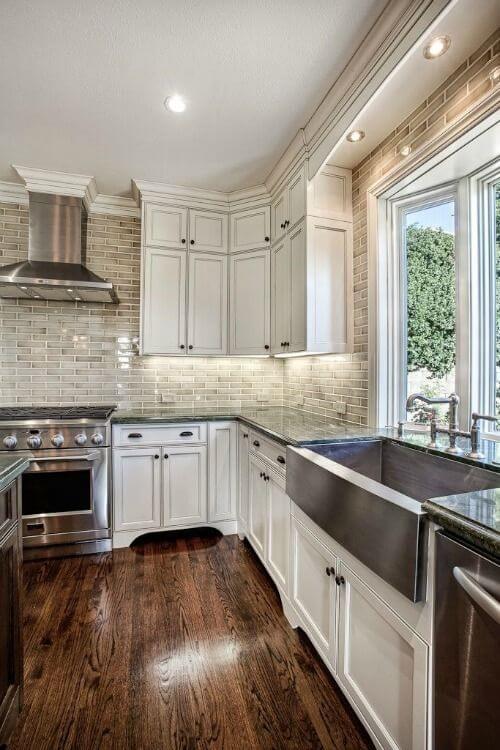 A kitchen with flooring in a color of espresso is all you need for a stylish and charming looks. That dark tones release the super elegant vibe for this kitchen. The idea to have this dark wood flooring is to maintain the ambiance made by the color combination.
Still, the brick wall is a great option to fulfill the kitchen decoration. You don't need to add more decor to the wall when you already have a brick wall. And that will save a budget for you.
20. Unique Kitchen Island Dimensions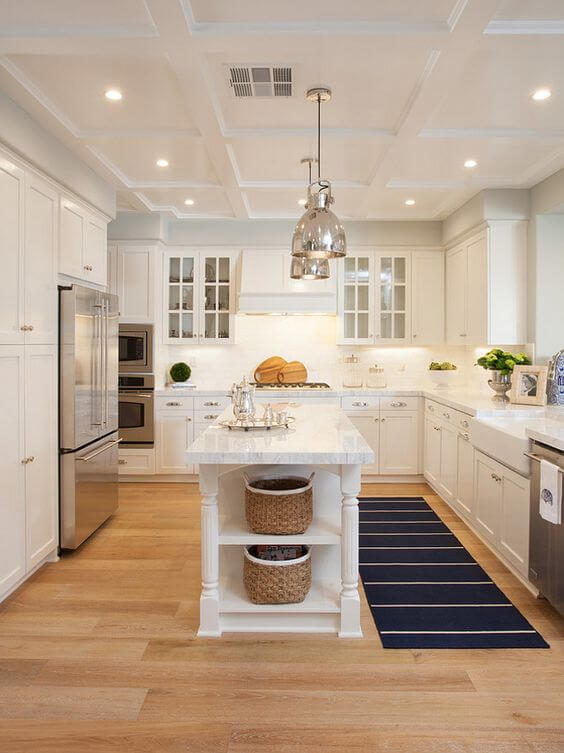 An ordinary kitchen island can easily be the focal point of the kitchen. Well, what about it's uniquely designed? It's even better. There will be nothing that could beat it to be the alternative focal point.
Just like what you see in the picture. The kitchen island stands out and make the whole looks complete.
Suggestion. In this case, you don't need to add other kitchen decoration to be over. Some simple and supportive decor ideas would be necessary if needed.
21. White Cabinets and Dark Countertop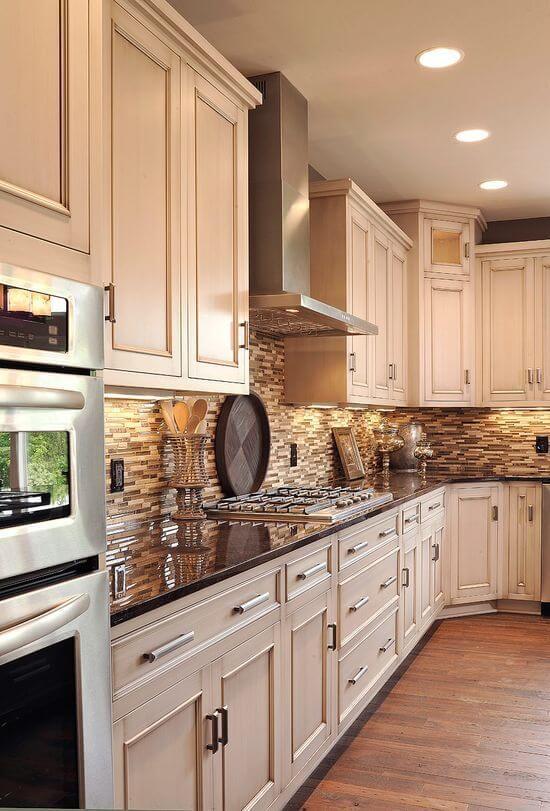 This kind of combination is quite common to be applied in a kitchen. Usually, there's another color like brown which is used to balance the white and black color. So, some brown or wood items would be needed to decorate the kitchen.
As you can see, the kitchen already spread a calming and relaxing tone. Not only you will love to cook there, you also will probably like to hang around the kitchen. Just add a kitchen island and, voila! You'll have your relaxing space at home.
22. Kitchen with Gray Island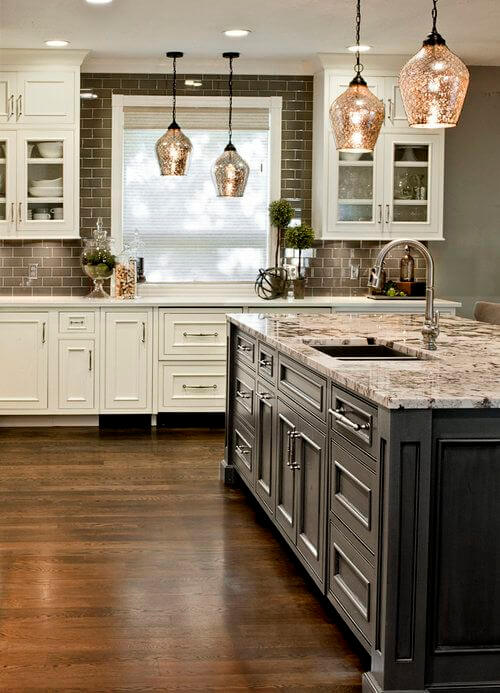 Choosing the color of gray for a kitchen is quite popular these days. A gray kitchen island can make the kitchen looks trendy and updated. That granite pattern of the countertop is ready to top the whole design.
And look at that stunning hanging light. It somehow looks similar to an upside down glass of wine. It will not only make your kitchen look classy but it also give a warm effect to its surrounding. Even more, it looks easy to be cleaned.
23. Colorful Wallpaper to Decorate Kitchen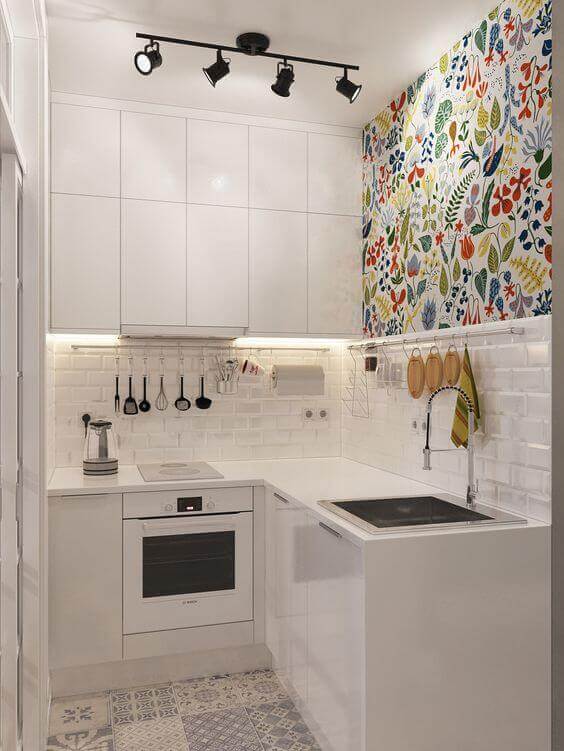 A white kitchen can be the right reason to add a colorful wallpaper on the wall. Just apply the colorful fun pattern on one part of the wall. It's there only to decorate, not to dominate. To strengthen the color during the night, some spotlights are needed.
Besides it looks wider, this tiny kitchen is really simple and easy to be creates. But you must keep in mind that white color is easily stained. It means you should pay more attention on cleaning your kitchens' wall and cabinet regularly.
24. Bright Narrow Kitchen Design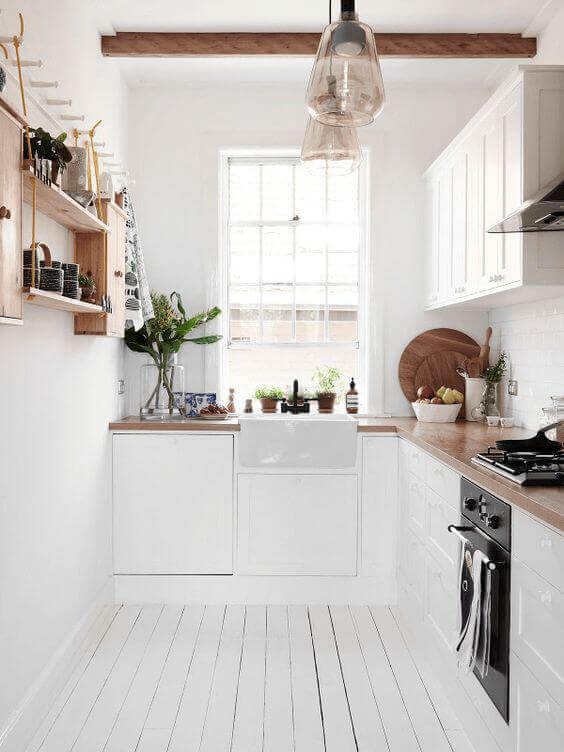 A narrow space can be tricky. It can be crowded if you don't decorate it properly. The easiest way on decorating such a small kitchen space is by using white or other light tones as the main color.
The light color would reflect the light to increase brightness. That's the reason this kitchen is applied in white color. It's even more bright during the day because of the perfect window position. Some wooden elements and items are added to balance the light.
25. Kitchen with Signature Hardware Sink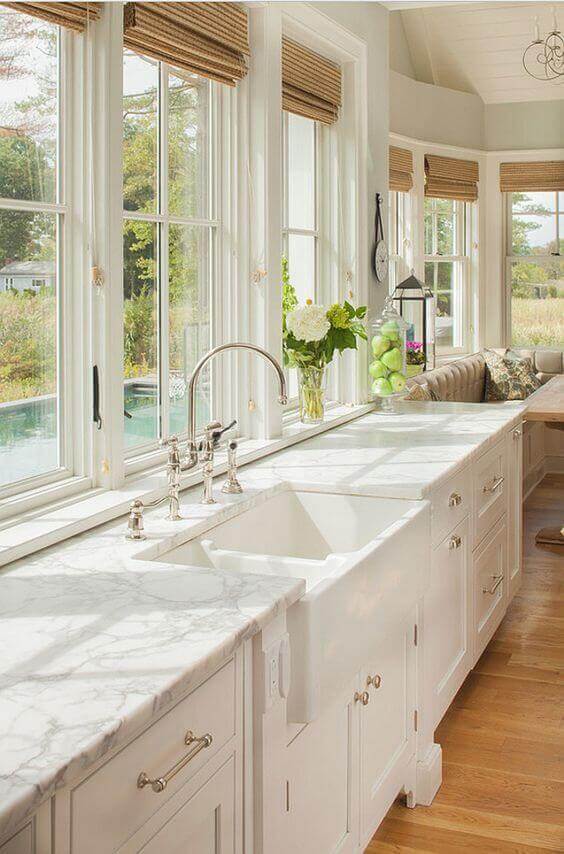 The sink is one of the most crucial elements of the kitchen. Without its sink, the kitchen is incomplete. The only decoration I see in this kitchen photo is that flowers back there. Many windows are open to offers a magnificent outdoor's view. It's a nice natural kitchen decor idea too.
The hardware sink does uplifting the whole kitchen's looks. Moreover, the wooden flooring makes a perfect match to the white tone. A small tip for you to avoid dullness on this all-white-kitchen, you can add a colorful flower instead of white on the window as a decoration.
Conclusion
After exploring the whole ideas here, I believe you already found the idea that really impresses you the most. You have to keep in mind, you need to apply kitchen decor ideas according to the size and style of your kitchen.