A durable and quality roof is crucial for any home or property. For one, it can give you sufficient protection from elements—such as storms and rains—that may cause severe damage not only to the structural integrity of your home but also to everything underneath it.
But aside from the protection your home's roof can give, it can also enhance the appearance of your property and preserve its value.
This can help you if you're planning to sell your home in the future. After all, nobody would want to purchase a valued property with a failing roofing system.
However, your home's roof can experience wear and tear over time. And in such instances, the question of whether to replace your roof or not arises. But how can you tell if it's time?
In some situations, the signs can be quite obvious—for example, spotting a massive leak in your living room. But in most cases, the wake-up calls of a faulty roof can be more unnoticeable.
If you think your roof has a problem that requires immediate replacement, you may call any roofing replacement service in Alexandria or your local area for professional help. But before you do so, it's best to understand what's on your roof.
Understanding The Roofing System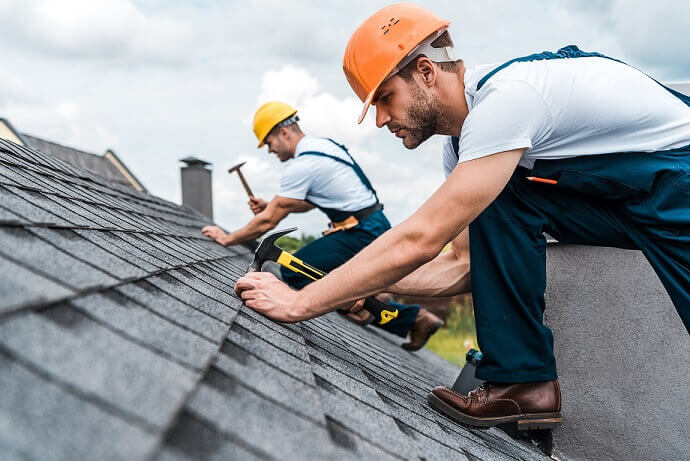 Before calling a roofing expert, make sure you understand the lingo. That said, here are the essential components of a roofing system:
| | |
| --- | --- |
| Vents | This helps keep your roof dry by allowing air to circulate through your attic. |
| Fascia | This is the horizontal board at the end of your roof that helps support and secure your gutters and give your roof a finished look.  |
| Deck | The surface that provides framing and structure to the roof. |
| Drip Edge | This is situated at the edge of the roof, which helps prevent water from leaking or dripping on the eaves. |
| Soffit | The part underneath the roof overhang. |
| Shingles | This is the first layer of the roof that protects the roof structure and repels water. |
| Underlayment | This can be found on top of the roof decking, which aims to give protection against water leaks. |
| Flashing | This is where your roof and chimney are connected. It's a sealant that prevents water from penetrating your home. |
How To Assess If Your Roof Needs To Be Replaced?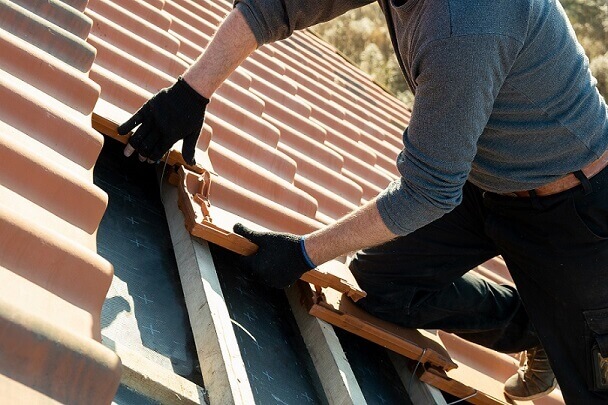 Now that you know the components of your home's roofing system, it's time to find out how to spot a roof in need of replacement. To help you get started, here are the things you need to do:
Know How Old Your Roof Is
The lifespan of your roof will depend on what type of material it's created from. According to the International Association of Certified Home Inspectors (InterNACHI), a roof made of the following material has a life expectancy of:
Asphalt Shingles:

20 to 30 years

Slate:

60 to 150 years

Clay:

50 to 100 years

Wood Shingles:

25 to 50 years

Metal:

40 to 80 years, but copper and zinc can last around 70 and 100 years, respectively
If you think your home's roofing meets the following age limits mentioned above, this may be the best time to consult any roof replacement services in your area for an estimate.
You can have your roof completely replaced with a new one—if you have an asphalt roof—or overlayed with new shingles.
Check If There Are Signs Of Growth
If you notice mold or mildew growth around your walls and ceilings, chances are you may have a leaky roof, plumbing issues, or condensation problems. 
But before you call any roofing expert, you'd want to ensure your roof is dry, the bathroom fixtures and plumbing lines aren't leaking, and your home is well-ventilated. Doing so can help narrow down possible causes behind mold or mildew growth.
Furthermore, here are the different types of growth that may show up on your roof and their potential consequences:
Algae:

These microorganisms can be either black or green and can cause your roof to rot and eat your shingles away. They exist due to moisture deposits around the shingles and shakes, which allow them to spread. 

Mold:

This is one of the biggest problems many homeowners encounter. It offers nothing but damage to your property and health risks. Also,

molds

are often easy to identify because of their pungent odor and unsightly appearance, marked by blotches.

Mildew:

This is another common household growth often found on wet surfaces. It has a powder-like appearance, which may range from gray to black and white. Also, it can cause health risks when exposed for longer periods and spreads much faster than other types.
Inspect Your Roof For Droopy Or Saggy Spots
Saggy or droopy spots are a sign of a weakened roof deck due to heavy amounts of moisture deposits. These call for immediate roof replacements.
If you want to test it out, you may try walking on it. If it feels slightly bouncy or spongy, get out of there quickly before it collapses and call a roofing expert as soon as possible to rectify the issue.
Examine Your Chimney Flashing For Damage
Flashing can be made with steel or aluminum. If you notice any rust or cracks, it'd be best to ask your local roofing professionals for help.
These allow water to seep into your home and damage your interior. The experts can help you determine if the flashing needs to be fixed or replaced, depending on the damage it may have caused.
Check If You Can See The Daylight
One of the best places to check if your roof needs to be replaced is in the attic. As much as possible, you shouldn't be able to notice any daylight penetrating through your roof boards.
If you do, call your local roofing expert and have your roof assessed for possible replacements.
While on it, you might also want to look for moisture deposits. Stains due to moisture could also indicate a leaky roof.
Final Words
The roof is an essential component of your house's structure, protecting you and your family from destructive elements, such as storms, extreme sunlight, etc.
However, it could sustain damage over time. Once it does, it's recommended to have it replaced to prolong its lifespan and get more than what you pay for.
You can use this guide as a tool to help you spot signs and determine if your roofing system requires replacement or not.