Bathroom remodel is a surefire way to transform the bathroom. The problem is, the remodeling process is not only expensive but also time-consuming. Here's a cheaper and quicker alternative: change your bathroom tub. How? If you don't know, our bathroom tub ideas here can help.
We listed no less than 21 ideas, all of them differ one from another. That means you will find at least an idea or two to your liking. Ready to get inspired to transform your bathroom? Let's get started now.
Freestanding Side Tub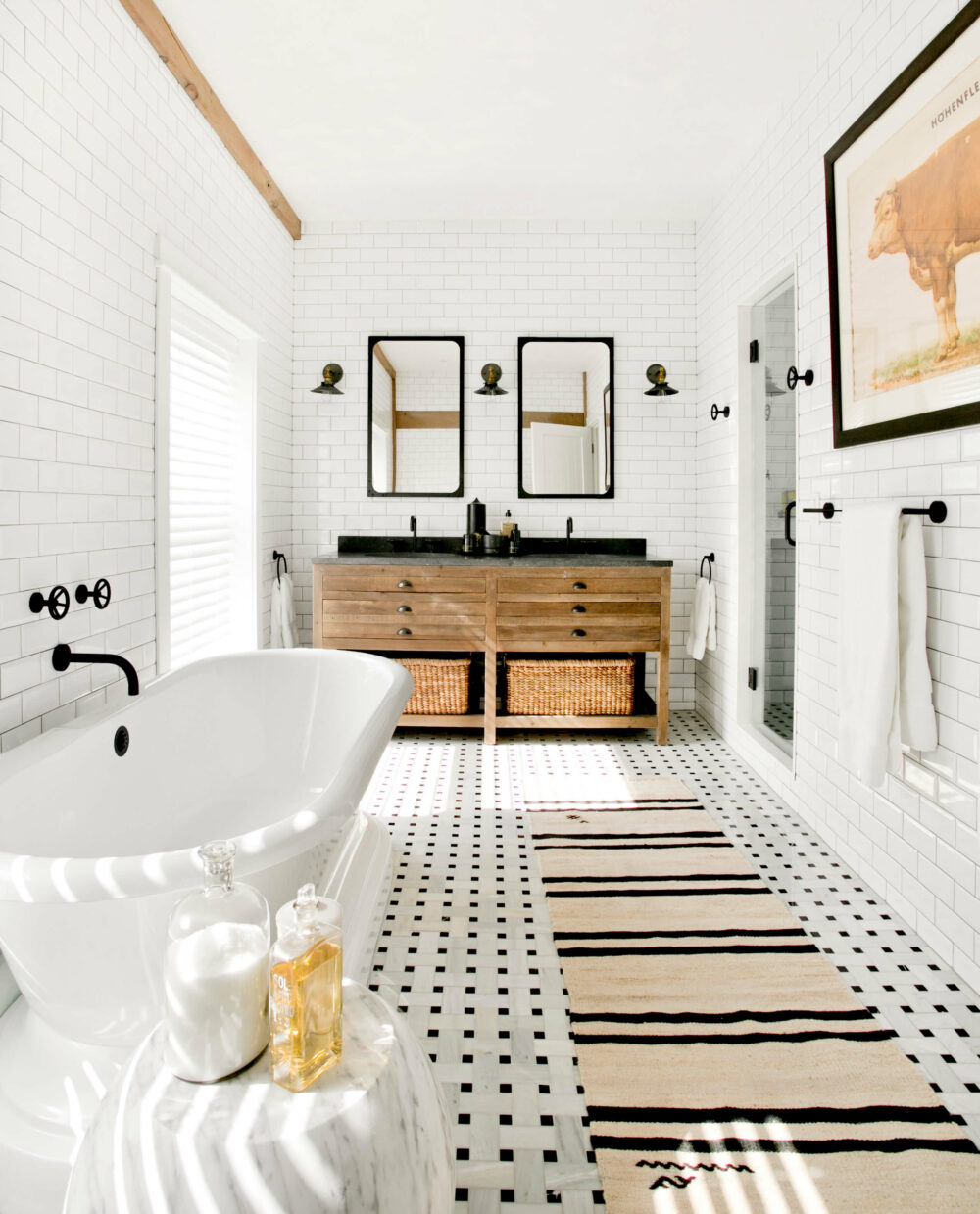 Of all bathroom tubs, the freestanding ones are among the most versatile.
As such, they make great options not just if you have limited space to spare in your bathroom but also when you want to change how the bathroom looks.
Look at this bathroom with tub. The freestanding tub is put on the side, freeing up a lot of space to use for other purposes.
Also, by sticking to the wall, the tub looks more noticeable thanks to the subway tiles wall and patterned flooring.
Clawfoot Tub Accessories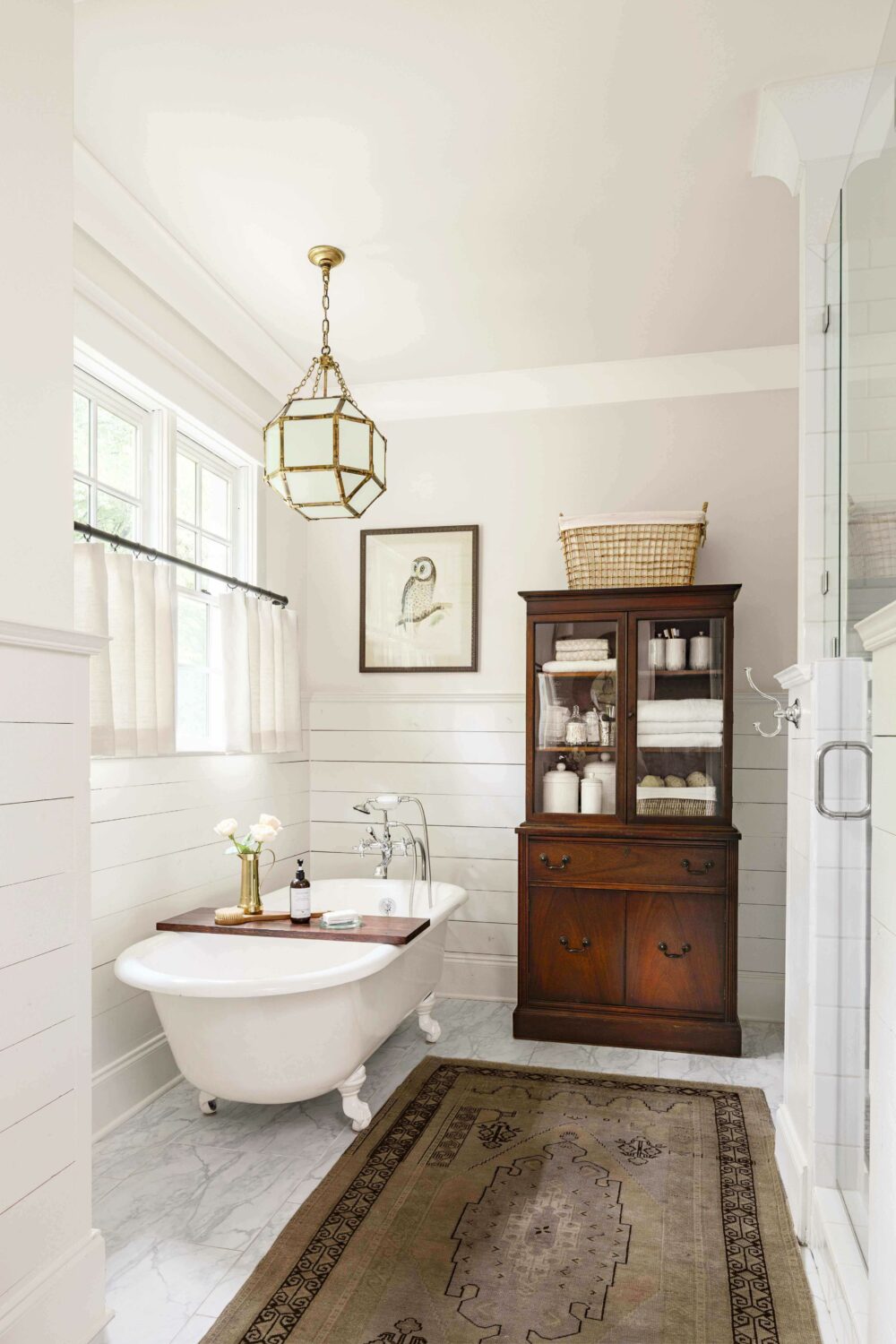 Want to go for a classic look instead? Incorporating an 'old school' bathroom tub is surely among the most effective bathroom tub ideas for that.
Besides its main functions, the bathroom tub makes a very noticeable visual cue thus complementing the classic look of the bathroom.
Another thing about this bathroom tub is how it sits comfortably on the corner. The corner is mostly left empty and overlooked.
So, this placement is very space-efficient as the corner is no longer unused. Notice how it also makes the bathroom feels less constricted.
Pretty in Pink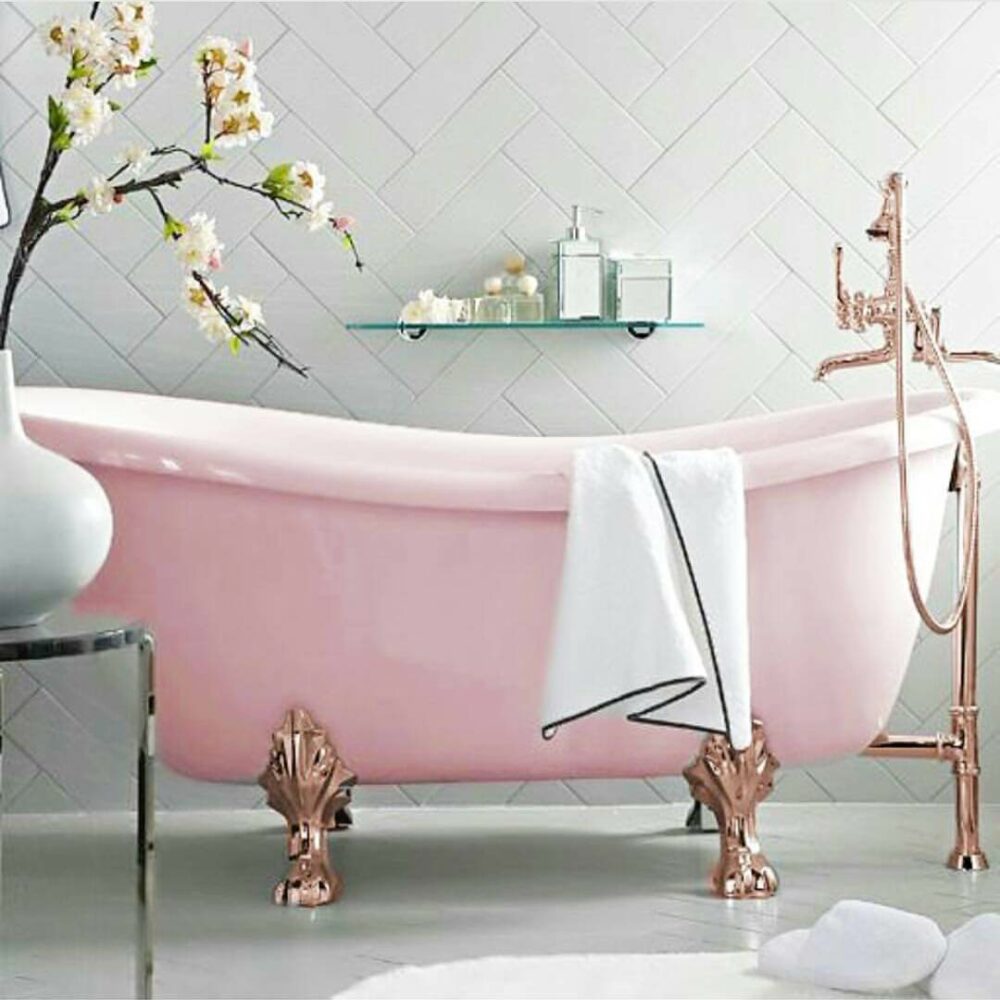 When it comes to bathroom tubs, there are limitless options to choose from.
While most bathroom with tub ideas here has a white bathroom tub, that doesn't have to be a rule one has to abide. It is nothing more than generality, rather than an absolute rule.
Want to improve the mood of the bathroom? Add a pink clawfoot bathroom tub then.
Such a bathroom tub design will surely brighten the mood of the bathroom. Not to mention its clawfoot make nice accent decorations, too.
Bathroom Tub Ideas with Shower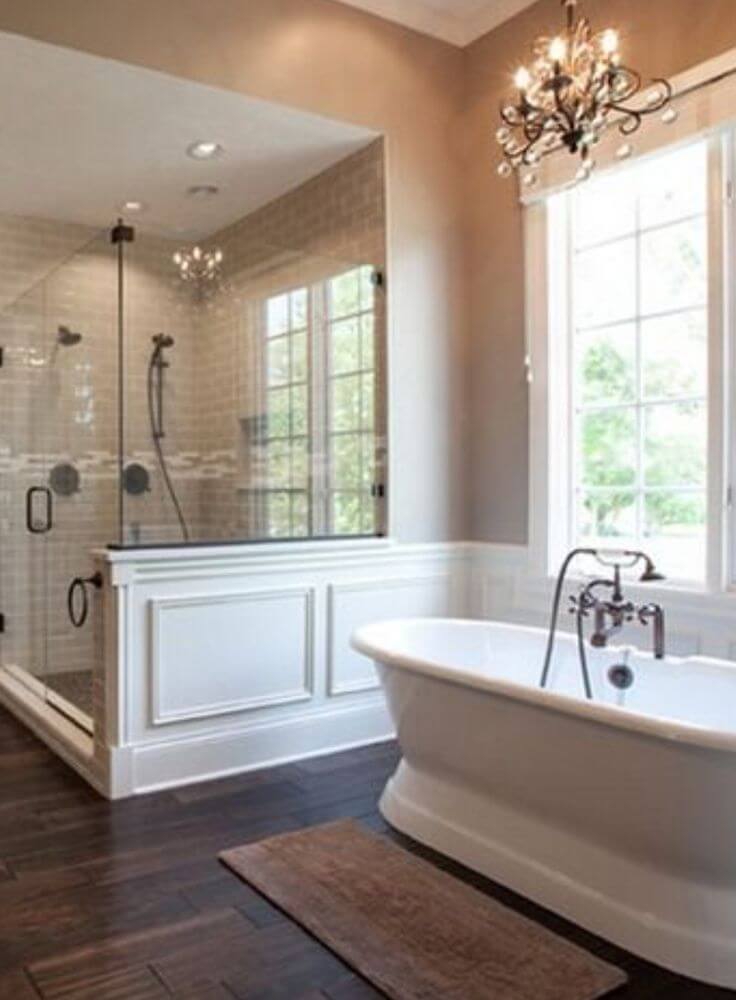 Whichever bathroom tub ideas you'd want to try, be sure that it ensures maximum comfort for you.
Remember, the bathroom should be the place where we can spend time comfortably and relax. As such, comfort is really important.
Take a look at this cozy bathroom tub. The shape is so simple, unique and accommodating.
It sits directly on the floor with no clawfoot, giving you the peace of mind as no clawfoot malfunction will happen, and most importantly, providing you with the comfort you need.
Rectangular Bathroom Tub Ideas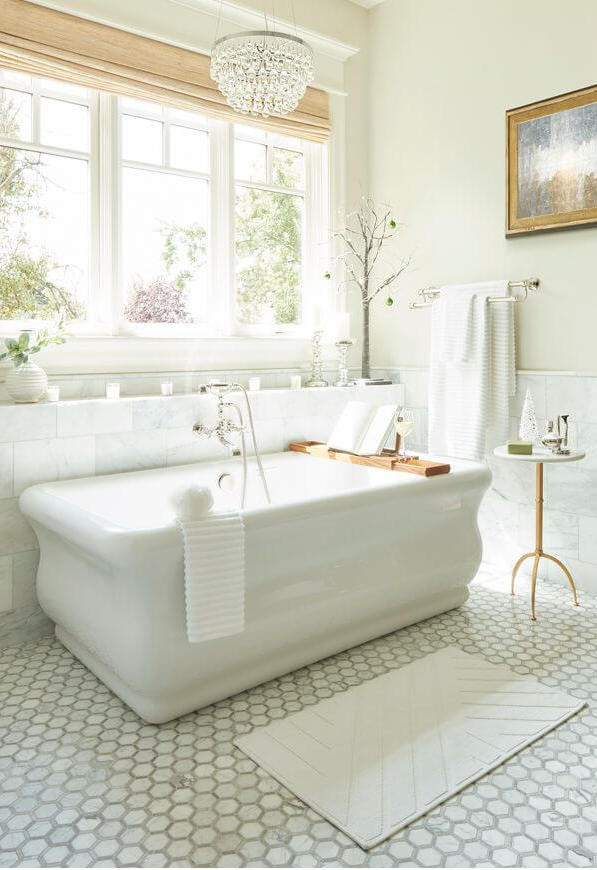 Nothing makes a statement in the bathroom better than a rectangular bathroom tub.
Elliptical bathroom tubs are common. Rectangular ones, on the other hand, not so much. That is why it adds uniqueness to the bathroom.
Notice how this bathroom with tub has circular patterns for the flooring.
The juxtaposition between the rectangular bathroom tub and circular patterns make the bathroom even more interesting. It is as if the patterns are added to balance the tub in a very subtle way, for that matter.
Bathroom Tub Ideas Seamless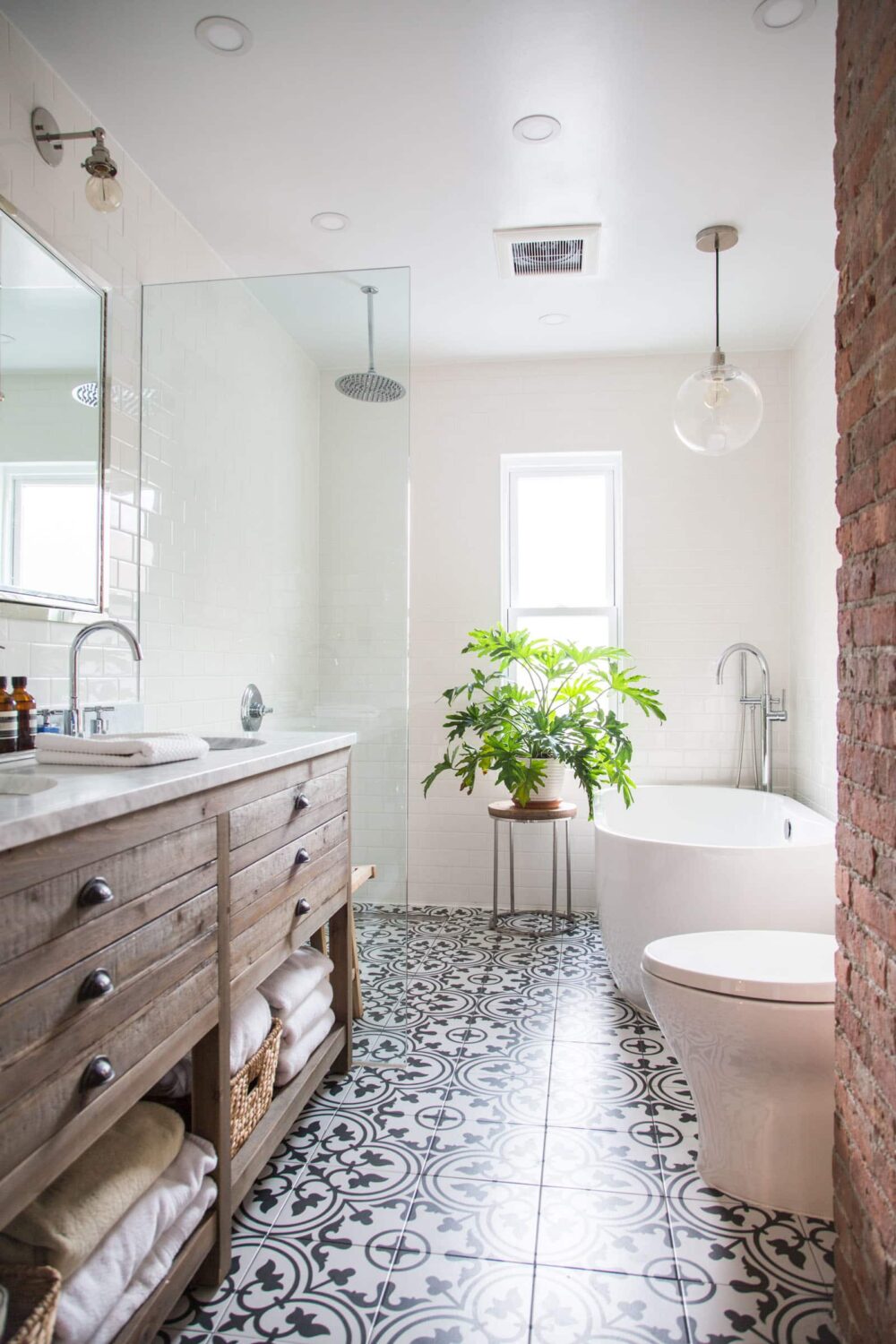 Compared to the other bathroom with tub ideas, this one is surely among the most seamless one.
It is so seamless you might not find out where the tub at first glance. The tub is on the right corner.
This bathroom is divided into two contrasting parts: the left part with defined lines and edges and the right part with circles and ellipses.
The two contrasting elements create a simple, unique, and seamless visual cue. The interior of the bathroom is just, well, flows due to its seamlessness.
Bathroom Tub Shower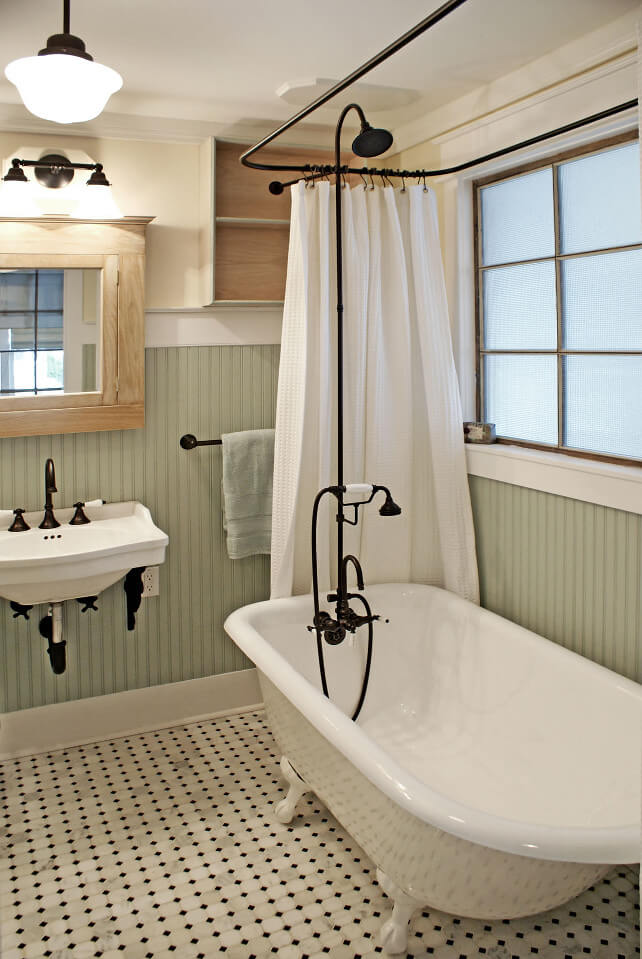 Need some simpler bathroom tub ideas? This one here is an example of a simple bathroom tub.
Yet, this exact simplicity is what makes the tub appealing. It doesn't have any striking design elements. What makes the tub special is its contrast with the black shower fixtures.
The very stark contrast allows the fixtures to stand out and get highlighted by the whites of the tub.
With most of this bathroom with tub being neutral-toned, the tub and shower become the focal point. A very simple and clean way to transform the bathroom.
Farmhouse Bathroom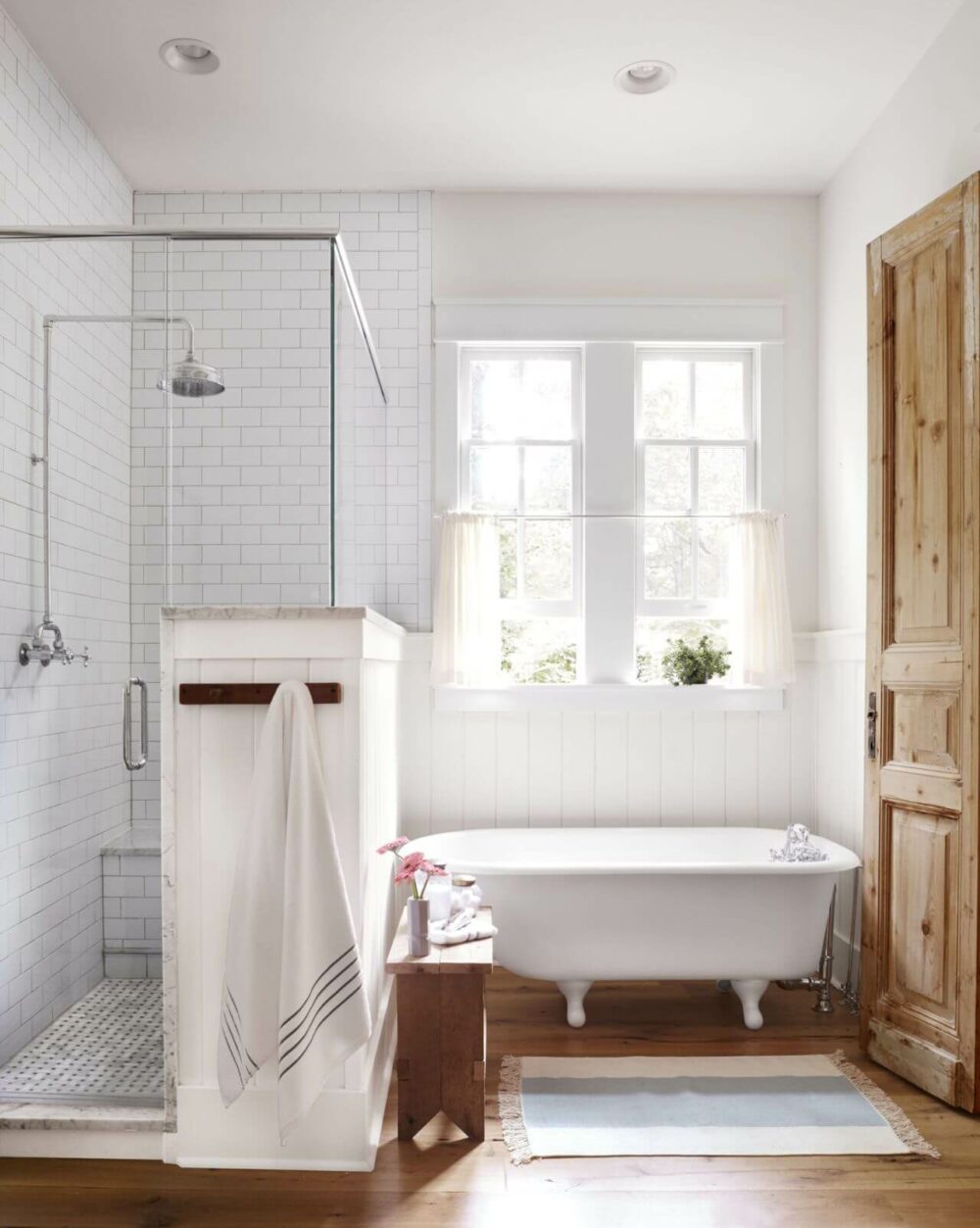 Let's just admit it. A farmhouse bathroom, like this one here, looks so inviting. The mostly white surfaces, the dark brown flooring, the subway tiles, everything works as one to bring the farmhouse vibe.
The bathroom tub is no exception, of course. It has a solid white color, becoming a subtle yet noticeable point of interest in the bathroom.
Notice how it contrasts with the flooring and at the same time, silently blends with the walls.
Just like any other parts of a house, the bathroom comes in various decorating styles. Among them is the farmhouse style.
Yes, the one that you have just seen. Want to incorporate the look into your bathroom? Then you don't want to miss these farmhouse bathroom ideas.
Rustic Master Bathroom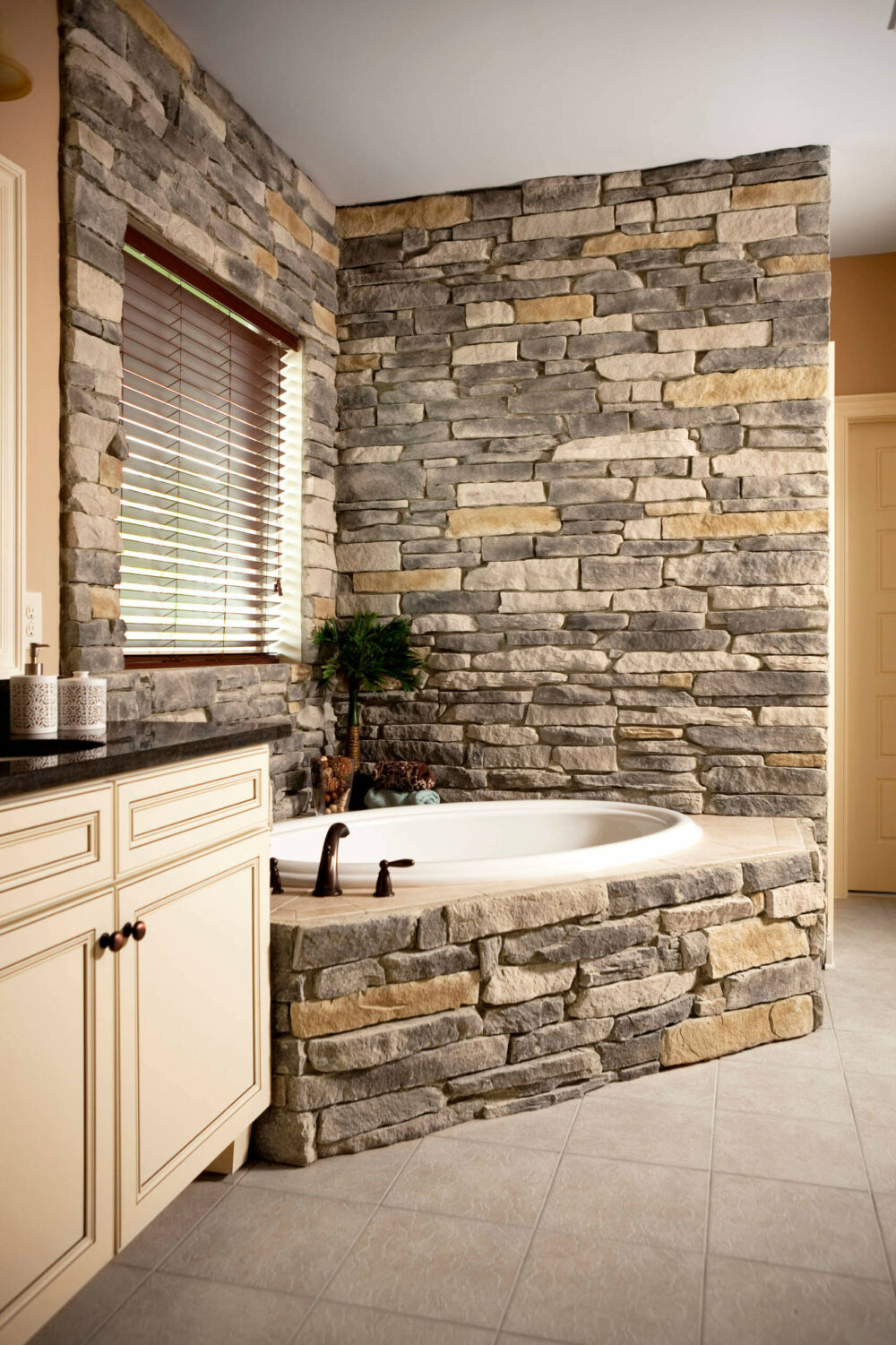 In terms of warmth, rustic bathroom tubs are similar to their farmhouse counterparts.
With rustic ones, however, you have more earth-tone colors to choose from. For example, adding natural stones to the bathroom and wrap the tub with it.
This round bathroom tub here makes the perfect spot to relax and enjoy the warmth from the rustic decorations.
Essentially being one with the floor, the tub feels so natural and never out-of-place. Want to make the bathroom warm? Consider this rustic bathroom tub surround.
The rustic style has a unique charm. It looks amazing, provides warmth, and makes things more inviting.
Of course, that applies to the bathroom as well. Want to know more about rustic bathrooms? We have collected rustic bathroom ideas here just for you.
Small Bathroom Tub Ideas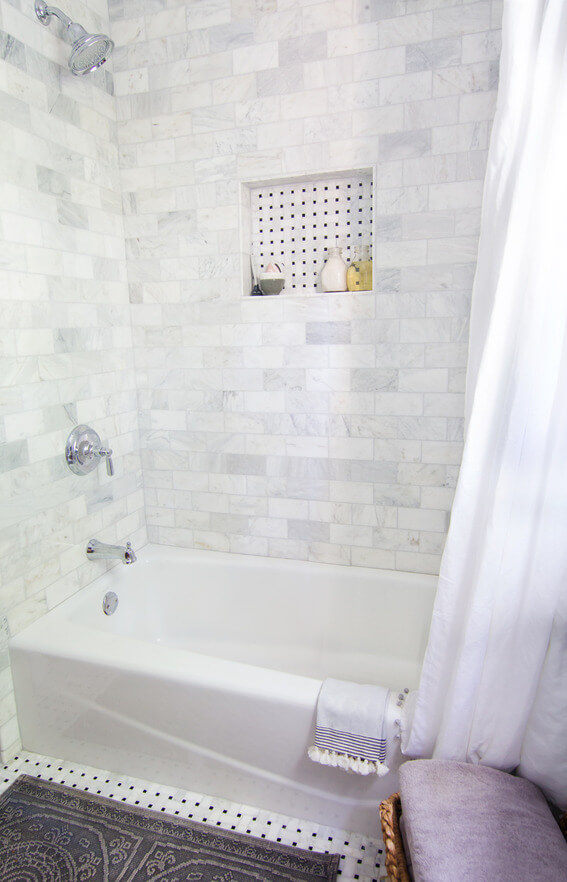 Having a large bathroom is definitely a luxury. With a large bathroom, there are plenty of bathroom tub ideas one can try.
Conversely, with a small bathroom, the fewer the ideas are. That doesn't mean you can't have a good-looking bathroom, though. Imagination and a proper bathroom tub are all you need.
Look at this compact bathroom. While the bathroom is small, it doesn't look or feel so. And this is because the bathroom is styled vertically.
The shape and color of the bathroom tub also contribute to making the bathroom look larger than it actually is.
Subway Tile White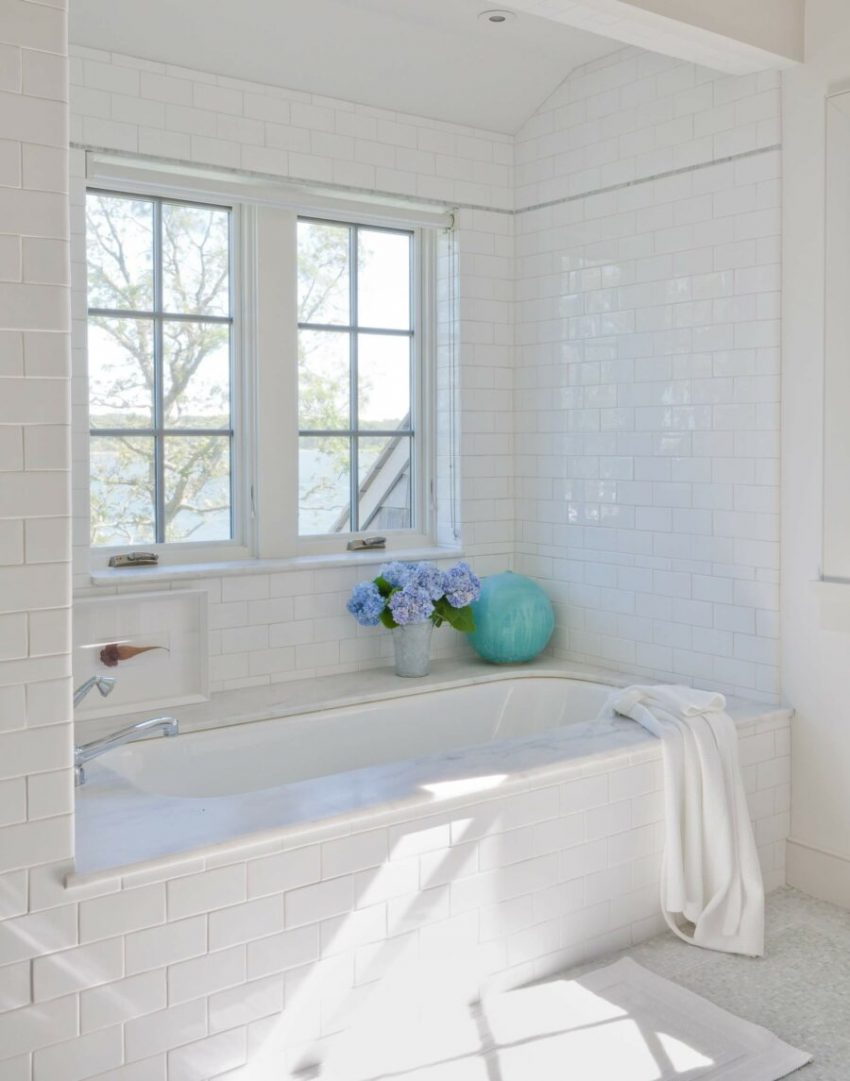 Separate clawfoot bathroom tubs may be very common. But by no means are they the only option available.
Nor should they be the first go-to for your bathroom remodel project. There are plenty of alternatives. One of them is a built-in tub.
A built-in bathroom is not just appealing to the eyes. It is also very practical as it is easy to clean and manage. This is especially so if you compare it to a clawfoot bathroom.
Bathroom Tub Ideas Side by Side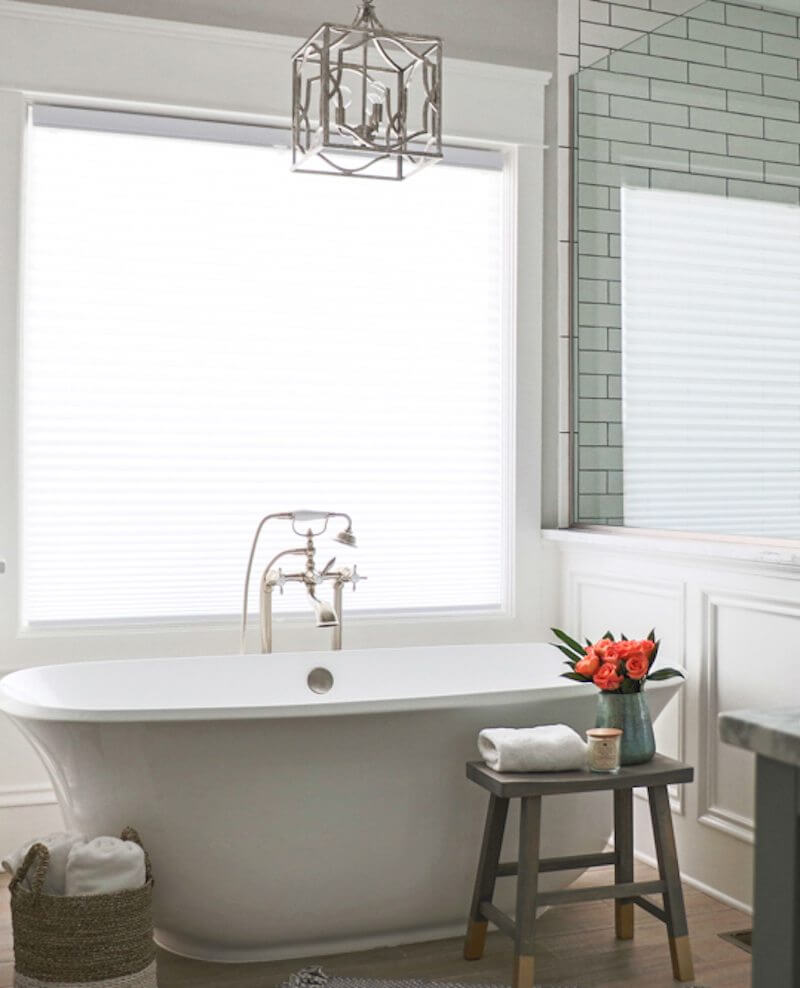 Next is a bathroom tub shower combo. The bathroom tub is placed side by side with the shower.
Practically, this makes it easy to and fro the tub and shower. Aesthetically, they make the bathroom look more united and integrated.
Placing the tub and shower side by side also has benefits: it is space-efficient and makes maintenance and cleaning easy.
Space-efficient, as they make the most out of available space and can be maintained and cleaned in one go. Awesome, isn't it?
The shower is an important part of the bathroom. However, it shouldn't all just about its functions.
The ideal shower is one that is visually pleasing, aside from being fully functional. These bathroom shower ideas will help you create your dream bathroom shower.
Black and White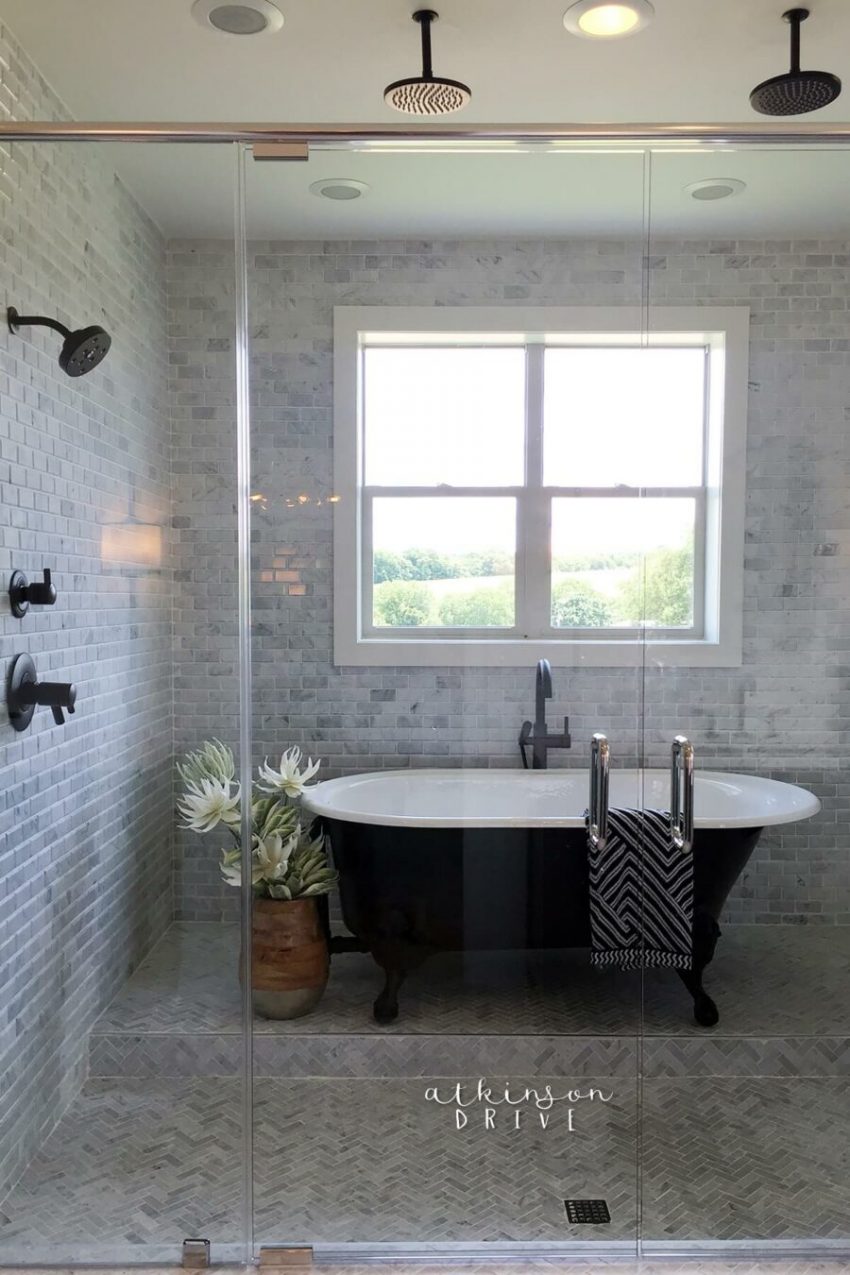 Incorporating black and white is among the most foolproof bathroom tub ideas. Black and white is such a classic choice for interior décor.
And there is a good reason for that: it looks good in most rooms and situations. Of course, that includes the bathroom also.
If you want a focal point that never disappoints, add a black and white bathroom tub in your bathroom.
Place it in the center, give it proper lighting, and voila! A very attractive and timeless focal point.
Near the Window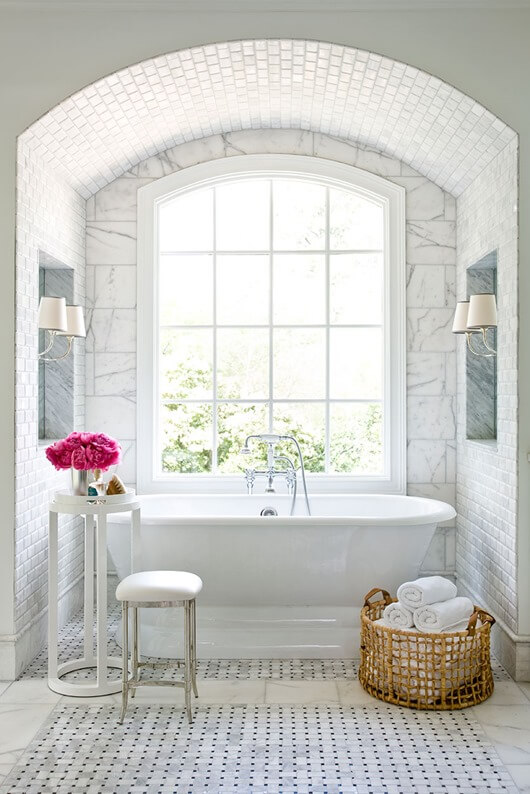 There is no point in having a beautifully designed bathroom if it is in the dark.
Indeed, proper lighting is just as important as decorating, if not more. With proper lighting, even an ordinary-looking bathroom can look great.
Want to make the time spent in the bathroom more relaxing? Place the tub near the window.
The abundance of light will brighten not just the bathroom but also the mood as well. Better yet, the bathroom, not just the bathroom tub, looks sleek and clean thanks to the light.
Whirlpool Tub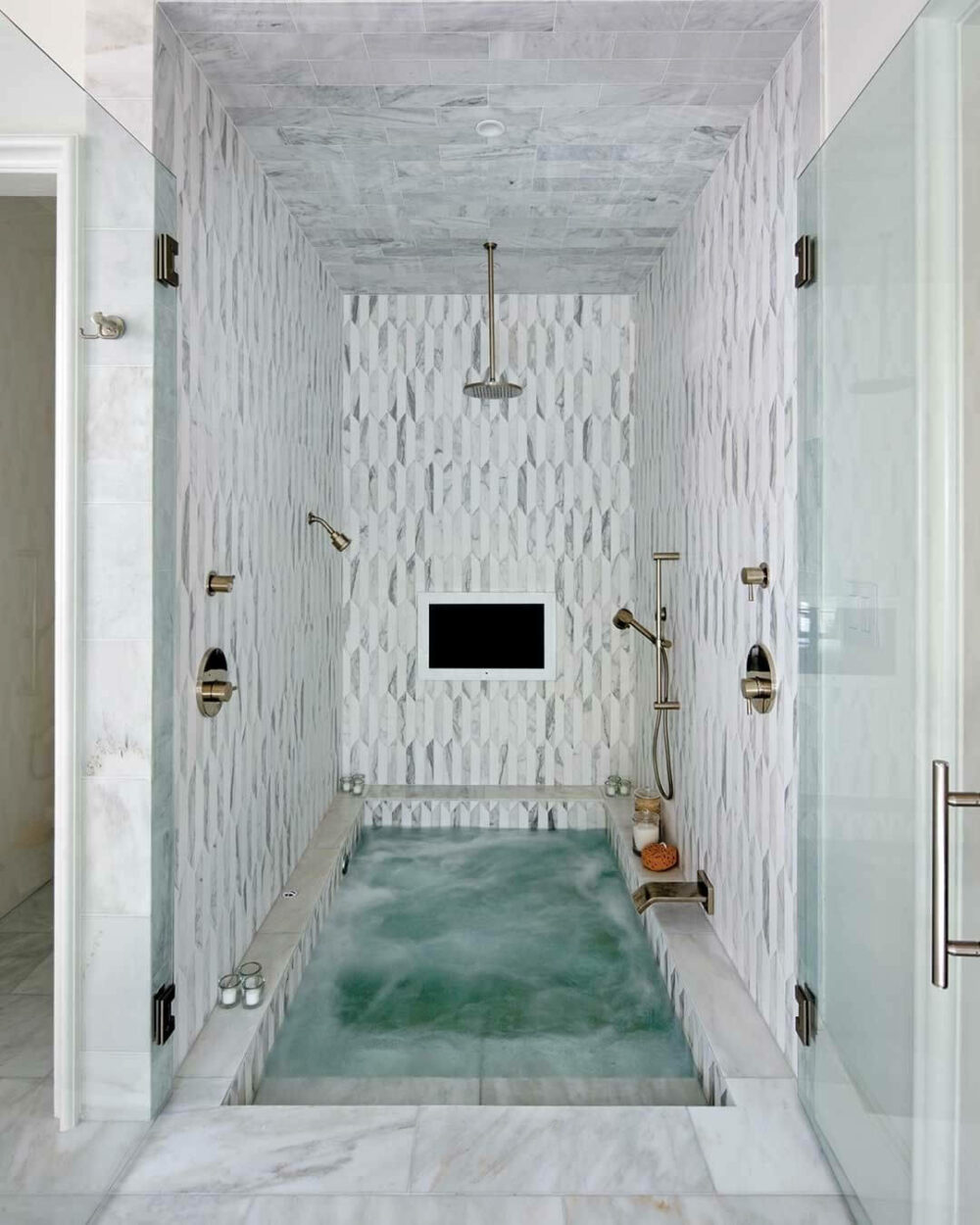 This one here is an example of both amazing bathroom tub ideas and the bathroom with tub shower combo.
Here the bathroom tub appears just like stairs while the shower hangs directly above the tub.
With the tub being planted in the ground and the shower installed high on the ceiling, this walk-in bathroom is quite space-efficient.
As such, it makes the ideal choice if you have a small bathroom with little to no space to spare. In terms of looks, it just looks gorgeous.
Bathroom Tub Tile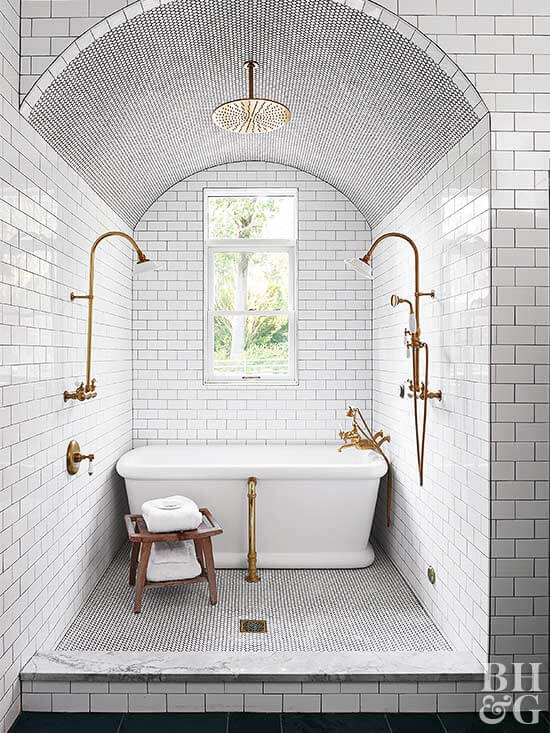 You can introduce elegance in the bathroom, too. However, with bathroom tubs, you need to be more careful.
You cannot incorporate too many colors, particularly bright ones. Your best option will be to add bold and subtle accent colors like gold.
Notice how the bathroom tub, along with the subway tiles on the walls, creates the perfect stage for the golden fixtures to stand out. As expected, the fixtures add elegance to the bathroom quietly and subtly.
Modern Minimalist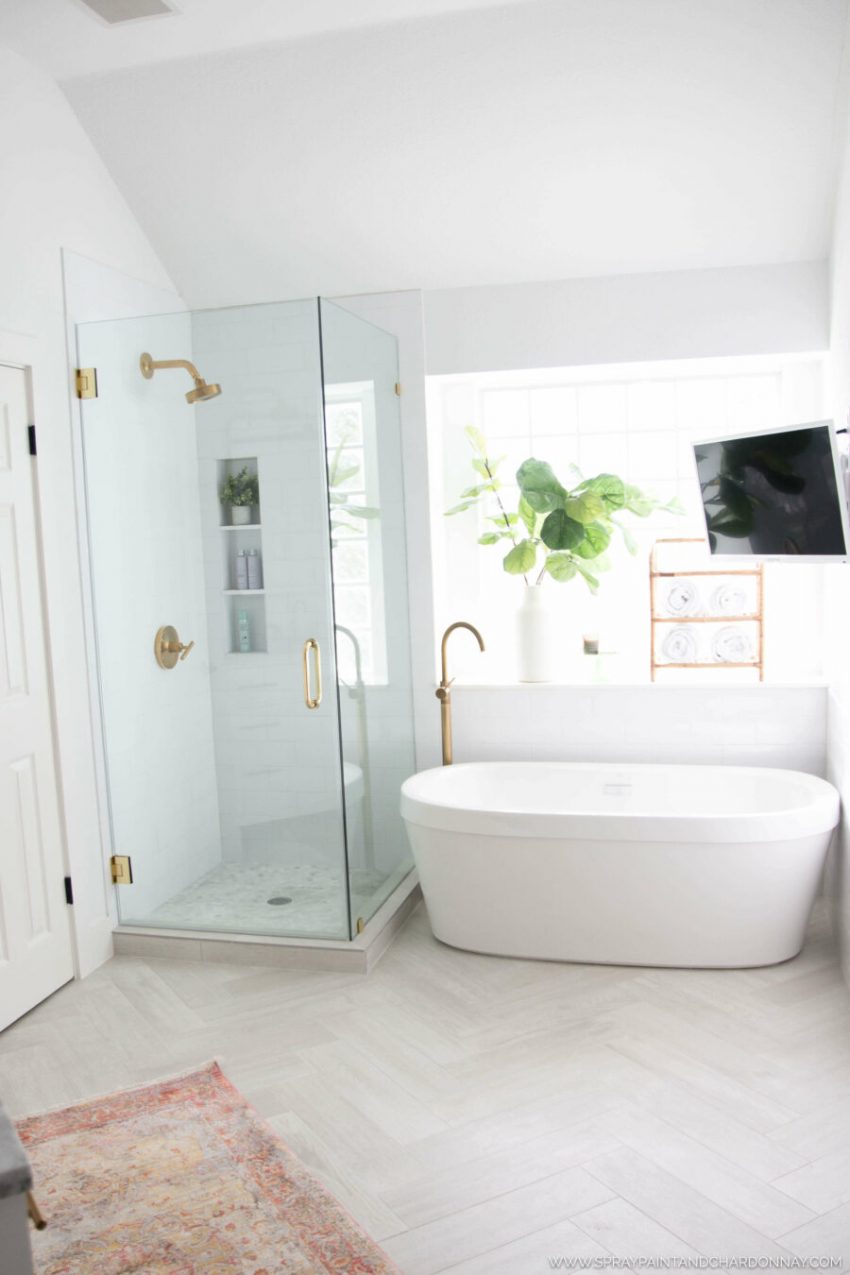 This bathroom just screams modern and minimalist. The bathroom tub there just accentuates it even further.
Notice how modern, sleek, and stylish everything looks in this bathroom with tub. No clutter, no unnecessary decorations, and most things have simple forms. It is as modern minimalist as one can get.
Being the brightest of all, the sleek bathroom tub here is the focus. It is essentially a focal point in the bathroom like the rest of the room is neutral colored.  It is among the most stylish and practical bathroom tub ideas here.
Mild Contrast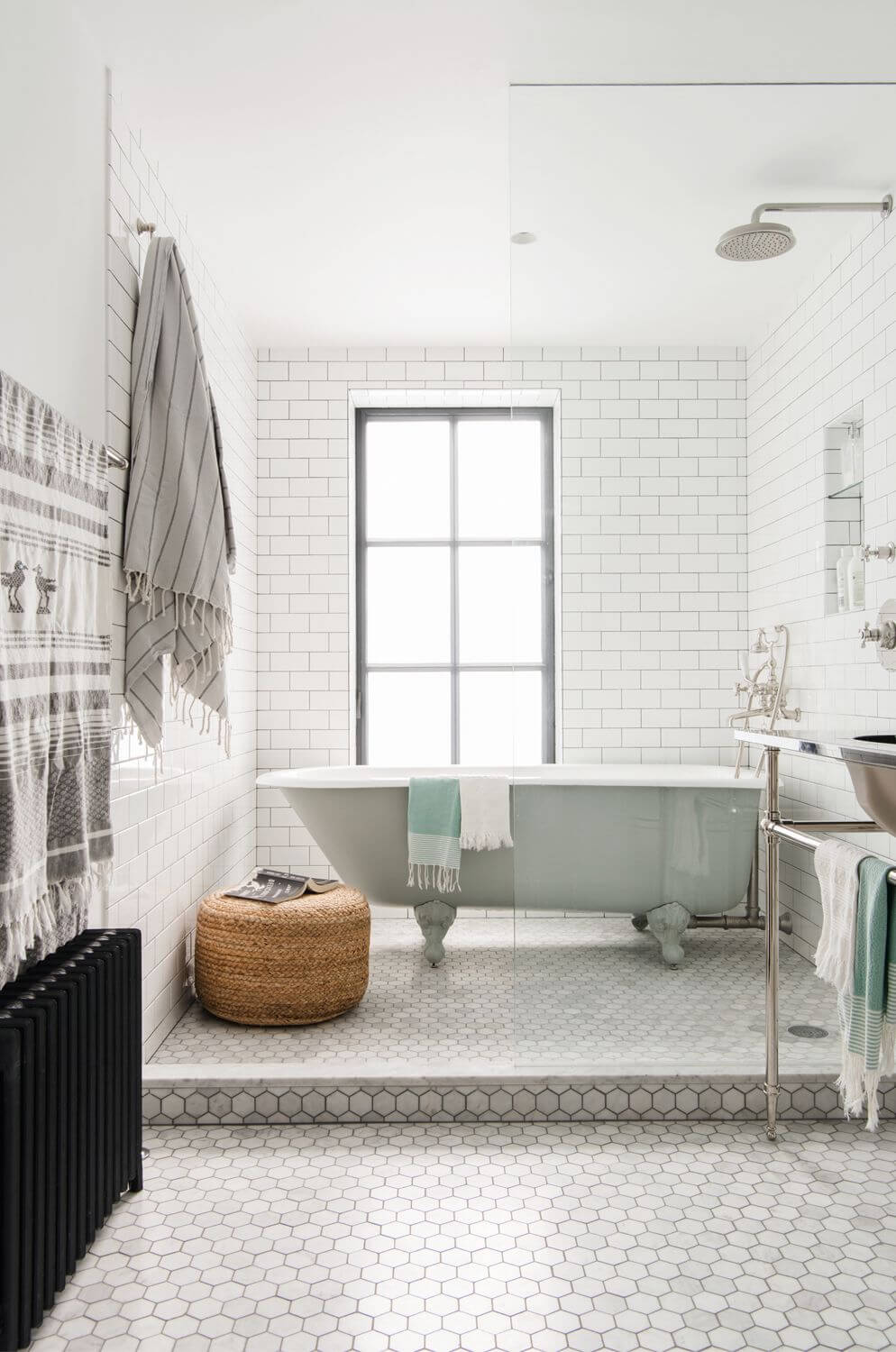 Incorporating contrast is good, provided one knows what they are doing. And speaking of contrast, black and white is not the only option.
Just take a good look at this bathroom tub. It is cream instead of white, has a unique design instead of a plain one, and is placed in the center.
The outer cream layer of the tub contrasts with the surrounding. This pulls the attention to the tub, turning it into a focal point.
It might not be as striking as black and white, but this mild contrast does look good, nonetheless.
Square Marble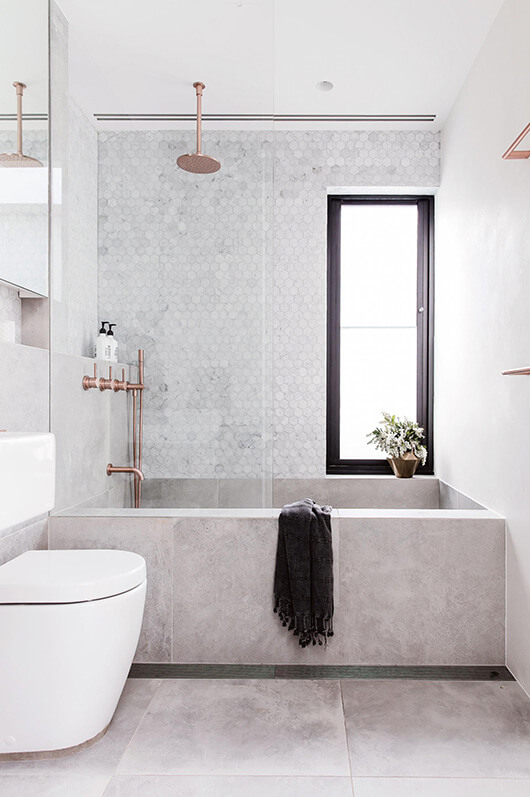 White and round bathroom tubs are common. But if you want to add something extraordinary, you need to look for unique bathroom tub ideas. For example, a square bathroom tub made of marble as seen here.
Unlike the ordinary white bathroom tubs, this marble tub has a distinguishing look. It looks natural, cozy, and best of all, downright gorgeous. Not many materials can imitate how marble looks, let alone surpass it.
Small and Cozy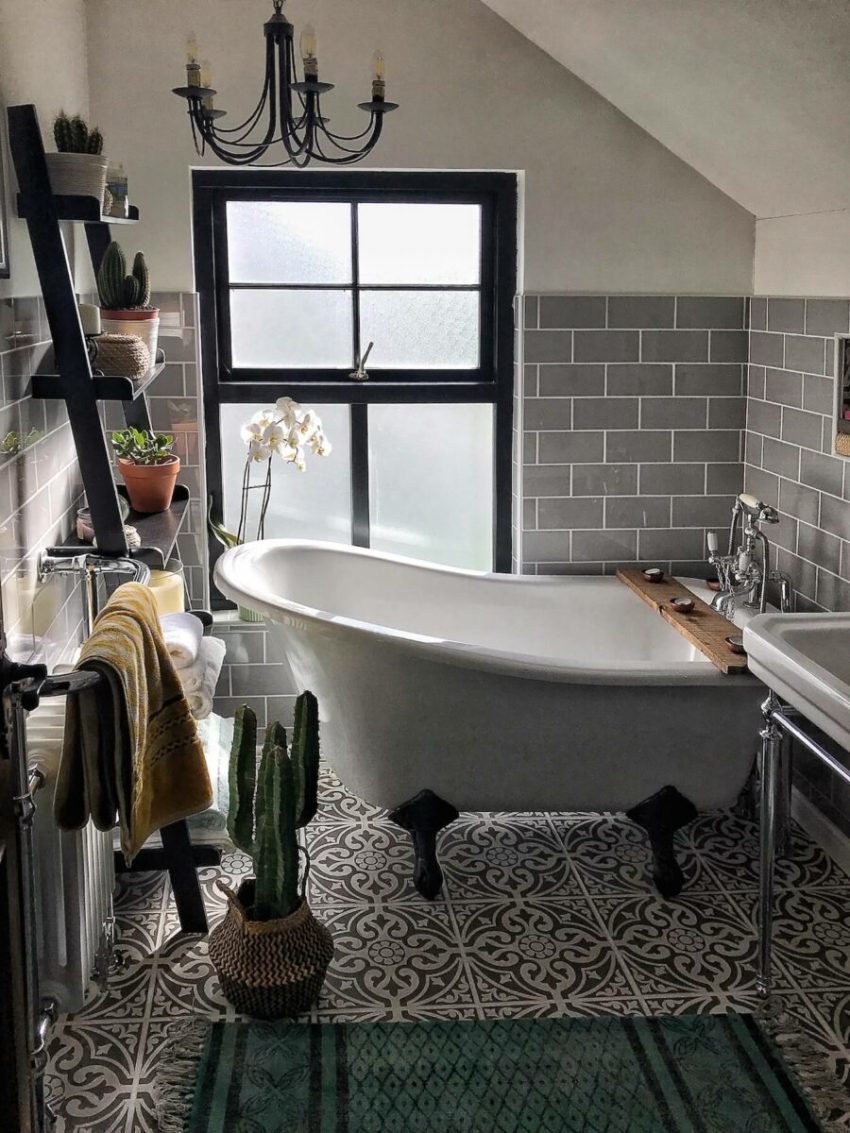 Having a small guest bathroom ideas with tub shouldn't deter you from making it good-looking. If anything, it should be your motivation.
Not sure how it might look? Just look at how beautiful this bathroom is. It looks so beautiful despite its size.
The biggest item here is the bathroom tub, so it is important where it is placed. In this example, the tub occupies the central area and stretch from side to side.
It's Round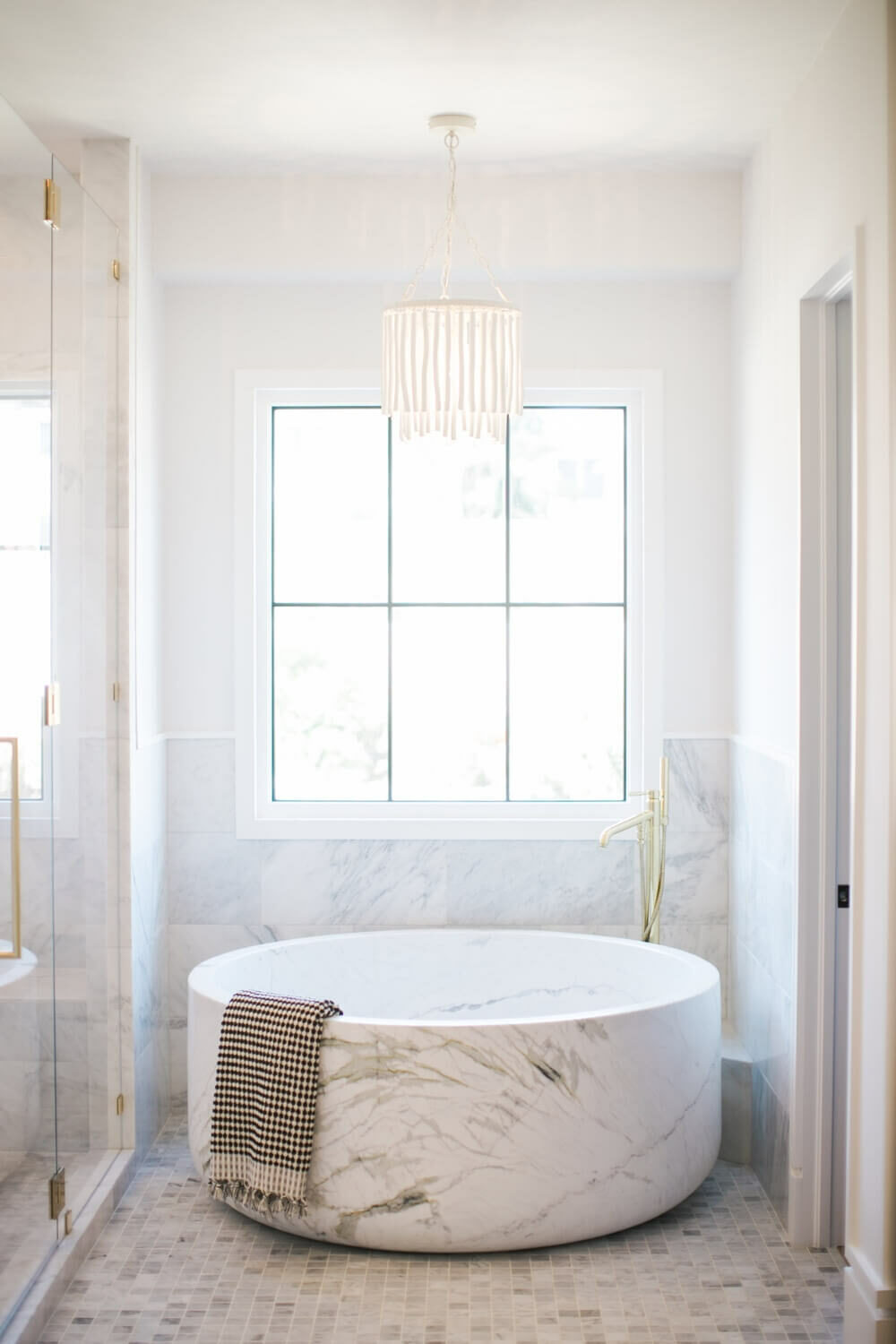 The last one on our bathroom tub ideas list is a round tub. Unlike common bathroom tubs, a round tub like this allows you to enjoy it from all sides.
Yes, you won't be fixed in a certain position. Not to mention it can fit even a small space, too. Neat, isn't it?
A round tub is also the perfect choice if the bathroom is full of lines and edges. The round shape counterbalances the lines and edges, creating a visually balanced visual cue.