Walls can be addressed as the main part of a room that plays a vital role in creating a theme or an atmosphere. Basement wall ideas can be presented according to your preferred style. You can cover them with cement and get them painted.
Or, you can let it unfinished with brick or stone walls that look stunning with their rough surfaces. There are many choices you can choose from to make them suit to the ground with the surroundings.
You may want to apply a modern, mid-century, or rustic idea, and you can mix and match them.
The next step would be painting or decorating them to embellish the look. The walls would be a good place to install shelves to display a collection of stuff.
1. Mesmerizing Basement Wall Ideas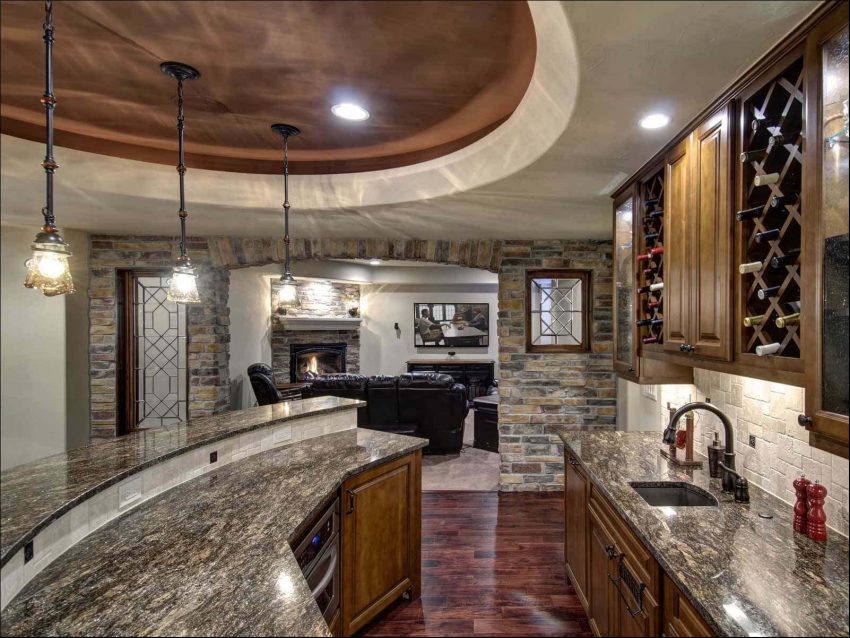 Here, the basement looks so spacious with beautiful layout, stunning oval ceiling with pendant lights, and earthy brick walls that bring welcoming vibes. The accent wall ideas are so strong that you can feel the comfort in the air.
The wooden floor looks to have a spotless surface that is literally mesmerizing to watch. It's a basement that can make you or the occupants feel at home, really.
The backsplash, under the wine rack, is also made of brick walls with a white tone.
2. Aesthetically Appealing Wall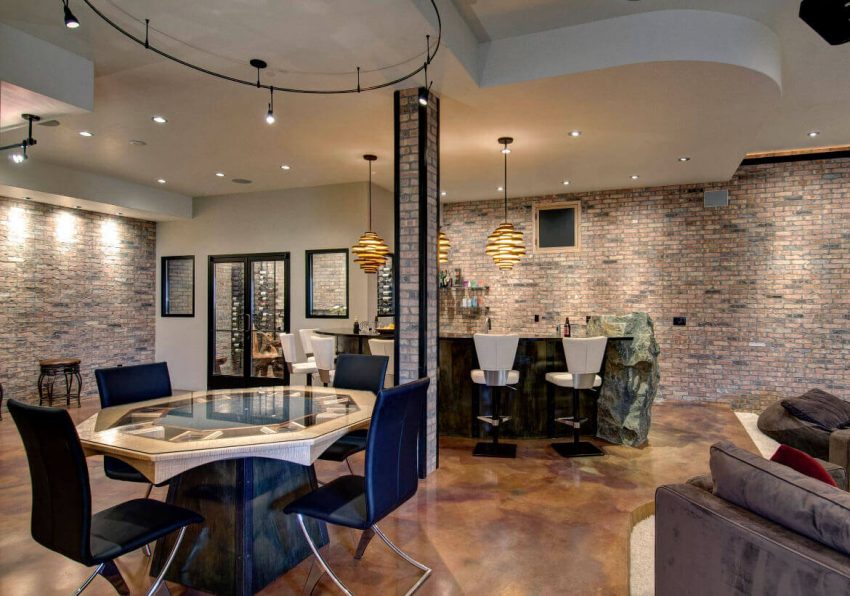 3D walls are utilized as an alternative to making the walls look impressive or elegant for bedrooms, in particular, depending on what image you want to create. Basement bedroom ideas, however, may be dissimilar with bedrooms in general.
They typically have a nice surface, so you just can think of what color or decoration that should be given to prettify other elements.
Basement walls don't really need any embellishment. They just need to agree with the floor, ceiling, and furniture, as they already look wonderful.
3. Long-Lasting Ambiance Basement Wall Ideas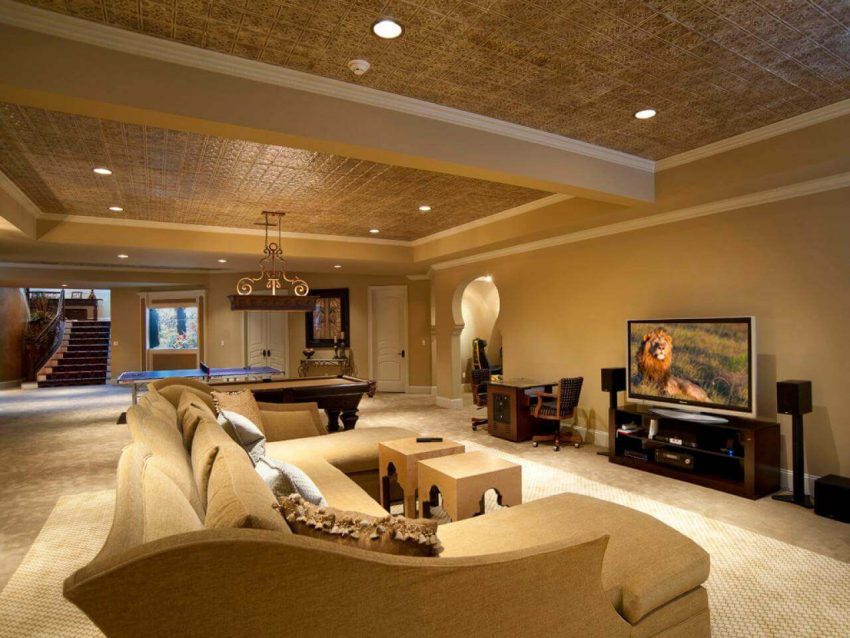 Having a plain wall with a flat surface will allow you to decorate or paint it with any color you like. A flat wall may look simple, but it has a long-lasting feel. But, if you want to bring a new ambiance here, you can apply a fresh color.
The basement has a flat TV with a piece of furniture. A soft beige couch is chosen to match with the entire brownish tone.
There's also a pool table and tennis table that can entertain you. They can be a good way to liven up the situation in the basement with fun.
4. Exposed Ceiling Idea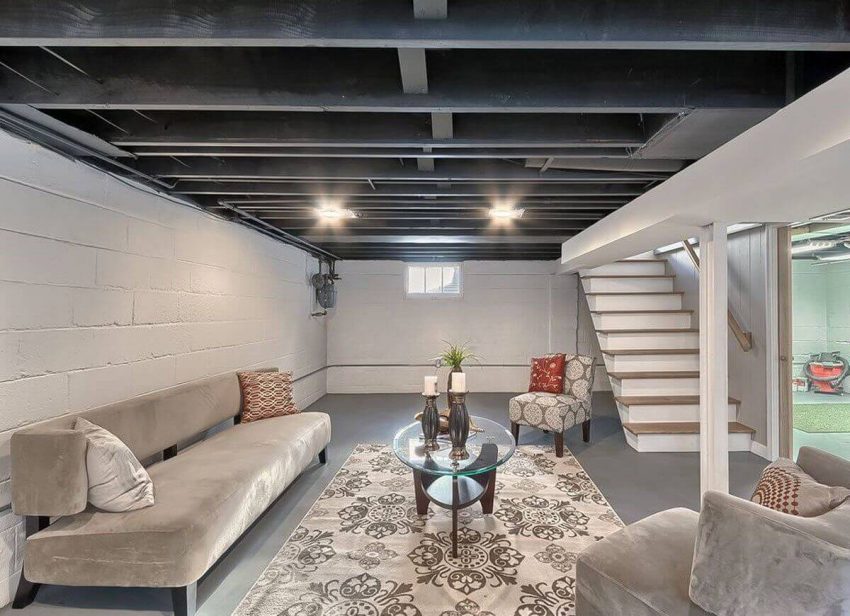 This is what I mean by a wall can be matched with the surroundings and vice versa. It doesn't need painting as it's basic tone already makes a good pair with the whole area.
Hebel walls have a pretty white tone with straight lines that states its character which can easily be recognized.
A beautiful floral carpet is laid upon the cement floor on which a table, couch, and chairs are added. The ceiling is left unfinished and looks dark.
Here you have an option if you want to make the ceiling a little bright. Painting the uncovered beams is the answer.
5. Basement Wall Ideas Apply Wood Element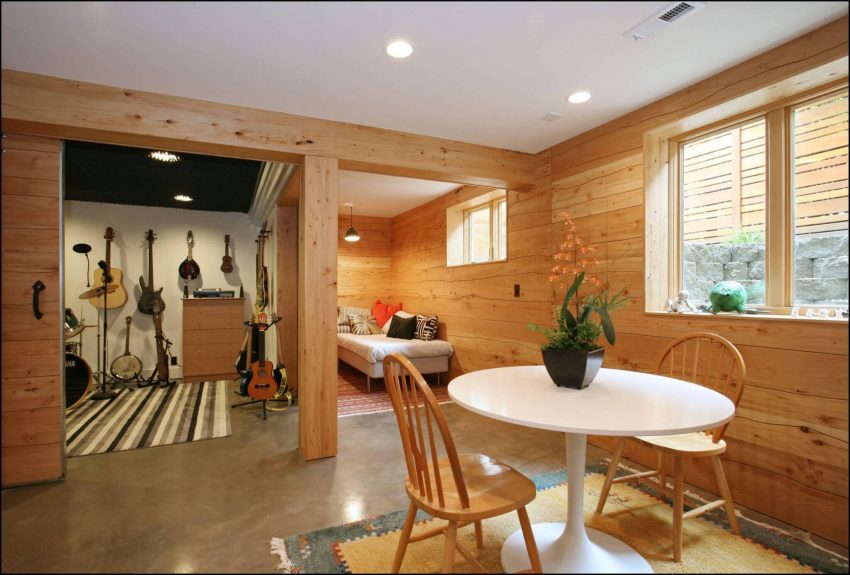 Wood is sure can bring a warm and inviting appearance with its brownish neutral tone. What makes wood so special is because it's made by nature and it takes some time to grow to become a tree that is ready to cut before use.
Wood is also a material that would make an exquisite decoration for basement bedroom ideas.
Quote:

A remarkable building requires high-quality materials for sure. Combining different materials and elements will result in something spectacular. Though it may cost you a fortune, you'll get some satisfaction by using top-notch ingredients.
6. Shiplap Basement Wall Accent Ideas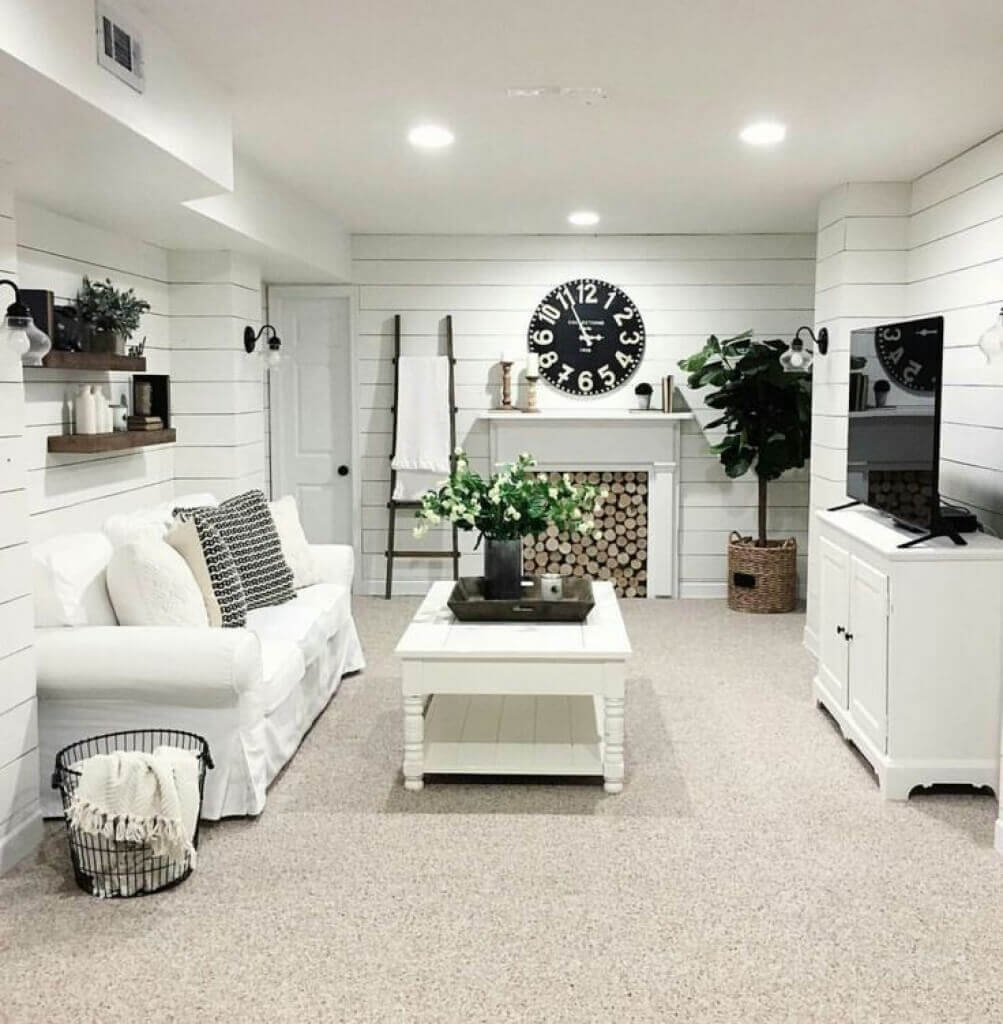 Becoming the center of attention, the white shiplap walls look bold that they cover pretty much the entire space. The white color scheme is raised by installing a piece of white furniture that makes it feels so intimidating.
Wouldn't it make the basement perfect with
basement bathroom ideas
behind the door on the corner?
Over the couch, there are shelves on which some accessories are displayed.
A quite big watch makes an adorable adornment on the wall and a flat TV on the cupboard.
Some flower is also brought to bring natural beauty to this room.
7. Sparks Good Vibe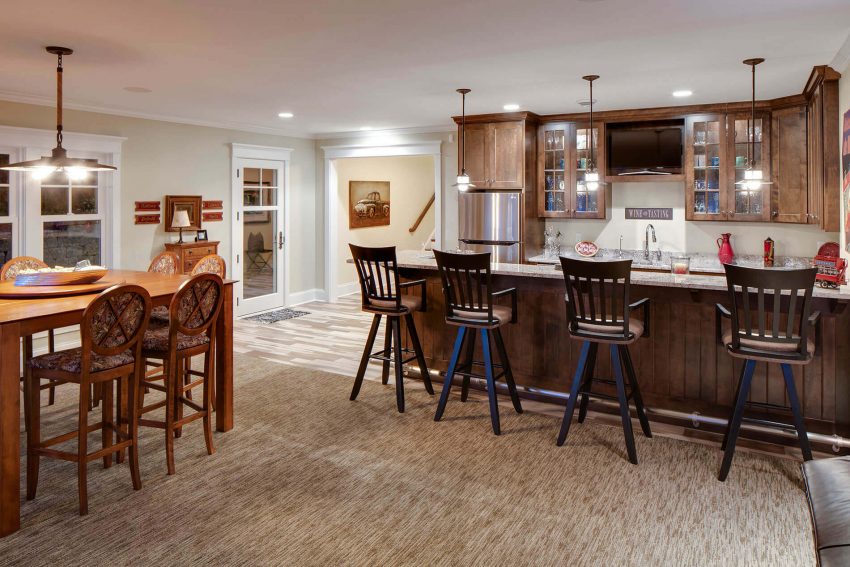 Basement floor paint is one of the many ways to make the floor has a stunning view. However, I believe the floor has already got a beautiful paint. This basement is really filled with happiness. It looks bright, reflecting a happy feeling and a good mood.
There's a family table that set with lots of stunning chairs surround. An island that can function as a table bar, from which you can order some drinks, sits in front of the cabinet. A gray carpet improves the look and leaves a welcoming nuance.
Basement wall ideas will pretty much affect the entire room, as they hold a considerable amount in determining a room, whether they are stone walls, wooden walls, or painted ones.