What are you thinking when talking about the basement? Yes, the underground place that could be used as storage where you can throw anything in it. Instead of using it as storage, you can turn it into a bedroom. Check our wonderful basement bedroom ideas below!
The basement has a solid ceiling and typically has ample space. Some other reasons people change it into one because just in case they have guests to stay at night that an additional bedroom is needed.
It can be a favorite place if decorated well. It can also be your hideout, where you can just spend some time alone there, without being bothered by other family members.
1. A Wall Divider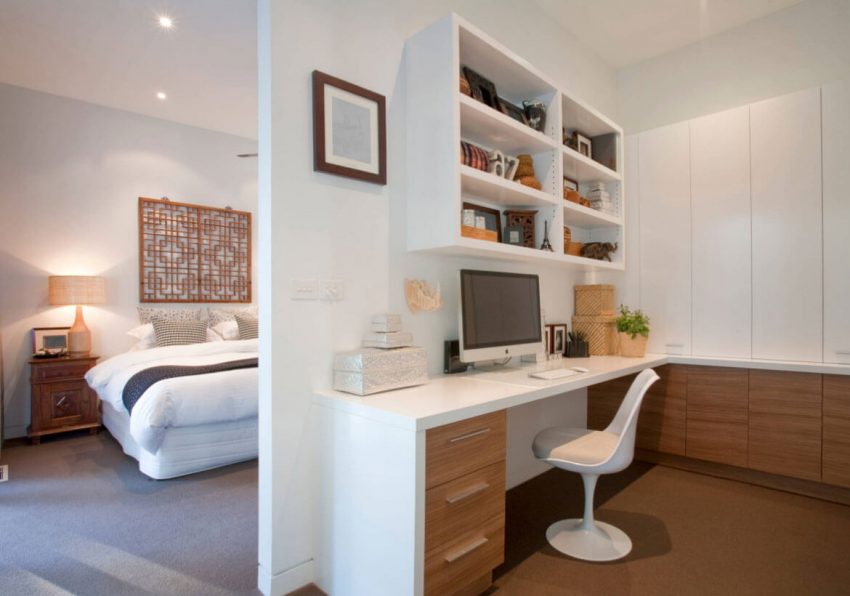 Quote:

Separating the basement to create two rooms is allowed if you have a spacious room. You can make one for a bedroom and one for a work office. You can also style the flooring to have a different style of color or surface from the rest of the room.
Basement ideas will help you picture what the basement bedroom would look like if planned first.
You can already imagine where you're going to sleep and work in this room. You'll need a countertop for work, including a chair and storage embedded with the furniture.
2. Blend It or Make a Contrast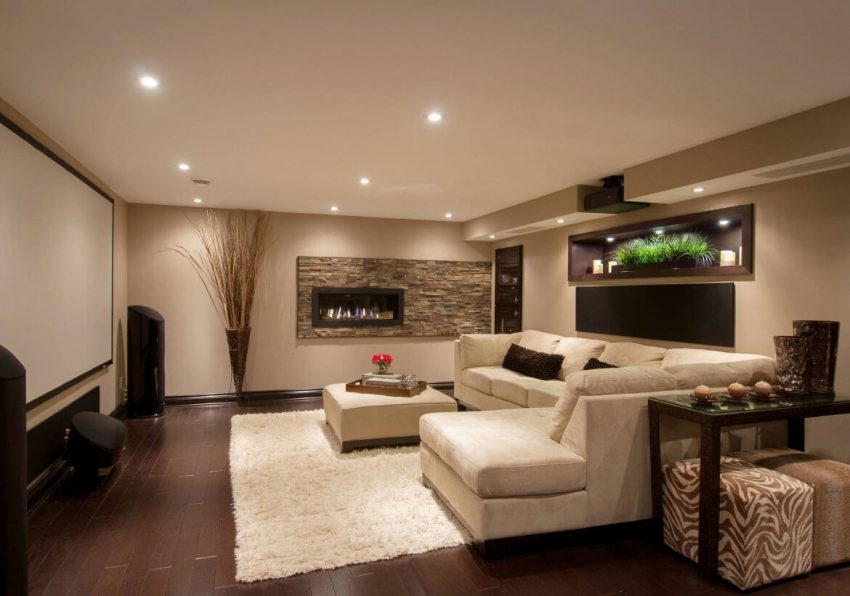 A flooring style can influence pretty much the whole room. That's why a certain type of color should be considered well before being chosen.
Basement floor paint can be matched with the current look of the basement itself to enhance the surrounding area.
Or, you can give it a go by creating an opposite color scheme to make a splash. The floor, by the way, seems to be balanced with the surroundings rather than be contrasted.
The wall and ceiling are in a not-so-bright color with a dim lighting idea, which not so different from the floor.
3. As It Is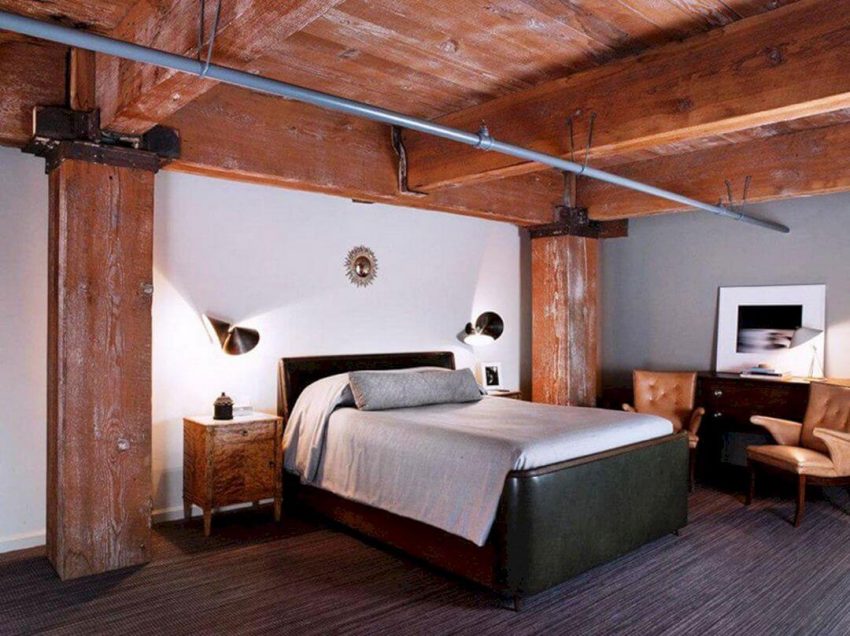 As for the ceiling, the owner doesn't feel bothered with the pipeline. It's because it doesn't have a high space for the bedroom, and it will too narrow if he does so. This can also be a smart way to save some money.
Despite its raw ceiling, the bedroom is quite attractive with two different wall colors a bed and some furniture.

The enormous beams create a safe and comfortable feeling when looking at the ceiling while lying on the bed.

On the white wall is an ornament and two small lamps. There's also a small painting nest to the chairs.
4. Basement Bedroom Ideas No Windows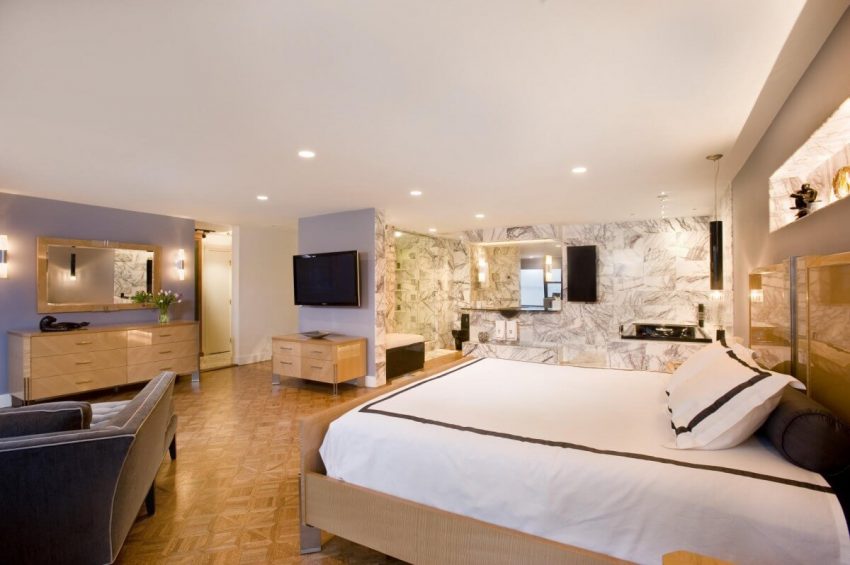 Since it's located in the basement, basement bedrooms typically appear with no windows installed.
But, it may not necessary if you have a basement with this scale. It's a huge one, after all. You can even have a bathroom in it, and that's the good thing about it.
The bed is fairly small with a white bed sheet and pillows that have a straight black line. The ceiling is flat with a white tone and small lights. The wall behind the TV looks so stunning in a neutral color scheme with a mirror.
5. Simple Basement Bedroom

Ideas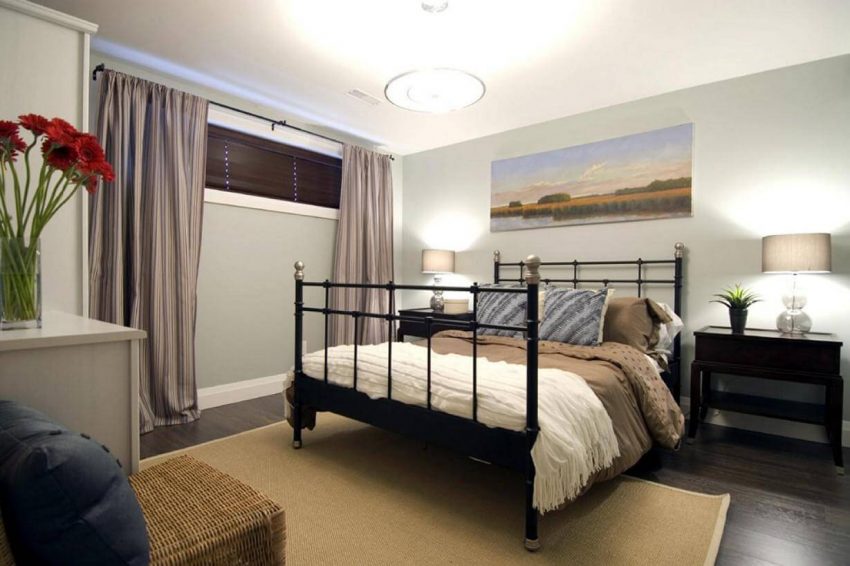 A simple bedroom with a dark floor leaves a welcoming scene with straightforward decoration.
There's a black wrought-iron bed along with two nightstands and lamps. A beautiful painting is also stuck on the wall over the bed to spice the room up.
It has gray curtains that cover a small window. A brown carpet lies upon the dark floor under the bed, giving a sort of comfort in this room.
It's always such a bliss to see a bucket of flowers in a room as they make the room looks lovely in so many ways.
6. Have a Bathroom If possible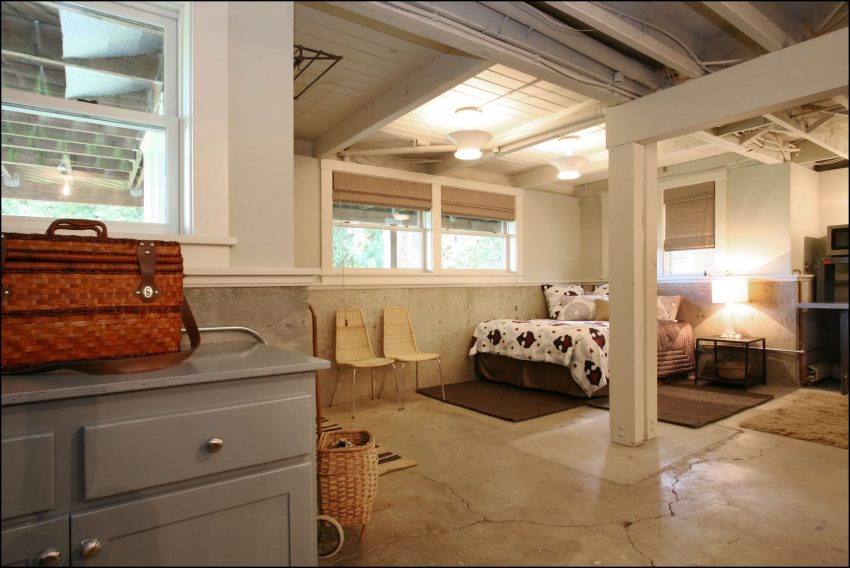 Having a bathroom in the basement means you don't have to go upstairs for the call of nature or when you're about to take a shower.
Basement bathroom ideas would make the bedroom complete, but it will take a considerable amount of space.
If the basement is broad, this idea can certainly be conducted. You don't have to walk to the toilet upstairs as it's already here.
The bathroom features a window, and it's quite big. The bed sits on the corner, and you can walk straight from the bed to the bathroom.
7. Wonderful Finishing Basement Bedroom Ideas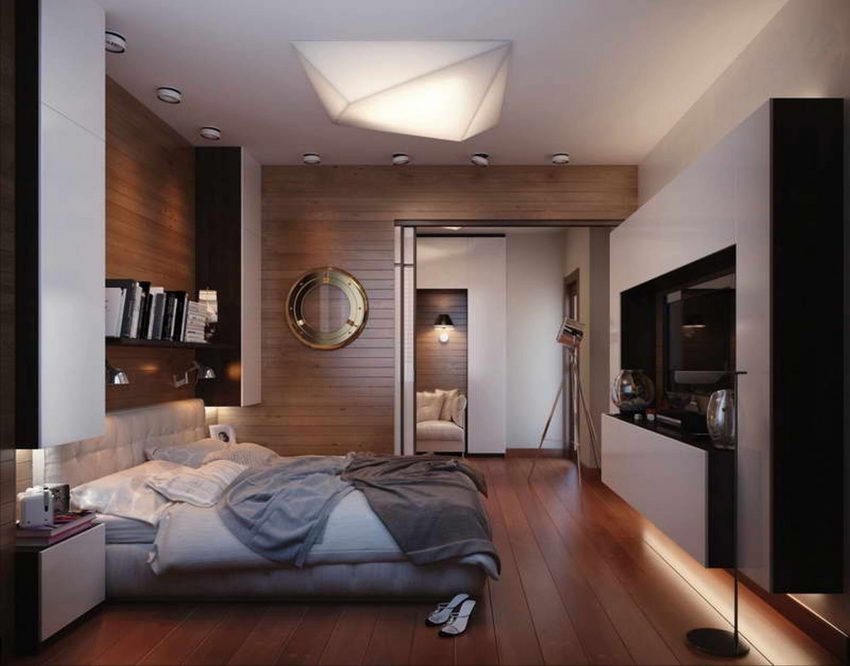 This room certainly has great decoration in every aspect of the design, floor, and ceiling decoration. This can be a good example of basement finishing ideas. It looks so stylish with a sense of welcoming vibe.
Wooden elements aren't just only applied for the floor, but it's also on the wall, leaving a soothing feel, and it looks so elegant. The wall-wall mounted cabinet seems to balance the overall look with its minimalist touch.
 Basement bedroom ideas need to be designed according to how wide the place is and how it looks like so that you can carry out the plan that's suitable for you.