Choosing basement floor paint is always tricky because there're many trade-offs. This kind of rooms is notoriously dark, cold, damp, and sometimes they get wet or even flood. So, it's important to choose high-quality paint.
The location of basements is mostly below the ground level. So, the type options of the floors are limited. Many homeowners are willing to spend less money in the basement.
However, the cost of basement floor paint could be more expensive than you've planned.
So, you need to realize ahead of time about the price. You also need to consider the waterproof ability, durability, and warmth.

Epoxy Floor Installation Over Old Concrete
Why Should You Paint Your Basement Floor?
There are some obvious reasons why painting your basement floor is considered necessary.
Improves the Atmosphere
As we have mentioned above, basement floor paint improve the atmosphere of your basement. With dull color on its floor, walls and ceiling, your basement will be very depressing.
This below-grade area suffers due to possible leak on its wall, the absence of natural light source, and its association with frequently abandoned part of a home.
Without maintenance, including painting, it will certainly be a dreary place without energy. Paint it with vibrant colors and it will immediately become an exciting place to do household activities.
Distributes Light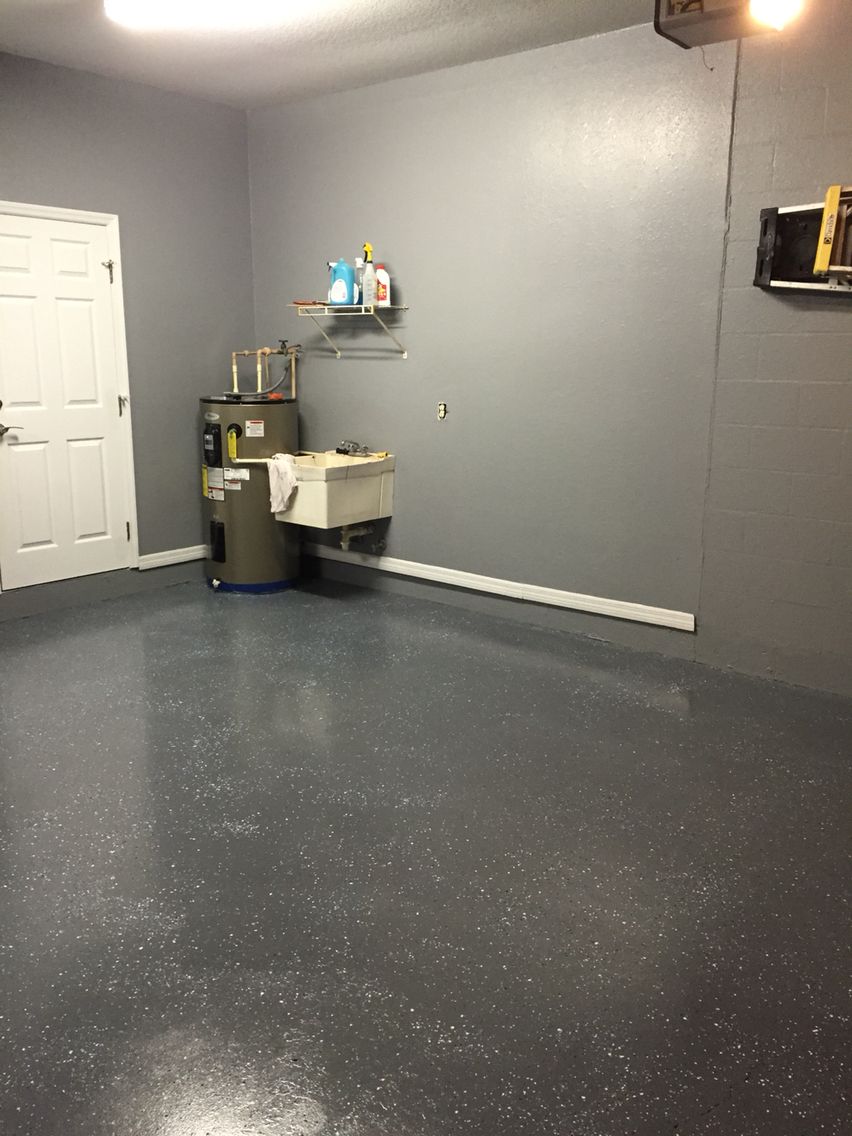 Basement light usually comes from above ground small windows located near the top of its wall or light fixtures that you install on it.
There is generally limited amount of light in your basement. By painting your basement floor with light color, the floor will reflect the light and help distribute the light to all parts of the room.
If you can choose the right color for its floor and wall paint, your basement will look brighter and more appealing than it was before painting.
Helps Protect the Floor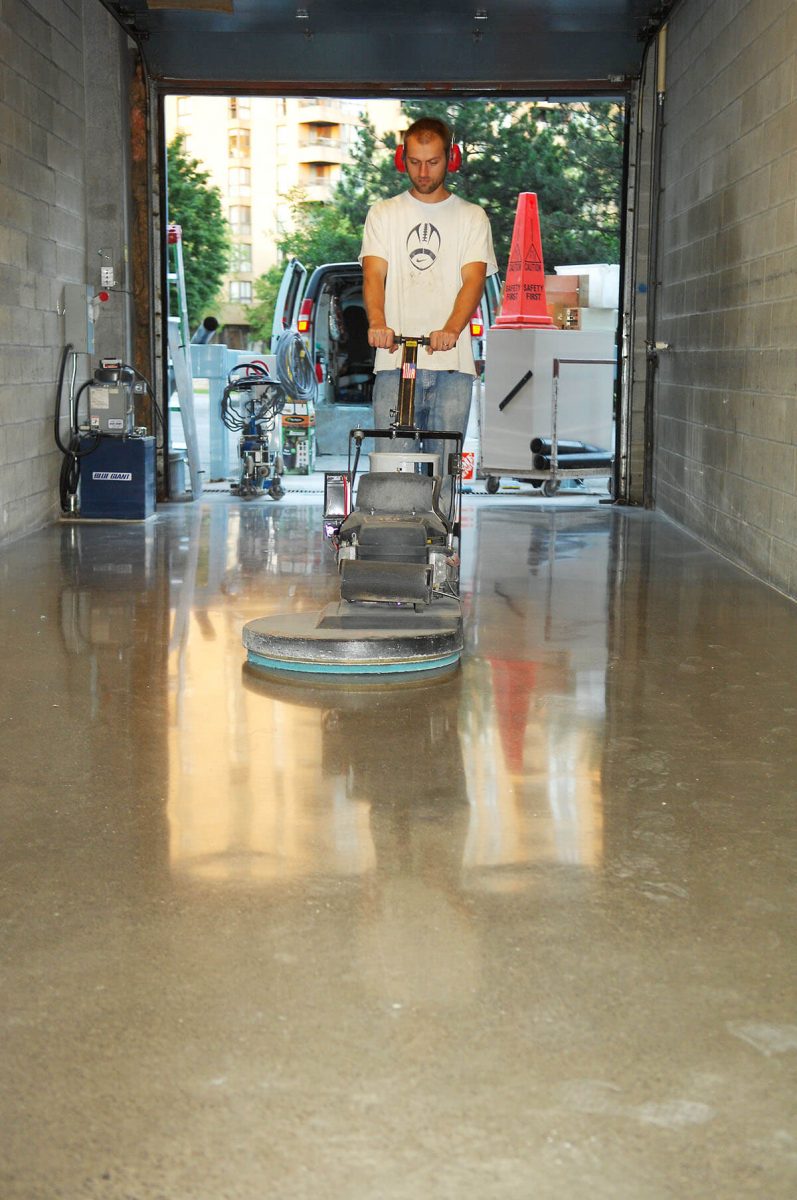 Certain paint type, which we will discuss more below, can actually provide a protective layer to your floor and make it stronger, more durable and more resilient.
If you abuse your basement floor a lot, perhaps because you use your basement as a storage area, a laundry room, an entertainment venue, etc, this protective layer can be handy to prevent floor damage.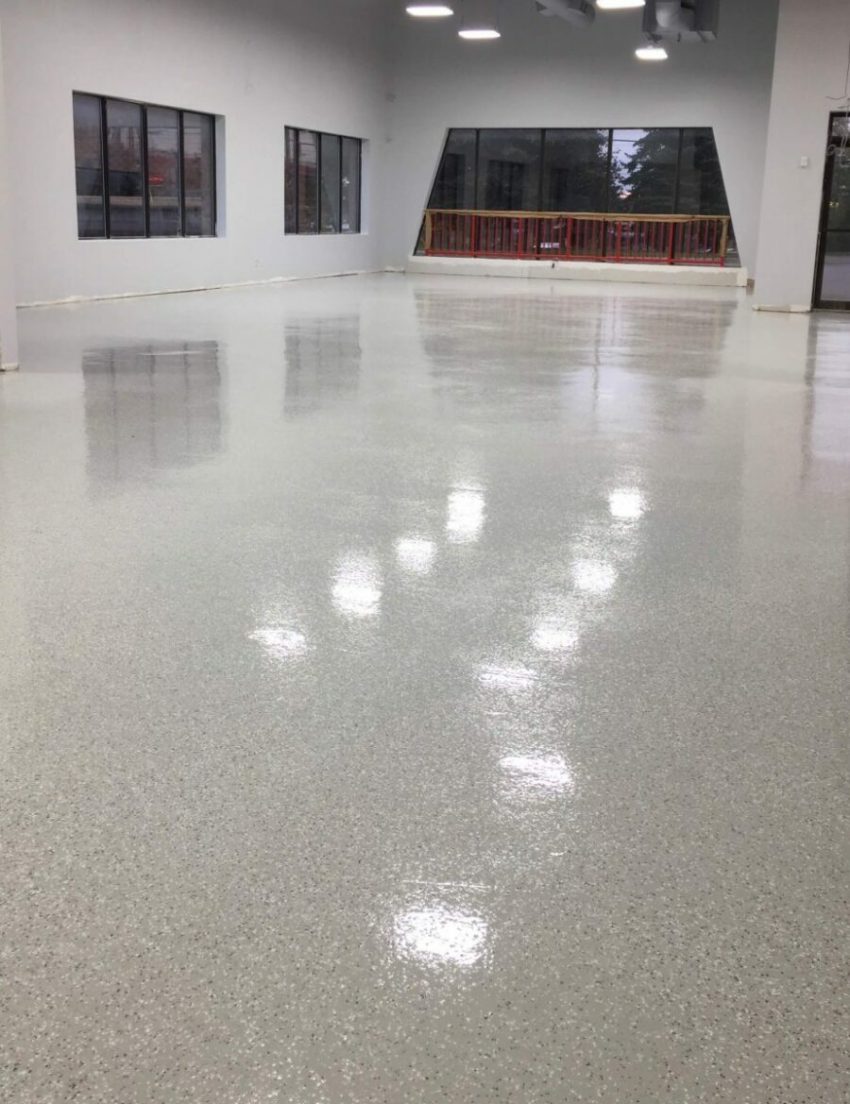 Being a below-grade structure, basement is always prone to water damage. Water leak coming from drain system and plumbing pipes can seep through basement's walls and floor and wreak havoc there.
Flooding, damp floor and wall, damp air, and mold and mildew infestation are water-related problems that re often difficult to deal with if they occur in your basement.
Certain paint type, which again we will discuss more below, provides a waterproof layer on your floor that helps deter water and moisture.
Hides Imperfections and Makes It Less Slippery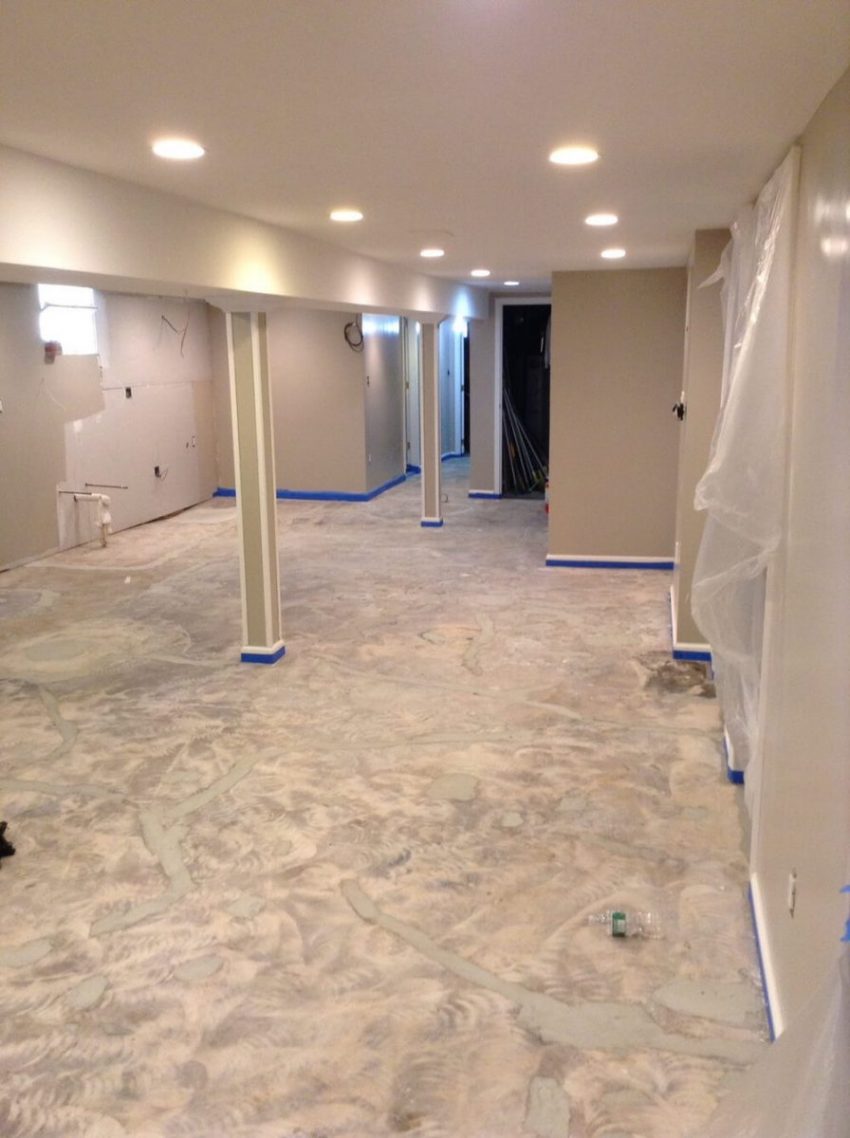 Imperfection on concrete basement floor can be easily concealed by painting it.
Small cracks, as long as they are not caused by and don't cause water damage, can simply be concealed with paint until you have enough budget to repair them.
Certain type of basement floor paint also makes the floor less slippery.
Improves the Value of Your Home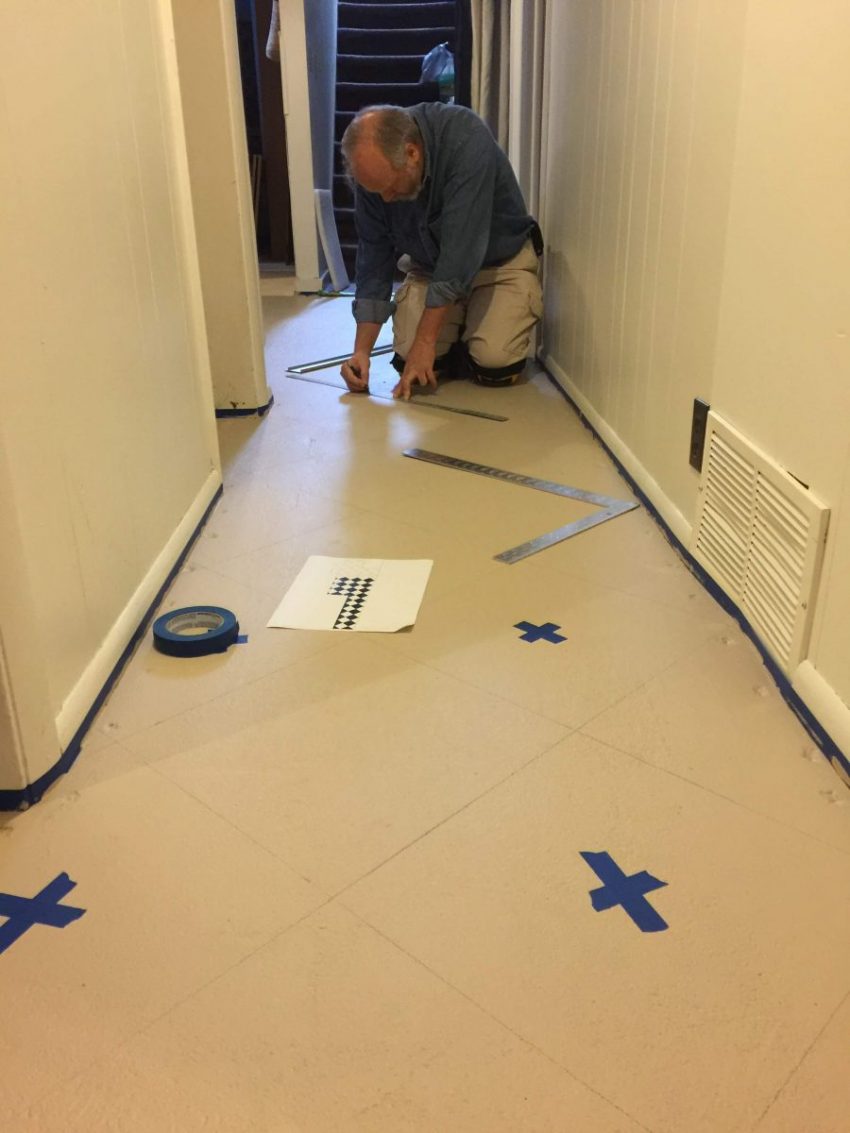 With all great things that basement floor paint gives to your basement, it is no doubt that the value of your home will improve if you only spend little time to paint your basement floor.
Choosing the Right Color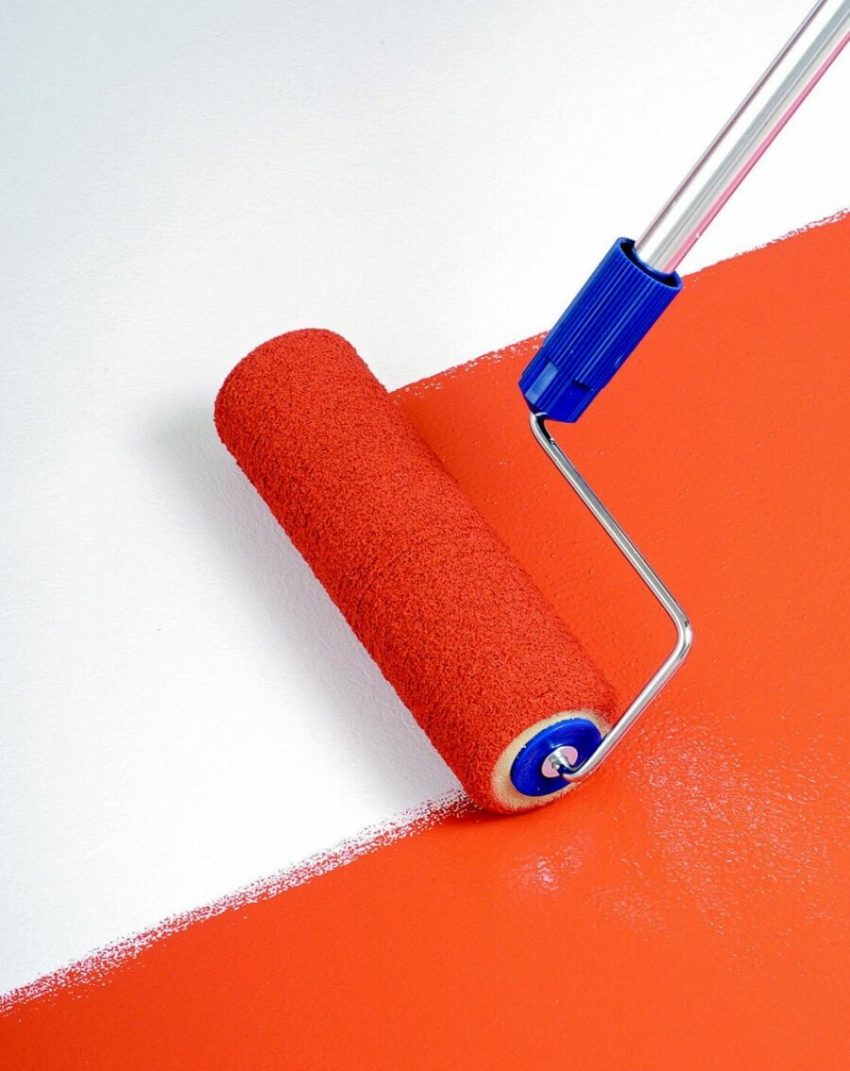 You can choose any colors for your basement floor paint; however, you need to inspect the overall condition of your basement to make sure that the color you choose is the best one.
Two important factors to mind when you want to determine the right color for your basement floor paint are light source and the function of your basement.
Some basements have ground-level windows that not only bring natural light to the basement interior, but also transmit the rich color of the nature inside.
If the windows are located next to a garden, the greens of the grass and leaves and the vibrant colors of the flower will enter the basement.
What you need to do is choosing colors that can amplify the multitude of hues that the windows bring to your basement.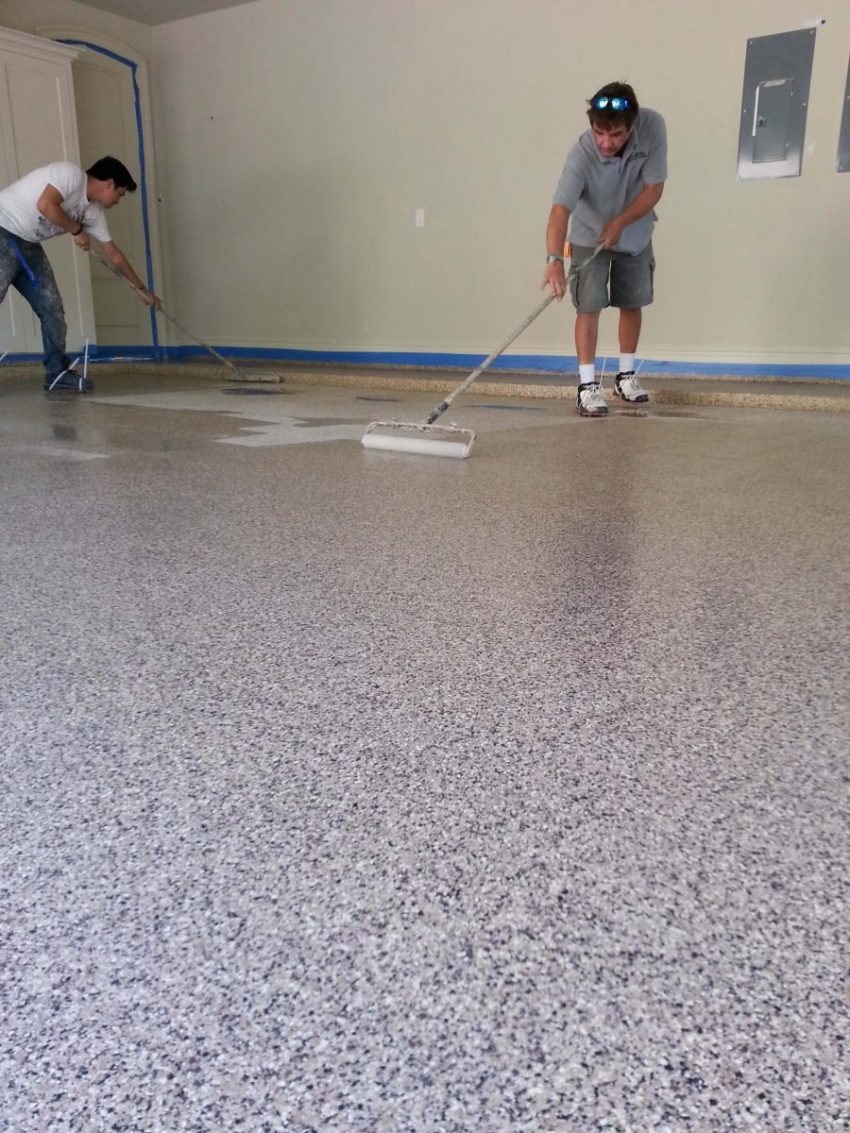 If your basement lacks natural light source, you can experiment with deep and rich colors because basement without windows is a perfect place to accommodate entertainment venues, such as pool room, home theater, and bar, all of which look great with deep colors on their floor and walls.
You can also experiment with brighter colors if you plan to use your basement as, for example, laundry room. So, the floor color of a basement without windows depends entirely on how you will use the basement.
Types of Basement Floor Type
Here are three types of basement floor paint that you can use.
Epoxy paint
Epoxy paint is the most expensive paint because it not only colorizes the floor, but also coats it with waterproof protective layer. Including a great choice if you want smooth surface on your basement floor.
Concrete stain
Concrete staining is a procedure to add permanent color to your basement floor. This can be done by using acid-staining technique or water-staining technique.
The former triggers chemical reaction on the surface of the concrete, giving it permanent color, whereas the latter adds a translucent or opaque layer of coating on the concrete.
Dye
Dye is regular painting technique in which you use dye with specific color to paint your basement floor.
This is the cheapest method to colorize your basement floor, but the result is not permanent and not as beautiful as the one achieved through epoxy painting and concrete staining.
Once you pick your color and your preferred paint type, you are ready to paint your basement floor. Be sure to check the floor for moisture and damage and clean the floor thoroughly before you apply your basement floor paint.
Without further ado, here are the best recommended basement flooring options and floor paint ideas by HARP TIMES you should have for your basement:
1. Stained Concrete Floor for Basement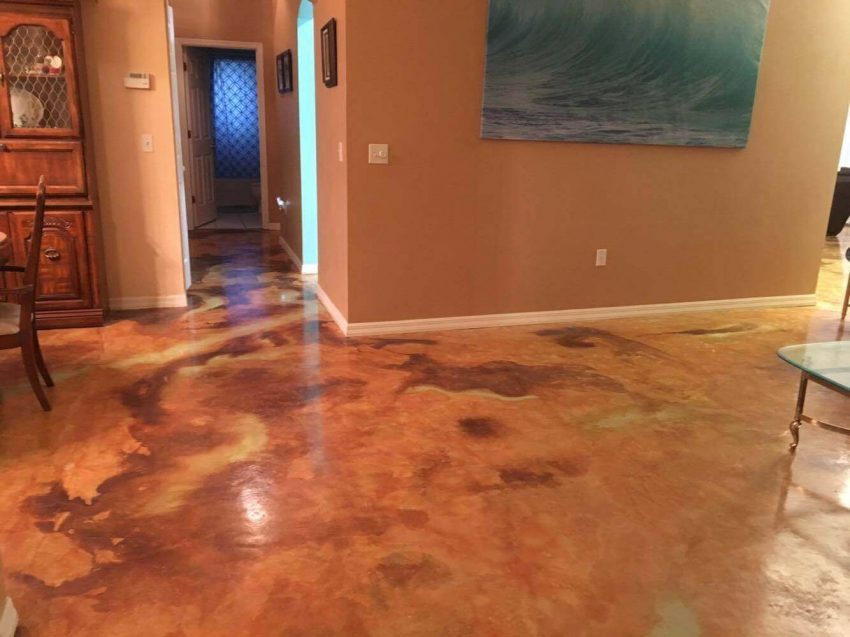 This kind of flooring has become as stylish as commercial settings. It's also well-known as the acid-etched floors. This acid method imparts a luxurious radiance that you can't do with the other methods.
It's not like any other paints. This stain permeates the concrete to give translucent tones which vary across the whole expanse.
With this acid-etched floor, you can make a neutral or a fun colorful floor. It's based on your creativity to design your basement floor.
| Pros | Cons |
| --- | --- |
| This flooring doesn't require a sub-floor | It's hard on the feet |
| It can create fun and unexpected patterns and colors | It's the coldest one among others |
| | The sound insulation is poor |
| | It requires more prep and labor |
| | It could be more expensive than most expect |
2. Sheet Vinyl Flooring for Basement
It's also known as resilient flooring. Vinyl flooring is a better option than concrete and ceramic tile for the basement finishing ideas. This kind of flooring comes in either sheet or tile form.
It also creates a nearly seamless, waterproof surface on the floor. It's perfect for the place where moisture might be involved.
If the water is left standing for long enough, the vinyl flooring may invite moisture infiltration.
Many people think that this flooring is often considered as a cheap fix. It could be your basement's affordable option.
| Pros | Cons |
| --- | --- |
| Vinyl flooring will keep water at bay | For adhesion, it needs a clean surface |
| It's affordable which is priced per square foot | It's not a DIY project |
| It's warmer than concrete or ceramic | |
3. Ceramic or Porcelain Tile Flooring for Basement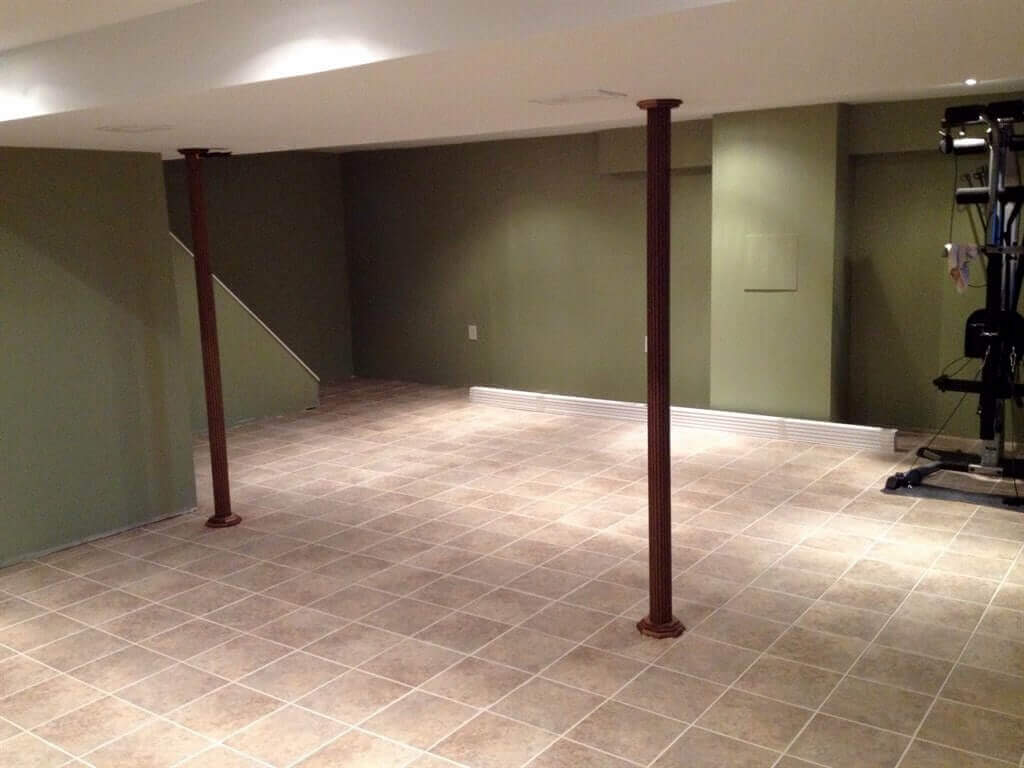 It's probably one of the most favorite types of flooring for basement. Ceramic or porcelain tile represents the best of many worlds.
It's ideal for a finished surface, unlike concrete. It's got an attractive design without any additional treatment.
You can install this kind of tile directly on the concrete slab. Ceramic or porcelain tile can be cold. So, you need the radiant heating that's sandwiched between the tile and concrete to produce warmth on the tile surface.
| Pros | Cons |
| --- | --- |
| You won't see any rot | It will be an issue dealing with additional radiant heating |
| It dries out easily | The sound absorption quality is poor |
| It can be undamaged in the event of flooding | Installing a large area requires professional works |
| In a small space, it can be a DIY project | |
4. Engineered Wood Basement Flooring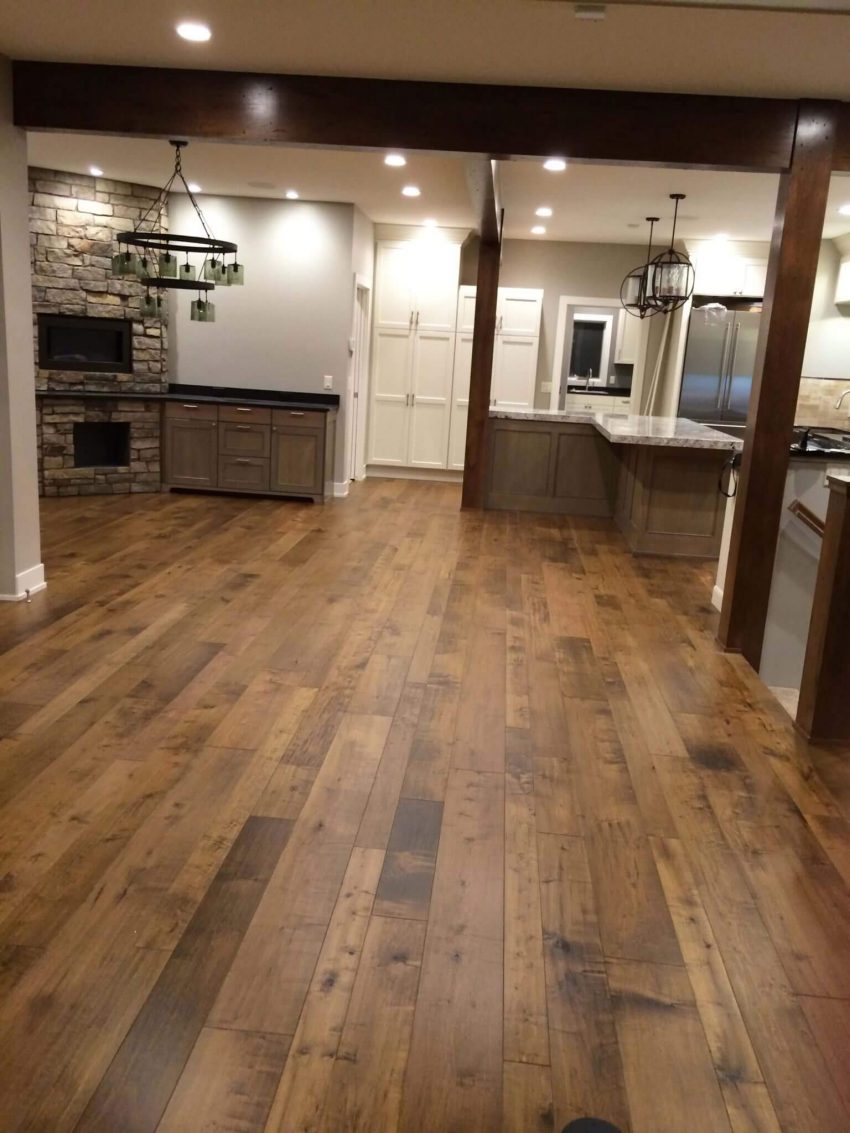 Wood is an organic option of flooring for your basement. it is derived from trees and it doesn't stand up well to moisture that stays longer. That's why you can't have solid hardwood as your basement flooring.
Quote:

If you still want a wooden look for your basement flooring, you can aim for engineered wood flooring. It's different from solid hardwood and considered to be dimensionally-stable. It's got a cross-hatched plywood base which is installed below the real wood veneer.
It can maintain the shape when subjected to some amounts of moisture. What about the look, it's as elegant as the real hardwood material.
| Pros | Cons |
| --- | --- |
| It can handle well to mild amounts of moisture | It has to be installed on some type of subfloor |
| The elegant option of basement flooring | It's an expensive option of basement flooring |
| It has an excellent sound absorption quality | |
5. Concrete Flooring for Basement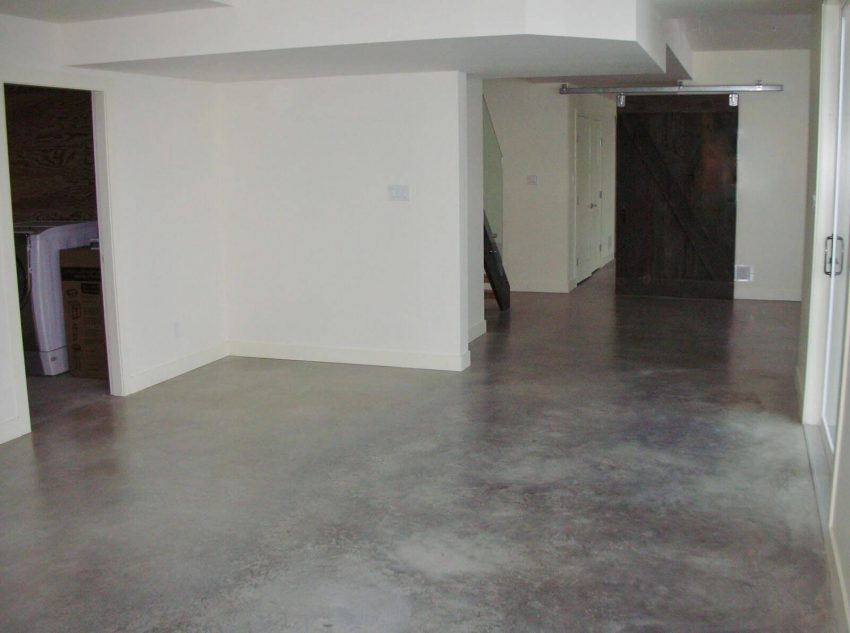 This is one recommended option that has come into wider acceptance by many homeowners. It doesn't have to remain raw. You can opt to paint or stain the surface to make it more attractive.
Some concrete flooring need extensive patching. Then, you can cover up the patches with paint.
Quote:

This kind of material must be intensively scoured and cleaned before it can be painted. So, you probably need more labor than you might imagine.
| Pros | Cons |
| --- | --- |
| It's the best flooring option to perfect moisture | The coldest of all flooring options |
| It doesn't need a big amount of materials | There's no way to heat the surface from below |
| There's no need for sub-floor | The sound quality is poor |
6. Laminate Flooring for Basement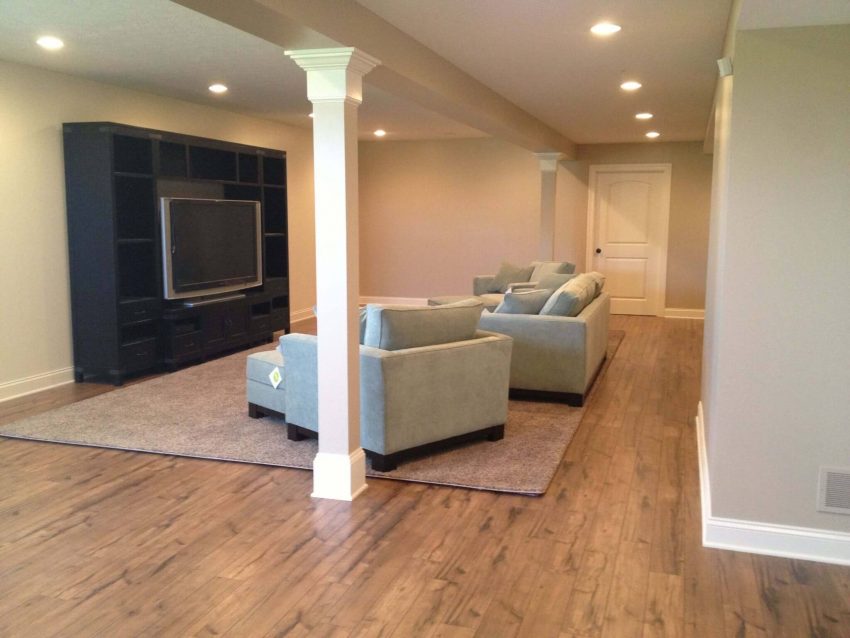 It's a more attractive flooring option among others. It's because of the thicker surfaces and the improved image layer graphics.
However, there's a problem with laminate's base material when it gets prolonged contact with moisture.
The material will permanently swell up. It can't be back to its previous size. The only way to deal with this moisture problem is by replacing it with a new one. So, you have to be careful not to spill off any moisture on the flooring.
There's another type of laminate floor that can be the solution to the moisture problem.
It is waterproof laminate flooring that has no wood content. However, this kind of material is very difficult to find in some areas.
| Pros | Cons |
| --- | --- |
| This material rates as one of the warmer flooring options | It's highly fragile to moisture |
| It's ideal for a DIY project | It has the ability to build up static electricity |
| The absorption quality is fair | It doesn't require subfloor installation |
7. Concrete Floor Paint for Basement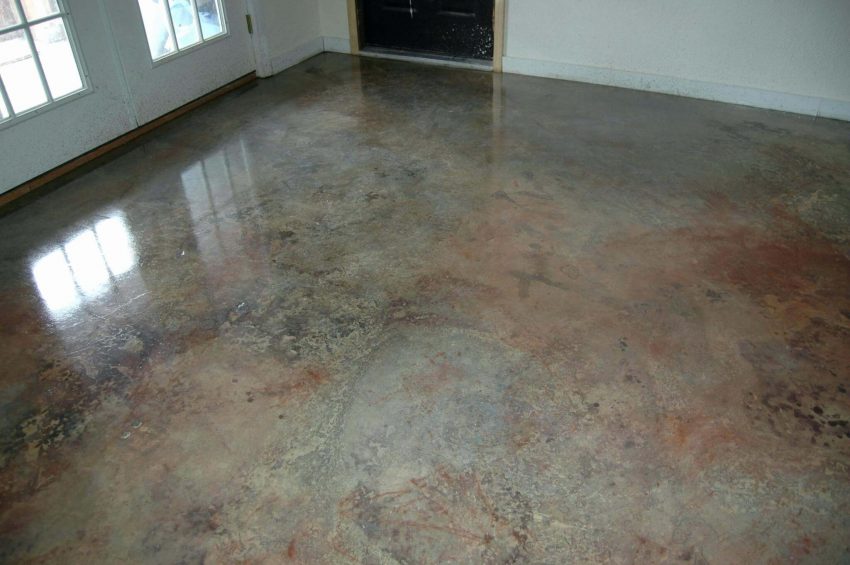 Let's begin this with a question, what is the best paint for the concrete floor? The answer is Epoxy paint. This paint dries thick and hard on concrete. It provides the durability that's maintaining the basement floor.
Epoxy paint is an excellent solution for your basement if you plan to have it for a recreation area or workshop.
One of the main benefits of epoxy paint is the waterproofing ability. It helps to lock out excess moisture.
These three types of epoxy paints you might want to know about. They are water-based epoxy, solvent-based epoxy, and the 100 percent solid epoxy paint. All of the paints are available in some colors such as brown, red, and ivory.
You can also go with the concrete stains to give your basement floor a more rustic and natural look. However, epoxy paint is still the best one of all.
8. Basement Floor Paint Epoxy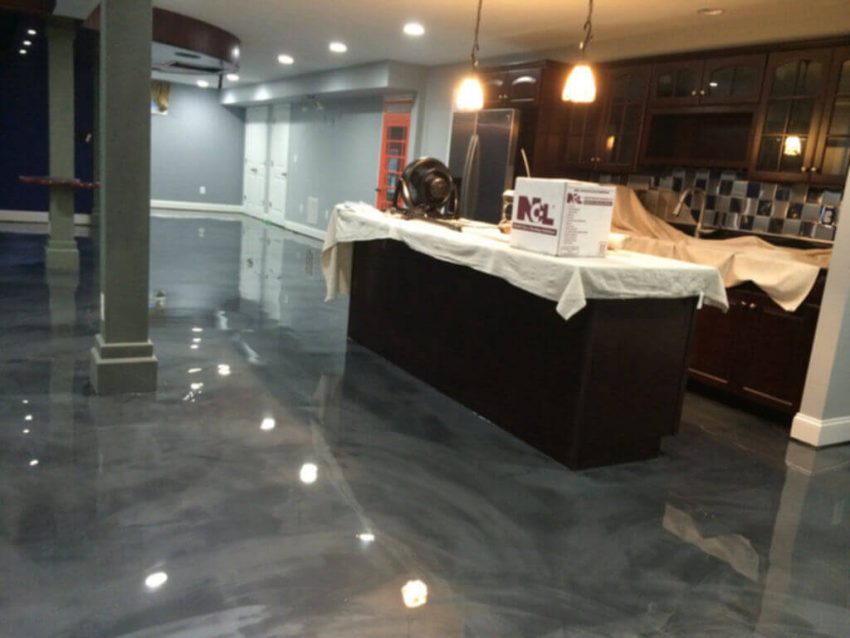 Epoxy coating is unlike traditional basement floor paint. Epoxy acts as a sealer that helps you prevent lines and cracks on the floor.
This kind of coating will also help to trap moisture in the slab. You can feel cleaner, drier, less musty basement flooring.
| Pros | Cons |
| --- | --- |
| It's well-known for its affordability. Compared to other options of flooring, it's quite affordable | It's a temporary flooring solution and you have to replace it eventually |
| This kind of flooring is highly resistant to just about everything, oil, bleach, transmission fluid, gasoline, cleansers, and many more | For oil-covered epoxy, it will be very slippery |
| It has a longer lifespan than many others | The preparation can be an issue |
| This flooring option protects the underlying concrete from any flaws | It takes a long time to dry properly |
| | It has strong fumes |
9. Cement Floor Paint Ideas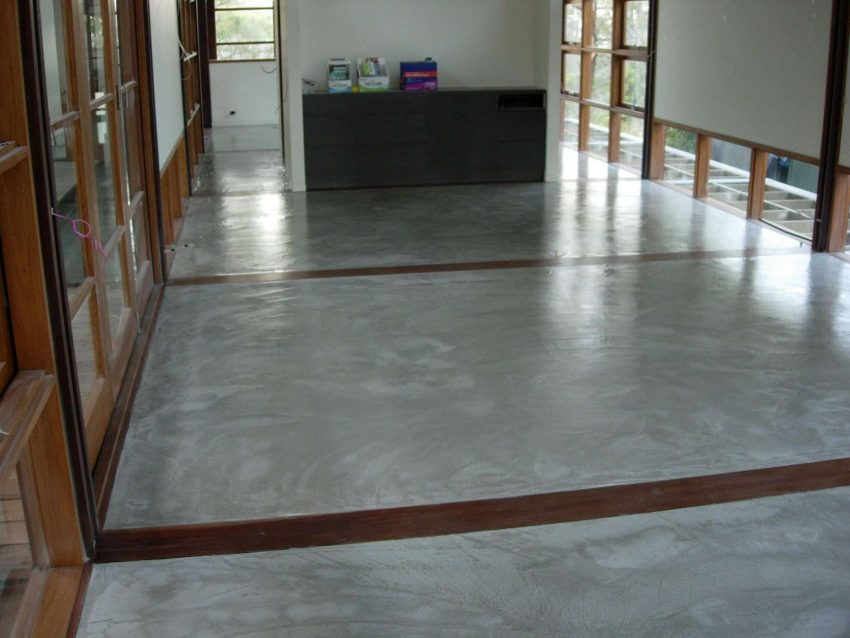 Painting the cement floor of your basement can transform the space. It brings a new life to the interior design.
The painting will protect the surface against foot traffic and other elements. It adds some aesthetic appeal to it.
People like to have cement flooring for their basement because it's easy to clean and maintain. It's a great alternative to rugs or carpets. Before painting the floor, you need to prepare the cement floor in order to get the best result.
10. Basement Floor Paint Waterproof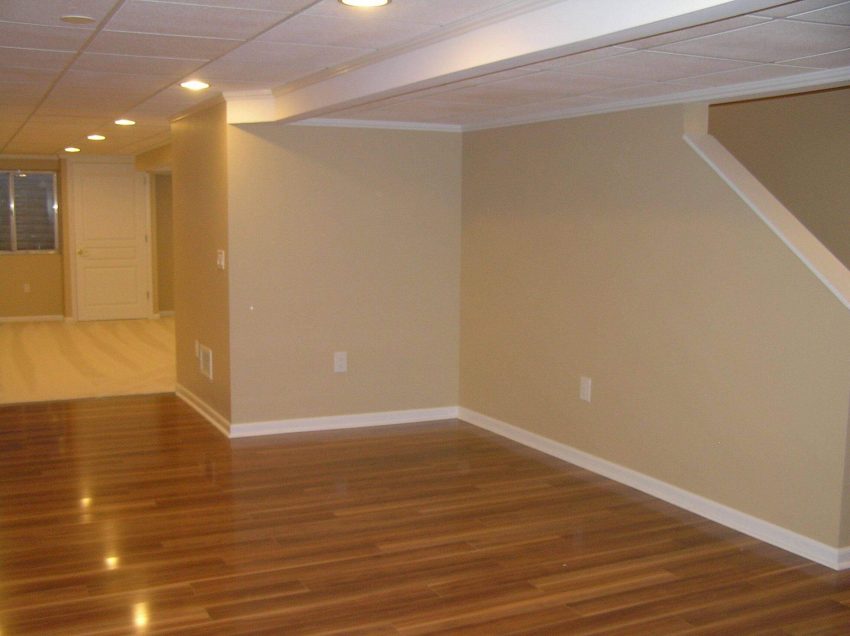 The waterproof paint for basement flooring is just what everyone needs. There are some waterproofing options you can do for your floor.
One of the top options of the waterproof floor is vinyl flooring. It's a super flooring product that can handle all kinds of duress.
This basement floor paint offers a nice inviting feel to your basement. You can combine it with a neutral scheme in order to get the elegant charm of the flooring at its finest.
The glossy effect of the floor surface reflects the recessed light. It creates such a glam to space.
11. Basement Floor Epoxy in Vibrant Green
Quote:

The surface of this epoxy flooring has a marble look. It gives the basement space a more refreshing and livelier look.
It's a good color you need to have in your basement. It doesn't use in many basement floorings.
You can pair it up with the wooden lockers. The light brown color of the wood will complement the natural look of your basement.
12. Basement Floor Paint with Diagonal Stripes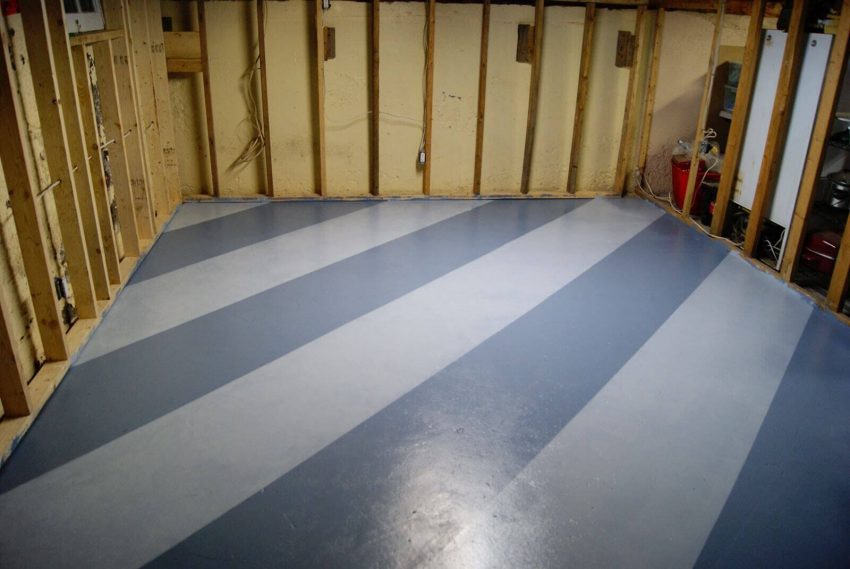 It's an ideal paint color for a small basement. It gives the illusion to make space looks larger than it actually is.
You can also aim to have a plain flooring color if you don't like the stripes. Both of the options won't make the narrow space narrower.
The color choice is also the key to successful floor paint. You need to go with the light and soft colors such as blue, light grey, and beige. It's a good home decor for the basement.
13. Epoxy Basement Floor Paint with Square Patterns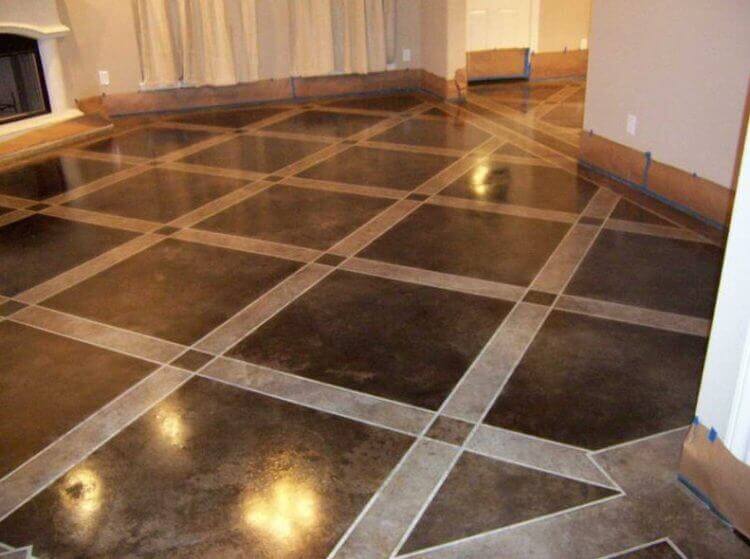 You can make your basement floor more attractive with certain patterns. Find whatever fits your style.
For a recommendation, you can use this square pattern on your basement floor. It can even be similar to ceramic or marble applications.
You can make your basement floor attractive without spending a lot of money.
14. Blue Coating Basement Floor Paint Ideas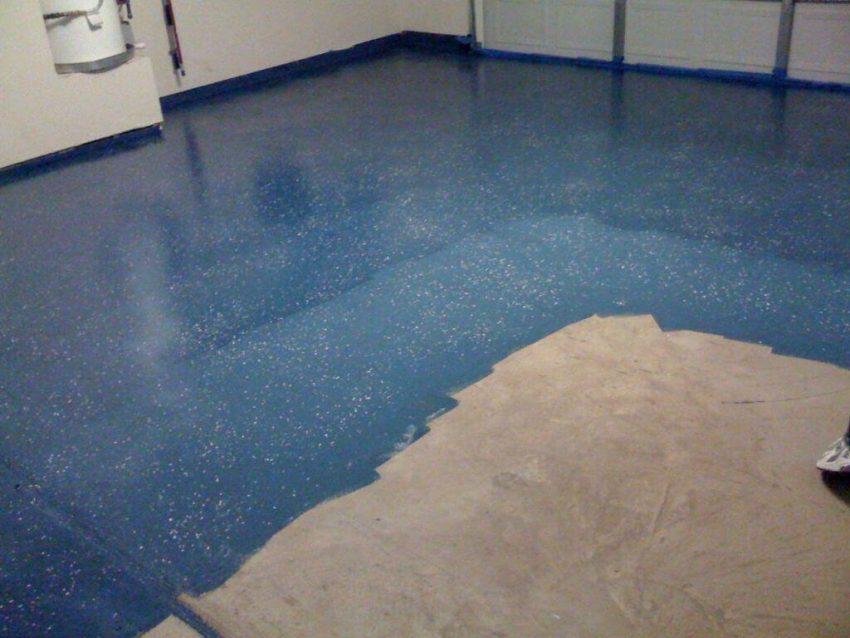 Adding a blue coating on your basement floor would change the entire mood of the room.
You could pair it with white color to make the blue shade more natural and relaxing. Don't choose the shade that's too bold. It will make a real darkroom in the basement.
Installing a lot of lightings could give a good impact to the shiny flooring. If that's the case, bold blue color on the floor would be okay.
15. Glossy Basement Floor Paint Ideas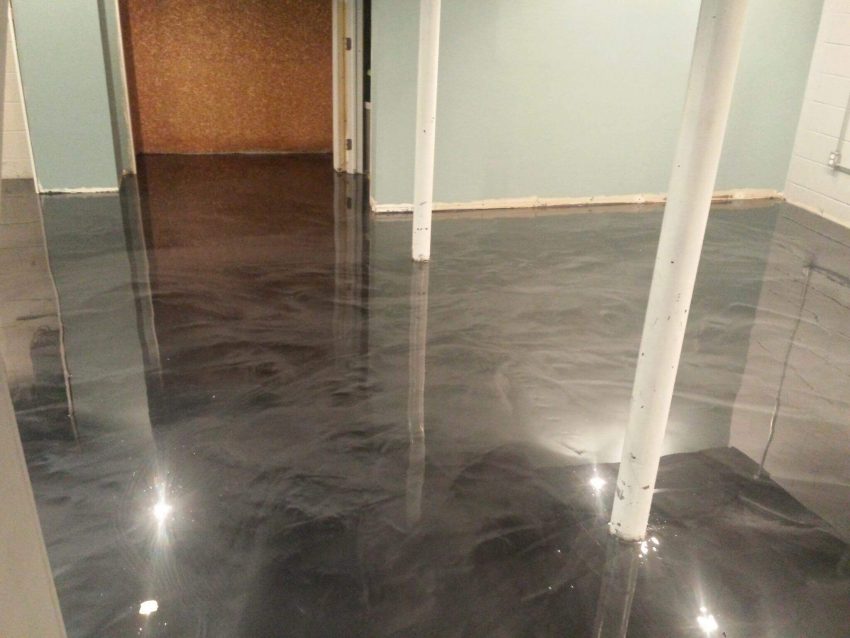 The glossy look of basement flooring would be so special for any house. It looks glossy like glass which becomes a stunning idea for your basement. The lightings on the basement ceiling ideas reflect its light on the floor.
This glossy flooring is a result of two techniques combination. At first, it's applied with fiber using gradation painting technique.
Next, it gets varnished to get the glossy look. It's one of the favorite basement finishing ideas.
You need some considerations before choosing glossy flooring.
Some type of glossy material will get stains easily. Some others require high maintenance. Choose one with the best quality and durability.
16. White Paint for Basement Flooring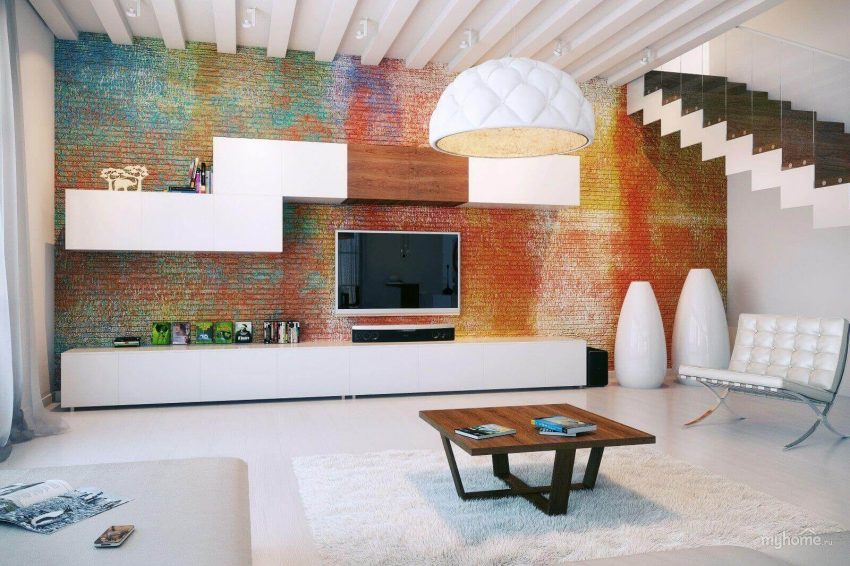 This basement living room looks so authentic. It seems it's the only room that has this kind of design scheme. The brick wall is just a work of art. You don't find it anywhere. It's a great design for barndominium floor plans.
The best color to pair with that brilliant wall is the one and only white color.
If you're confused about when is the right time using the white floor paint, this is the right time. All white elements in this basement seem like the blank canvas and that brick wall is the paintings.
Conclusion
This page provides you with the basement ideas you need. After exploring the entire article, you now know what the right flooring option for your basement is. Then, you can decide which basement floor paint suits your style.