Have you ever thought of living in a barn? Wait a minute! It doesn't mean you have to live and share the same shelter as cows and horses do. It is a barn that many people are crazy about – a barndominium. To build it, you'll need barndominium floor plans.
Some people might think that building a barndominium will cost you a fortune. But this is not entirely right. You just have to look for the exact plans that could save your bucks but also provide the barndominium that you wished for.
Here are 13 outstanding barndominium floor plans that will give you nothing but the ultimate comfort:
What is a Barndominium?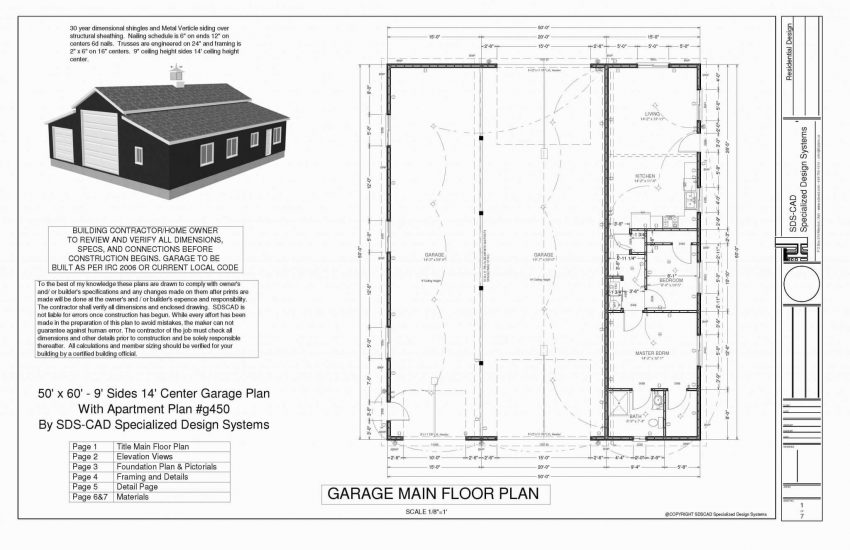 The name of barndominium denotes what it really is. It is the fusion of a barn and condominium. Although it looks like a barn, it is not as messy and dirty as you think. In fact, it can provide hygiene and ultimate comfort for you and your family.
More people begin to think about building a barnominium due to its versatility. You can build a house in a barndominium style, run a restaurant, turn it into a store, and many other things that its counterpart can do.
To build a barndominium, you can either build a new one or remodel an existing barn. If the second one is your choice, you have several things to be considered.
The first thing you need to do is removing the dirty floor that can be done by raising the floor off the ground. When it has been removed, now it is time for you to pour the cement in order to make the foundation.
Since you remodel an old barn which means some of the structures have been distorted, you need to consider to rebuild the frames. And if you are going to build a two-story house out of an old barn, don't forget to replace the roof so that it becomes sturdier and safer for you and your family to dwell in.
Now, check out these 13 barndominium floor plans for more inspirations:
1. 3 Bedrooms, 2 Bathrooms, 1 Working Room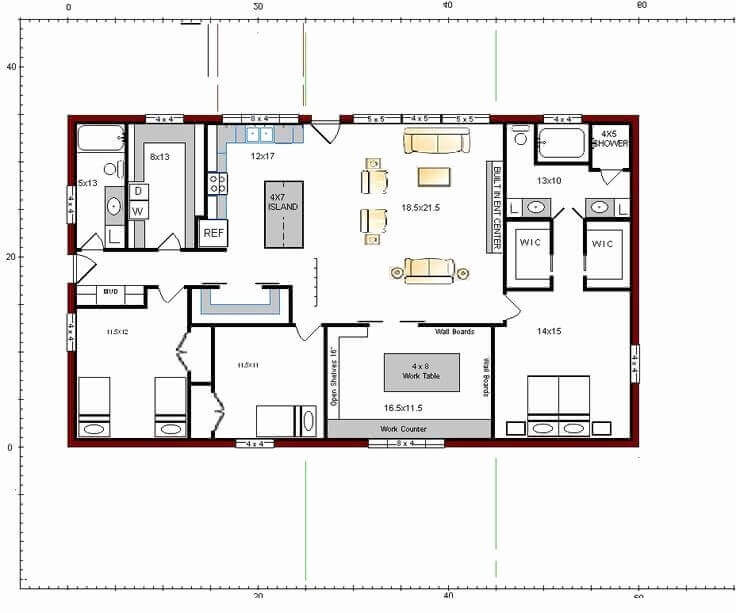 Working at home can be a terrific idea because you can still do your job while looking after your kids. However, it is not as easy as it seems especially if your kids keep running here and there, and bickering over what to watch. If that is your perpetual issue, this floor plan may be what you need.
It features a 16.5×11.5 working room that can be your best hideaway and focus on what you are doing. This room can also be functioned as your mini library where you can store your books on 16 ft open shelves. To kick it up a notch, you can hang some motivational quotations for the accent wall ideas.
In addition to the working room, this barndominium also features one master bedroom and 2 smaller bedrooms. A 13×10 bathroom with shower and bathtub found in the master bedroom will ensure your comfort when bathing.
2. A Barndominium with A Shop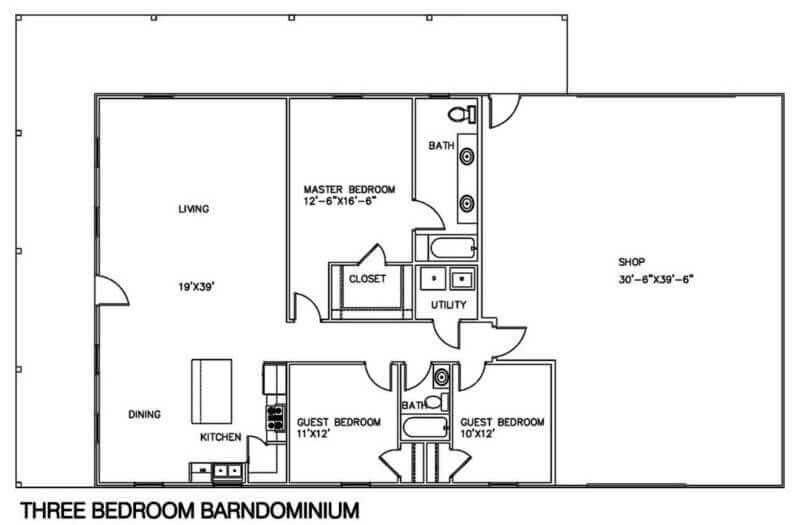 Running a business while staying close to your kids? Is it even possible? Of course.
The versatility of a barndominium enables you to have a shop in your house just like the floor plan that you can see in the above picture.
It features a 30'6"x39,6" shop that you can use to run a business. Now earning money while babysitting your kids is not pie in the sky anymore.
In addition to a shop, you will also have one master bedroom and two guest rooms. There are two bathrooms in this house. One of them is in the master bedroom so that you can have an easy and quick access to it while the other one is between the guest rooms.
3. Simple House with Open Kitchen Style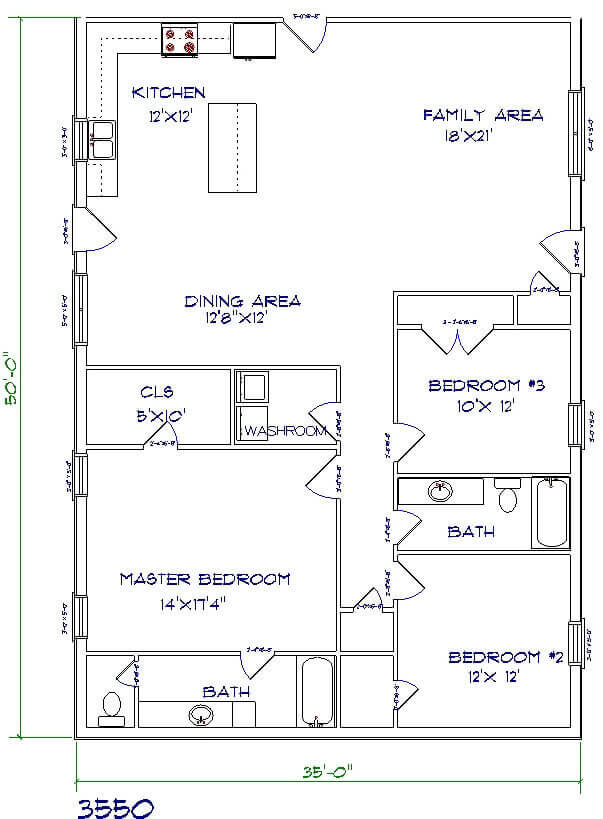 A dream house is the one that enables you to gather and banter with your family, and a safe haven for you all. And if you are looking for that kind of house, this barndominium floor plan will be your safe bet.
Quote: A house is a place where we can share our happiness and sadness with our family.
This house has one master bedroom along with a bathroom in it and two guest rooms that can be occupied by your kids. A smaller bathroom is placed between the two guest rooms so that your kids can make a run when nature calls in the middle of the night.
An open kitchen style is used in this house in which the kitchen, dining room, and family room are in the same place. It enables you to cook for dinner while watching your kids playing in the family area.
4. 4 Bedrooms, One Office, One Craft Room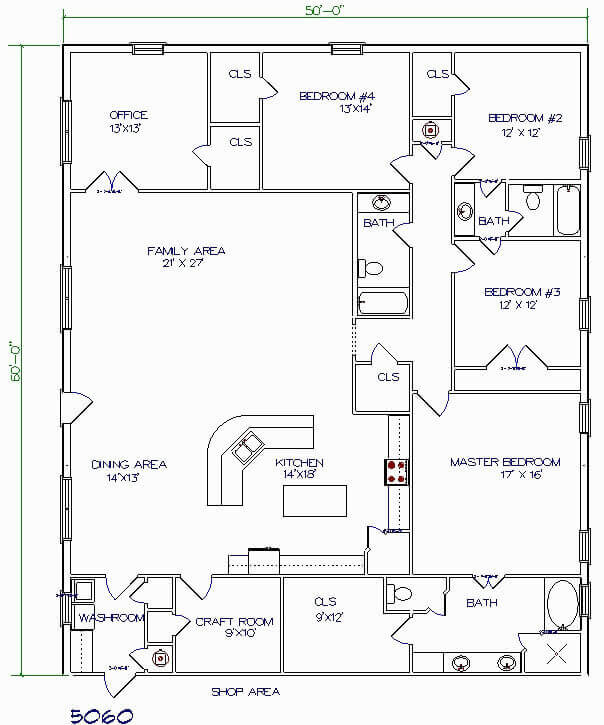 This barndominium features a craft room that you can use to make your masterpieces. This is the room that your kids are going to love most. They will linger over their fingerprint painting or paper flower bouquet and you don't need to be afraid of the mess that might happen.
It also features an office that ensures your comfort when doing your job. Now you can work comfortably without leaving your house.
This barndominium is really suitable for your big family as it has 4 bedrooms that you can use to accommodate all of your family members as well as some relatives when they come to visit.
More bedrooms mean more bathrooms. That's why this barndominium has 3 bathrooms so that your family and guests don't have to queue for a bathroom.
5. Barndominium with Deck and Low-Level Storage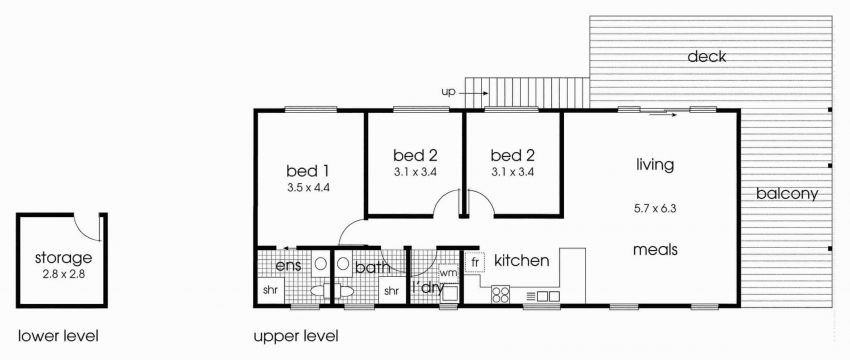 Deck and balcony are dispensable because they are mere accessories to your exterior. But there is nothing wrong with having both of them because they can accentuate the exterior of your house.
The deck of this house can be accessed from the living room merging with the dining room. This easy access enables you to take your breakfast and bring it to the deck so that you can enjoy it while enjoying the freshness of the morning air.
This barndominium also features a storage room that is placed in the lower level which means you are going to need low basement ceiling ideas for it. In here, you can store the things that aren't used anymore so that you can use it someday.
6. Luxurious Barndominium Floor Plans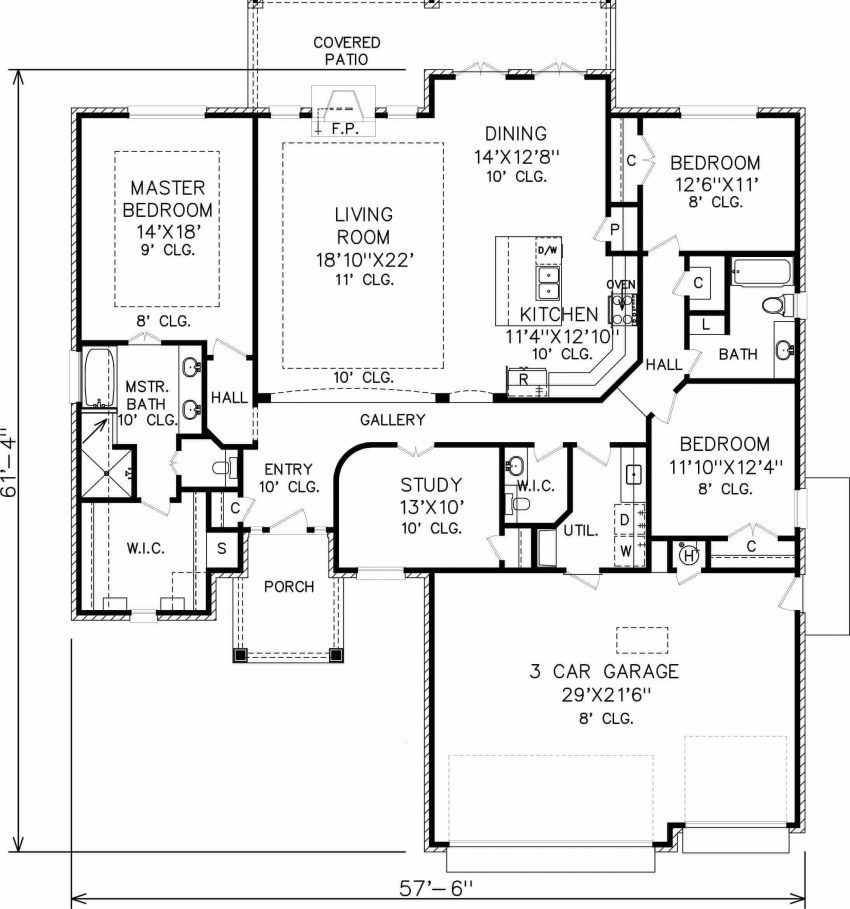 This barndominium is all what you need for a super comfortable and luxurious house. It has a porch in which you can grow some beautiful flowers or shrubs to welcome the guests. It also has a huge garage that can accommodate 3 cars at the same time.
Besides a spacious garage and a porch, this house also has a 13'x10' study room. It is large enough for you to hit the book or do your job. You can also put some shelves in it so that you can store your favorite books.
This house also features a patio where you can spend your afternoon while enjoying the scenery of your backyard. To make it more beautiful, you can try applying cover and paver patio ideas.
7. 3 Bedrooms, 2 Bathrooms, One Deck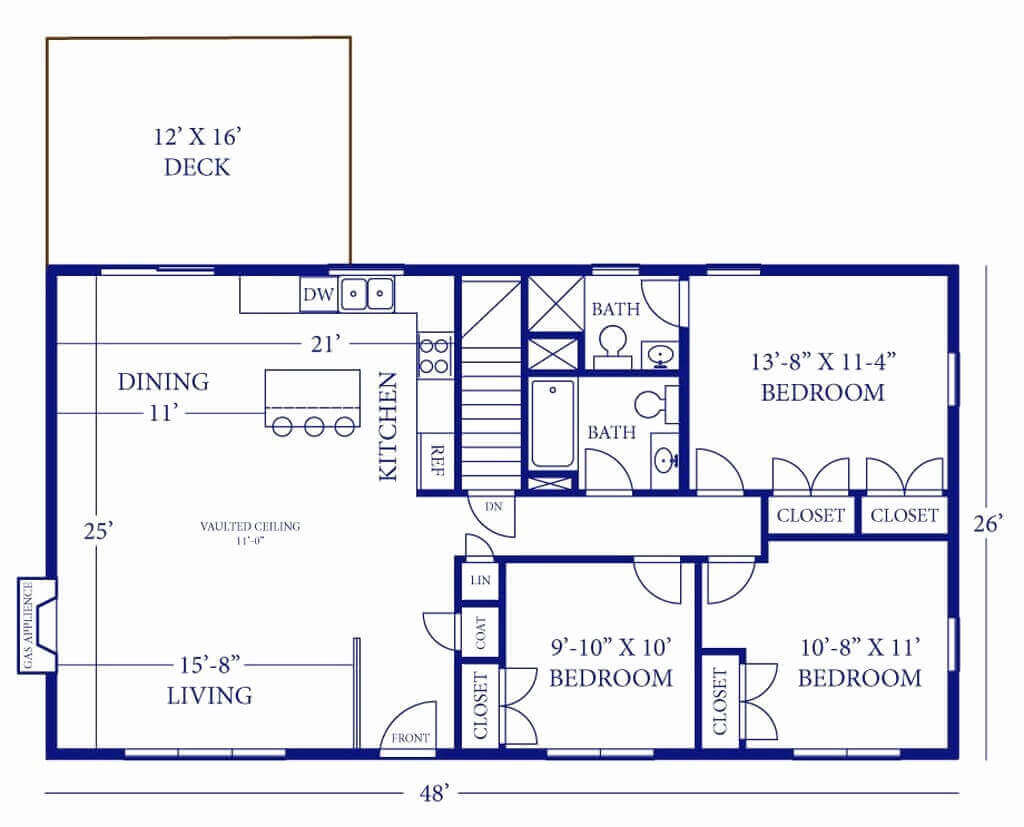 The bedrooms of this house are built near each other. It enables you to stay close to your kids and make them feel safer.
The bathrooms are placed in the same spot. They are even separated by a wall. One of the bathrooms can only be accessed from the master bedroom while the other can be accessed from the corridor in front of the guest rooms.
The living room and kitchen are merged, creating an open kitchen style that gives the feeling of a more spacious kitchen. But if you want some privacy in your kitchen, you can invest in a room divider.
This house features a 12'x16' deck that can be accessed from the dining room. The deck is large enough to accommodate you and your family or guests.
8. Modern Barndominium Floor Plans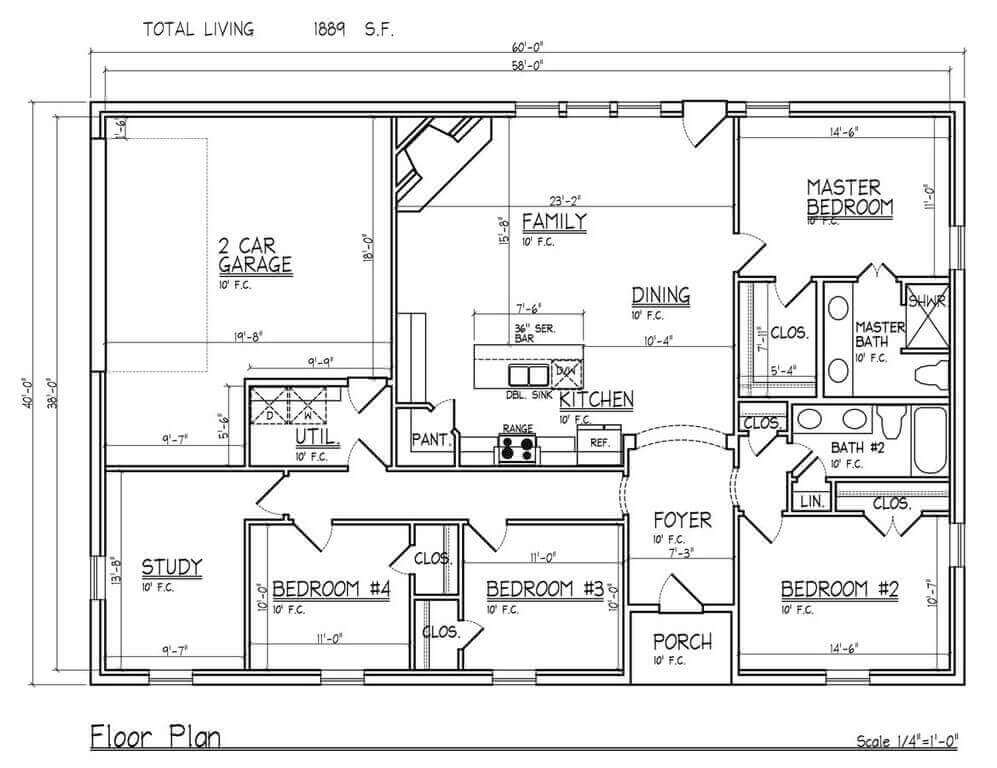 This house features 4 bedrooms that ensure the ultimate comfort of your family and guests when sleeping. Unfortunately, it only has two bathrooms. One of them is in the master bedroom while the other one is between the master bedroom and bedroom #2. It means your guests and kids have to queue for a bathroom.
It also features one study room that is located at the corner of the house so that you will not be disturbed by the noise coming from the family room in which kids usually banter and bicker. It also has a medium garage that can accommodate two cars at the same time.
You can get into the house from the front door or the garage through the utility room. If you just went through the pouring rain that made you all wet, you had better come into the house through the garage so that you can leave your wet umbrella or raincoat in the utility room.
9. Elegant and Huge Barndominium Floor Plans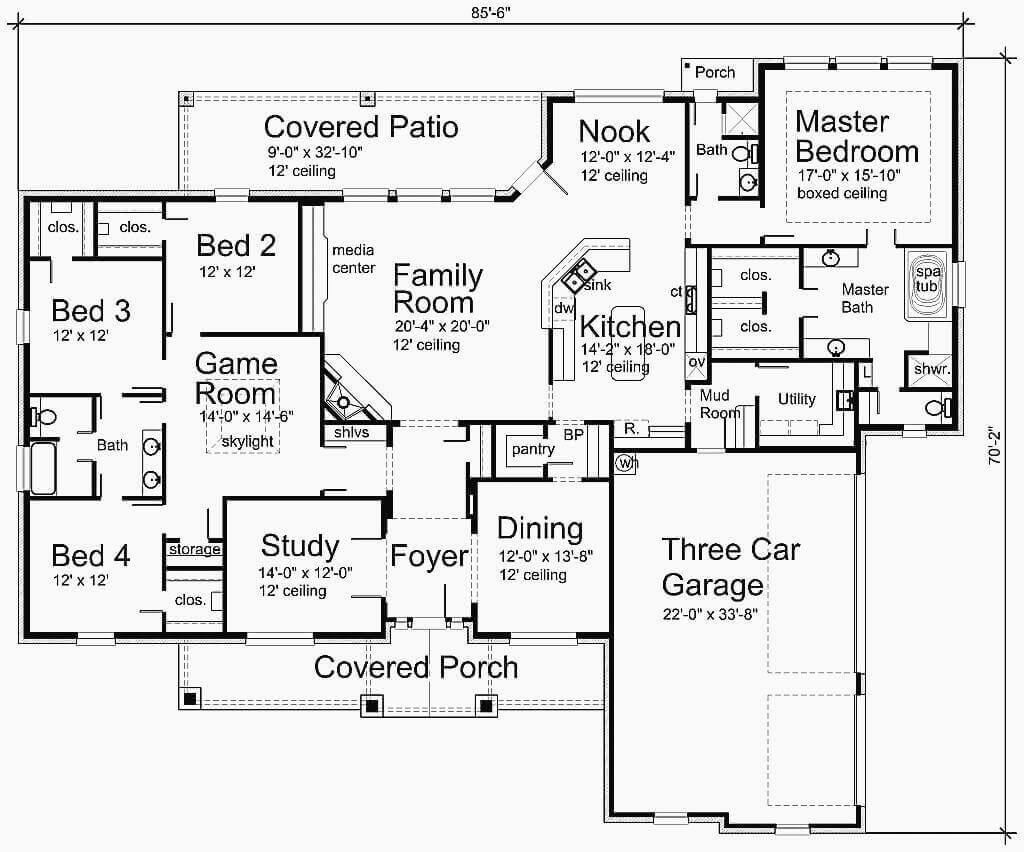 This huge barndominium is all you need for your family. It may cost sky-high, but it really satisfies them.
It has four bedrooms – one master bedroom and three guest rooms. It features three bathrooms that must be sufficient for your family and guests. It also has a garage that can accommodate three cars. Behind the garage is a mud room that prevents your wet and dirty raincoat and boots from messing the house.
The best thing about this house is the game room. Your kids will be thrilled when knowing that you will build a game room in this house. And for your me-time, you have a covered porch and patio. You can grow some decorative plants and put some chairs or couches in them so that you can lounge on while reading a magazine.
10. Simple Yet Lovely Barndominium Floor Plan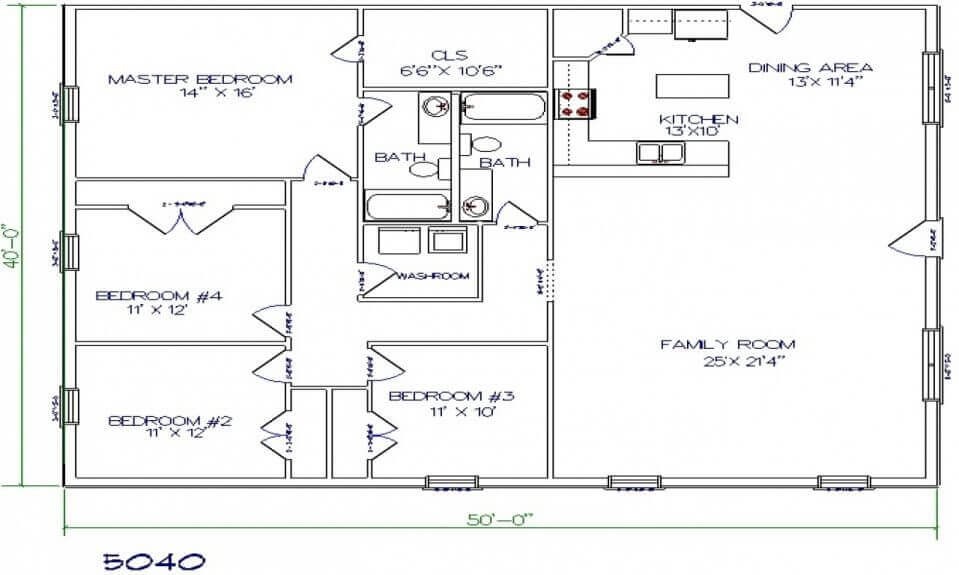 This house is just simple yet lovely. There are four bedrooms and two bathrooms which are located in the same spot. Both of the bathrooms are exactly the same length and width, but they are only separated by a wall.
The difference between the bathrooms is in the entrance. One of the bathrooms can be accessed from the master bedroom while the other is from the corridor behind the washroom.
The open kitchen is usually applied by barndominium houses. It allows your living room to look larger. But if you are not comfortable with the messy kitchen, you can try to cover it using room dividers.
11. Two-Story Barndominium Floor Plans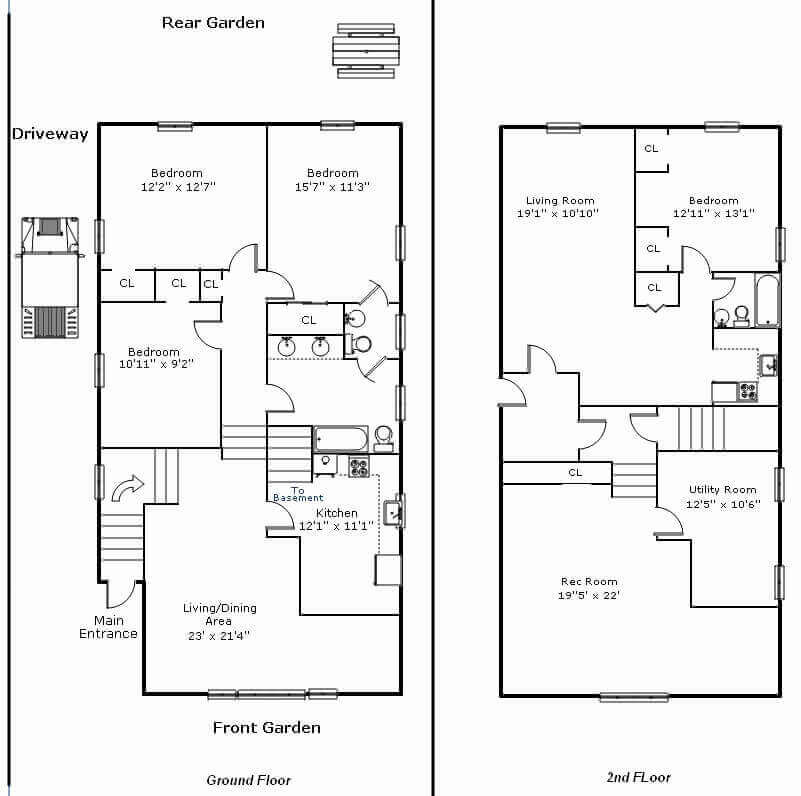 Two-story barndominium is a perfect place to dwell in. it enables you to have more rooms with bigger sizes. This two-story house has four bedrooms – three bedrooms on the ground floor and one on the first floor.
There are two living rooms in this house – one is on the ground floor and the other is on the first floor. It enables you to banter with your friends while your kids can still enjoy their favorite TV show on the first floor.
The kitchen is separated from the living and dining room. It allows you to maintain your privacy and hide the mess from your guests.
12. Barndominium Floor Plan for Basement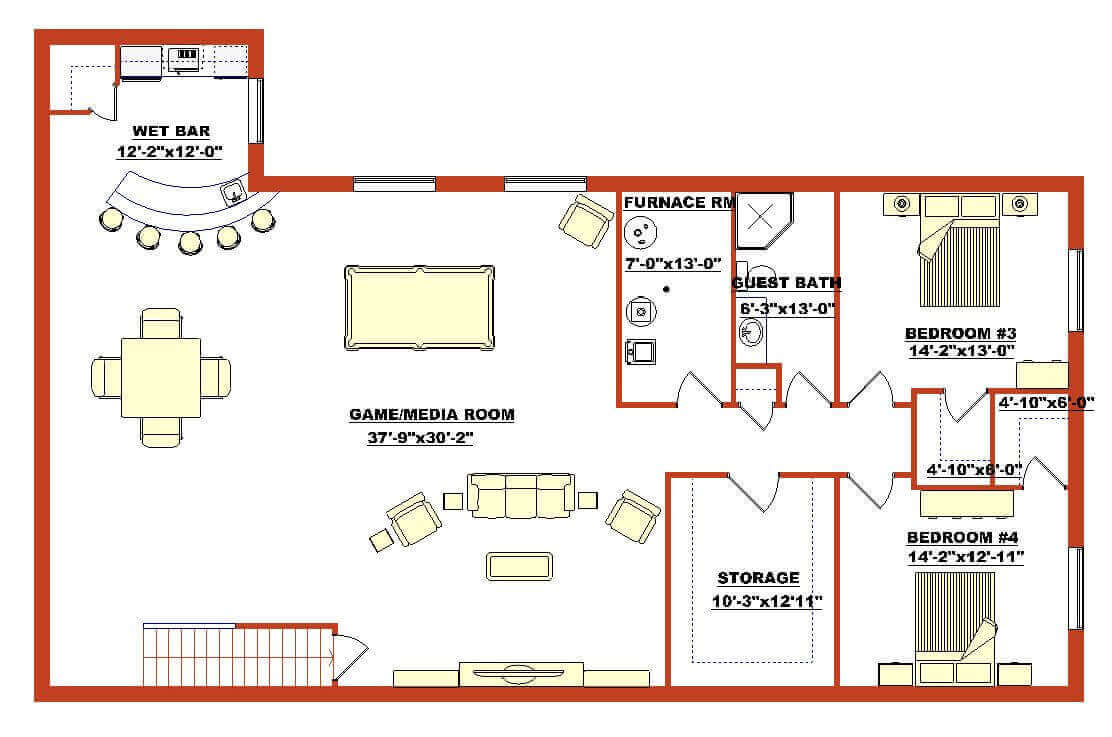 Basements are prone to be dark and dank. A finished basement, however, can pack a lot of fun rather than being dark and dank.
If you are going to build a finished basement under your barn house, you may need to apply this floor plan. This basement has 2 bedrooms so that your guests or relatives can sleep over when they come to visit.
It also has a wet bar and game room in which you can blow off steam with your friends without disturbing your kids and spouse. You can also enjoy your favorite movie in this basement. It is such a nice hideaway, isn't it?
13. Barndominium Floor Plans for Honeymoon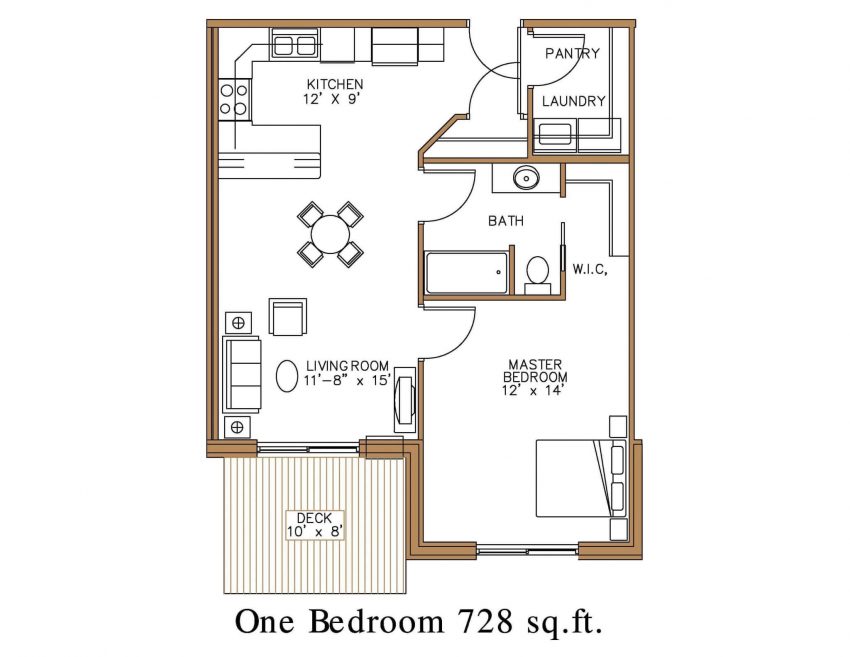 Quote: Enjoying a wonderful time is not about how big the place you stay in, but it is about having someone you love by your side.
Since it is for rent, you might want it to be cozy rather than spacious. Just put one master bedroom and one bathroom. Keep the rooms simple by not adding too many bedrooms and bathrooms.
Having a deck can be a great idea so that people can sit back on the deck and enjoy a romantic dinner while looking at the beautiful moon.
Well, living in a barn isn't that bad, is it? It is even amazing. And these 13 outstanding barndominium floor plans will ensure you to live comfortably.