A comfortable house is not only about decorating the interior meticulously, but also creating an inviting front yard. You might be wondering what you have to do to accentuate your front yard so that it provides a splendid view. Read on to find 16 splendid front yard landscaping ideas.
Front yard landscaping is crucial in that it can be the attraction of your house that you will be proud of. Therefore, a thorough planning is needed to get a top-notch view.
There are many things that you can do to create a breathtaking view that welcomes your guests pleasantly. You can go with seasonal flowers for a themed home décor or perennials for a long-lasting beauty.
1. Keep Being Simple yet Delightful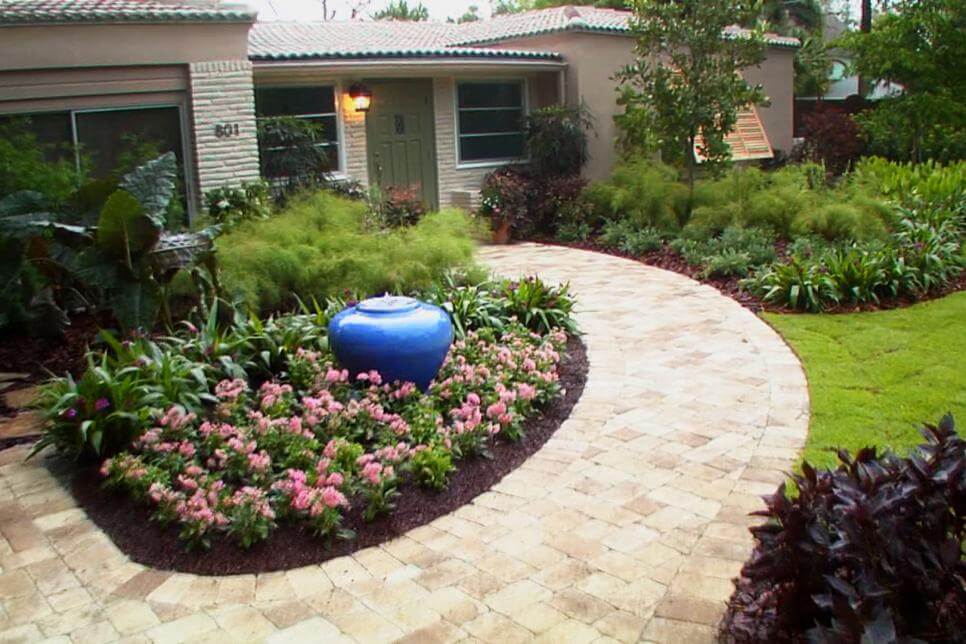 Being exquisite does not have to be arduous. Even some simple things can make your front yard look amazing if arranged fastidiously.
Quote: A splendid front yard landscaping is supposed to improve the appearance of your exterior, not make your bank account is overdrawn.
This front yard does not apply various kinds of colors. Most of the areas of it are covered with greenery such as some elephant ear plants and junipers that frame the window beautifully without being exaggerated.
To add more colors, some peonies sit along the paved pathway. Crimson Fire Loropetalum adds burgundy color to the front yard.
The good thing is they beautify your front yard for all year round. And don't forget the blue fountain that sits conspicuously among the greenery.
2. Redeem the Plain Windows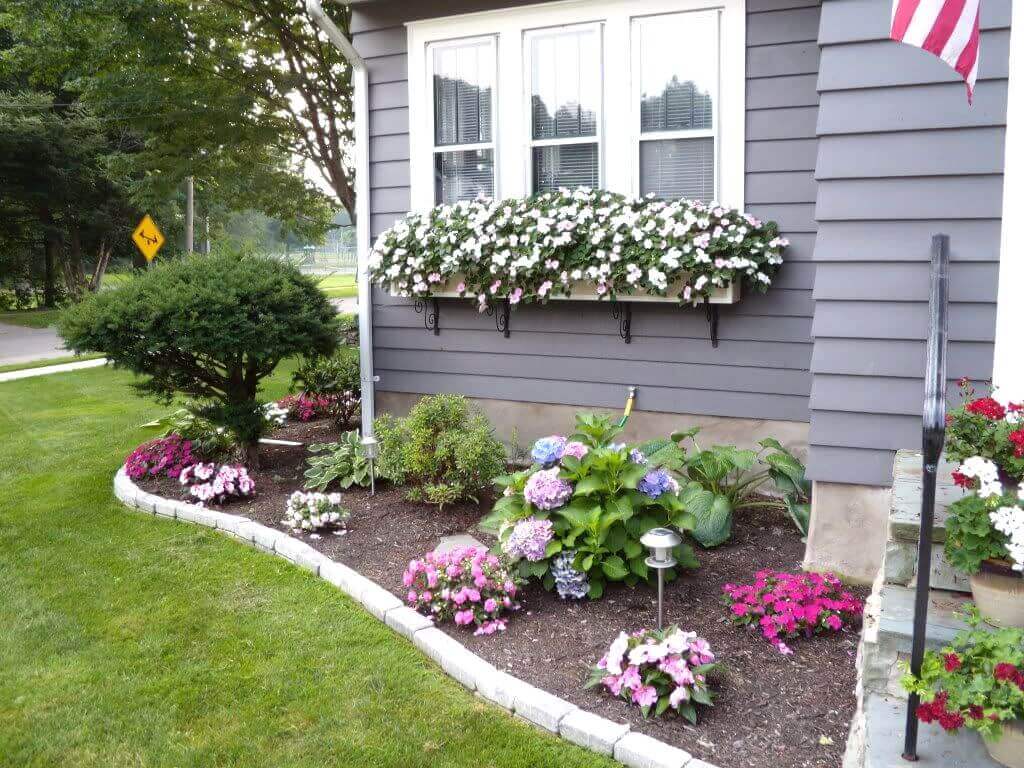 Instead of arranging the plants along the pathway, you can arrange them in window boxes and under the window.
This is a very convenient way to add charm to your house especially the entryway. Besides, it also redeems the plain and mundane windows.
To get this look, you only need to add some stones around your house to create a stone edge. After that, add some mulch for the flower bed.
You don't need to cover the mulch with flowers completely since exposing the mulch can also beautify your house in no time.
If you love being colorful, grow some perennials like hydrangeas and petunias on the mulch.
For the window boxes, you can grow climbing hydrangea or jasmines so that their white colors will complement the window trims very well.
3. Keep Calm and Stay Green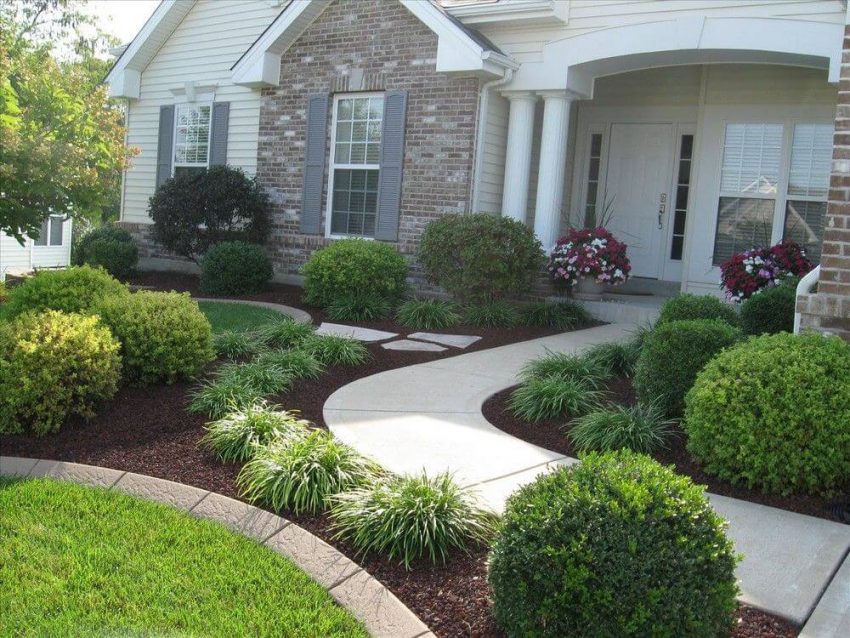 Some people think that beauty is usually synonymous with being colorful. Well, nothing could be further from the truth.
Quote: Being beautiful is not only about how many colors you can add to your front yard, but it is about how you arrange them to create a romantic harmony.
Although this front yard is decorated with some evergreen shrubs such as well-trimmed Yew Hedges and Boxwoods, it still provides a distinctive charm to the house.
Some Spider Plants sit along the pathway to escort the guests to the entryway.
To add more colors to the front yard without overlapping the evergreen shrubs, you can place some colorful shrubs such as Plum-Leaf Azalea, Korean Stewartia, or Japanese Barberry in two planters and put them on each side of the entryway.
4. Clay Fountain Tells More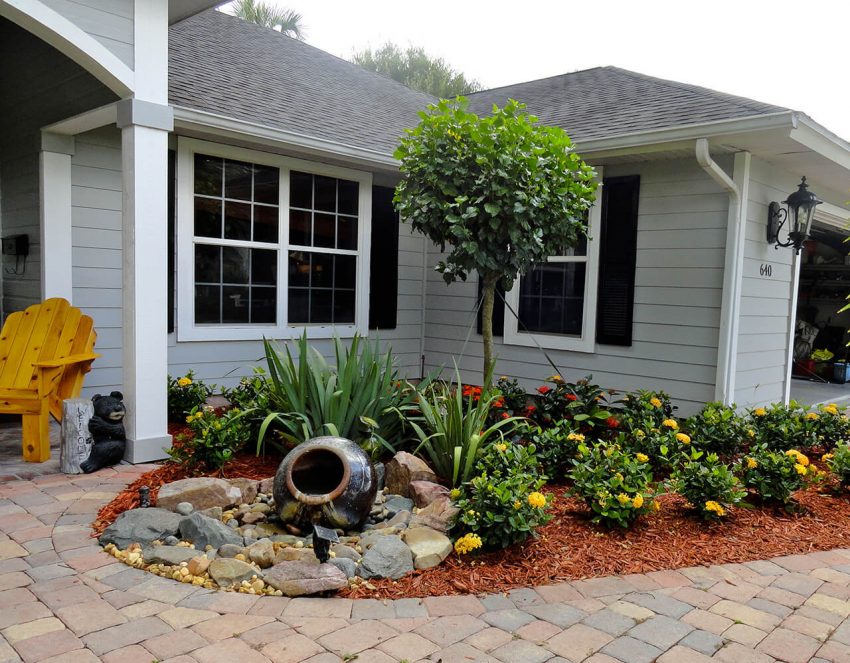 Limited space will not hinder you from having a wonderful front yard landscaping.
What you have to do is preparing a flower bed that has been covered with mulch. Is that all? Of course not. Now it is time for you to arrange the composition.
This front yard is accentuated with the joyful yellow and romantic red of Allamanda Bush, creating a perfect harmony.
A taller tree stands in the middle of the shrubs, making a pretty good focal point.
To accentuate the front yard, a round clay fountain lounges on some natural stones as its bed. This fountain plays a very important role in complete the missing charm of the front yard. It obviously nails it!
5. Establish the Orders of Colorful Plants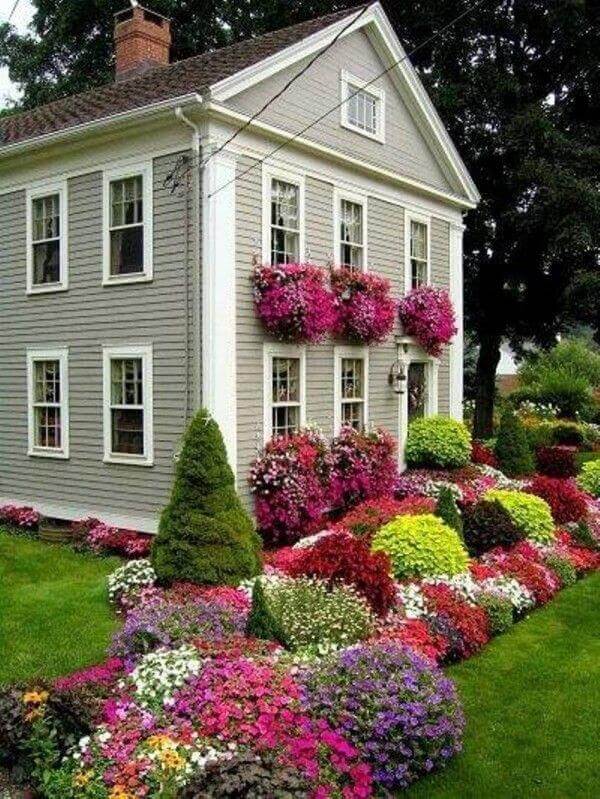 There is nothing wrong with experimenting with colors when it comes to embellish your front yard.
What makes it failed is, however, when you do not pay a careful attention to the order. As a result, you will have a rainbow-like front yard which lacks order and harmony.
To avoid an exaggerating look, you can apply three to five colors to your front yard. Pay attention to the height of the plants.
The front row has to be lower than the second and third row so that it complements the remaining rows rather than overlapping them.
The plain windows also need accentuating. Therefore, you can install some window boxes and grow roses in it. they will definitely jazz your widows up.
Here are some colorful plants that will color up your front yard very well:
Peonies
Petunias
Burgundy Loropetalum
Andromeda
Lilac
Forsythia
Carnation
Azalea
Bluebell
6. Low Maintenance Front Yard Idea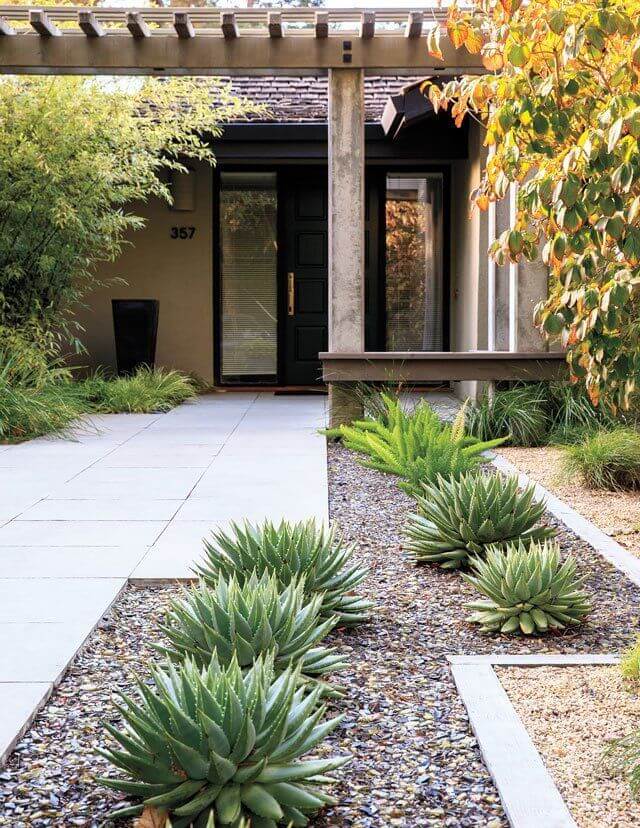 People are so hyped up when they come across front yard and backyard landscaping ideas, but some of them are not really good at taking care of the plants.
If you are dying for the pleasing look of the front yard, but have no time to garden, you can try low-maintenance front yard landscaping.
To have a stunning look with no maintenance, you can go with paved pathways and put some pebbles along each side of the pathway.
This idea is not only easy to do, but also cheap as you do not have to do regular maintenance.
If you want to add a few plants to enliven your front yard, some low-maintenance plants like cactus, aloe vera, butterfly bush, and ribbon grass.
7. What Rules the Front Yard
Composition is crucial for creating a good balance for your front yard. Teaming up dwarfs and trees can be a great idea to perfect the look of the front yard.
Dwarfs are usually used to highlight the important parts of the yard and thus they usually grow along the pathways or under the windows while trees usually act as complement.
Front yards also need to have a focal point. It can be the door or a fountain that stands in the middle of the yard.
To conceal awkward look of the fountain and make it not float, you can grow Buxus or any other dwarfs around the fountain.
8. Light Up Your Front Yard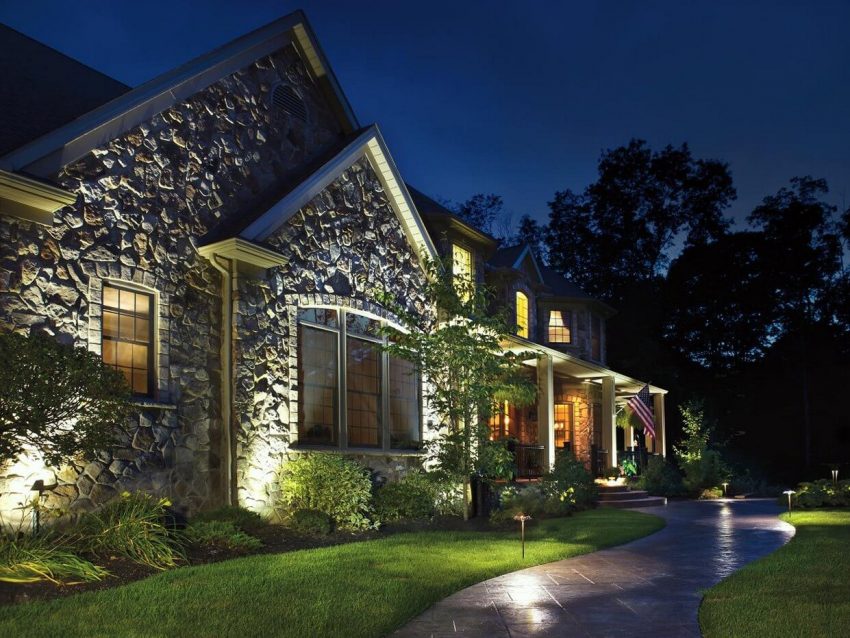 Besides decorative plants, lighting also plays a crucial role in making the exterior look more exquisite. Therefore, installing the lighting should be done meticulously.
Install some lights along the pathway to help you see your steps. You may want to add some LED lights around the house to create a dramatic effect that will amaze your neighbors.
If have a fountain in your garden, accentuate it with LED lights so that it will look more beautiful at night.
9. Front Yard Landscaping Ideas: The Colorful Gangs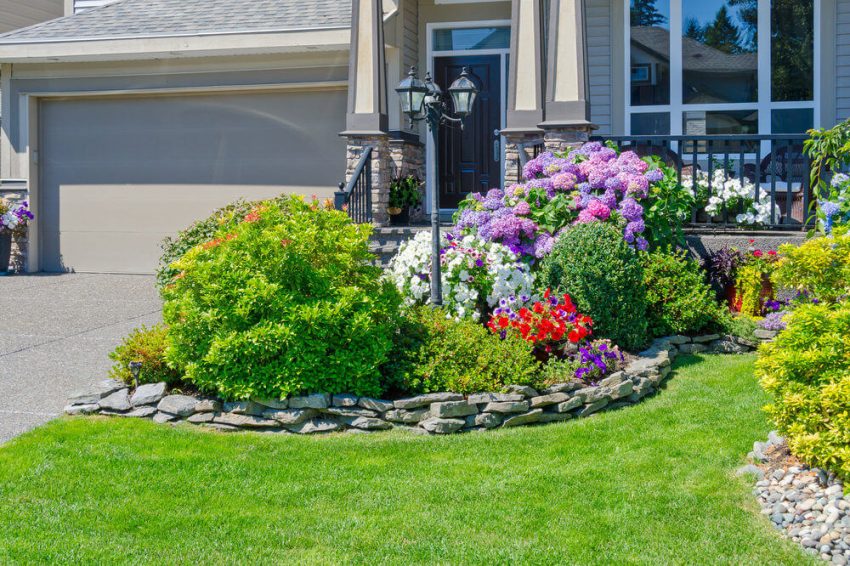 A group of colorful plants stick together as if they were a gang. Although they are different in types and colors, they still look good together and complement each other.
To separate the gang from the other plants and grass, some stones are used to frame and define it very well. The stones make them look more solid, vivid, and harmonious.
You have to keep in mind that more colors are not always good. Keep three to five different colors in one spot.
10. High Quality Front Yard Landscaping Ideas with Low Maintenance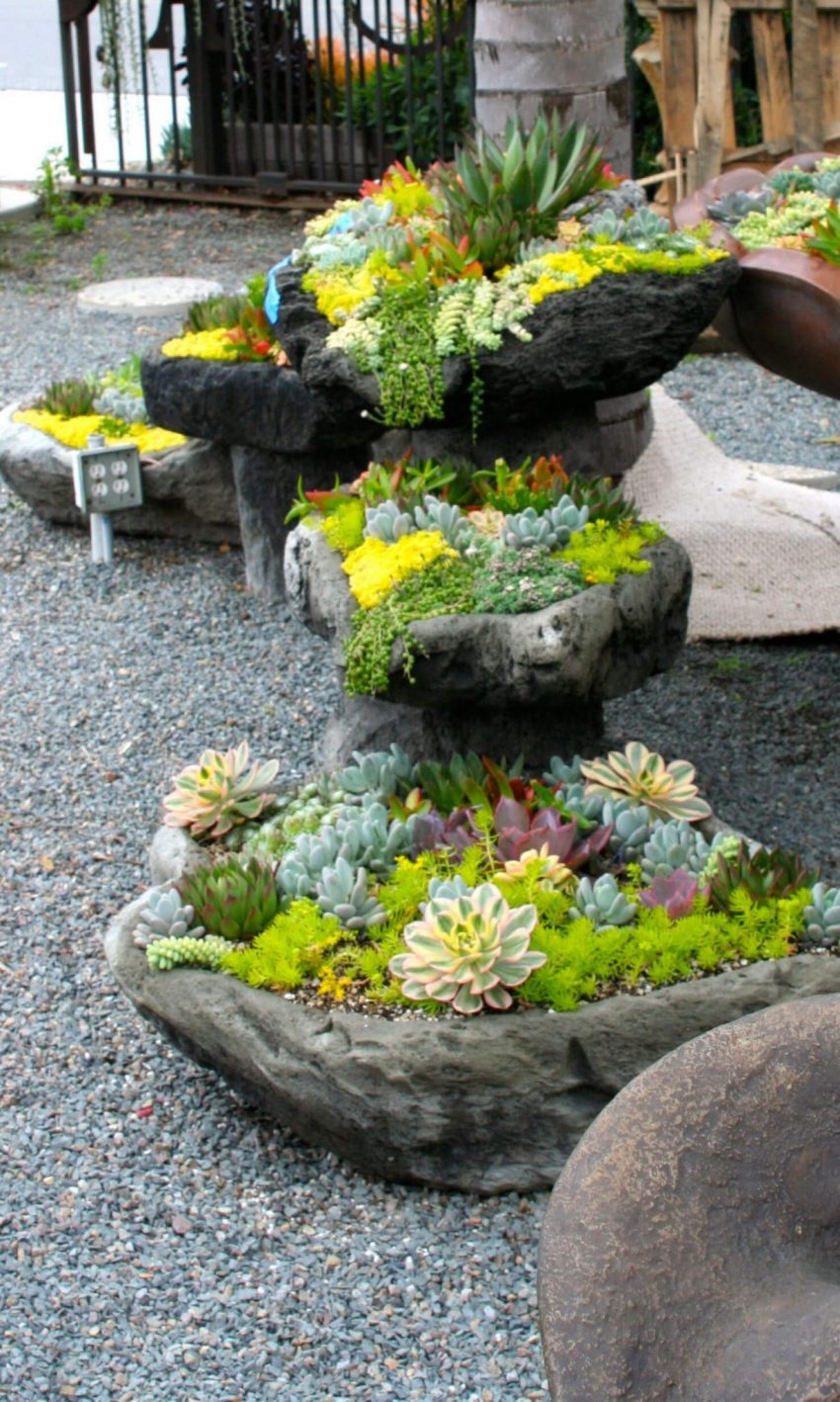 If you do not have enough space to show your front yard off, you don't need to be fret because you can still have a high-quality front yard landscaping despite the space.
Instead of lawn or grass, you can cover your front yard with small pebbles to create a shore-like look in your front yard.
To have a more authentic look, some natural and artificial stones are stacked thoroughly on the pebbles.
To add more colors, some succulents and some other low-maintenance palnts such as Achillea, Graptopetalum, Euphorbia, and Dudleya are planted in the stones. Their vivid colors blend perfectly with the gray stones.
And the most important thing is you do not need to water them every day as they are drought tolerant. Now you can just spend your time in your front yard to conjure up the images of beautiful and calm shores.
11. Repeating the Order? Why Not?
Many people think that creating a splendid front yard landscaping requires a breadth of plants.
In fact, you can improve the look of your front yard by only harnessing the beauty of three different types of plants.
The front yard of this house remains simple with just pink, green, and light green shrubs that stand beautifully on the left and right side of the entry way.
A taller tree perfects the look without overlapping the shrubs.
12. Keep The Walkway Clean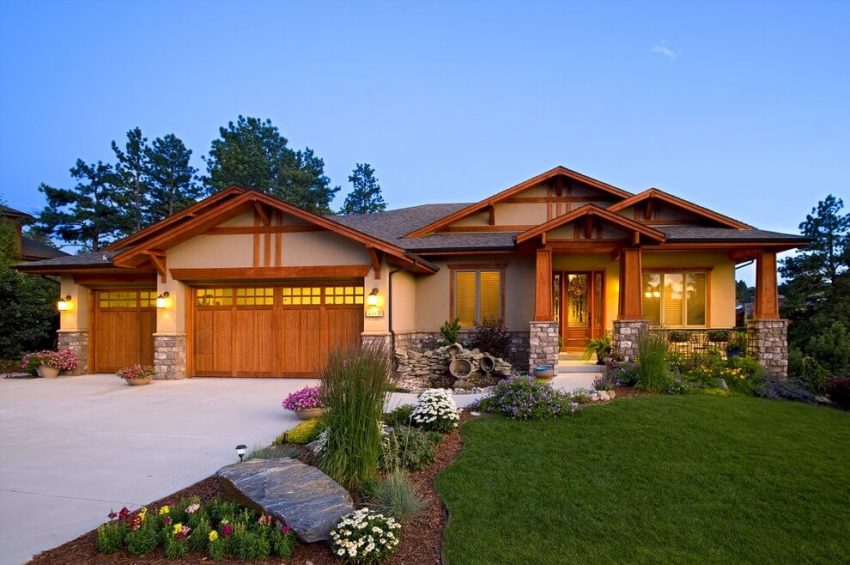 This barndominium front yard looks amazing although it is not overwhelmed with decorative plans. A simple front yard landscaping idea like this one needs to be included in your barndominium floor plans.
All you need to do is just to keep the walkway clean and even. Clean walkways are always pleasing. It always complements the look of modern style.
Besides a clean walkway, you can also grow lawns and some flowers and shrubs.
A small pond with stone fountain sits perfectly right on the right side of the entryway. It really suits the house very much.
13. Romantic Fences Front Yard Landscaping Ideas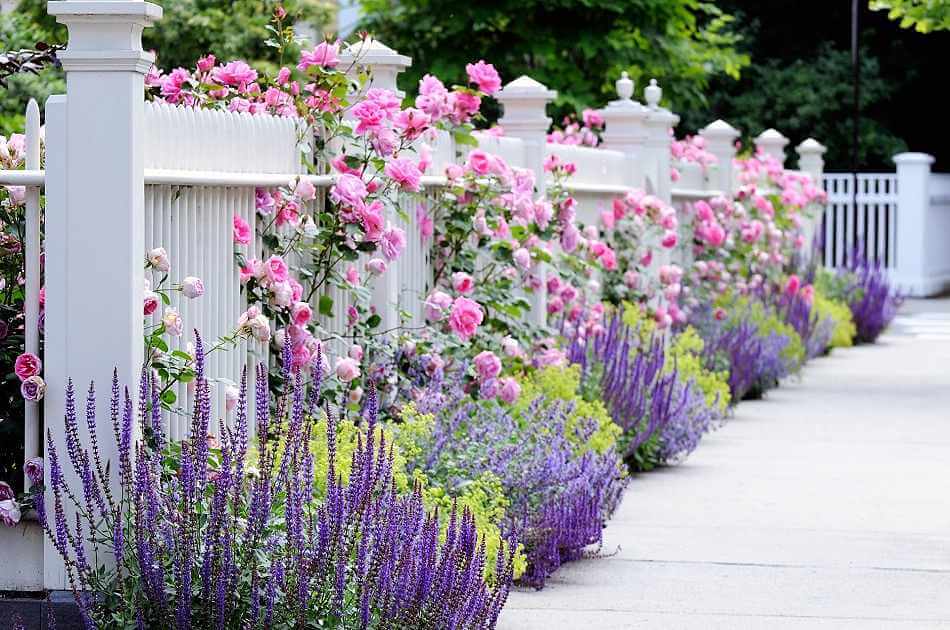 The first thing that your neighbors will notice when they are going jogging is your fences.
Therefore, you need to accentuate your fences to impress them and – of course – make your house look more beautiful.
To adorn the fences in no time, you can always harness the beauty of vines like pink roses, morning glories, or jasmines.
They grow by climbing the fences, making a perfect blend for the white fences.
To make the fences more attractive, adding some shrubs in front of them will be a great idea. The white fences feature mysterious yet charming purple sage plants and bright nandinas.
Teaming up with pink roses, they successfully add a romantic ambiance to your front yard. Furthermore, you can also plant this as your backyard landscaping ideas.
14. Front Yard Landscaping Ideas: Go Stack The Succulents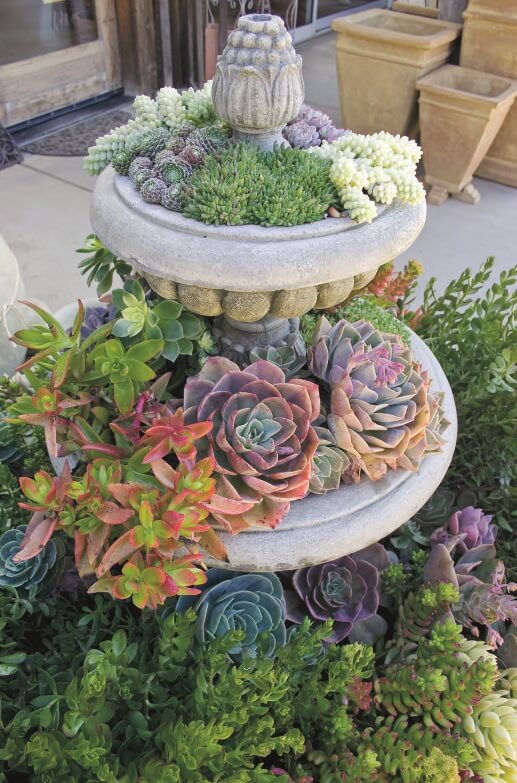 One of the most ubiquitous front yard landscaping ideas is using the lawns as the canvas of colorful plants.
But, some houses feature concrete or paved walkway rather than lawns which means they can grow any plants. Can they?
If you do not have any lawns or soils in your front yard to grow plants, you can always up-cycle an old fountain.
You will not fill it with water. You will do some magic to make it look better, instead.
This old fountain holds various kinds of beautiful and unfussy succulents. It is definitely your safe bet especially if you are a busy person who does not have much time to water the plants.
These beautiful hanging planters are really unfussy and will add more charm to your exterior.
15. Front Yard Landscaping Ideas for Modern Houses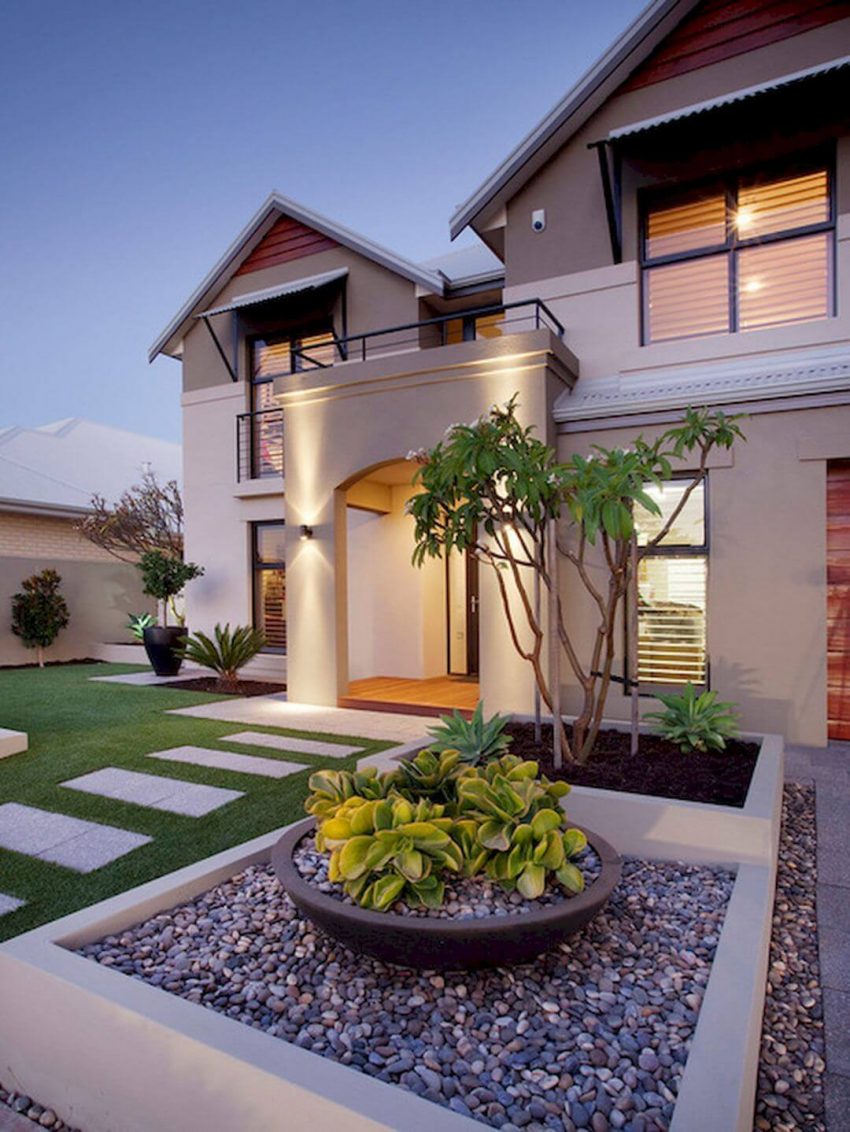 Simple yet stunning is the significant feature of a modern house.
Therefore, you need to restrain yourself from growing as many plants as possible in your front yard because people tend to be so hyped-up when they visit a florist.
Instead of plant them together into groups, you can plant them in each section that you have made.
Separating them will allow them to permeate their charm and make them look amazing just the way they are.
Using various materials and shapes for the beds and containers are worth trying in that it can complement the plants nicely.
16. Bewitching Pebbles Front Yard Landscaping Ideas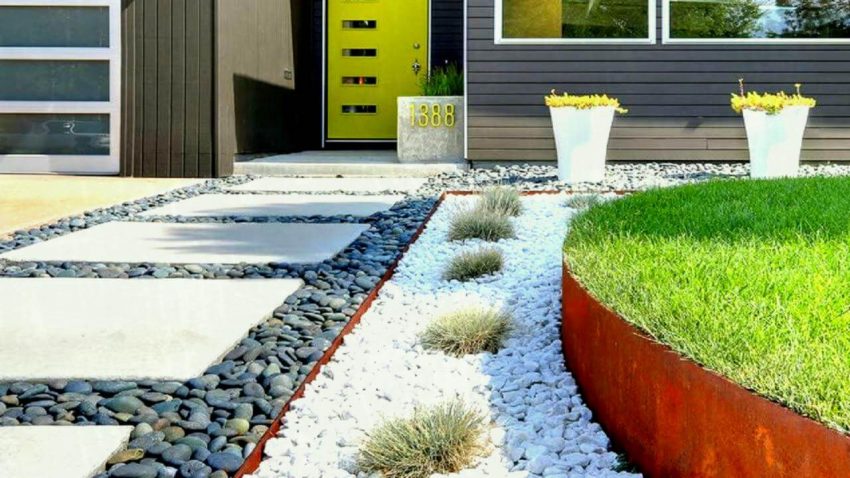 Flowers are beautiful, but pebbles are bewitching. A bewitching front yard is not always about planting various kinds of flowers. You can still create an impressive front yard without any flowers.
Some modern houses that has limited space for the front yard begin using pebbles in place of flowers. They are not only bold, but also low-maintenance.
They are really what you have been looking for. You do not have to water and trim them regularly, but they can give you an ever-lasting charm.
17. Symmetrical Front Yard Landscaping Ideas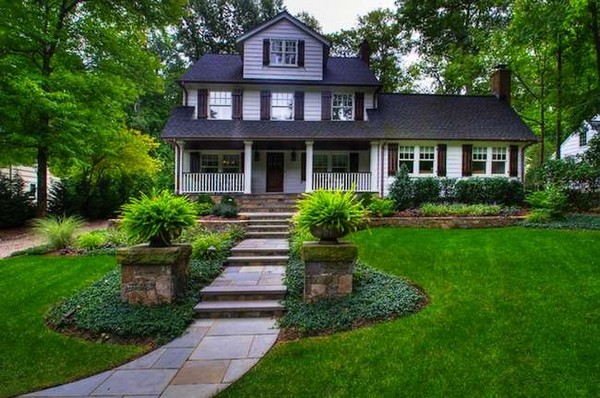 You can do many things to accentuate your front yard. You might be so hyped up and overwhelmed with these front yard landscaping ideas.
Well, that is normal because they are exquisite. But you have to keep in mind that your ultimate goal is to make your front yard look stunning, not make you broke. Keep being beautiful!