A fireplace is one thing. A double sided fireplace is another. Unlike the usual fireplace, a fireplace with two sides is compatible with just any designs. It is also compatible to be used with various combinations of rooms, too. Best of all, it adds style and sophistication to your living room.
There are multiple ways you can design your fireplace. Below, we listed 16 ideas to inspire in creating your own fireplace.
Open Stone Fireplace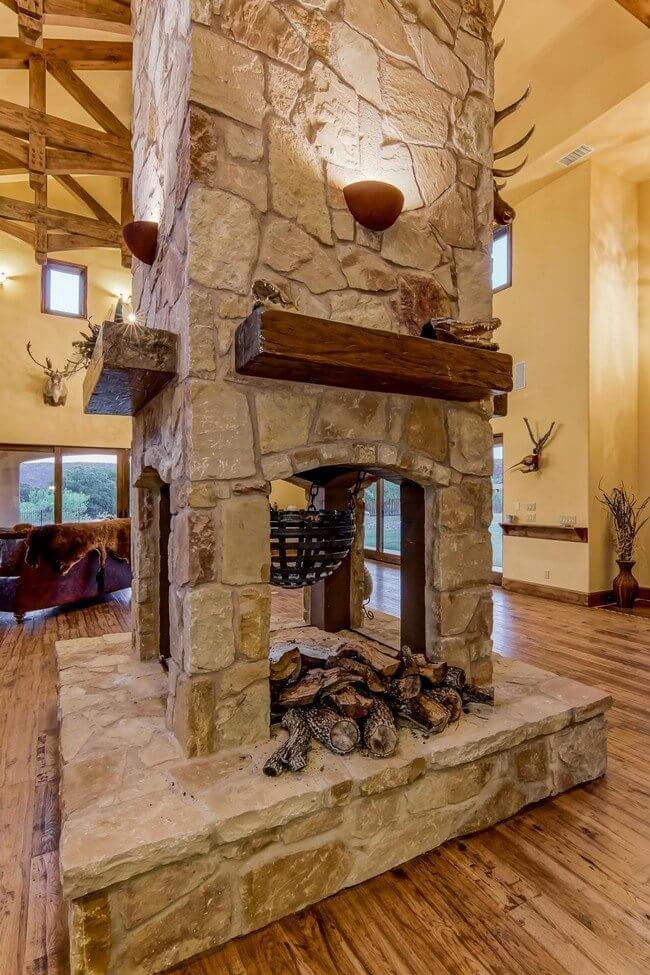 Let's start with an open double sided fireplace with stone mantel. Since the mantel is made from stone, the fireplace has a natural vibe to it. It brings warmth to the room. Due it being open, the fireplace is accessible from many different sides as well.
So, if you
like to share the fireplace with many people
like the look of a stone fireplace mantel
want a natural looking fireplace
you can imitate the fireplace in the picture above. If you want, you can open one more side of the fireplace and make it a third sided fireplace so that it can be enjoyed by even more people.
Outdoor Double Sided Fireplace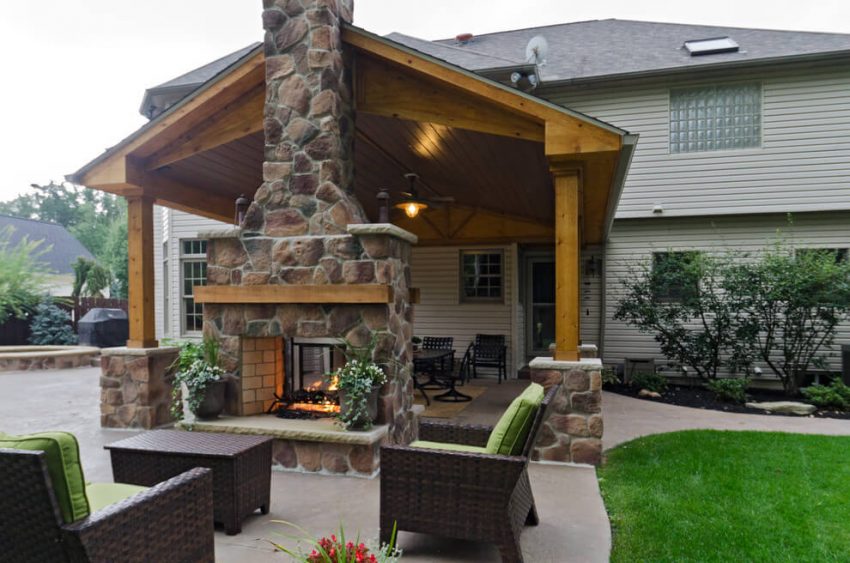 Next example is an outdoor fireplace. The fireplace is placed in-between patios in the backyard. This idea is a great choice if you have a spacious backyard with a patio in it. Since the fireplace is in the backyard, it can be used for various occasions and not just for the winter.
If you often have guests visiting, bringing them to your outdoor fireplace is a good idea. The presence of a fireplace surely will lighten up the mood and help you and your guests to have a good time in the patio or backyard.
Do you want to build an outdoor fireplace but haven't decided yet how will it look like? If you do, you should check our outdoor fireplace ideas. Our ideas will help you decide what kind of outdoor fireplace suits you best.
Modern Double Sided Fireplace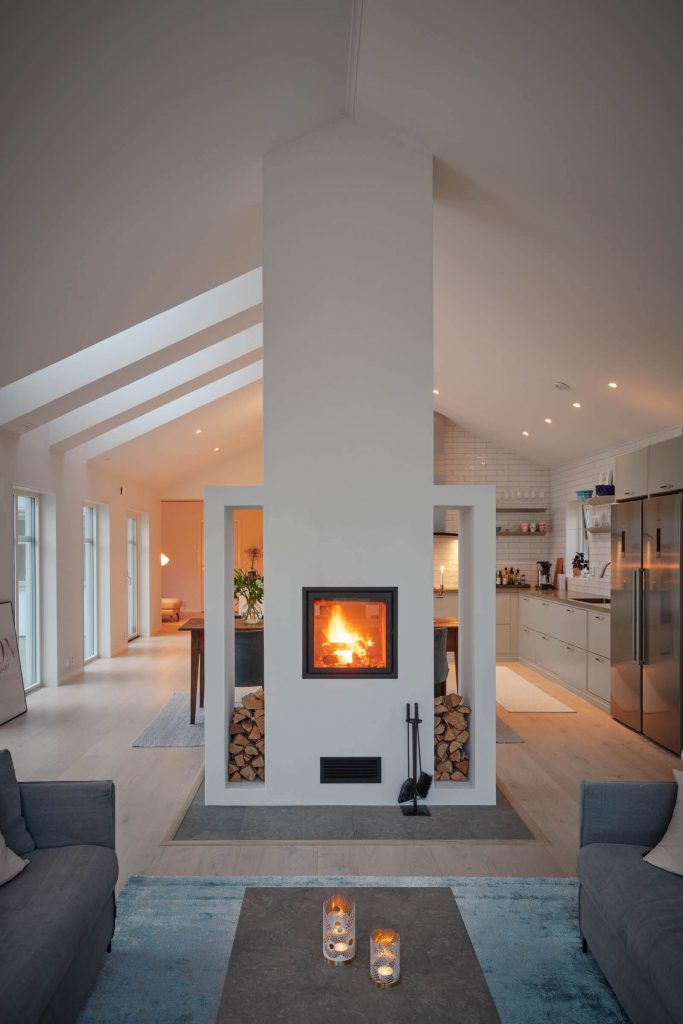 There is no strict rule in designing a fireplace. Of course, this includes double sided fireplace as well. A fireplace will be the focal point in the room. Due to this, you want to make sure that it looks as attractive and interesting as possible.
One great way to make your fireplace more attractive and interesting is to use unique design. In the example above, you see a double sided fireplace with modern design. Notice how the fireplace is simple and yet, it doesn't fail to grab the attention of whoever sees it.
Two Sided Fireplace with Shelving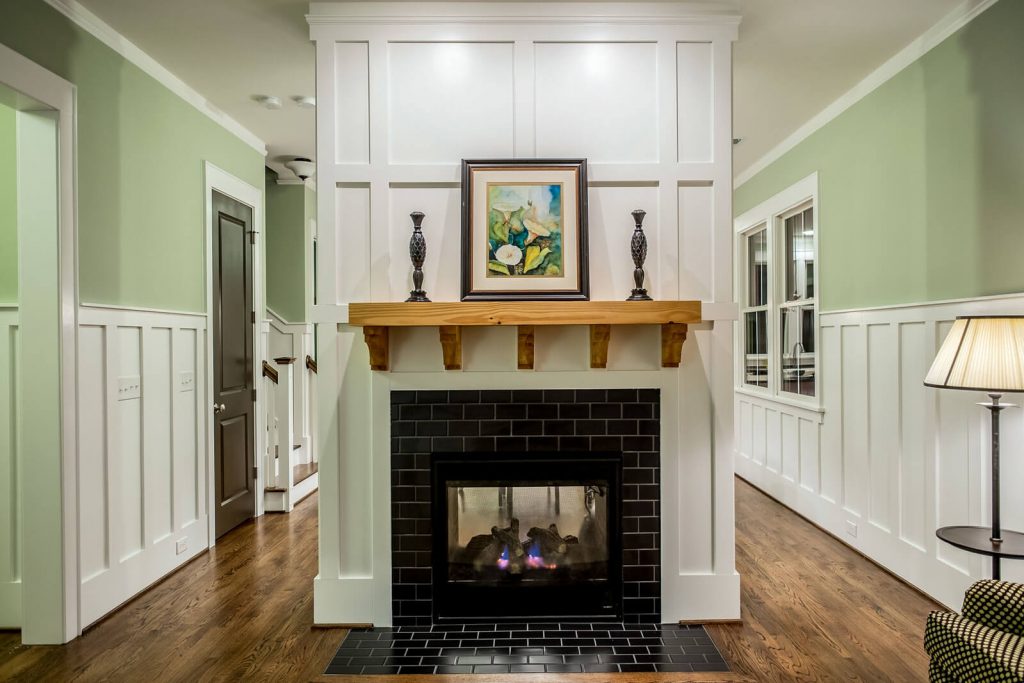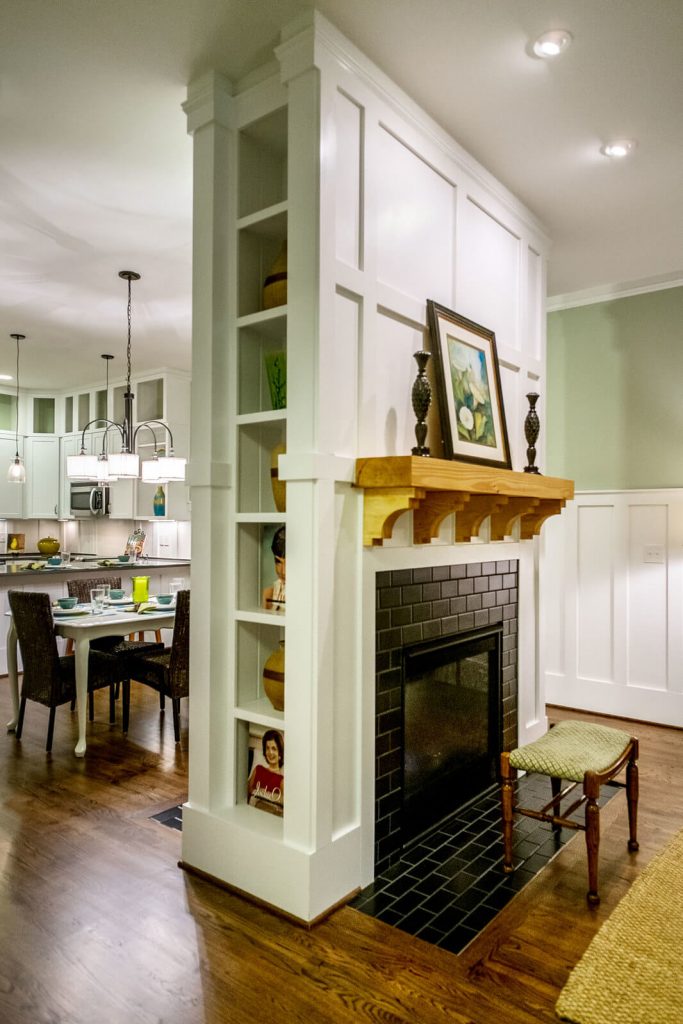 Extra storage is always welcome. The question is, can you use the fireplace as extra storage? The answer is yes, it can. For that, you will need to combine a fireplace and a cabinet. With such a fireplace, you can store the items you want on the cabinet part, while still allowing the fireplace to function.
One thing to keep in mind is that you need to make sure that the heat produced by the fireplace does not reach the items you put in the cabinet. So yes, heat insulation is a must.
Wall Double Sided Fireplace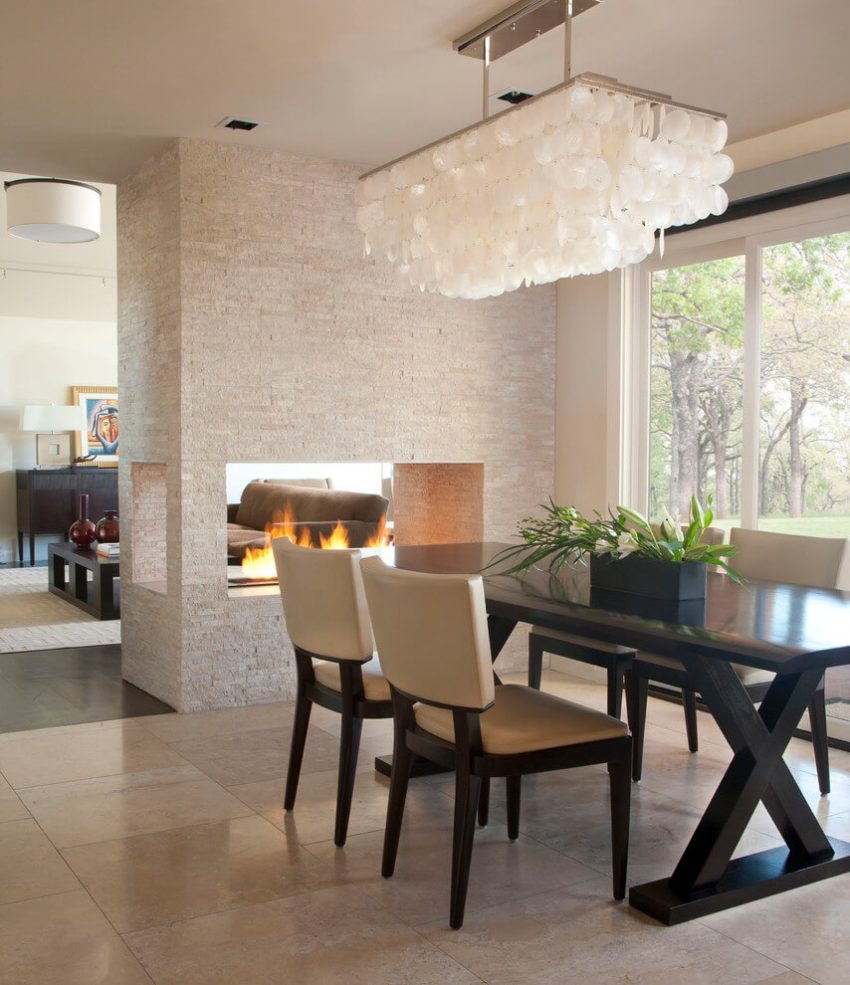 A fireplace is often made separate from other parts of the house. Should it always be like that? Obviously not. You can create a double sided fireplace from a wall. By doing this, you connect the two rooms that otherwise are separated. Also, you turn the fireplace as the focal point of both rooms as well.
Due to being made literally inside a wall, you must create some sort of chimney for the fireplace. This to ensure that there is no smoke in either room.
Simple Fireplace Made from Concrete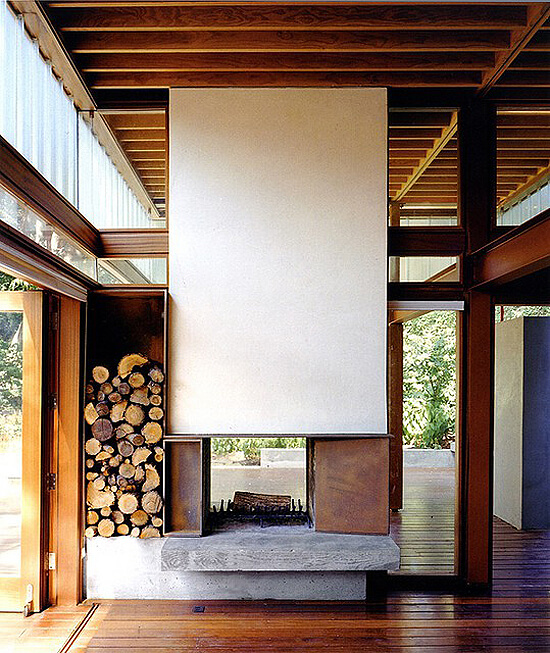 For minimalists, simple design is more than enough. If you need a touch of minimalism in your house, why not do it for your fireplace? In the picture above, the fireplace is so minimalist. It is made of concrete with shelves on the left side to store the log.
Although in the example the fireplace is placed in a hall, it will look as good in the living room. There is a saying that less is more. This double sided fireplace is a good example of that. In case you want a simple fireplace, this idea is for you.
Traditional Two Sided Fireplace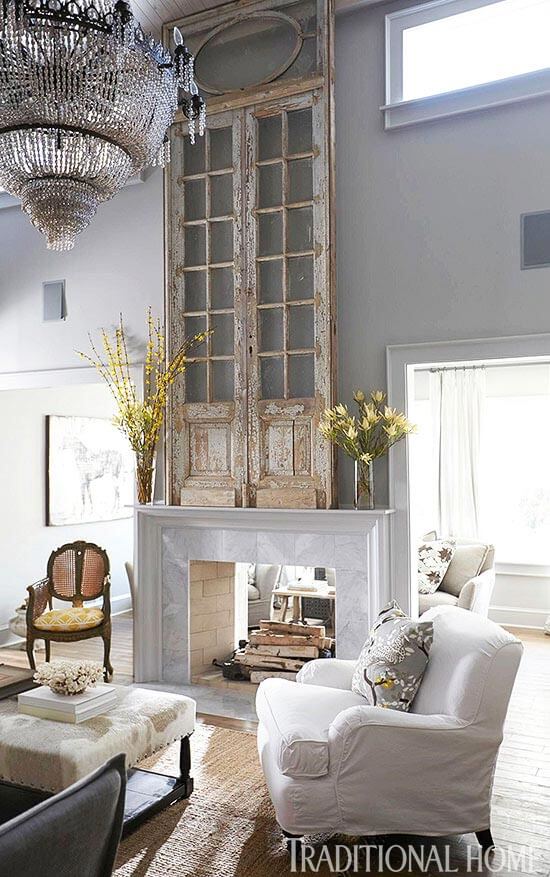 There is nothing wrong with a traditional design. In fact, a traditional fireplace like one in the picture you just saw has a certain charm. Despite being traditional, you can use the design even if you have a modern-themed living room. With different designs, the fireplace may even be more interesting.
To complete the traditional vibe, you can add rustic furniture, unfinished wood surface, and if you like to be more elegant, a chandelier above.
The mantel is an important part of a fireplace. For example, a fireplace will have a traditional vibe if the mantel has the proper design. Speaking of a mantel, here we have amazing fireplace mantel ideas. Be sure to check them out.
Hall Fireplace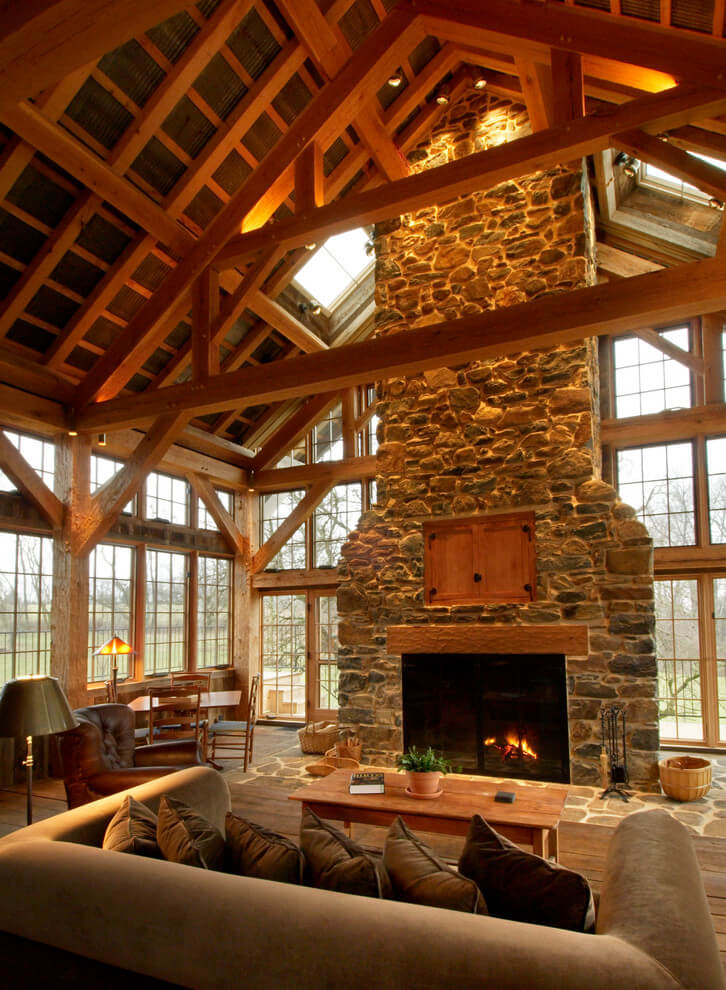 A double sided fireplace can be placed inside a hall. It will surely become the central point of the hall. Since it is likely to be used by many people, a hall fireplace must be designed in a way that it can accommodate lots of people. One of the best ways to do so is to open the sides of the fireplace.
Opening two sides may be enough if you have several family members or guests. But if there are more people, two sides are unlikely to be enough. In that case, you can open one or two more sides.
Modern Sided Fireplace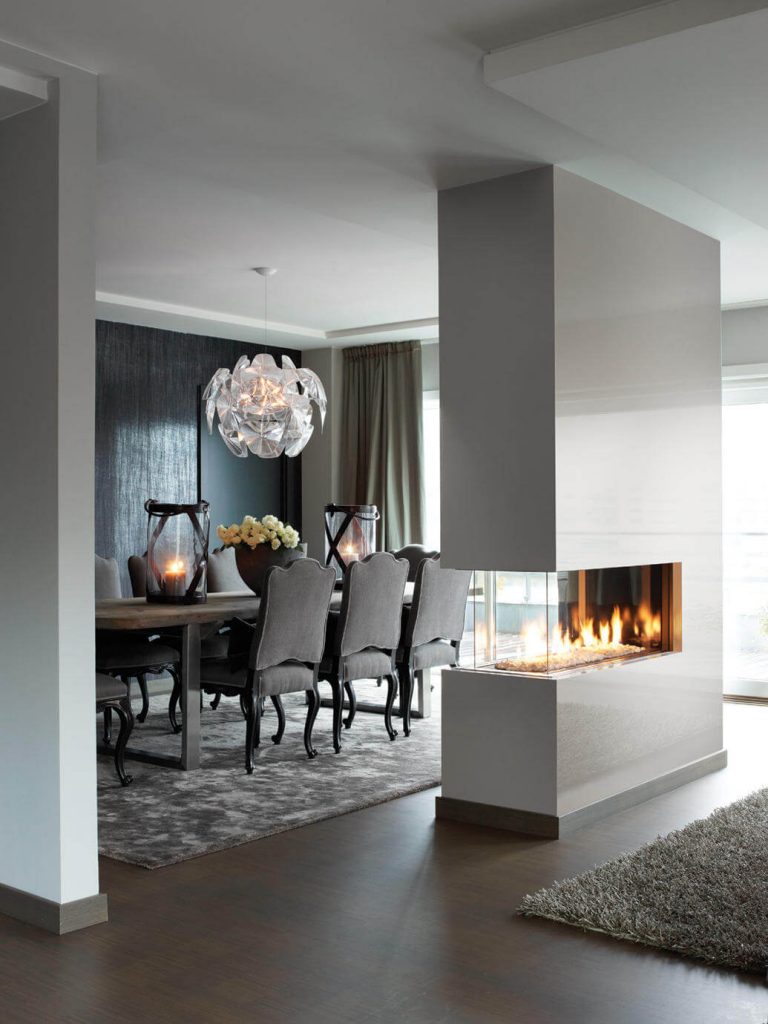 Take a look at the fireplace above. What do you think? A fireplace can be placed just about anywhere. The space between the living room and the kitchen is no exception. The fireplace above is designed in a contemporary style, using only a portion of the wall.
To minimize smoke and space used, you can use bioethanol or gas to fuel the fireplace. A bioethanol or gas fireplace is a lot cleaner than a wood fireplace, so consider using it.
Natural Double Sided Fireplace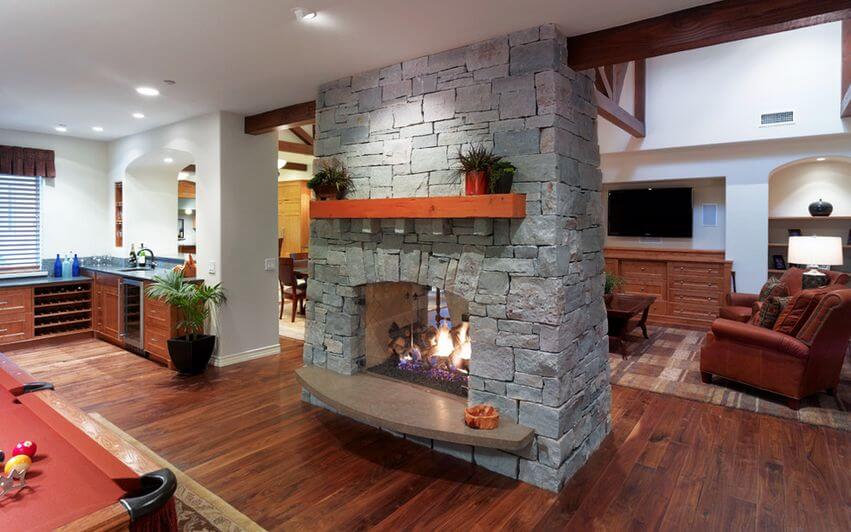 The most important thing about a fireplace is to provide warmth and comfort to whoever is around them. Sure, the fire from the fireplace can provide that but it will not be enough. The design of the fireplace matters, too.
There are many fireplace designs that can provide both warmth and comfort. One of them is to use natural stones, just like in the picture. Natural stones have the ability to make us feel more relaxed and they have a warm vibe, too.
Fireplace for Barn House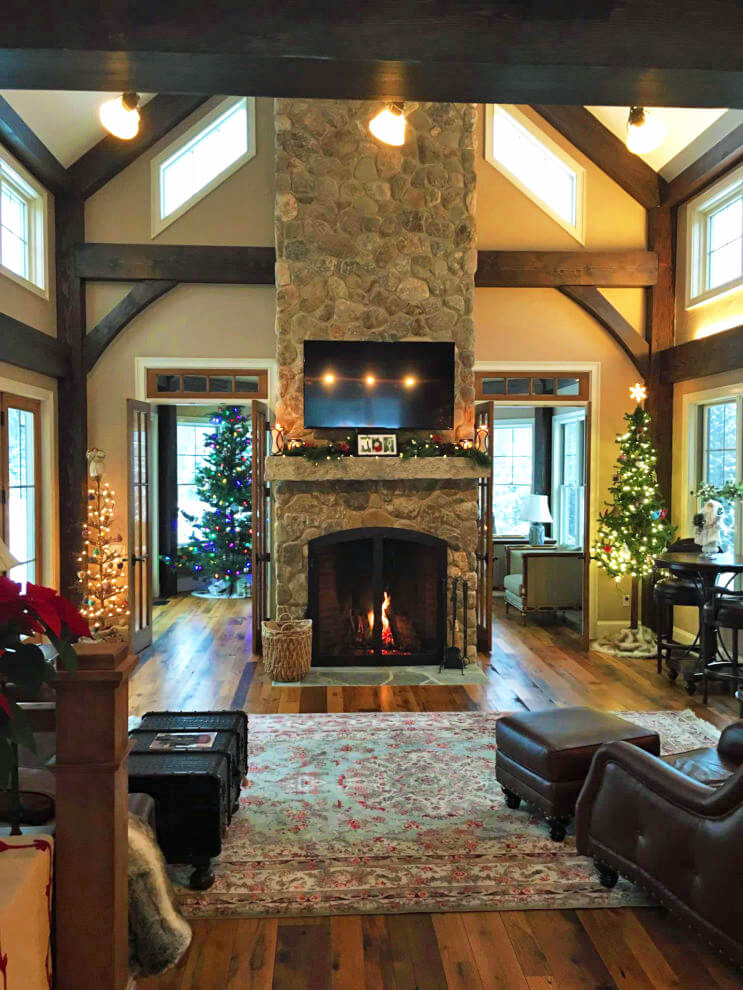 Barn houses have become a trend in recent years. It is seen as an amazing way to repurpose a building into a comfortable living space. Speaking of comfort, a double sided fireplace is sure to bring comfort to just about any building. Of course, this includes barn houses.
If you have a barn house, creating a double sided fireplace is a sure way to make the space more interesting. Not only that, such a fireplace is functional and can be enjoyed by many people, too. It certainly is a very nice addition to have.
Concrete Tiles Fireplace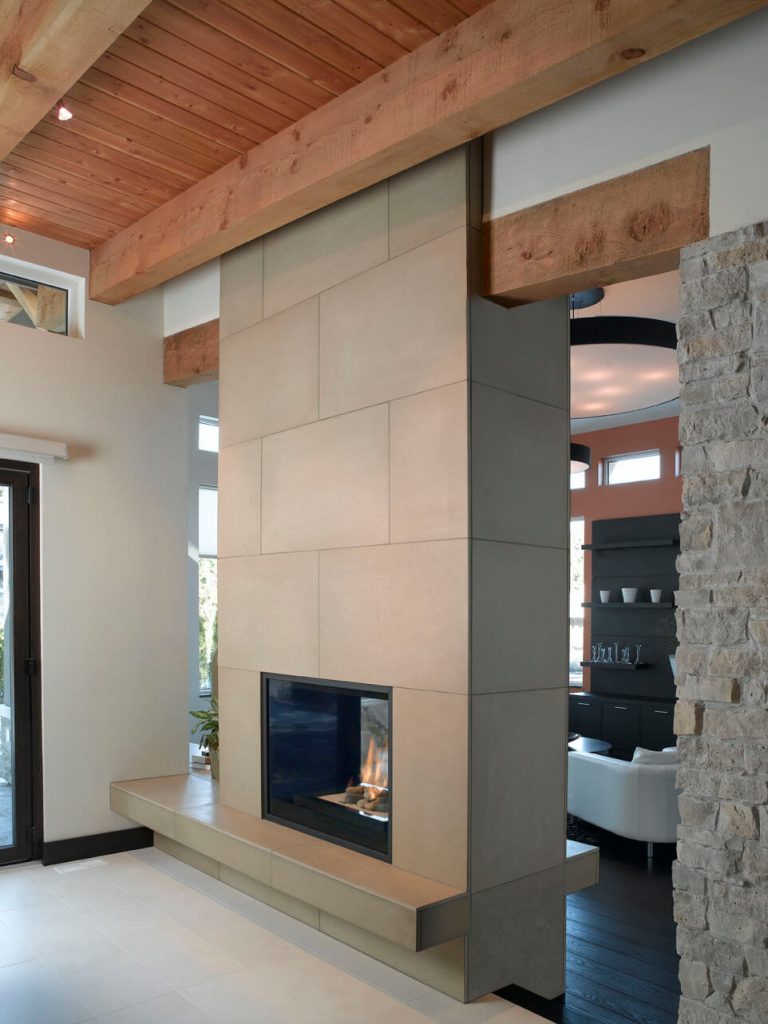 A fireplace need not be complex to look good. Again, sometimes less is more. In this case, you can create an attractive double sided fireplace using concrete tiles. Although it does not look elaborate like other examples, it surely will grab attention.
Modern and Unique Double Sided Fireplace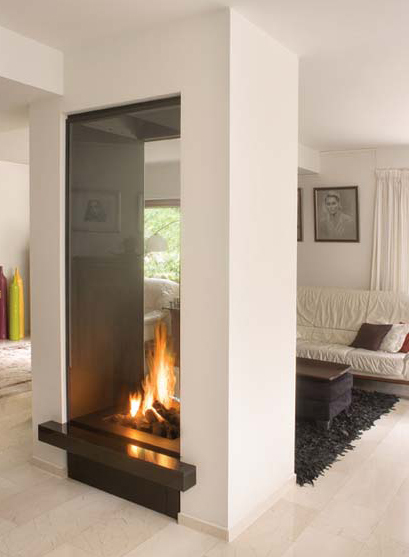 Most of our examples involve narrow double sided fireplaces. This one is different. The fireplace looks like a door due to its height. This unique look makes the fireplace stands out from the rest of the room. This is a good way to create a focal point in the room.
Brick Double Sided Fireplace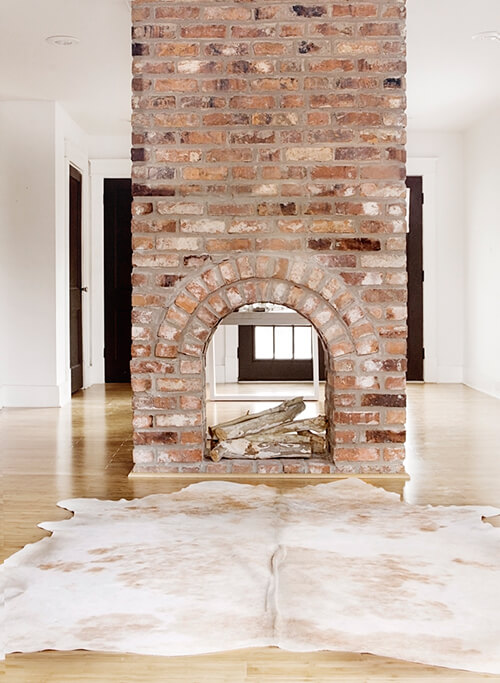 Some homeowners love the look of brick fireplaces. If you love it too, why not create a double sided fireplace out of brick? A brick fireplace is timeless. It is always a good idea no matter what is the design of your interior. That said, it works even better with rustic or farmhouse designs.
Fireplace in a Sunken Living Room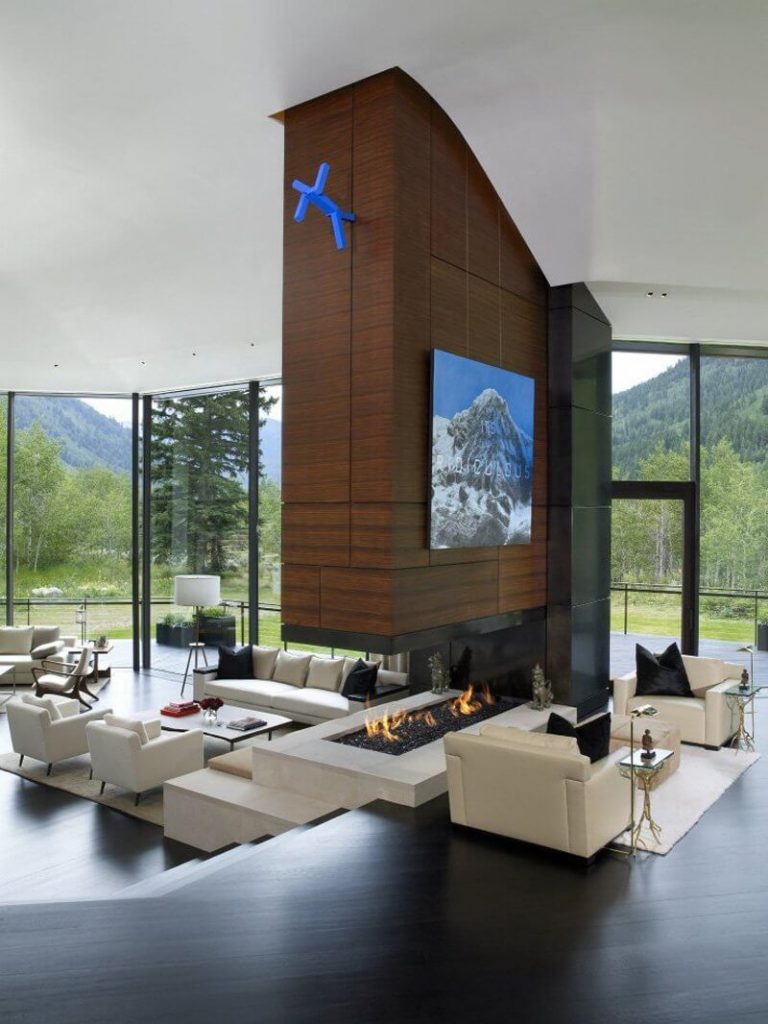 A 'sunken' living room is unusual and unique. You may be wondering what kind of fireplace will fit a 'sunken' living room. Well, there are many styles to choose from for such a living room. Creating an unusual fireplace like in the picture above is one example.
What to keep in mind in creating such a fireplace is to make sure that it is located at the center of the living room. This is to ensure that the fireplace is easily accessible for everyone in the room.
Modern Floating Fireplace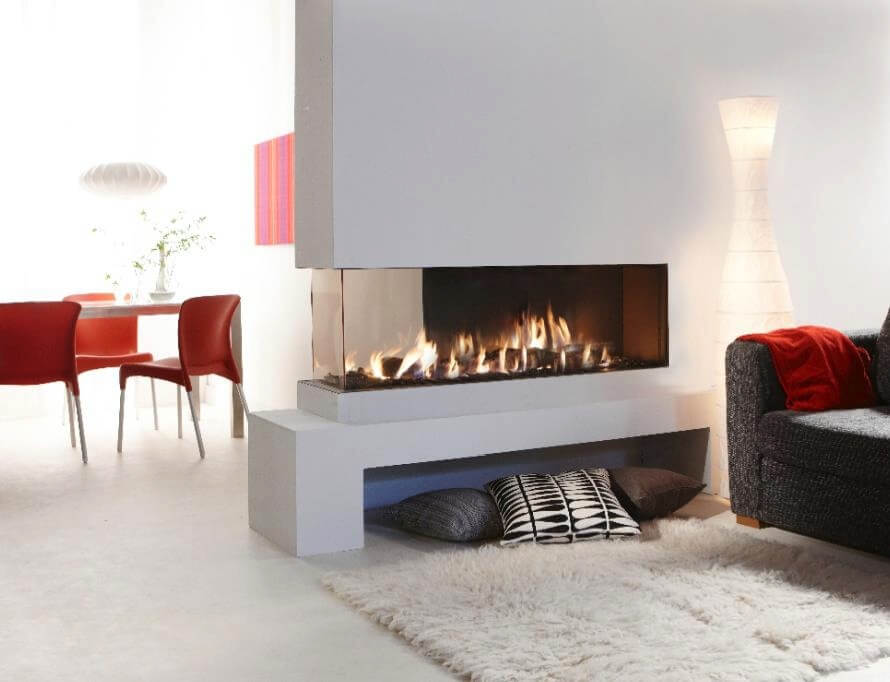 Lastly, a modern floating double sided fireplace. It is a good idea to put a fireplace like this in-between the living room and the dining room. It serves as the focal point of the rooms and just makes things more interesting for everyone.
If you want to bring warmth and comfort to both your living room and the dining room, you may want to consider creating a modern floating double sided fireplace.