Tips for Buying Outdoor Furniture – Designing your patio with outdoor furniture doesn't have to be that hard. Just follow these four steps to make sure you find the best ones!
1. Decide on A Theme for Your Patio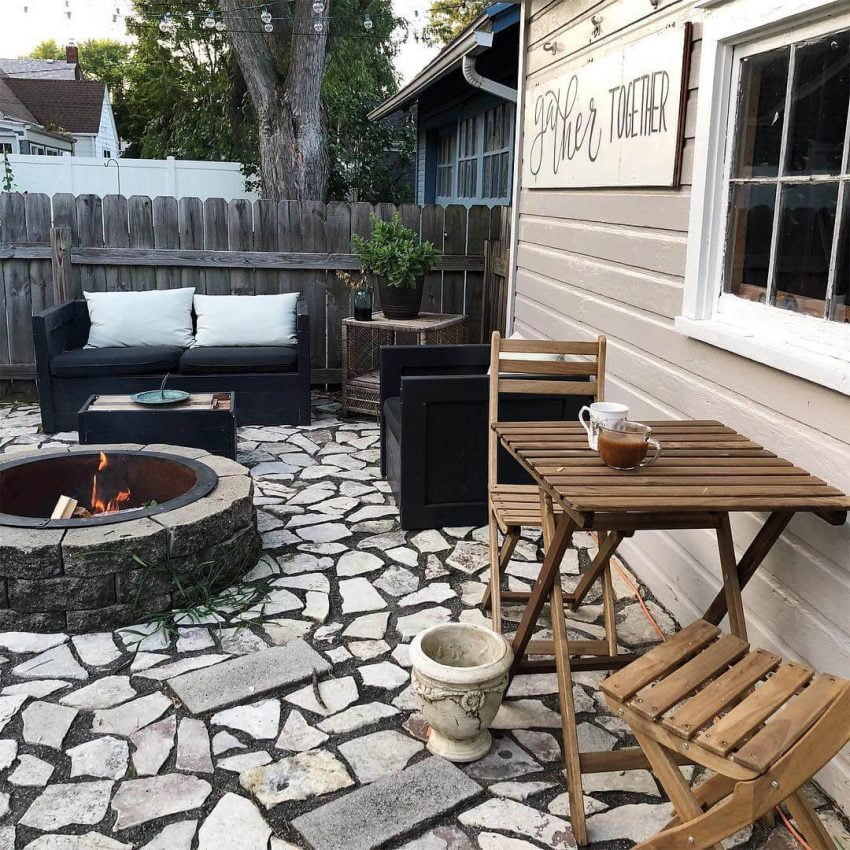 The first thing you'd want to do is to choose a theme to work on. A theme will help you have a clear picture of what you want your patio to look and feel like.
Having a theme will also help you minimise your options when it comes to the styles of the furniture and accessories. This way, you're focused on one direction only to make your patio more coherent looking.
When looking for a theme, it's also important to consider the outdoor space that you're working on. Make sure to look for themes that will perfectly match your patio.
If you're not sure yet where to start, you can always scour the internet for pegs and inspirations.
There are a lot of themes and motifs you can copy, from minimalist to tropical, industrial themes, and more.
Once you've picked a theme that you think is perfect for your space, make sure to adhere to it from start to finish.
Having a theme can make your patio feel more "put together"; it also gives off the vibe that you spent extra time and effort to design your paver patio ideas.
If you don't stick to your theme, your patio may look unfinished or cluttered. Mixing design styles and motifs can be jarring, even for you as a homeowner. It might end up looking funny and aesthetically unappealing.
2. Choose the Right Colour Palette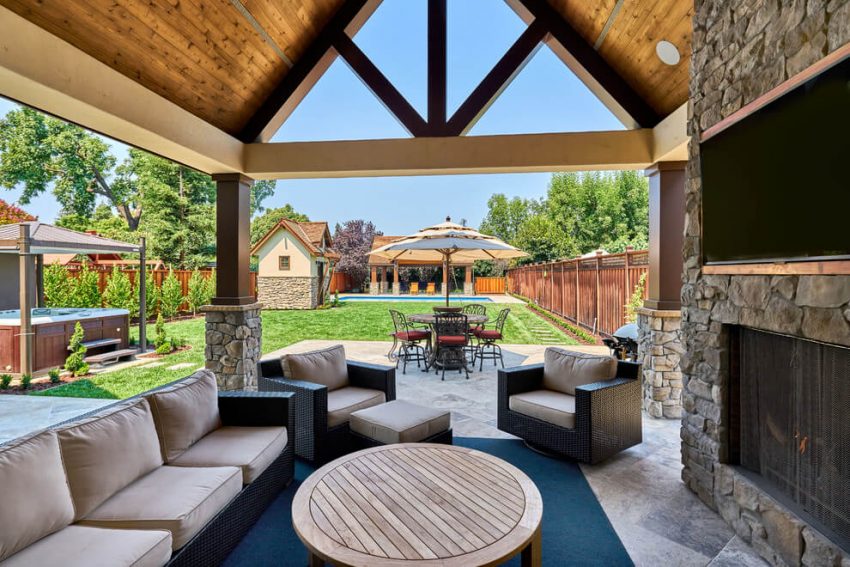 Colours are the second most important thing next to your theme when designing any space. As they can make or break the whole vibe of your patio.
Depending on the intended purpose of your outdoor space, your colour palette could vary.
For example, if you plan to use the space mostly for family gatherings, you might want to go for lighter and more natural colours.
Oak is a good colour to build around. It can give your space the sense of warmth and openness that's perfect for family reunions.
On the other hand, if you're building your patio as an outdoor bar or lounge area where you could chill, going for darker tones might be the better choice.
Colours like grey, black, or mahogany provide a sense of maturity and elegance to any space, which is exactly what you need for an outdoor lounge.
If you get your colours right, there's no doubt that your patio will be the favourite place in your house.
Deciding on a colour palette also makes designing your patio worthwhile and easier. You can choose furniture, upholstery and accessories that match with your colour palette.
If you're unsure which colour to choose and how to mix and match them, get a colour wheel. The opposite shade of your chosen colour is usually the one that matches it the most.
3. Tips for Buying Outdoor Furniture – Measure Everything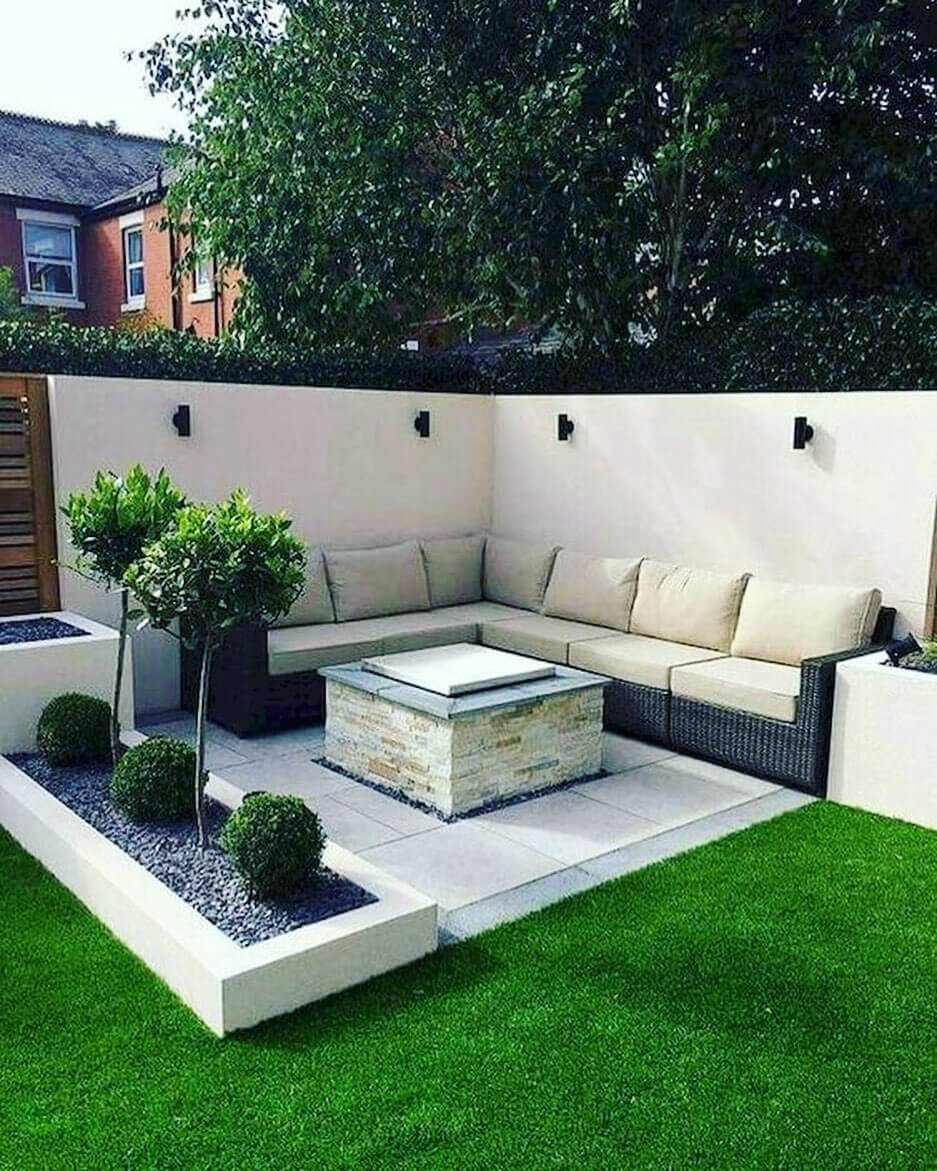 Now let's put aside the design aspect of it all for a while and look at the more practical side of things.
Whenever you're designing a space, it's always helpful that you know the exact measurement of that space down to the last centimetre.
Knowing exactly how big or small your space is will help you decide on the size of the patio furniture you're going to need.
When looking for the right patio set, get the size that can fit as many people as possible, but won't crowd your space too much. Use the exact floor area as your guide.
You can also use modular outdoor furniture like an extendable outdoor table, to make the best of your patio space, in case you have a small one.
Do you know how many square feet your patio is?
If you have a sofa table decor or couch set in mind that you think will go well in your patio, you can crosscheck the furniture's length, height and width easily with your floor area.
Websites give these measurements so you don't have to worry about it.
The important thing is that you get the right sizes of the furniture pieces by simply getting the right measurements of the space. So better have your rolling measuring tape ready!
4. Look for Shops that Offer Durable Furniture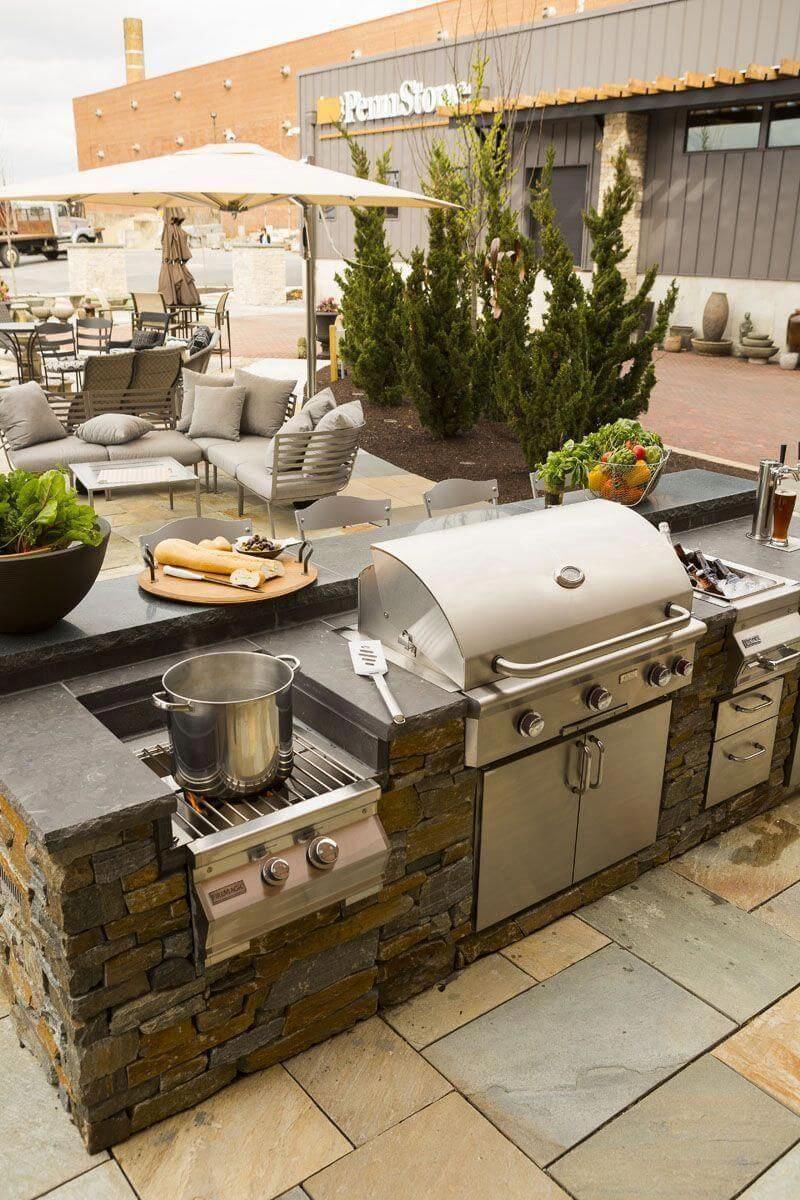 So you've already decided on a theme and colour palette. You also have the right measurements in you. The only last thing to do is to look for furniture shops that offer quality outdoor furniture.
As much as possible, go for popular brands that are known for durable products even though they're slightly pricier.
Trust us, it's better to buy slightly expensive furniture that can withstand outdoor elements than cheap products with a cheap and wobbly build.
Buying low-quality furniture will only give you a lot of problems in the future. Not to mention, it can also cost you a lot more money.
If it gets damaged within a few months of use, chances are you're going to buy a replacement if you can't claim the warranty. Or if it even has one!
Not all products are made equally and even the most expensive brands can't withstand the test of time.
Do your research go for brands that are known to create high quality and durable furniture.
While they may be expensive, think of them as investments: you're buying things that you and your family will enjoy to the max and you want something that will be able to last for years, if not a lifetime!
Check the materials that were used too. Solid wood furniture will feel heavy and may look bulky but at least you're aware they're not made of just synthetic materials that are created to look like wood.
Metal frames add a bit of flair to furniture and also make it more sturdy. Just watch out for rust in the future.
So if we were you, go for slightly expensive yet durable products instead!