Accent walls are a great way to turn a mundane and colorless room into an extraordinary room that impresses everyone. You can do many things to create an accent wall that aesthetically pleasing and make a perfect centerpiece of any room. You can look for any accent wall ideas online.
But to save your time, we've collected these amazing yet affordable accent wall ideas for you. Starting from the master bedroom, your children's room, even for the family room.
Some of them are quite simple, while some others might a little bit sophisticated. Read on to find 17 alluring accent wall ideas for any room and see it for yourself:
1. Bring The Tropical Forest to Your Room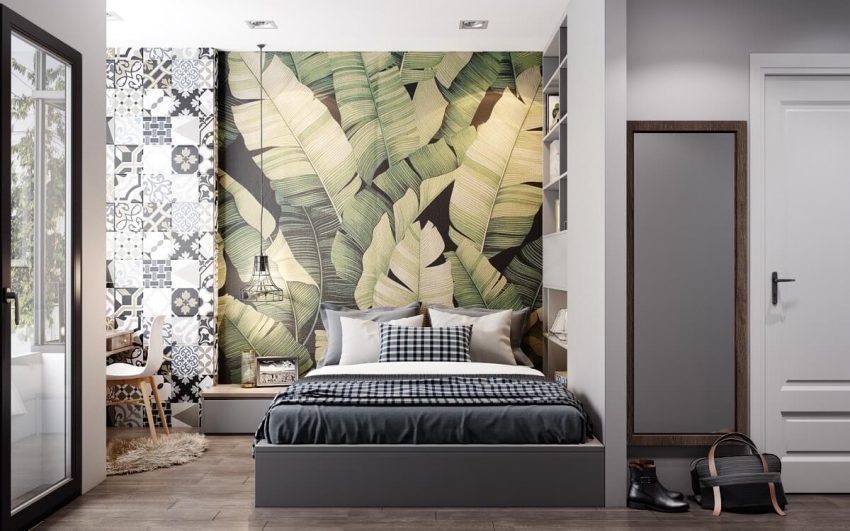 Headboard is usually the centerpiece of a bedroom. To accentuate it, you can hang an attractive wallpaper on the wall behind the headboard just like this banana-leaves accent wall.
The banana-leaves wallpaper conjures up the image of the warmth of tropical forest. You will feel like being on a vacation in a tropical country without leaving the comfort of your bed behind.
Not only does the banana-leave wallpaper, but also black and white patchwork wallpaper beefs the bedroom up. The colors and patterns suit the bed well, creating a good harmony.
2. Rustic Accent Wall Ideas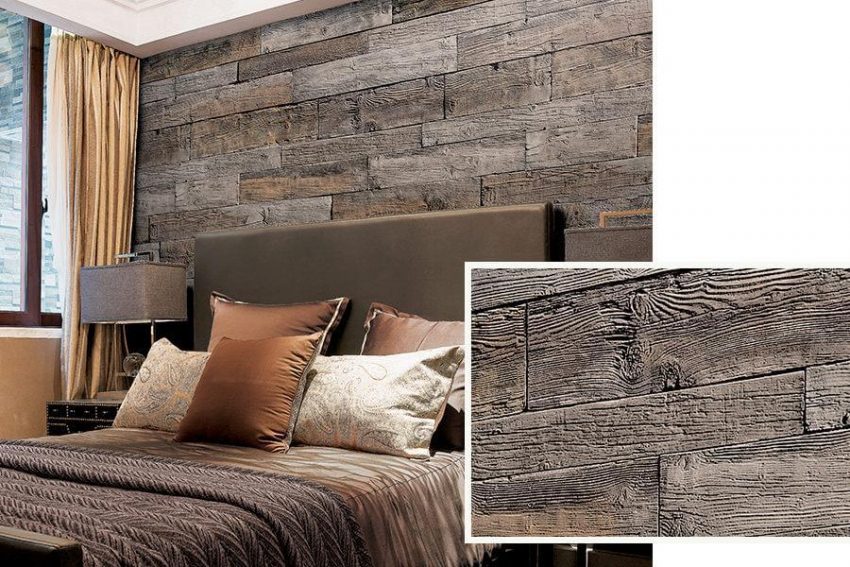 Rustic look is timeless and always charming. And the good thing of rustic look is it is usually less expensive in that you can repurpose some leftover.
The simple grayish headboard and table lamp denote the modern design of the bedroom. To jazz it up, some well-worn gray wooden planks are arranged to create tongue-and-groove paneling behind the headboard.
The smooth headboard contrasts with the rough wood paneling, making it look more vivid. The paneling also blends the bedroom perfectly is comprises the color schemes of the furniture.
3. Accent Wall Ideas for Bedroom: Feel the Beat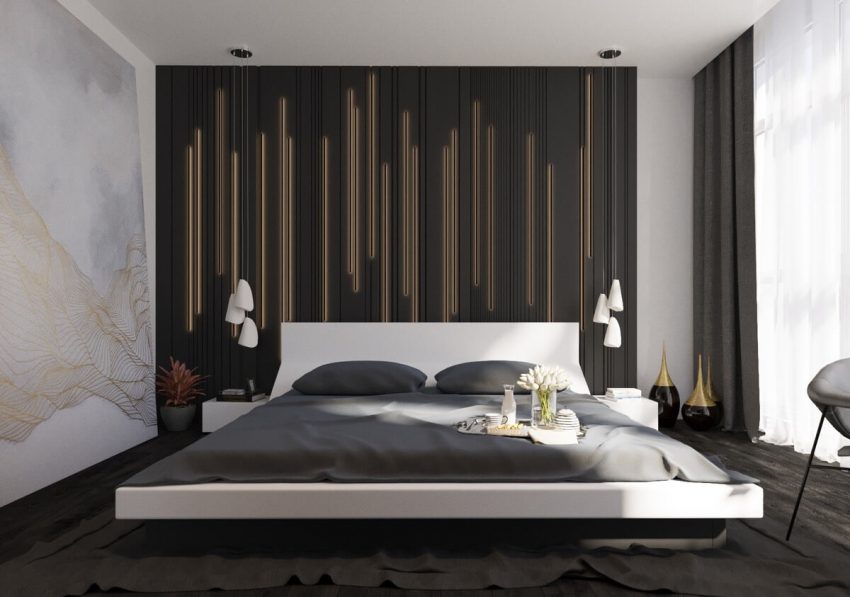 Are you addicted to music as if there were always music playing inside your head? Bring the beat of music to your bedroom and turn it into a fantastic accent wall idea.
When stepping into this bedroom, you will instantly feel the boldness of it with black, white, and gray schemes. They are all simple, yet stunning. And a simple bedroom needs a simple accent wall that shows your interest off.
Quote: Accent wall ideas are supposed to embody who you are and what you are into, and thus it must be something that you feel comfortable with.
The black wall behind the headboard is accentuated with hidden lamps that gives golden light contrasting with the wall. The golden light is arranged thoroughly to form music stream like in Soundcloud or Spotify. It really shows your interest well.
4. Geometric Accent Wall Ideas with TV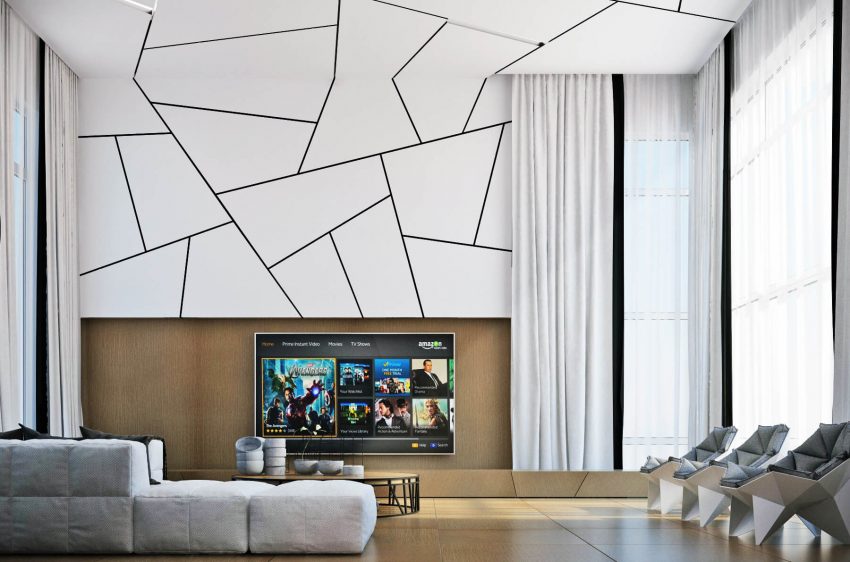 Being stunning does not always entail sophisticated and fancy accessories that might cost an arm and a leg. A very simple thing can be what you need to perk up your living room just like this white accent wall idea.
It is actually a simple white wall which features some thin black lines that create geometric patterns.
The patterns complement the futuristic chairs sitting next to the window well. And the clean white wall suits the white curtains and couch, making this living room look hygienic.
5. Create a Bigger Room with Mirror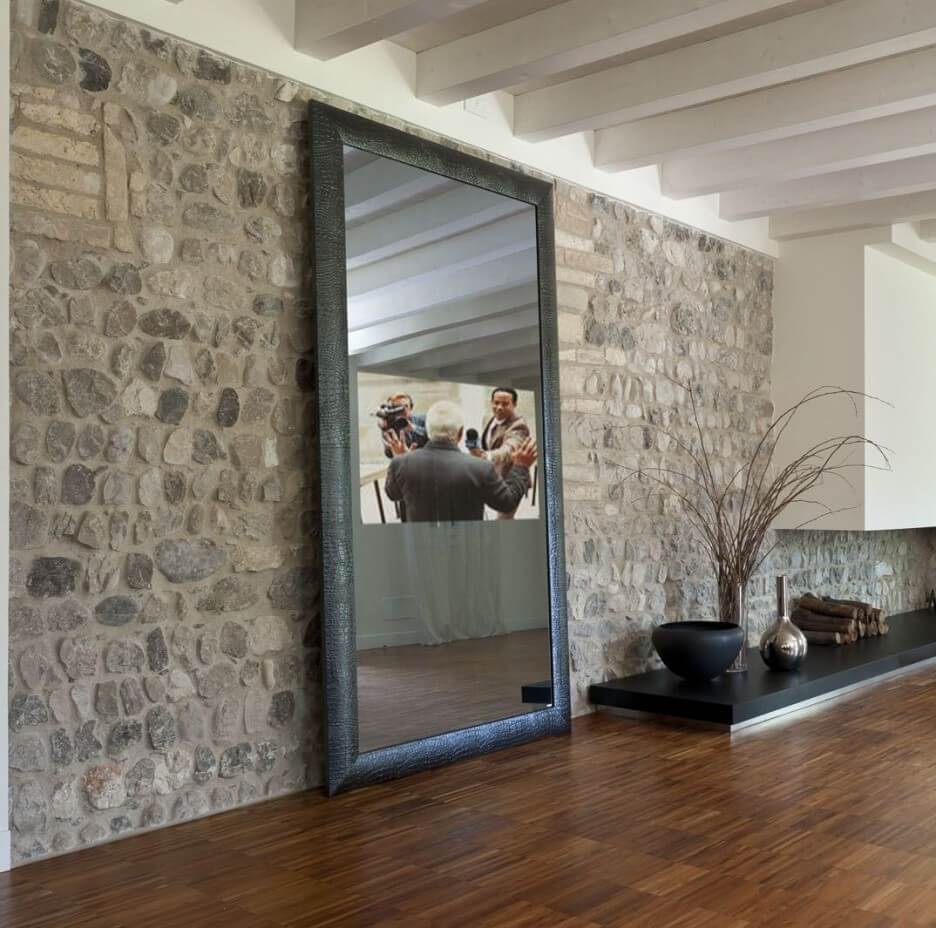 One of the most convenient way to make your wall look stunning is by hanging a huge mirror. A breadth of mirrors is available in the stores near you.
You can even find one in a flea market if you want to get a more classic and affordable mirror. You just need to keep in mind that the mirror that you buy fits your home décor.
Besides accentuating the wall, a huge mirror can help you make the room look bigger as it reflects all the things in the room. It will also help you fix your make up in no time and make sure that you are good to go.
This textured-frame mirror sits perfectly on the exposed stone wall. It creates a pretty good focal point amongst the rough wall.
6. Play with The Patchwork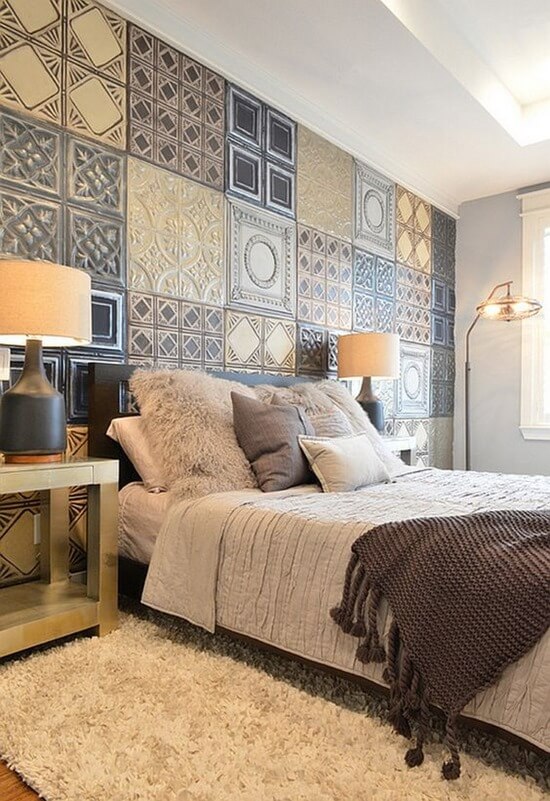 When visiting a home improvement store, you might feel extremely worked up about picking the best tiles that you are going to use to create an accent wall.
Since the tiles are beautiful, it is hard for you to decide what to buy. Well, if that is the case, why don't you just buy all the tiles that you like and create a patchwork?
Creating a patchwork for an accent wall might sound bizarre, but it doesn't mean that it is impossible.
A patchwork making of tiles can be a very great accent wall because it is eminently conspicuous. People will never miss it as their eyes will be instantly drawn to it.
This bedroom features a conspicuous patchwork that stands behind the headboard. Some textured tiles with different patterns and colors are installed in a disorganized way. Surprisingly, those tiles form an exquisite accent wall.
7. Accent Wall Ideas with Fireplace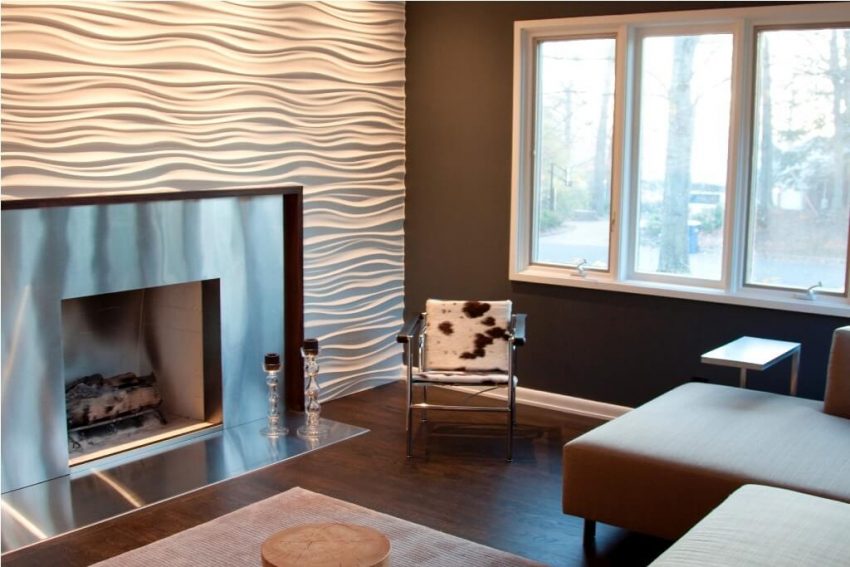 Replace your plain and flat wall with textured panels to create a distinctive look to your living room. It may be a bit pricey, but the results will never disappoint you.
Textured wall paneling has been widely used in many modern houses especially mid-century modern style. The textures are varied to meet your style. One of the most common panels is the wavy textures.
The wavy ivory paneling accentuates the fireplace nicely. It conjures up the image of the calm beach that soothes the entire room.
8. Accent Wall Ideas for Living Room: Let's Go Eclectic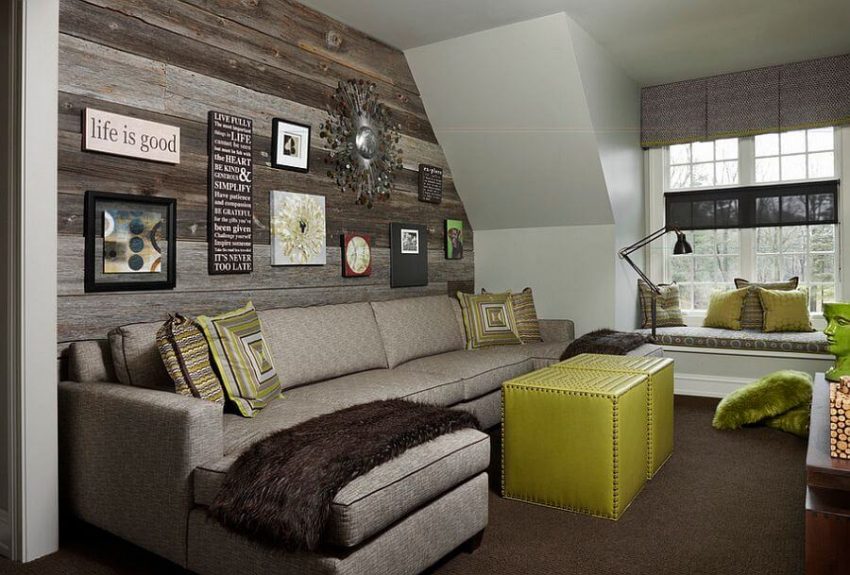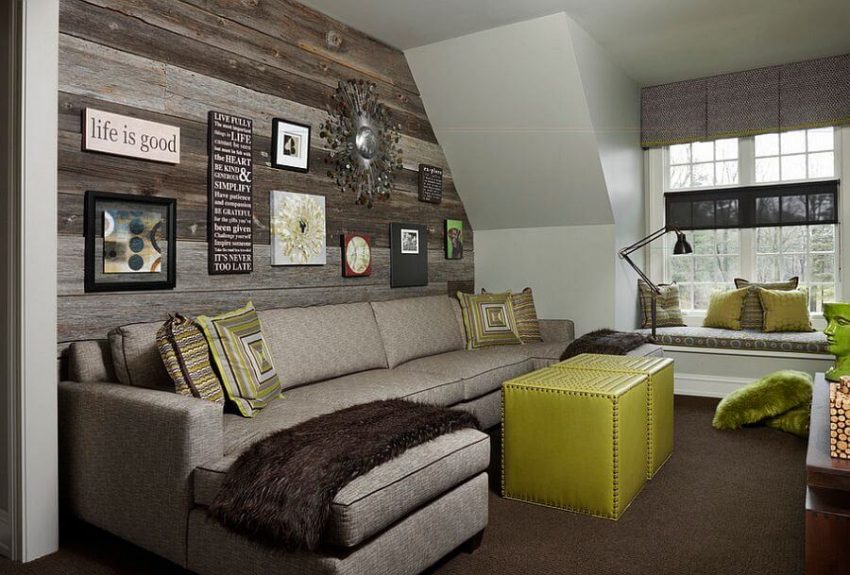 When you have no idea what to hang on the wall to make a great centerpiece, grab everything you like and simply hang them on the wall conscientiously.
There's nothing wrong with being eclectic because it can be something that surprisingly amazing. Well-worn woods conceal the flaws of the wall perfectly as well as making a very nice focal point.
To make it look more attractive various adornments hang on the wooden wall, creating an eclectic style. You can find some abstract paintings, quotations, and even an accessory that looks like a sun.
9. Get the Charm of Whitewash Woods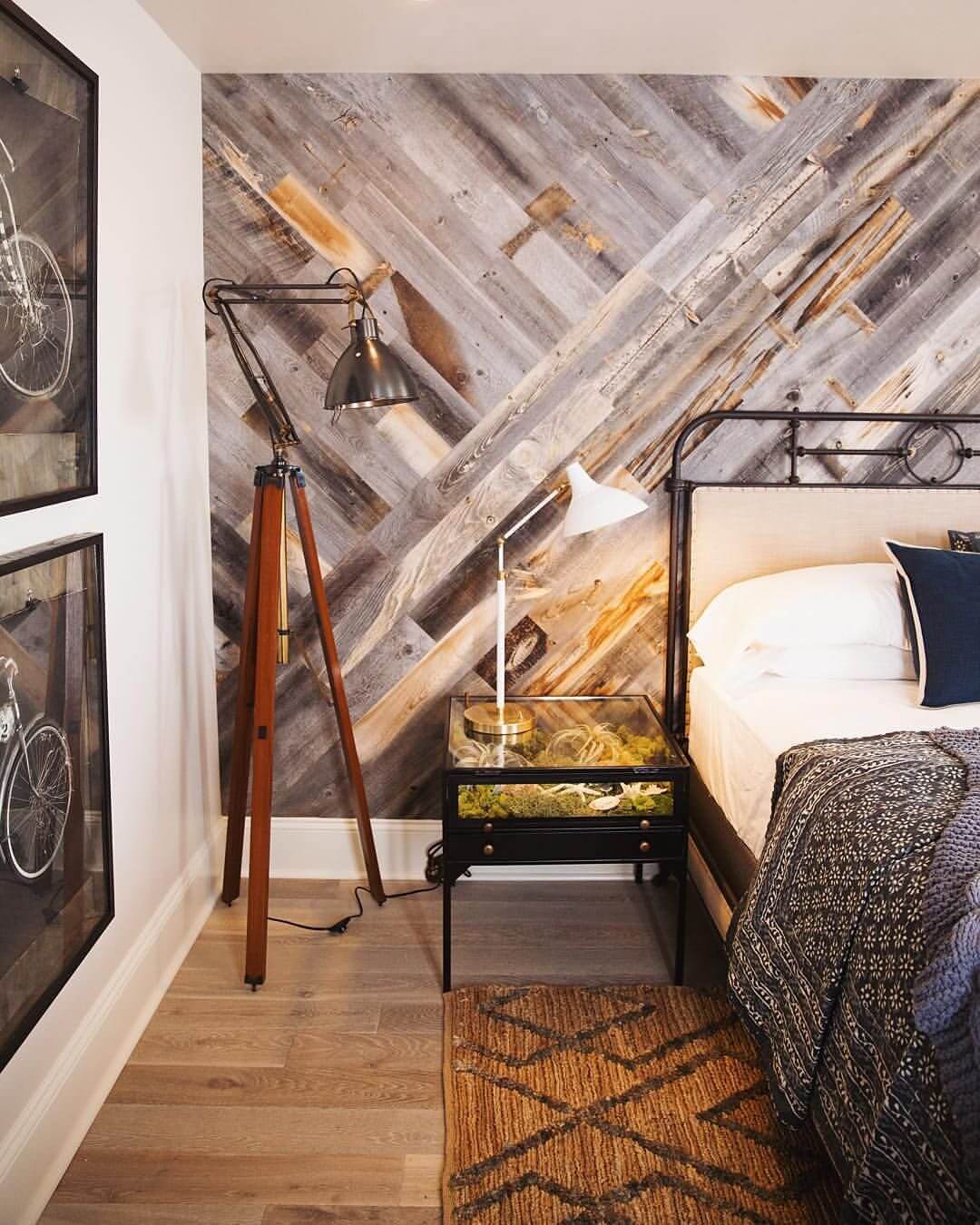 You may come across tongue-and-groove wood paneling that arranges the wood planks either horizontally or vertically. It looks good, but let's try something different, shall we?
Instead of installing the wood planks horizontally or vertically, you can try installing them diagonally. It will add a bit nuance to your bedroom.
To kick it up a notch, whitewash the wood planks so that they provide the touch of a vintage look. Besides, the uneven colors produced by whitewashing the woods make the accent wall look more beautiful.
10. Bold Yet Cheerful Triangles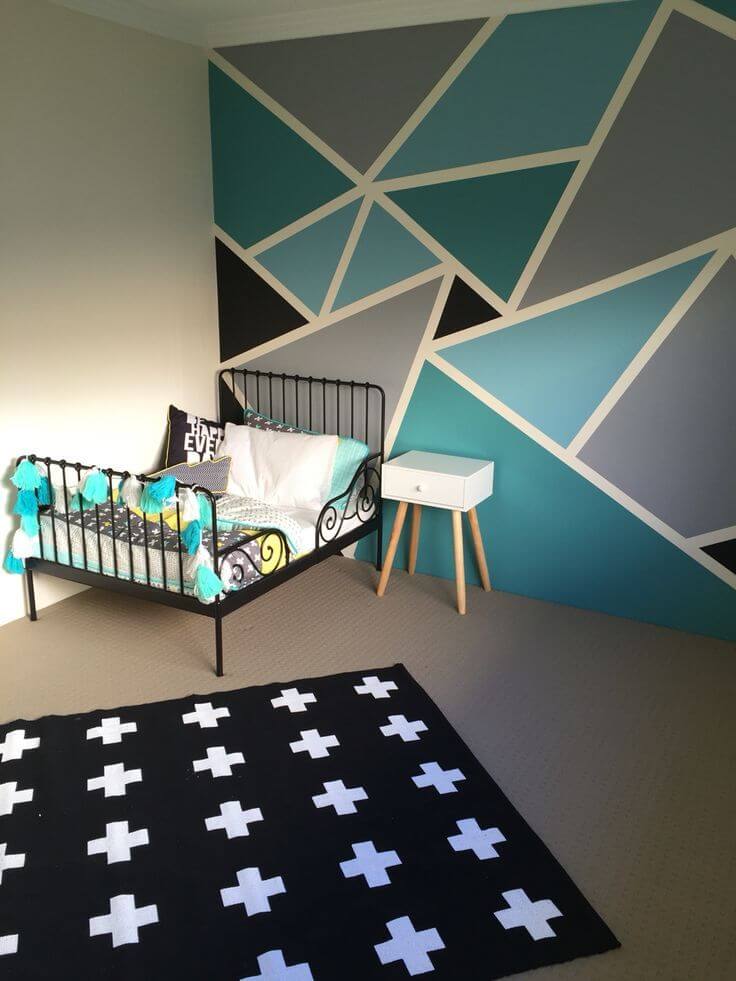 Painting the wall is the most ubiquitous, easiest, and fastest way to create an accent wall. Just slap a gallon or two of bold color paints and you are ready to turn an ordinary wall into an extraordinary one.
Instead of going with a single bold color, why don't you paint the wall some different colors just like the one that you can see in the above picture? To get that look, you are going to need some paints and painter's tape.
Before painting the wall, make sure that you choose the right colors that get along well with the other colors in that room, or – at least – have the same color schemes.
Attach some painter's tapes to form the shape that you desired, and you are ready to paint the wall. Remove the tape when you are done and get ready to be amazed.
11. Accent Wall Ideas for Kitchen with Classic Wallpaper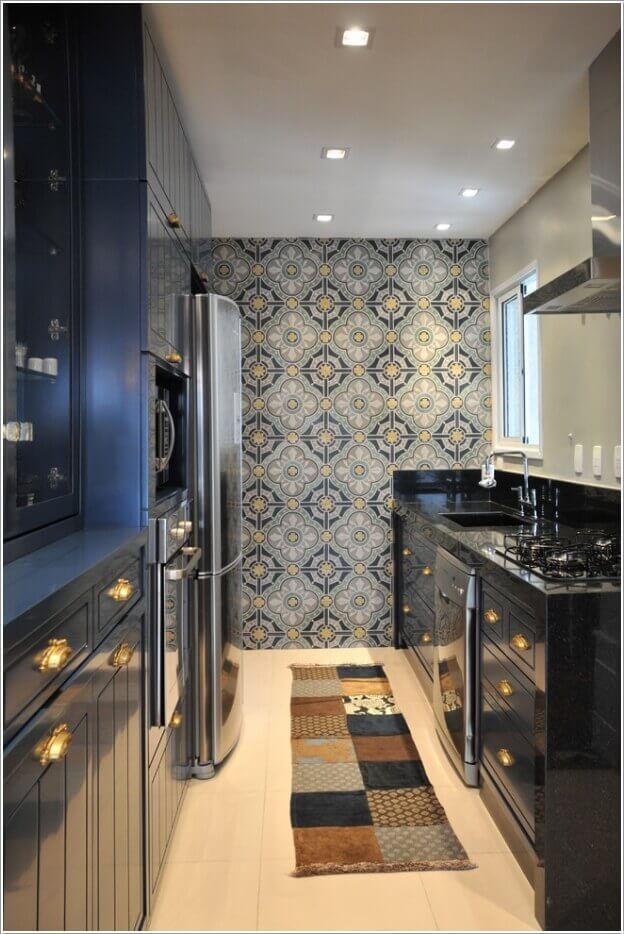 Kitchen is the most hectic room of a home as well as the hub of morning activity. Therefore, it needs an eccentric yet stunning focal point that is not too exaggerated and not too simple, either.
This small kitchen has everything that makes it eligible for being called a cozy kitchen – sufficient kitchen lighting ideas, sleek cabinets and countertop, and a cute patchwork rug.
To accentuate the wall, a classic wallpaper is hung. Its patterns and color complement the rug and the furniture well.
12. Accent Wall Ideas for Dining Room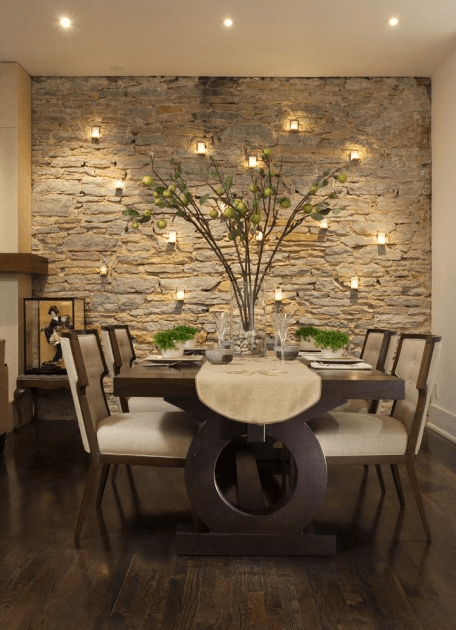 Many things happen from a dining room – a business idea, an emotional bonding of a family, laughter, and many other things.
Therefore, picking up the right accent wall for a dining room has to be done precisely. It must be something that can enliven the dining room.
The exposed stone wall surprisingly looks great. It adds the touch of romantic and classy look to the dining room. It actually looks great by its own, and thus you do not need to add more accessories on the wall.
If you want to improve the look, however, you can attach some candle-like LED lights that will make the room become more romantic.
13. Accent Wall Ideas for Bathroom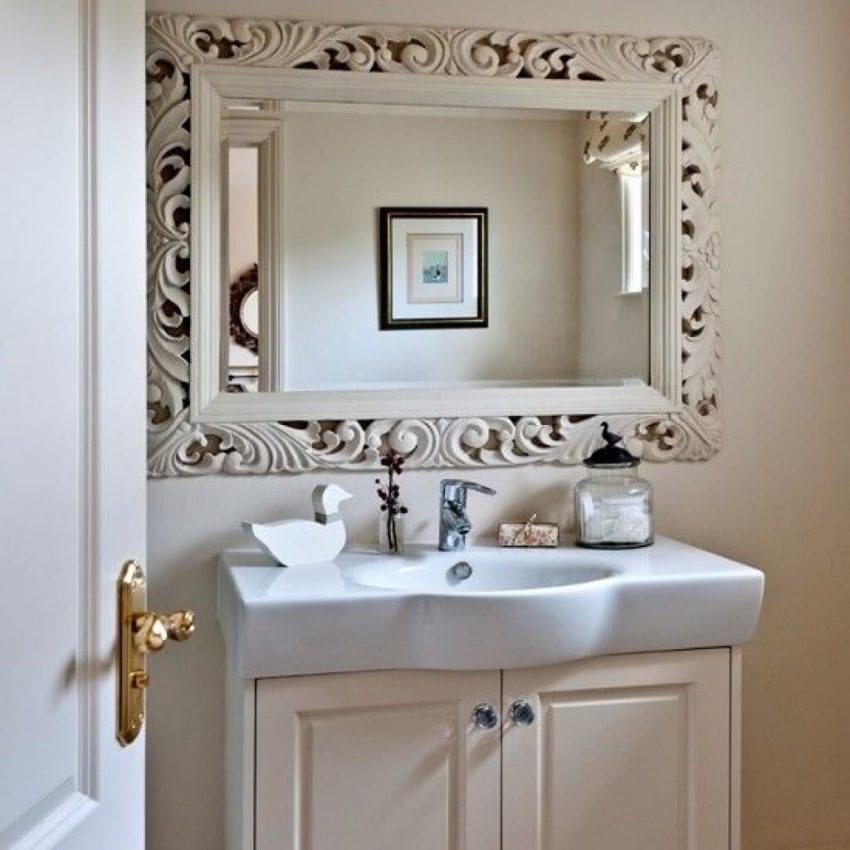 Accent walls are not only for bedrooms and living rooms, but it can also work well for bathrooms.
Just because a bathroom tends to be small and is not a type of room in which people stay for a longer period of time, it doesn't mean that accentuating it is not necessary.
Accentuating a bathroom's wall can be done by installing textured tiles or applying bathroom mirror ideas that is easier and cheaper because you just need to get a mirror and hang it.
Some mirrors, however, require more complicated installation that can be done by an expert.
This bathroom features a medium mirror with carved frames which makes it look conspicuous and amazing. Although the frame has complicated patterns, it still look subtle as it has the same color as the wall.
14. The Splendid Pine Forest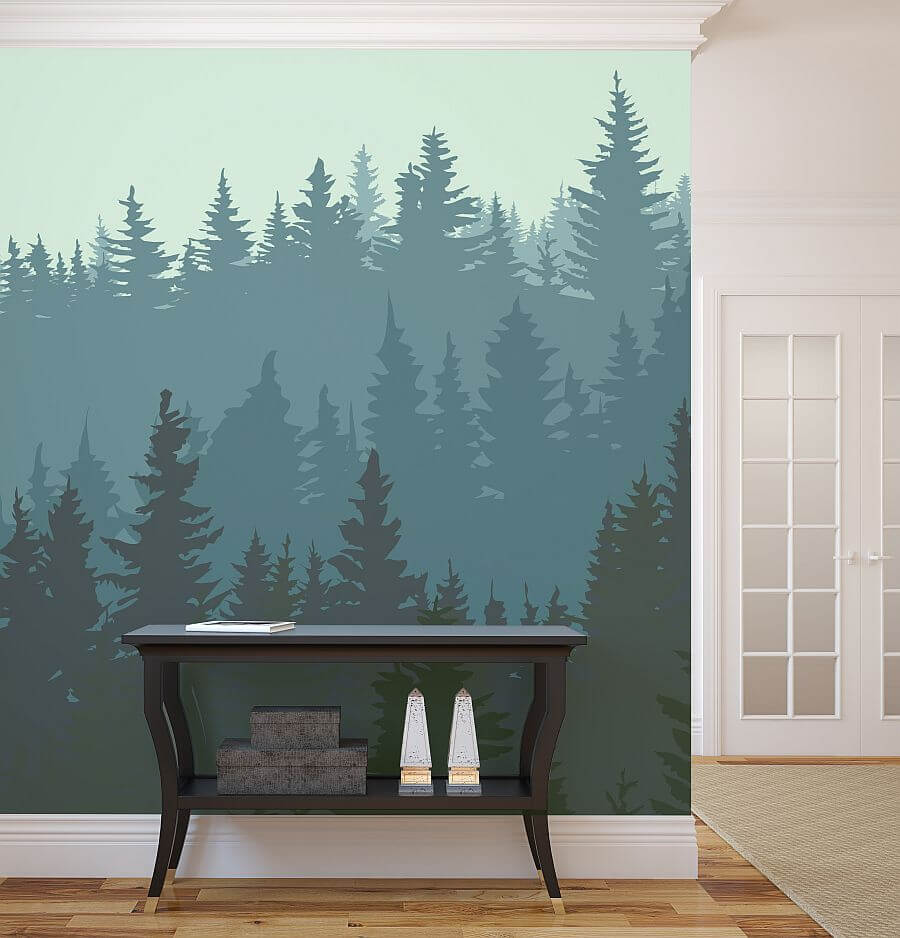 Camping in a pine forest enables you to feel the cool breeze and fresh air. It is so wondrous, isn't it? But if you can't go to a pine forest camp, hanging a pine-forest wallpaper will do in a pinch.
The color schemes of the wallpaper accentuate the plain wall very well.
The gradation of the colors is well designed, making it look more beautiful. Besides, the colors contrast the white wall and baseboard perfectly, making it more conspicuous.
15. Awesome Grey Accent Wall Ideas Master Bedroom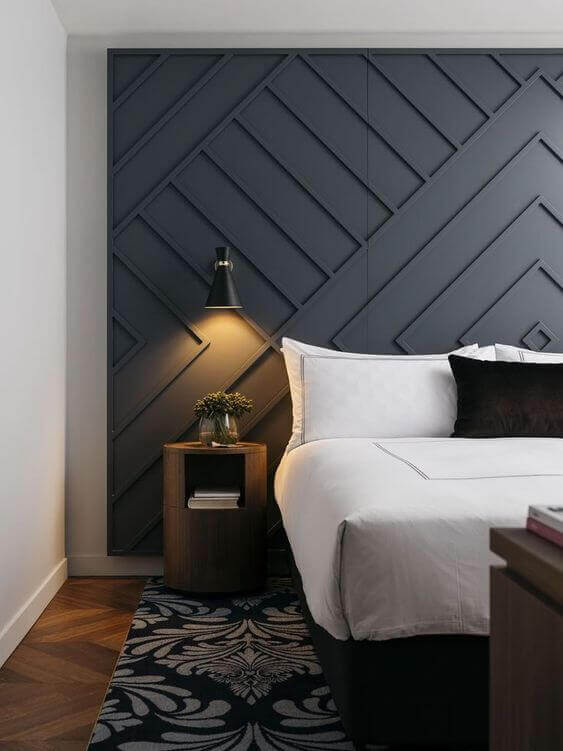 16. Accent Wall Ideas with Wood: Upcycle Old Wooden Crates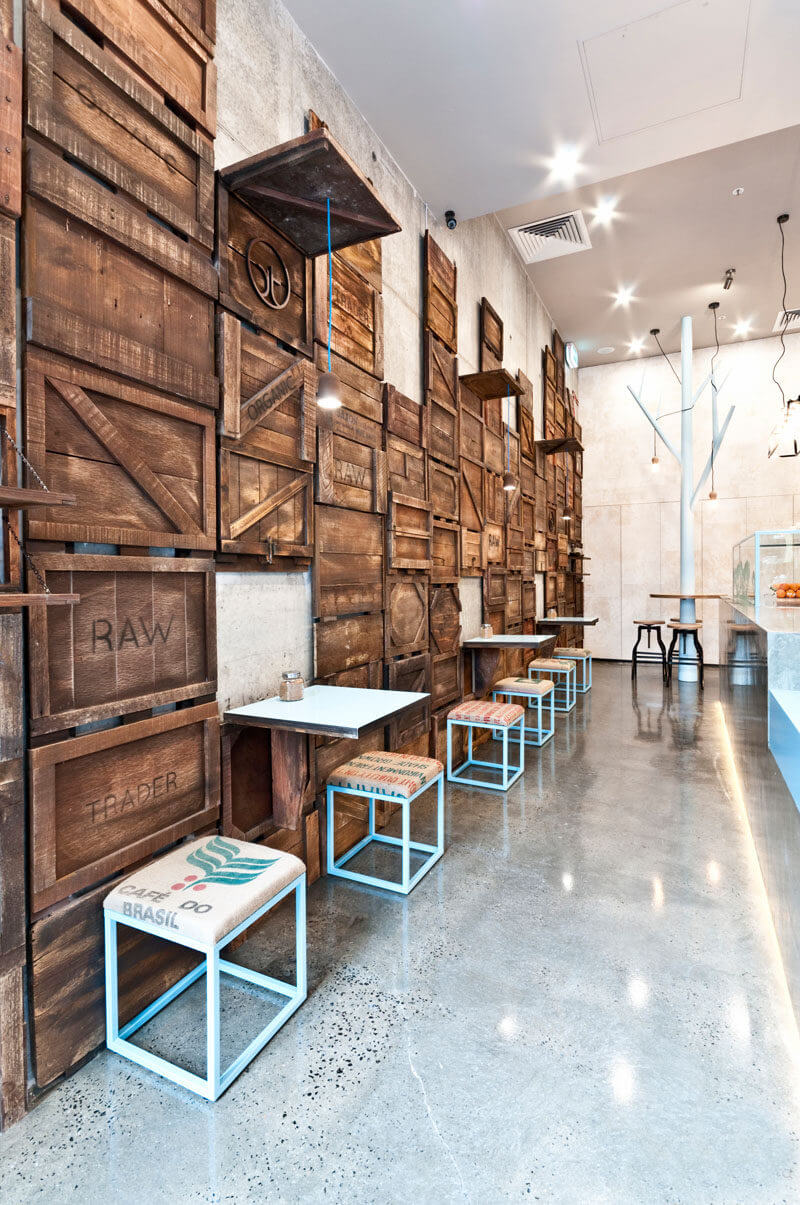 It is very important for a restaurant to design its interior as appealingly as possible to draw the guests' attention. Well, this is the era of Instagram.
People do not only seek a restaurant that serves delectable foods, but also features interior that worth sharing on Instagram.
Designing an appealing interior doesn't have to burn a hole in your pocket. You can always harness the magic of upcycling such as using old wooden crates to create accent wall.
The wall of this restaurant is partially covered with well-worn crates. The distinctive look is really amazing and stunning. The good thing of this accent wall idea is it can also be functioned as folded tables. What a creative accent wall idea!
17. Black and Bold Faux Painting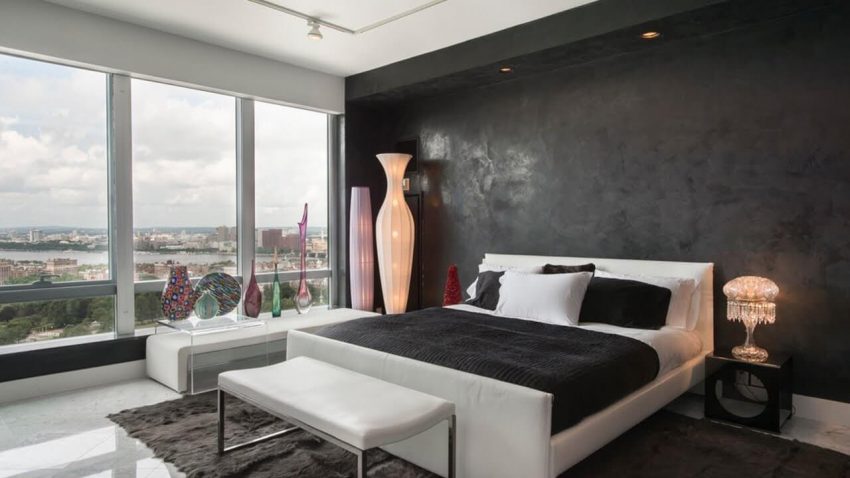 Faux finish technique has been widely used by many homeowners to add texture and nuance to any room.
This technique is used to imitate the look of others' finish such as marble or suede. Despite the challenging and tricky technique, faux finish will give you nothing but charm.
One of the most ubiquitous faux finish techniques is color washing which is also known as broken finish. It is called broken finish as it looks like an unfinished painting. Despite being called as "broken finish", the charm remains there just like this black accent wall.
Pros:
The faux finish adds the touch of boldness to the bedroom.
Cons:
Faux finish technique is not easy to do.
18. Show the Logs Off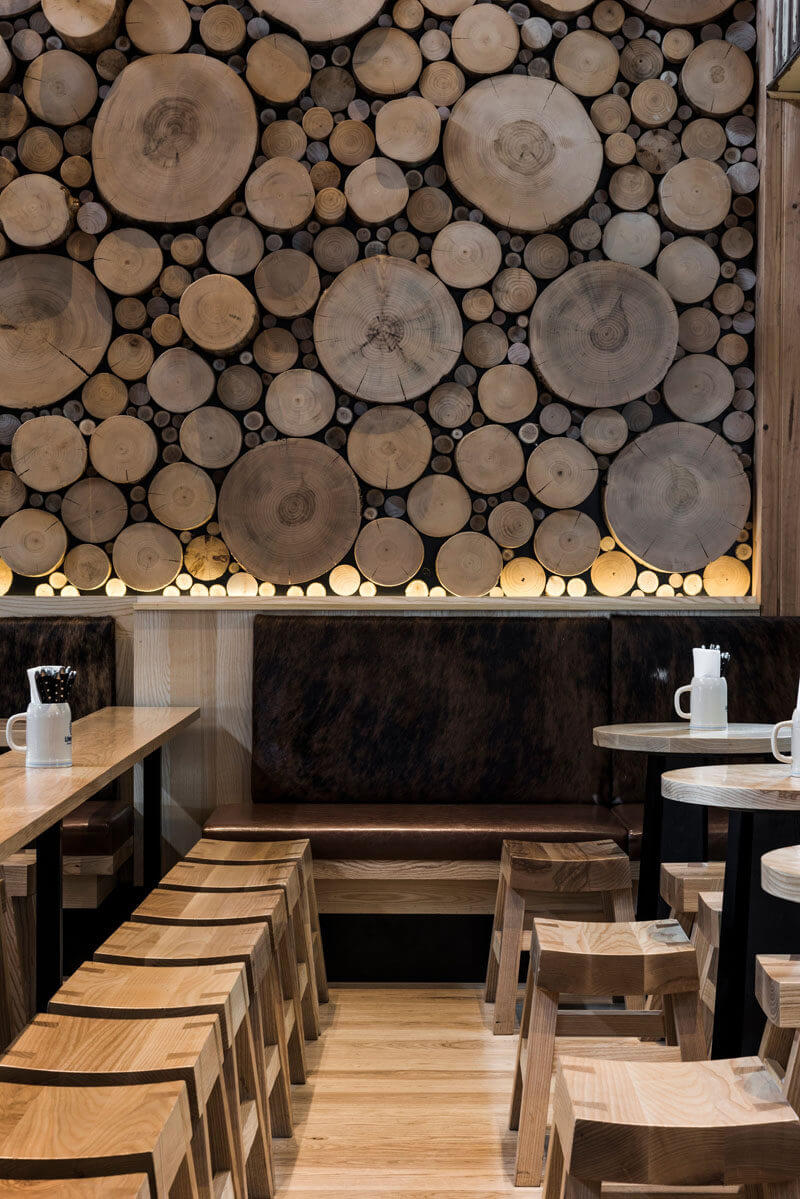 Here is another accent wall idea that is suitable for a restaurant – show the logs off.
This Japanese restaurant features wooden stools that provide a natural look and ultimate comfort to the guests. Since the stools are made of woods, the accent wall has to be made of wood or any other things that represent nature ambience.
Quote: Nothing can beat the beauty of nature. Therefore, using it wisely will be your greatest bet.
Logs with various sizes hang nicely on the wall, covering it perfectly. The combination of huge and tiny logs makes the wall look impressive and fabulous.
Accent wall ideas will always be something that makes you thrilled and hyped up. It happens because either you have many or no ideas about what to do. But these 17 alluring accent wall ideas will help you overcome this problem as they are all stunning and impressive.