Wall shelving ideas are one of the ways to decor your home. Shelves are elements that seem to work everywhere.
Having wall shelves will give you a space to store your belongings and collectibles. You can also use them to add some visual interest to your wall and make it more decorative.
Wall shelving is incredibly versatile because it comes in all various sizes and styles.
There are few options of wall shelving ideas you can have for your wall, according to the room's style. You can select floating shelves, A-frame shelves, or rope shelves. Let's see.
1. Industrial Pipe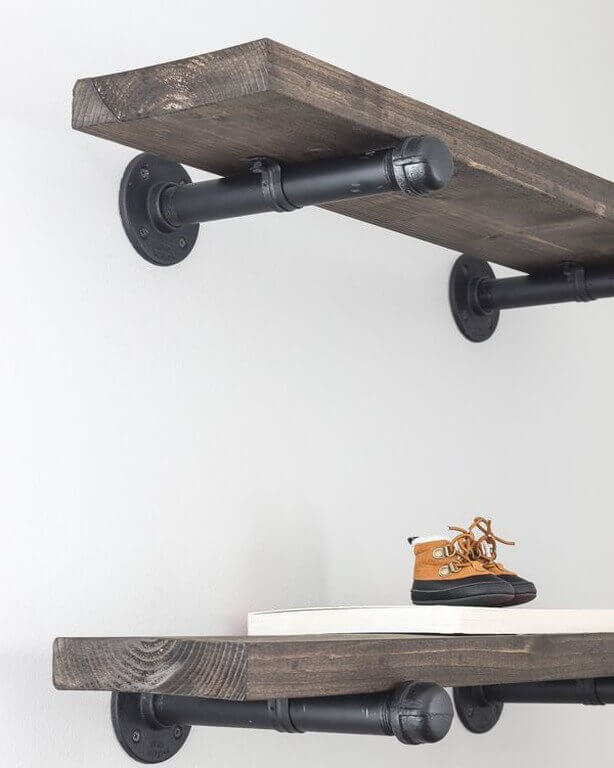 Incorporating an industrial vibe is as easy as installing this wall shelving on your plain wall. The crisp white color would be a perfect background for bold-colored decoration.
This industrial pipe shelves will give some character to the wall. It can be added on some accent wall ideas to give more character.
You can showcase some of your collectible items to colorize the wall. This wall shelving has some black pipes hooked on the wall. As we know, black and white won't be a disappointment.
2. Floating Corner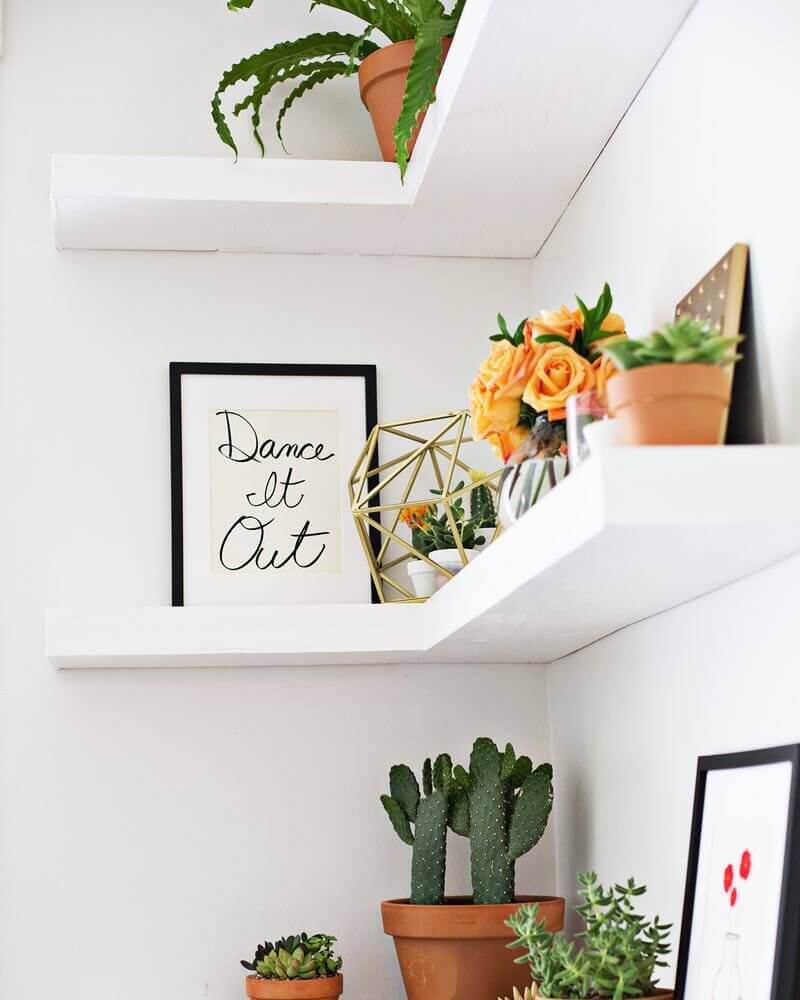 Check out this whitewashed floating shelves. It fills up the dead space on the corner and makes it more interesting than ever.
Fill the shelves with some interesting stuff like succulents and other small plants. It brings the soul to the corner space which won't be dead anymore.
Highlight: Instead of filling the corner space with one large potted plant, install some shelves to put many small plants.
It's a great way to include greenery as part of the decoration. Instead of being tropical, this space becomes brightly natural.
3. DIY Wall Pallet Shelving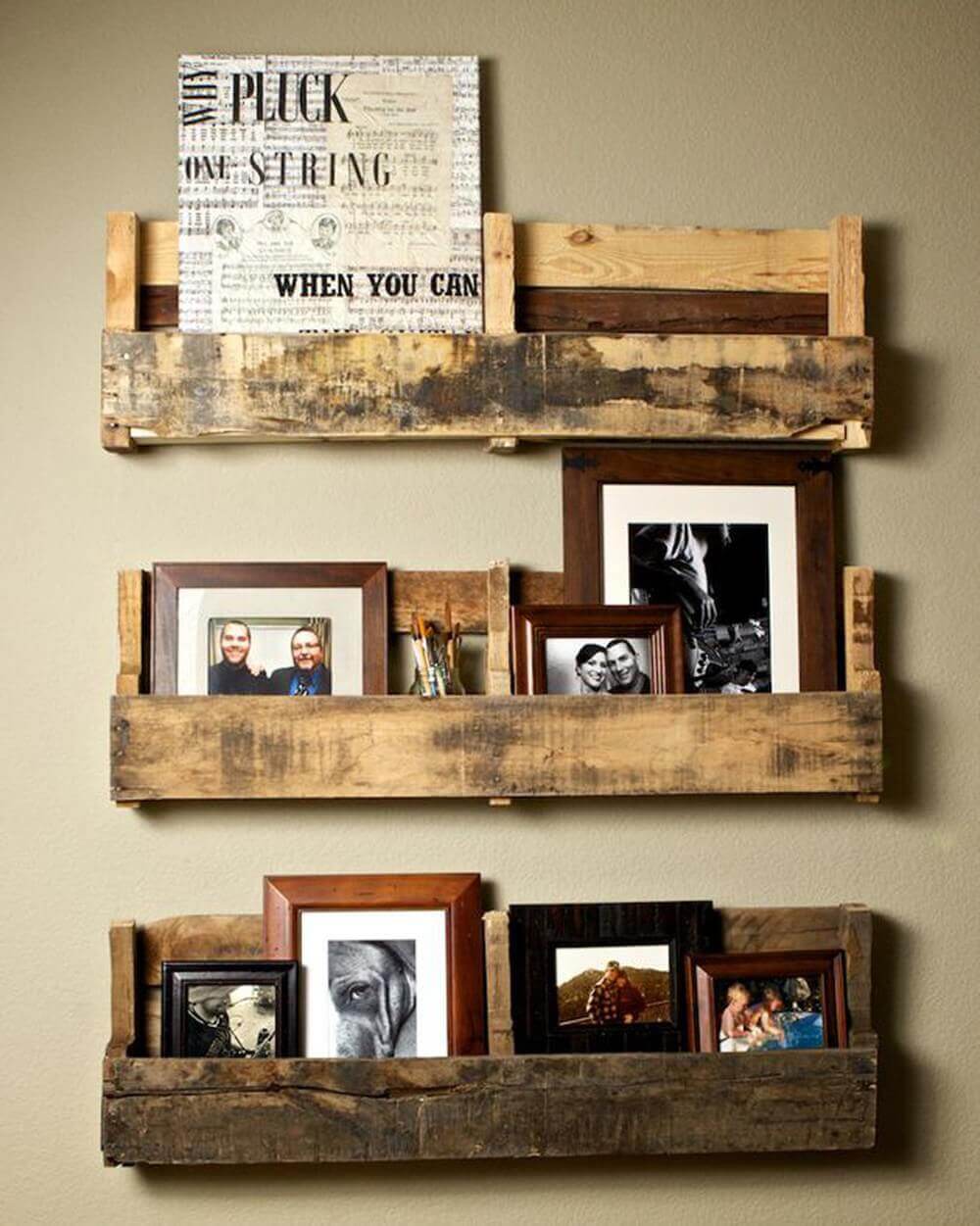 For a more affordable option, use an unused wood pallet to make a wall shelving element. It's a rustic-inspired repurposed shelf. It's a great way to showcase some thin objects like photos, books, and magazines.
You don't need to hang all the things on the wall one by one. Just hang the holder or shelf to store and stylishly showcase them.
This pallet shelves make all the attention to the wall more focus on the shelves. Make sure to fully clean the wood pallet before turning it into shelves. See wood accent wall ideas.
4. Hanging Wall Shelving Ideas with Ropes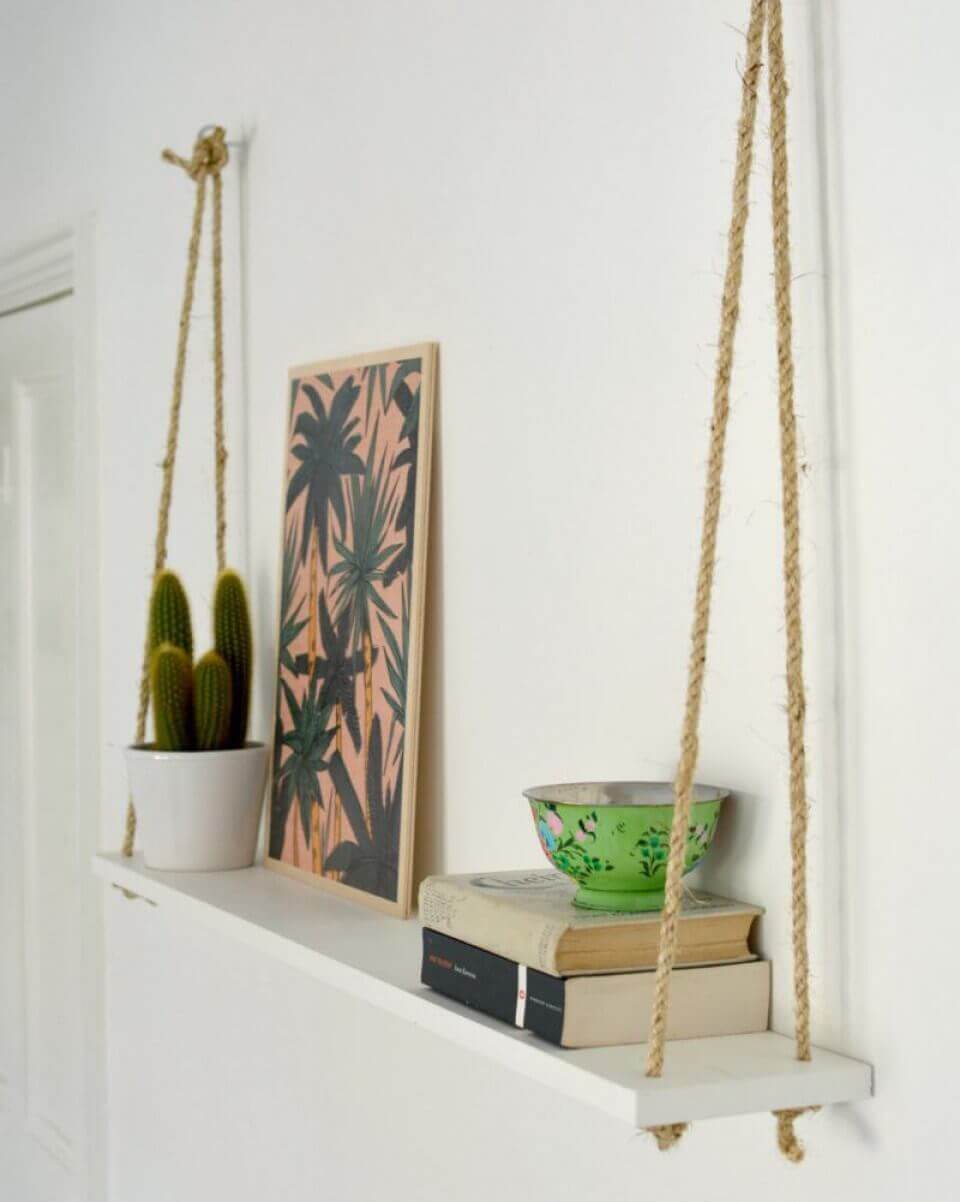 It's a nice DIY floating shelve which is easy to make. You'll only need ropes, a wood plank, and some hooks to hang the shelf. It doesn't require a lot of drills to make, just two simple drills on the wall for the hooks.
Highlight: The type of ropes is important in this wall shelving concept. You should choose the rope with good durability and rustic texture.
After it's hung, the floating wood plank is ready to hold some decor pieces for the room.
Don't Miss!! Best Dining Room Wall Decor Ideas
5. Over the TV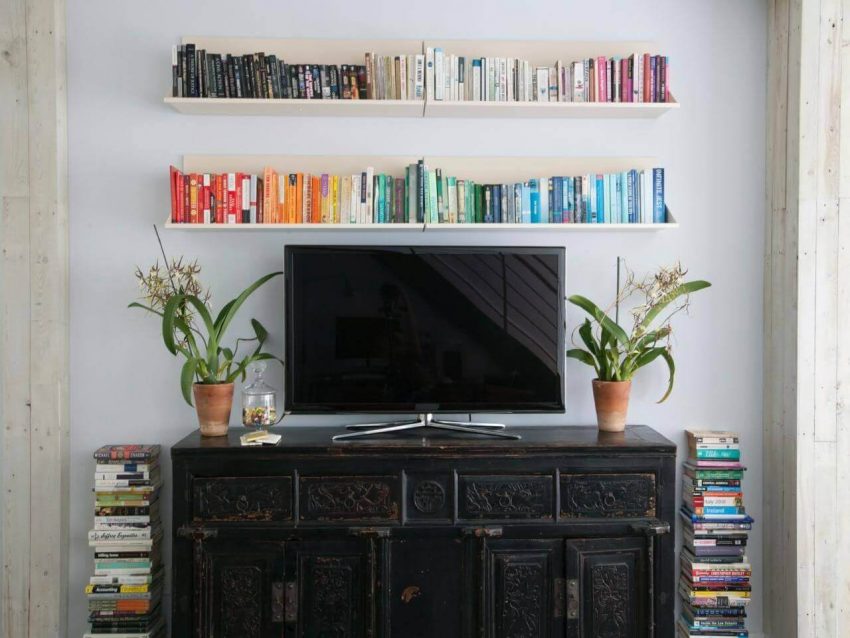 The space above the TV in the living room is quite impactful to the entire design. Even with a minimal shelve design, it can draw attention easily. In this picture, you can see the TV fades into the background wall.
On the shelves, you can add your book collections and arrange it based on the colors. That color-coded arrangement of the books is a fun trick to steal the attention of everyone. It could even steal the spotlight from the TV.
6. Modern Wall Shelving Ideas in Laundry Room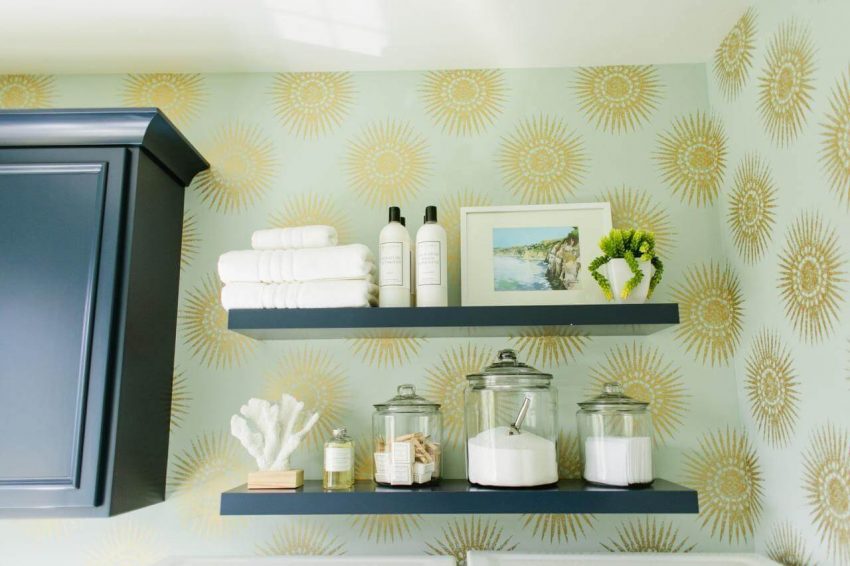 Some wall shelves in the laundry room will be so useful. A couple of extra floating shelves will increase the storage space in your laundry room. It will instantly improve the functionality of the room.
Highlight: If you don't need those extra spaces, you can use it to showcase some decorative pieces like artworks and some plants to warm-up space.
7. Feature Wall Shelving Ideas with a Glam Touch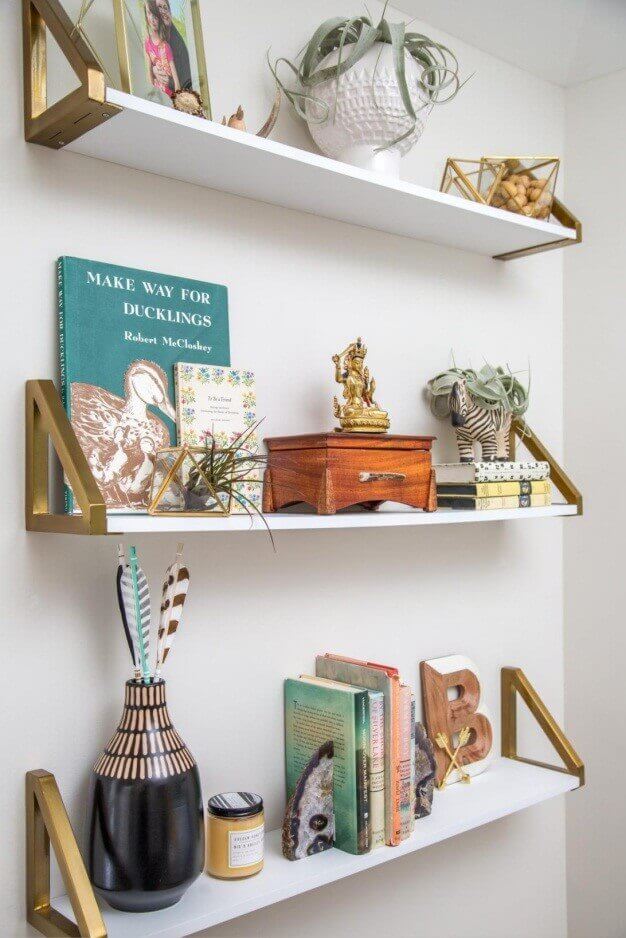 These white floating shelves have a brass holder on each side of the shelves. The brass structure of the holder offers a nice glam touch to increase the value of this element.
You can use these floating shelves to display some decorative pieces and store some books. The white wall acts as a blank canvas to complement the gold element.
Some of the pieces you choose to showcase on this shelving should also have a glam touch.
8. Shelves at the End of Hallway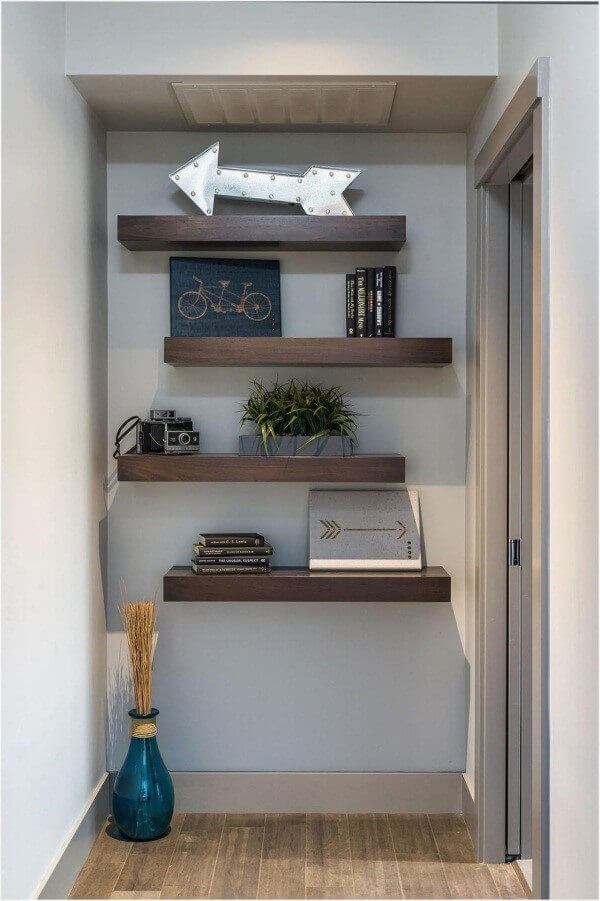 At the end of the hallway tend to be dead space on the wall; the easiest way to fill up space is by adding a big potted plant right in the corner. But, it's not going to be as decorative and special as this one.
Consider adding some floating shelves at the end of the hallway. Shelves are not only decorative to the wall, but it also livens up the area which is often to be empty.
These shelves will be all about decoration. So, some artworks would be the ideal things to showcase.
9. Rectangular Boxes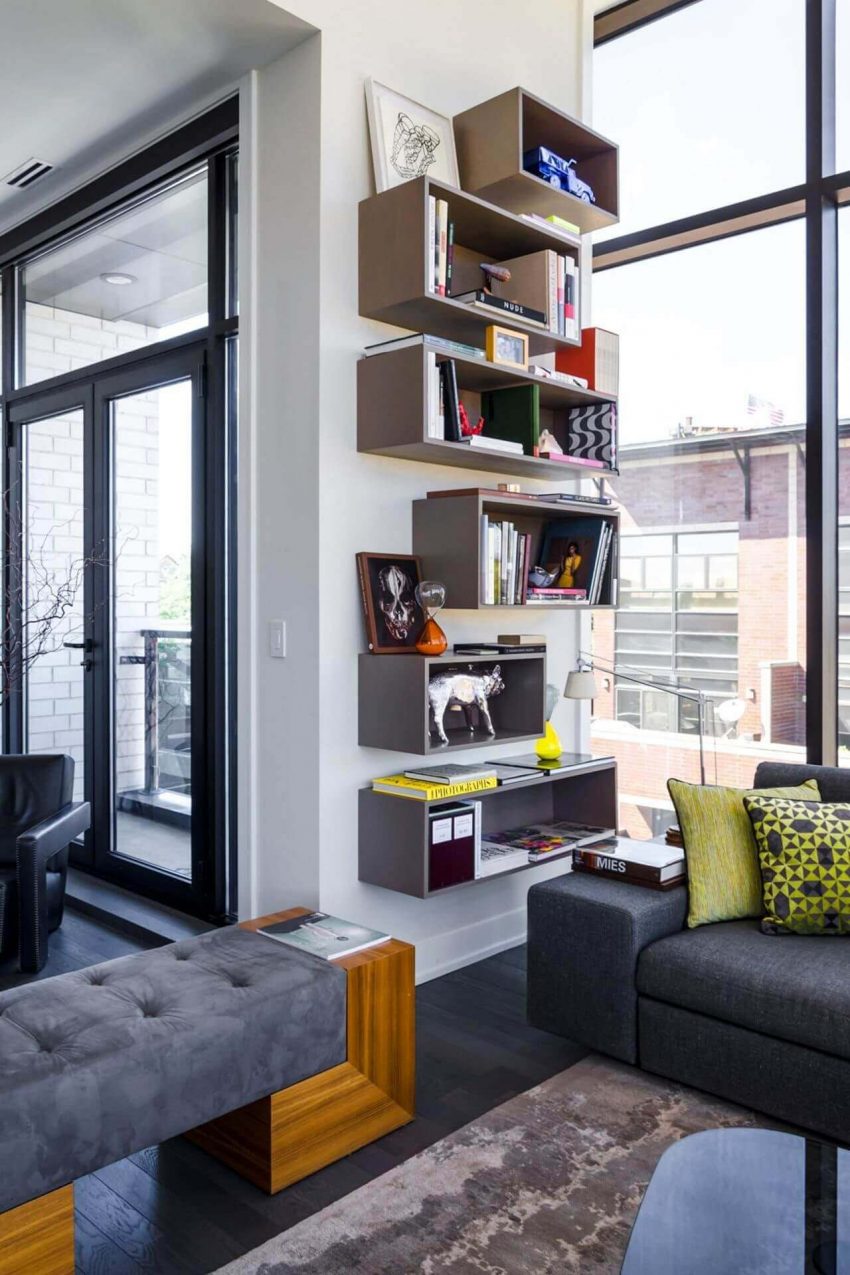 When you have awkward wall space, this one is a great example of how to use it. Adding such rectangular boxes wall shelving in this spot will bring order to the room.
But, it's also able to keep things tucked away. Because shelves are so flexible, you can make it go higher than just a bookshelf.
This wall shelving stands nearby the glass wall that will give it a lot of lights during the day. So, it would be better to choose a dark color as the main scheme. You can use some of the boxes to store some books and some others for collectibles.
10. Modern Wall Shelving Ideas for Bathrooms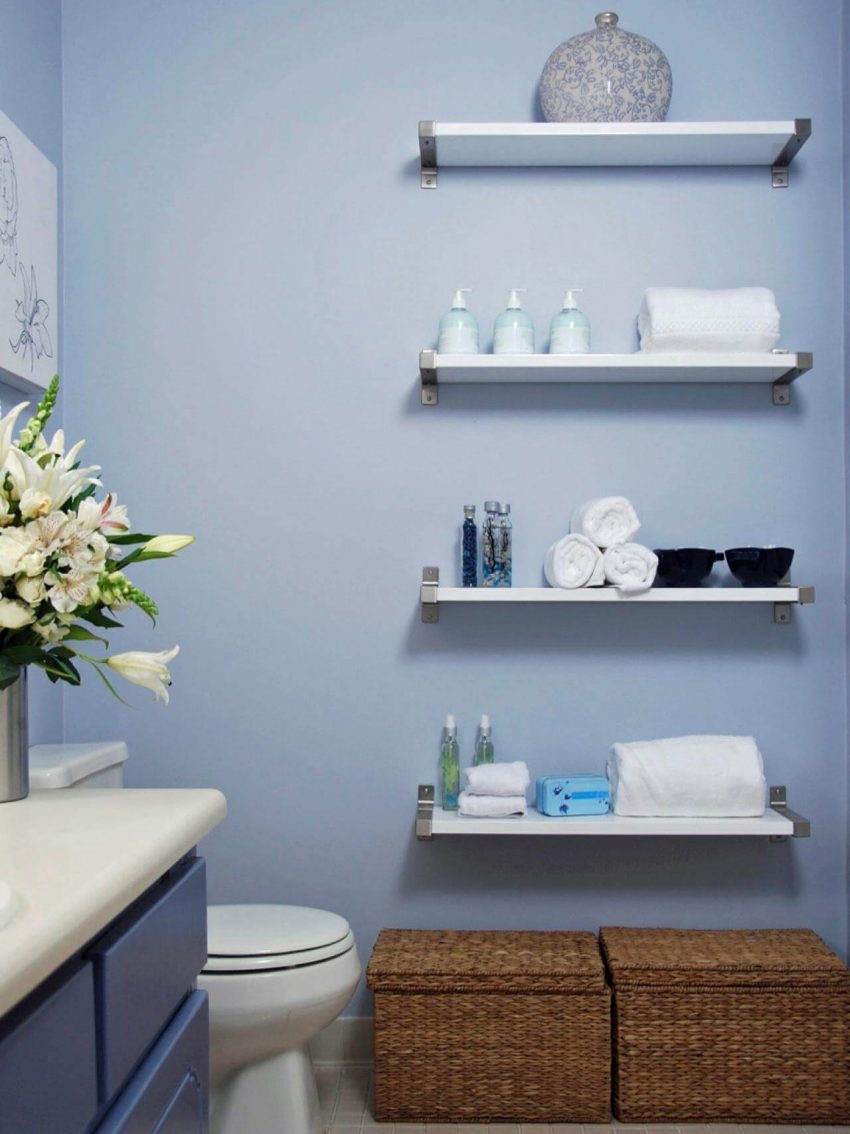 Some floating shelves would be so functional in bathrooms. You can store some bathroom stuff like towels, soaps, and other supplies.
You don't need a lot of wall space to incorporate floating shelves. Just use the space above the toilet or beside it to fill up the wall space.
Shelves will allow you to decrease the clutter and also have a nice bathroom wall decor. In this bathroom, the wall shelving is set as low as the toilet seat.
The lowest shelve will be easy to reach from the seat. Below the shelves, you can place some woven container for more stuff.
11. Full Wall Shelving Ideas for Bedroom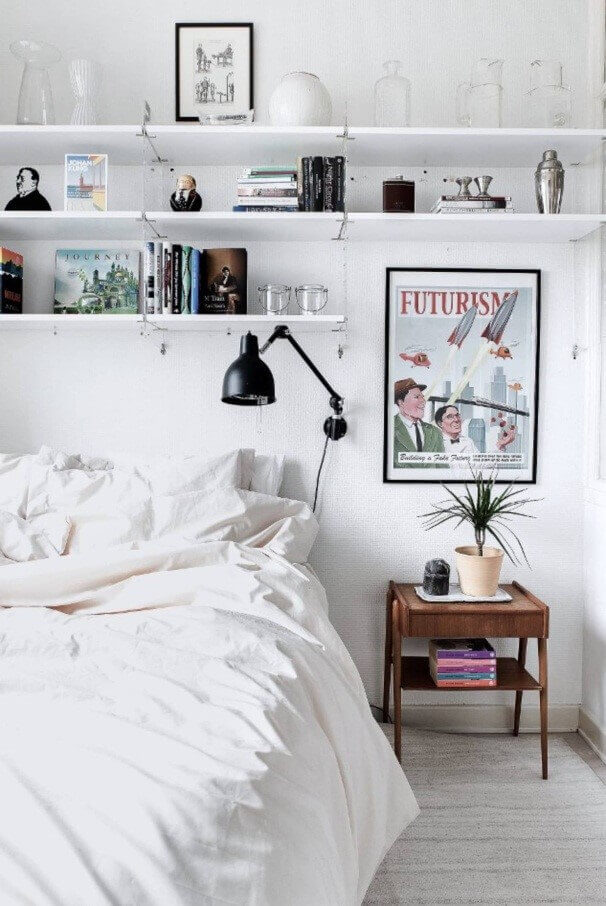 Before you decide what kind of shelving you want to have in your bedroom, you have to decide where the wall shelving units would be. Whether it's beside the bed or behind the bed, a wall shelving unit can bring soul to any wall.
In this case, the wall shelving is built behind the bed up to the corner wall. It gives some colors to this whitewashed bathroom. You can show various items and make them as a component of your wall decor.
| No | Pros | Cons |
| --- | --- | --- |
| 1 | It's a great way to showcase your collections | Putting it above headboard seems too much if the bed already has its headboard |
| 2 | Wall shelves are more practical than traditional cabinets | All the clutters are not hidden |
| 3 | It doesn't require a lot of space on the floor | |
| 4 | It gives splashes of color to the bedroom wall | |
12. Full Wall Shelving Ideas for Living Room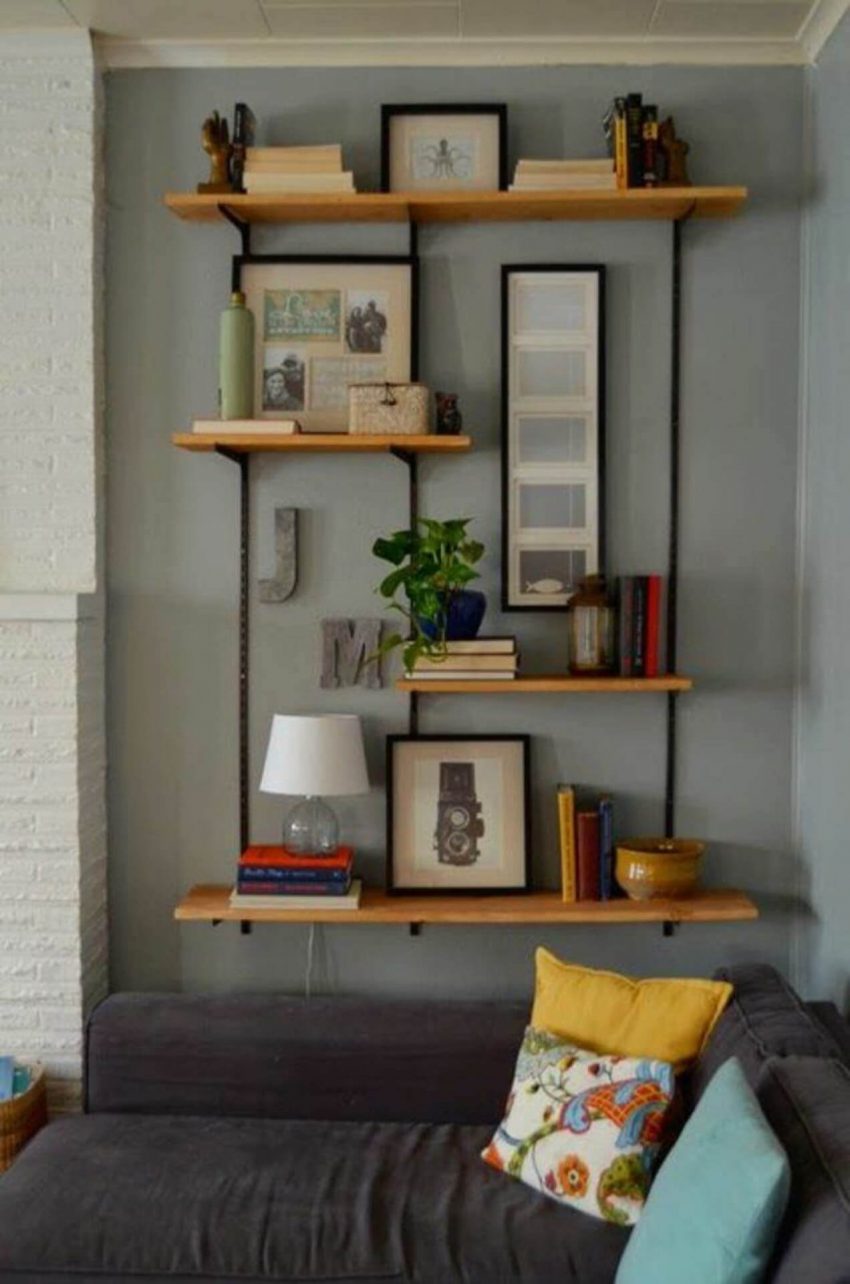 The attractiveness of a living room can be ruined by all the clutter around it. It's possible that it's because your living room has not got enough storage.
Check out this fantastic storage space idea that might restore the relaxing vibe you need in the room.
The design of this wall shelving is pretty unique. It's got all the structure exposed on the wall. It creates such an industrial vibe to characterize the wall. Filling up the awkward space is just what wall shelving does to every room.
13. Distressed Wood Shelving Ideas for Office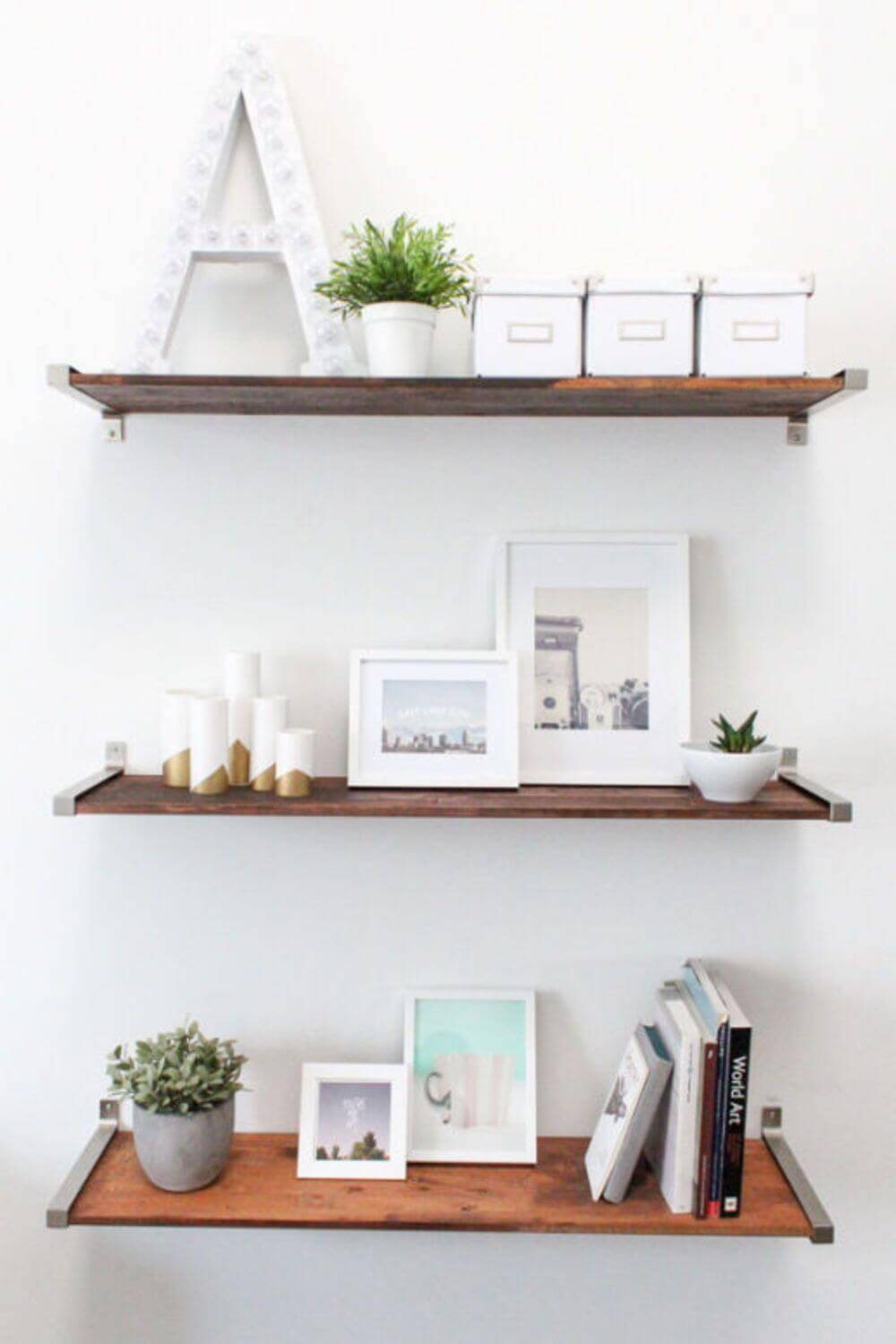 In this whitewashed wall, you have to add something that has a solid character. Use wood planks with distressed or reclaimed appearance to make a great contrast with the white wall.
To create a blending gradation between the elements, fill the shelves with white decor pieces.
It will give any color and artworks a great chance to shine on their charm. Some small potted plants can make a great addition to naturally give color to the wall.
14. Greenery Modern Wall Shelving Ideas for Small Spaces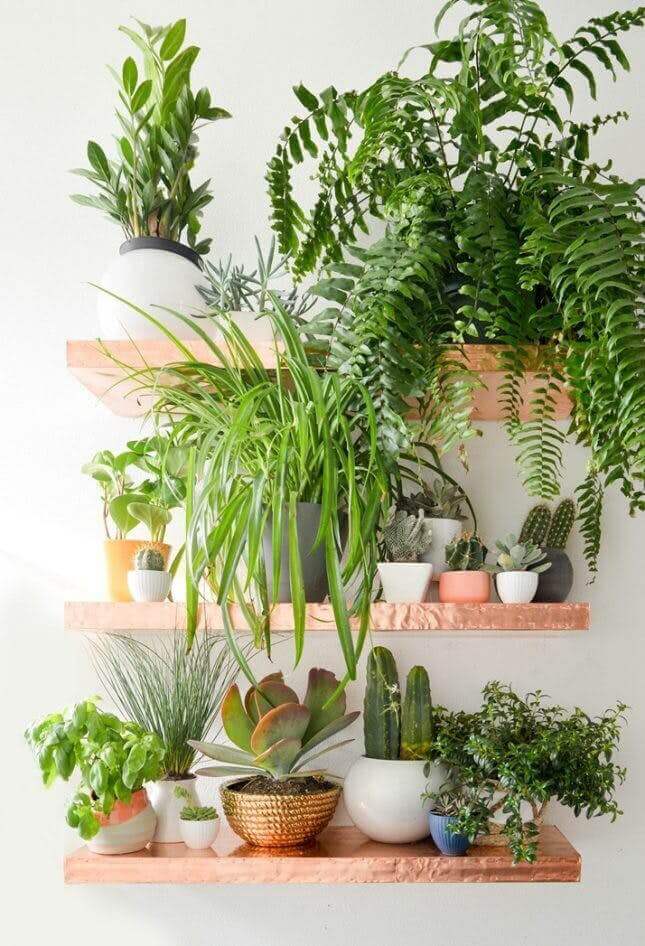 As you can see, all the shelves are filled with greenery. Whether you want to support your tropical style or add visual of nature on the wall, this wall shelving looks so fresh.
You can pick any style of a floating shelf. Make sure it's solid enough to hold many plants with various weights.
Just put all the small potted plants possible to make the wall greener, such as succulent, grass, herbs, and many more.
15. Wall Shelving Below Stairway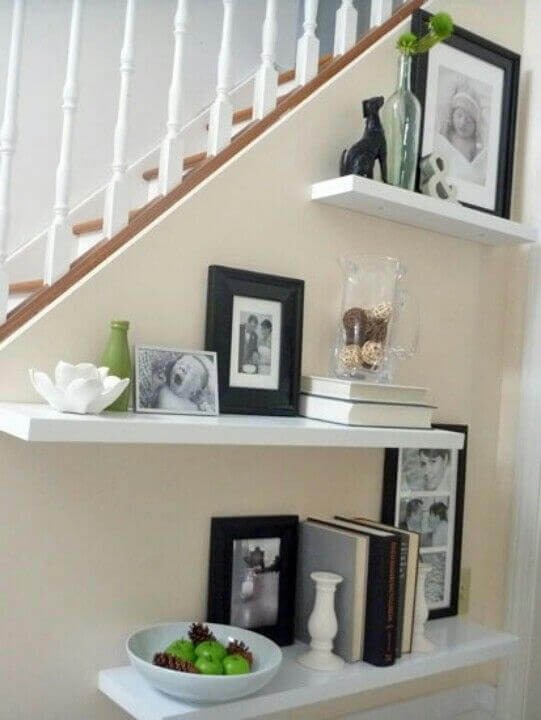 The placement of the shelves in this idea is determined by the staircase's line. The wall space below stairway tends to be empty and left out. Instead of adding furniture, you can a wall shelving to make the space more decorative.
It would be a space-saving option to fill the space below the stairs. You can place some black-and-white photos, books, and other accessories to spice up the wall.
As you can see, the items on the shelves mimic the color palette of the interior.
16. Corner Feature Wall Shelving Ideas for Bedroom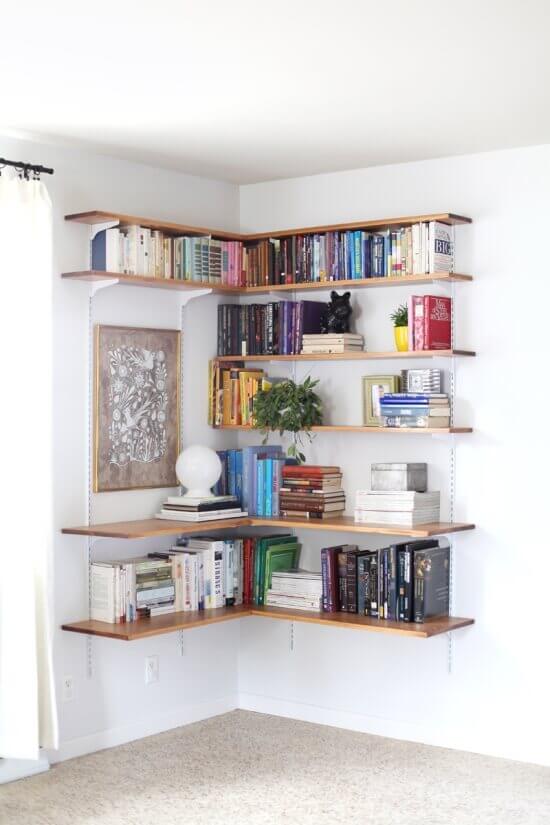 Another left out space on the wall that you need to take over is a corner wall. The brown wood planks are the perfect choice for a white wall.
It gives a little bit of touch of country style on the wall. Play with colors with the book collection you have.
Some artworks can also be included in the mix. The artworks should complement the brown color of the wood planks.
A potted plant in the middle of the shelves is not necessary but there's nothing wrong with it. It can even add more character to the wall.
17. Wall Shelving Ideas for Coffee Bar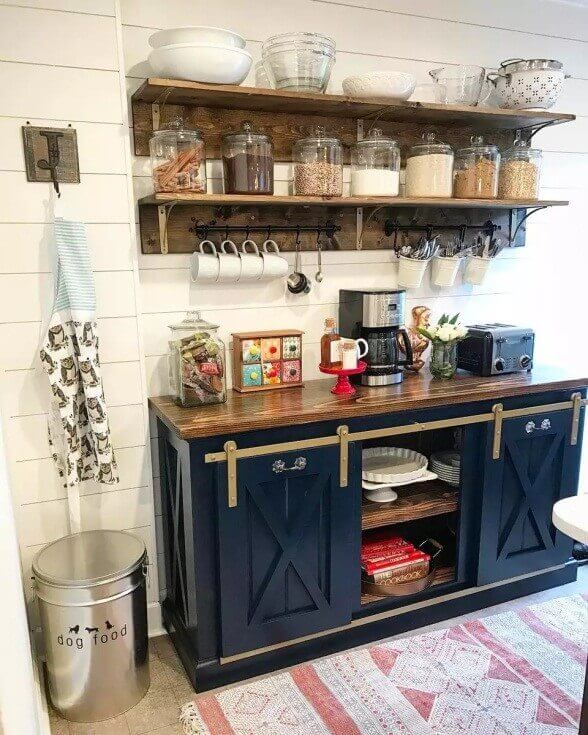 For a kitchen, wall shelves are so important. It's the element that supports the kitchen flow efficiently. This coffee bar is part of a kitchen element that will fulfill your need for a cup of coffee every morning.
Open wall shelving is all you need to complete the bar. It's placed above the counter. You can use the shelves to put some jars of coffee beans. Some other utensils are placed at the top shelf.
The wood material of the shelves complements the shiplap background wall, which is one of the favorite wall paneling ideas for farmhouse style.
18. Wall Shelving Ideas for Kitchen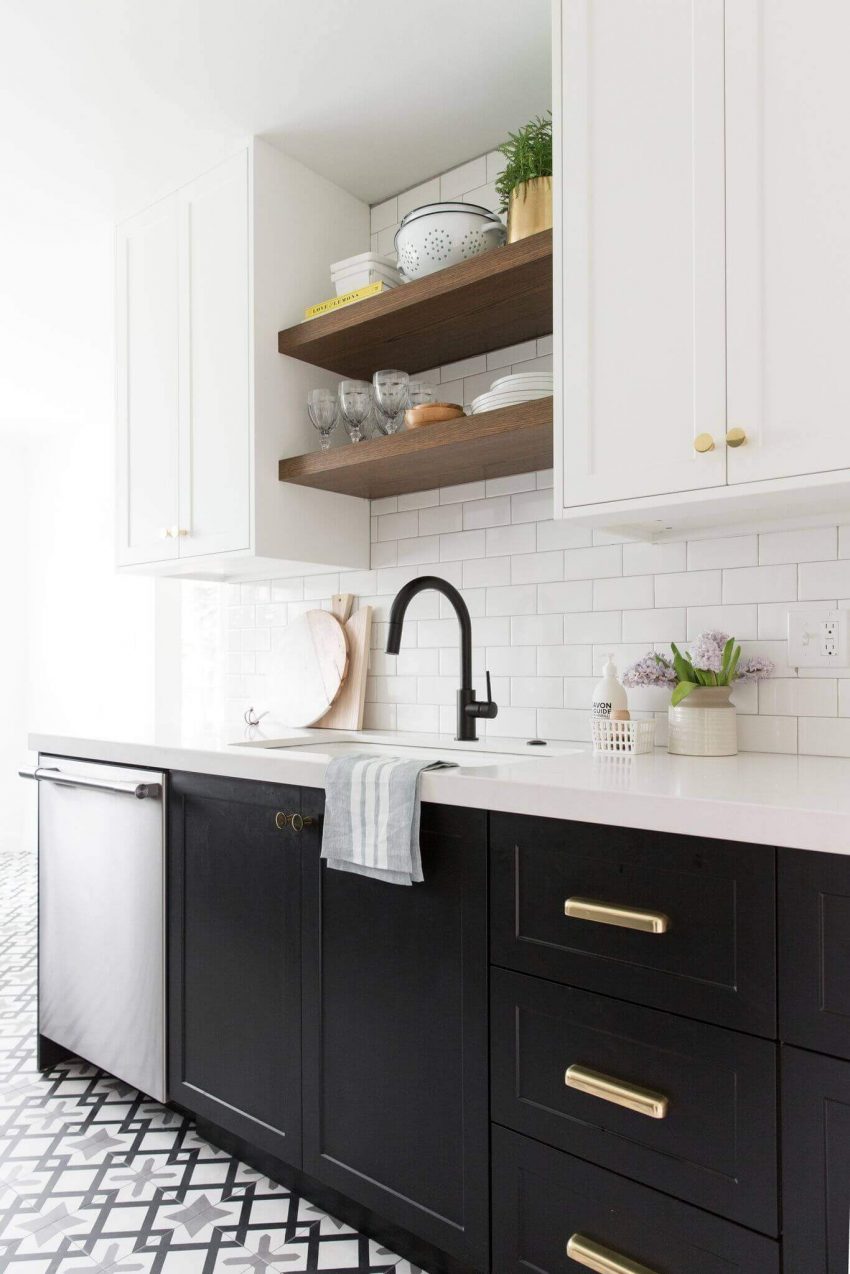 This kind of shelves is used in most traditional kitchen layouts. Having a storage space above the sink will support storing dishwashing stuff. Instead of storing it under the sink, you can put it on the shelf for easy reach.
This kitchen wall shelving is installed between two white cabinets which makes it so standout among others. It's an easy focal point for this kitchen. You can also add some houseplants to make it more thriving.
| No | Pros | Cons |
| --- | --- | --- |
| 1 | Open shelves in the kitchen are very trendy | It can be a hot mess |
| 2 | You will save money on installation | If you put the kitchenware on the open shelves, you might have to wash them again |
| 3 | | It can look so cheap |
Don't Miss!! 25 Captivating Kitchen Decor Ideas to Maximize the ViewsKitchen Decor Ideas
19. Wall Shelving Ideas for Living Room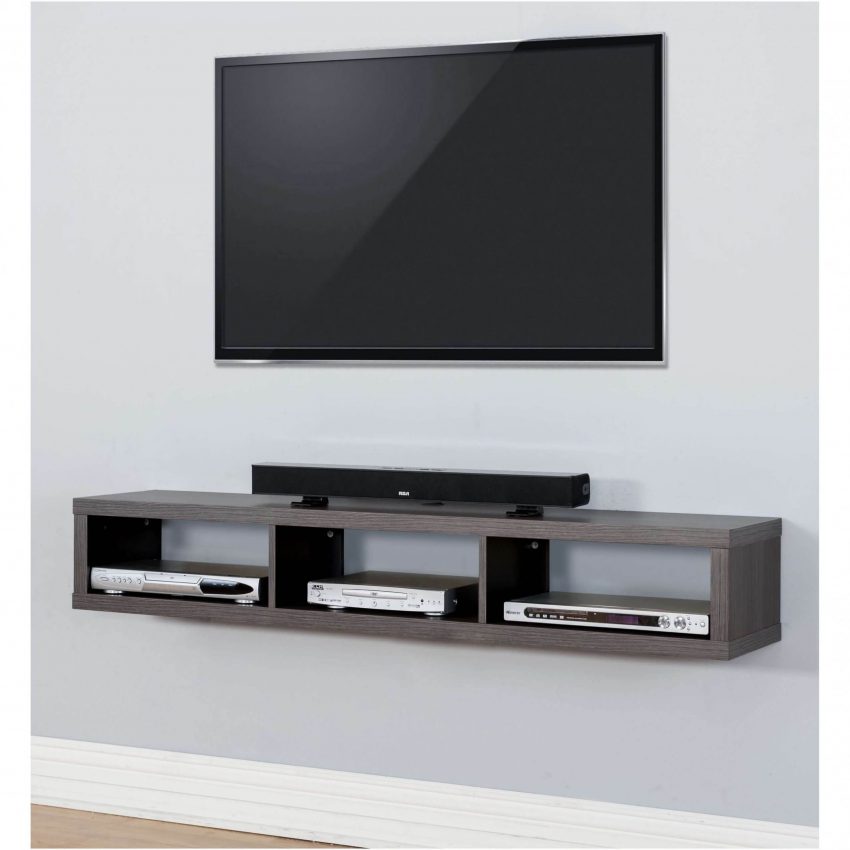 If you have a wall-mounted TV in your room, you need some floating shelves to support it. Who needs a table for the TV when you can install a floating shelf?
It won't use any space on the floor. It's a perfect idea for a minimalist living room.
The wall shelving in this room is used functionally. There's no space for decoration in a minimalist house. This floating shelve consists of three rectangular spaces.
You can fill them with all the electronics that are connected to the TV. You can have the speaker on top of the shelves.
20. Wall Shelving Ideas for Home Office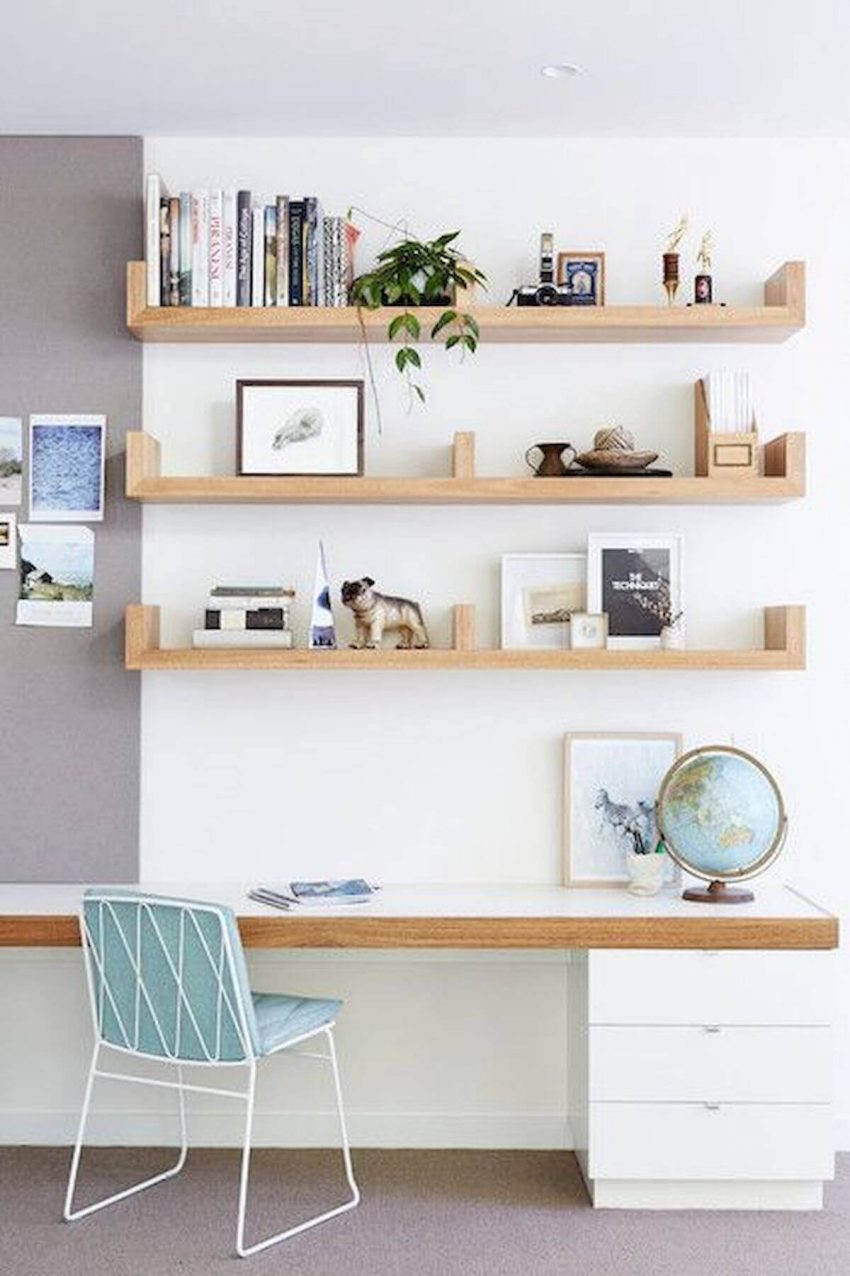 If you are a fan of Scandinavian style, incorporate the style into your office. This kind of style can give some soothing and airy atmosphere to keep you calm and help you concentrate on your works.
Some wall shelves that have the same color as the office room's color palette would make a great addition to the wall.
Of course, you don't want your wall to be empty, plain, and boring. The shelves will give you a chance to decorate the wall and make it more interesting.
Conclusion
After exploring the whole wall shelving ideas, don't be confused about what to choose to decorate your wall. The key to wall shelving that it can give more space for storing and decorating. Choose the idea that your wall needs.