We all love wall gallery ideas, they bring up our artistic sense onto the wall. A gallery wall is an amazing way to infuse pattern and color into the wall. If you're art-lovers, this will be your favorite decor ideas.
It's a great way to take up empty wall space into something very interesting. Many would think that gallery wall is all about pictures, photos, and artworks. It's more than that.
You can begin adding images to the wall. Then, you can continue it by adding other things like postcards, antique dishes, game pieces, or jewelry.
To get your mind going with personal creativity, you can start exploring these wall gallery ideas.
1. Classic Black-White Photography Gallery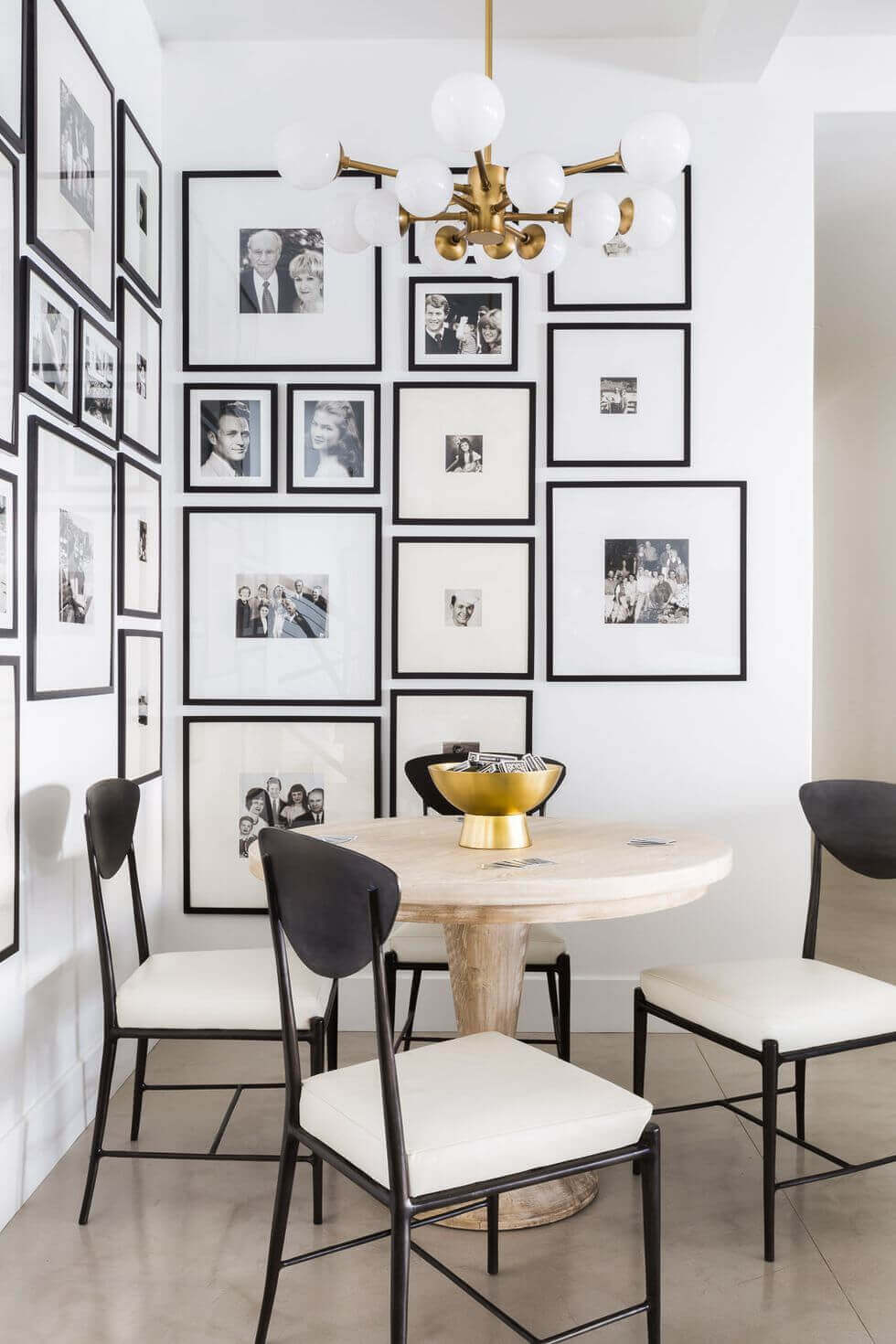 Let's start with complementing this stunning wall gallery. It's designed with classic black and white concept.
All the frames are filled with vintage black-and-white photography. It looks classy and timeless.
This classic wall gallery idea works well in modern interior. That kind of photographs is the ideal choice for this room since they are cohesive and perfect for grouping.
The choice of the frame design is also important for the gallery wall.
As you can see, all the frames used in this wall is the same but the sizes are varied. This classic wall gallery is dominating the whole scheme.
However, there's still a chance to shine for that hanging light fixture.
2. Neutral Abstract Gallery Wall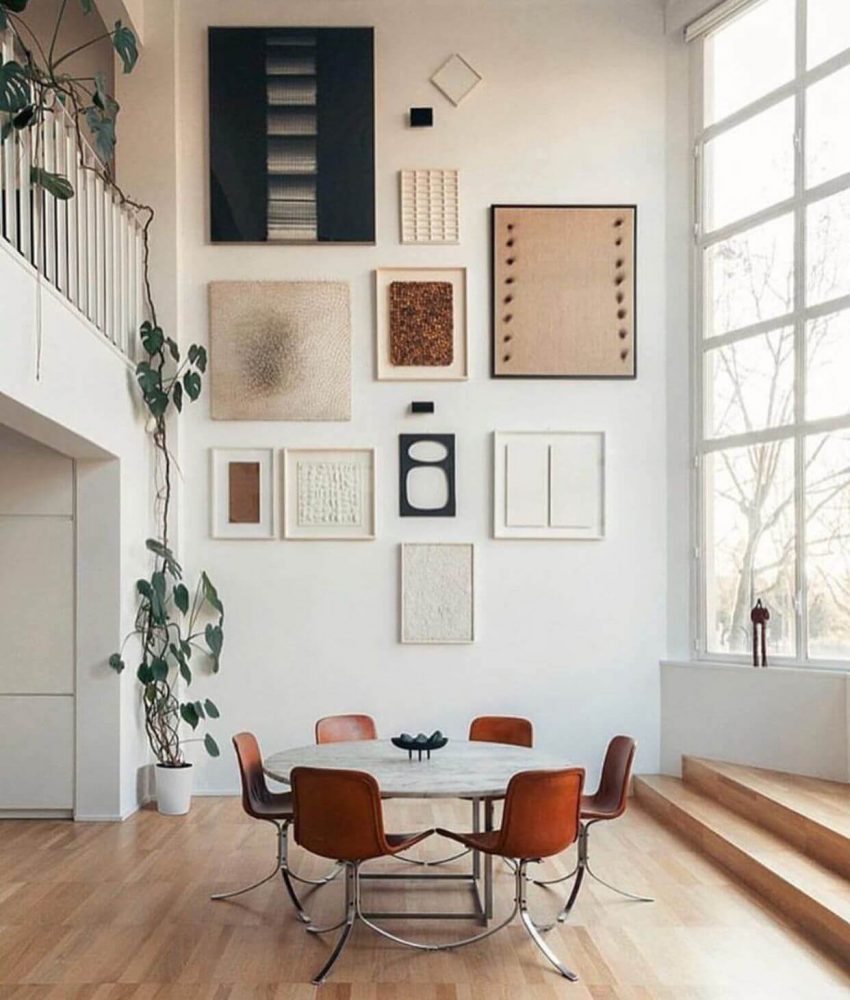 For those houses which have a high ceiling, they might have an awkward space. That space should be filled with wall gallery.
Take a look at this dining room. The high wall has a mixture of framed art, 3D wall art ideas, and canvas. That combination can be an unforgettable one.
The reason for choosing neutral colors on all the artworks is to make the wall gallery doesn't look busy with colors. Even though the wall is crowded, you can still feel the spacious and airy atmosphere.
3. Simple Wall Gallery Ideas IKEA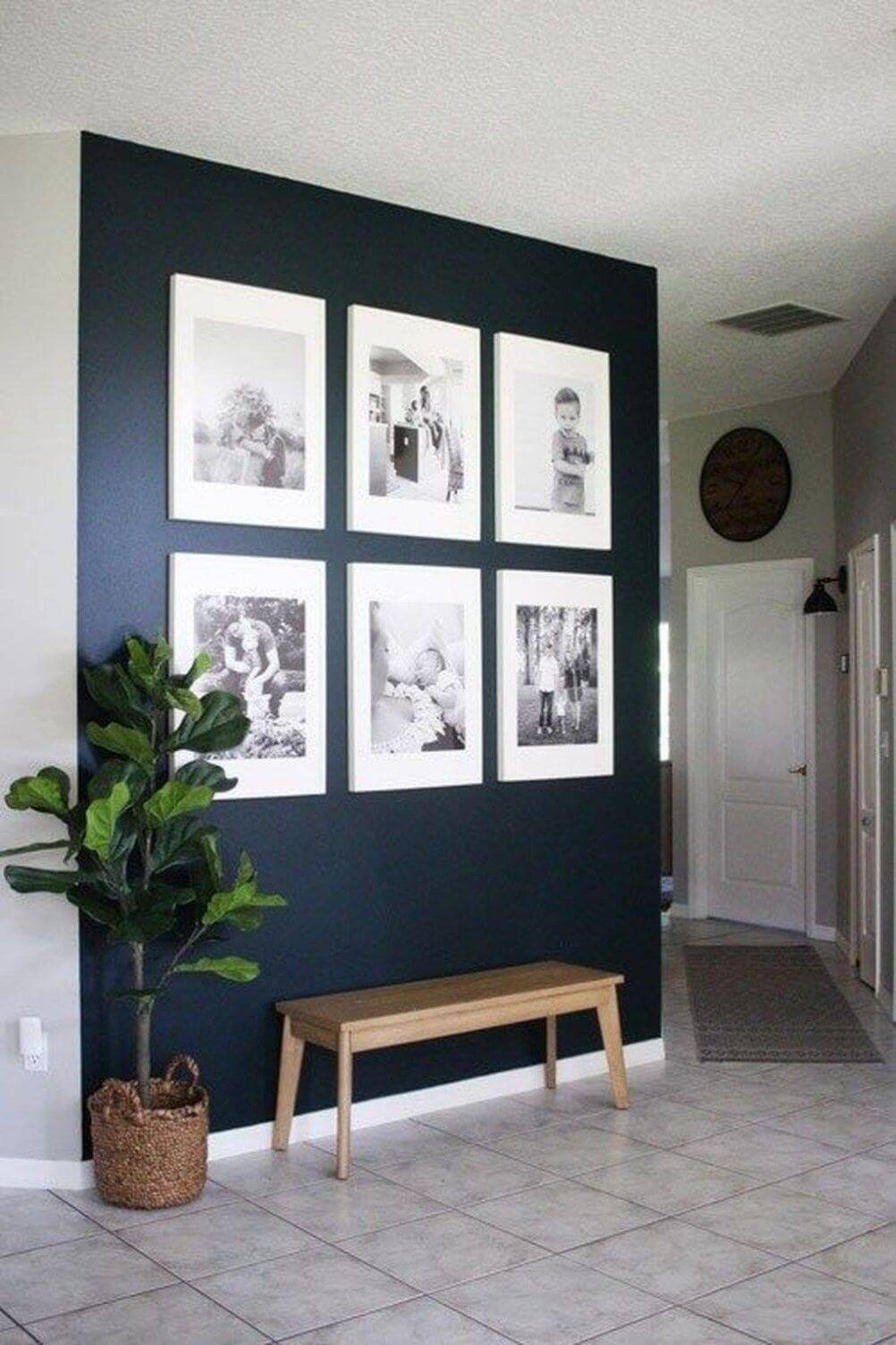 If you plan to have your wall gallery from a DIY project, this one will be a perfect idea. This simple wall gallery is easy to apply.
The framed photos pop a modern look to this room. The navy blue background plays an important part as a contrasting base for the gallery.
The symmetrical arrangement looks ordinary but when it contains some special photos of the family. It will be way more special.
Add a wooden bench below the gallery to complete this walkway space. That potted plant gives a tropical touch to space.
4. Wall Gallery Ideas with Clipboard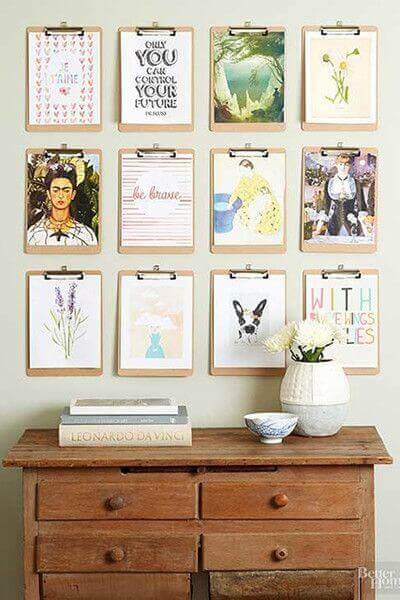 It's the inexpensive option of frames for a wall gallery. You don't need those pricy frames to make an attractive and interesting gallery on your wall. In this case, you can buy some cheap clipboard to be the frames of the drawings.
It's a fantastic idea to have on the gallery wall. With this frame idea, you can even chance your art on the fly.
If you're an artist who draws or paints as a hobby, this could be the perfect solution to showcase your works on the wall.
5. Corner Wall Gallery Ideas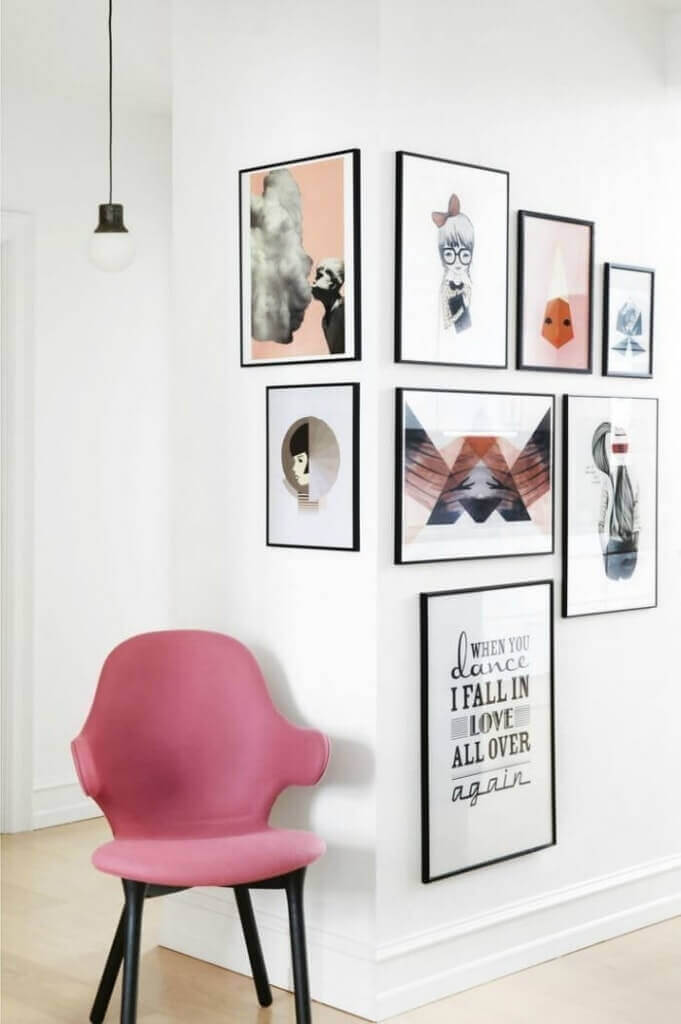 Check out this corner cluster. It's a fantastic option for a small gallery wall. It turns a small dead wall space into a feature moment.
This corner gallery wall makes the space that tends to be left behind, special again.
The idea of wrapping art around a corner is lovely. You don't need a lot of framed art in corner space; you just need to have a special charm on each of them.
The white wall acts like a blank canvas which complements the existence of the interesting pictures.
6. Wall Gallery for TV Camouflage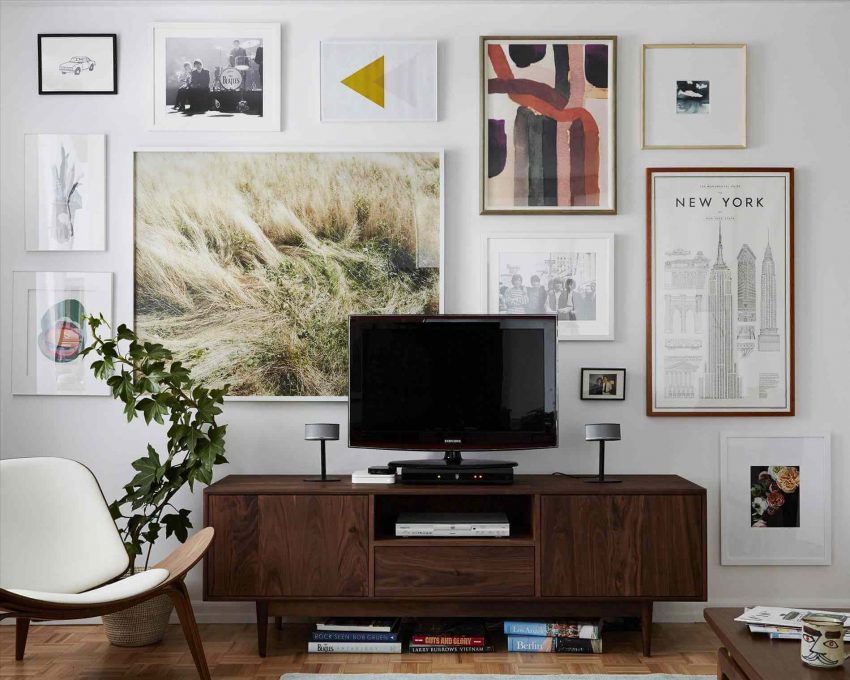 The wall gallery background here is designed to decorate the entertainment station of the living room.
Some people would feel that TV sets or entertainment station should be camouflaged. Wall gallery is an option you can go with.
The random arrangement of the art around the TV sets is a great way to make the blackness of the TB retreat a bit visually.
You have to include one artwork that has the same size as the TV on the wall gallery. Use it as the anchor artwork and add smaller pieces around it.
7. Gallery Wall Ideas with Shelves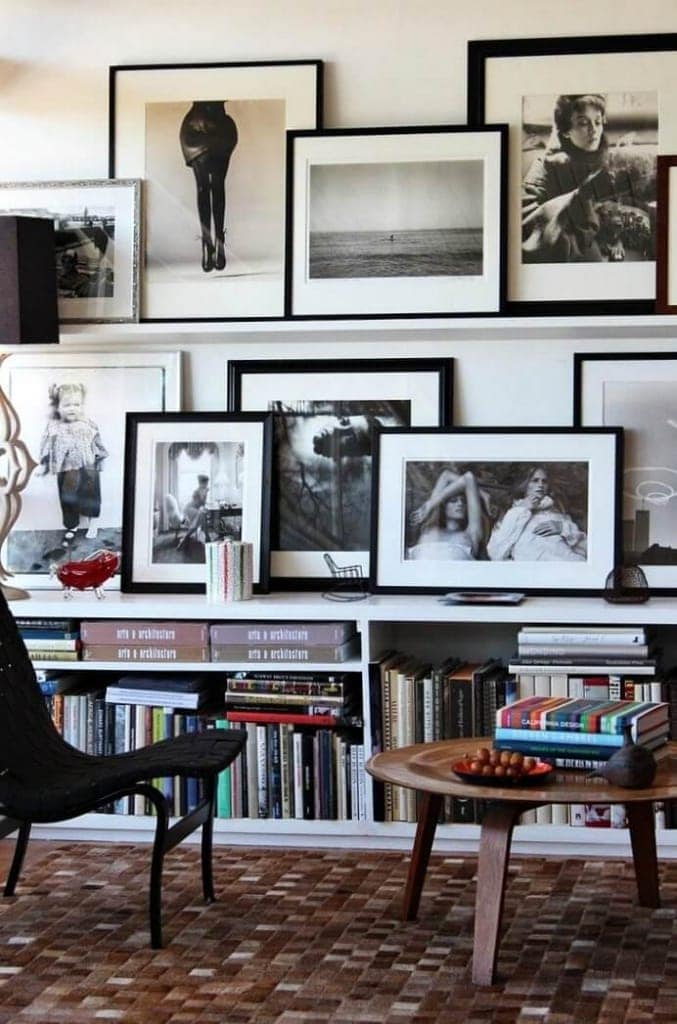 Having a gallery wall with shelves doesn't require hanging objects. You can just lean the art on the shelves.
However, this shelf is slightly different than other wall shelving ideas because it's designed for placing the pictures. It's also well-known as picture ledges.
Usually, one ledge is placed above a buffet or cabinet. You can go with multiple ledges on the wall by having one above other ledges.
It's a great way to keep the wall away from many hooks because this treatment requires minimal hooks.
Why prefer leaning rather than hanging:
Leaning creates a unique layered look to your gallery.
It can transform a small space of the wall.
It's so easy to change.
It doesn't require hooks to place.
8. Grid-style Wall Gallery for Home Office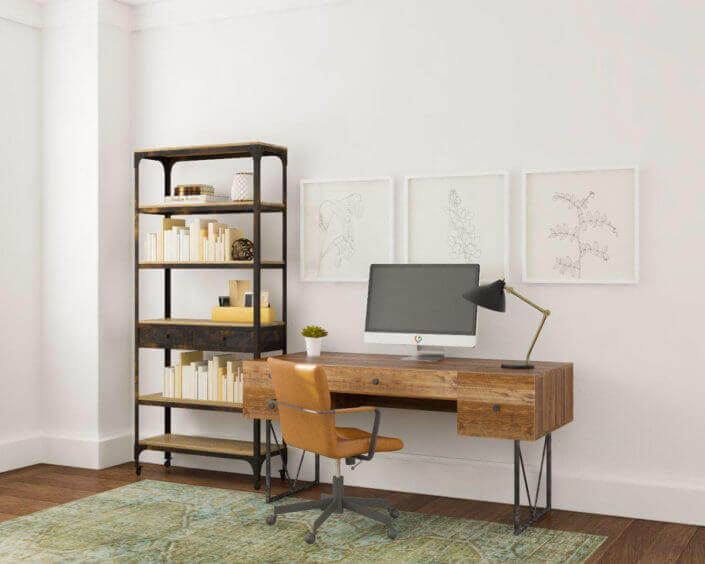 In an office, you might need the room to be soothing and calming which allows you to concentrate and focus well on your work.
That's why you need this grid-style wall gallery to decor the room. It only consists of three artworks in a row.
Highlight: Choosing this wall gallery style will guarantee you a clean-lined arrangement. Some rooms just don't need a lot of colors on the wall. This is a low-lift approach to have a wall gallery in your room.
9. Wall Gallery with Midas' Touch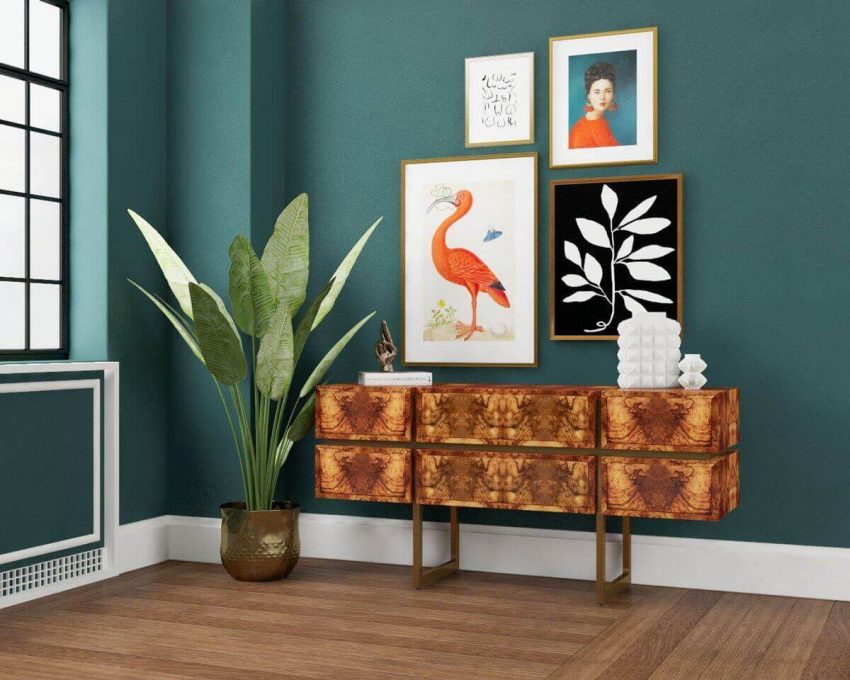 A Midas' touch in this walkway area is very obvious. The designer uses a gold frame for all the pictures to bring unity to the wall gallery.
The bold green wall makes a perfect backdrop for the gallery. The contrast offers a huge chance for framed pictures to shine the brightest.
Don't forget about the attractive cabinet below the gallery. It seems to be a part of the gallery wall since it's in a similar tone of gold. To complement the bold green wall, a potted plant is brought into the mix.
10. Eclectic Living Room with Traditional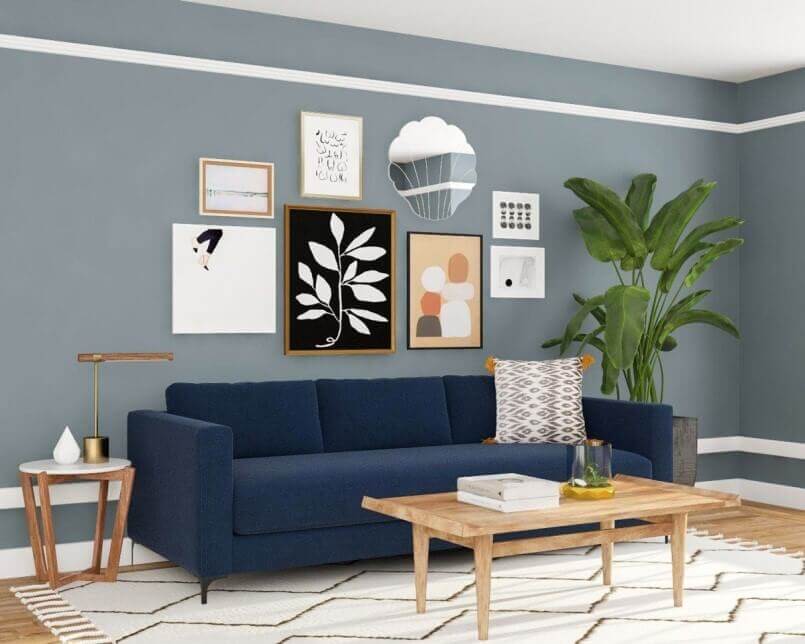 If you want to have a stylishly eclectic living room, you should include wall gallery as part of its interior design. Dealing with traditional gallery design, you should consider about the mixture of artworks.
As you see on the wall, various kinds of artworks are involved in all mediums. The mismatch concept of this wall gallery is only to improve the eclectic style of the living room. It will be a lot better if it has a wood accent wall ideas.
Quote: You should always start with a hanging game plan. Consider the overall formation shape on the result. After you plan it well, you can begin the nailing. Don't nail it until you nail it.
11. Heavily-Patterned Wallpaper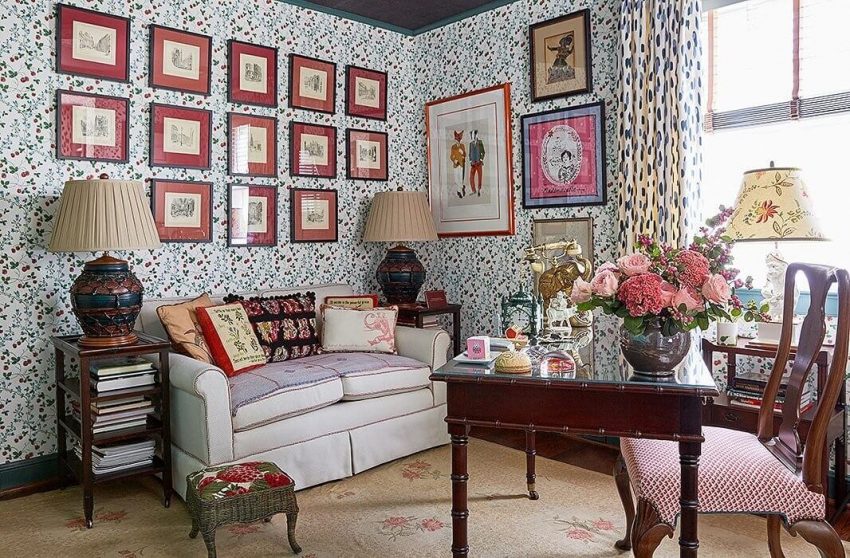 If you have an attractive pattern on the wallpaper, you probably need a wall gallery that's even more attractive. As you see, this living room has the entire wall heavily patterned. The wall gallery contains many pictures and artworks.
The artwork is coordinated in matching frames which make a graphic statement to the scene. It's a great idea you can with when dealing with that kind of wall.
12. Wall Gallery Ideas for Living Room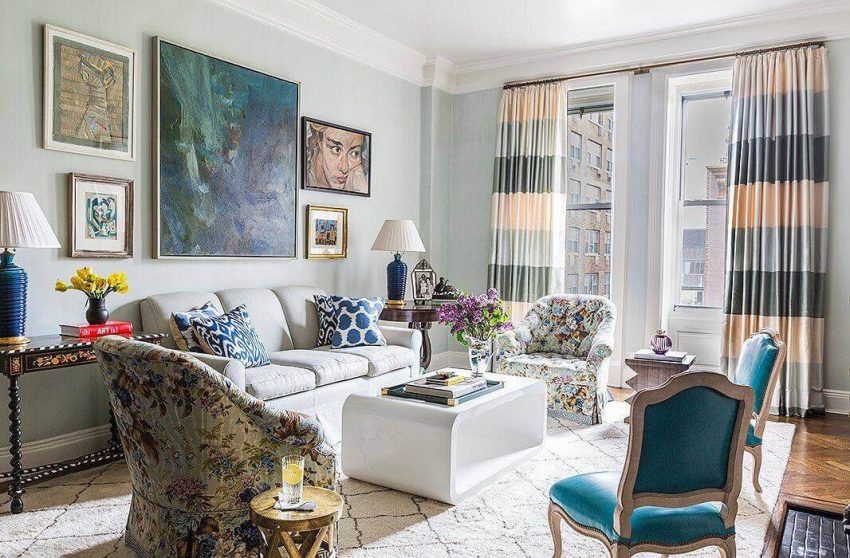 The oversized artwork becomes the main attraction of this living room's gallery wall. That bold abstract is a strong anchor for the room.
This living room is filled with blue hues that are so friendly with the atmosphere. The curtain seems to complement enough to maintain a good feeling.
What about the gallery wall? Besides the oversize one, the rest of the artworks are there to be some additional. For an antique and simple artistic look, you can recreate this living room in your own house.
13. Minimalist Portraits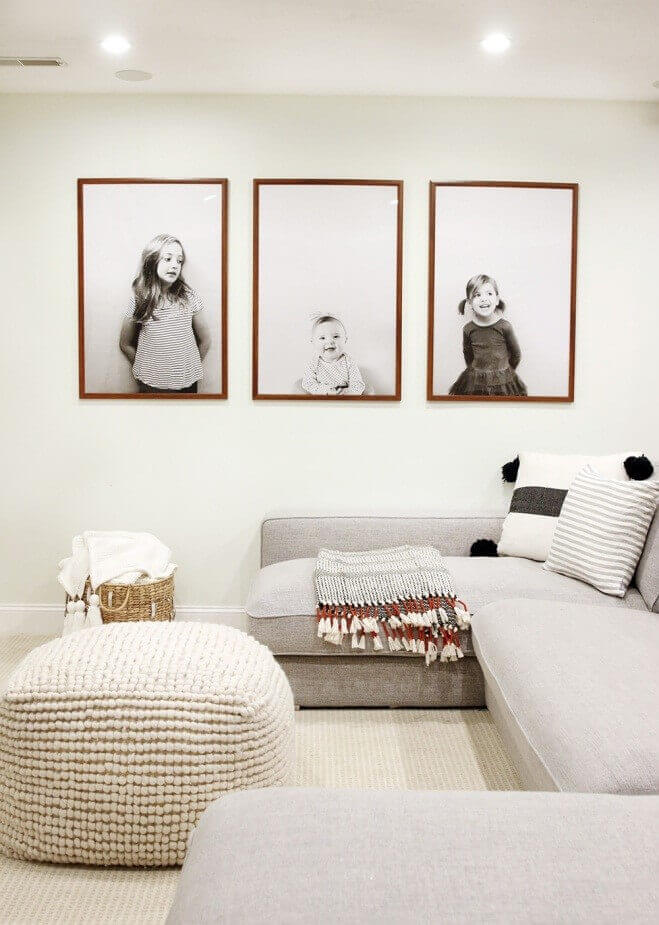 When there are more than two pieces with an artistic touch on the wall, it should be called a gallery wall. It's a minimalist style of wall gallery that can't go wrong at any wall space.
This living room wall has three pictures of the same size and shape but different photos. It could be a nice idea for accent wall decor.
The color of the photos is the same as the backdrop. It creates a stunning illusion to the wall. With perfect lighting, you can make the wall more special.
14. Gallery Wall Ideas Bedroom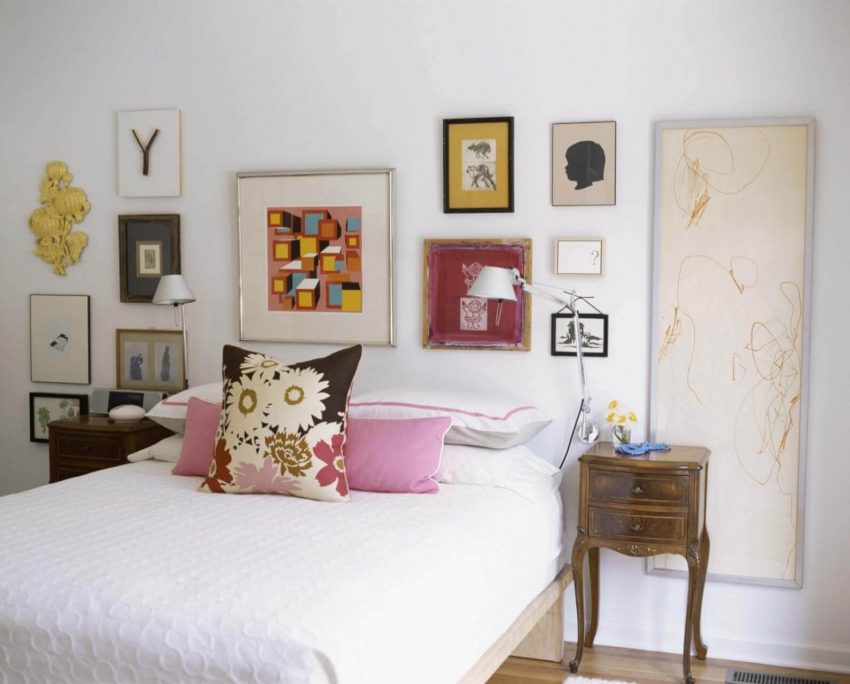 The best space to infuse gallery wall in the girls bedroom ideas is above the headboard. If your bed doesn't have a headboard, you can even use the gallery wall as your headboard.
The designer does an amazing job in combining eclectic pieces with various colors and sizes.
It adds numbers of visual interest to this traditional bedroom. It won't make the scheme looks plain anymore. Choose the artwork based on your taste.
15. Frames for Living Room Layouts
Instead of having all the same frames on every picture, you can apply them in various heights. It would amp up the artistic taste of the gallery wall. This living room's wall is another great example of a gallery wall.
The color scheme of the gallery wall starts on the couch and extend upwards on the wall. This technique can be applied on a wall with neutral colors.
You need to find the art pieces that have a lot of negative space. It allows the wall gallery to echo both the furnishings and wall color scheme.
16. Gallery Wall Ideas for Living Room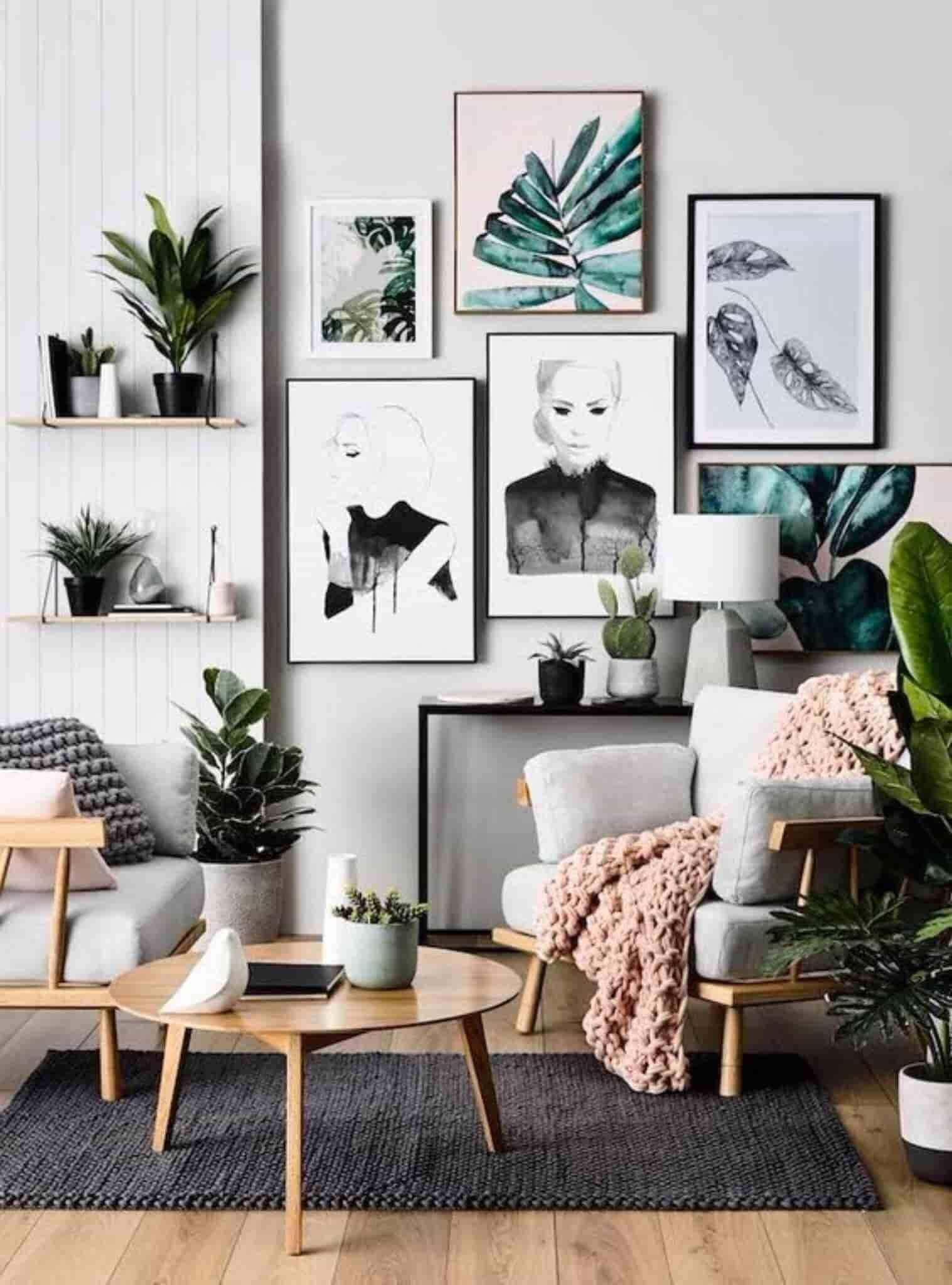 The combination of houseplants and gallery wall is not something you find in any house. This modern living room has a tropical style.
It features both real leaves and leaf-inspired art. This gallery wall is not only showcasing your art taste but also amplifying your love of houseplants.
Highlight: You need to create a contrasting base to showcase the plants stunningly. You can also add unrelated to the mix to maximize the beauty of the gallery wall.
17. Gallery Wall Ideas Behind Couch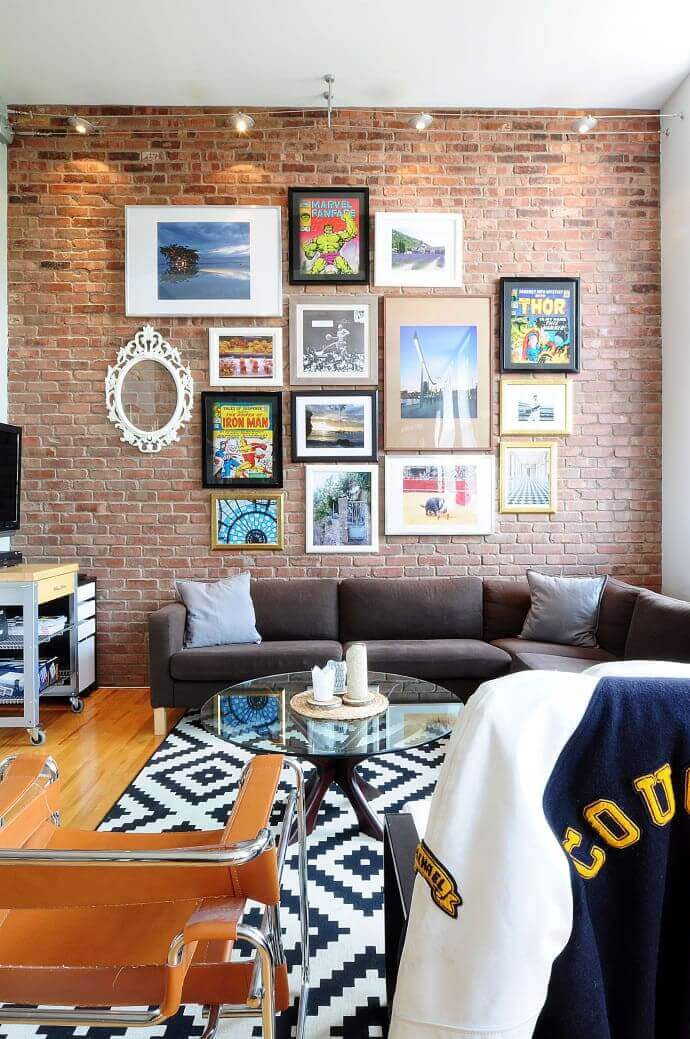 An exposed brick wall behind the couch can be a great space to infuse gallery wall. The brick wall offers ample design opportunity. You hang and form clean-lined black-and-white frames tightly on to the wall.
The choice of images has to be the number one consideration in designing a gallery wall.
You should choose some artworks that represent your personality. Above the gallery wall, you can install some spotlights to emphasize the arts with some dramatic effect.
18. Gallery Wall Ideas Hallway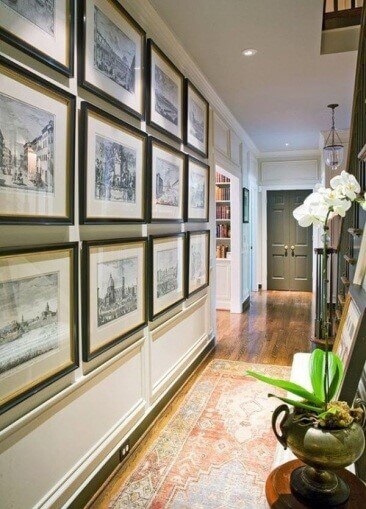 One of the most ideal spaces to have a gallery wall is in the hallway. It tends to be a dead space that's often left out.
Adding a bunch of classic pencil drawings with identical frames with the symmetrical arrangement. This gallery wall creates an impressive, even elegant, hallway.
It can be a perfect space to showcase your art collection that has a similar image style.
As you can see, this gallery wall is only filled with classic black and white artworks. There's no chance to splash more colors on it to keep the elegant vibe.
19. Gallery Wall Ideas Stairs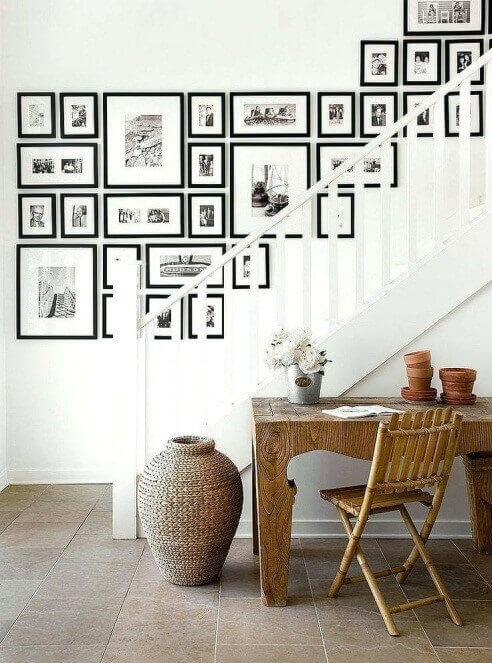 If you aim to make the stairs stylishly classic and clean, you can infuse such gallery wall onto the wall.
The monochromatic color scheme seems to be the perfect idea to deal with in this space. Some natural style elements below the stairs make a great addition for the character.
20. Gallery Wall Ideas Dining Room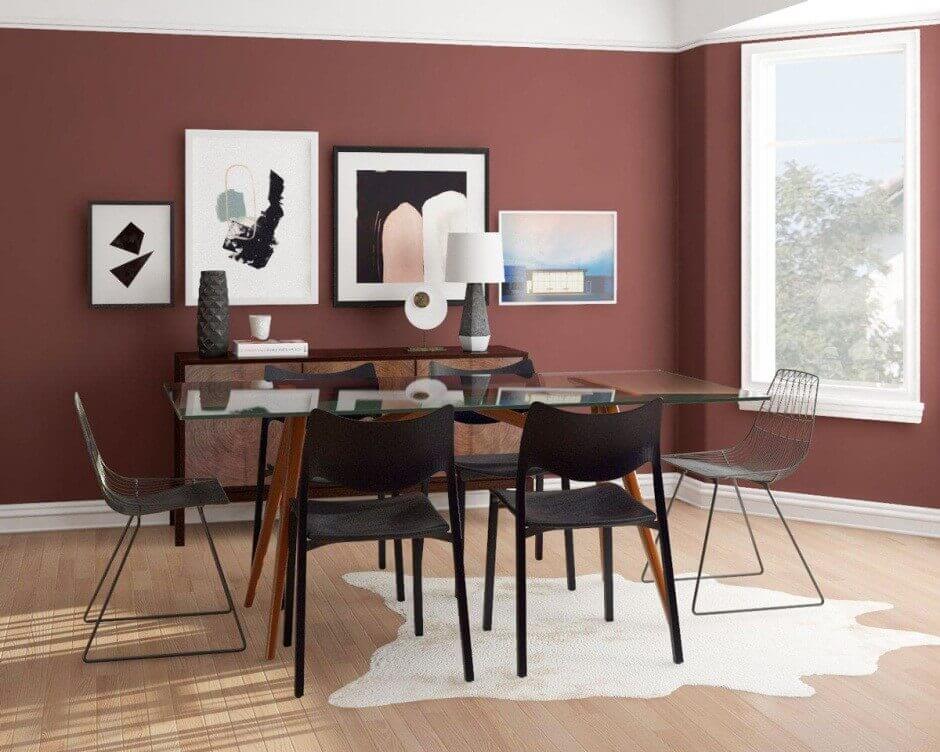 It's a gorgeous way to design a dining room. This room is not just about eating meals, it's also having a great atmosphere and ambiance while savoring the served food and beverages with loved ones.
You need to make the dining room special for you.
| Pros | Cons |
| --- | --- |
| That maroon wall makes a perfect background | The choice of artworks seems out of place |
| The abstract artworks look standout | The table lamp weirdly covers the art |
| The wooden cabinet blends smoothly to the wall | |
Conclusion
If you want to infuse your artistic taste into the interior design, wall gallery ideas are what you're looking for. All of the ideas you've explored above will inspire you to arrange your gallery in your house.