Beyond a room to sleep, teen girls define a bedroom as a place where they can express their feelings, thoughts, and hobbies. When parents were going find some teen girl bedroom ideas, you must remember to choose based on what kind of decoration that your girls love.
There are countless bedroom ideas to opt for, consider your teens' perspective to design their favorite bedroom. In fact, a bedroom reflects their personality. All ideas can be tied together to create a comfy bedroom.
Teen girls are conscious of up-to-date styles yet still love toys. They look for a room with mature design but still insist on bringing their beloved pieces of childhood. The bedroom should be specific to the age.
Start decorating a new grown-up bedroom will be great although it is possible to do a makeover for the existing toddler's bedroom.
Browse these following girls bedroom ideas to create a great energy and enthusiastic bedroom.
From a delicate, pretty pink, multicolored, spacious to a tepee bedroom. We have it all here.
Although our little girl bedroom ideas here vary a lot, they are all share one thing in common: fun. After all, it is the point of decorating your girl's bedroom in the first place. Alright, with no further ado, here are the ideas.
1. Minimalist Bedroom Ideas for Small Rooms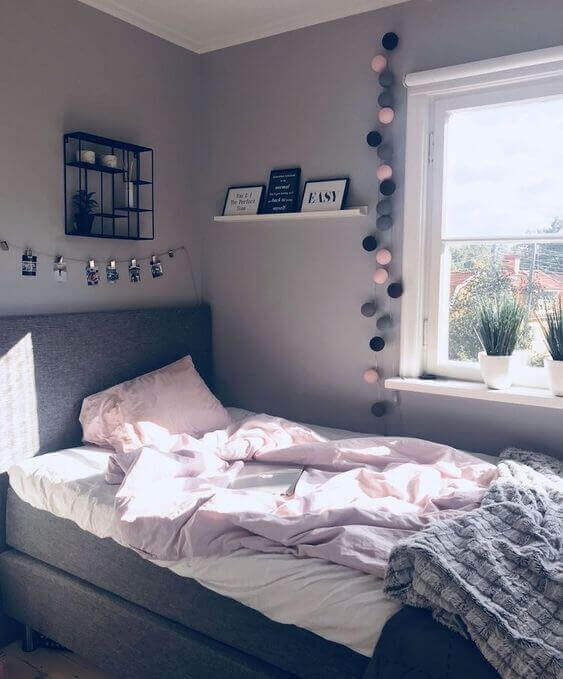 A minimalist design offers a serene personal space. Girls need multi-purpose bedroom rather than fully-furnish. Therefore, decorating small bedroom ideas will match this design.
Minimalist bedroom is the best choice to give a free space for girls to spread out with friends.
Without having too much furniture, the bedroom still has its main functions and storage organizations. A single bed with pillows and blanket is comfy enough to sleep.
Wall-mounted shelves will keep the collectibles tidy. Framed quotes on the wall shelf evoke youthful spirit. Flowerpots, window treatment, and wall hanging pom-poms bring the gray bedroom to life.
2. Kid Bedroom Ideas with Decorative Lighting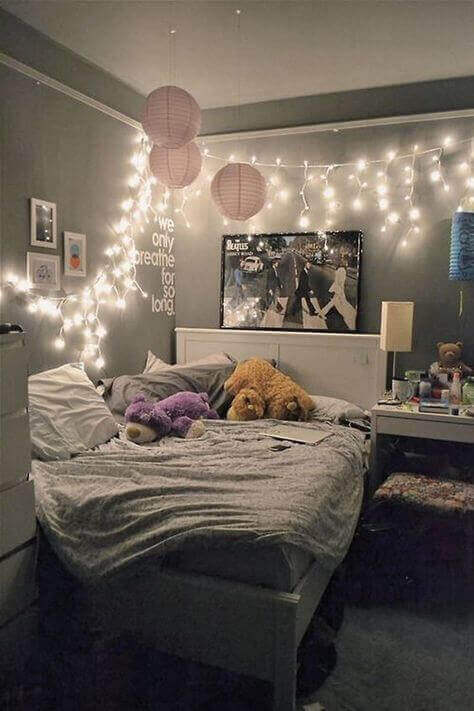 Lace and flower motifs are the standard styles of lighting that suit the girls' bedroom. Thinking out of the box, various fixtures styles, and types are available for the girls' taste. To create a romantic ambience in the bedroom, choose decorative string lights.
Choose clear and small lights to be installed in the girls' bedroom. The fairy string lights look prettier when combined with pink round-shaped pendant lamps.
Those give playful and magical effects at night. Drape the string lights on the wall and hang them above the bed.
3. Clean Design and Simple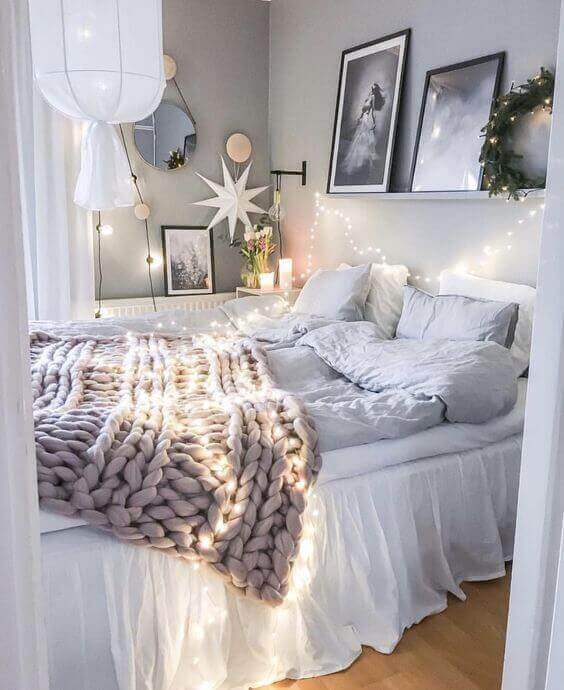 Clean design is suitable for girls who need a restful room. This is a stress-free design that help them to sleep easier. White linens with tufted bedspread and knitted quilt provide a great night's sleep.
Bold accents such as photo frames, flowerpots, and round hanging mirror give contrast to the light gray wall.
The pendant lamp with sheer fabric and white bedding looks harmonious. However, clean design often raises controversy. Just make your own decision.
Pros:
The room looks visually bigger.

White gives purity and peace to our mind.
Cons:
Clean design looks monotonous.

White surface is easier to stains.
4. Teenage Girl Bedroom Ideas Grey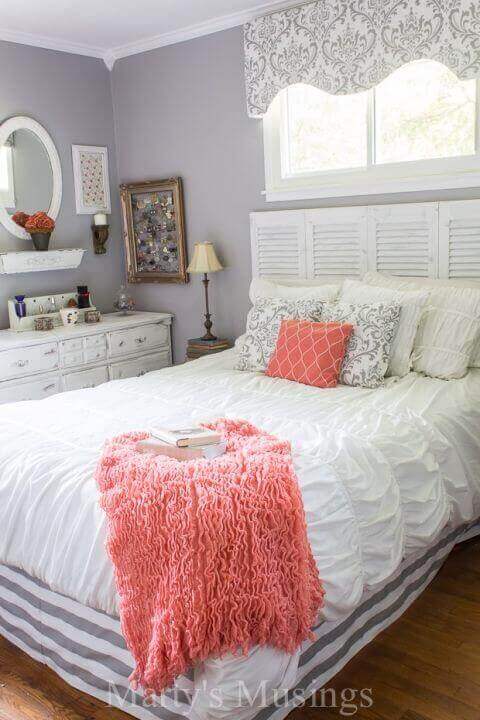 Teen girls have their own perspective view about bedroom design and its furnishings. Transforming the girls' bedroom with a vintage furniture seems adorable.
The ruffled bedding is paired with a gray striped bedspread. A pink pillow and sheet in bold shades contrast to all-white furniture.
Clean window above the bed matches the custom-made headboard. The antique table lamp and frame encourage vintage vibe in teen's bedroom.
The white dresser keeps the stuff neat, so you can put an open shelf to showcase the obsolete collectibles.
5. Unique Design and Simple for Small Rooms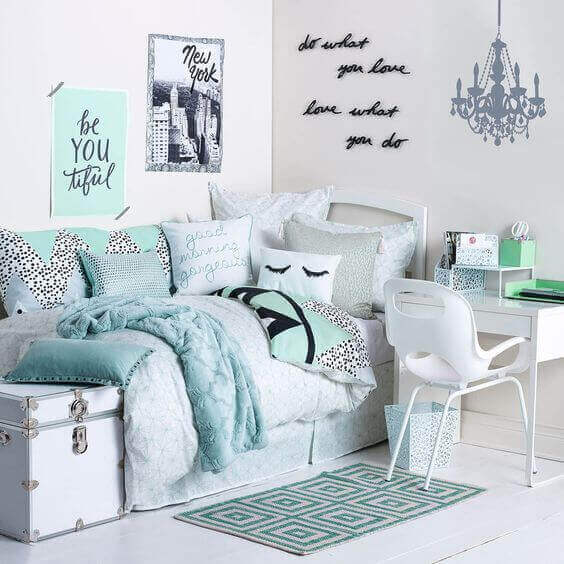 Blue color doesn't always belong to boys bedroom ideas. This cool hue may also suits with the girls' color room.
A soft blue blanket and pillows look more girly with dotted pattern. A square shaped area rug, a dustbin, and a bookshelf on the desk offer a harmonic visual appeal.
Girls have their own unique styles by adding a treasure box as storage organization. They also know how to boost their spirit through the motivational posters.
Monogrammed wall becomes a focal space with uplifting message. A feminine touch comes from the hanging chandelier.
6. DIY Makeover Cute Bedroom Ideas

7. Cute Girl Bedroom Ideas Teenage in Pastels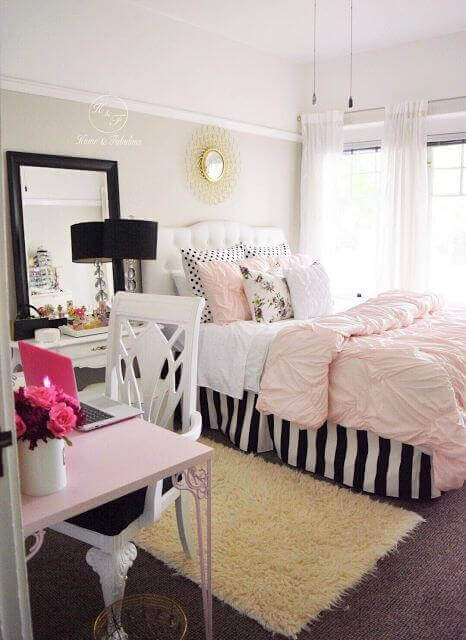 Cute Girl Bedroom Ideas Teenage in Pastels
Pastel color scheme becomes a popular hue in a girl bedroom. It can be perfectly combined with bold colors and vibrant accent details. Including playful pattern mixtures that is also possible.
A solid pastel color that paired with dotted, flowery, and striped patterns will create an eye-catching look.
Decorative pillows with dotted and flowery patterns nicely fit in the soft pink quilt.
Black and white bedspread, dresser, table lamp, and chair create a cohesive look. Then, you can feel a vibrant vibe from hot pink laptop and flowers on the desk.
8. Cool Design Grey and Simple
A touch of blue in girls' bedroom creates a cool atmosphere. When blue meets gray, there will be an adorable combination of color scheme room.
Covering the entire room in blue paint and decorating with blue furniture never goes wrong. Some different patterns can be included to avoid monotonous.
The wall is fully painted in soft blue and the furnishings are all-white. Those offer a clear view when you start entering the bedroom.
Monochromatic and striped patterns are perfect for the decorative pillows. The gold lamp on the bedside table looks so catchy.
9. Elegant Teenage Girl Bedroom Ideas Simple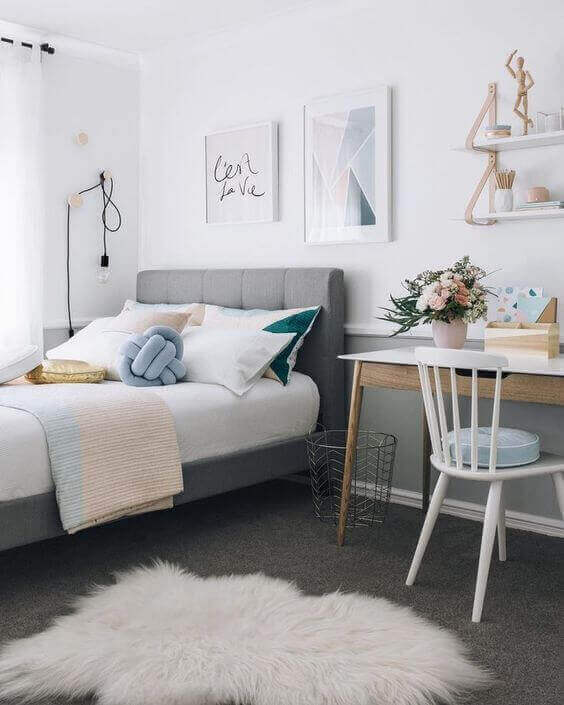 Teenagers appreciate simple but elegant concept. Teenage girl bedroom design should be different from kids bedroom ideas. Here are some consideration on how to design teen bedroom:
Plan for a versatile room.

Go for white scheme.

Maximize the organizers.

Divert to a feature wall.
Create your own elegant bedroom by sticking with a palette of two colors like white and gray. Gray bedding and flooring provide bold shades which contrast to the light shade of white wall.
Wooden desk with flowerpot gives an enjoyable study time. The wall shelf is above the desk to keep the stationery.
10. Playful Cute Kid Bedroom Ideas Toddler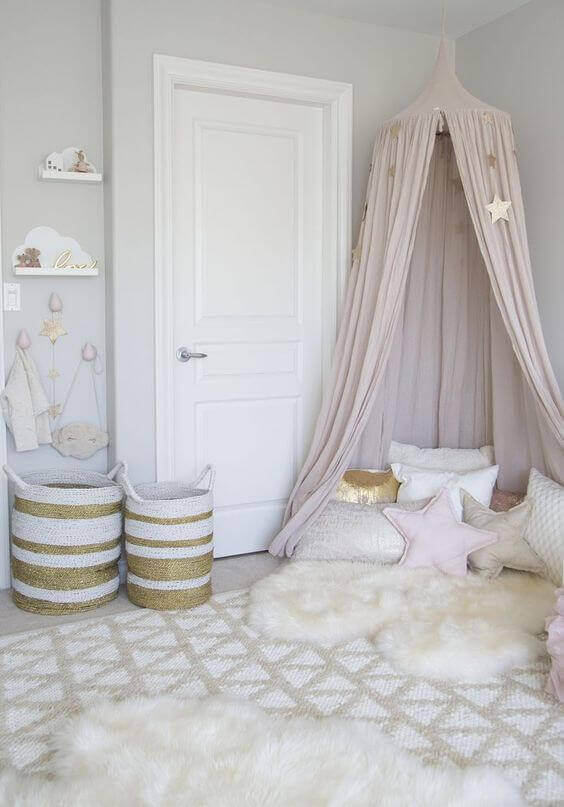 11. Teenage Room Ideas Grey Simple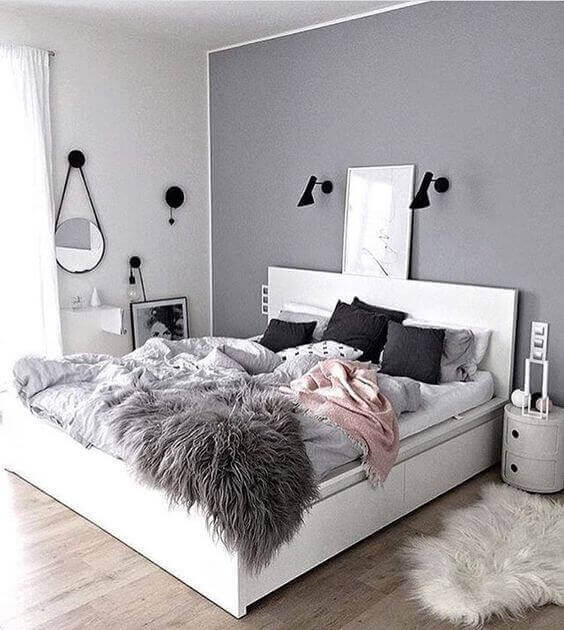 Painting the wall is very important to create a new fresh look to the entire bedroom. Essential things to know before you start painting are:
Try some different colors.

Observe the paint color.

Empty out the room.

Beware of the paint finishes.

Remember to brush before rolling.
Gray color dominates the painting and furnishings in this modern bedroom. White bed with unique custom-built headboard has light gray pillows and blanket.
Try to paint one side of the wall into bold colors and the other three walls with light shades. Avoid painting the entire wall into a dark color.
12. Teenage Kid Bedroom Ideas with Storage Solutions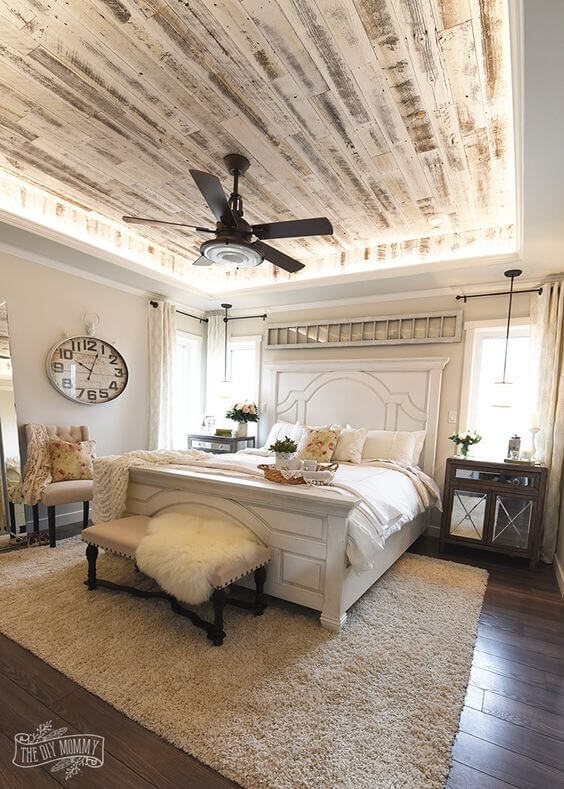 Every room needs organizers, including the girls' bedroom. Your teens have plenty of stuff to be kept neatly so storage organization can be a major point in a bedroom.
Let them create their own organizers based on their interest. Repurposing the existing bookshelves will save your budget instead of purchasing new organizers.
Flank both sides of the bed with two bookshelves. The bookshelves and the upholstered headboard will function as built-in shelves.
The shelves showcase your collectibles, knickknacks, and other small stuff. It is also possible to put your photo frames on the headboard.
13. Baby Girl Bedroom Ideas Wallpaper with Fancy Accents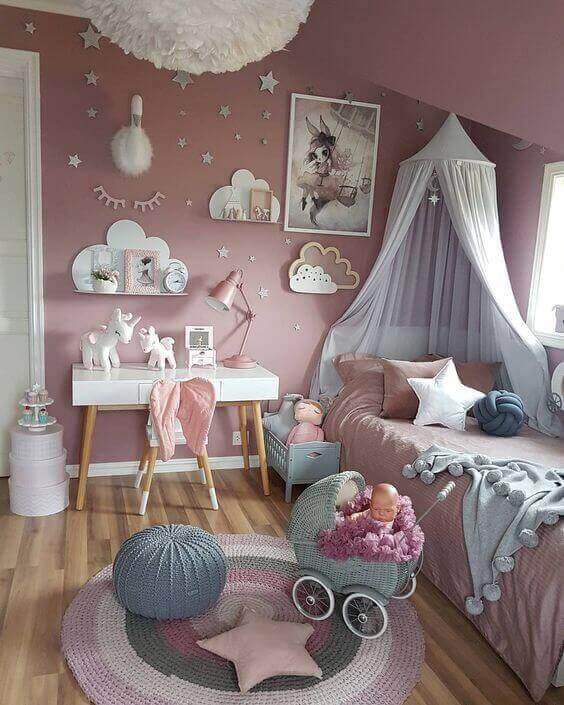 14. Big Girl Bedroom Ideas Grey with Bohemian Style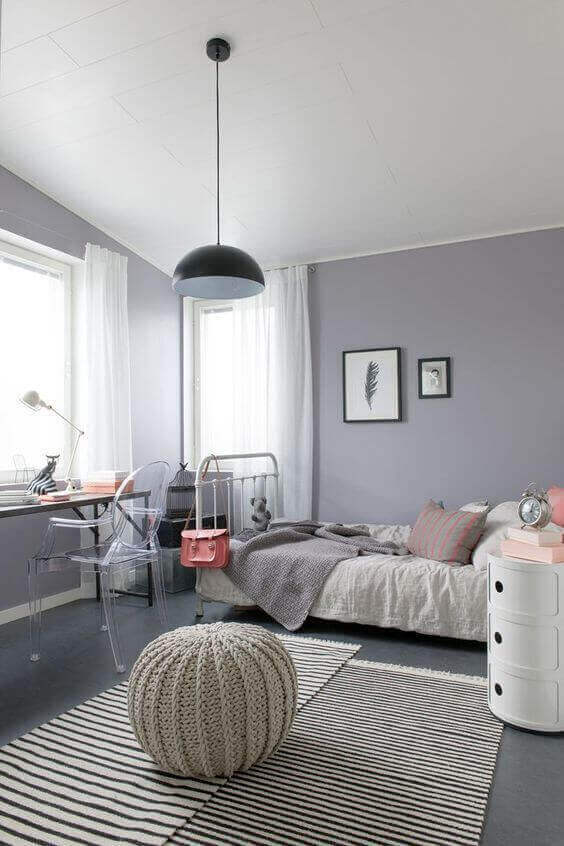 Girls look for a bedroom that is full of life, unusual, and interesting stuff. The Bohemian style perfectly expresses what they want. Importantly, the bedroom design represents their personality.
Quote: "The most important thing to remember is that teen girls bedroom ideas should be an expression of who they are."
When it comes to Bohemian, having no rules and feeling free to mix are common. Gray as the base room color is combined with an iron bed and metallic alarm clock.
Knitted ottoman on the striped mats gives a unique look. Brass desk with transparent chair evokes a strong Boho vibe.
15. Toddler Girl Bedroom Ideas for Small Rooms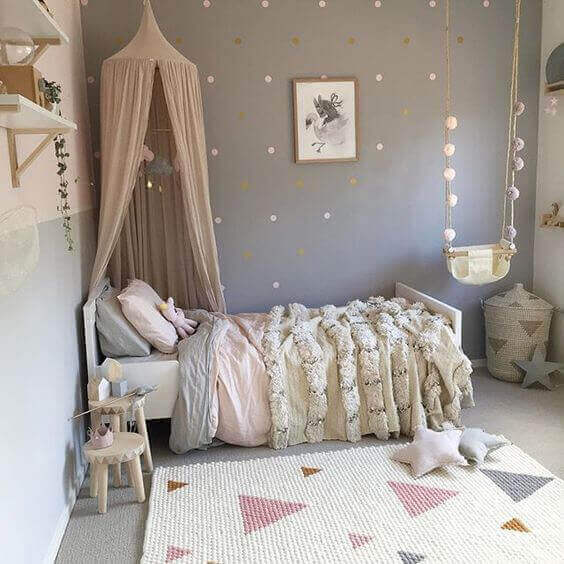 16. Boy and Girl Bedroom Ideas Teenage with Built-In Cabinets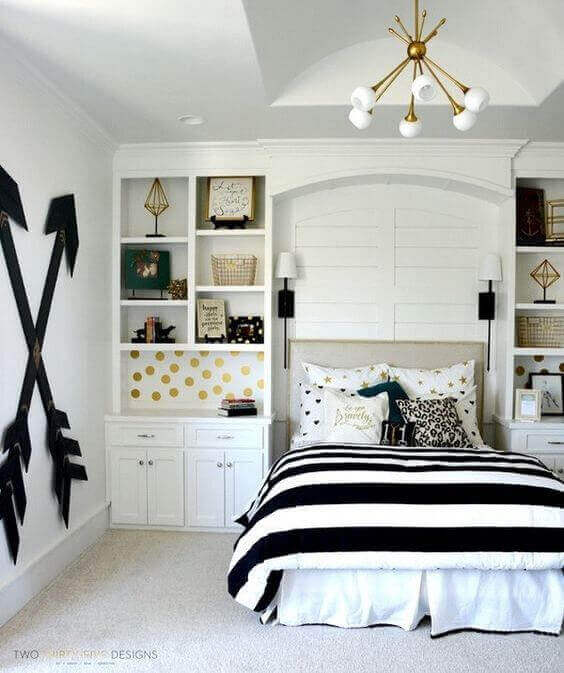 There are some reasons why built-in cabinets should be included in girls' bedroom, such as:
Built-in cabinets provide plenty of storage.

Built-ins can be integrated into lighting easily.

They perfectly blend into the room decor.
This cabinet with open shelves offers space to showcase books, collectibles, and photo frames. It has an attractive look. Its design is inspired by pottery barn which fits the girls' bedroom design.
Barn door backsplash behind the bed matches the wooden arrows on the wall. Gold gives a vibrant color to all-white room decor. A gold pendant lamp, frames, and trinkets enhance a cohesive look.
17. Boy and Girl Bedroom Ideas Simple with Their Names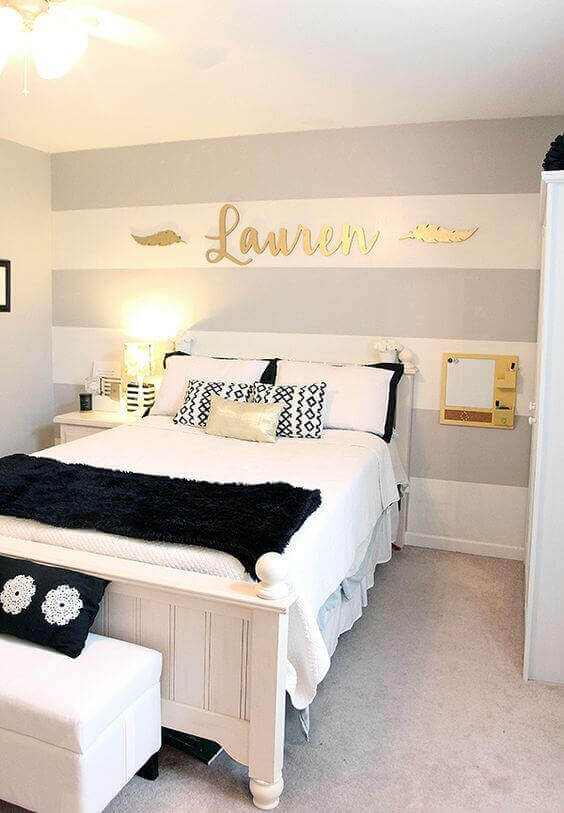 Cheer up your girls with a personalized name by decorating their bedroom with monogram wall decals.
Let them know that the bedroom is a space to call their own. This wall art will not damage the wall, so it is easy to remove and displace as needed.
The great place to put the name is on the wall behind the bed. Gold monogrammed wall spelled L-A-U-R-E-N looks glam and elegant.
The gold color fits well to gray and white striped wall. That bold detail contrasts to black and white linens on the bed.
18. Cute Girls Bedroom Ideas Toddler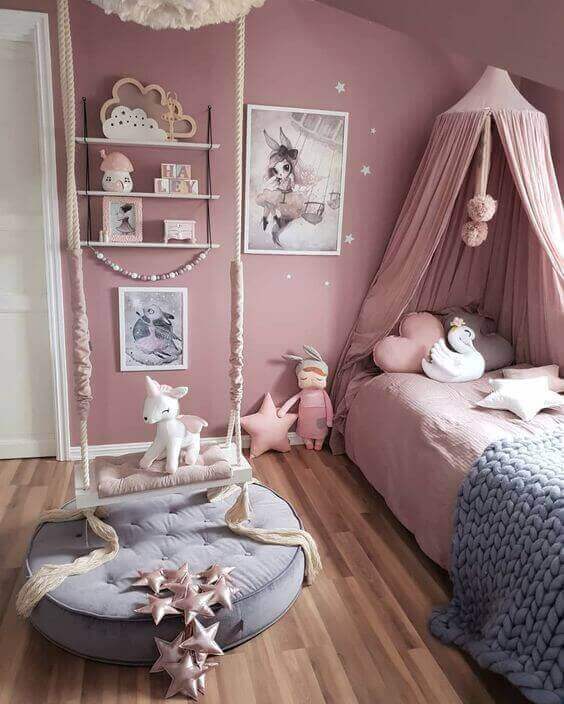 19. Spacious Cute Girl Bedroom Ideas Wallpaper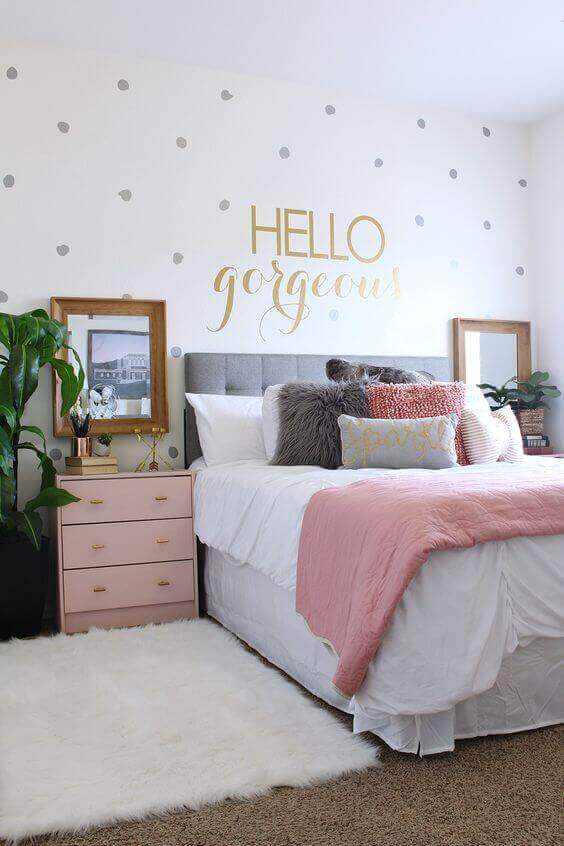 Planning to decorate master bedroom ideas for older girls is by choosing pretty feminine furnishing.
The spacious bedroom will have extra free space that can function as a hangout spot, instead of playtime area with toys like little girls bedroom.
Most teen girls are getting bored of the solid color, right? That's why they create some hand arts on the wall. Gray dotted hand painting is paired with a gold monogram.
The bold patterns fit the soft pink bedside tables between both sides of the bed. Decorative pillows and pink quilt create a cohesive look on the white bedding.
20. Pretty in Concept for Teenage Girls Bedroom Ideas Pink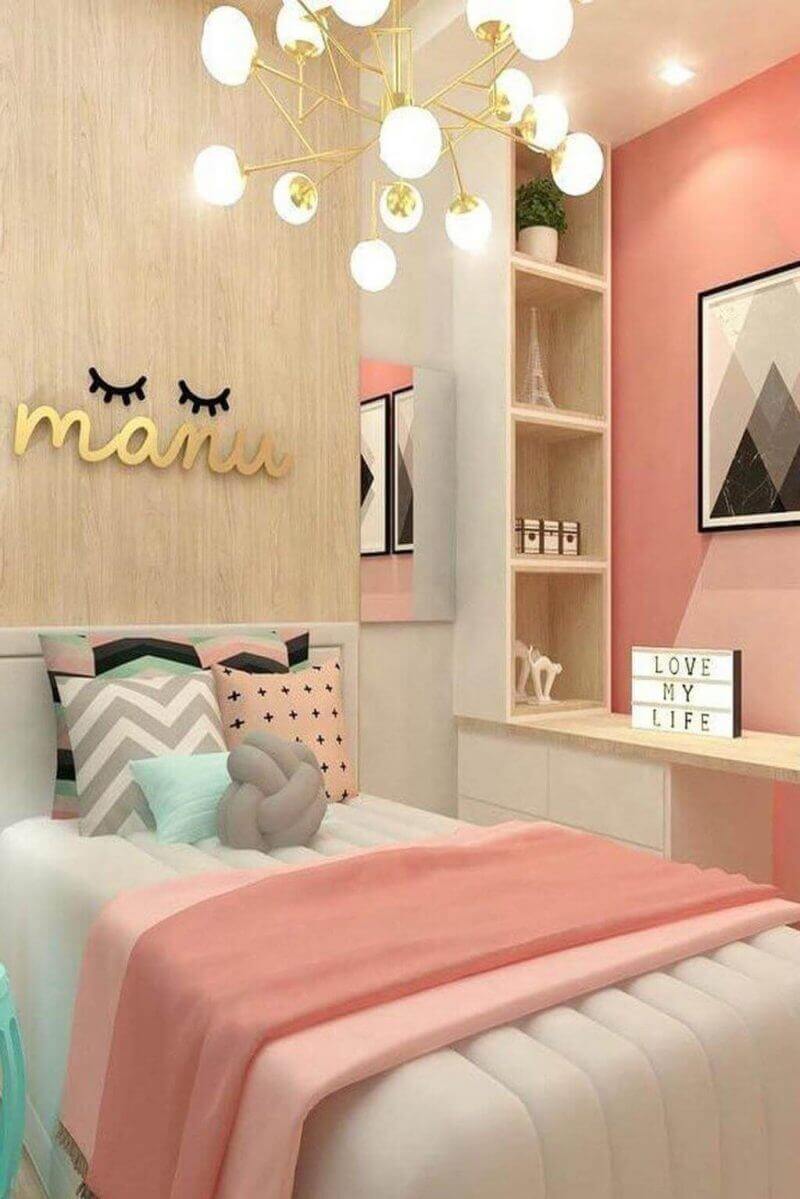 Pastel pink color combination offers a wide selection of shades that match teenage the girls' bedroom.
A vintage feel from gold hanging lamps pairs well with chic patterned pillows and framed geometric patterns on the wall.
White cabinet with shelves is in tune with the white bedding to give light shade in the bedroom. Two shades of pink blankets look as pretty as the pink wall against the bed.
The white wall behind the bed is covered with soft beige wooden sheet. It is also customized by gold monogram.
21. Little Girl Bedroom Ideas for Small Rooms with Vintage Loft Bed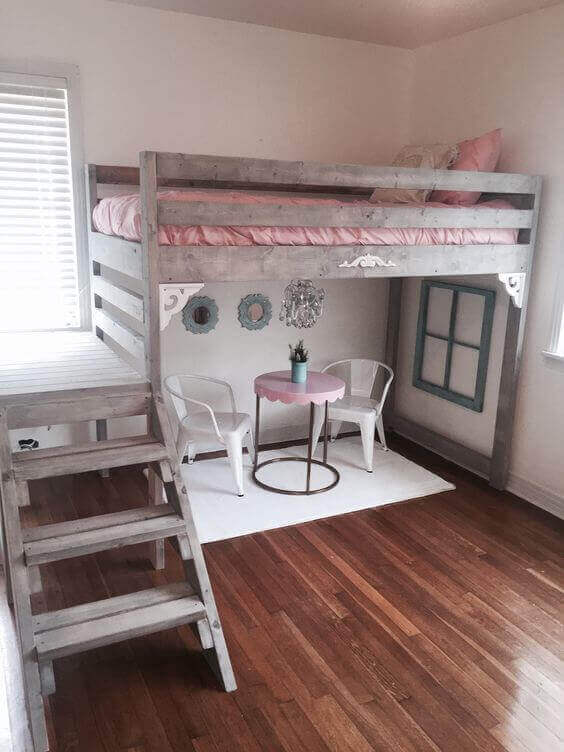 22. Beautiful Decorating Concepts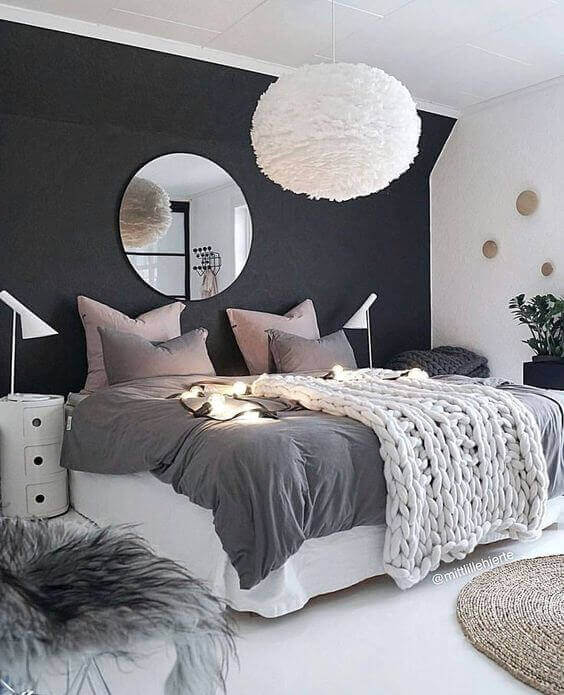 Black, white, and gray are age-neutral color schemes to be applied in girls bedroom design. They create a beautiful decorating concept when the shades are combined well.
White as the base room color doesn't dominate the whole room. One side of the walls are painted in black to give a bold shade.
The elegant lighting design has a Scandinavian feel. Eos hanging lamp is made from natural goose feathers. It gives a beautiful soft light and natural shade.
Its function is not only for lighting but also decorating the ceiling with an attractive look.
23. A DIY Workstation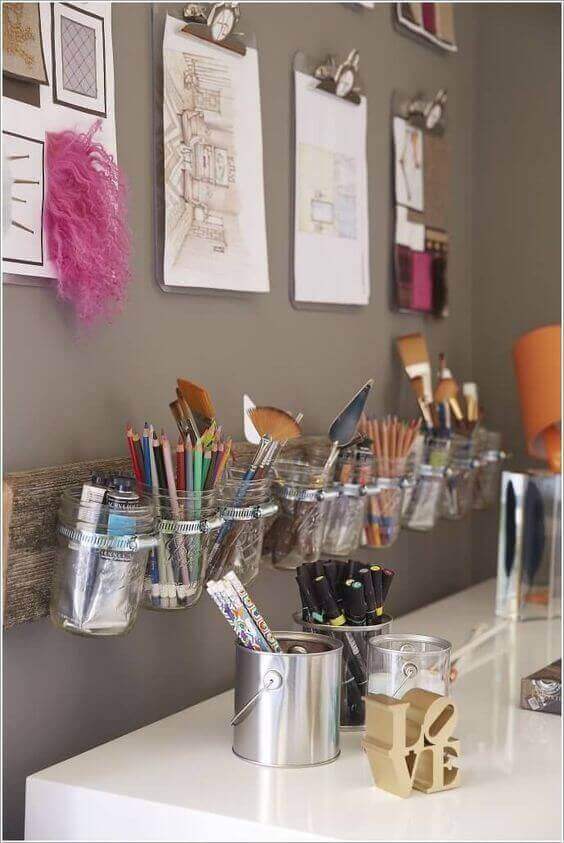 A workstation is a prominent space in the girls' bedroom. Customize a study area which is pretty and functional. Add some clipboards to display the school assignment and art worksheets.
Keep the desk clean to ease your girls do the work. Add DIY organizers to store all school supplies. Have a look at the instructions below.
Materials:
Glass mason jars

Wood plank

Clamps

Screws
Steps:
Attach some glass jars on a wood plank.

Use clamps and screws to fasten the jars.

Mount the jar organizer on the wall.

Put pencil colors, markers, paint brushes, and others in the jars.
24. Whimsy Furniture for Cute Girl Bedroom Ideas Pink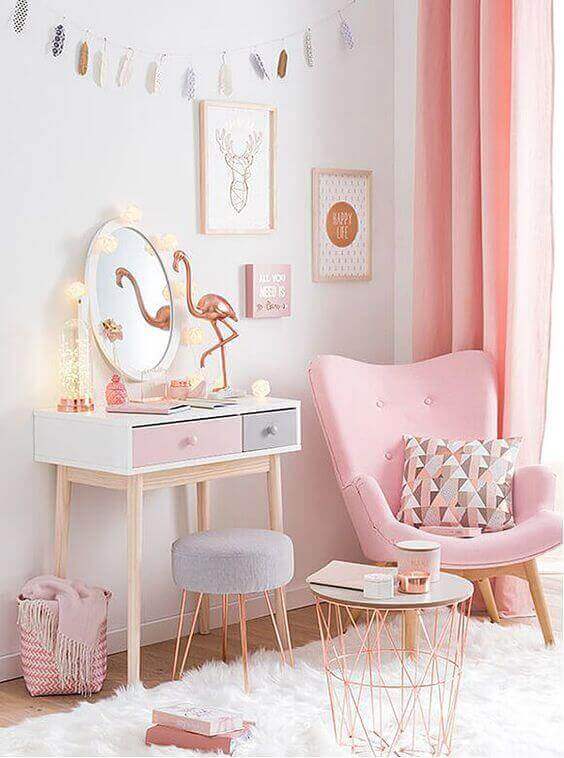 25. Teenage Girl Bedroom Ideas Pink and Grey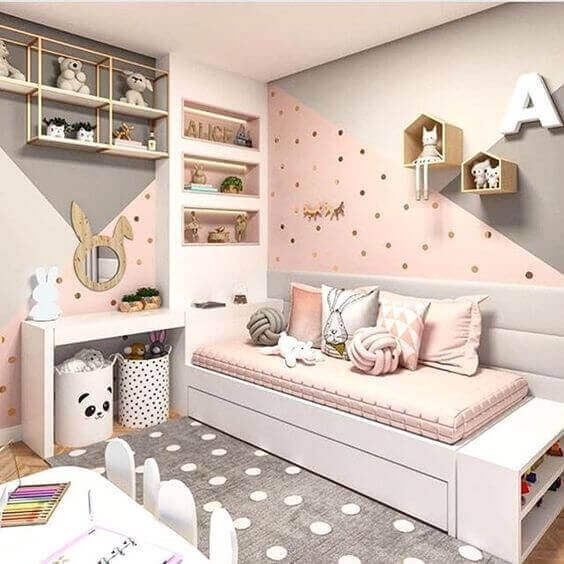 Cute and funny wall decor will fit kids' bedroom ideas, especially little girls. Wooden furniture, animal-themed concept, and the soft pink color scheme will create a perfect combination to give a whimsy touch.
The entire wall is painted in soft pink. This pink wall accords with all white furnishings. Gold polka dots create a cute pattern to the wall match the gray dotted rug on the floor.
Wooden shelves are mounted on the wall to showcase stuffed animals and other knickknacks. Animal printed baskets function as storage to keep toys. Put them under the desk to keep the room tidy.
26. Closet Organizers Ideas for Small Space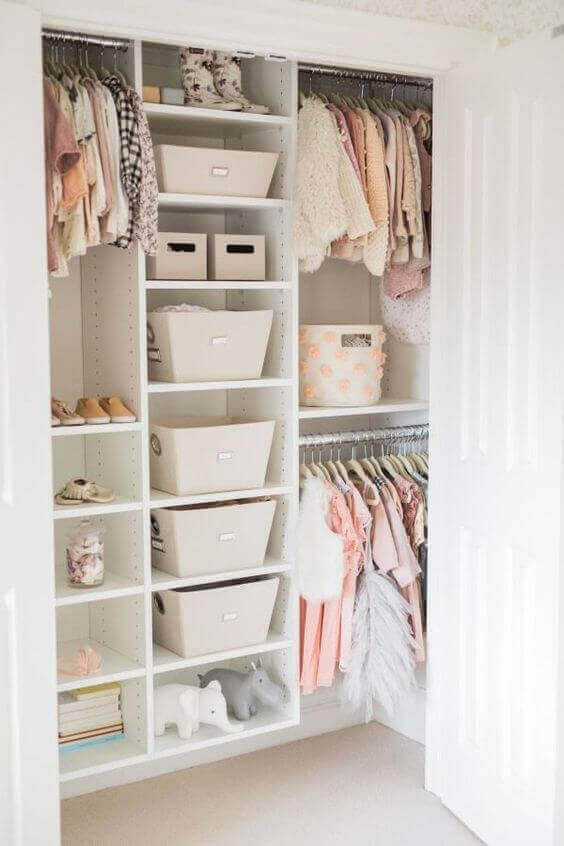 Little girls have lots of stuff and clothes to be organized. Since they cannot tidy up the bedroom yet, providing a closet organizer will avoid the mess.
Choose a built-in closet with plenty of shelves to thrift space. Use boxes and baskets to keep small stuff without being cluttered.
Divide the shelves where to hang the clothes and keep the shoes or other accessories. Use the lower shelves to store toys and books so your kids can reach them easily.
Keep the shoes or accessories in the middle shelves and hang the clothes on the top shelves.
27. Wall Decor Kid Bedroom Ideas Teenage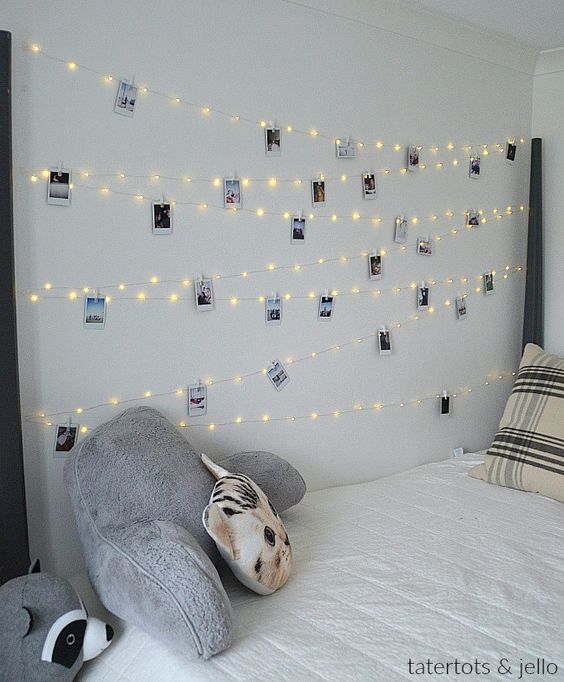 28. Combine Pink with Other Colors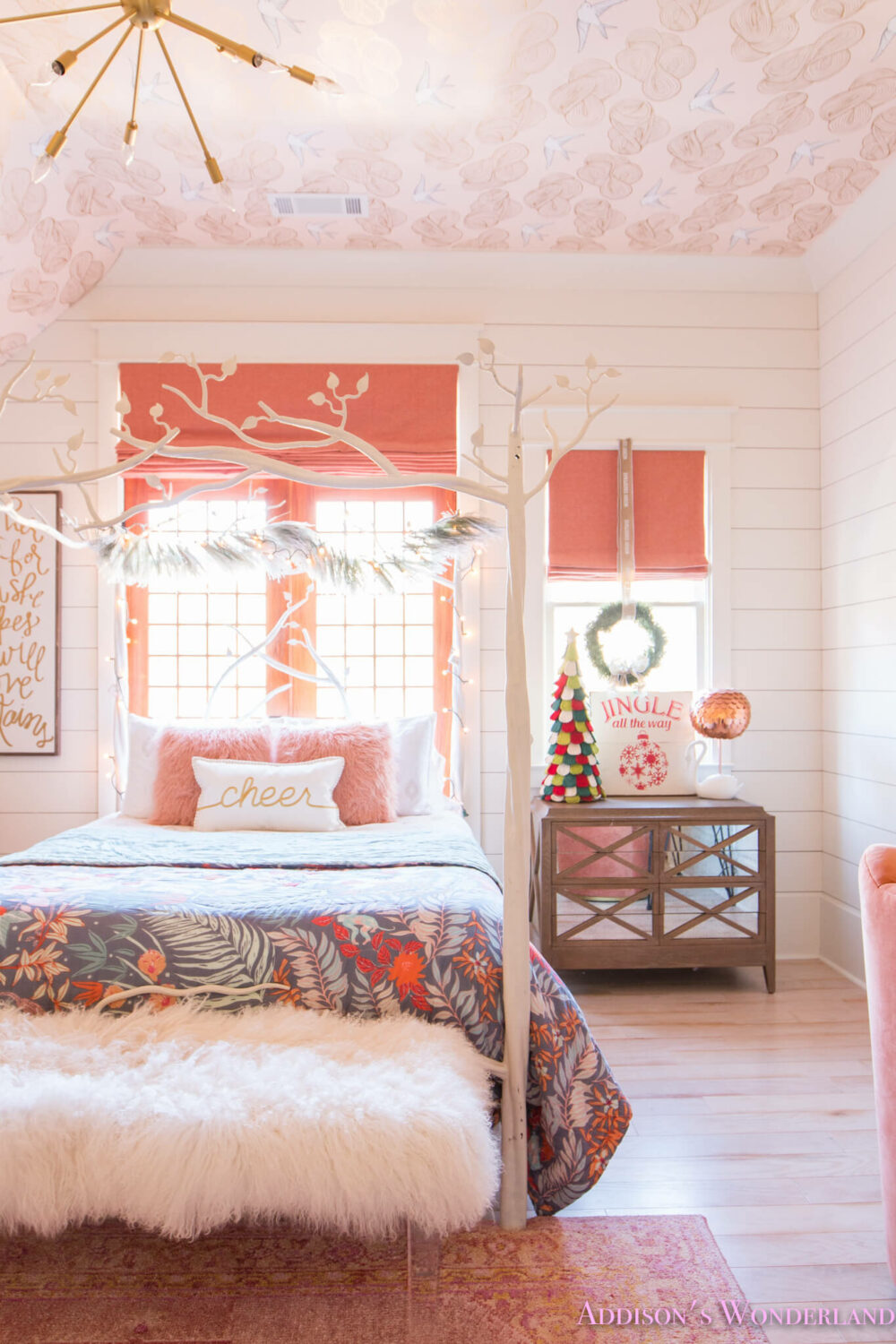 Pink is the most common color of choice for girl bedroom design ideas.
There is a good reason for that. It is pretty, fun, and bright, all of which makes it perfect for a little girl. Although it looks fun, the bedroom is age-neutral. Meaning, it can grow with your little girl.
Pink is not the only color here. There are others, all of which contribute to making the room look pretty.
The playful bedcover with colorful plant motifs, the pastel red blinds that add contrast, and of course, the wood-like hanger that looks just imaginative.
Speaking of bedroom ideas, we also have other ideas as well. If you are curious about our romantic bedroom ideas, you can check them out here.
29. Girl Attic Bedroom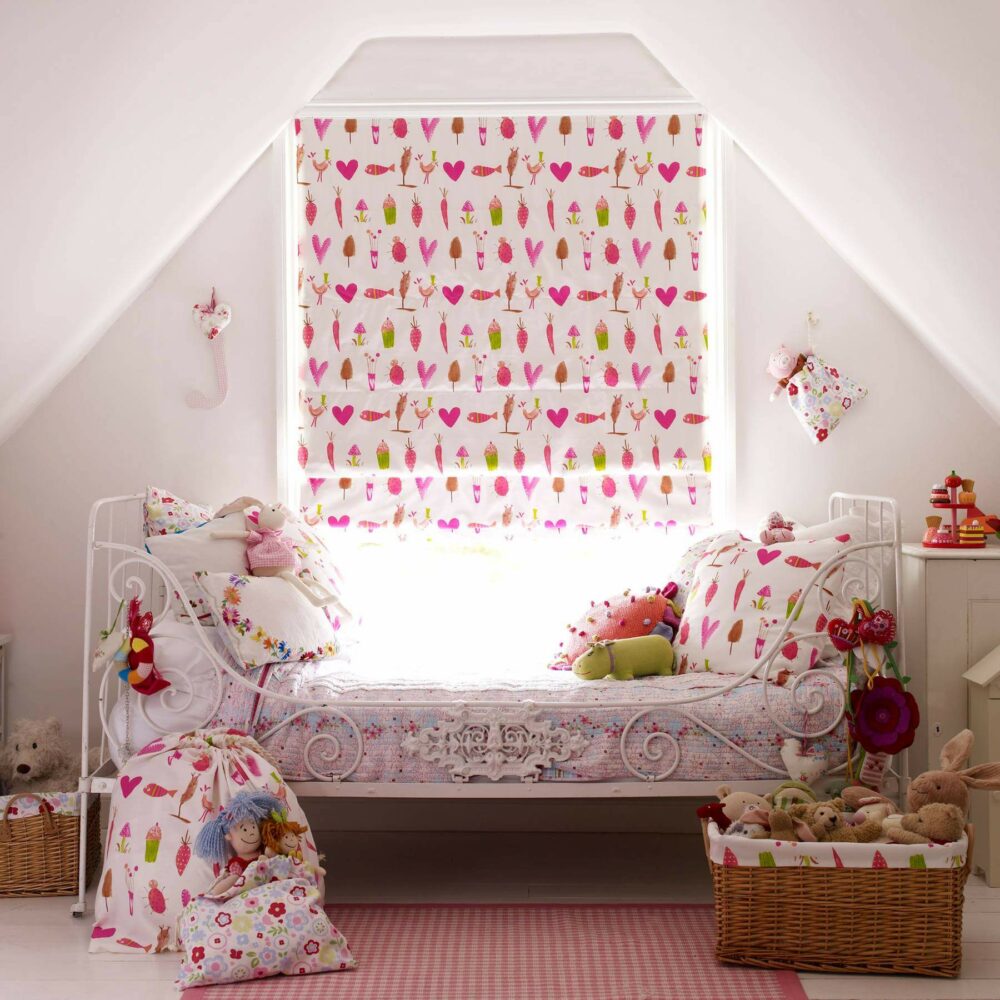 The next in our girl bedroom ideas is for an attic girl's bedroom. Unlike the other parts of the house, the attic has awkward shapes.
That doesn't mean you should leave it undesigned, of course. Here's an idea to try: install a curtain with vibrant colors and cute motifs and patterns.
Look how the curtain turned what is an otherwise plain and boring room into an exciting one.
What makes it even better is the same motifs and patterns on the pillow and bag underneath. Notice how the attention is pulled toward the curtain now, away from the awkward ceiling.
30. 'Tepee' Bedroom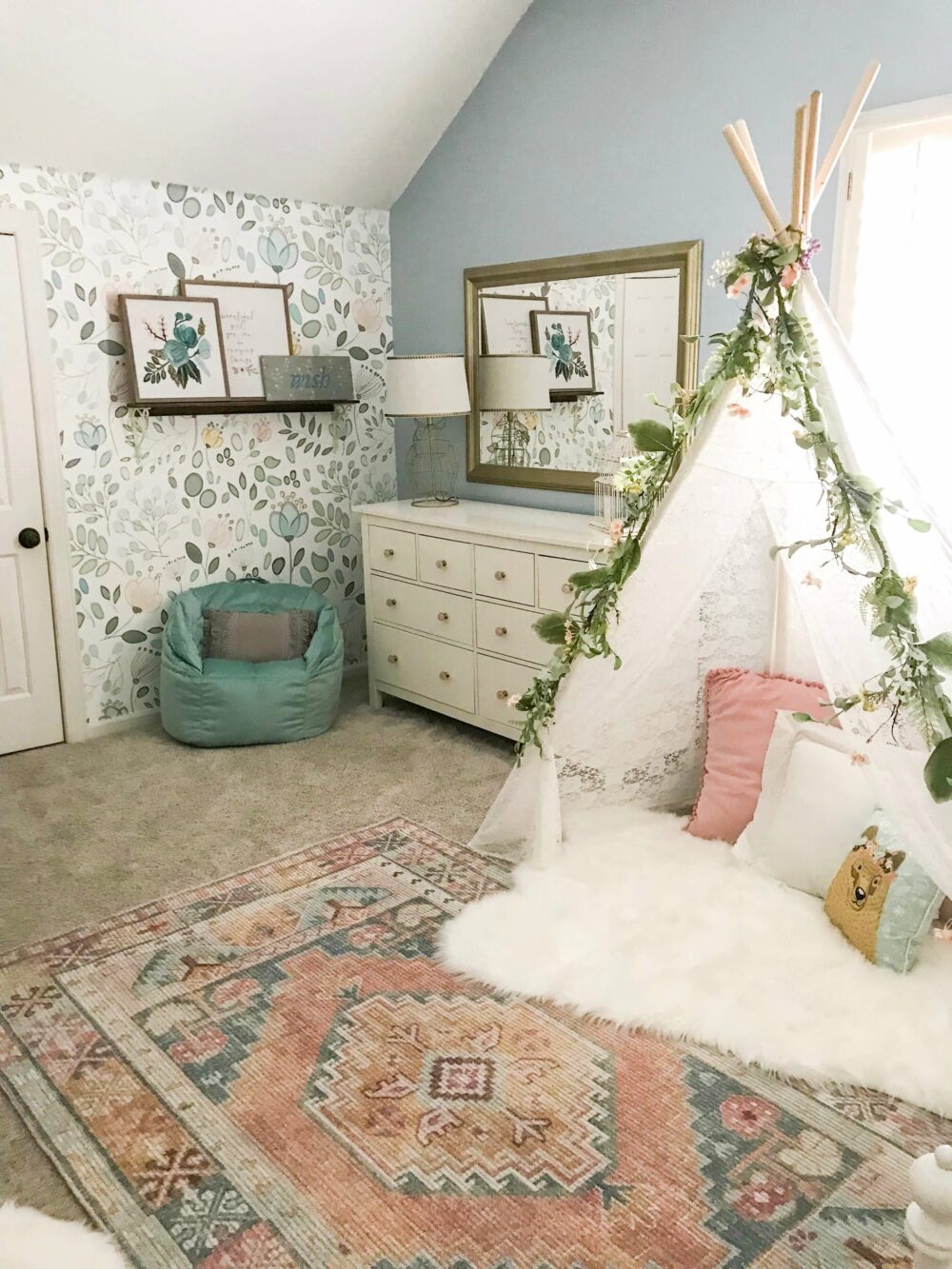 We said earlier that pink is the most common color when it comes to girl bedroom color ideas.
That being said, it is not the only color that works well for a girl's bedroom. Some other colors like pastel blue, green and even a bit of earth tone colors work as well.
Make your little girl's bedroom more exciting and fun by creating a 'tepee' bed. The bed looks extraordinary and playful.
With colored pillows and vine-like decoration, the tepee sure is special. Note the thick rugs, which add warmth and comfort.
31. All Kinds of Colors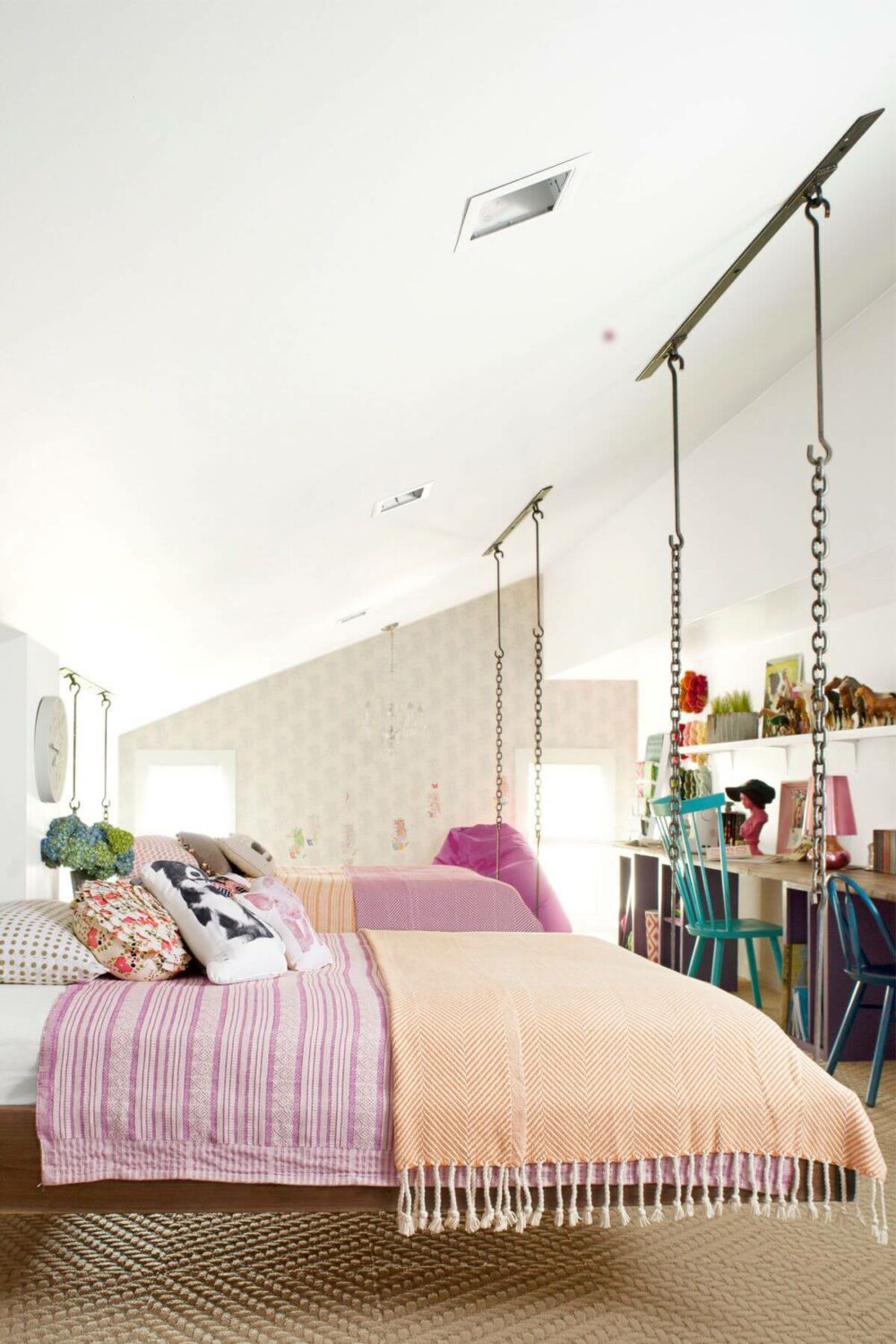 Let's continue our girl bedroom ideas with something colorful now. If you have two little girls, you will like these twin girl bedroom ideas.
The bedroom is filled with lots and lots of colors. All these colors make good visual cues. Interestingly enough, none of them stands out like a sore thumb.
That is because the colors are mostly pastel, with two vibrant colors being green and purple.
This color palette works really well for little girls, as it is fun for both of them and doesn't favor either of them. Notice the subtle difference on the beds which helps to identify which bed is whose.
32. Bed in a Box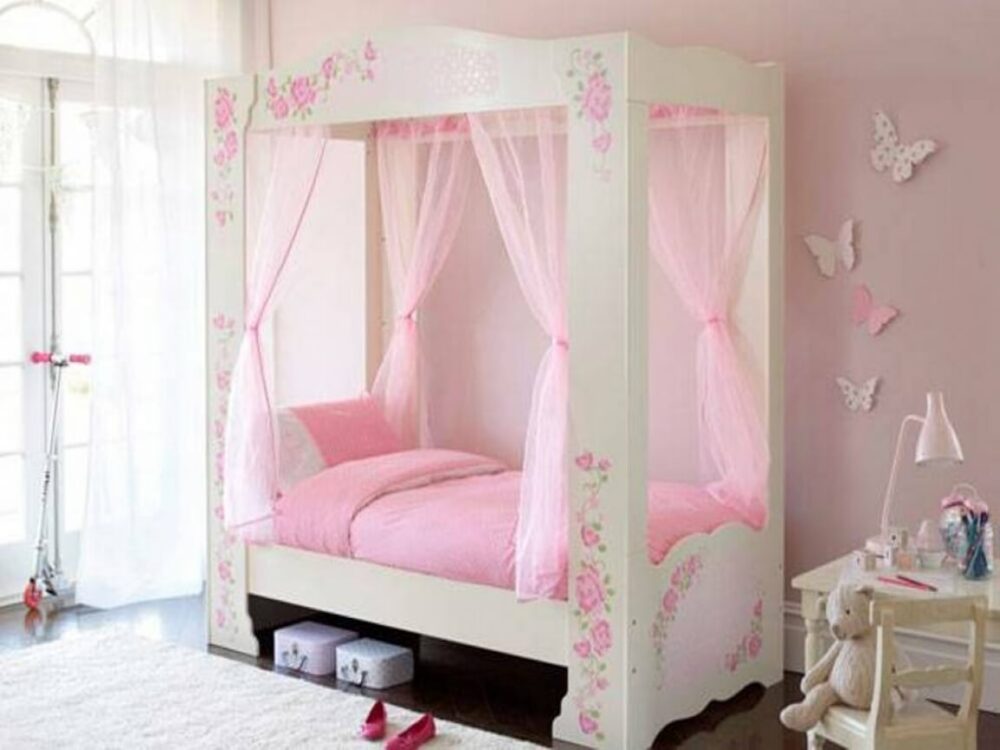 Make your little girl feels like she is a princess with this bed frame. The bedframe separates the bed from the rest of the bedroom, becoming the sole focal point.
Look at how cute the bedroom is with the flower motifs, pink curtains, a pillow, and mattress.
The best thing about this bed is that it isolates the bed on one side of the room. This allows you to design the remaining space as you (or your little girl) like it.
For example, a small playground. This is why it is among the best girl bedroom ideas small rooms.
33. Extra Bed for Comfort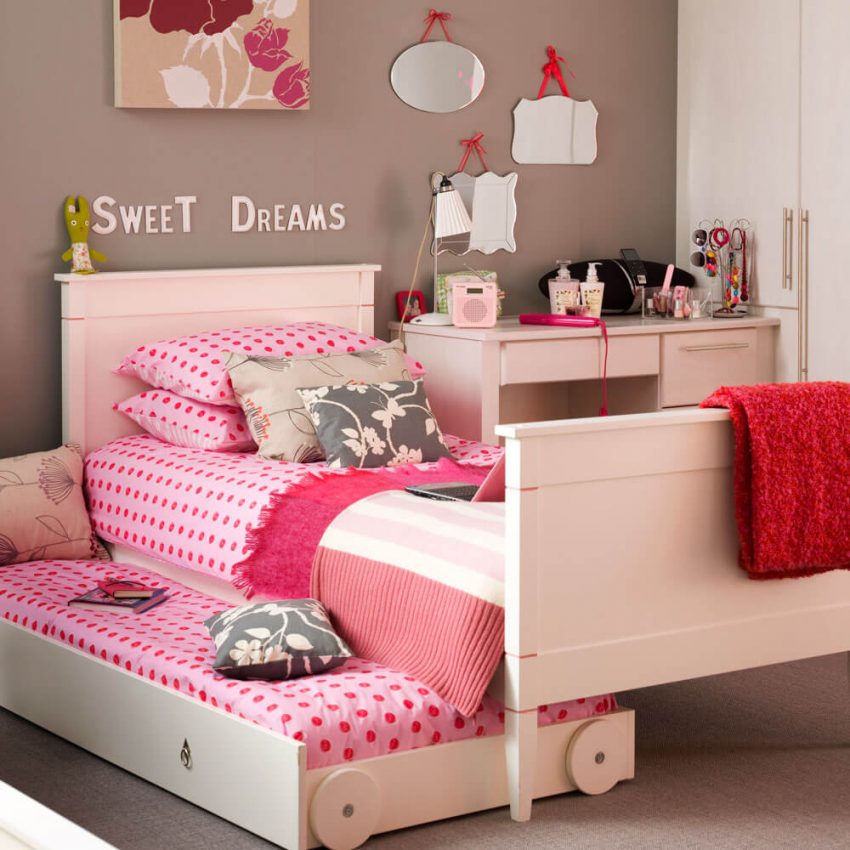 A girl's bedroom should be as comfortable as possible. Sure enough, adding a sliding extra bed underneath is one of the best girl bedroom ideas for that.
It also adds cuteness and a fun vibe to the bedroom as well, especially with the gray wall and flooring.
The design of the bedroom is fun and yet, it is also age-neutral as well. And we all know how fast kids grow is. As such, having a bedroom design that is age-neutral is never a bad idea.
34. Little Girls Bedroom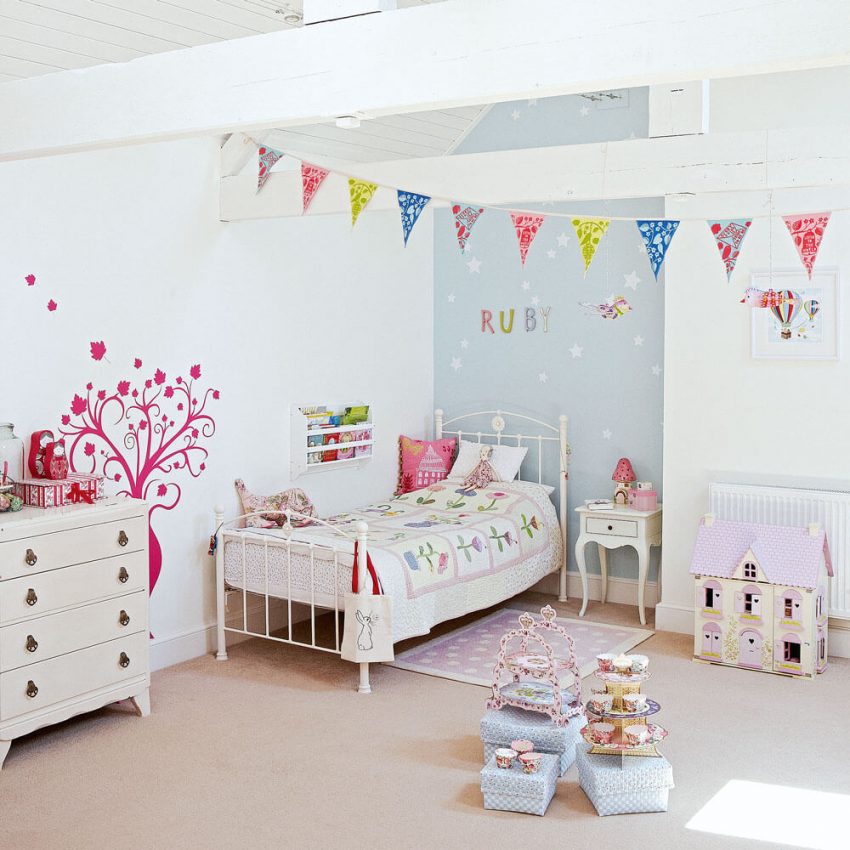 Having a large room means more flexibility when it comes to designing. Of course, this also applies to girl bedroom furniture ideas as well.
What you need to do is to decide the layout of your little girl's bedroom and the furniture in it.
In this room, the pieces of furniture are placed adjacent to the wall. Because of this, the large room looks even larger.
This frees up some space, which can be turned into something else, from extra storage, room decorations or even a playground. Yes, it is a bedroom but thanks to its layout, it becomes something more.
35. Vibrant Red and Blue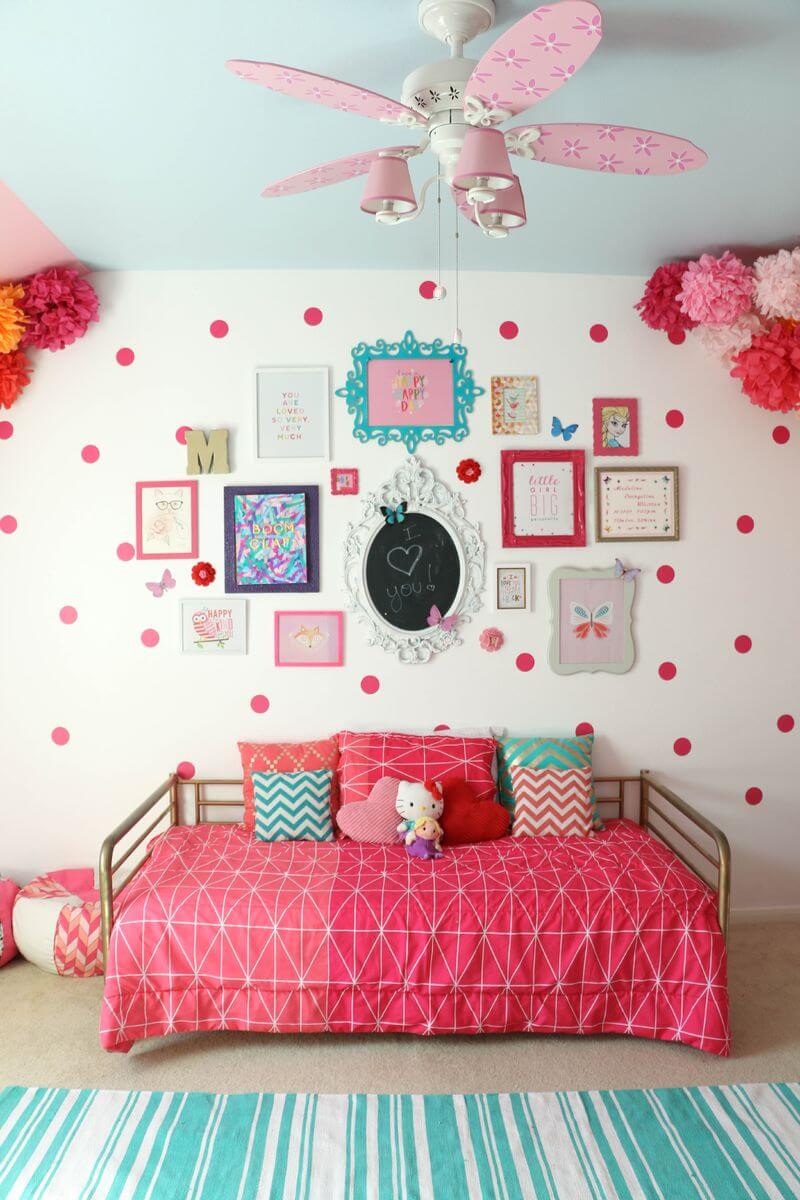 Too much of vibrant colors is not, and never will be, among the best girl bedroom ideas.
If anything, that is exactly what you want to avoid when you try girl bedroom decorating ideas DIY. A few vibrant colors here and there are certainly nice. Too much, however, is almost certainly bad.
To avoid using too many vibrant colors, decide one or two colors that will be dominant in the room.
In this room, the dominant colors are red and blue, both of which are vibrant. The other colors are pastel, which complements the red and blue. There is also white as well, which serves as the blank canvas of the room.
36. Little Girl Bedroom Ideas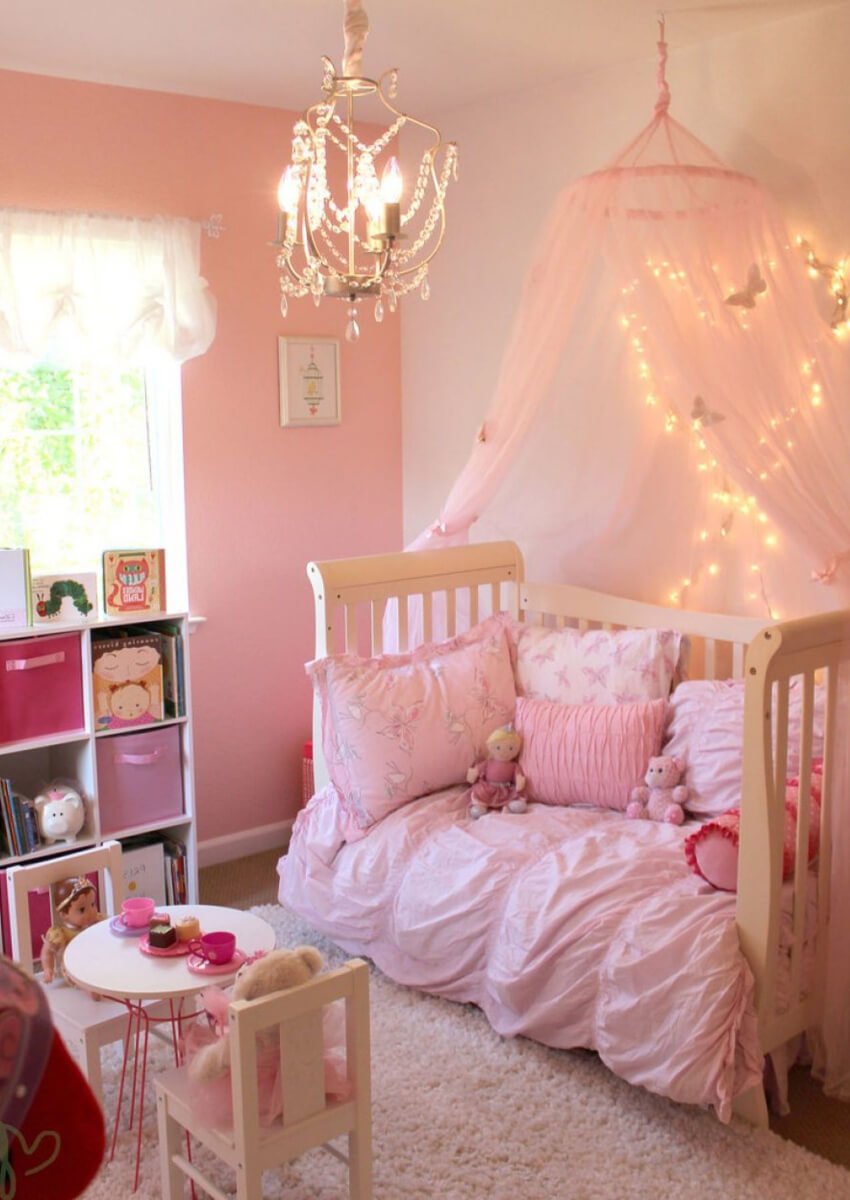 There is no mistake in making an all-pink bedroom. This is especially true if your little girl really likes pink.
It is, after all, her bedroom. It should be fun, exciting and put a smile on her face. Look at how pretty in pink this bedroom is.
Of all the girl bedroom wall color ideas, pink is undoubtedly among the most cheerful and fun.
Added with textures from the bedcover and rug and beautiful string lighting, the bedroom is warm and comfortable. If your little girl likes pink, she is likely to like this.
Speaking of warmth, a farmhouse décor never fails to bring warmth to a room. Yes, that includes the bedroom too.
Do you want to create a farmhouse bedroom of your own? If you do, these farmhouse bedroom ideas will help.
37. Bright and Colorful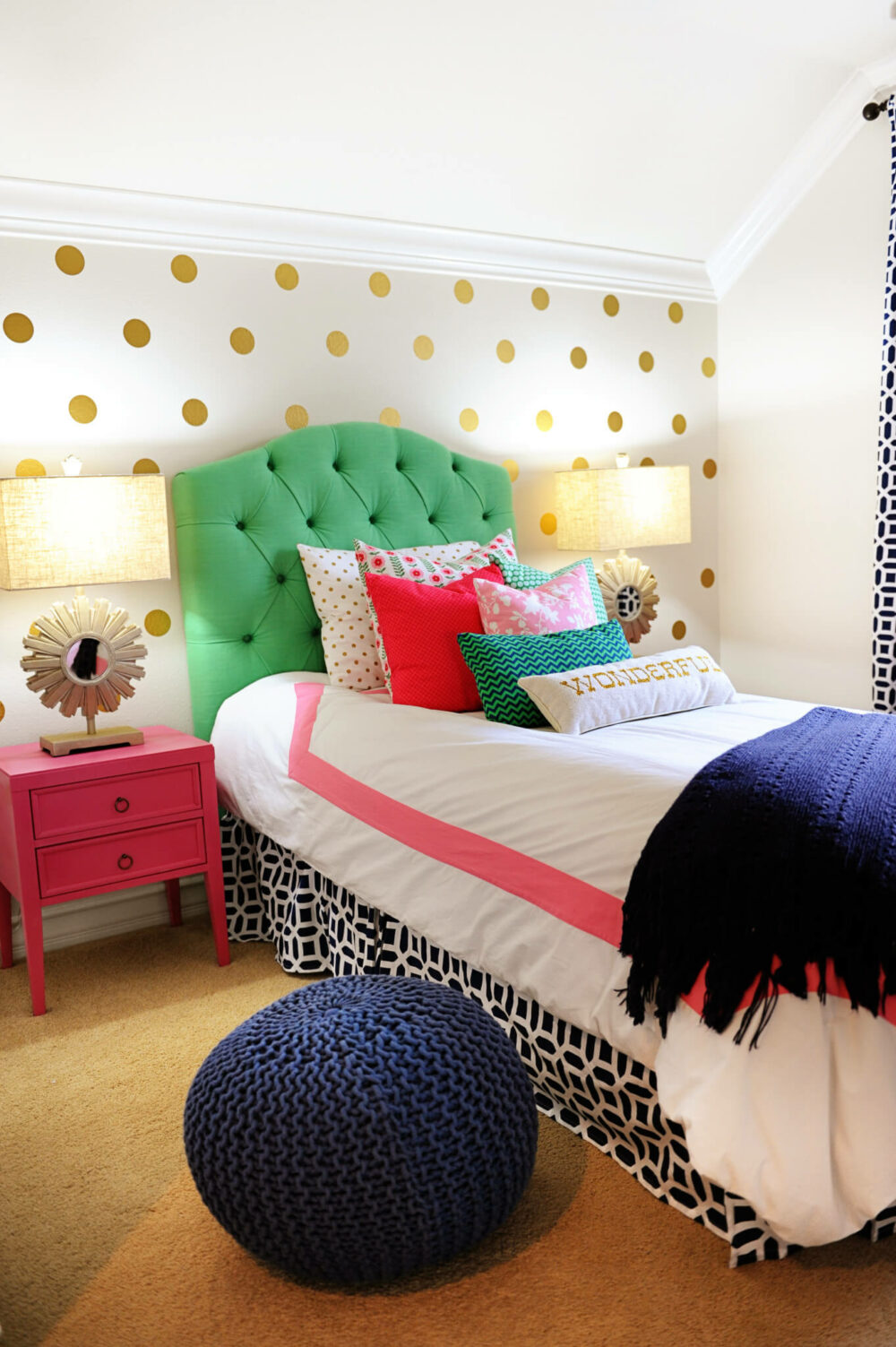 What a child likes is different from what another child likes. This, of course, applies to your little girl as well.
Although many girls do like pink, your little girl may not like it. In that case, girl bedroom ideas with other colors will be your best options. Case in point: bright and colorful bedroom like this here.
Notice how vibrant and exciting the room is. In terms of size, the room is rather small.
Yet, thanks to the colorful pillows, black and white bedcover, Polkadot wall and vibrant drawer, the smallness of the room is not felt.
38. Calming Minimalist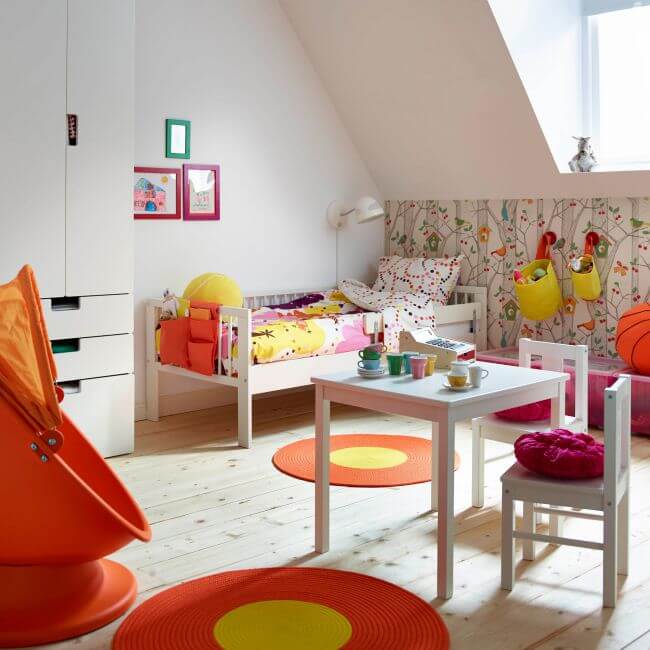 If vibrant and bright colors are not your little girl's cup of tea, consider calming minimalist girl bedroom colour ideas instead.
On one hand, this bedroom has very simple and minimalist designs with many lines, squares, and rectangles. On the other, it has a calming color palette all around.
The combination creates such an interesting girl bedroom. Especially with the wallpaper on the side and hanging children's arts.
Practically, the minimalist designs allow for easy cleaning. With light-colored wooden flooring, any stain is visible and can be easily cleaned off. It is an excellent idea for both you and your little girl.
39. Why Not Blue?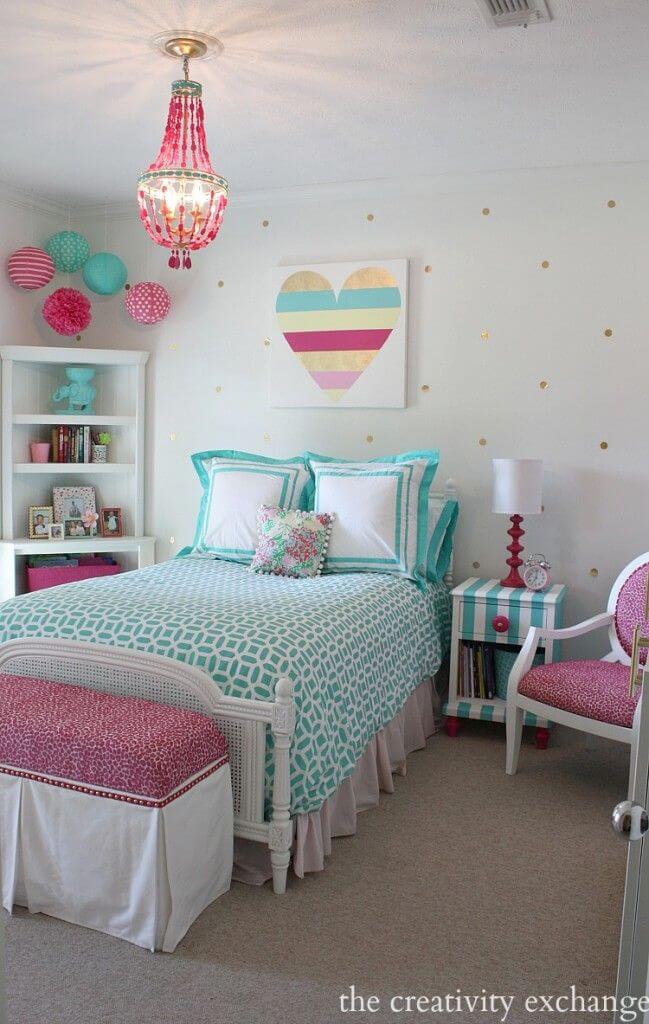 Pink is the most common color of choice for girls like blue is for boys. Again, just because they are the most common ones, doesn't mean pink is for girls only and blue is for boys only. If it is swapped, either color works just fine.
Take a look at this cute girl's bedroom for example. If you like to go with unconventional yet cute girl bedroom ideas, then this one is for you.
The bright blue of the bed brings out a calming tone to the bedroom. The purple cushions keep it feminine and fun.
40. Girl Bedroom Ideas Black and White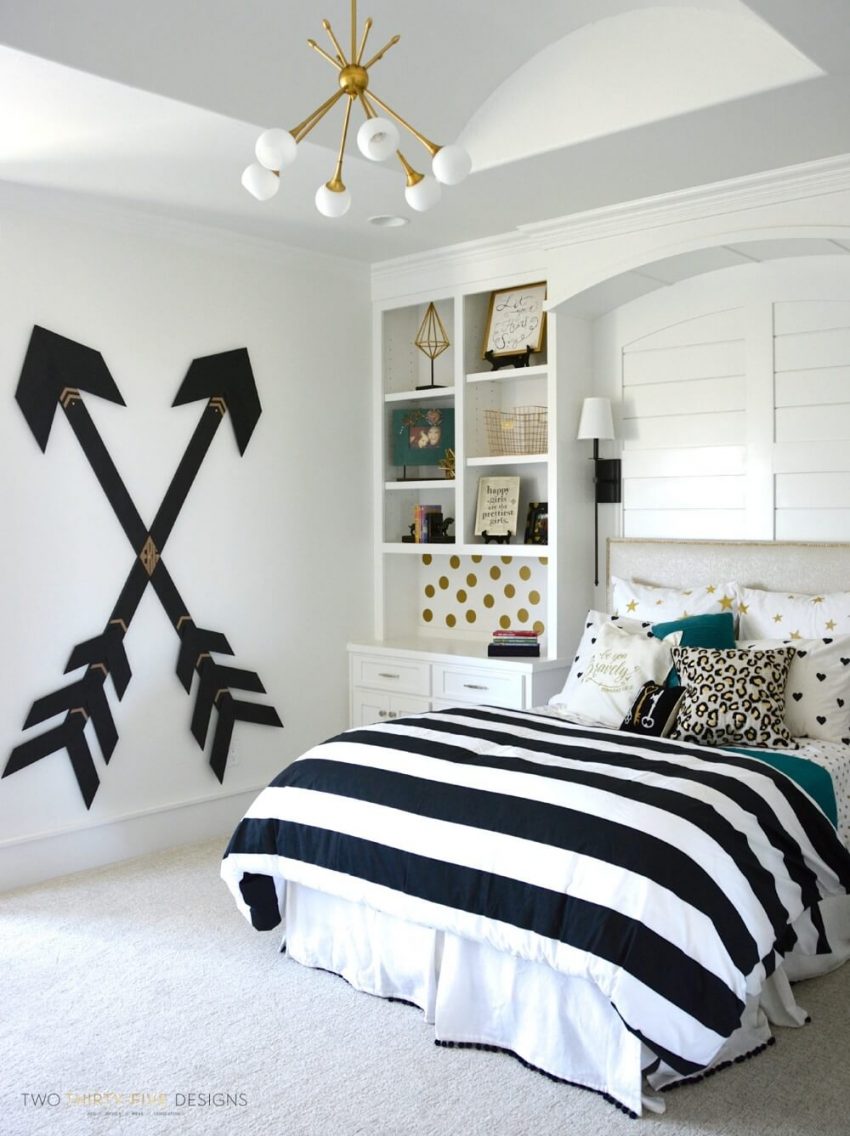 If you don't want to experiment and want a failproof solution, a black and white bedroom is always a nice choice.
Black and white is such a classic that works for just about any kind of room. Yes, including a girl's bedroom as well.
Unlike the other ideas, however, this one is among teenage girl bedroom decorating ideas as the décor looks more mature and less playful.
Here, the black and white stripes from the bedcover break the all-white room while the arrows on the wall steal the attention.
41. Focus on the Walls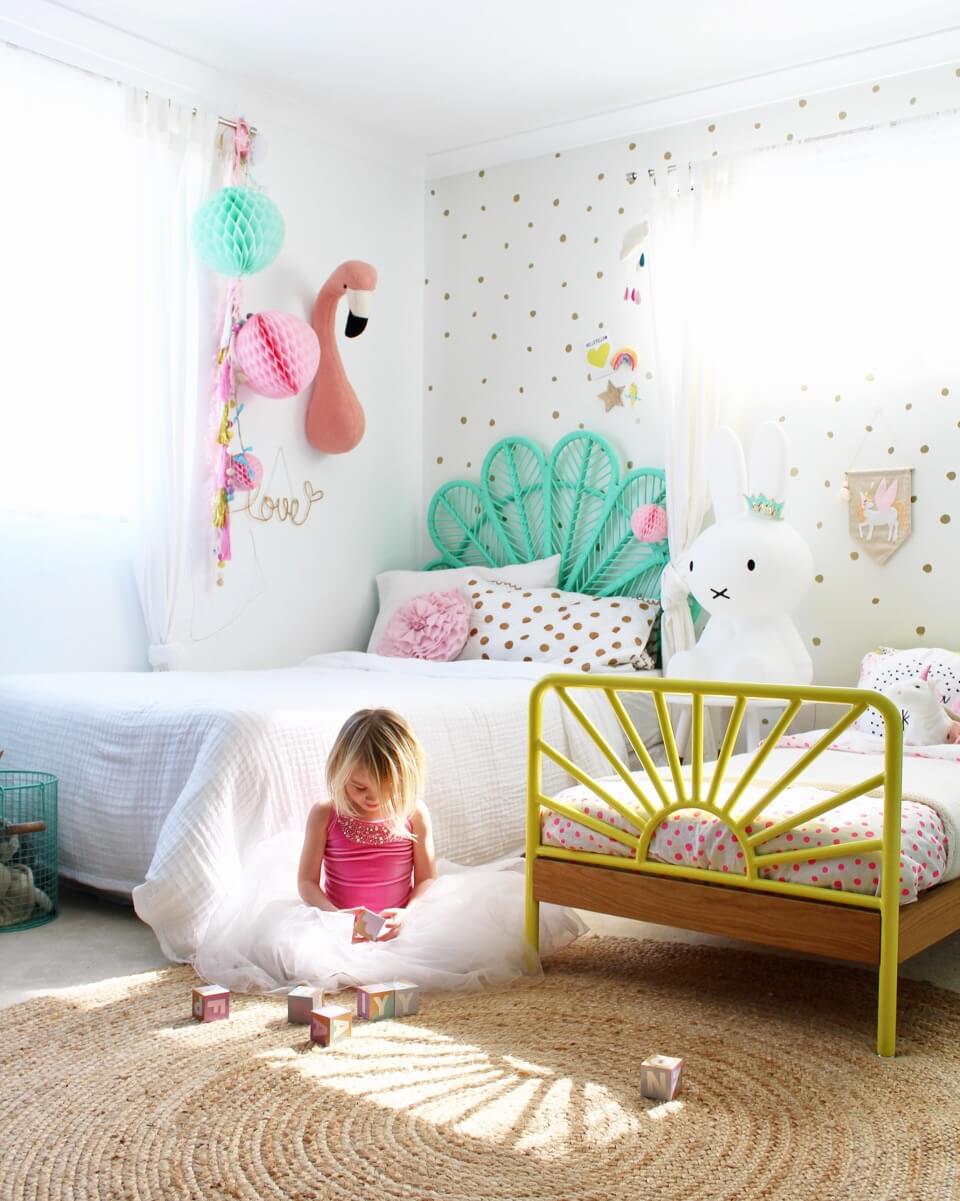 Compared to the other girl bedroom ideas, this idea puts the focus mostly on the wall. After all, the wall, if properly styled, sets the mood of the room.
In this room, the walls make the room more fun and exciting. Notice the Polkadot on the background and the cute and fluffy wall décor hanging near the curtain.
With the flooring and beds being neutral, whatever is on the wall becomes highlighted and stands out. It is among the best girl bedroom wall color ideas to try if you want to keep the room less distracting.
42. Teenage Girl Bedroom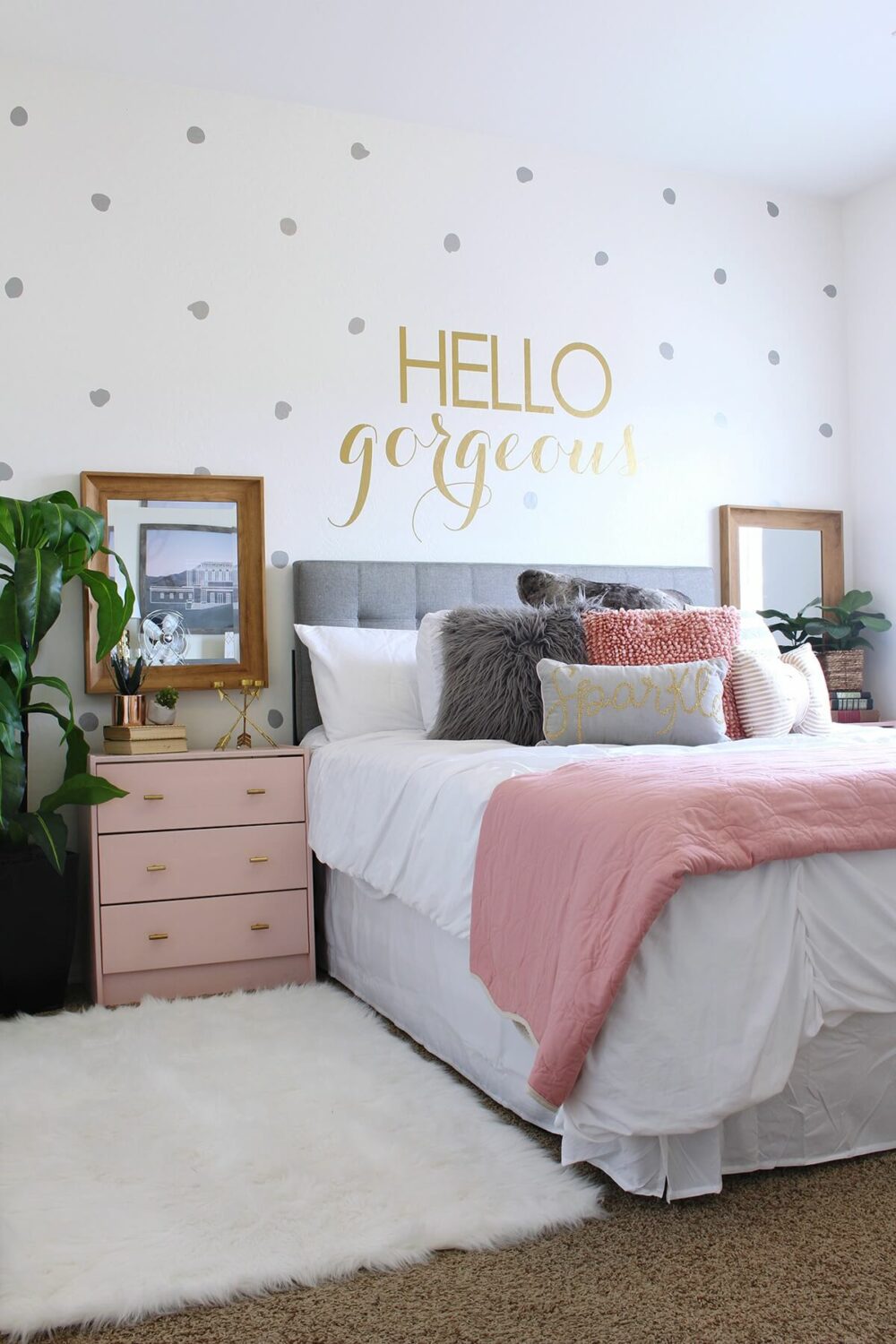 If your little girl is turning into a teenager soon, it is a good idea to remodel her bedroom so it grows along with her.
Of course, since it is a transition period, you shouldn't make the bedroom too mature and serious for her. You should still keep playful elements to it.
In this bedroom, you can see how comfortable it is. The layout shows a bedroom for a growing up girl, with a pink tint to keep it vibrant and lively.
The Polkadot on the background makes the bedroom less mature and serious and more fun. It surely is one of the best girl bedroom ideas teenage to try.
43. All-white with Accents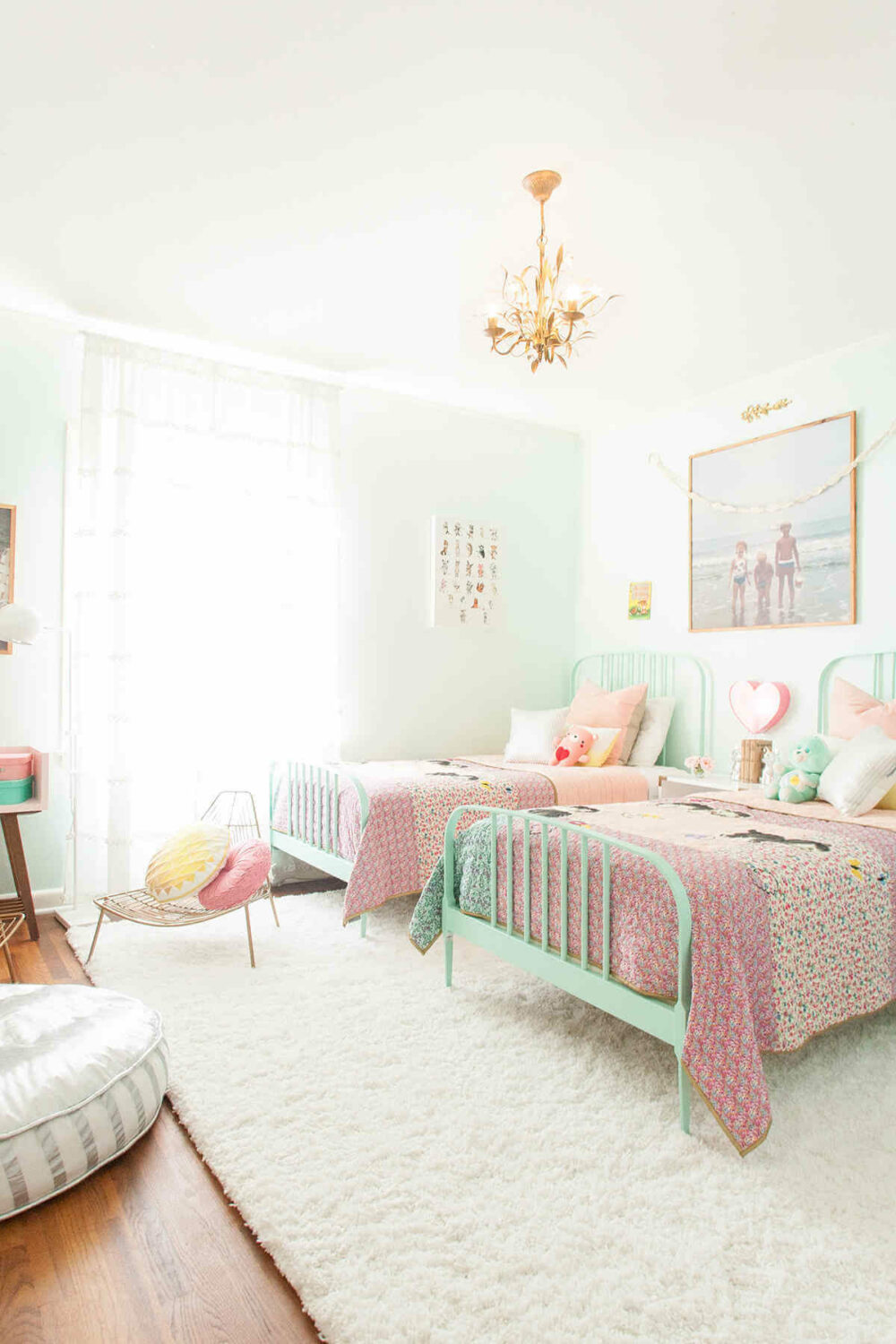 An all-white bedroom may suitable for adults. For little girls and teenagers, however, such a room is too plain and boring, It is far from fun.
To prevent a white room from looking plain or boring, introduce some pastel colors to accentuate the white.
In this room, you can see how the pastel blue and purple introduce fun and liveliness.
The fluffy white rug adds comfort and becomes the background for the beds to stand out. There is also a chandelier above, which adds an elegant touch to the space.
44. Girl Bedroom Ideas Purple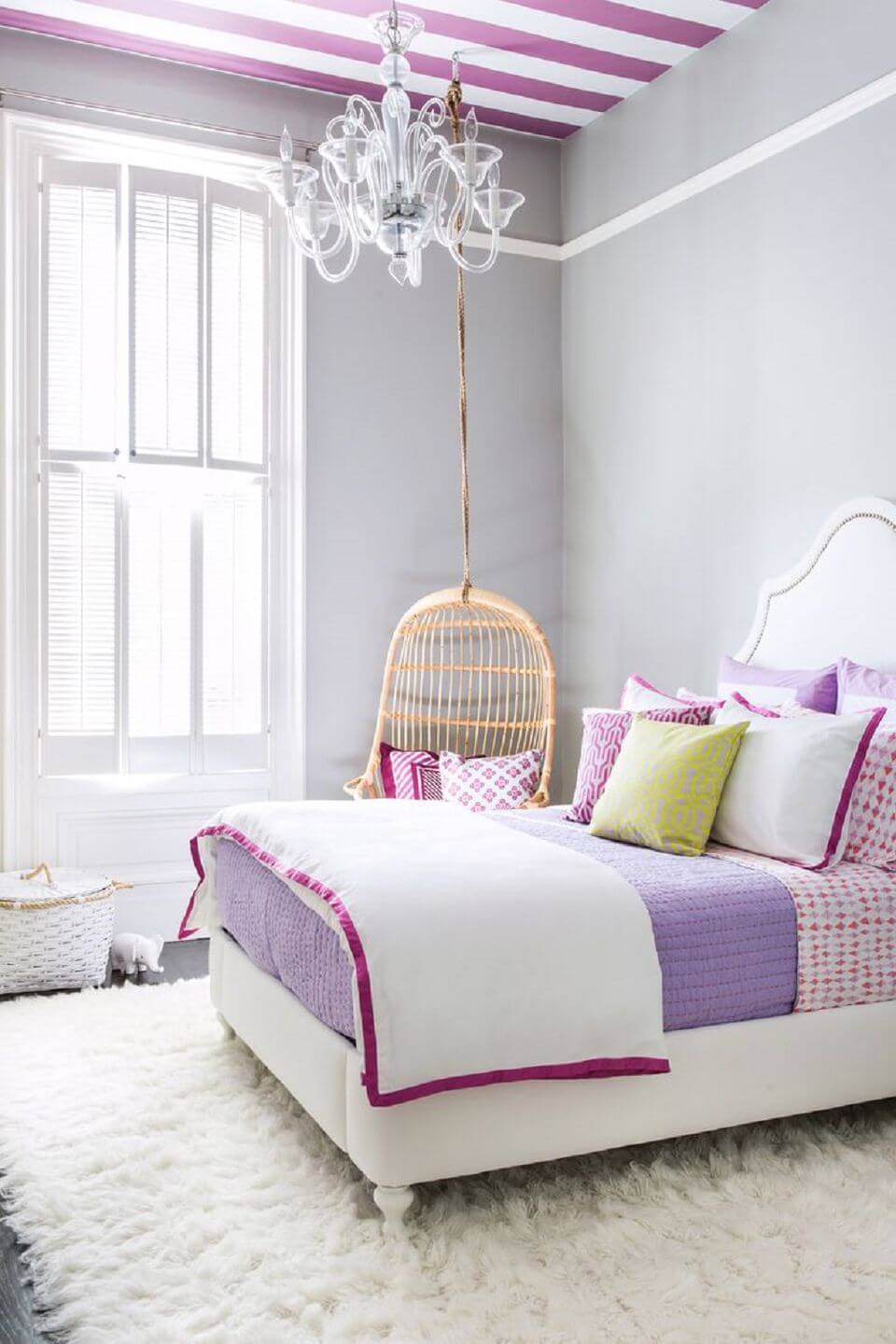 Pink is fun, but it is not the most fun color in existence. There is also purple as well. While pink is all about bright and fun, purple is all about creativity and grandeur.
The purple lines on the bed and the stripes on the ceiling certainly give off such a vibe. So if you are looking for girl bedroom ideas that don't involve pink, you should look at this one.
45. Keep It Simple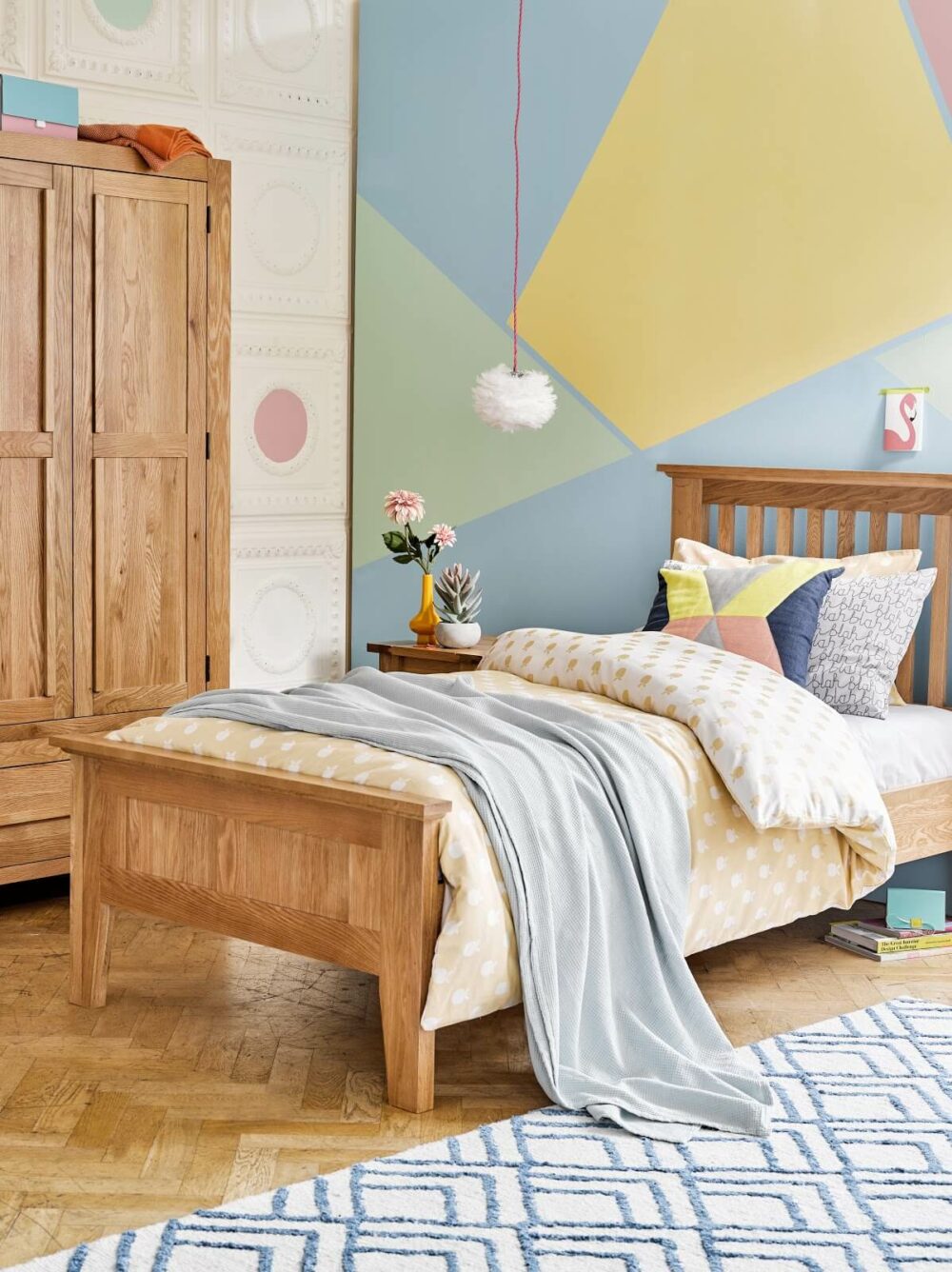 If your little girl is not picky about the color palette, you can try designing her bedroom in a simpler way.
For example, use neutral or pastel colors for the bedroom. Neutral and pastel colors, like brown, pastel yellow, green, and blue, keep the bedroom fun and playful while giving off a calming vibe.
The best thing about keeping things simple is that it is a lot easier to manage. You can easily clean or organize items in this bedroom. It also is pleasant to the eyes, too.
46. Vintage Modern Girl Bedroom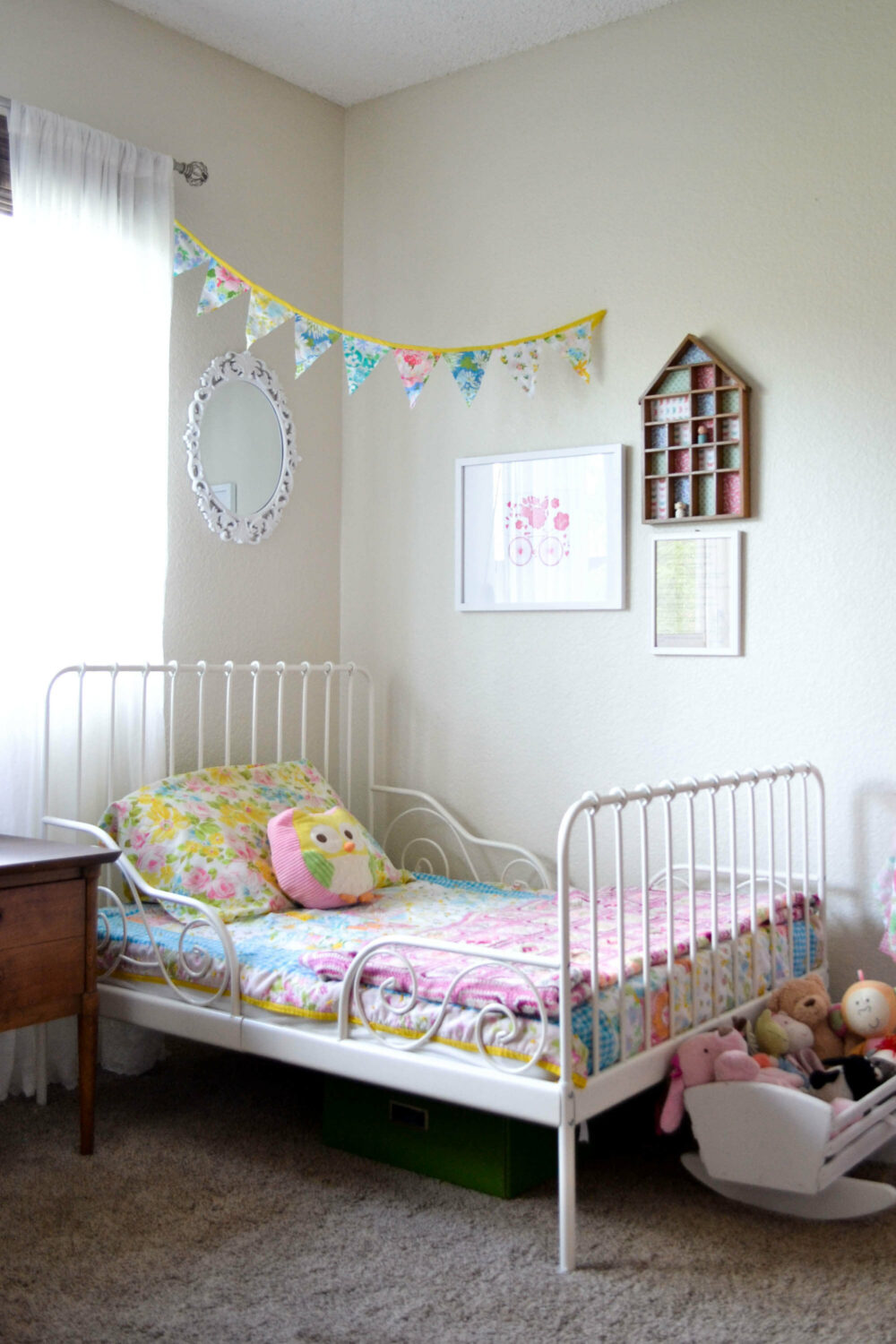 The last example on our girl bedroom ideas list brings the attention back to the bedroom. The floor is covered with gray and the wall is white.
These create the perfect background for the cute, colorful bed to stands out. Want to make it cuter? Add a storage box for your little girl's doll collection in front of the bed.
There are still lots of girls bedroom ideas out there. Just make sure, your girls love the style you have chooses for them.