In this page, you will discover how to use wall paneling ideas to add interest, texture, and character to every room. It's a great way to make your wall more decorative than just adding wall decor.
Wall paneling is more than clever to alter the overall look of the walls in your house. There's a wide selection of themes and styles you can choose for your wall paneling ideas.
Countless possibilities would happen to your room. So, unleash your imagination to choose the best wall paneling for your room.
1. Wall Paneling Ideas for Living Room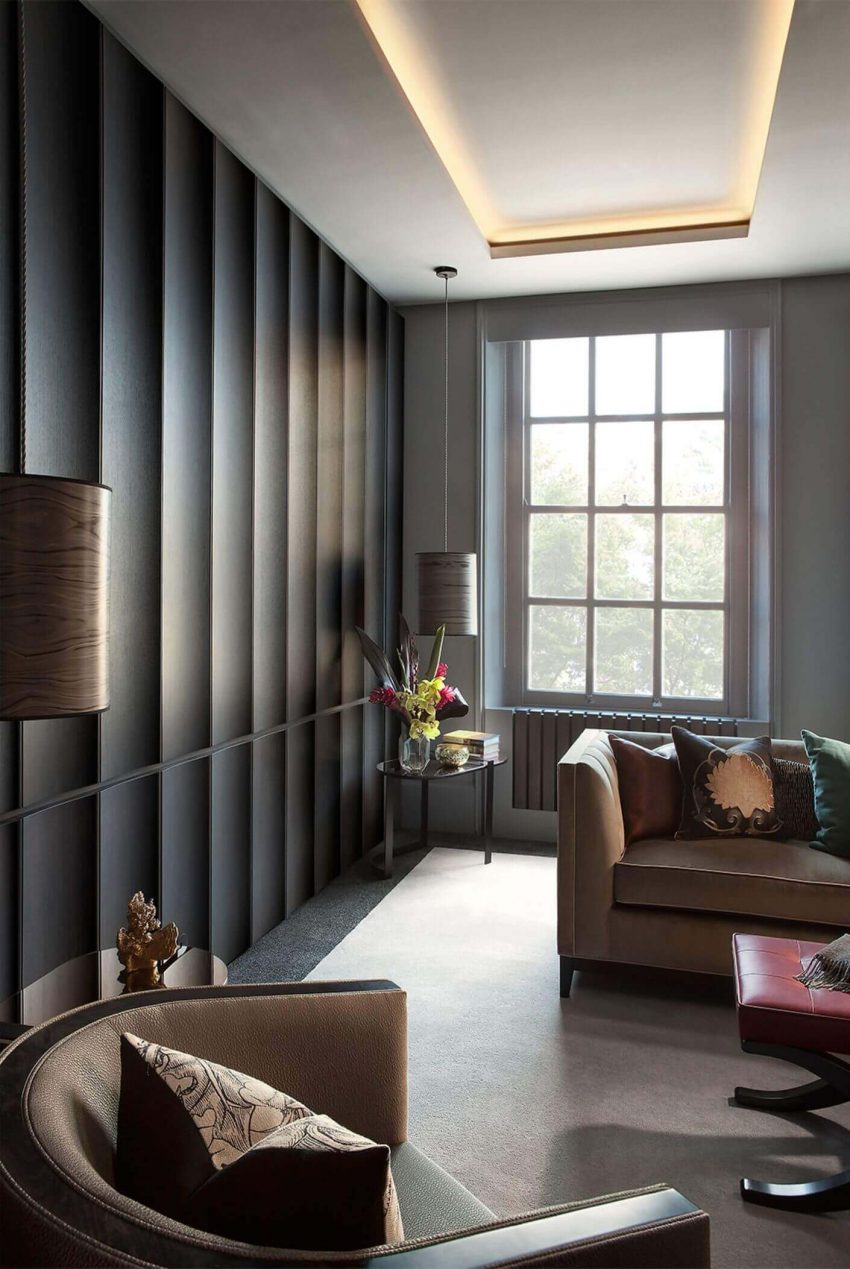 This living room looks so glamour with that wall paneling. It's got a curved contemporary design which offers some nice luxurious characters to the entire wall.
It has an offset pendant on each side of the wall paneling. The design of the pendants complements the contemporary style of the wall.
Highlight: Having this kind of paneling in the living room can easily become the focal point of the room. It gives a lot of texture to the wall which also offers unique architecture to the atmosphere.
2. Wall Paneling Ideas Bedroom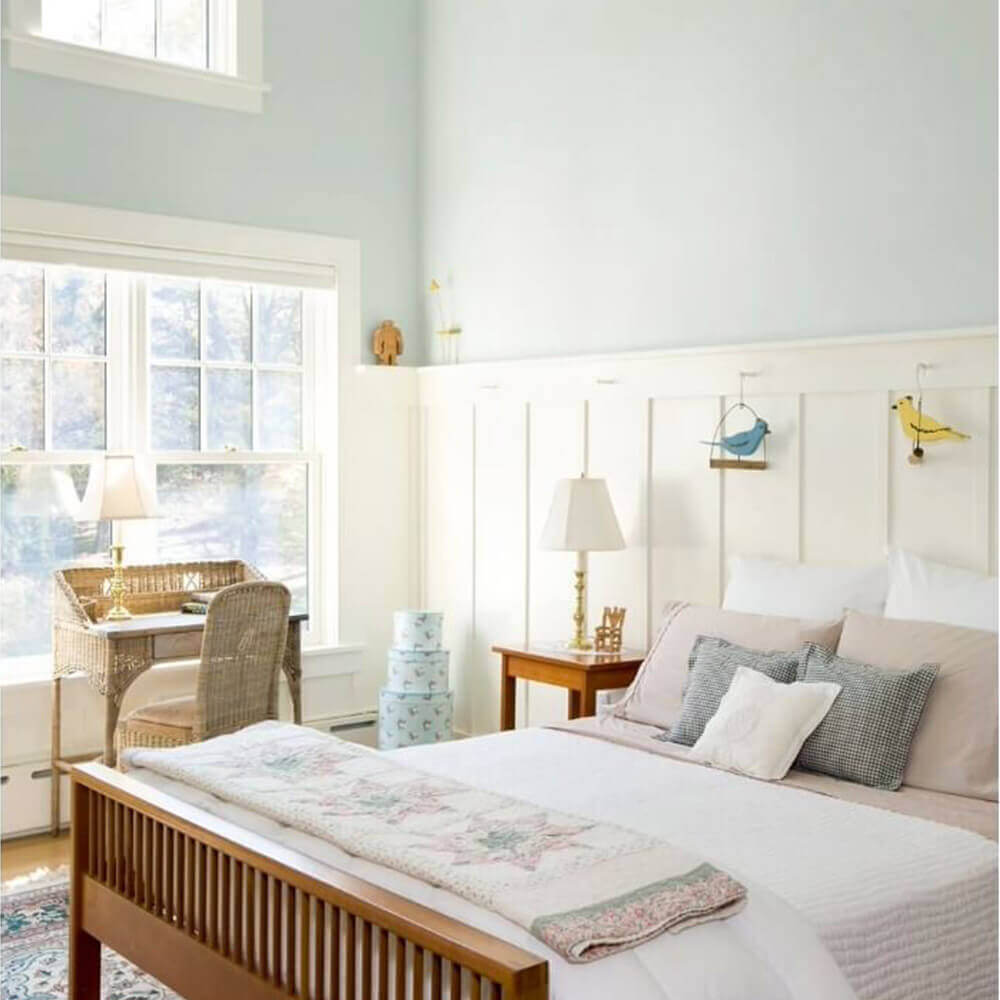 If you don't want to take a risk on paneling the entire wall in your bedroom, choose the halfway concept of wall paneling. You should choose two different colors that blend well together as a wall.
For a bedroom with modern design, wainscoting paneling halfway is the right choice to have.
You can pair the white wainscoting wall with light blue to spread the soothing atmosphere all over the bedroom. It's an ideal wall paneling ideas for a modern and minimalist feel in a living room.
3. Modern Wainscoting with Colorful Patterns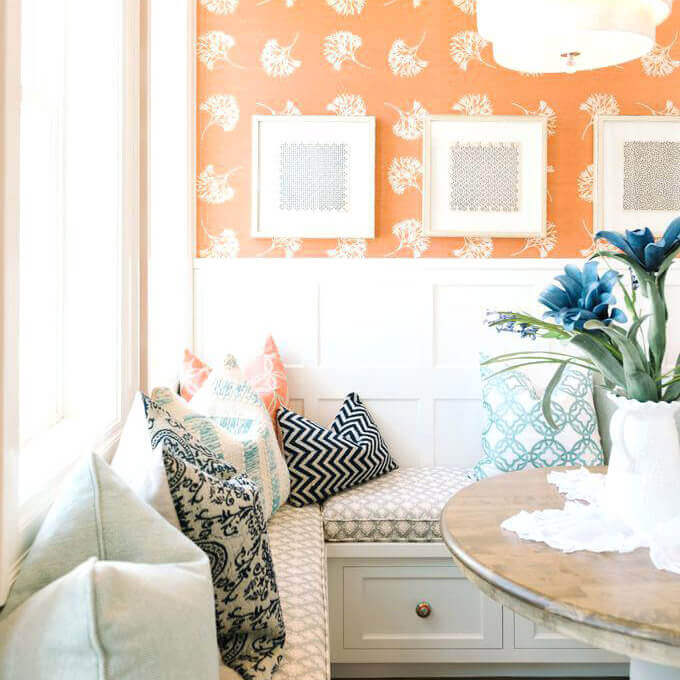 There are many colors of wainscoting available that can even match the color scheme of the room.
In this case, you still need the wainscoting wall paneling in white colors. It creates a great canvas for pairing with colorful patterns and wallpaper.
The combination of that orange wallpaper with white wainscoting is so contrasting. To dim the contrast a little bit, you need to add other elements on the wall.
There are three identical framed arts and some colorful pillows to lower the contrast a little bit.
Highlight: It's a simple trick, but it works well on this wall paneling idea. It's a cozy and fun corner seating design.
4. Interior Wall Paneling Ideas Bedroom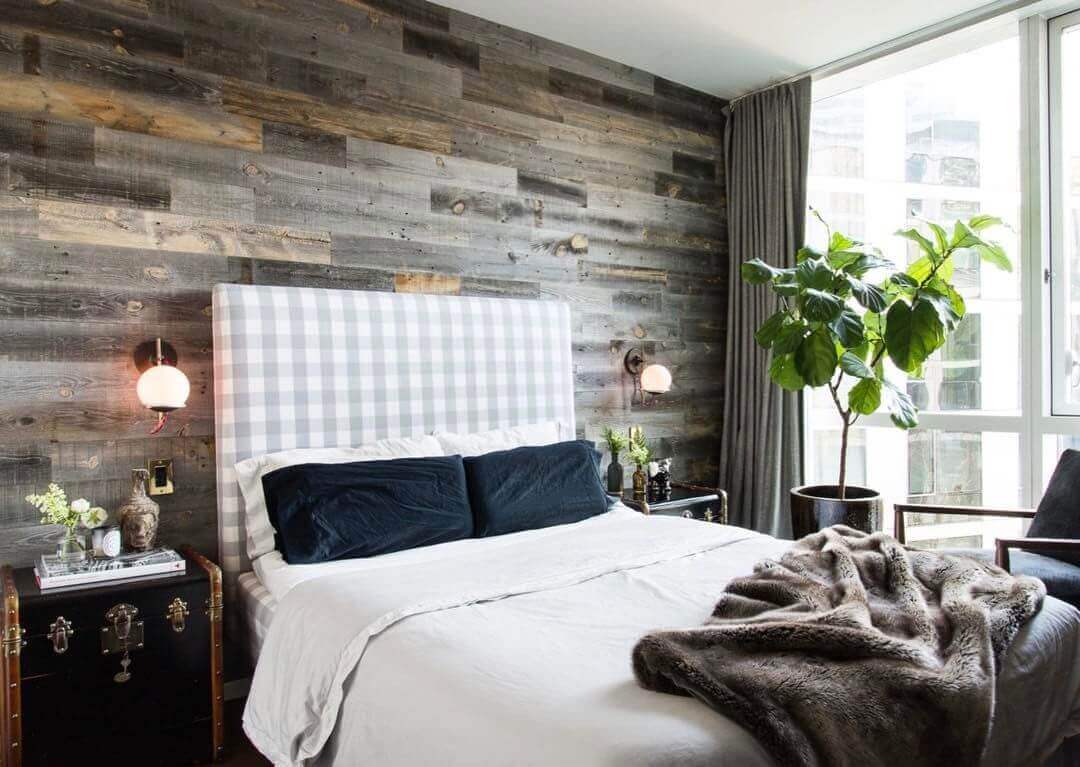 Choosing the right wall paneling ideas for your room is quite easy, but finding the affordable ones with good quality is a little bit challenging.
You can either look for the inexpensive wall paneling or build your own as a DIY project.
There are a lot of tutorials you can follow to install wall paneling on your own. It's pretty simple, but it requires some woodworking skills to achieve.
As you can see, this living room has one wall that is paneled with reclaimed wood planks that you can make on your own by attaching each plank with adhesive or nails.
There are some cheap options you can do to your wall paneling.
Use hardboard material. It's a low-cost alternative to solid hardwood furniture.
Use plywood paneling. It provides a durable surface with many finished looks.
Don't use too many nails in installing the panels.
Add raised texture patterns to upgrade the looks.
5. Cheap Wall Paneling for Dining Room with Plastic Wood Look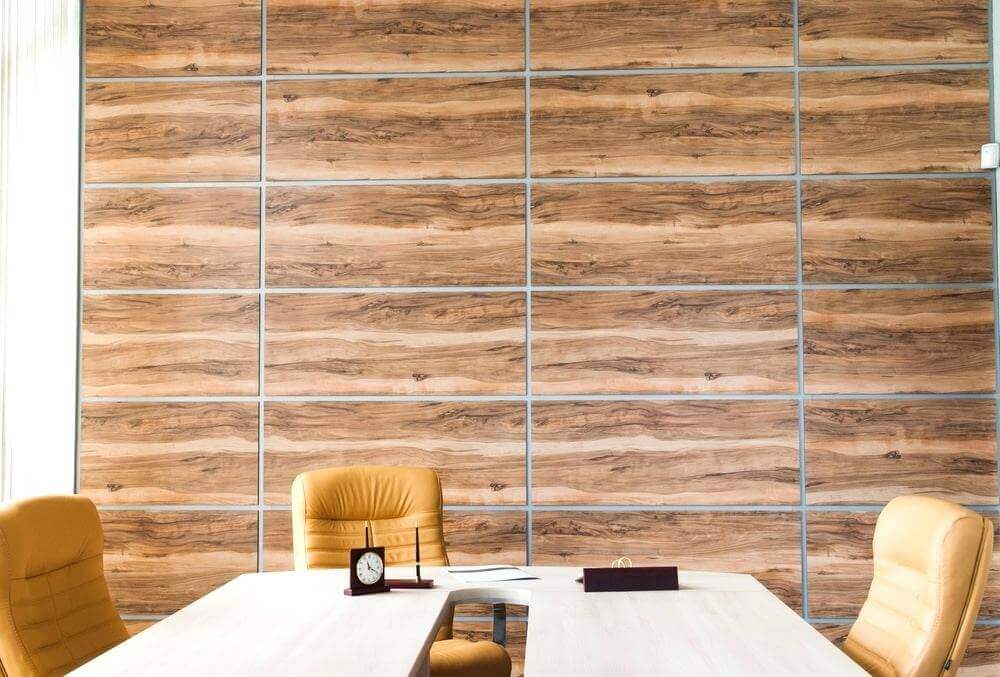 What's so unique about this wall paneling is so obvious. It looks like a real wooden panel when it's made of plastic.
The natural wood pattern on those plastic panels improves the elegance of this office room.
Choosing wall panels with plastic material may be looking odd at first, especially if you're not quite familiar with it.
It's an alternative material to the drywall. For people who don't want to spend a lot of money with drywall, a plastic panel is a great option.
It's very nice for some reasons. As you can see in this office, the plastic panel is simple to install.
| Pros | Cons |
| --- | --- |
| It's so easy to install | Some of the nicest plastic panels are not as inexpensive as you expect |
| It's mold-resistant and easy to clean | |
6. Pegboard Half Wall Paneling Ideas for Kitchen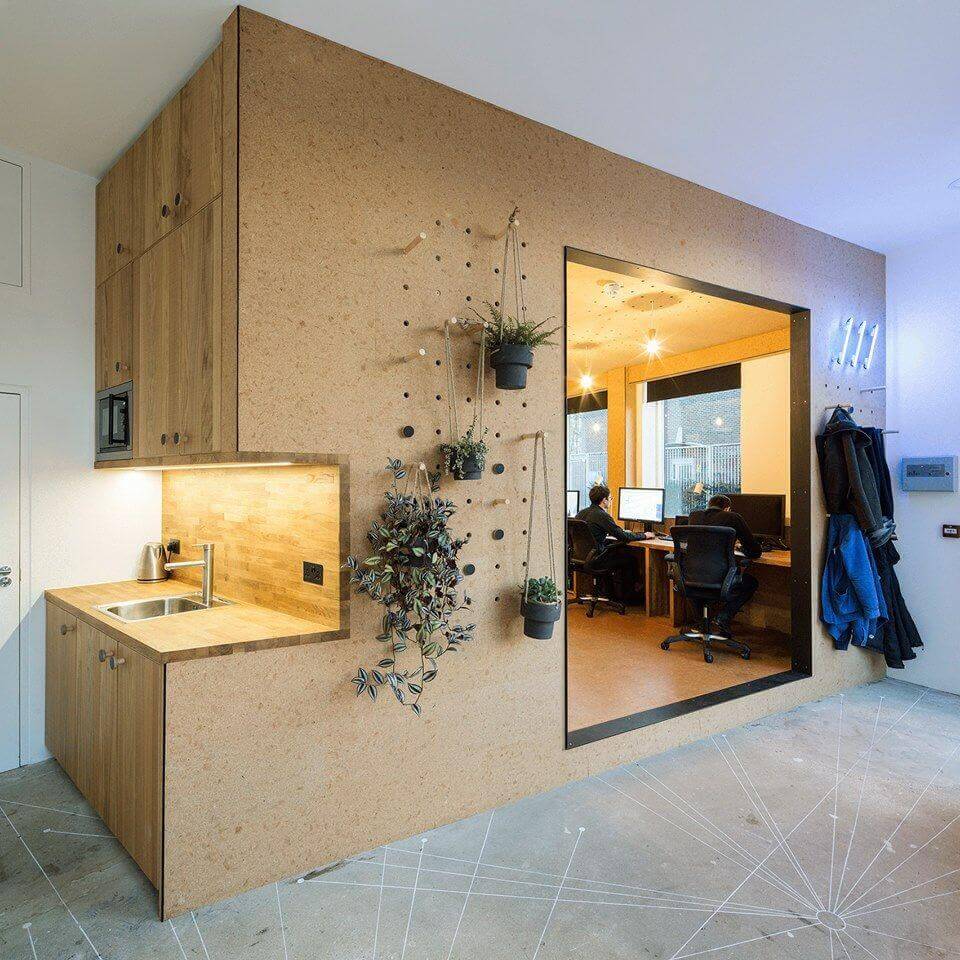 It's another unique material for wall panel of your room. Pegboard is not something that usually comes to mind when trying to come up with options for wall paneling. It's a pretty good option to choose.
Pegboard wall paneling is fairly convenient to use. Mostly, this kind of panel tends to be used in extra rooms like garages.
It can be used to hang some tools and equipment. With pegboard, there's no need to worry about finishing. Just screw everything at the needed spots.
Notice: If you are so concerned about the visual style, you will be disappointed with pegboard because it doesn't have anything to offer.
7. Patterned Wall Panel Ideas Wainscoting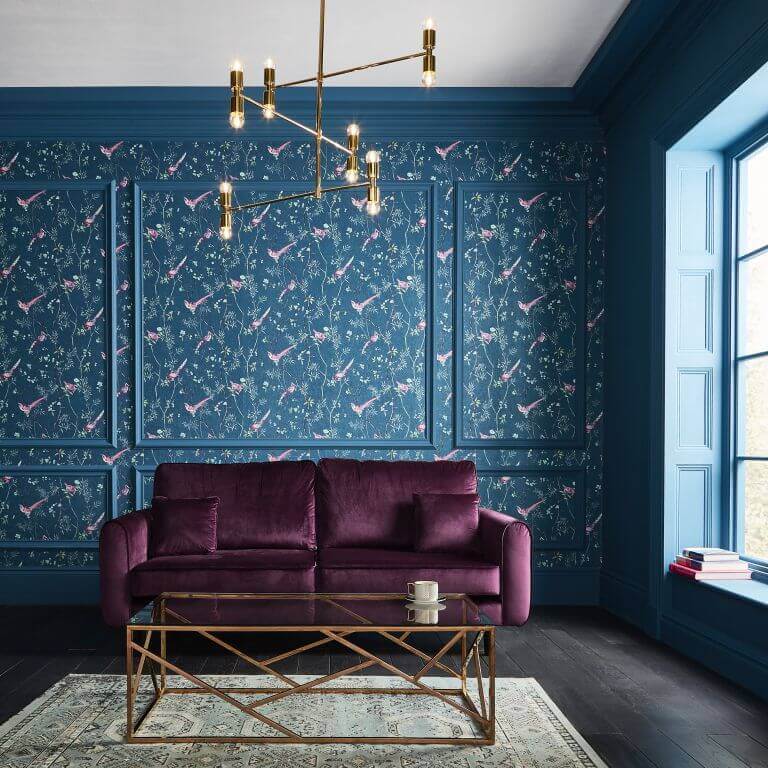 Wall paneling is a trendy and popular option to dress up your wall.
Many people choose to have wall paneling on their wall instead of wallpaper, cladding, and even painting. It's because this option is more affordable than the others.
In this case, the wall paneling is attached on wallpaper. That attractive floral pattern complements the sofa color. It's a nice way to blend the bold-colored wall with the furniture.
8. 3D Textured Wall Panel Design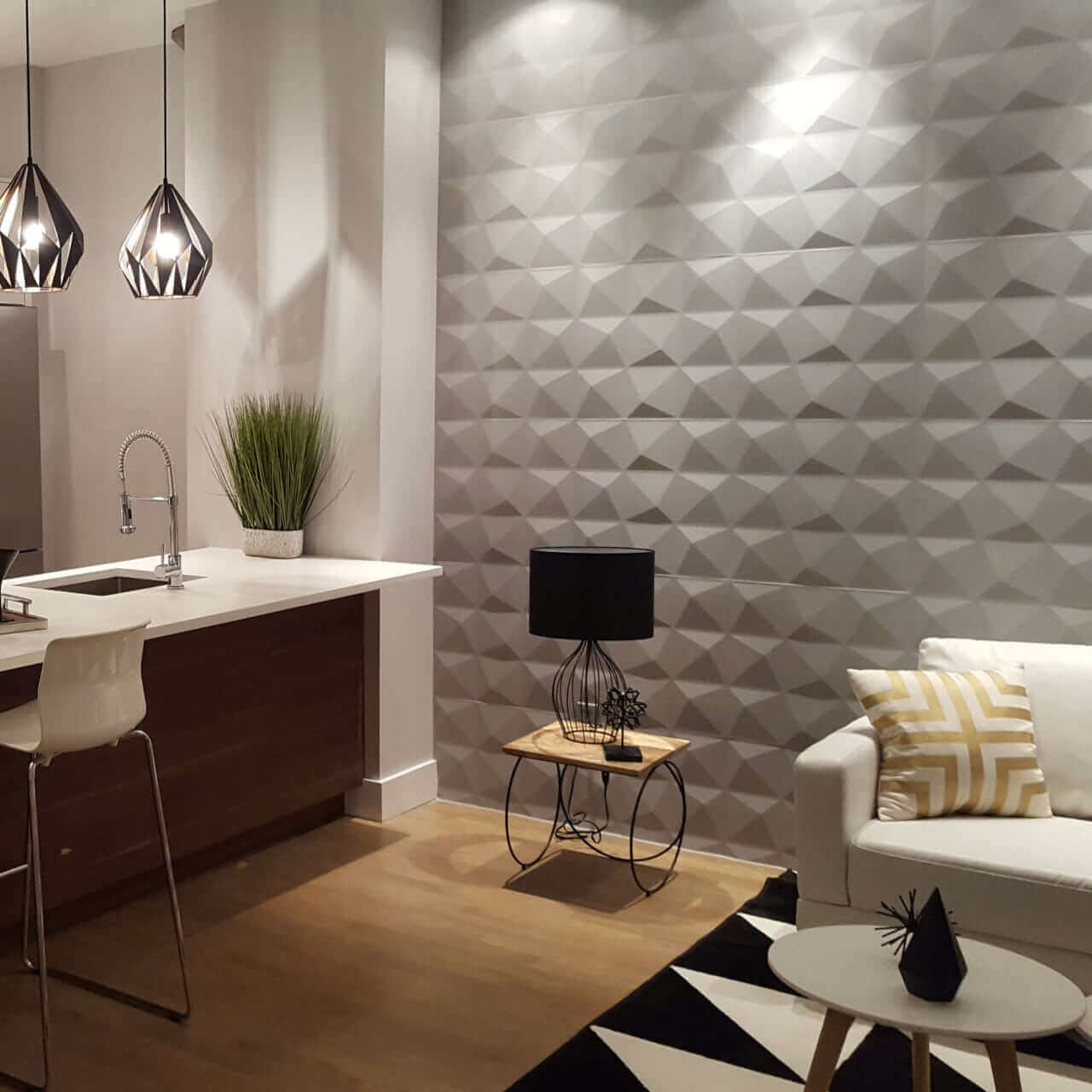 It's a fancy option of wall paneling design which able to attract the eye from every side. A solid texture on the wall improves the characteristic into a new level.
You can emphasize the texture by adding light fixtures. It will also draw some dramatic effect to the surface, making it more impressive to enjoy.
9. Cheap Wall Paneling Ideas for Basement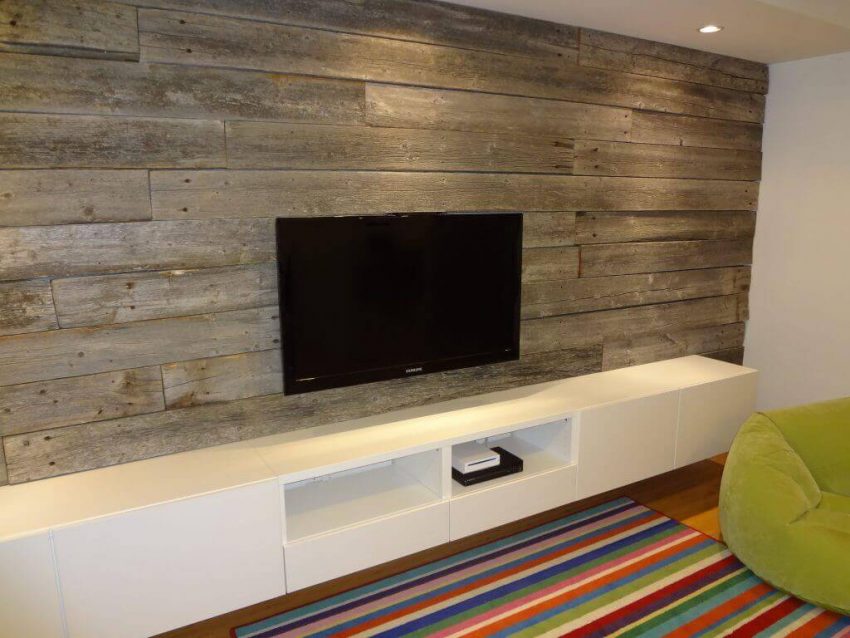 A basement is an ideal space to install a second living room. It's a private version of the main living room which is used especially for the family members.
In the second living room, you can free up your imagination to design it the way you like.
For example, this wall paneling behind the TV is using reclaimed wood. It adds a great-looking color and texture to the wall.
It also adds some rustic vibes in this modern living room. Having the reclaimed wood wall with a lot of white around it would get you easy to recognize the focal point.
Reclaimed wood has its special charm that will attract everyone. It's an ideal basement wall idea in your second living room.
10. Modern Wall Paneling Ideas for Living Room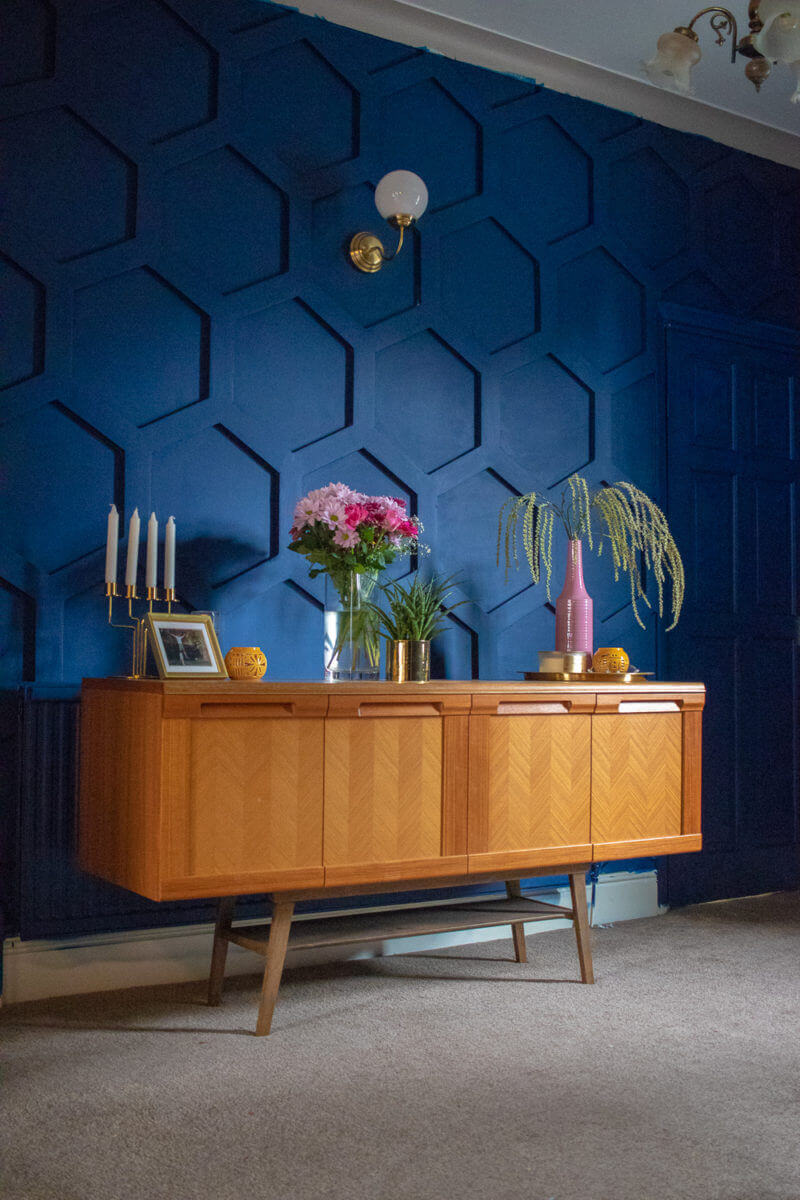 This is a wall paneling that has a truly modern style. This unique style of wall panel is called hex wall. It's quite trendy among other modern ideas for wall paneling.
It looks quite complicated to install. I guess you may want to take a look at how it's done.
This idea comes from a DIY project of an interior designer. The application is quite easy and simple, but it takes quite a long time to form because you need to stick the timber piece by piece to form a hexagonal texture.
It's a DIY project idea that you can do by yourself.
Make sure everything is precisely attached to the wall. Avoid any asymmetrical look of the hexagonal texture.
11. Wall Panels with Marble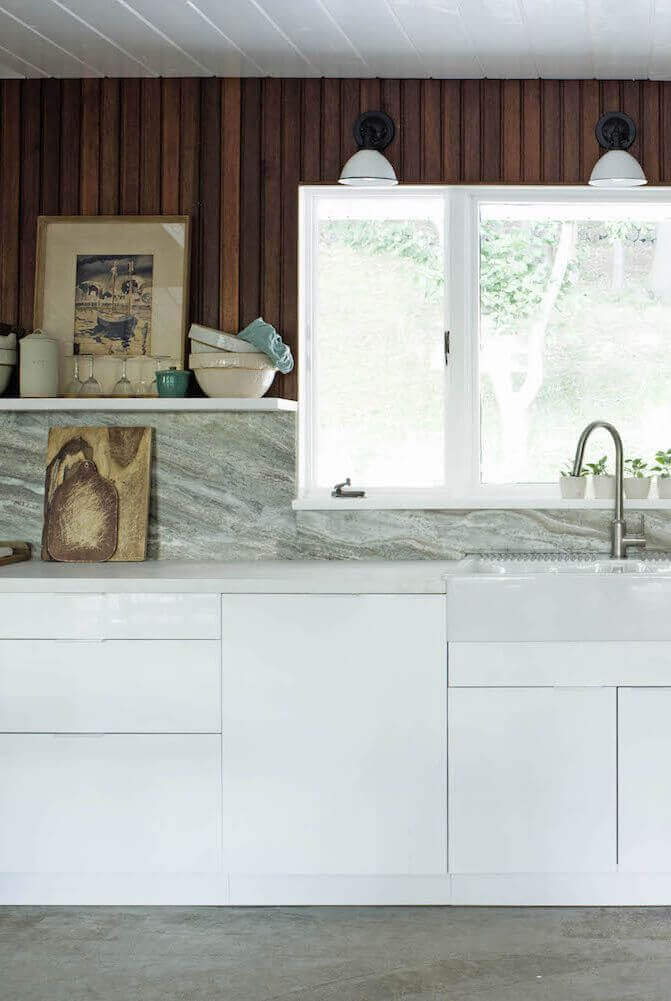 Adding luxe texture like marble will give contrast to the wall panel. Marble can make things feel and look more elevated.
The wall panels in this kitchen are made of thinner wood. It's applied in a form of narrow slats to give an understated twist.
The pattern from the marble wall becomes a good way to mix things up between the dark wooden wall panels and white cabinets.
The marble texture allows the wood slat to blend with the whitewashed cabinet.
12. Shiplap Wall Panel for Farmhouse Interior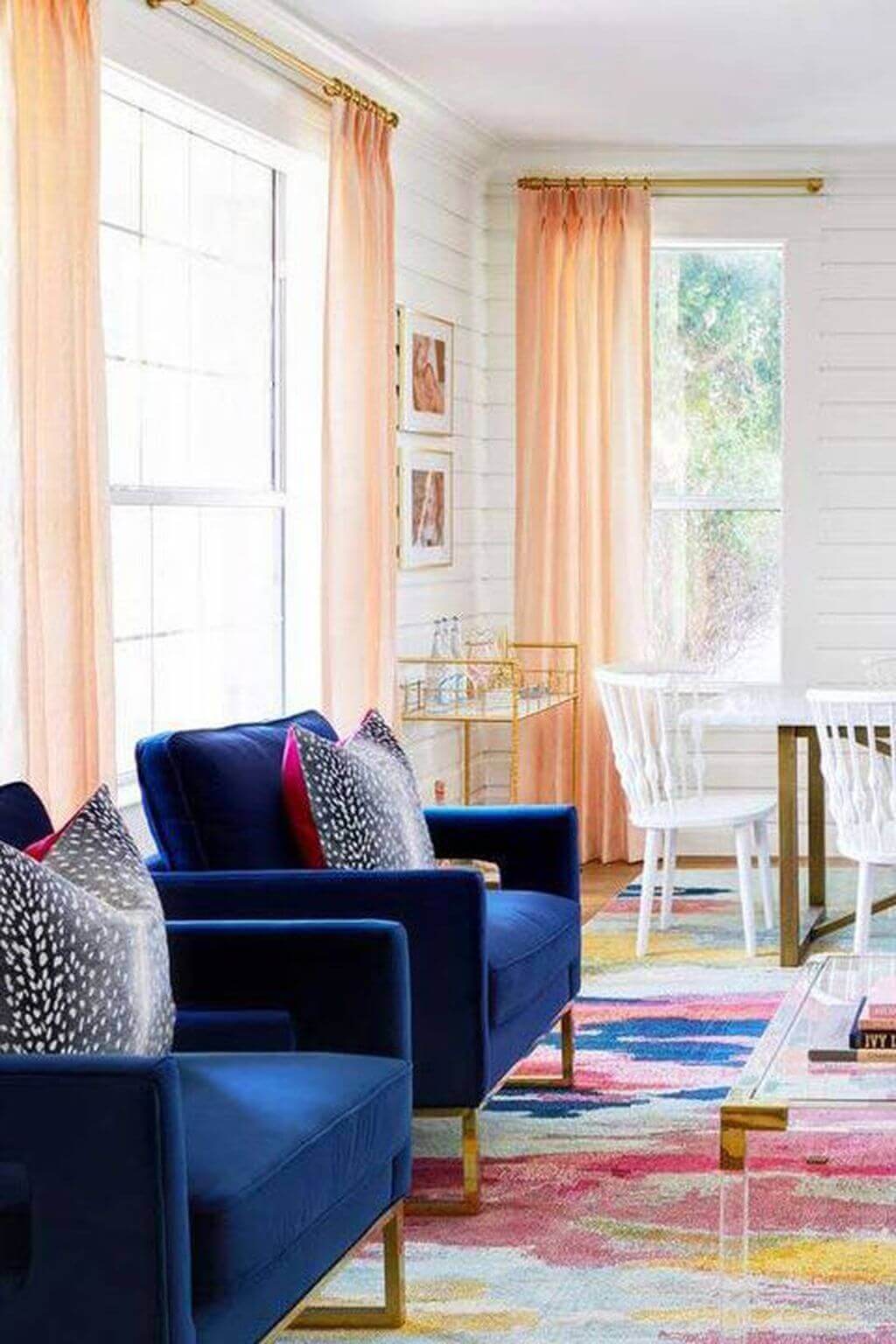 Shiplap is more than just a home decor of farmhouse style. The concept of making all the wood panels horizontal is very special.
The white color of the shiplap wall is to get balances with other bold-colored elements in this living room.
After installing a white wall with a simple horizontal texture, you can freely color up the entire room.
The white wall and ceiling act as a blank canvas that you can artistically splash some colors.
This colorful living room features orange curtain sheers, bold blue armchairs, and colorful epoxy flooring. All of those elements are so magnificent. It's like visiting the house of an artist.
13. Half Wall Paneling Ideas with Oak Wainscoting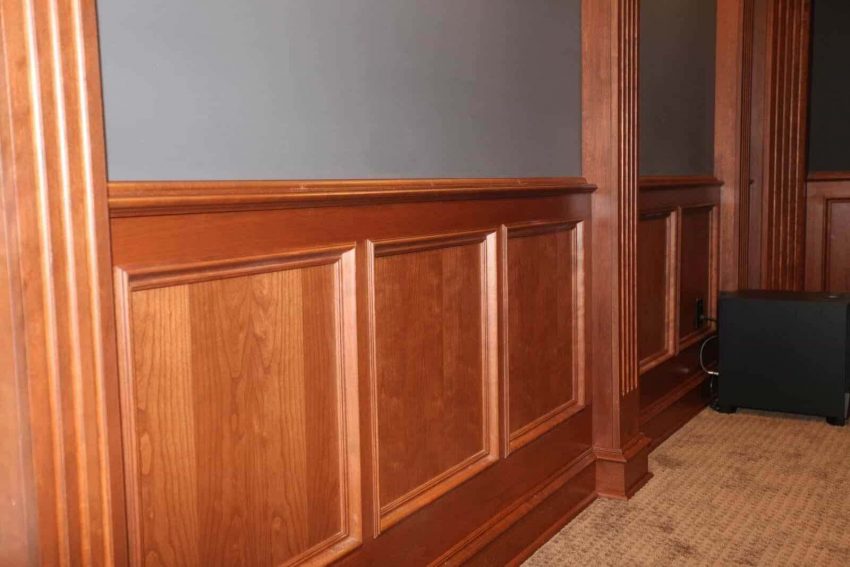 This wainscoting style of wall paneling is a classic option. The original style of wainscoting is made of oak wood, which is called Wainscot.
That's where wainscoting panel got its name. Oakwood has a golden hue, which becomes its special charm for the interior.
You can leave it as its natural color is or give it some stains and finishes to enhance its color. In this room, the wall paneling is using the finished oak wood which has a quite darker hue.
It gets paired with a grey wall which is quite different from each other. For your classic interior, it's an ideal choice.
14. Mirror Wall Paneling Ideas for Living Room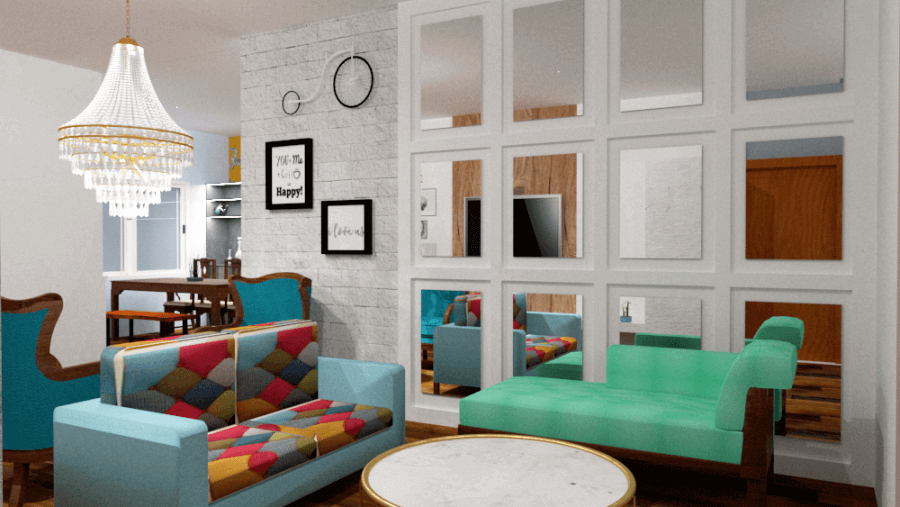 Mirrors are unforgettable material when it comes to wall decorating. Even though it's not something that comes to mind in the first place, it's the element that's guaranteed to steal attention.
Mirrors can brighten up any room by giving the reflection of light.
Some designer chooses mirrors for a small room to create an illusion of space. It can make a small space feels larger when the mirror is installed the right way.
If you have a small living room, you can extend the room outwardly using a mirror as the wall paneling.
15. Modern Wall Paneling Ideas for Living Room with Geometric Lines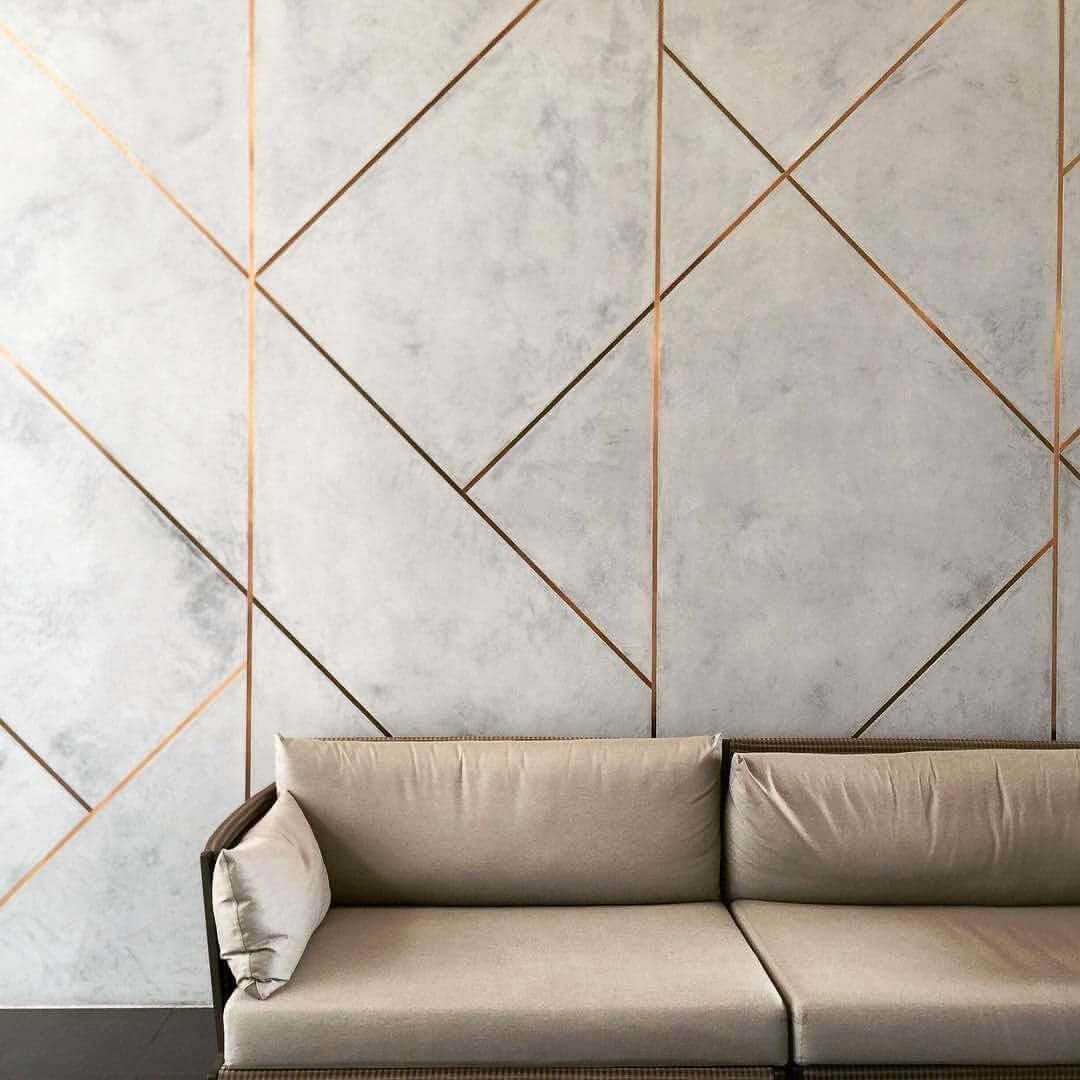 It's one of the modern wood accent wall ideas you can have on your wall. It offers a stylish appearance to complement your modern living room.
It looks classy, royal, and beautiful. Those geometric lines are so stunning. The texture is minimal but the impact is quite maximal in this room.
As you can see, that wall paneling matches the color scheme of the room. It offers a perfect backdrop for that sofa. They both complement each other well.
16. Faux Brick Paneling for Wall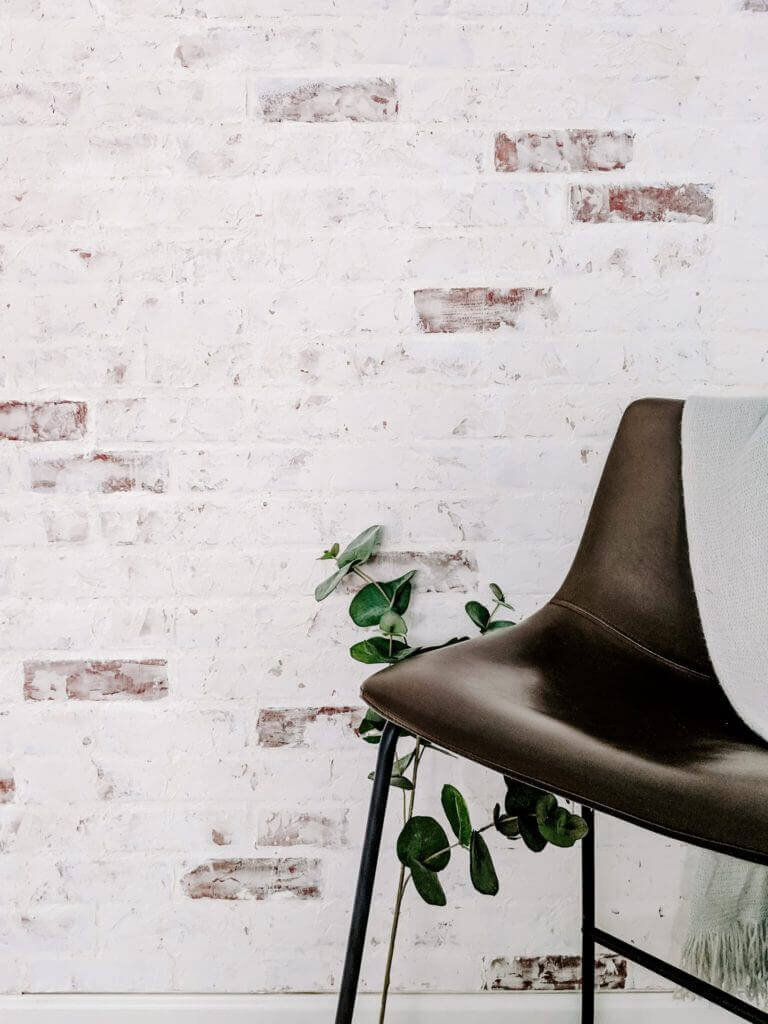 This wall looks like a real brick when it's a faux brick paneling. This paneling is available on Home Depot with a quite affordable price.
It's called the German Schmear brick wall. It offers nice texture with a unique brick look that you can find in any type of brick.
This faux brick paneling is part of a DIY project. It's inspired by the good old Chip and Joanna from Fixer Upper.
You can either buy the finished panels from Home Depot, or you can save more budgets and create it yourself. It will be worth to try.
17. Bold Shiplap Panels in Bedroom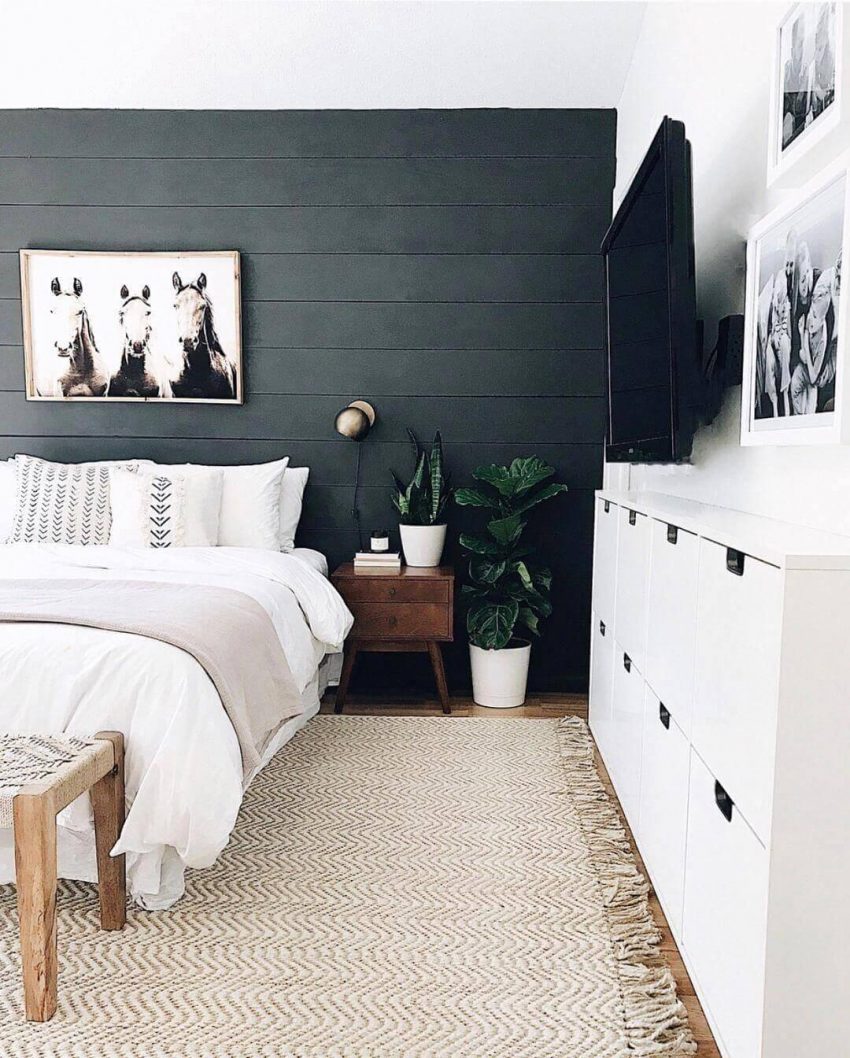 There's a reason why people love to have their room's wall in shiplap. It makes a great accent wall ideas for any room including the bedroom.
You can either keep it white and classic or you can just release your imagination with a dark color.
It will deliver a new twist to your wall. This bedroom looks lovely with the shiplap wall. It acts as the accent wall behind the headboard.
It makes a great focal point combined with the other walls which are in bright white colors.
Instead of leaving it plain with the charming bold color, you need to add some wall decors to add more interest to the wall.
A picture of horses is a nice touch to complement the farmhouse style related to shiplap charm. You can even add gallery wall ideas on it.
18. Soundproof Tufted Wall Paneling Ideas for Bedroom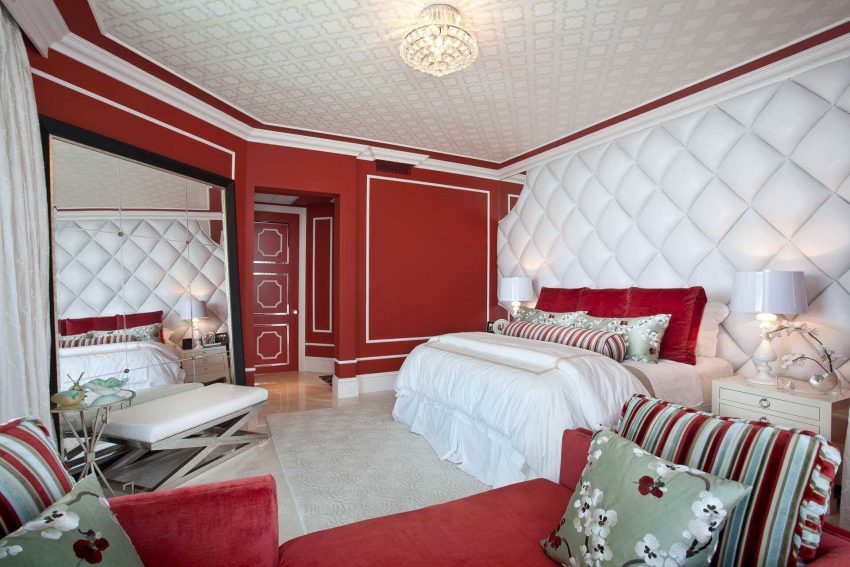 If you're a calmness addict, you might want to stay away from disturbing noise for your relaxation.
After a long busy day, you need to enjoy the calmness by yourself inside your bedroom. Cover your wall with sound resistant panels like this tufted one.
It won't allow any noise to get through to your bedroom. You will get the silent night you want to rest your body with quality. These tufted panels also offer a sense of glamour all over the bedroom.
19. Best Ideas for Wall Paneling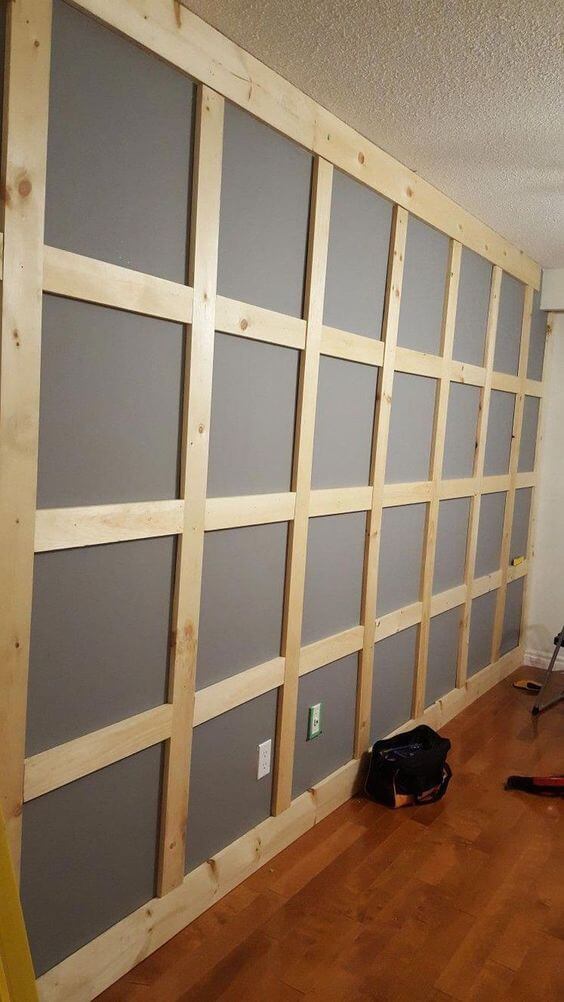 Conclusion
If you're interested in one of those wall paneling ideas, you might want to start applying or installing it from now. It will give your wall a charm it needs. The room with wall paneling will remain trendy and updated.