Bathroom Mirror Ideas – Bathrooms are often forgotten about when it comes to making them reflect your style needs.
This is because they are often small, and there's not much that you can customize, other than, say, the shower curtain ideas.
That's what most people think, anyway, but the reality is that there is another thing to really help you reflect the atmosphere that you are looking to create, and that's the bathroom mirror.
You can take the mirror that you have and totally customize it, or you can really play around with different options that you can pick up cheaply.  It presents lots of options to think about.
For you who want to update your bathroom style or redecorate the entire bathroom, installing a new bathroom mirror is the right thing to do. Here, we have a lot of ideas for your bathroom mirror which are ready to inspire you.
Well, here are the 60 most favorite bathroom mirror ideas 2022 to update your style by Harp Times:
1. Spa-Like Bathroom with Rectangular Mirror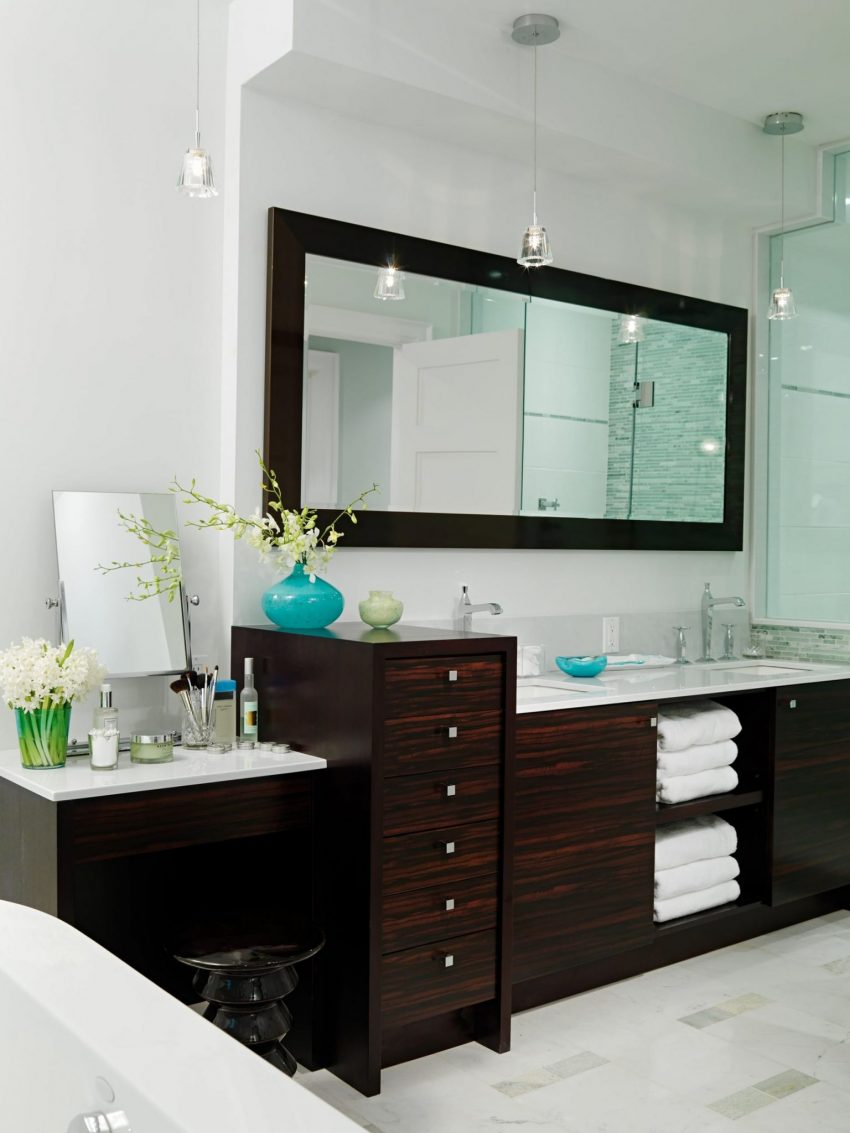 The white color in this mid-century bathroom is only used as a basis for this dark wood vanity.
The rectangular mirror is pretty big that match with the size of the vanity. The size of the mirror in the bathroom really changes the atmosphere.
The room would look more spacious even though the bathroom is already large in size.
A wide mirror like this can reflects a wider space facing the mirror. The mini light pendants in front of the bathroom mirror work together for decoration.
2. Farmhouse Bathroom Mirror Ideas for Double Sinks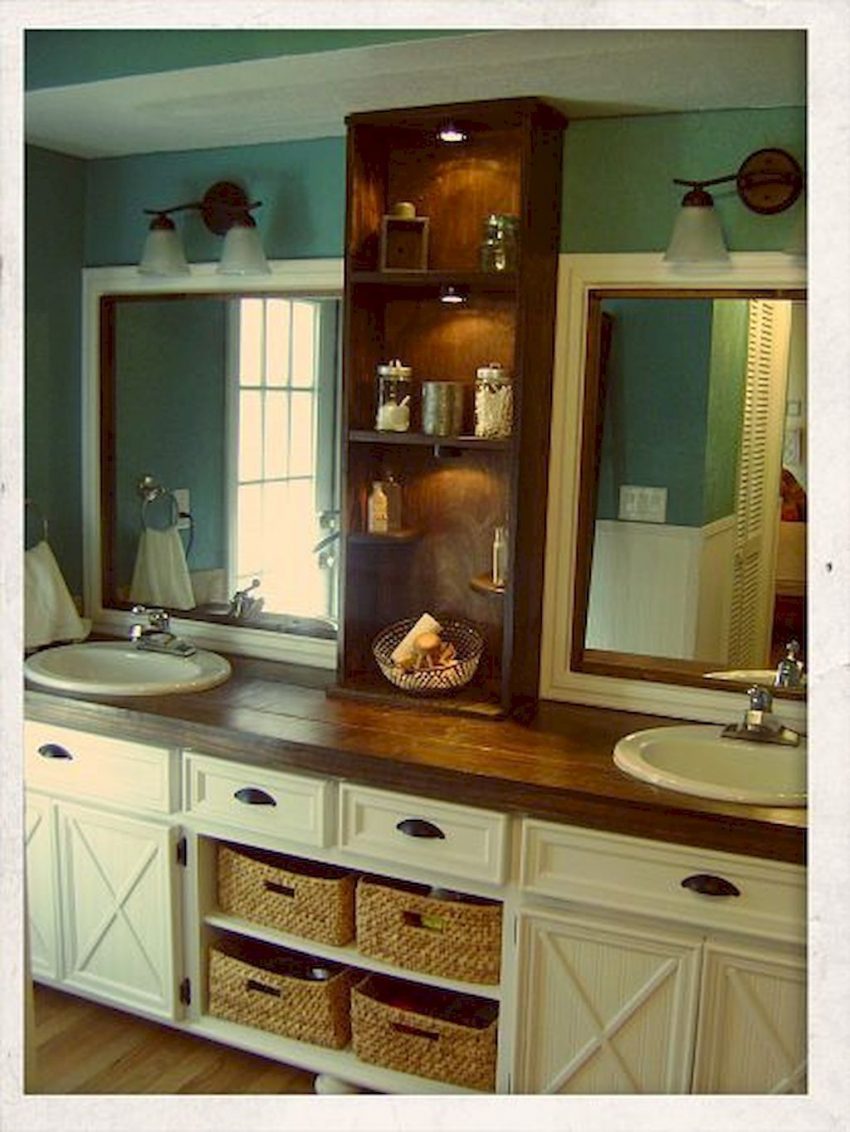 This double vanity has open bathroom cabinet ideas between the mirror. It's very useful to organize your bathroom stuff or toiletries. Even the open cabinet can just be filled with the bathroom decor items.
The vanity set uses two different colors, white and brown wood. You have the brown on the countertop and open cabinet.
The white element is served by the sink, lower and lower cabinet. Let's focus on the mirror. Its frame has both colors of the element, brown and white.
It's fulfilling the vanity as a well-combined set. Moreover, it does look neat and clean.
3.

Frameless

Small Bathroom Mirror Ideas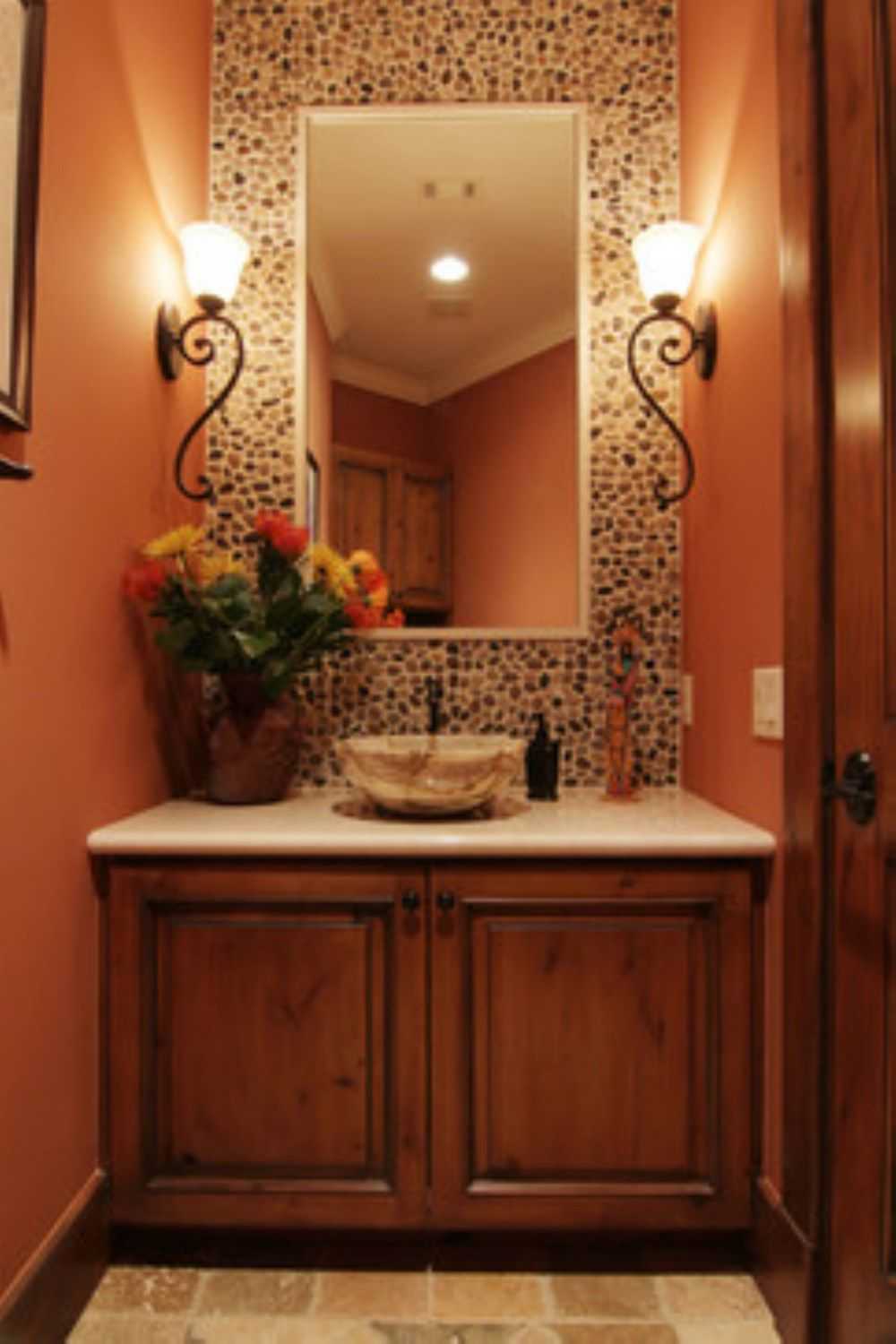 If you want an elegant and warm style inside your bathroom, then this Tuscan theme is very nice. The style of Tuscan is inspired by natural elements around you.
Some of the elements in Tuscan are sun-washed hillsides, marble flooring, crumbling stone walls, and sturdy hardwood element.
The main attraction of this vanity spot is surely the mirror. It's got a frameless mirror which shows the sense of classic. People need to make the mirror to be special because it's the one that has the biggest feature in the bathroom.
Recommended for you: Outdoor Shower Ideas
4. Attractive Bathroom Mirror Ideas with Unique Frame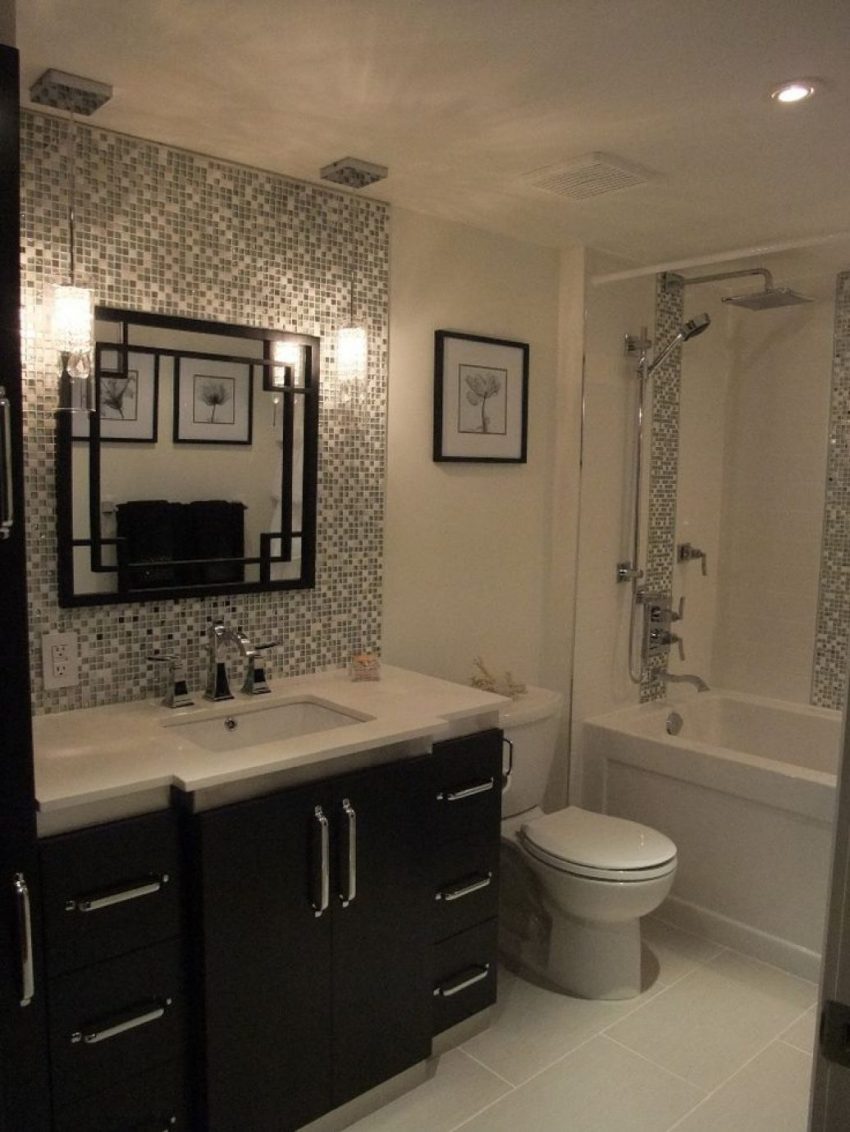 Choosing a unique frame design for your bathroom mirror is the effort to make it special.
It's definitely becoming the interesting focal point of the bathroom. It's even better, the mosaic backsplash tile is served as an amazing backdrop for that attractive mirror.
The size of the mirror is pretty small. It's because the designer wants to give more space for the mosaic tile to impress. Then, two sconces are installed on each mirror's size to make it more interesting.
5. Soft Mosaic Tile Around Mirror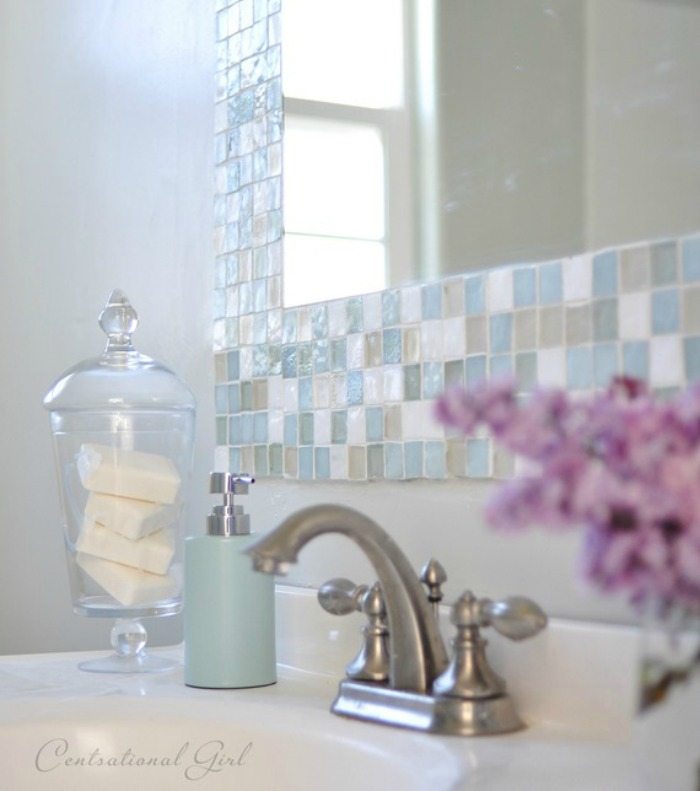 It's an alternative design of frame that you can have inside your bathroom. The soft color pallet is used in the making of the tile. Mosaic is a wonderful way to make your boring bathroom mirror looks more interesting.
You can just get the materials like sheets of tiles from the local hardware store. Then, you can easily lay the sheet into the wall. You don't need to waste your time in laying the tiny tile piece one by one.
6. Pearl Bathroom Mirror Ideas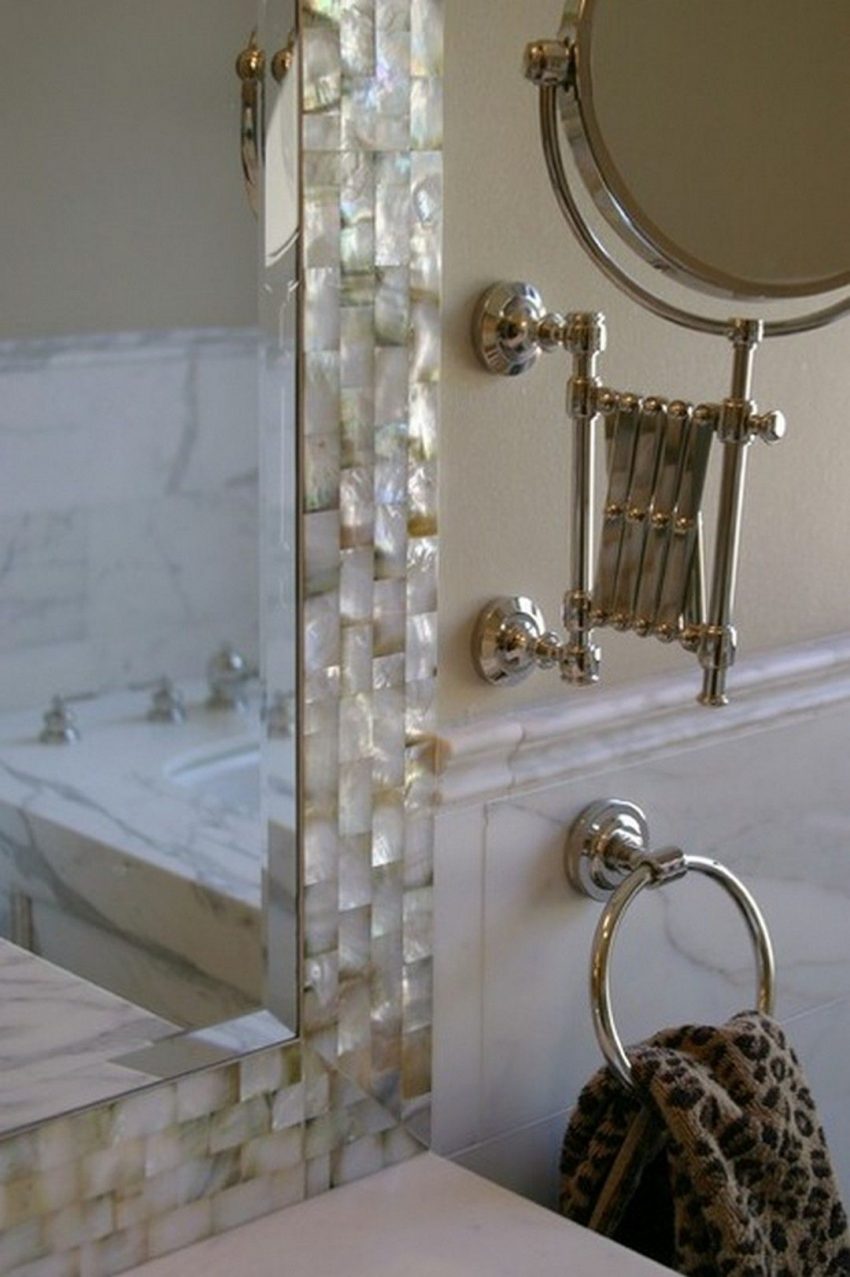 Just by looking at this picture, you might already know what's this bathroom mirror ideas designed for.
You can already feel the luxury which is exposed to that crystal frame. It's a great way to decorate your luxurious bathroom.
If you want to apply this in your own bathroom, you need to consider the surrounding. Make sure that the style you have in your bathroom is luxurious. So, it will be a magnificent master bathroom design.
Although if you decides to use this bathroom mirrors' style, then you must be prepare for the consequences. The shape of the mirrors' frame makes it tricky to be cleaned thoroughly.
7. Fancy Bathroom Mirror with Elegant Balance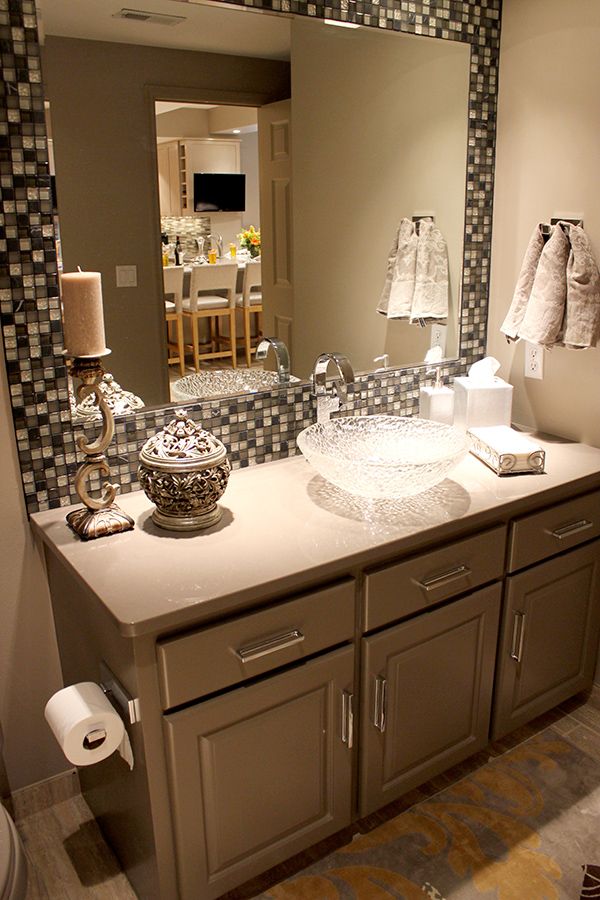 Tiling around the mirror is quite popular these days. Mosaic style of bathroom tile is the most favorite one. It's such a nice background to accommodate the space for your bathroom mirror.
If you already have this tiling, you'll only need on an ordinary frameless mirror. Let the mosaic tile do the work.
Quote: "A great thing about mosaic tile for your bathroom is that it can be a simple DIY project to redecorate your bathroom. You don't need a special skill to learn to install it, just do it."
8. Black Framed Mirror in Blue Bathroom
Blue is considered as the classic choice of a bathroom color paint ideas. It represents the color of sky and water.
It also offers a relaxing and calm feeling around the bathroom. You can accent a blue color with a lot of other colors but white is the best one to pair with.
As you can see, the mirror design is not that special but it's got a unique charm. The charm is supported by the traditional light pendants above the mirror. The black frame itself gives a powerful scene to the bathroom.
9. Rustic Bathroom Mirror Ideas with Lights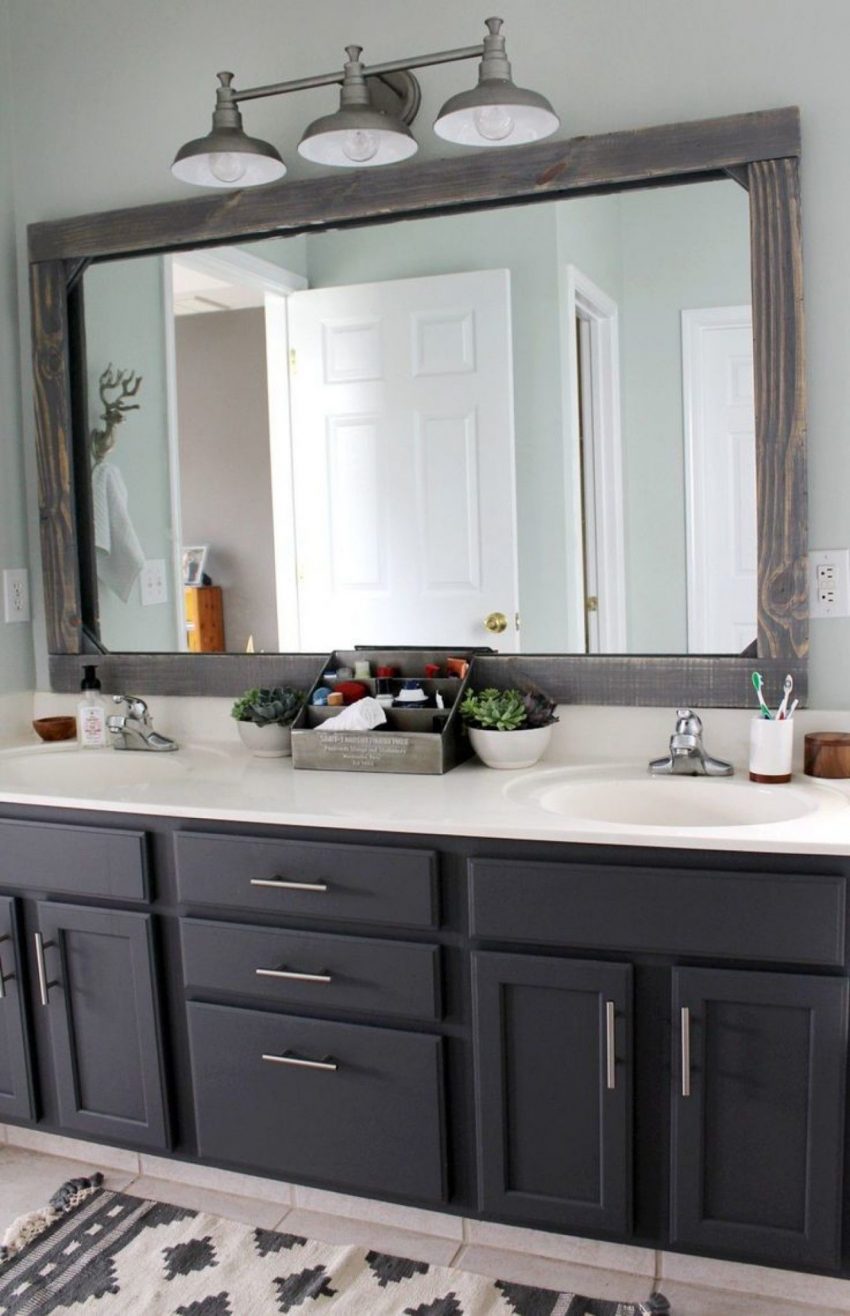 There are so many possibilities that can happen to your bathroom mirror. This includes a rustic wood frame for your bathroom mirror.
In this rustic bathroom ideas, the bathroom mirror really decides the whole appealing look. Those light pendants above the mirror seem to be following the rules made by the mirror.
Choosing a gray color for the vanity cabinet makes a matching combination with the frame color. Without a doubt, this farmhouse bathroom looks stunning because of its simplicity and rustic charm.
10. Double Vanity Bathroom Mirror Ideas in Farmhouse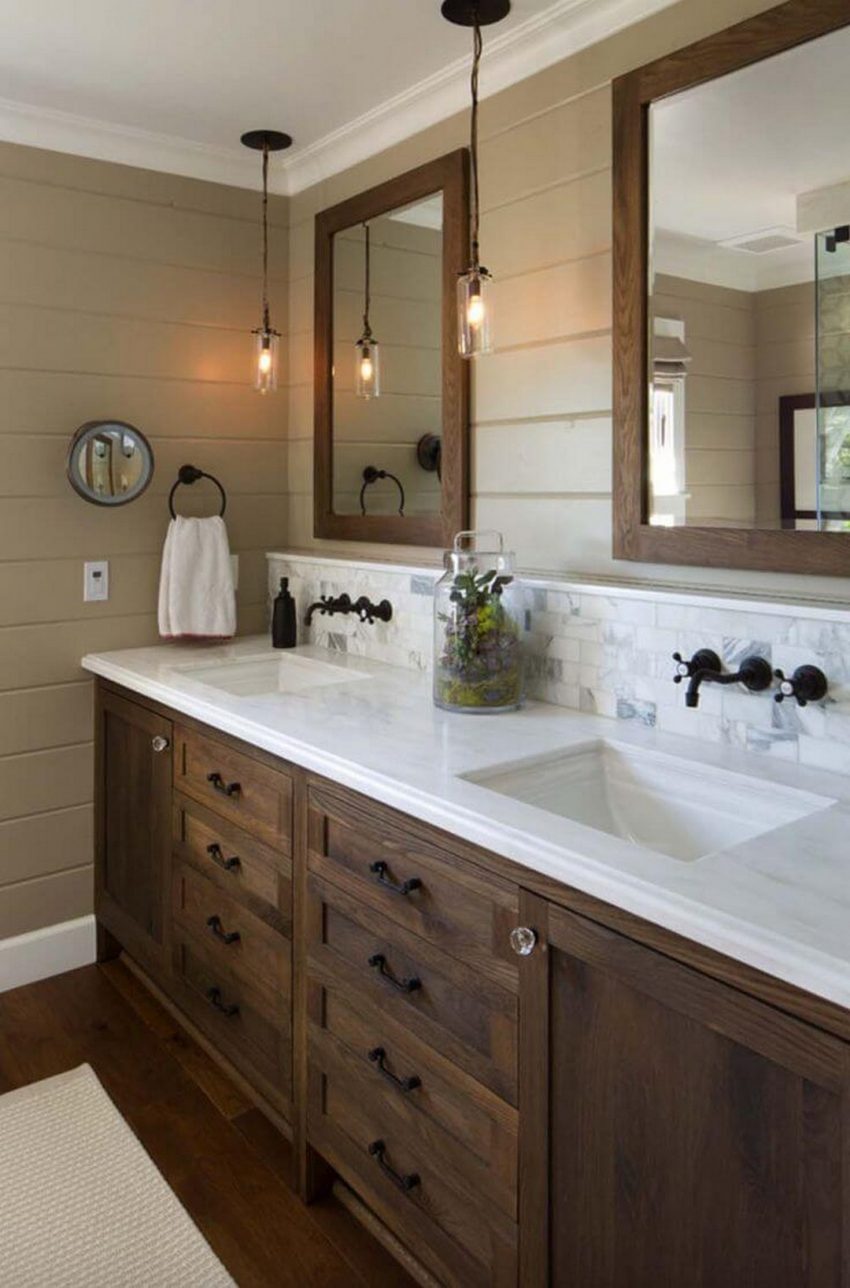 You may wanna call this bathroom as an industrial farmhouse bathroom. It's super elegant and very well-designed.
This style is currently trending and you might already know why. The homey feel for the interior provides the relaxation that you need.
There's also a double bathroom mirror for this double vanity. All of them are installed perfectly in place.
One industrial light pendant for each vanity is enough to maintain its simplicity. The light pendants are succeeded to utilize the mirror's reflection.
You may like: Guest Bathroom Ideas
11. Minimalist Luxury Bathroom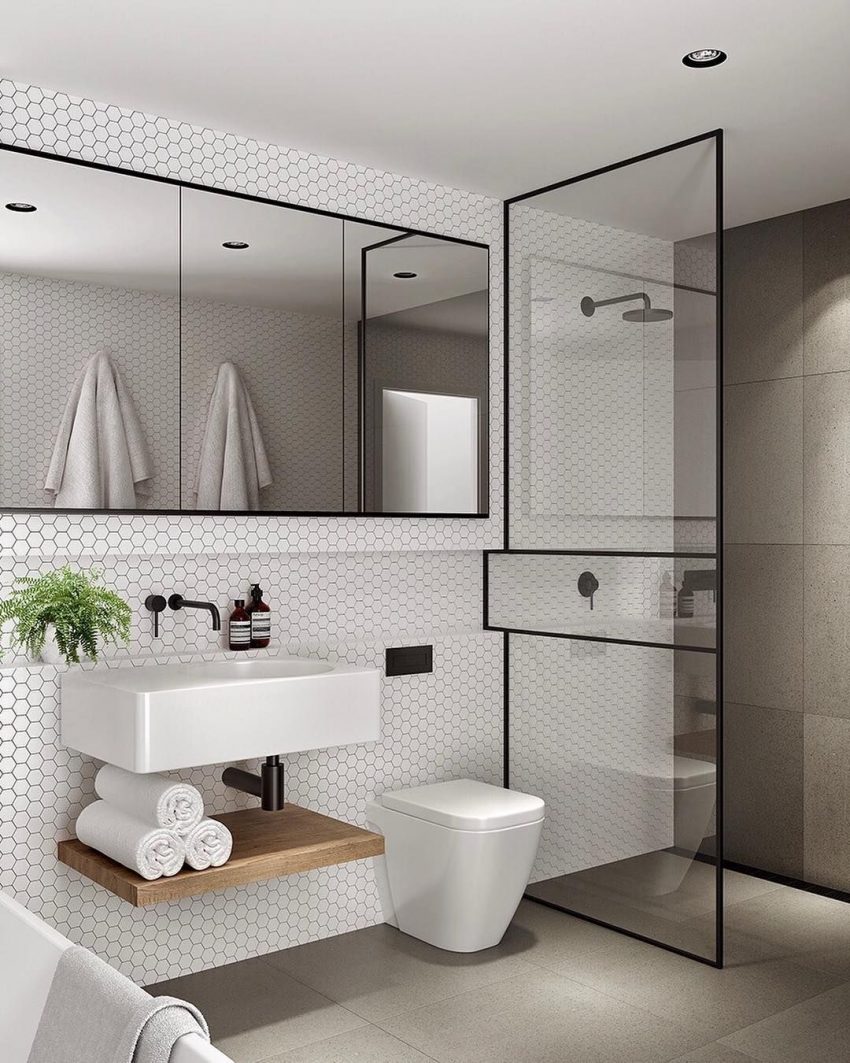 It's an interesting bathroom mirror idea which doesn't waste your viewing space. Beautiful design for a minimalist bathroom design.
It's got a black thin metal frame to reach a new stage of a minimalist style. The whole part of the bathroom wall decor and ceiling is dominated by white colors.
The structure of the frame for mirror and shower glass is similar. Which extend the existence of the mirror. It's got a mounted sink and a sleek faucet item to complete the minimalist look for this luxurious bathroom.
12. Bathroom Mirror Ideas for Double Sinks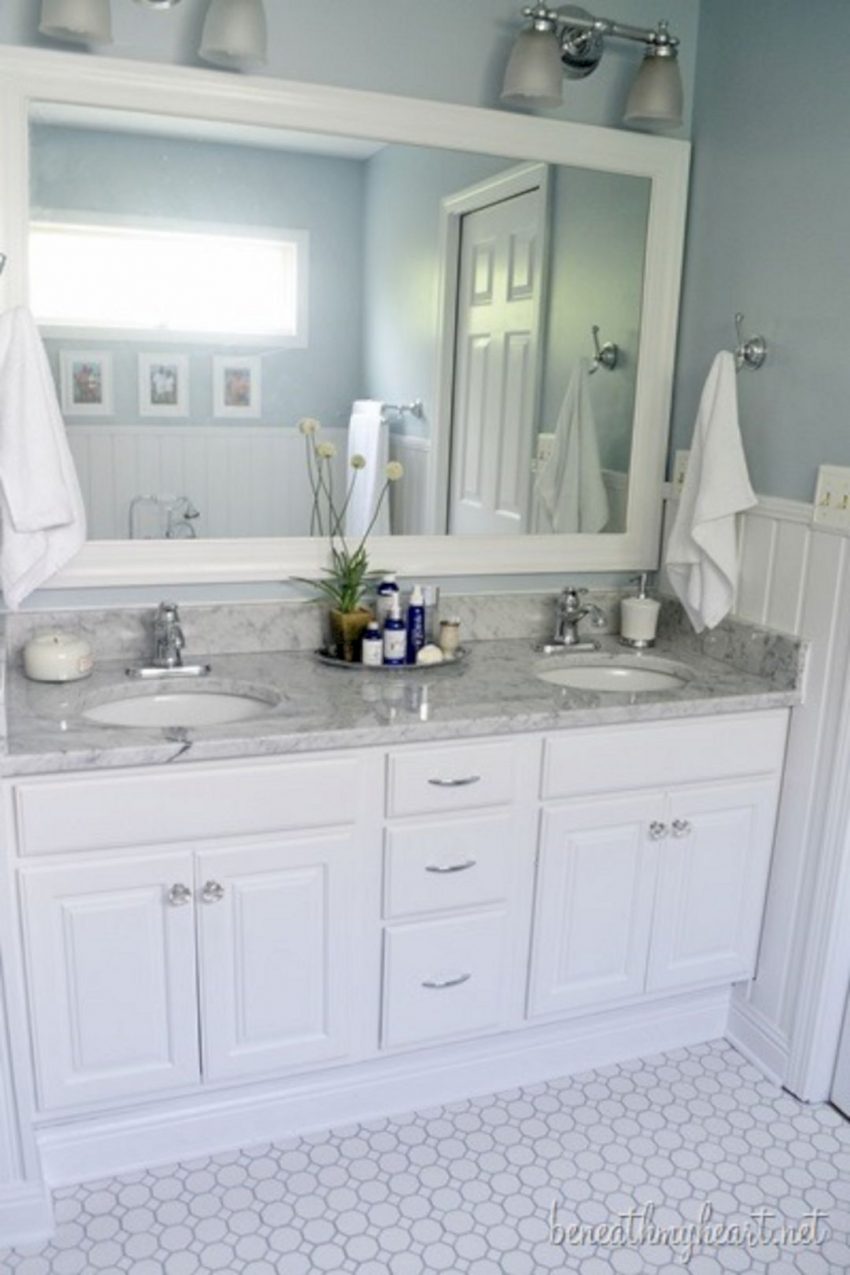 White color paint can be elegant if you know how to apply it. Choosing white as the main color for the bathroom is a clever thing to do for your bathroom. Here's why:
The classic, cool, and clean look would be a refreshment for the users.
It's very flexible to almost all style.
It's great for the base, it's a nice addition for decoration too.
The small room deserves to have white paint to get it more spacious.
It reflects the natural lights just like the bathroom mirror.
13. Small Bathroom Mirror and Lighting Ideas
If you look closely, you'll see that the oval bathroom mirror is attached with a single shelf. It's a unique collaboration of bathroom mirror ideas.
It's smart and clever for your small bathroom. You don't need to waste more space for shelves because you already have it attached to the mirror.
The interesting flooring pattern of yellow creates a fun atmosphere in this beach bathroom.
The minimalist design of vanity connects with the bathroom mirror design in harmony. Apply this in your small bathroom if you want your bathroom to be warm and inviting. Bathroom Lighting Ideas.
14. Farmhouse Bathroom Mirror Ideas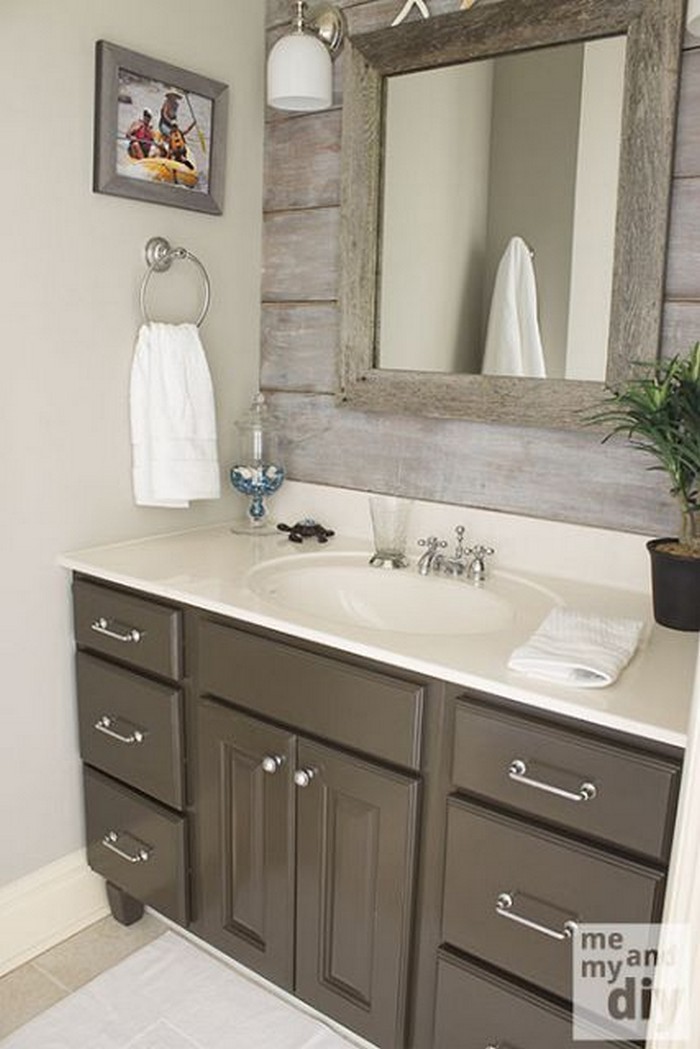 Before focusing on the mirror, check out the vanity cabinet which is colored with the Benjamin Moore's thunder gray.
The strong look of a gray color balance the other two colors inside the bathroom which is the white and rustic gray color.
That barnwood mirror frame has a soft texture that makes it stunning. The pale gray color of the background is installed correctly to support the rustic frame. The color and texture around the mirror are produced by nature.
15. Bathroom Mirror Ideas for Single Sink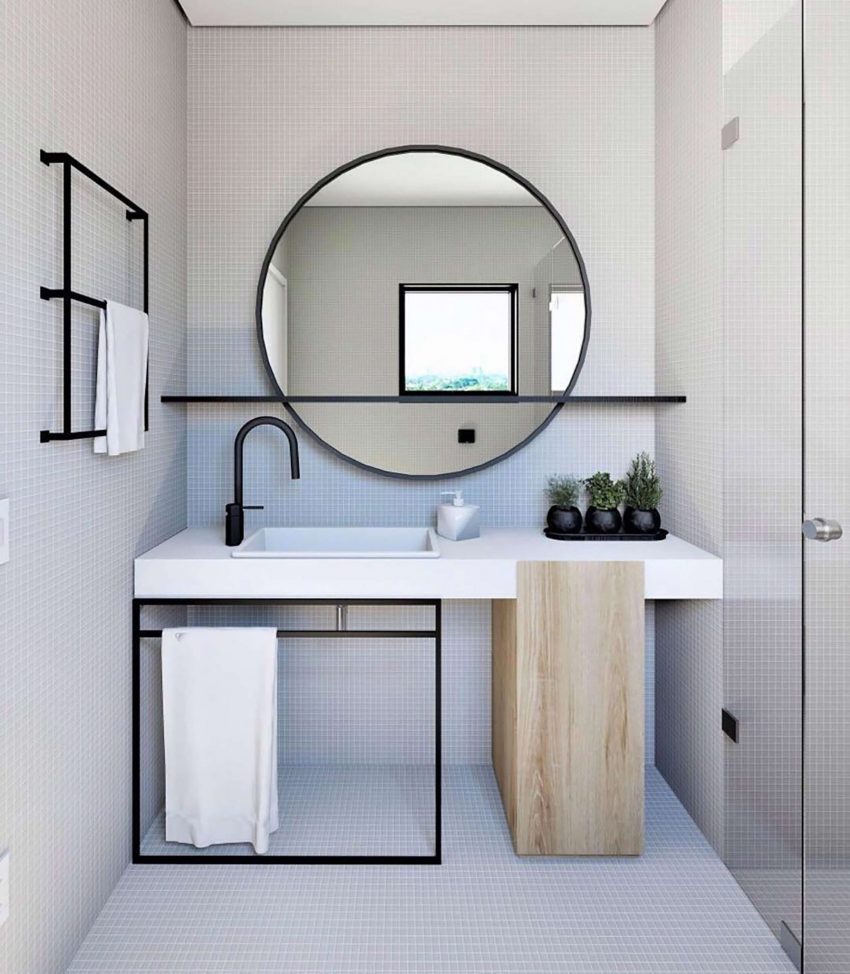 This bathroom vanity design is both fresh and inspiring for bathroom storage ideas. Those black metal frames are all in the right portion. It expresses the industrial vibe in the bathroom. The mirror is attached with a shelf in a form of a metal plank.
The towel hanger and faucets are there to support the main attraction of this bathroom space, the round mirror.
A round mirror for a bathroom is a great way to bring some relaxed appeal and softness into the bathroom.
16. Ivory Color Master Bathroom Mirror Ideas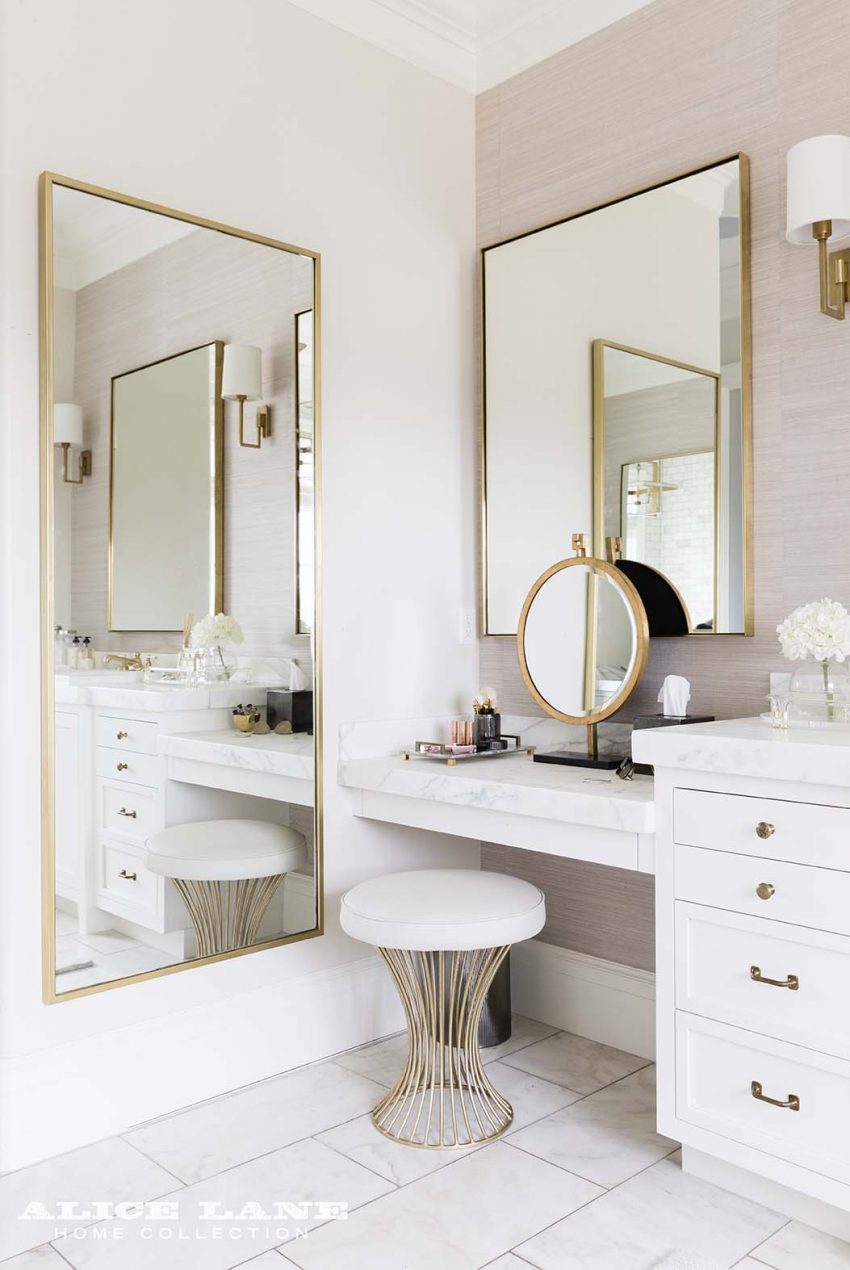 You can have this as an inspiration for your own bathroom design. It's got three bathroom mirror ideas you can use.
Three important elements of this master bathroom:
Brass metal frames on each mirror.
The Ivory color on the wall.
The Crisp white vanity cabinet.
Those elements are crucial to this master bathroom. Each mirror has different sizes and shapes. So, it's very obvious that each mirror has a distinctive use. It's not a weird bathroom, it's a complete bathroom.
17. Frameless Bathroom Mirror Ideas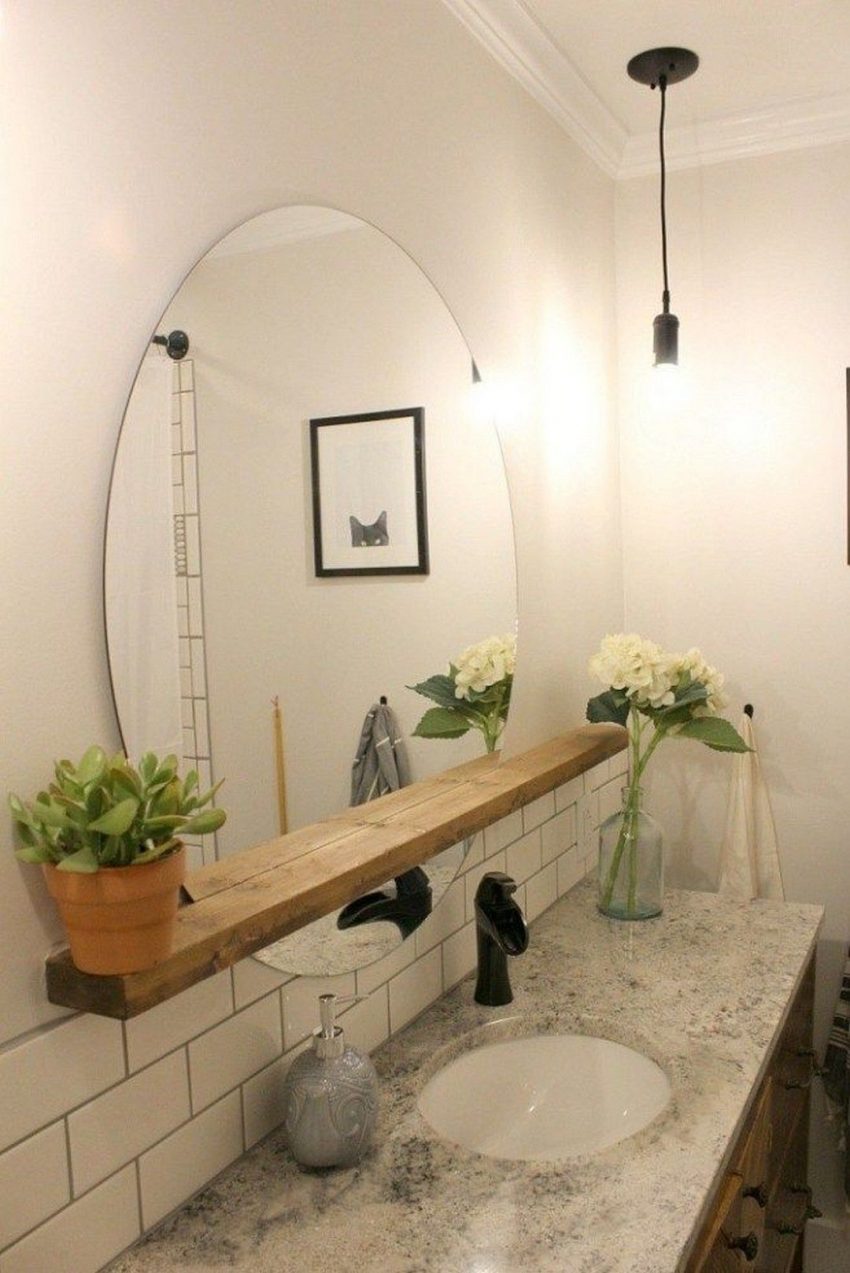 It's one of the budget ways you can try to upgrade your bathroom design. You can use a living thing like plants or flowers to decorate your frameless bathroom mirror.
A frameless mirror is much cheaper than the framed one but sometimes it looks plain and boring. So, decorating it might be a clever option to save your budget.
You can use a simple wood plank and attach it to the mirror, then put the plant in a pot and flower on each side of the plank. There you have it, a simple natural decoration to update your basement bathroom ideas on a budget.
18. Bathroom Mirror Ideas with Lights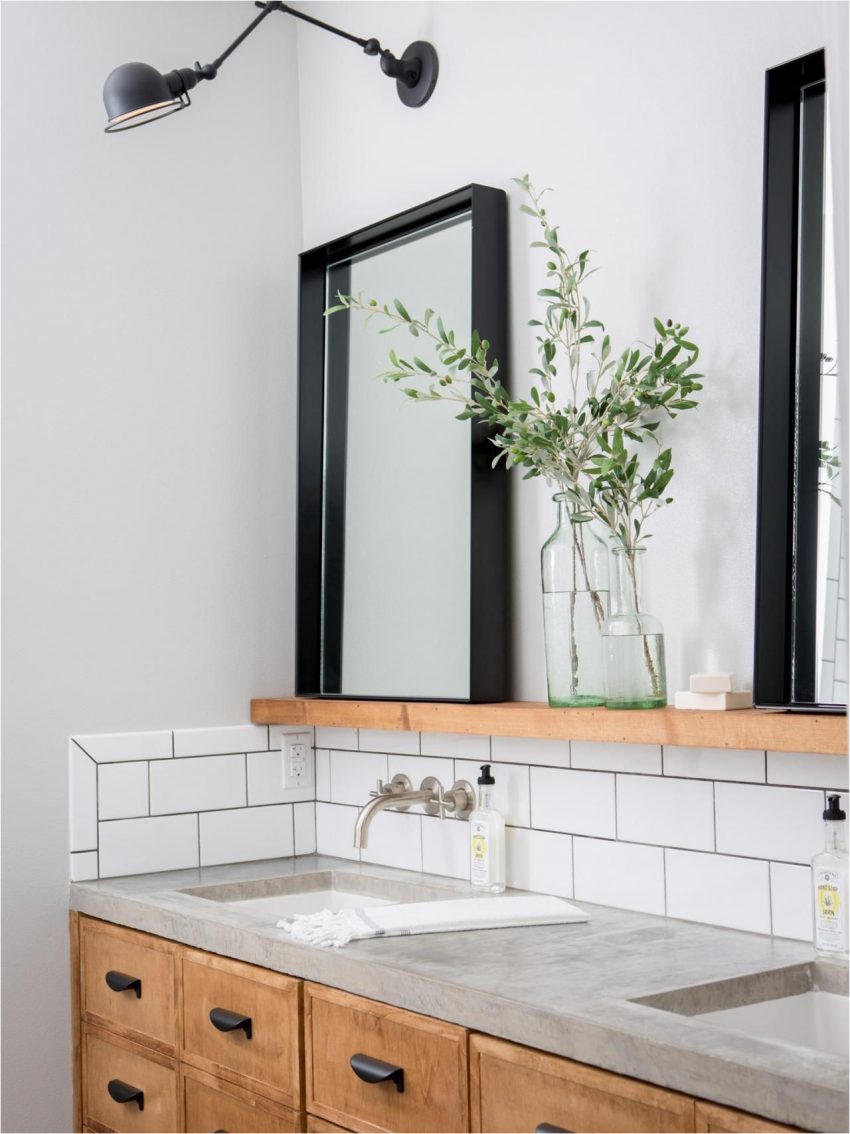 These mirrors have a protruding frame which makes it looks so unique. It's not just a mirror, it also serves as delightful shelves.
The material of the shelves is matched with the drawer cabinet. It's got a concrete countertop and a tiled backsplash.
All of these elements in this bathroom are very encouraging to the protruding black frame of the mirror.
A simple decoration from the light pendants and leaves in the bottle create a magnificent combination. You'll love the time you've spend in the bathroom.
19. Fantastic Mirror with Wooden Frame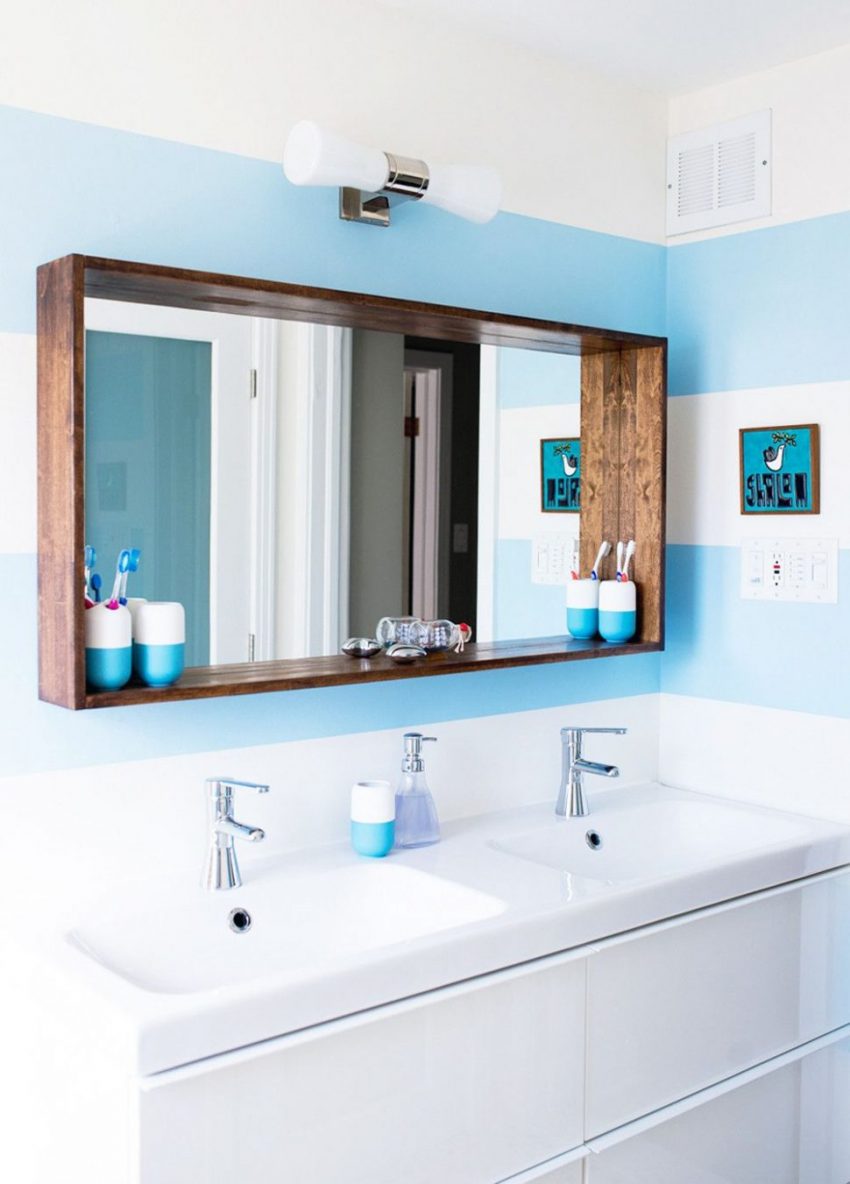 Welcome to the most inviting bathroom in this list. The soft blue hues and white combination is the reason why it's so inviting.
The fantastic charm of the bathroom mirror plays an important role to give an inviting atmosphere in this bathroom.
The wooden frame is quite protruding in the middle of soft color. The bright white sink, ceiling, and cabinet have offered a space of attention to the mirror.
There's enough space on the mirror frame to be used as a shelf for your bathroom's stuff.
Related Article: Walk in Shower Tile Ideas
20. Framed Bathroom Mirror Ideas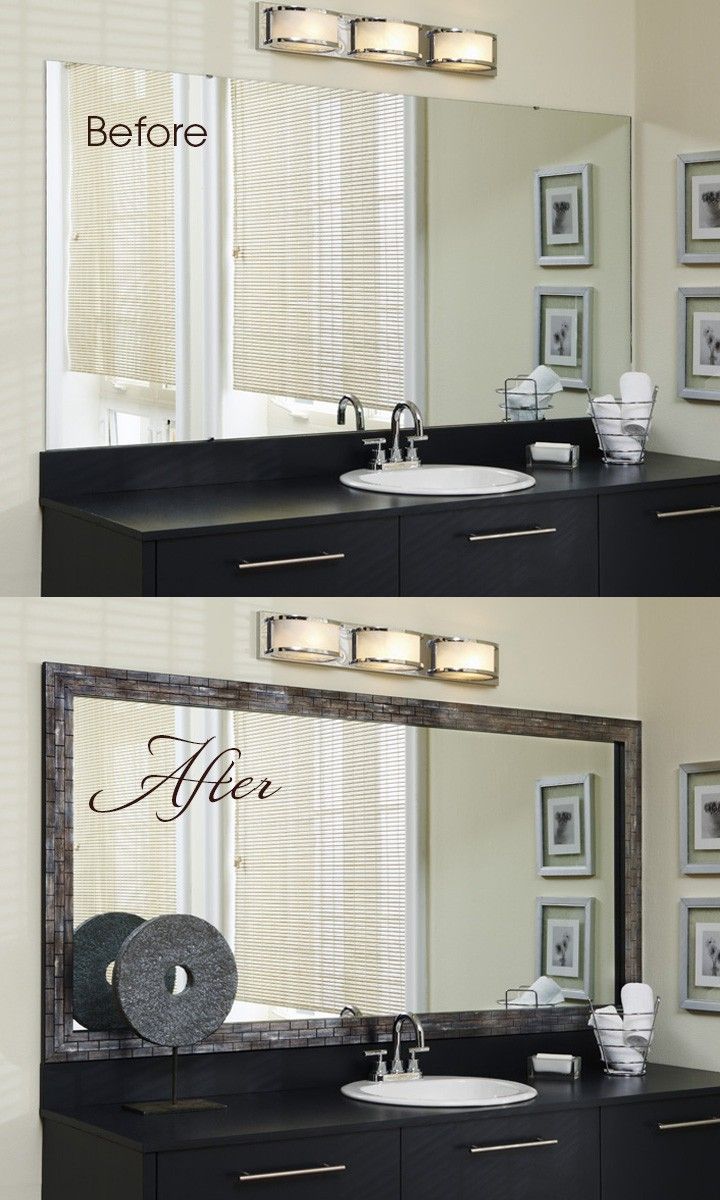 Turn the bland into the grand, just by adding the frame. A frameless mirror looks a little empty but when you add the matching frame to the mirror, the elegance rises up to the next level.
Which one do you prefer, a frameless mirror or a framed mirror for your bathroom?
If the choice is based on this case, the framed one is better. As you can see, when the big mirror is framed, the boring empty space around the mirror is gone. The frame defines a space for a mirror of the vanity.
21. Mosaic Mirror Frames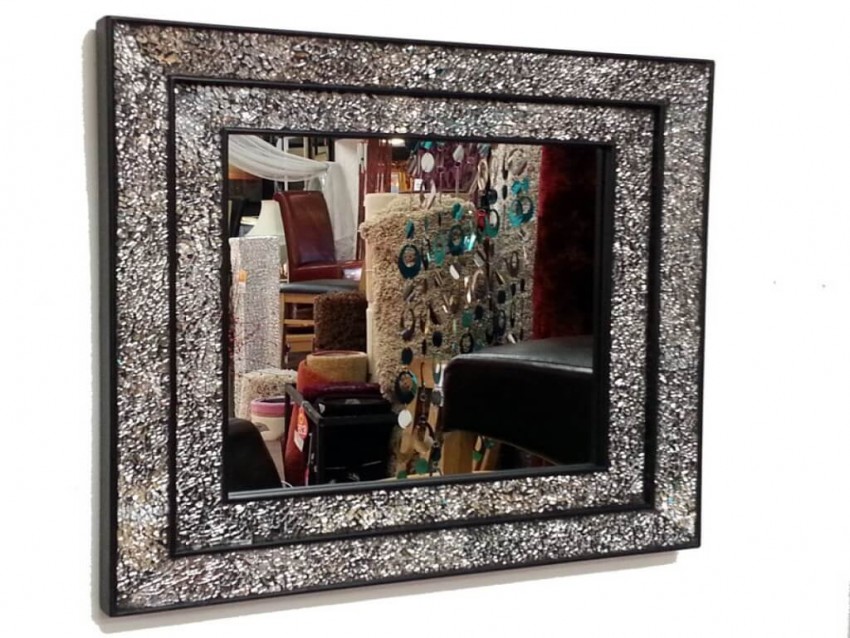 This is a style that is done with existing glass.  You have to take the bits of glass (whether it be clear, coloured, sea glass, or a combination, and turn it into a frame for the mirror that you have already.
It adds definition and fine detailing to the mirror and makes it stand out.
If you are really coordinated about it, you can even match the glass shades to the colour scheme that you have going in your bathroom design already.
Fun to do either as a craft, or as something you buy already in mosaic form.
22. Tile Backsplash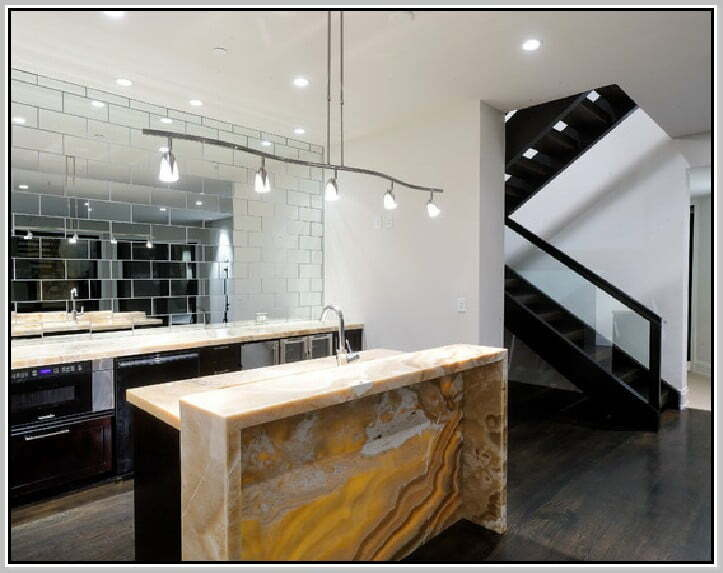 Despite how it may look to you right now, this is done as minimalist and subtle way to get a mirror together.
It looks like a backsplash of tiles, which it is, technically, but it's also a mirror that is right against the all, offers you a huge expanse to admire yourself, and still is quiet in a way that also reflects light and make the room look much bigger than it is right now.
You can either create the whole wall with this idea, or simply "build a brick wall" of the mirror sections that you are hoping to use to create your ideal mirror.
There are lots of options and it's something that is going to give you a lot of possibilities when it comes to the style.  Even better, combine it with a few options of coloured tiles one in a while and you've got a stellar option.
23. Antique Bathroom Mirror Ideas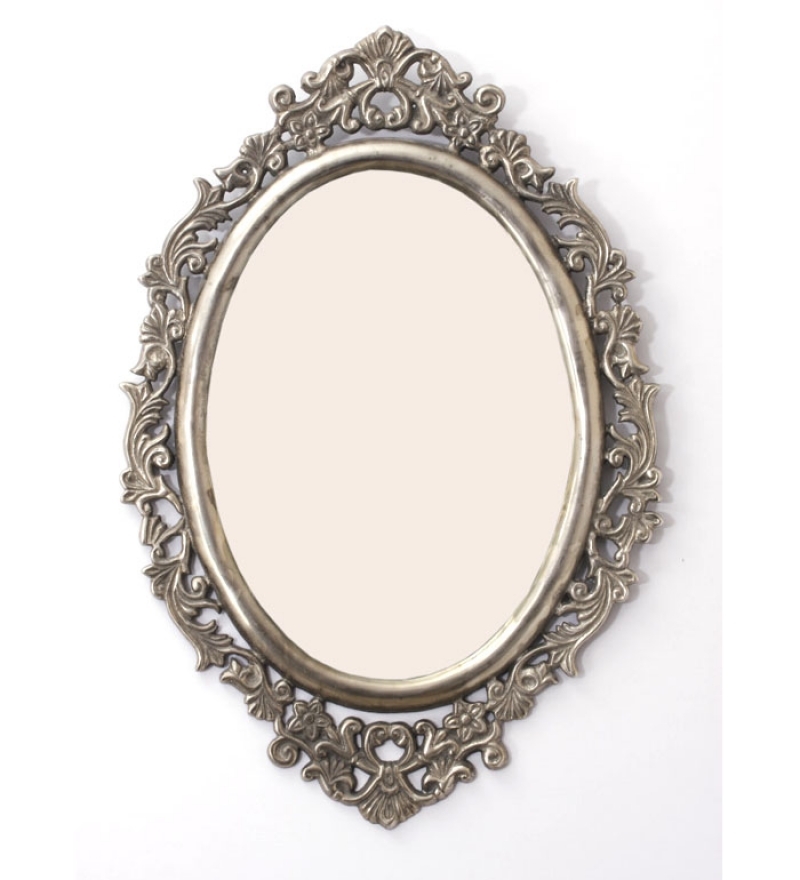 Using a dining tray from antique times is a great idea.  You simply need to apply a mirror that fits to the bottom of the tray and then hang it securely on the wall.
If you have an old antique mirror with a great, elaborate frame, that works, too!  You'll love the look it will create for your bathroom.
It's an easy finish to add to the look you've already got going and you'll get to reuse old belongings and give them a new purpose, which is always enjoyable.
24. Strange Shapes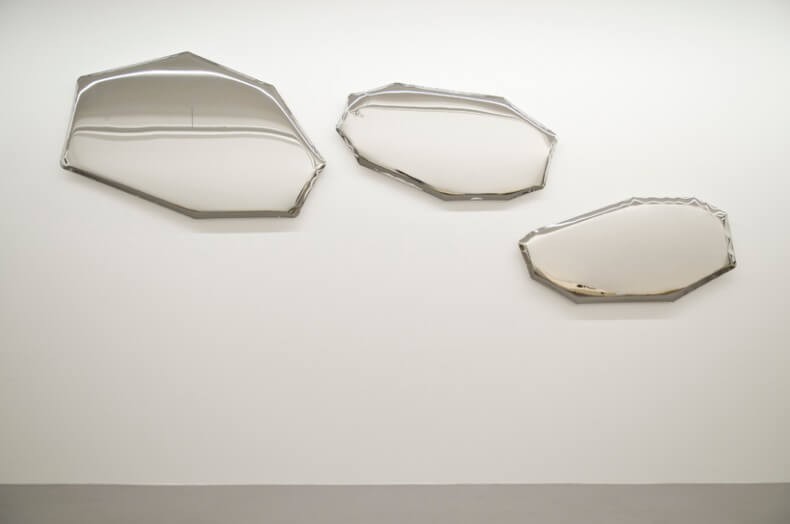 You can really create neat looks with your bathroom if you combine some smaller, strange shaped mirrors together and create a collage look that is both modern but totally unique.
So those who come in to look at it will be really impressed.
For this look, frameless and finished edge mirrors are always a good idea to give it a unique look and feel.
It'll make the job a little easier, too, which many will enjoy right off the start of things.  Go crazy with the shapes that you can combine together, it'll pay off!
25. Bathroom Mirror Ideas in Backlit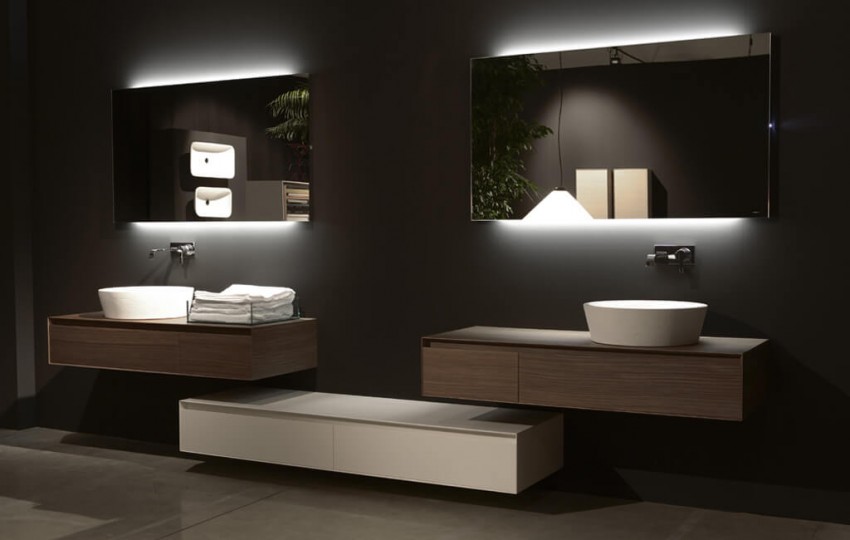 These add a modern look to your home that is really going to freshen up the room and give you a final overall look that will give you an excited thrill every time that you walk into the room.
You take an edgeless mirror and mount it so that there is space between that and the wall.
Then you take a florescent bar light, apply it to the top and bottom of the mirror, and you've got a backlit mirror that is going to create a futuristic but dramatic look in your bathroom.
Also, when paired with regular lighting, you'll be able to see that this will give a warmer glow to the complexion of the person looking in the mirror, which everyone loves to see.
It's all about creating a refined look that is all things intense and modern.
26. Multiple Mirrors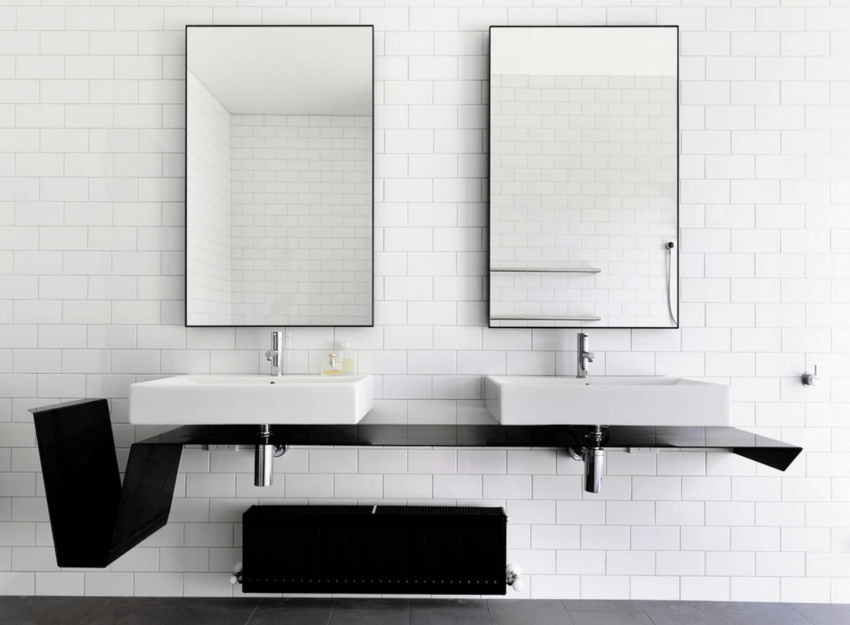 It's common in our world to have one large sheet of mirror on the wall, which is great, but don't be afraid to really work with the idea of smaller mirrors, too, whether you want to match them up with sinks, or simply enjoy the idea of putting a few similar mirrors next to each other.
It gives a break to the design and adds a fresh look at what you doing to your space.  If you have multiple mirrors, you can combine shapes, but don't be afraid to put similar shapes together too.
It'll give a put together look that is sharp and clean which is great.
26. Exciting Shapes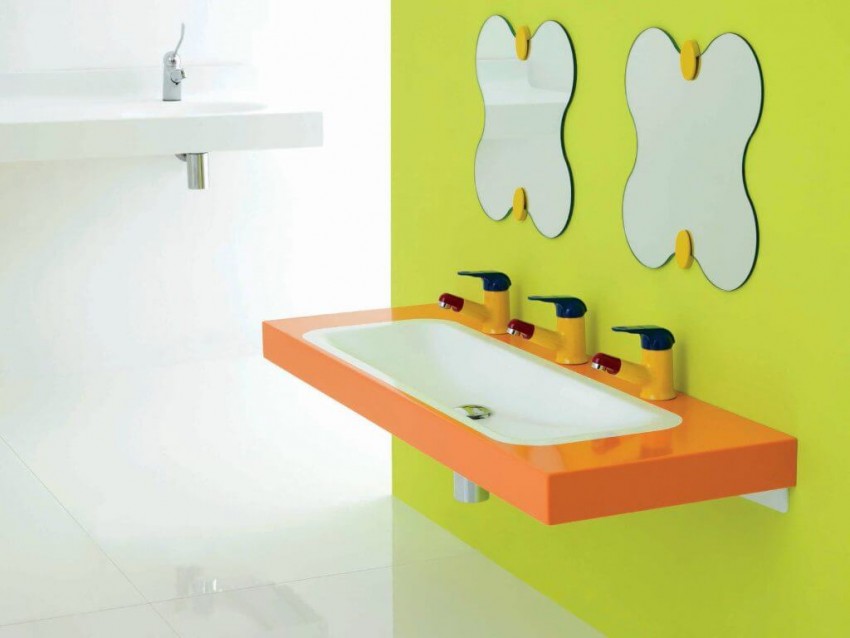 If you are putting together a kid's bathroom, or you are simply trying to add some fresh fun to the bathroom to include the children in your home, go with a cute shape for a mirror.
It'll give you time to really explore all of the great options for decor without going too intense in it.
A funky mirror shape, put where they can use it, brings the child's role into the home, but also makes it so that you are playing around with the mirror.
These can easily be used in other places after the child grows up and no longer needs it, plus it's a lot of fun for parent and child during the time when it is needed.  Consider it!
28. Oversized Mirrors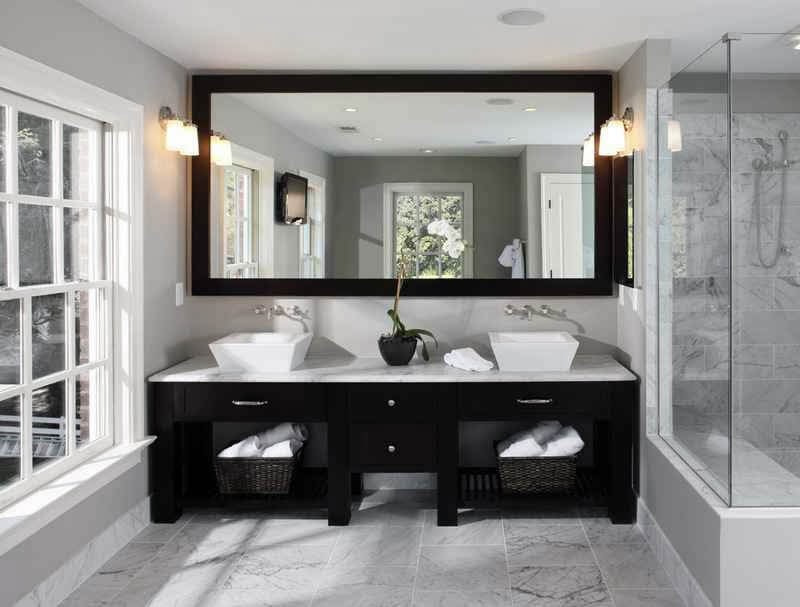 If you have a small wall in your bathroom, or a small bathroom period, you should look at the idea of using an oversized mirror (such as a full wall mirror, or even a floor to ceiling mirror) to make the room look fresh and fun, plus making that particular wall much bigger.
It will give you a put together look that will present you with the option of exploring neat frames, too, if you want to add some colour or definition to it.
The point is to make sure that the room looks as big as possible and that the mirror is actually usable to the people using the room.
29. Lit Up Mirrors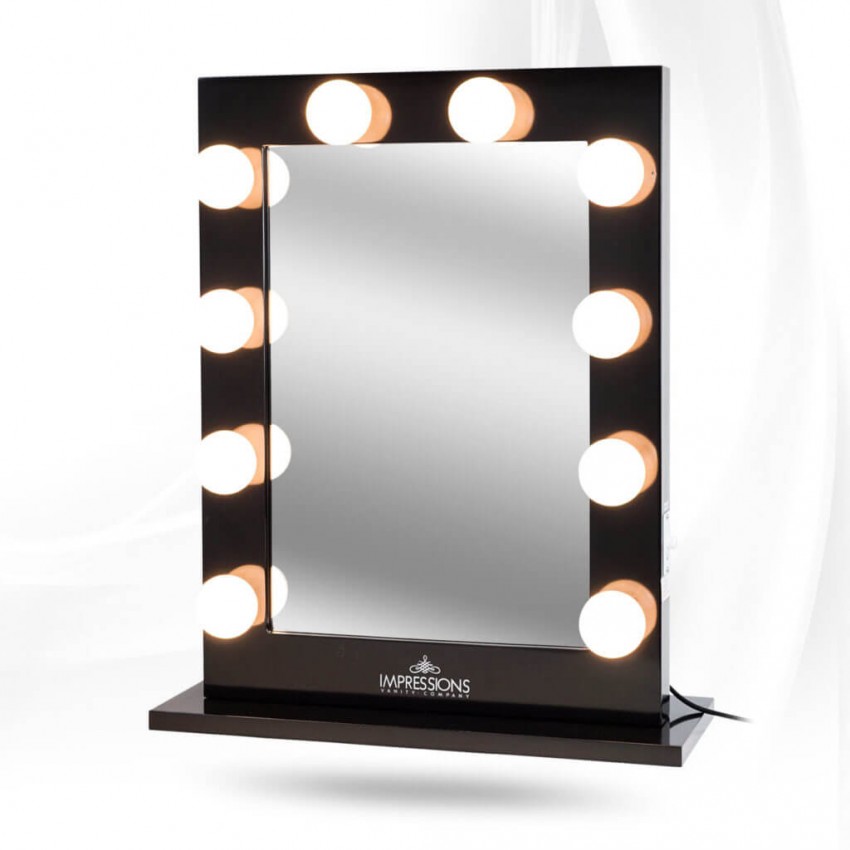 This is a great way to get some extra lighting into your mirror, give it a celebrity look that guests are going to love, and it makes it an extra useful mirror as well.
Like the backlit option that we've already looked at, it will give you the better lighting which is great for applying makeup, styling hair, etc.
It really allows for each person to really make the most out of their complexion, and it really is an adorable option for those who love to primp and fuss.
Which is all the more fun and exploration when it comes to lighting up the mirror with these bulbs. If you want to create a mood look, put a frosted bulb on the light and it'll give it a soft white glow.
30. Some Cool Examples  Bathroom Mirror Ideas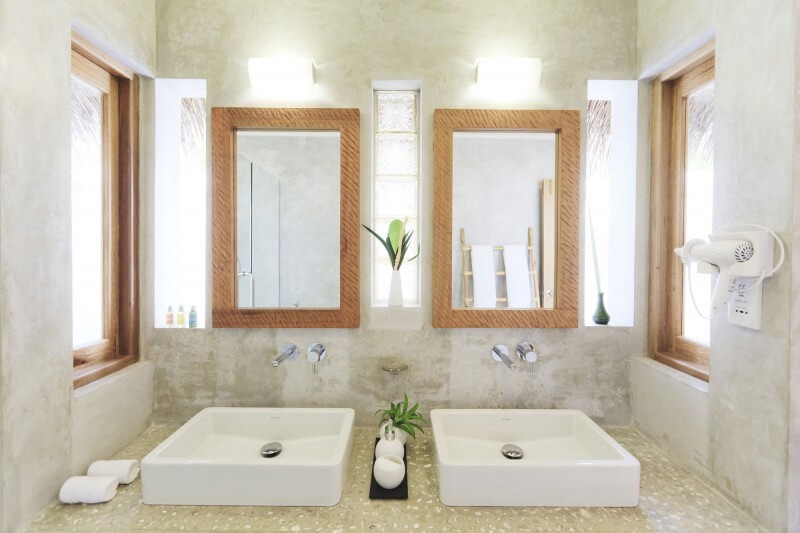 So, now that you're learned about some great ways to spice up your bathroom mirror, you need to take a look at some of these ideas in action.
These are really cool examples that combine or twist up some of the ideas above so that you can see how they are really going to be looking in your home.
Each person who is looking at decorating bathroom mirror ideas will see something different.  The trick is to see how each one is going to inspire you to refresh your own room.
31. Lack of Frame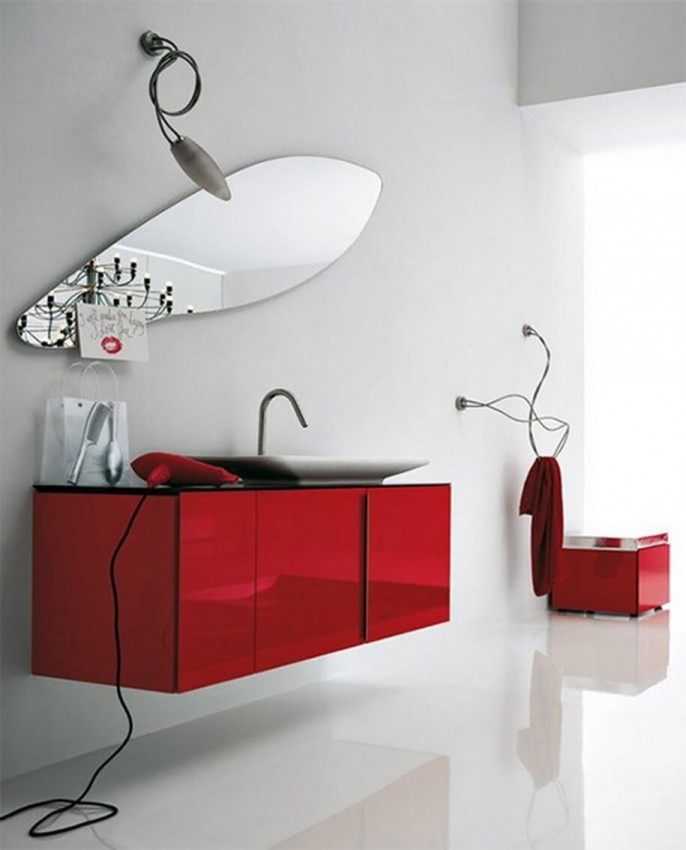 In this example, you can see that it is a frameless mirror, which are all the rage right now.
But it's a cute and modern shape that will be irritating if you want to stick with the original look and really fun. If you want to play around with the idea of a mirror that is unique and sure to give you a great overall effect in your bathroom.
This uses a small mirror to create movement and a fresh feel.
32. Round Mirror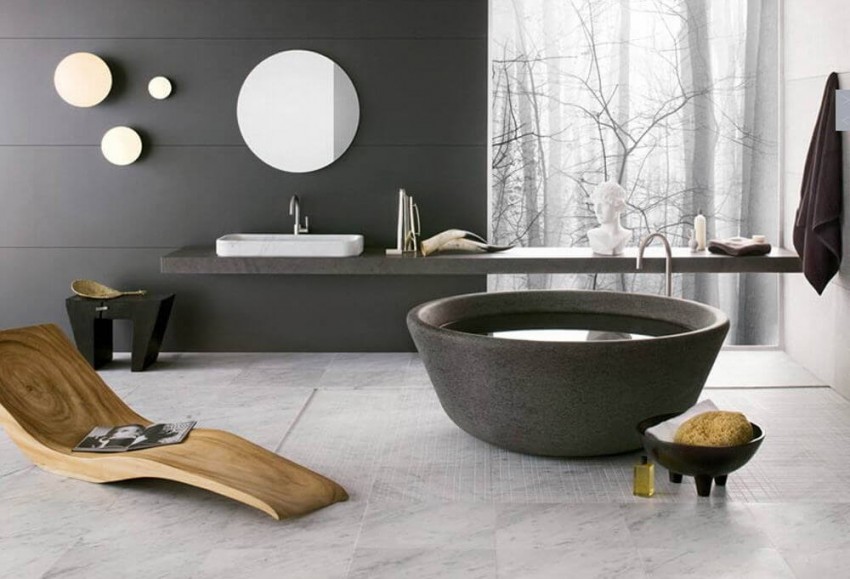 Also using a small mirror, this combines a couple of the above ideas, allowing for the small shapes to be combined together, using a smaller mirror that will give you the practical use but still give an accent, and all sorts of things like this.
You can see that it's used to contradict the sharp edges of the rest of the bathroom in this particular example.
33. Patterned and Shaped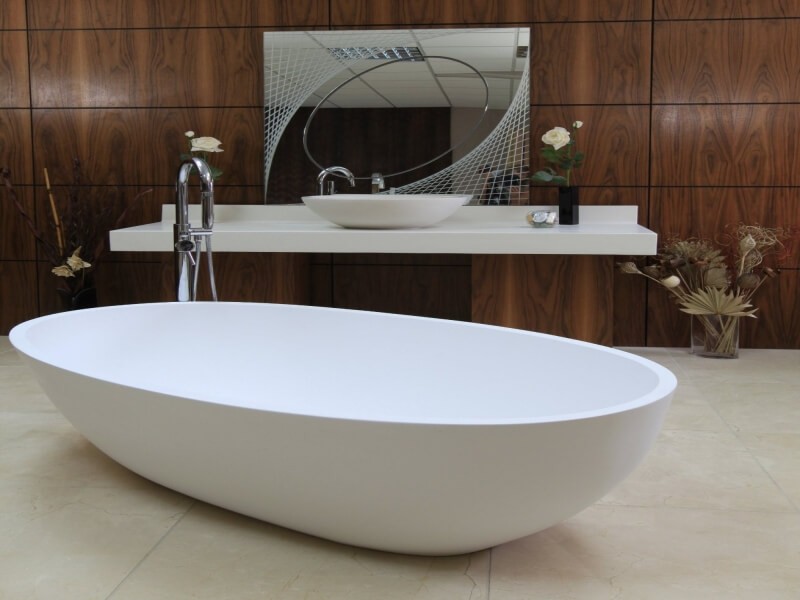 Similar to the mosaic idea, this uses etching in the sides of the mirror to create definition, depth and a fresh introduction to a modern room.
It really attracts the eye and adds small levels of detail that will make a huge difference to your guests.
You can use white etching, reflective etching, black etching, or even colored etching.
Play around with the different options and you're going to absolutely love what you've created for your room. i love this bathroom mirror ideas
34. Free Form Mirrors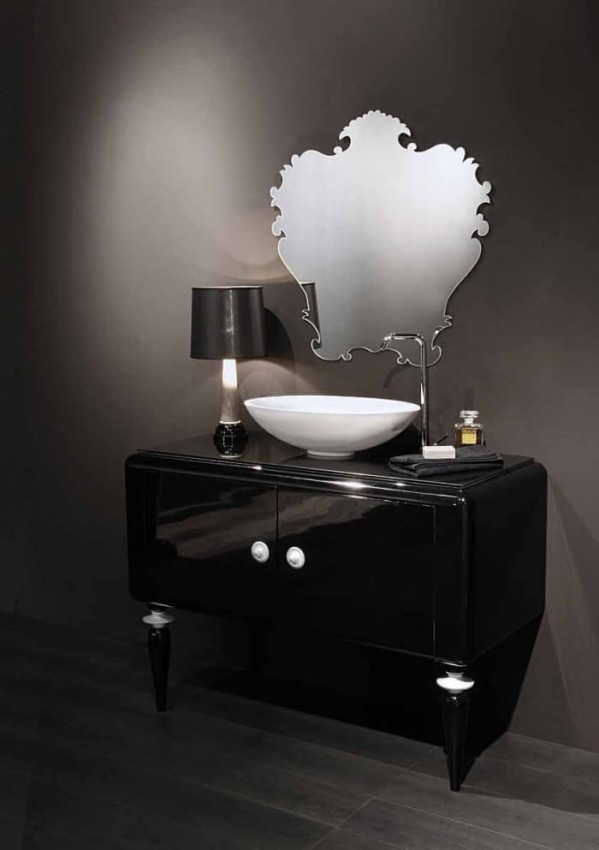 This one is similar to the idea of using an antique tray or frame, but is does it with the mirror. Very classic and softens up the room incredibly well.
Great for those who have a plain bathroom otherwise, as it will naturally draw the eye and dress up the rest of the bathroom.
35. Minimalist Appeal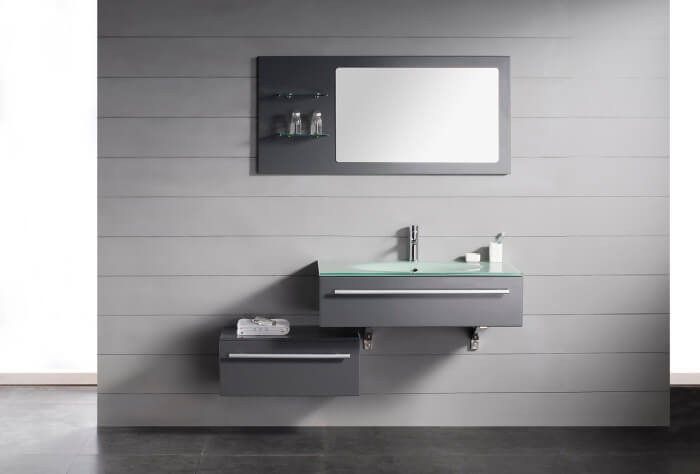 Using muted tones and a grey baseboard, the light is softened and reflected to create a really warm space in this room, despite the cool colours. A very neat approach.
36. Play With Lighting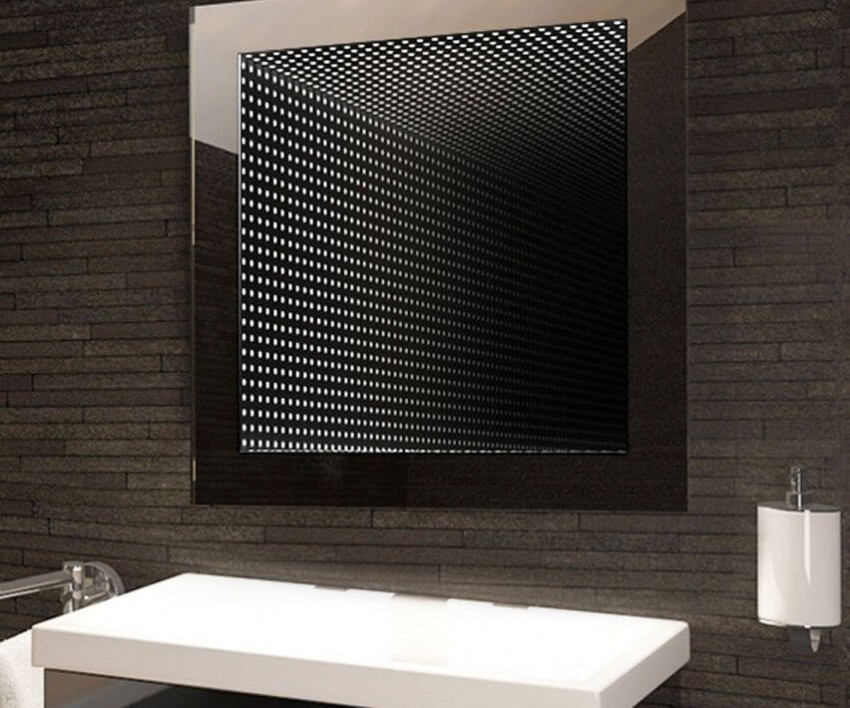 This is an extreme option, but you can use light to create an illusion of sorts with the combination of its orientation (light) and the mirror placement.
It can really get a conversation going, that's for sure.  It also provides excellent lighting.
37. Bathroom Mirror Ideas Light and White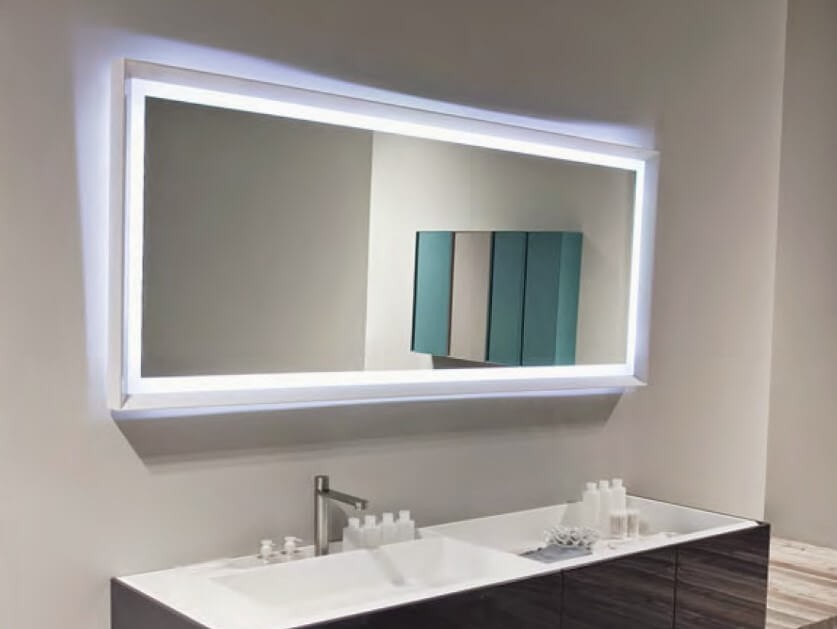 This uses the backlight and a fresh bright colour to create the same backlit idea, but in a fresh and warm look that will really impress you even if you aren't sure you liked it before hand.
It gives great lighting for cosmetics, too, similar to the Hollywood idea.
Your Like :  Bath Sheet VS Bath Towel : Which One Is Better?
38. Classic Architecture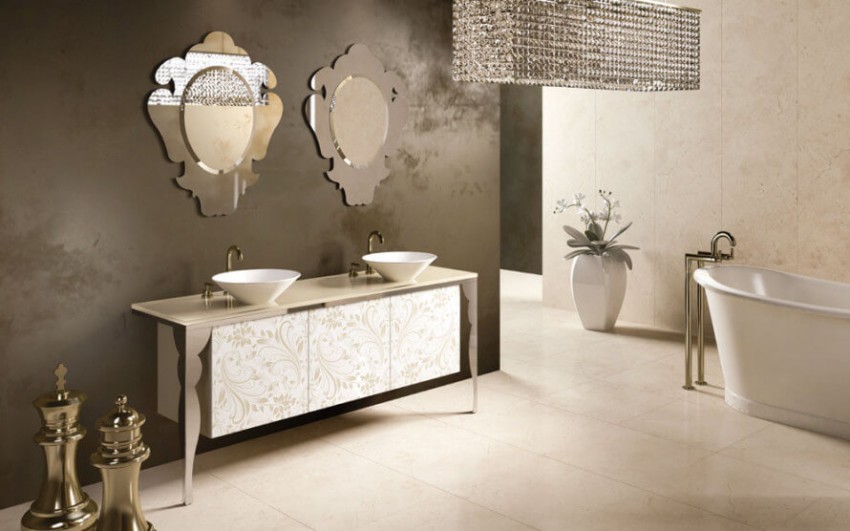 Like the unique shape option, this plays with fun architecture and classic looks to add decor to this Victorian themed room. Definitely a great idea to explore and use to your advantage.
Works well in a large bathroom where you have the space to really play around with the shapes and edges available.
39. His and Hers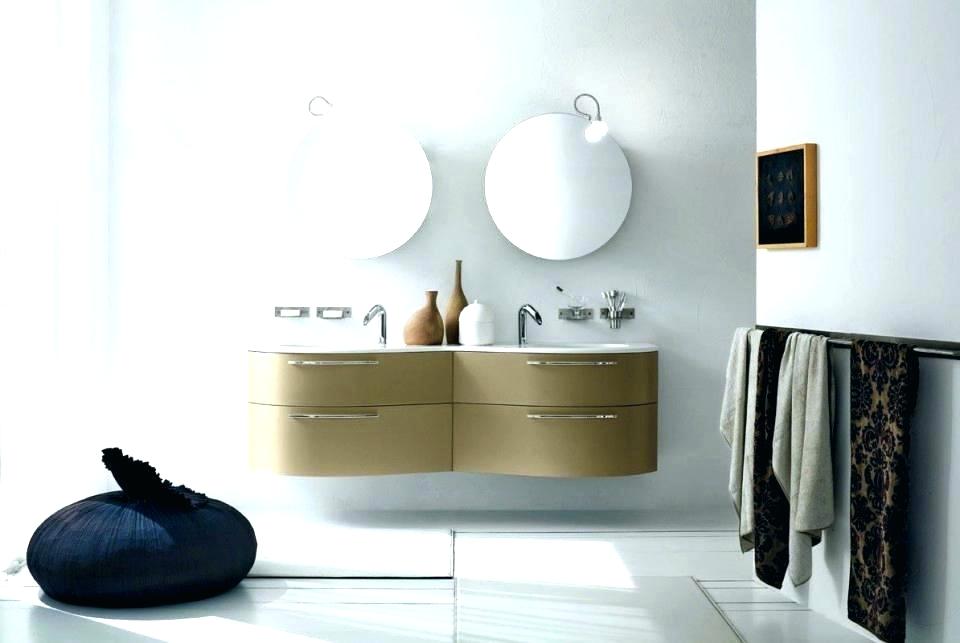 This is a clean and fresh look that splits right now the middle and gives everyone a side to use for their own reasons.
You can see the mirrors perfectly replicate each other and the whole bathroom is a reflection.
It's easy and simple, but creates a modern look to the small or big bathroom.  Easy to do, too, because you simply have to purchase and set up two of everything.
40. Modern Appeal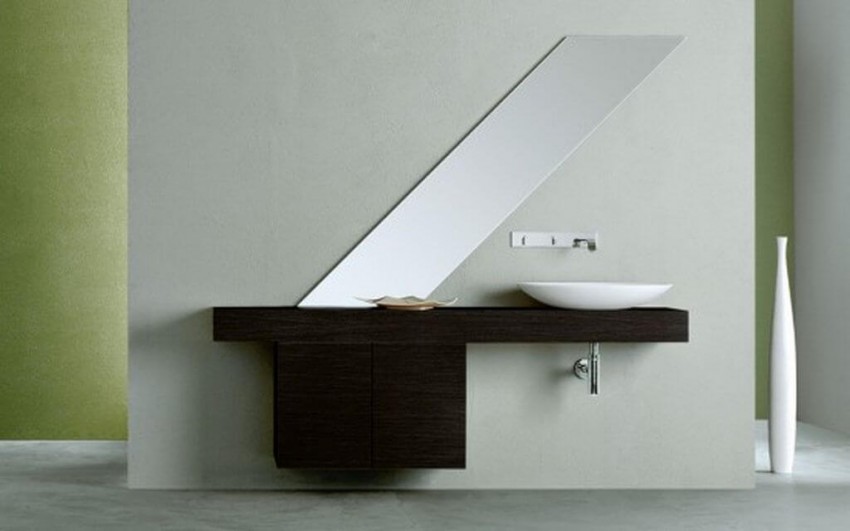 Going back to the strange shape and edgeless creation that we've already looked at, this draws the eye and makes it something to be admired in a magazine.
While it may not be as practical as others, it's a great idea for, say, a half bathroom.  It really offers a modern taste and appeal to get the job done.
Perfect for large or small bathrooms, especially if you want to have your guests use it instead of another one in your home.
41. Landscape Bathroom Mirror Ideas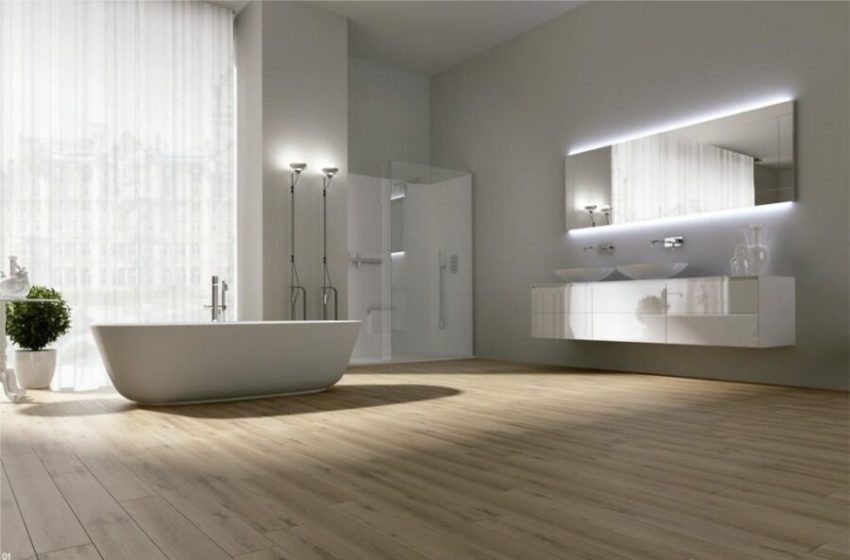 A lot of options use portrait style mirrors, or full wall mirrors, but something that has been ignored up until this point is the idea of a simple, basic landscape orientation mirror.
It can be backlight, side light, or Lightbulb lit, like above, but it's all about enjoying the bathroom mirror ideas of playing with what a mirror can do.
You can see in this example, that it is all about playing up with the natural shape and the room to reflect the light.
42. Twinning Mirror Ideas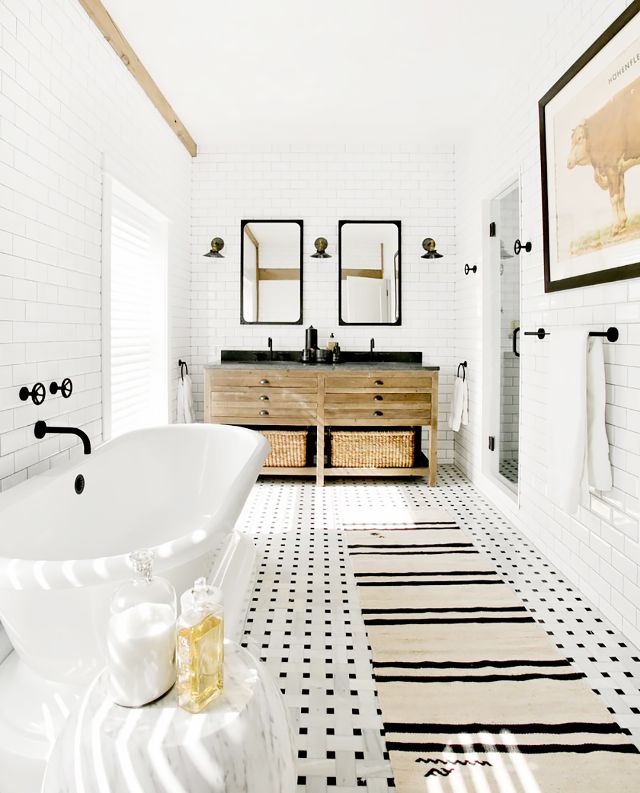 As it is known, two mirrors usually give a more creative and stylish look than when you use one mirror.
It has been shown to have a lot of advantages while compared with other types as they allow many people to use at the same time. This allows them to save time as there is no time wasted when on the waiting.
Therefore, it assists many couples when they are preparing to attend various duties and it is also enjoyable when you are checking your looks in the mirror with someone.
Therefore, it is recommended that if you want to get such an experience in your bathroom, you should try this idea.
43. Use of Two Round Mirrors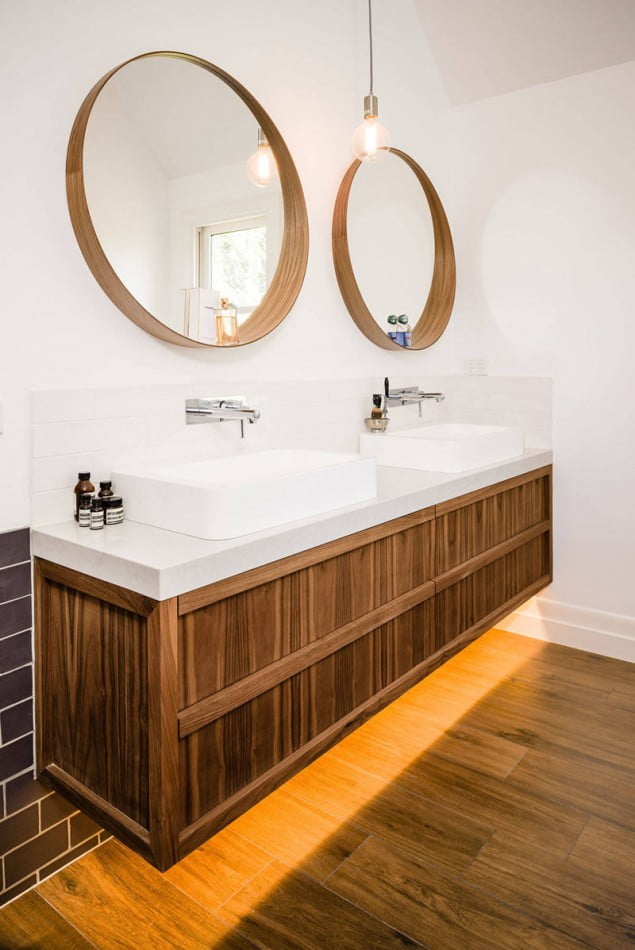 It is very easy to ensure that you make your bathroom have a style and modern.
It will require little effort to make your bathroom look sparkling and super cool when you put circular mirrors which will change the appearance of your bathroom from having those commonly used mirrors with sharp edges.
This helps to show creativity and at the same time, it helps to create a unique look in your bathroom which will leave everyone delighted after using the bathroom.
Such a bathroom has a welcoming effect as you will feel to visit your bathroom often.
44. A Round Bathroom Mirror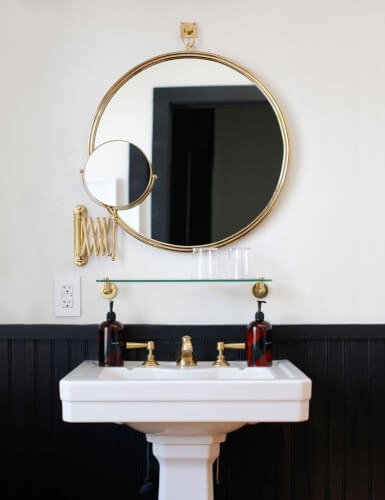 It usually looks good whereby it is pimped with a variety of geometrical designs. This makes the mirror make the bathroom look extra beautiful.
This kind of mirror is made in such a way it gives a good appearance of angles which makes the appearance of the bathroom magnificent.
This brings out the small bathroom mirrors in the way that most people will want to use them.
45. Two Round Mirrors
There is nothing that gives your bathroom a better look than two mirrors placed on both extreme ends.
This helps to compensate the other decorations which are in the bathroom making the bathroom look stylish. This look will make you save some extra cash in order to acquire these mirrors.
46. Tear Drop Shape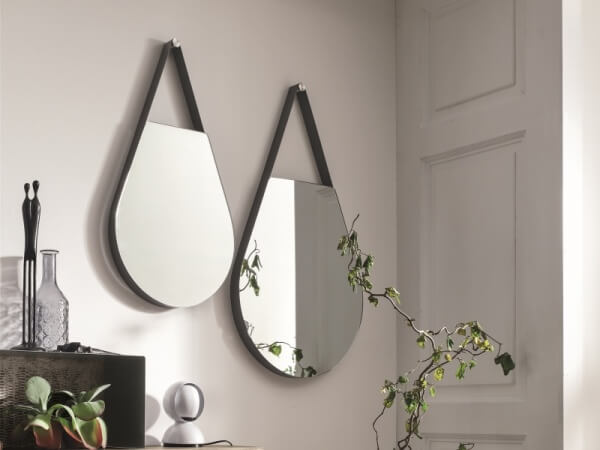 This kind of mirror is very important in that it helps in giving the bathroom a unique look.
It will help to make your bathroom have a quality look especially when mixed with smart tiles and various beautiful colors within the bathroom.
47. Mix and Match Type of Bathroom Mirror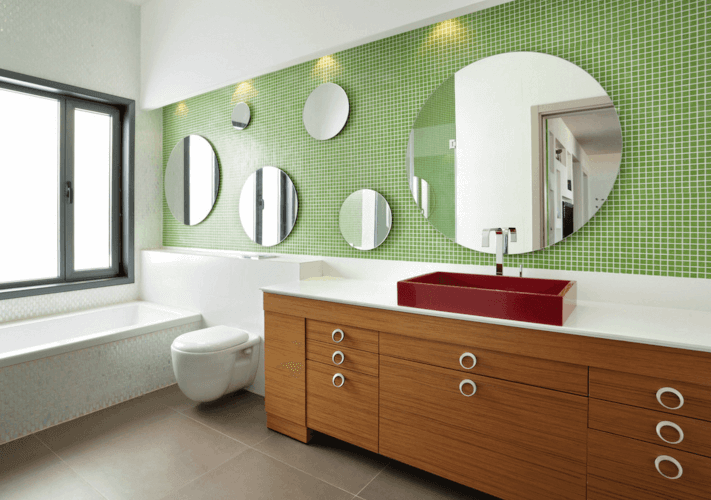 This type of mirror idea will make your bathroom look very great as it makes your bathroom have a magnificent look with the mirrors being arranged in such a way they form a gallery look on the walls.
It is important to ensure that you use different types of mirrors which help a lot in making sure that they complement each other.
These mirrors usually require you to ensure that you keep them in line on one preferred wall. This makes it look magnificent and stylish.
48. Double Mirrors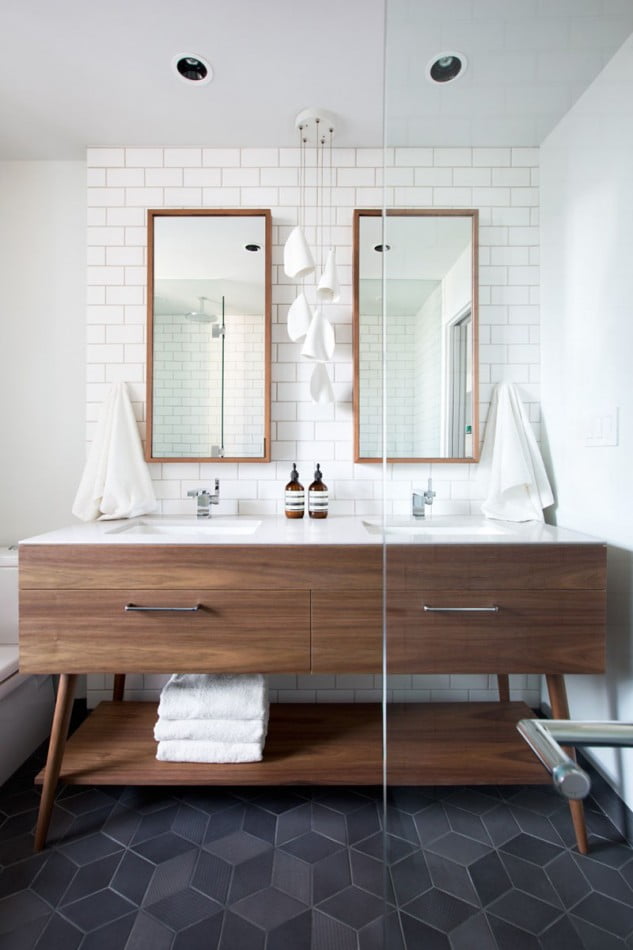 This kind of mirror design is very beautiful especially when your bathroom is made in such a way it has two sinks. This makes your bathroom have a duplicated look and thus making it look modern.
You can also pick this idea and make use of it in bathrooms which have a one sink and it will appear as a stylish alternative to using one big mirror as it has been in use for long time.
49. The Single Mirror Idea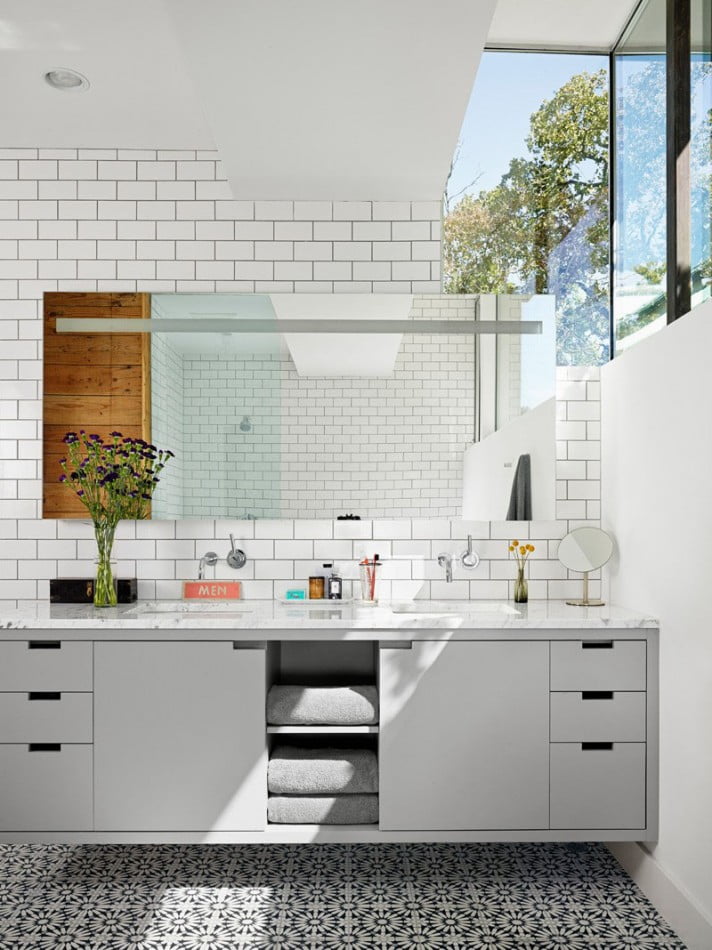 This kind of mirror design fits those people who don't need to have the experience of having two mirrors in order to use the bathroom with someone else.
It is the best choice for those people who are comfortable to share a mirror. It I is the best design which allows you to give your bathroom a sharper focus on a particular place.
The size of the mirror that you want to put will depend on whether you want your whole wall to be occupied by the mirror or whether you just need enough size of the mirror thus hanging a mirror of considerable size on the wall.
50. The Oval-Shaped Mirror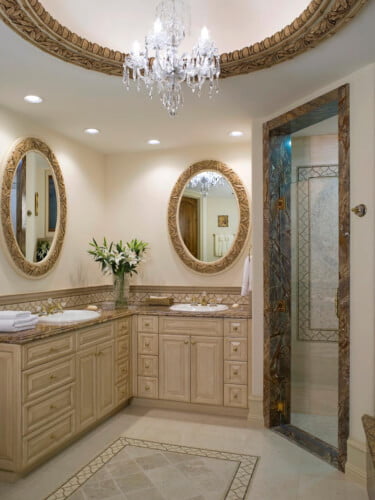 When many people hear of the word mirror, they only think of specific shapes of mirrors such as the square type or any mirror with sharp edges.
However, the curved mirrors have been shown to have a unique look and they make your bathroom have a digital look.
Whenever you use this kind of design, you will be able to have extra space in your bathroom which you can use to put up other decorations such as wallpaper which mixes so well with these types of mirrors.
Therefore, these types of mirrors should be in your list whenever you want to bring a change in your bathroom. These will give your bathroom the latest look you want.
51. Double Mirror Idea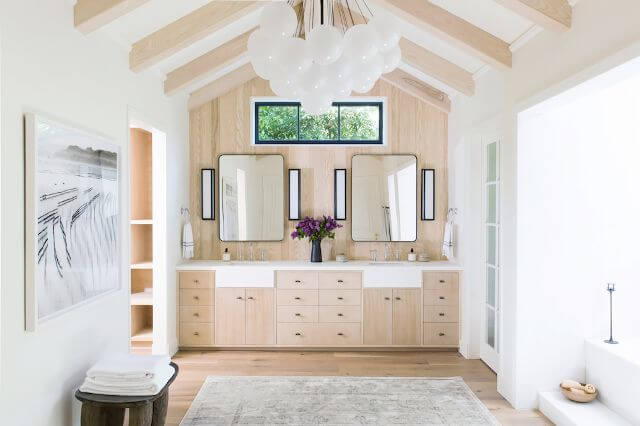 When you use this double mirror your bathroom will look pimped as they blend well with anything in the room.
This includes the various types of woods that have been used to furnish the bathroom. This kind of combination in presence of proper light designs makes your bathroom look glamorous daily.
52. Large Bathroom Mirror Ideas Design
Large mirrors are one of the best ideas you will have in your bathroom. It will give you the best look and at the same time people enjoy a lot to look themselves in large mirrors where they are able to see their images in full.
This kind of mirror requires a large space and at the same time you can be able to add decorations around the mirror giving it an awesome look.
Conclusion
As I conclude it is good to try the ideas above to give your bathroom a new look.
---
53. Venetian Bathroom Mirror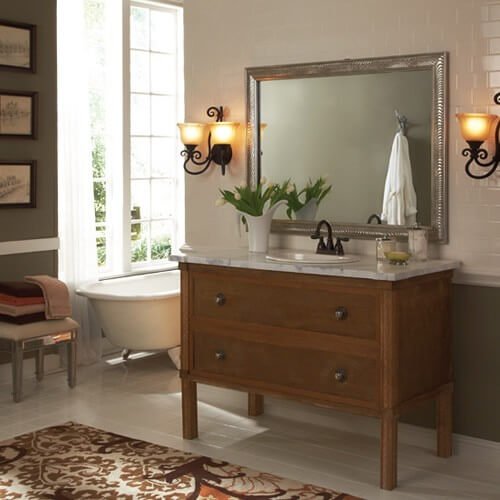 Like a view of the sea, the waves of our Venetian frames are a welcome enhancement to any type of style.
The structure's moving pattern produces an appearance of timeless elegance for the bathroom. Bring calmness to your the greatest prime focus – the mirror – and capture the wave in your mirror makeover.
54. Cherokee Bathroom Mirror Ideas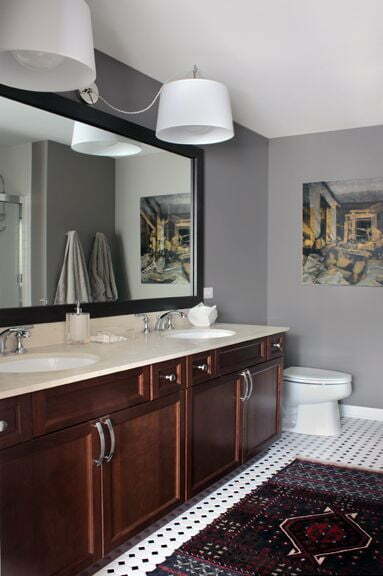 If frameworks were edible, this collection would be the dessert. Tasty colors with abundant surfaces make for pleasantly different appearances.
Basic as well as sophisticated, this go-with-everything structure style in a deep, abundant color is guaranteed to fit your décor and also make the mirror the attractive centerpiece it need to be.
55. Lexington Bathroom Mirror Ideas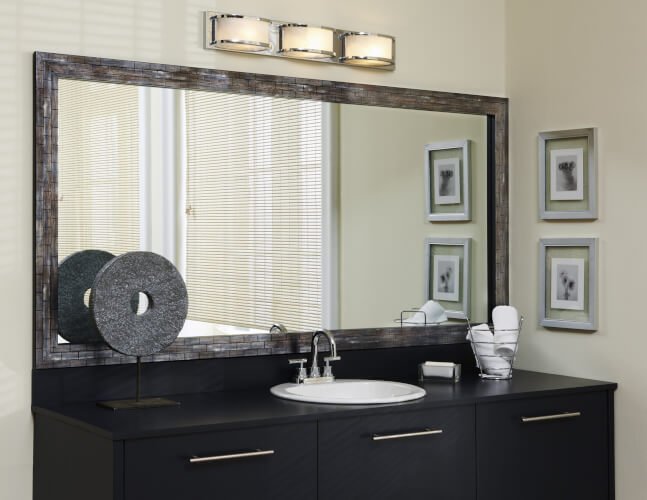 Give your bathroom mirror a super-sophisticated appearance with our Lexington mirror structure featuring a subway-tile passionate finish.
Besides, the Lexington metro stop goes to the entrance to Bloomingdale
56. Mediterra Bathroom Mirror Ideas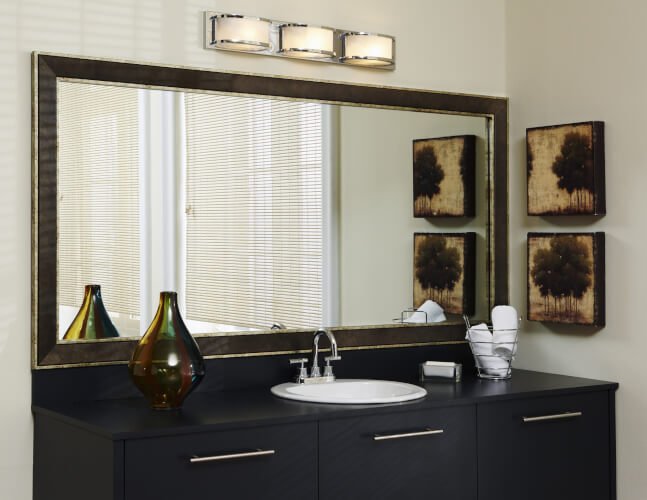 Integrate the components of the planet and also rock with a touch of rare-earth elements as well as you have Mediterra.
Modern, but much from minimalist; sleek, but cozy, The Mediterra mirror frame matches neutral colors and all-natural materials like granite, limestone and also marble.
57. Gold Bathroom Mirror Ideas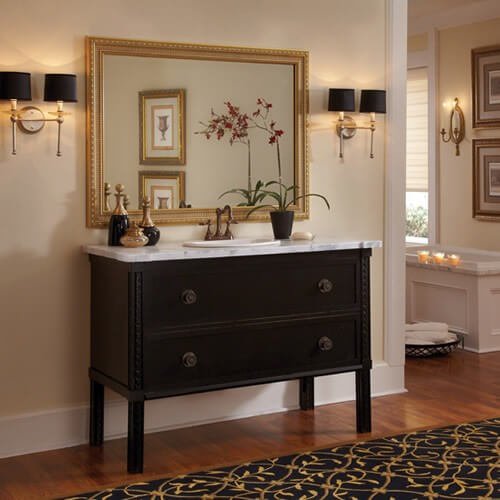 Reactionaries, delight in this bounty of details: Beading, ribbing, and the ever timeless egg-and-dart pattern.
Showcase your bountiful taste with a mirror with a gold frame. It's a classic, conventional design that adds extraordinary information to the bathroom.
58. Mirror Mate Bathroom Mirror Ideas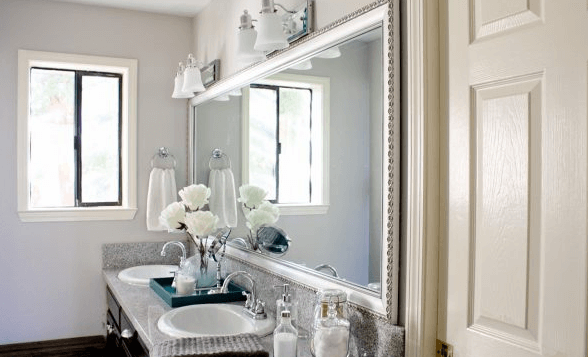 The very best part is the results! I love the means it ended up and when guests walk right into the bathroom one of the initial things they all state is, "where did you get that substantial mirror, it's incredible!" I enjoy informing them that it's the old mirror however with a new stunning framework due to the fact that the view on their faces is constantly great.
59. Tile Bathroom Mirror Ideas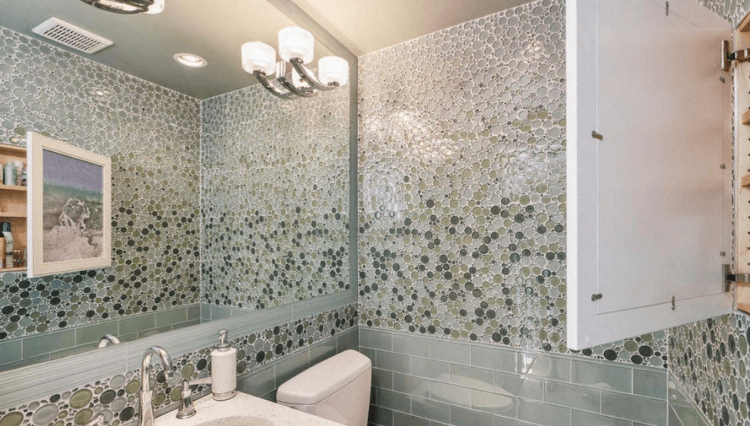 You can produce a ceramic tile backsplash with your bathroom mirror installed in it.
This is an actually awesome method to enhance the look of your uninteresting ordinary rectangular mirror and also transform it right into a gorgeous vanity piece.
Take 1 × 1 ceramic tiles with an absolutely contrasting shade from your bathroom tiles or wall color to develop a backsplash frame.
You may pick one color or 2 or even more depending on your style as well as your tastes. Create a mosaic pattern with your tiny ceramic floor tiles or you might even utilize larger ceramic tiles as well.
60. Multiple Bathroom Mirror Ideas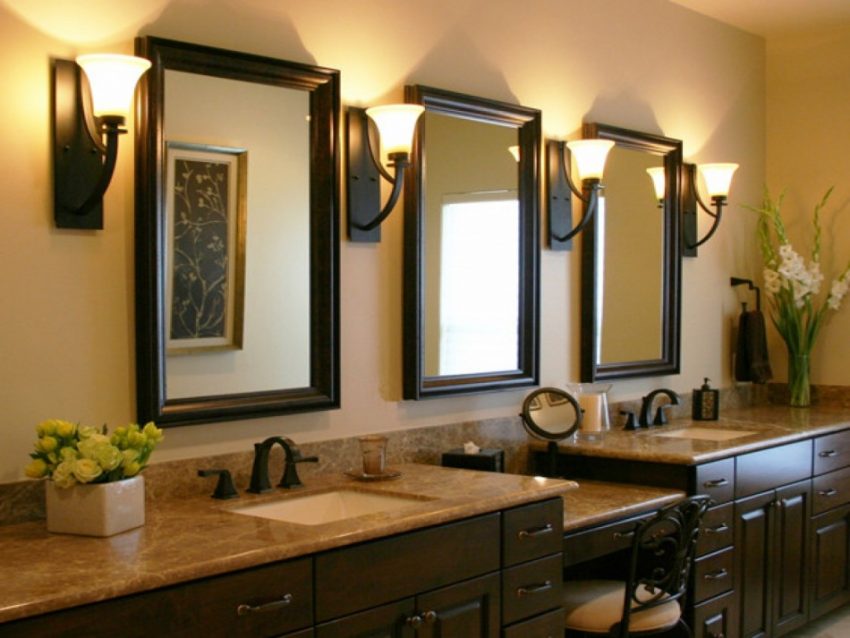 Why utilize a solitary, boring, large mirror when you could make use of smaller mirrors to fill up the space?
This will not just make your bathroom mirror much more fascinating but will certainly likewise include depth and also style.
Or have a good time playing with various mirror designs and also use different kinds, shades and also sizes of mirrors. You can acquire mirror embed in home furniture electrical outlets on-line and offline as well.
61. Children Bathroom Mirror Ideas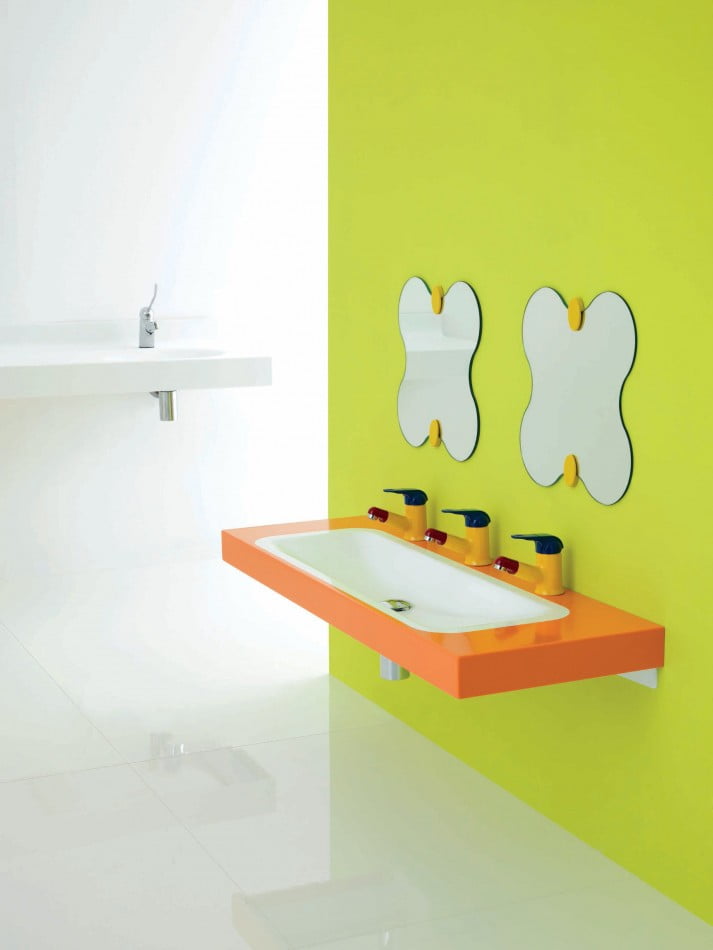 Trying to find youngsters bathroom mirror ideas for a children's bathroom?
There are fun bathroom mirror layouts such as under the sea motifs, blossom as well as pest motifs, zoo pet themes and animation character layouts such as the personalities from the preferred Nickelodeon animation collection SpongeBob Squarepants.
Watch as your youngster's eyes illuminate in exhilaration as he locates amazing personalities on his bathroom mirror vanity!
Enhance these enjoyable mirror designs with charming bathroom vanity accessories with the very same motif such as cells paper owners, soap and also shampoo dispensers, soap dishes as well as towel racks.
62. Double Bathroom Mirror Ideas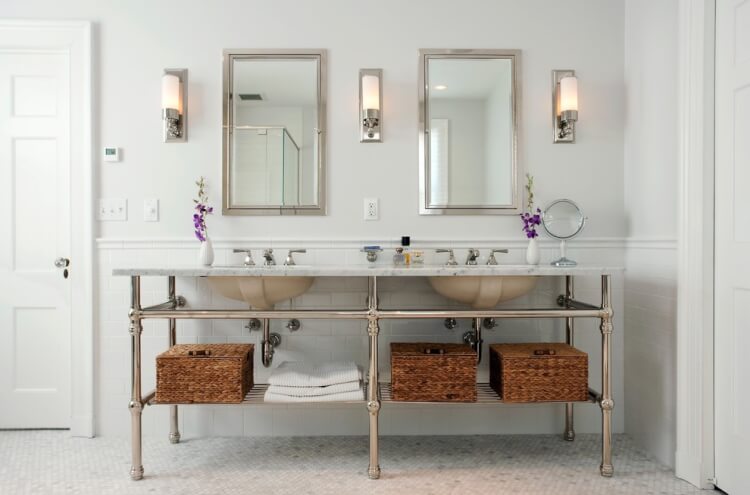 All the components of this double-mirror minute mix together perfectly: the all-natural timber coatings, the elegant modern chandelier, and also the total simplicity of the décor.
That's when bathroom mirrors job best– when gorgeous design as well as lovely lights provide you a best daily radiance.
63. Antique Bathroom Mirror Ideas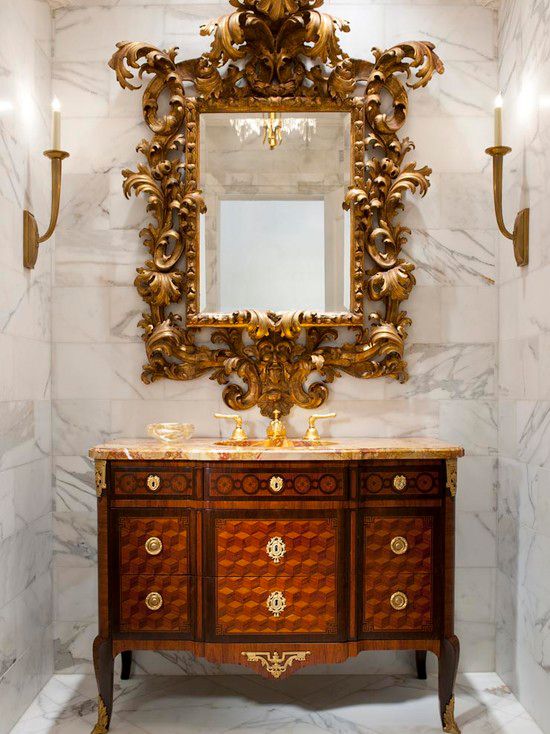 When refurbishing almost any space in the home, it's trendy to antique. And also washrooms are no various.
We like to blend as well as match pieces to develop an old-meets-new ambiance, and an antique bathroom mirror creates a stunning statement item.
When you look in a mirror like this one, it's hard not to seem like a well-framed work of art.
64. Bright Whites Bathroom Mirror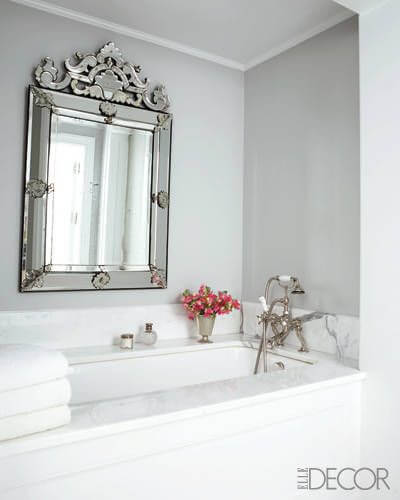 Intense whites always look a bit much more crisp with a component or 2 of comparison.
An antique mirror does just the technique in an even more rustic take on a white bathroom, offering the room texture and warmth while maintaining that fresh, clean sensation.
65. Unique Bathroom Mirror Ideas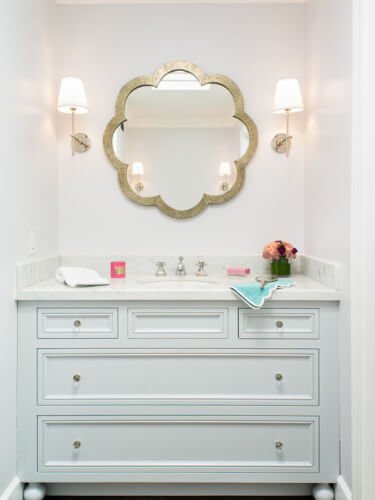 Among our favored bathroom mirror ideas is picking a non-traditional form is a simple as well as efficient means to earn a statement in any size or style bathroom.
Numerous classic styles offer interesting shapes and also intricate designs. It's the best way to add a statement piece to your bathroom without including unnecessary accessories that mess the area.
66. Illuminate Bathroom Mirror Ideas
A simple mirror can obtain an attractive upgrade with the enhancement of backlighting.
You can purchase mirrors with integrated lights, or add them yourself to the mirror of your choosing. Illuminated mirrors are optimal for applying makeup and also seeing your face in a detailed (however flattering) means.
They're wonderful for shower rooms with low natural light. Just be sure that your lights is soft, not rough or fluorescent.
67. Hang Bathroom Mirror Ideas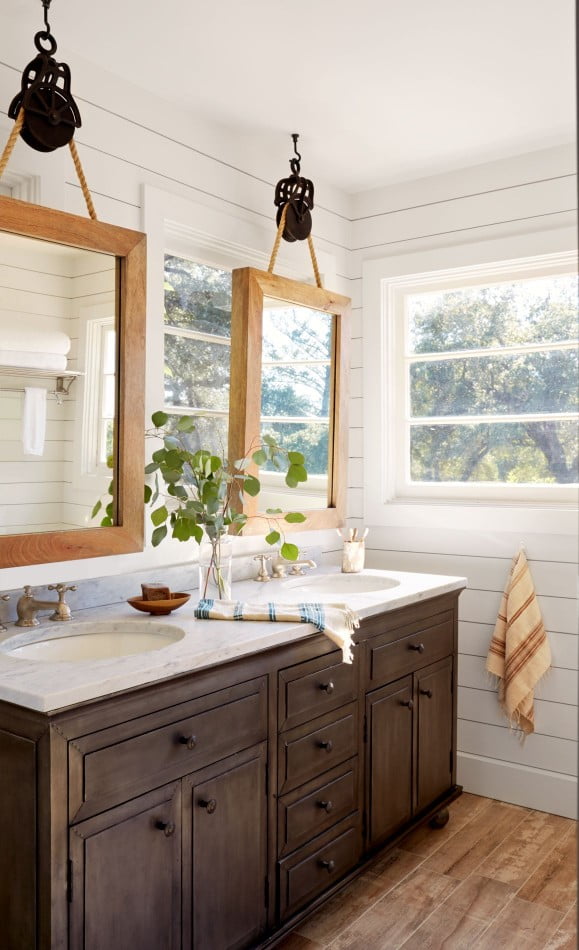 Technically, the majority of mirrors are held on the wall surface. However, putting on hold the mirror from a noticeable rope or wire is a great means to add a component of interest.
You could pick from a variety of materials to hang the mirror, such as thick rope to create a maritime motif or wire for a much more modern, industrial vibe– simply be sure it's protected.
68. Big Bathroom Mirror Ideas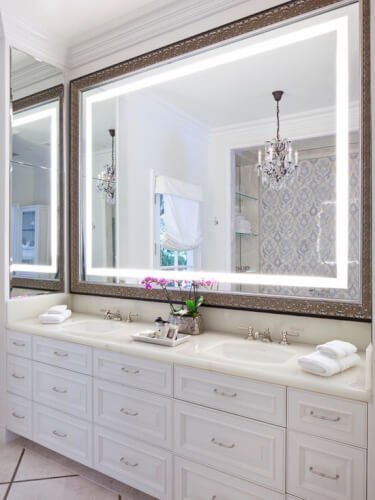 Not just do large mirrors look remarkable, they additionally help you generate light.
Depending on your room as well as style, you could try including a framework around the mirror to give it a more refined look. Leaving it unframed works for even more minimalistic areas.
69. Rustic Bathroom Mirror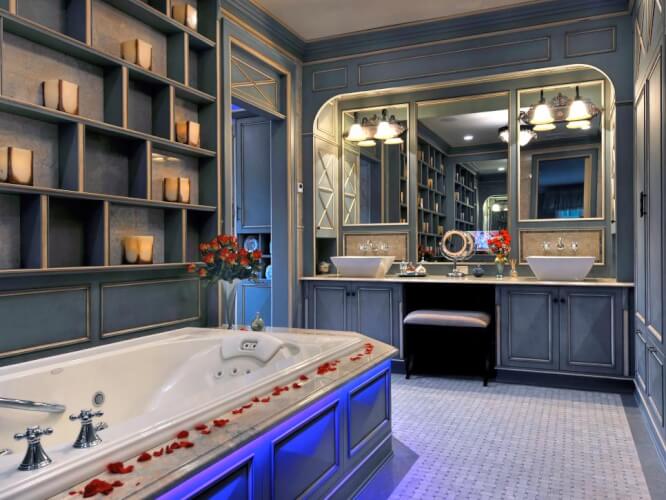 A shabby-chic bathroom becomes a glamorous resort with the addition of a huge vanity with above lights.
70. Rock On Bathroom Mirror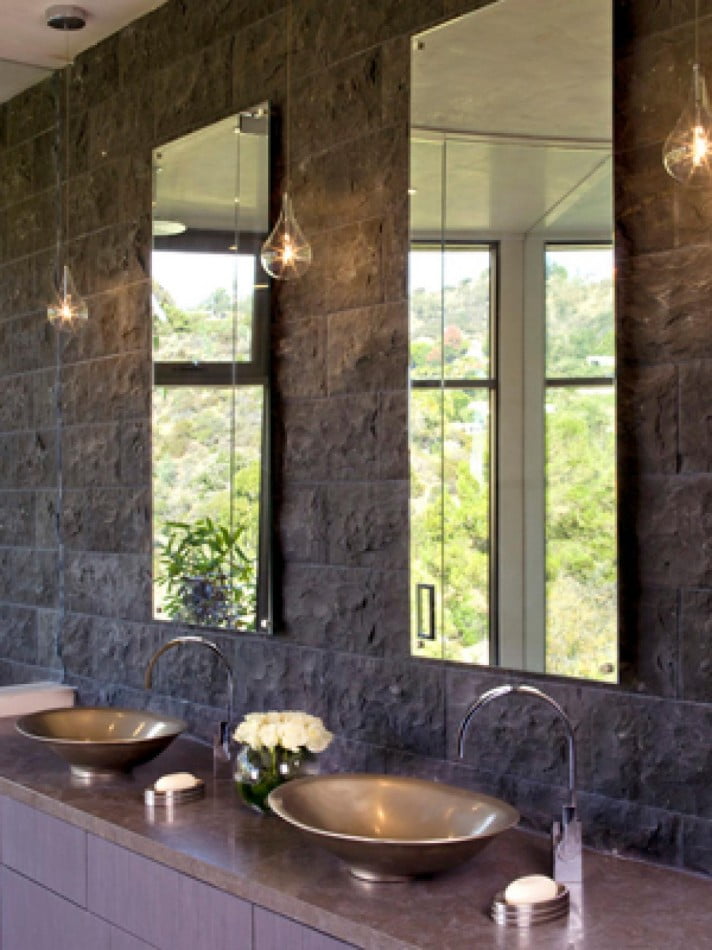 We hope you discover these bathroom mirror ideas practical.
Conclusion
Overall, those 70 ideas above are not all of the most favorite bathroom mirror ideas. There are some other ideas that might not be on this list.
But, I assure you that those 70 ideas are ready to be picked as your inspiration to update your bathroom design.
Did we miss out on any? We would certainly love to learn from you in the comments!