If you are having a hard time to decide the best color for your bathroom, you may need to explore these bathroom color ideas.
Choosing the perfect color scheme for a bathroom could be very tricky especially if you considering what it needs and your personal style. The color choice can be decided according to the size or the style of the bathroom itself.
If you are in doubt about the color, you may need a guide from us. So, here are some bathroom paint color ideas that will inspire you.
Bathroom with Cool Paint Color Scheme
1. White Bathroom with Pink Cabinets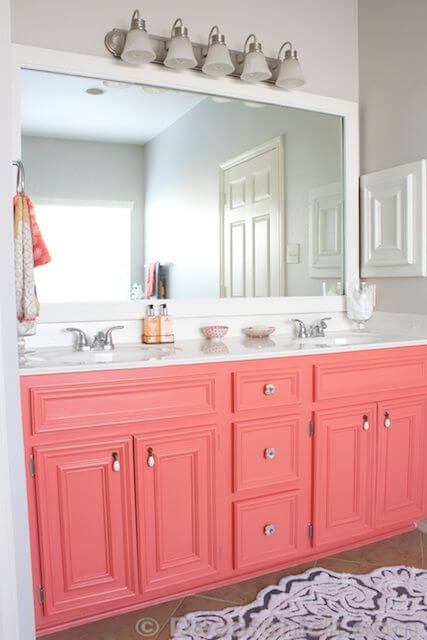 For you who are into something cute and soft, try this bathroom color idea. It's a great color scheme to choose for a girl's bathroom. The medium-sized vanity seems perfectly fit with the size of the bathroom.
A pink cabinet with textured design adds classy taste inside the bathroom, while the decorative rug manages to balance the look. The lighting fixture on top of the mirror completes the experience of a perfect bathroom vanity.
2. Coastal Style Master Bathroom Ideas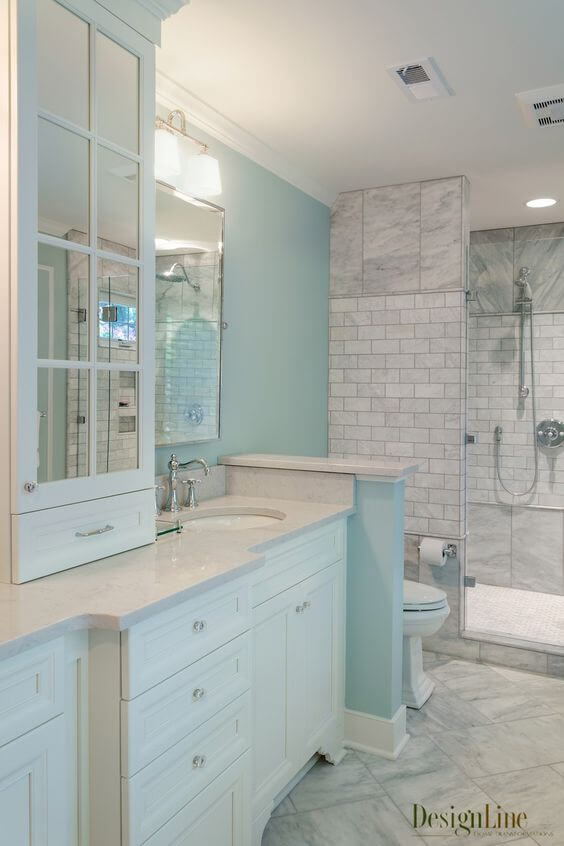 Some color scheme would decide the style you will have in your bathroom. As you can see, combining soft blue color with gray and white tiles all over the bathroom would offer a soothing coastal look.
Each of the colors doesn't seem to be dominating the whole look. It's got the right portion to shine. Some people would call it a beach style for this bathroom design.
It's one of the master bathroom ideas that can let you enjoy your relaxing days inside that interesting Walk In shower ideas.
3. Soft Purple Bathroom Paint Color Ideas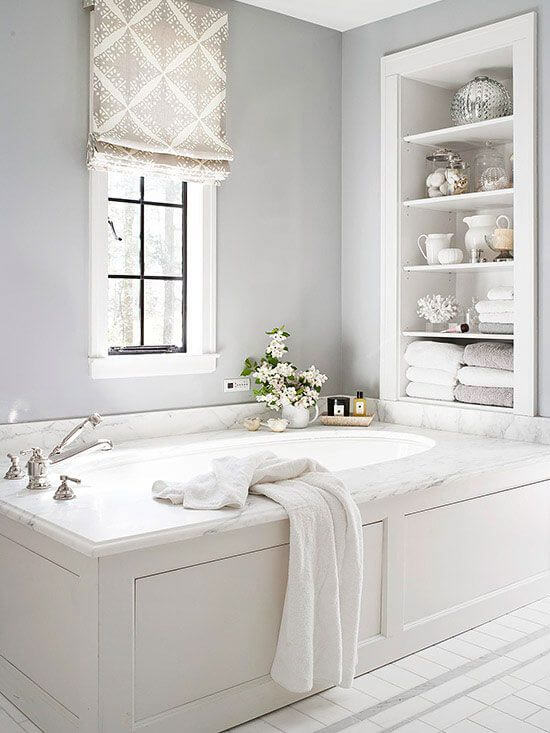 Another relaxing color scheme you can have for your bathroom, that soft purple wall blends really well with white surroundings. The existence of a French-style window next to white Jacuzzi would flatter anyone.
The amount of lighting during the day can provide the light while you're enjoying the Jacuzzi. A little bit of flowery accessories on the tub is pretty nice. In fact, you can create a nice scene on the built-in shelf.
4. Industrial Bathroom Style with Barn Wood Door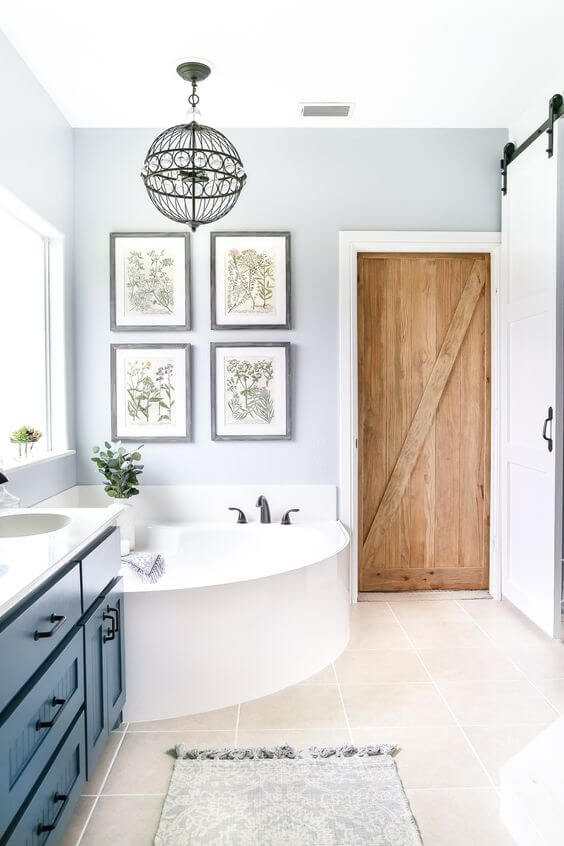 If you want to add just a little bit of industrial in your bathroom, you can start with the bathroom lighting ideas. As you can see, just by adding the right industrial light fixture, there will be enough amusement on the ceiling.
More elements of black-painted metals can be added. For example, the sliding door metal parts, the black handles on the bathroom cabinet, and the black faucets. It's only a small addition but it's quite stunning.
5. Astonishing Hanging Lighting For Bathroom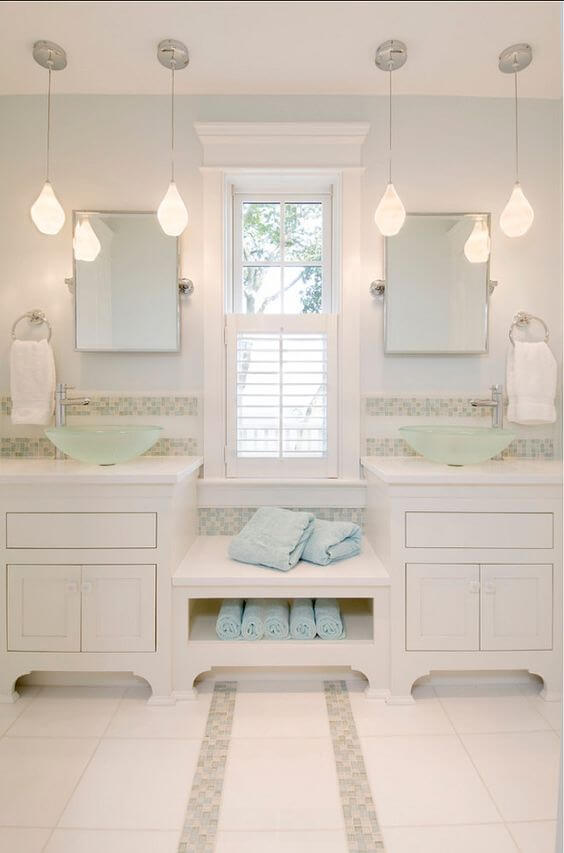 A color scheme can't only be decided by the wall paint or furniture; you can decide the color scheme of your bathroom by the lightings. You may need to consider the lighting first. Then, the other would follow the scheme.
The minimalist style of vanity design, the soft color on the wall, and white cabinet are there to let the light fixtures to shine. With this setup, the bathroom won't be cramped.
If there's only a little bit of light that could come into the bathroom, more lightings should be added.
6. Pale Gray Bathroom Color Ideas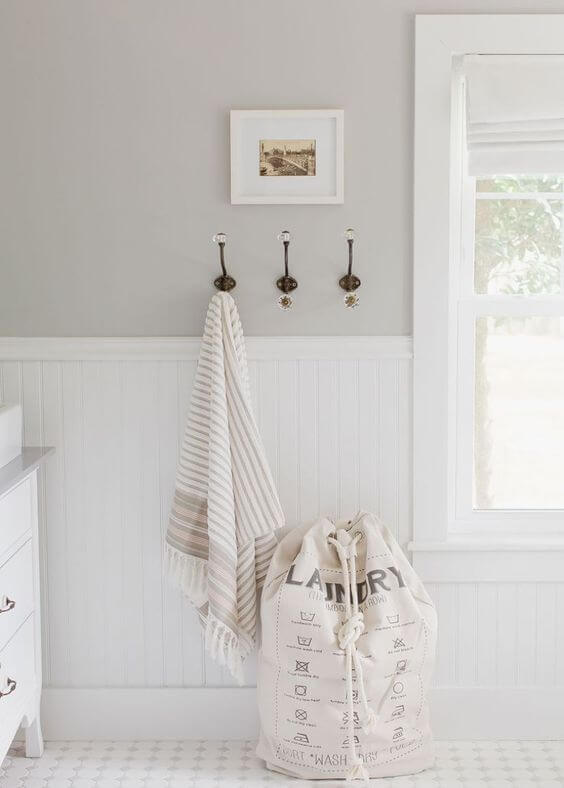 When you combine one neutral color with white, there will be nothing wrong with it. It's always a success. You don't have to worry about the right combination; white will save any color, especially for the bathroom.
In the bathroom, people need a relaxing and soothing atmosphere, white color has an infinite amount of that. With pale gray as the upper wall, and white color for the rest of the elements is a great choice.
7. Bright Bathroom Paint Color Ideas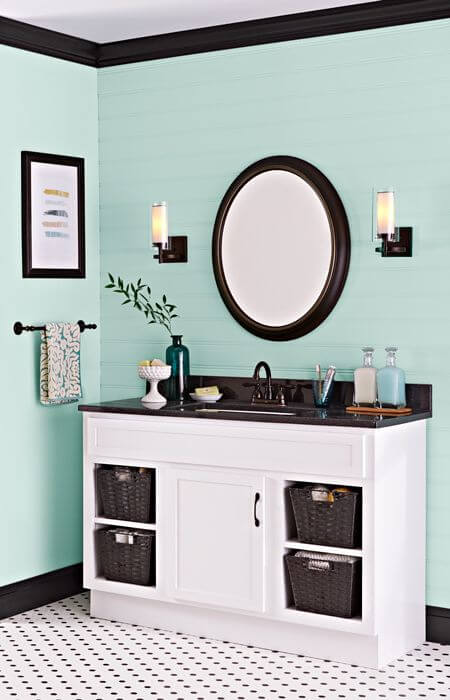 The three main colors in this bathroom are white, black, and blue. Blue is the main color. White plays as the secondary color. The accent color is the black one. It's the right decision to follow if you are dealing with those three colors.
Black is a bold color which is suitable for accent use. The stunning bright blue wall seems to be the main event of this bathroom.
It decides the mood and atmosphere to be relaxing. The black accent really saves this bathroom decor because it helps to dim the brightness.
8. Greenish Blue Bathroom Paint Color Ideas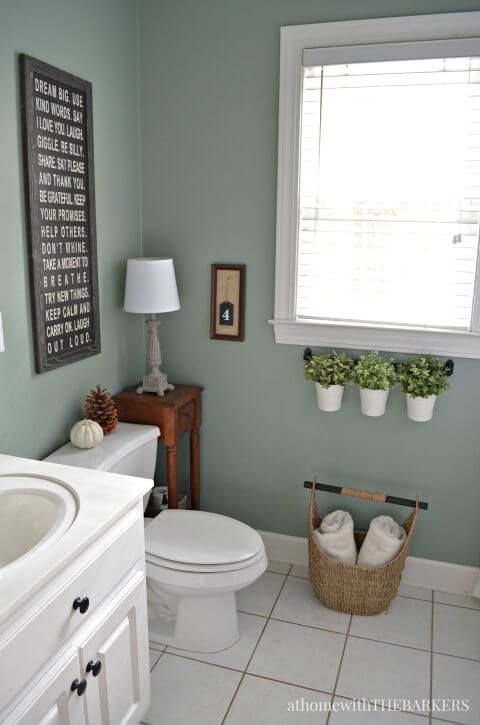 It's another inspirational idea for your small bathroom. It's got a new neutral color choice called Green Trellis. The color scheme is lovely and it's perfect for all types of decor. The bathroom seems to be ready to impress anyone.
Green Trellis is a perfect greenish blue color for your bathroom. You can redecorate your bathroom by having this color on your wall. It's a great way to refresh your bathroom to make it like a new bathroom in the house.
9. Mint Green and Gray Bathroom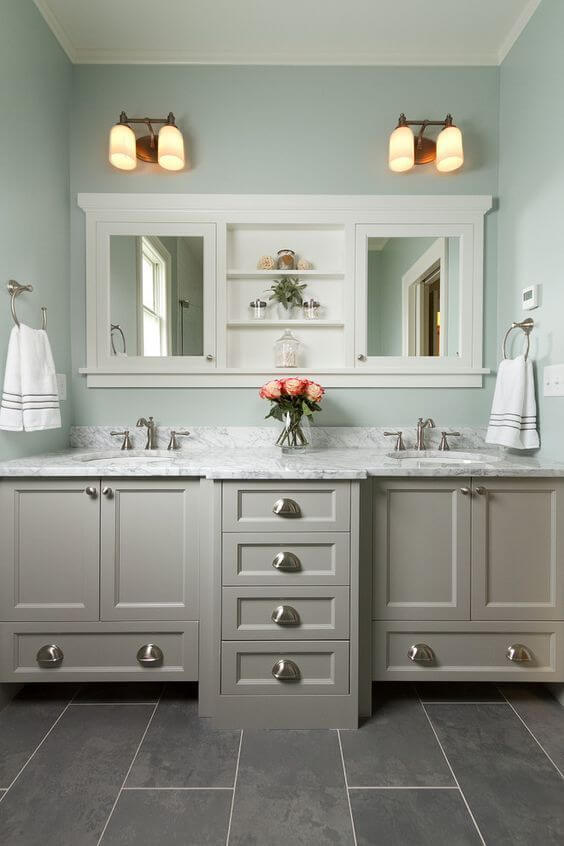 The cabinet design looks impressive but we're not talking about that right now. It's about the grey color of the cabinet and the mint green color on the wall. Surprisingly, mint green can be looking pretty similar to gray.
The darker floor tiles support the ambiance near the gray cabinet. That's a clever decision to make. From this angle, the bathroom has a darker low side and a brighter upside.
10. Wedgewood Gray Bathroom Wall Color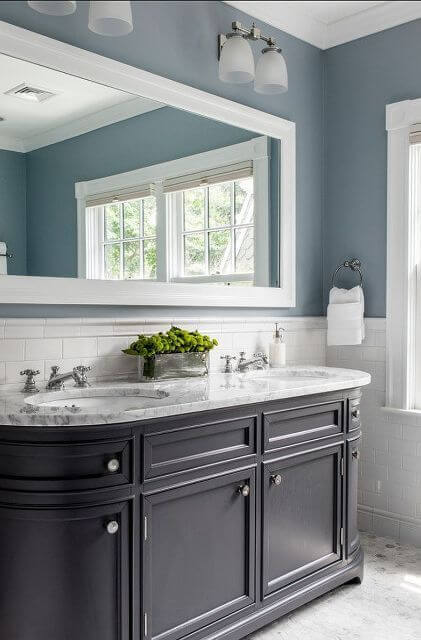 This one is a recommended color for your bathroom. It's Wedgewood Gray HC-146 from Benjamin Moore. It creates an outstanding look of wall blended with a white mirror frame in the middle. The color appearance looks a little bit blue. This combination feels soothing and relaxing.
A darker gray color is added through the addition of a darker gray color on the cabinet. Be sure to keep the amount of light in this bathroom properly.
White Scheme for Bathroom
11. Asian Style Bathroom Color Ideas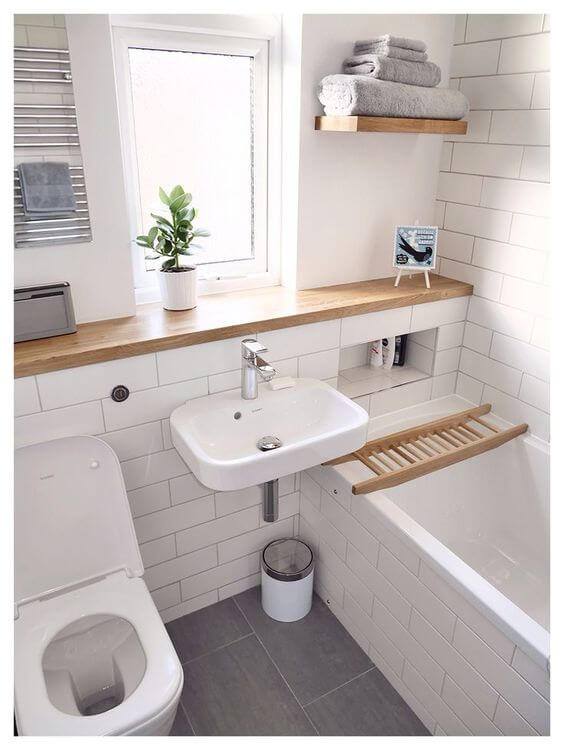 Asian style of the interior is identified by combining the tiles with oak wood element. As you can see, the ceramic wall tiles have a contrast appearance with the oak wood shelves.
But, that's the beauty of it. The natural color from oak wood accentuates and dims the brightness of the bathroom.
Adding a few natural accessories with a potted plant over the window increases the value of this naturally modern bathroom. This design can make a great makeover idea for your small bathroom.
12. Bathroom Color Ideas with Wall Decor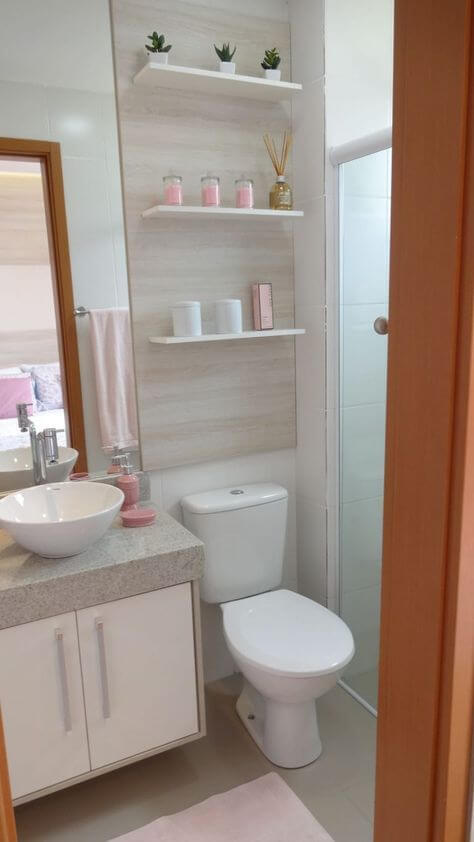 A floating shelf above the toilet will be an interesting bathroom wall decor to add color. A really small bathroom won't have a lot of spaces for storage and decoration. A wall above the toilet could really mean something for creative people.
Space can be used functionally, decoratively, or both. You can arrange your toiletries and some simple accessories to add more colors to the wall. The small space looks more interesting from here.
13. Gorgeous White and Gray Marble Bathroom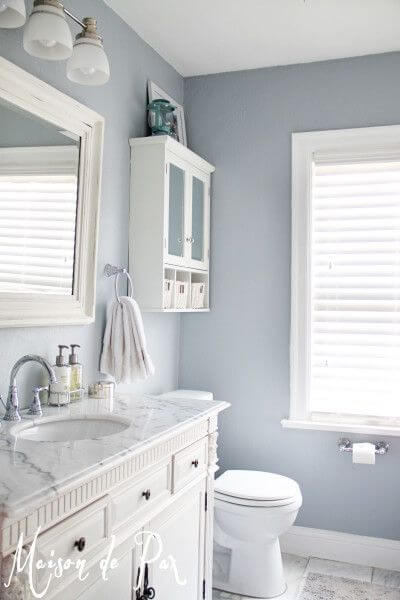 A stunning gray and white combination would always do the work. For this bathroom, the marble countertop offers a complete look of ideal bathroom color ideas. A small space won't stop your creativity; choose the right color scheme is the key.
The bright sunlight from the outside really improves the atmosphere inside this bathroom. Well, you have to add the right lighting designs with the perfect amount of light to keep the impressive atmosphere you'll have during the day.
Grayish Bathroom Color Ideas
14. Smokestack Gray Bathroom Color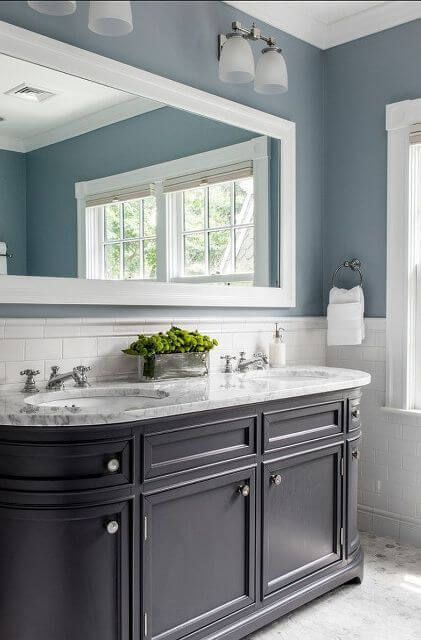 This is another great choice of color from Benjamin Moore, A Smokestack Gray. For your luxurious house, having this color in your bathroom is the right thing to do. This color can go well with your luxurious bathroom items and furniture.
Make sure that you give the proper amount of light to make the bathroom brighter. The cabinet has a darker color which balances the entire brightness inside this bathroom.
15. Color Paint Ideas for Traditional Bathroom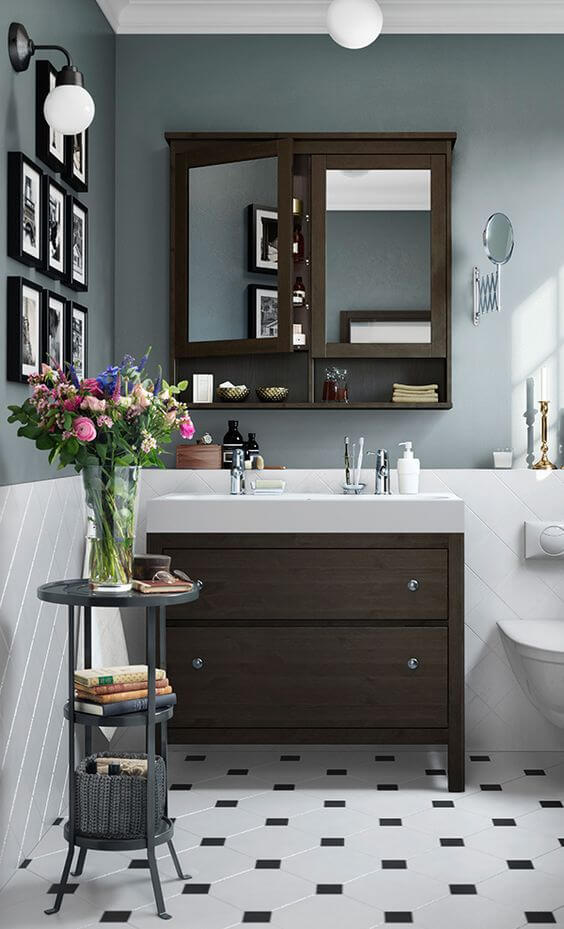 This is an inexpensive way to update your tired bathroom. Using a traditional approach with furniture from IKEA could really do the work. The vanity mirror can also be used as storage to keep your small toiletries and cosmetics.
The wall tile and floor tile has a different design and patterns but it seems connected to each other. It can also be a nice design for guest bathroom ideas.
16. No-Window Bathroom Color Ideas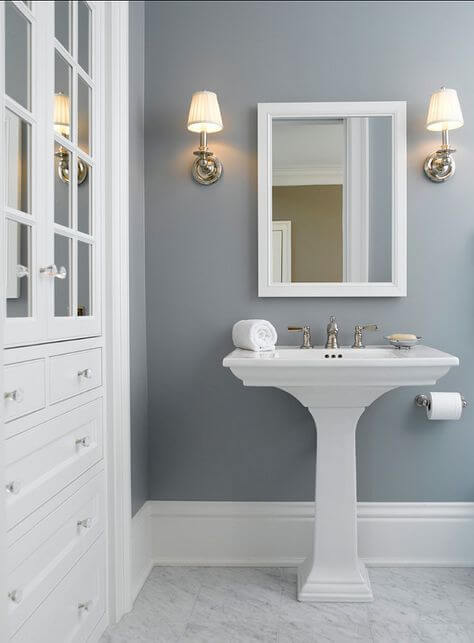 If you have a bathroom with no window, you may consider having this color painted. It's a Navy Blue color which offers a classic tone with the reminiscent of the seawater and sky. It's a perfect color to let you relax in the bathroom even without a window.
Here are some other colors you can have for a bathroom without a window:
Teal Raindrop
Cream Color
Ash Gray Color
Blue Gray
Taupe Warm
Seafoam Green
17. A Dark-Colored Bathroom Wall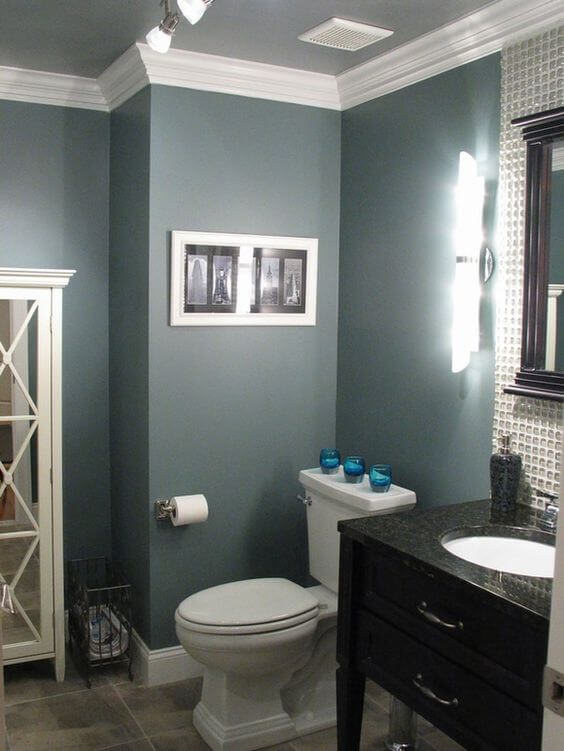 Some designers would avoid using dark paint as the main color of the bathroom. Actually, there's nothing wrong with dark color. It can bring out the elegance in your bathroom atmosphere. The power of lightings would be so useful this time.
You can pair the dark wall color in this bathroom with white crown molding and baseboard in order to give a little bit of light into the mix.
18. Stunning Soft Bathroom Color Ideas with Pedestal Sink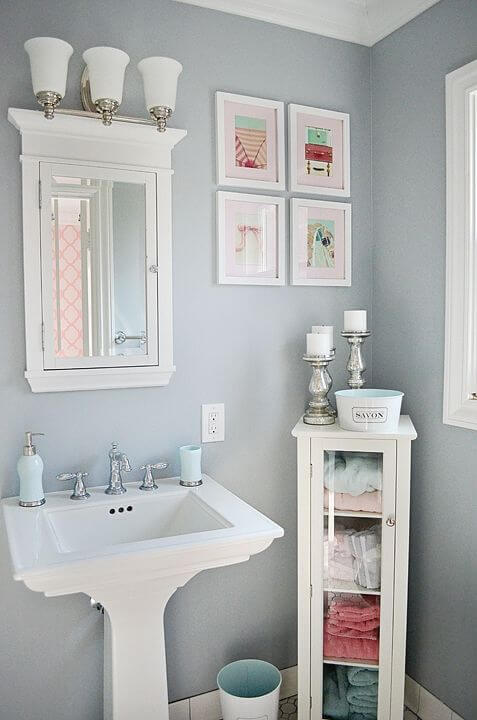 Simplicity seems to be the main feature of this small bathroom. The designer keeps things simple with the amount of minimalist furniture added in this bathroom. It's got a separated vanity and cabinets. It's clever for a limited space bathroom.
Decorate the wall with some simple framed pictures to make it more interesting. A bunch of soft colors is spreading around this small bathroom. That's enough to create a stunning color scheme.
19. Gray Wisp Wall Color for Bathroom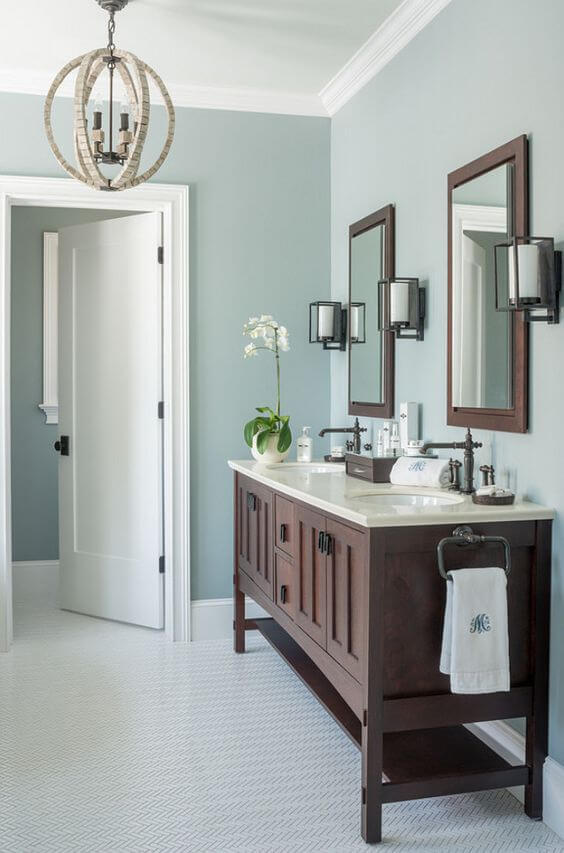 Check out this bathroom wall color. It's a timeless, elegant color for your bathroom wall in order to ignite the sense of relaxing all over the room. You can feel comfortable when doing your things inside this bathroom.
A dark wood vanity set here makes an outstanding addition to low the brightness provided by the white and gray combination.
20. Benjamin Moore's Gray Color for Bathroom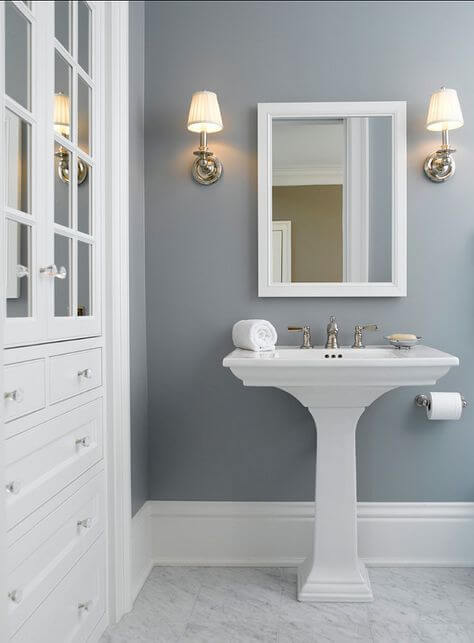 With a white crown molding, cabinet, and vanity, a soft gray color could be a great color for the wall. It's enough to make people comfortable using this bathroom.
A simple vanity design won't waste the space. Keeping the minimalist and simple look in a small bathroom is very important. In addition, antique light fixtures make great wall decor.
21. Classic Brown Bathroom Color Ideas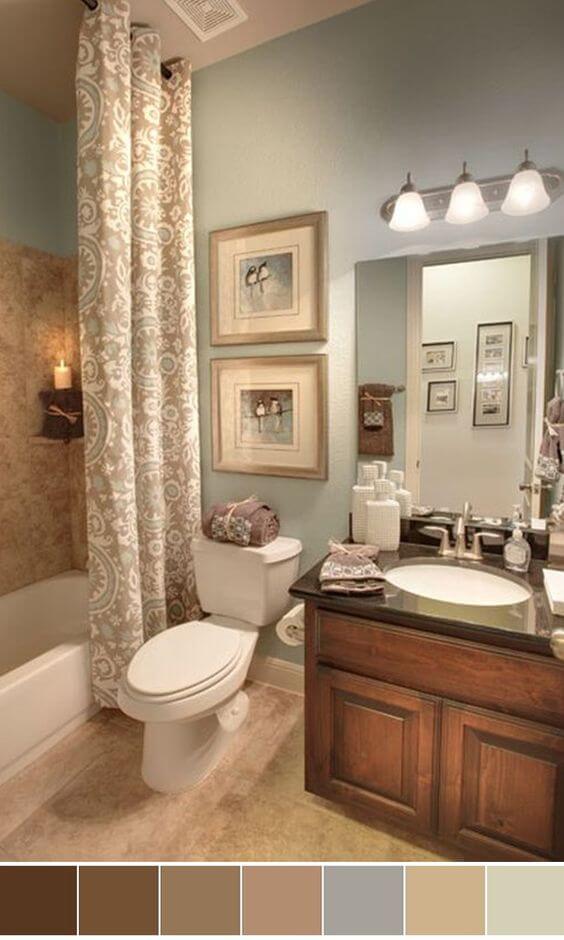 A dark drowns cabinet and black countertop looks amusing in this small bathroom. Some vintage wall decor above the toilet improves the classic vibe inside this bathroom. The patterned curtain looks adorable and matched with the atmosphere.
Quote. It's proof to show that a small bathroom can also be classically astonishing. Without a window, you can still rock this bathroom, no matter what.
Other Bathroom Color Ideas
22. Folk Style Bathroom Paint Design Ideas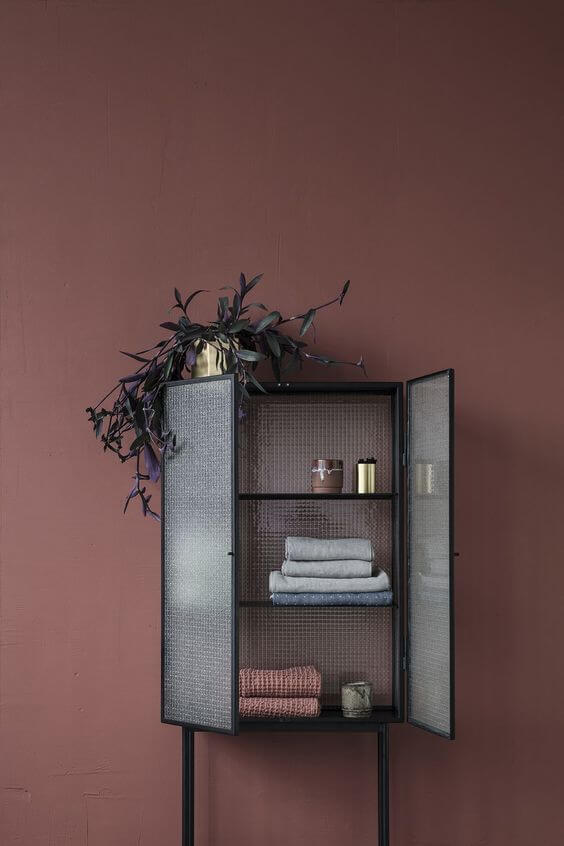 It's a unique piece of furniture you can have inside your bathroom. It helps you to organize your linen products and other toiletries. A few plant accessories on top of the cabinet would strengthen the style goal. A red colored wall is the one that goes well with the folk style cabinet.
23. Bold Blue Color for White Bathroom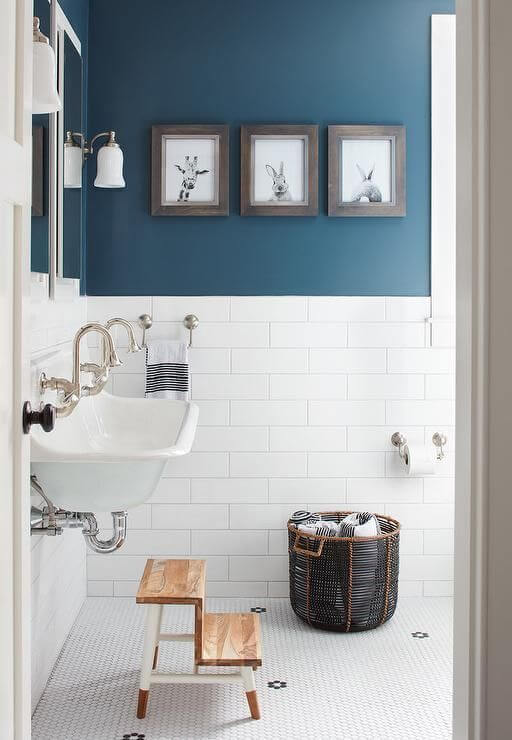 One of the best options to paint your white bathroom is to combine it with a bold color like this one. In order to balance the bright light from the white color, a bold blue color would be a good choice. As you can see, this bathroom is specially designed to be used by kids.
There's a kiddy wall decor on that bold blue wall. Any kids would be happy to brush their teeth inside this interesting bathroom.
24. Teal Paint Bathroom Color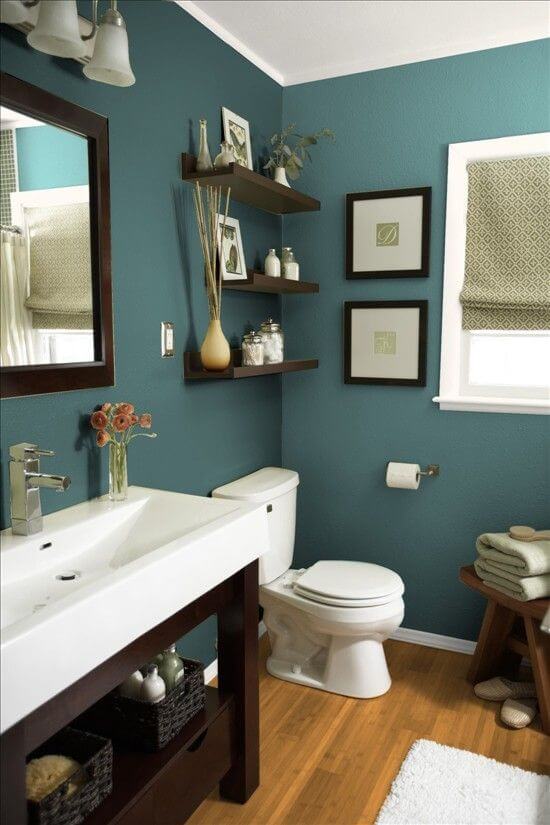 25. Dark Pallet Shelves in White Bathroom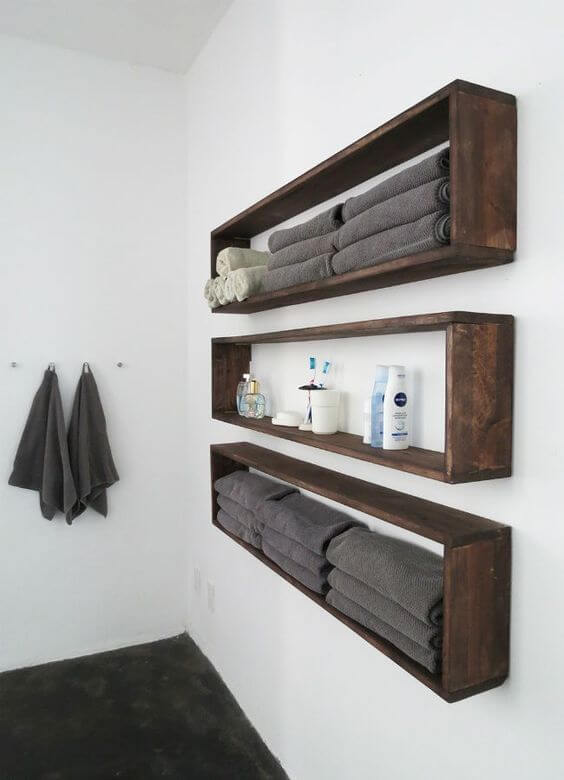 26. Beautiful Earthy Blue Bathroom Color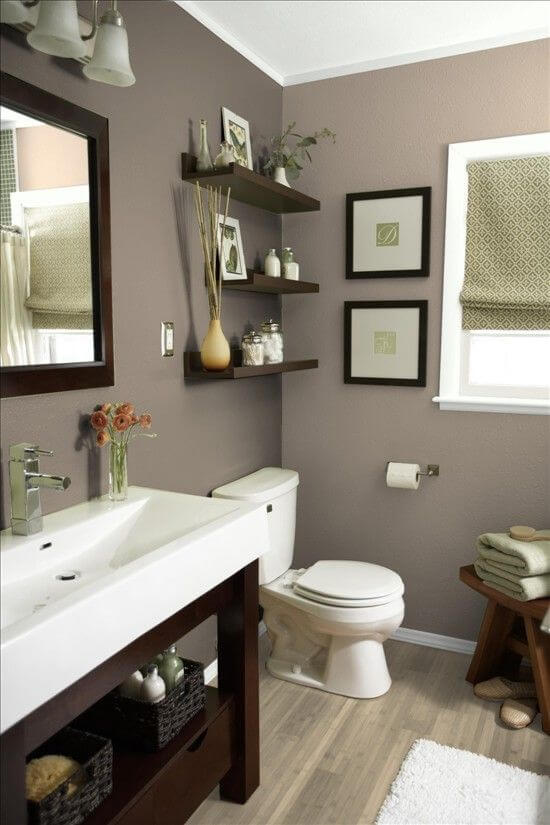 27. Blue Gray Wall Bathroom Color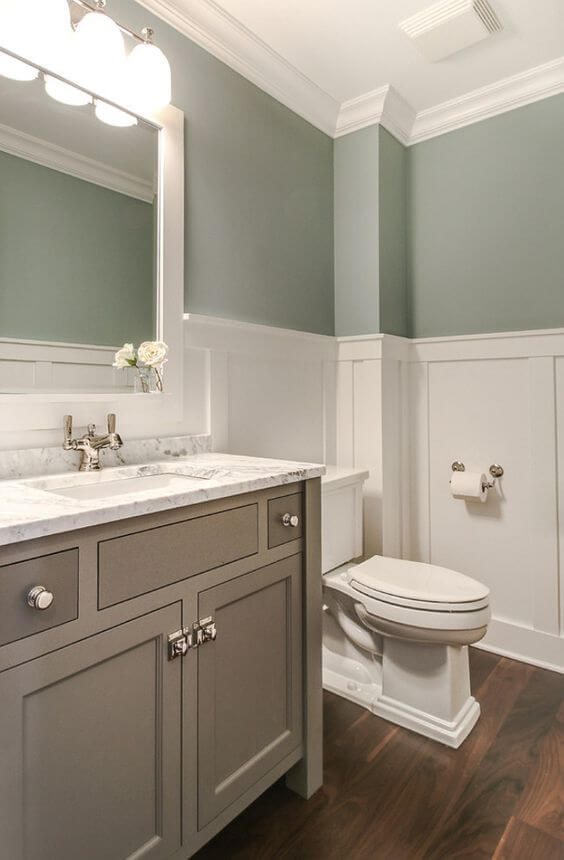 Conclusion
27 inspirational bathroom color ideas are enough to get you inspired. You are now easier to decide which one is going to be the color scheme of your bathroom. Choose it based on what your bathroom needs.