Planning for stair runner installation? A stair runner is always a nice addition to have. It makes the staircase looks more appealing, safer to walk on especially for children and pets, and more comfortable. And below, we listed 15 stair runner ideas to inspire you.
Our ideas are diverse. So, more likely than not, you will find one or two that you would like to try. Without further ado, let's start.
Leopard Stair Runner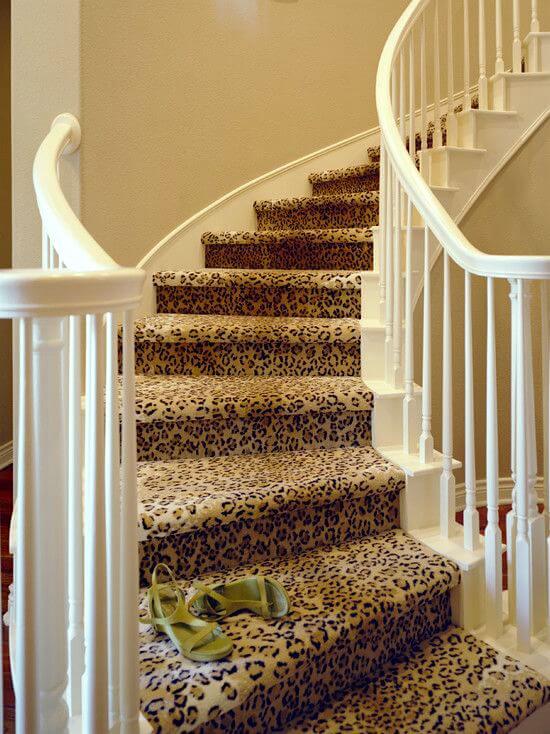 Let's start with something unique: a stair runner with leopard patterns. A stair runner like this is a foolproof way to make the staircase looks more interesting. It is make an excellent statement, as well. After all, who can just ignore a staircase with a runner with leopard patters on it?
The ideal stair runner is one that has both functional and aesthetical value. So if you like a runner with leopard patterns like this, look for a runner that is not slippery, comfortable to walk on and easy to maintain.
Grey and Black Stair Runner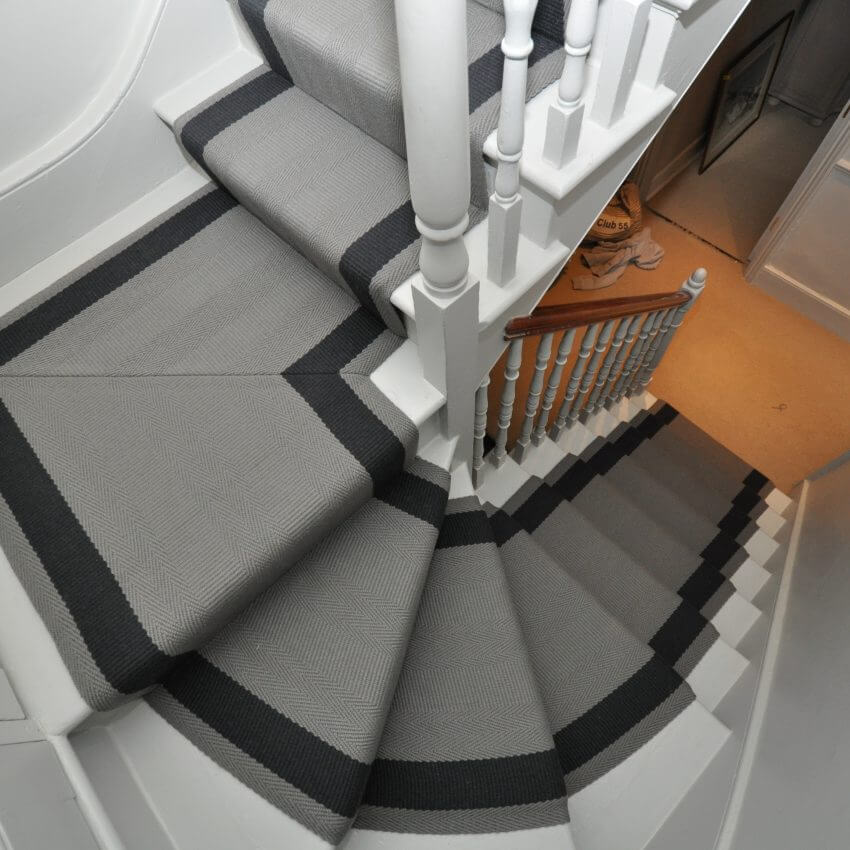 The next in our stair runner ideas list is a grey and black stair runner striped. Unlike the previous idea, this one is a lot simpler.
The runner has two colors: grey and black. The grey is the main color of the runner, while the black is the color of the two stripes on both sides of the runner.
This runner is an ideal option if you have a staircase with a neutral color. The stripes will be the focal point and make the staircase more attractive. All that without the runner stands out like a sore thumb.
Stair Runner Grey and Pink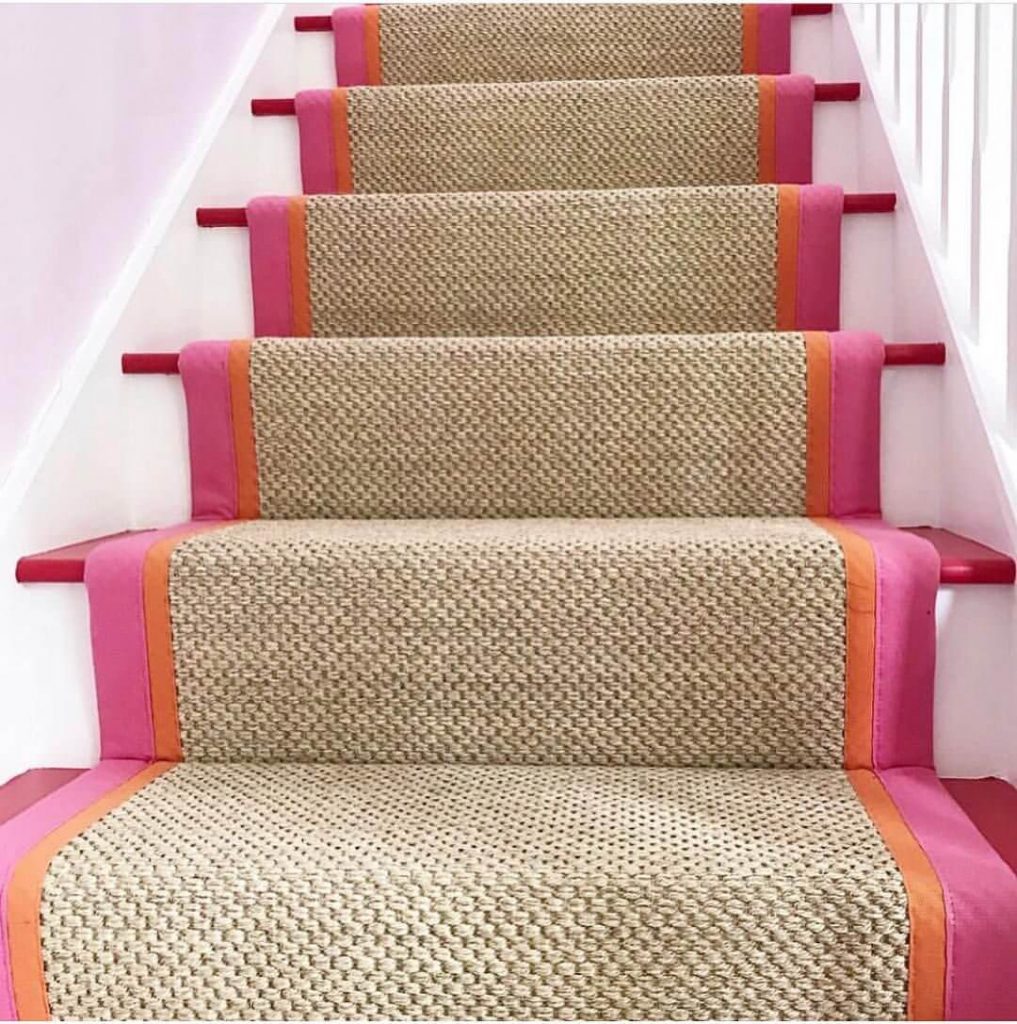 Prefer warmer and lighter colors instead? If that is the case, considering installing a grey and pink runner like the above.
The runner above brings warmth to the staircase. At the same time, pink stripes on the right and left sides of the runner accentuate the overall look of the staircase.
If your staircase feels cold and boring, a grey and pink runner is certainly one of the best runner options for you. With such a runner installed, the staircase will be warm and interesting not just for you but also for all of your guests.
White Striped Runner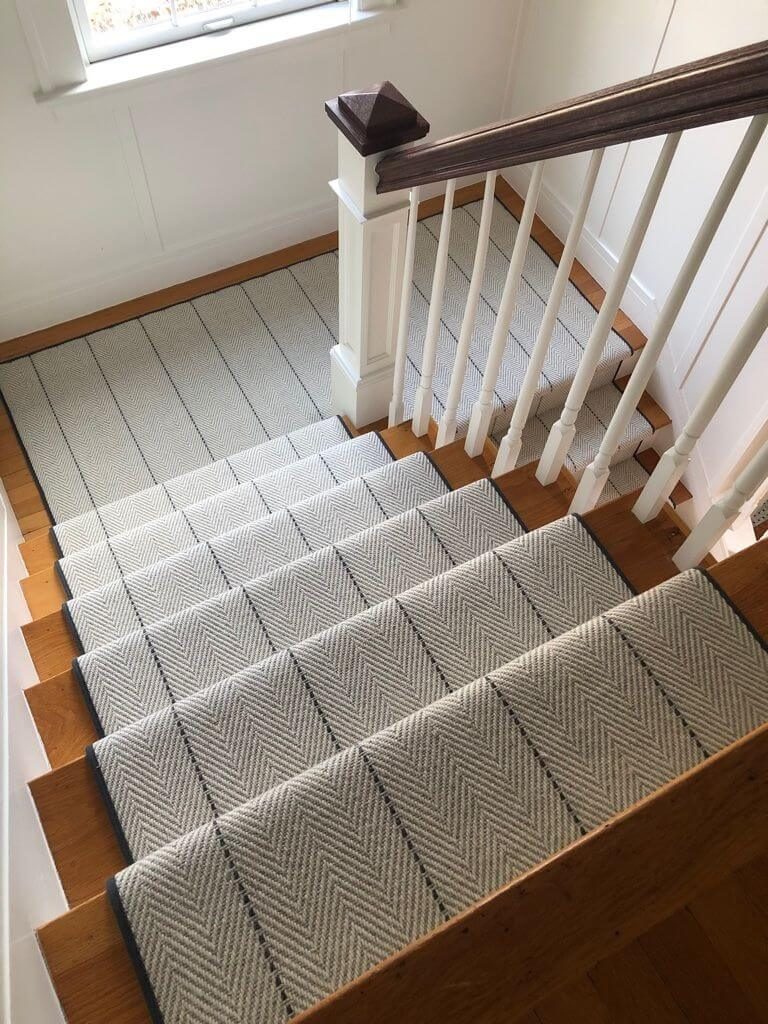 A staircase with finished wood steps looks amazing. This is particularly if the railing has a darker color, which balances and contrasts the finished wood steps, creating a gorgeous focal point in the room. Can such a staircase be improved further? Of course. Improvement is always welcomed.
Unlike the previous striped stair runner ideas, this striped stair runner carpet has several thin stripes. These thin stripes help to add texture to the staircase. This result in the already amazing staircase becomes even more amazing.
Speaking of stair railing, what kind of stair railing do you have? Does it look good? If it doesn't or you just want to remodel your stair railing, our stair railing ideas here can help you transform an ordinary stair railing into an extraordinary one.
Diamond Patterns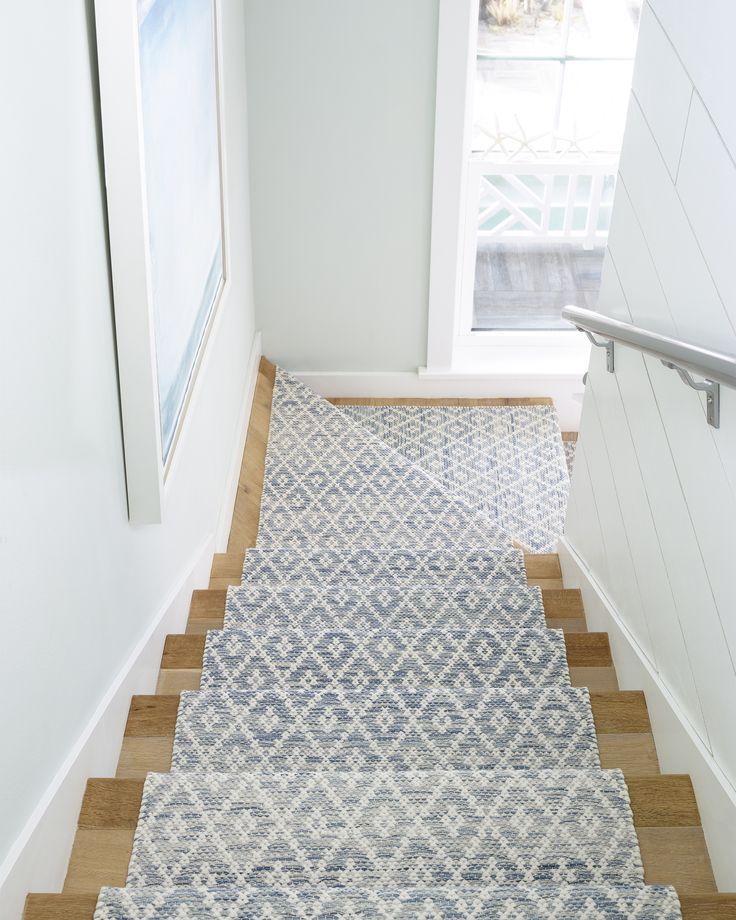 A stair runner with patterns looks great, too. The above is a good example of a patterned stair runner. The color between the runner and the steps complement each other, which results in a good-looking staircase.
A runner with patterns adds texture and depth to the staircase. This is why if you think your staircase needs more texture and depth, using a runner with patterns is a good idea. Of course, you can opt for patterns other than diamond patterns like in the runner above.
Rug Stair Runner Ideas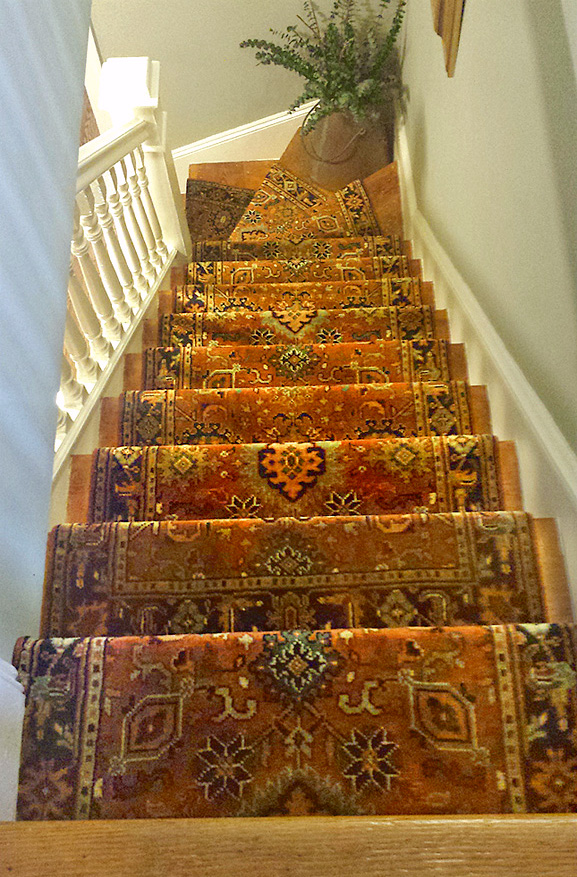 Do you like
a rug,
a warm vibe, and
a luxurious-looking staircase?
If your answer is a yes, then consider adding a stair runner rug. A rug runner can change the look of a staircase drastically. An otherwise ordinary staircase can be extraordinary. All that is needed is to add a rug runner on it. Practical? Very. Looks great? Absolutely.
So if what you want is a warm, welcoming and luxurious staircase, installing a rug runner on it is certainly among the best stair runner ideas.
Pinstripe Stair Runner with Rods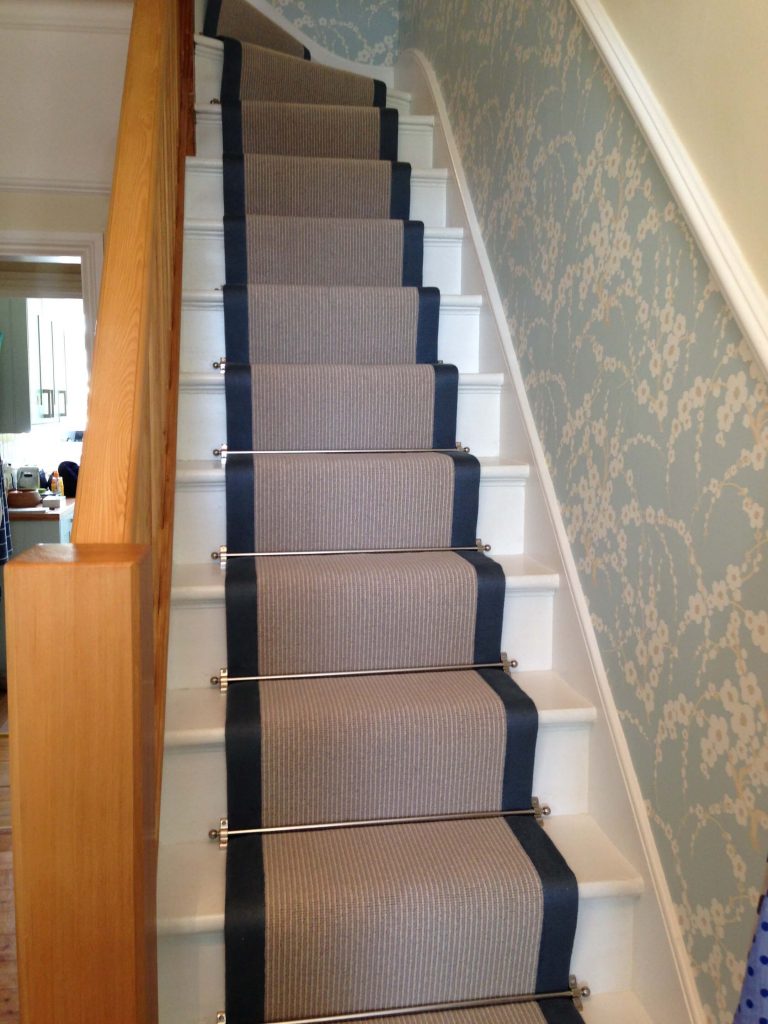 This is another stair runner striped. This pinstripe stair runner fits in well with the steps. Notice how the steps and the wall nearby are white, while the runner has two darker colors. This contrasting difference makes the runner even more noticeable. Thanks to it, the staircase becomes the star of the room.
There are also small details on the runner. Yes, the rods. These rods are there not only because they hold the runner so they don't get loose, but also add an accent color to the staircase. It is a clever way that utilizes both aesthetical and functional value of the rods.
Stair Runner Gray with Rods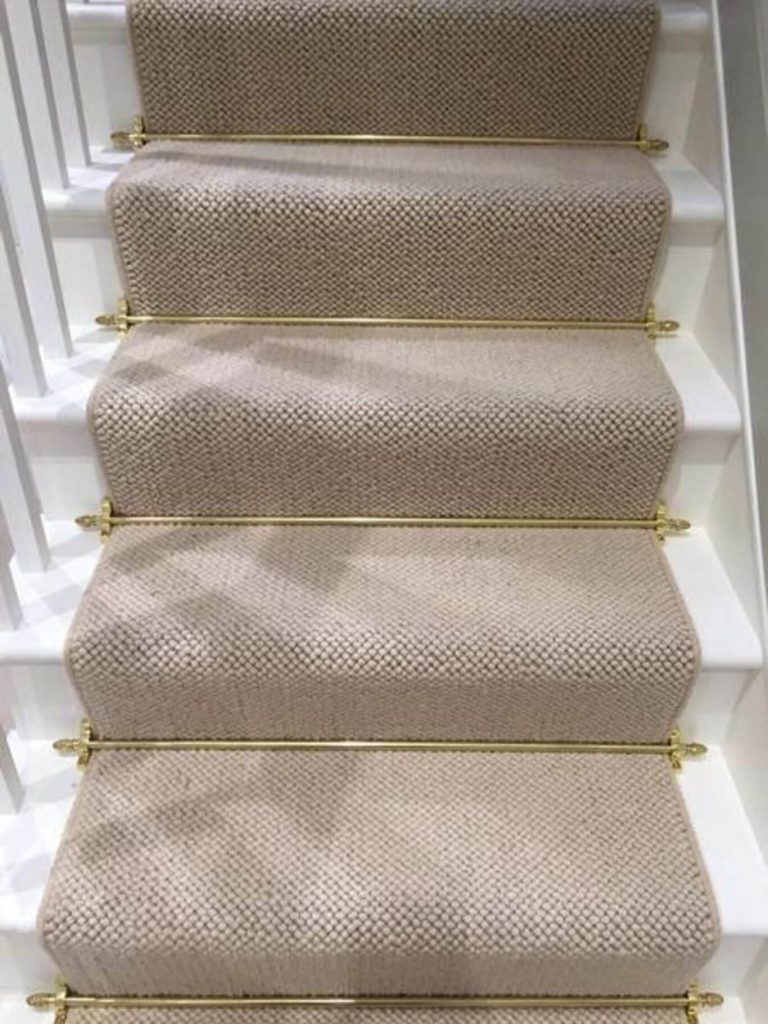 This one is similar to the previous idea. The difference is in its color. Rather than having dual colors, this one has only one: a shade of grey. Only having a single color doesn't necessarily mean this stair runner grey is boring, though. On the contrary, it looks very appealing.
Notice how the runner's grey work together with the golden rods. The two components create a simple yet elegant staircase. The white steps help to highlight the runner even more.
Painted 'Runner'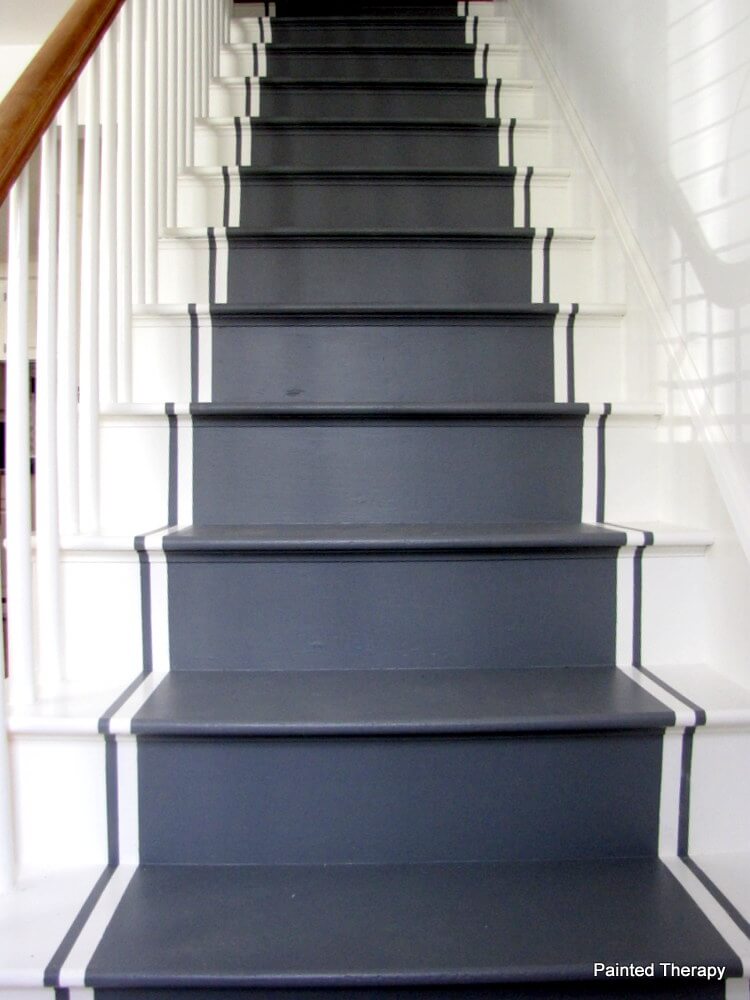 Rather than a real stair runner, it is a 'runner.' Why do we call it like that? That's simple. Because there isn't any real runner to begin with, unlike the previous stair runner ideas. As the image above has shown, the 'runner' is painted. And yet, the fact that it is a mere painting doesn't make it less attractive.
A painted 'runner' like this is the perfect option if you just want to get the aesthetic of a runner and not its functionality. After all, in some cases, like basement stairs, a stair runner may not be appropriate due to limitations in space.
By the way, do you decorate your basement stair? If you haven't already, you may want to do it now. A good-looking basement stair is always nice to have. Just check out our basement stair ideas if you need some inspiration.
Multicolored Stair Runner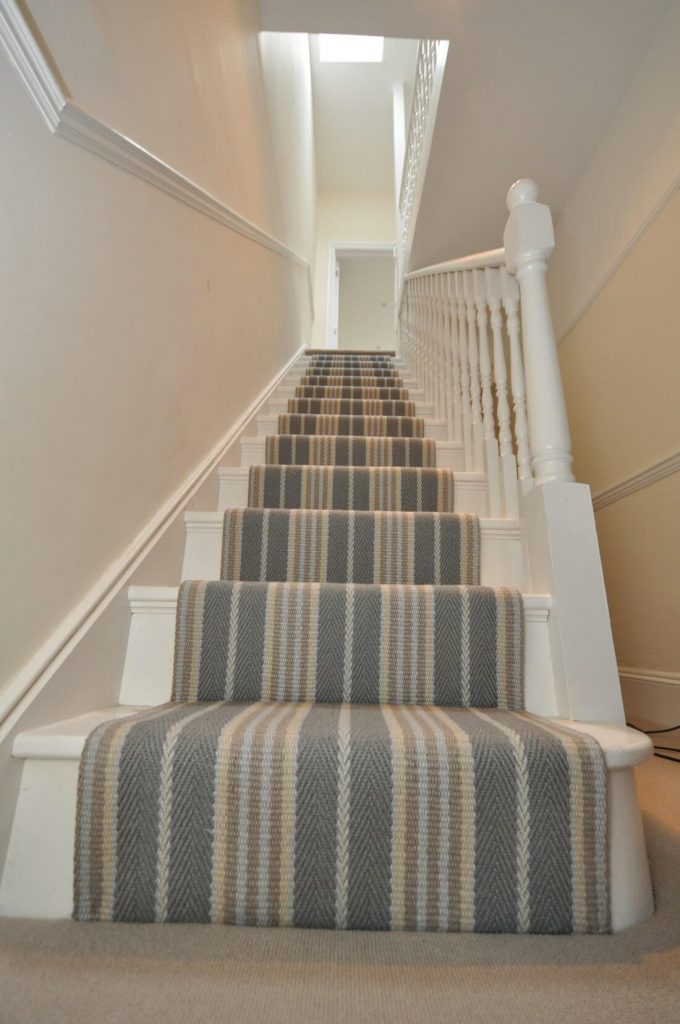 There is no limit on how many colors of a stair runner should be. In other words, you are free to choose stair runners regardless of the number of colors they have. Rather than the colors, focus on what kind of look you are looking for from a runner. For example, the multicolored runner above has a neutral look.
A neutral-looking runner gives off a calm and welcoming vibe. Such a runner helps you to greet your guests and make them feel comfortable.
Simple and Warm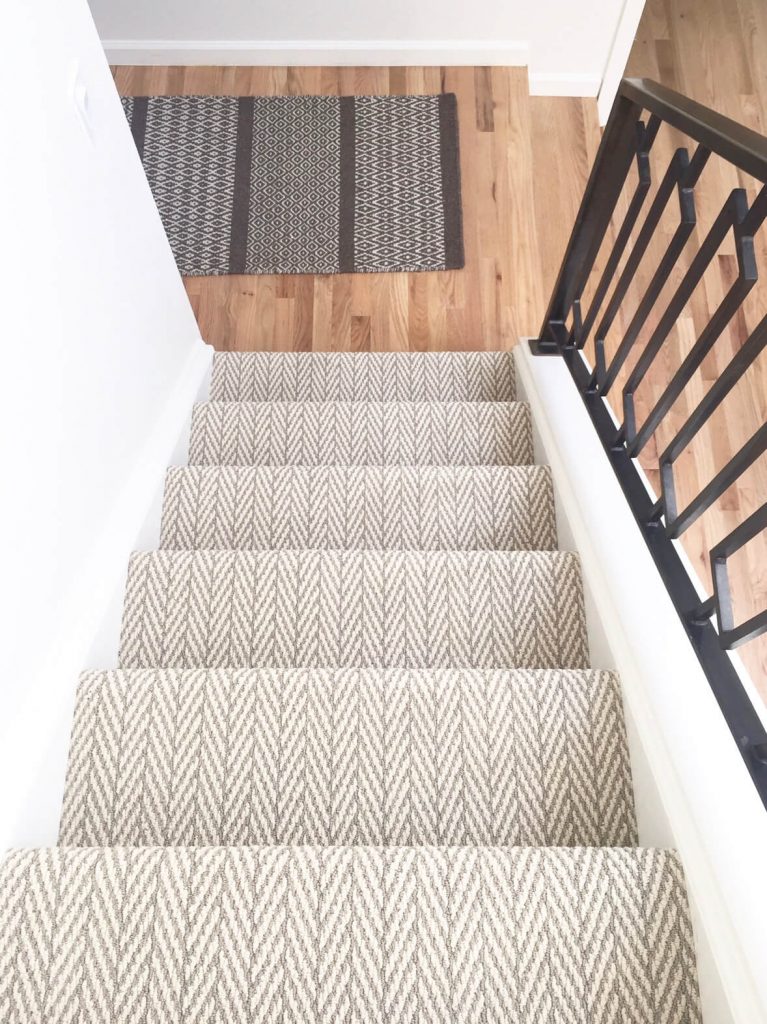 You don't have an elaborate or complex runner to get the warm vibe. A simple runner that covers up the entire steps can do that too. For the color, the best colors that give off a warm vibe are neutral colors, particularly shades of gray.
For the best effect, choose a simple runner that not only has a neutral color but also has patterns on it. As the previous stair runner ideas have shown, patterns add texture and depth. Due to this, the staircase will look extraordinary and far from boring.
Modern Staircase Runner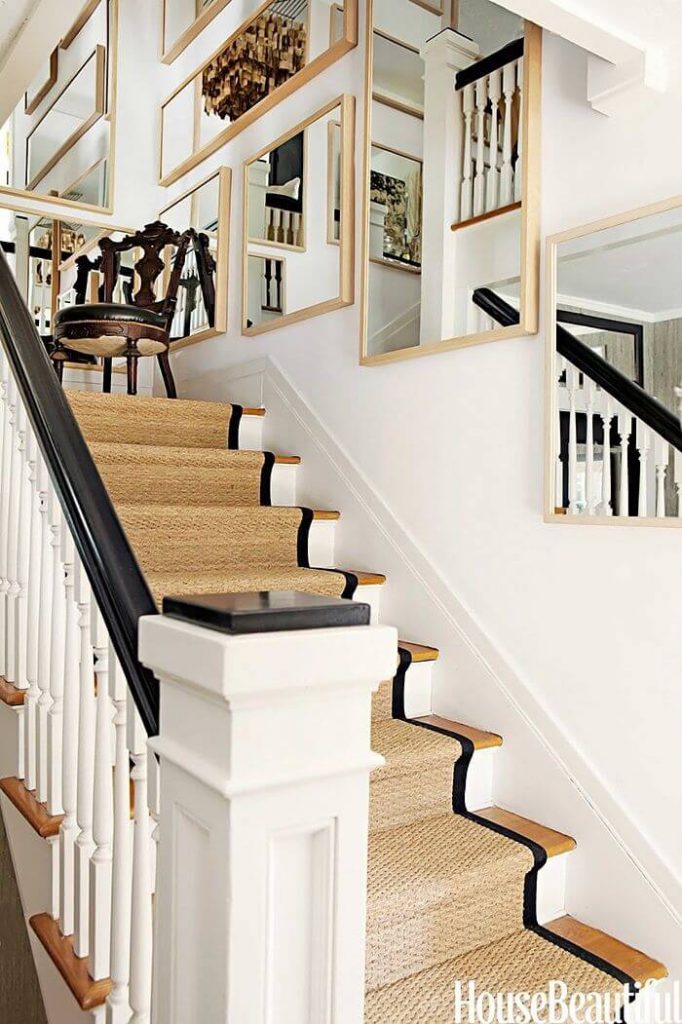 Next in line is a stair runner modern. Unlike many previous stair runner ideas, a modern stair runner emphasizes on sharp lines, dark color, and simplicity. It is not surprising, considering functionality is the top priority.
Just look at the runner above again. It looks quite simple, doesn't it? Notice how the runner has a dark color, sharp lines, and a very simple design.  Since the runner and the furniture nearby share common colors, the runner completes the look of the space.
Diamond Patterns Theme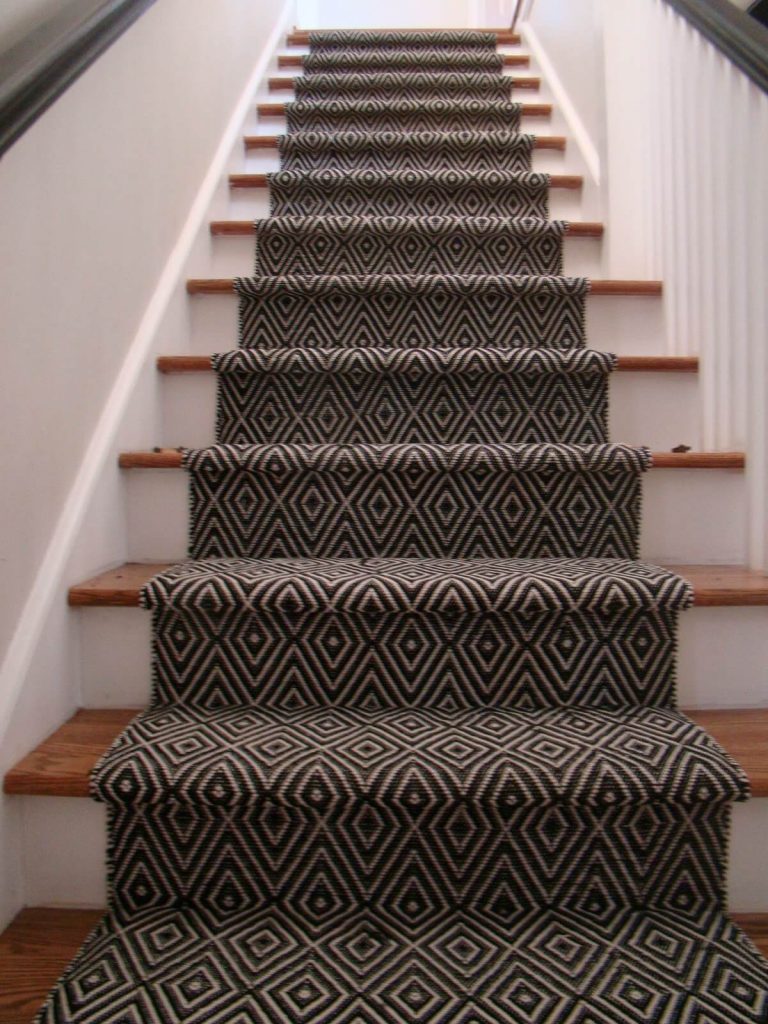 You can combine black, white and patterns in a stair runner. Does it look good? The answer is yes, it does. The contrast between the black and white, as well as the patterns, all work together to create a visually-appealing runner. It is a clever way to grab all the attention.
Stair Runner Carpet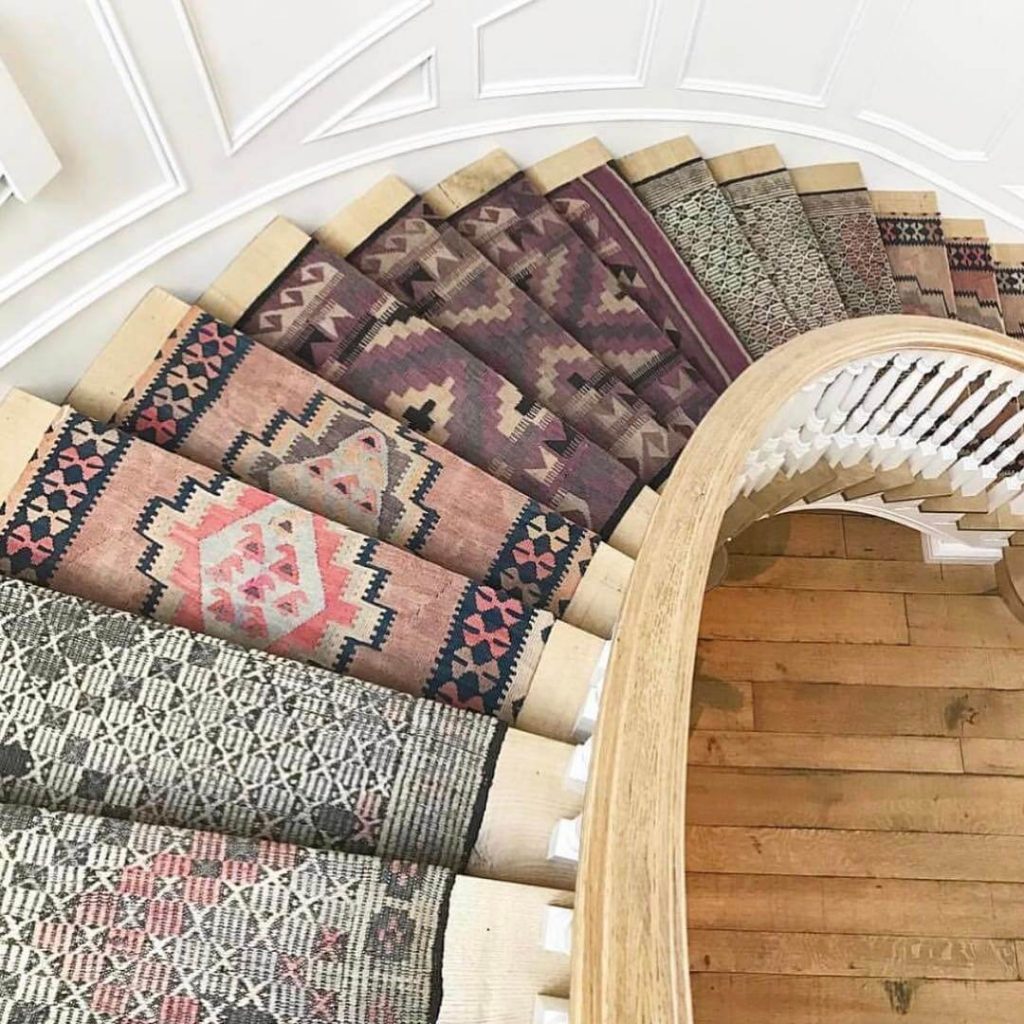 Take a look at the runner above. What do you think? Same colors, same patterns or same stripes are common. But they are just common, and not the rule. There is no restriction of colors, patterns or stripes used in the stair runner, either.
Want something unusual unique? Instead of using a runner with one or two motifs, go for a runner with lots of different colors, patterns, and stripes. Better yet, be sure that each floor is very different from its predecessors.
Old Staircase With Runner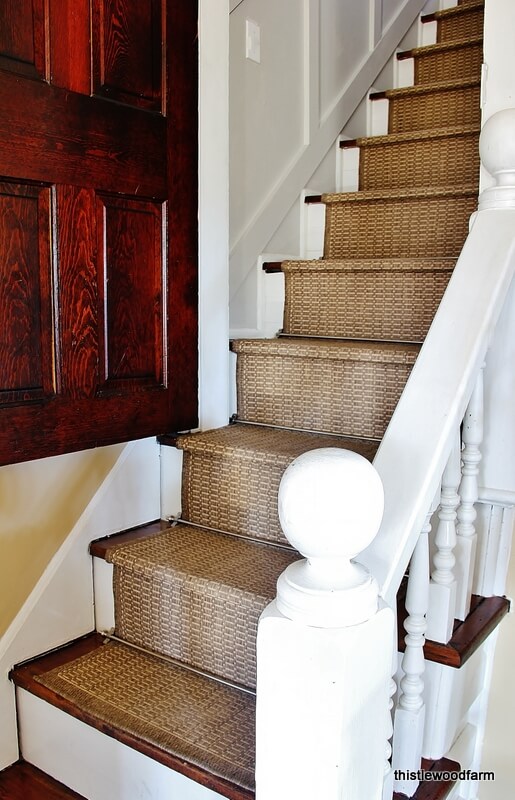 Lastly in our stair runner ideas list is a rustic stair runner. Rustic style is the epitome of the saying "old but gold." Although rustic style tends to look simple and outdated, it has its unique charm that lots of people love.
Adding a rustic stair runner is a good idea regardless of what kind of décor you have. Not to mention a rustic stair runner is versatile, too. You can use it to complement the overall theme of the space or turn it into a focal point on its own.