Want to have a relaxation on a hot summer day; you may need some outdoor shower ideas. When dealing with an outdoor shower, there will be nothing more luxurious.
The design scheme can be minimalist or statement-making. Whatever it is, try these relaxing outdoor shower designs to complete your summer.
Having a shower outdoor on a sunny, warm day is a great way to give you refreshment to yourself, especially when it's hot. It would be even more outstanding when the house is located nearby the beach.
If you are living in a place that has a beautiful ocean view, an outdoor shower design is highly recommended. However, an outdoor shower concept is designed for any house that has an outdoor space.
Well, to get more references about this, Harp Times give recommended 28 outdoor shower ideas with a picture for you to enjoy a breezy summer:
Full-Outdoor Shower Ideas
1. Tropical Outdoor Shower Ideas with Natural Privacy Screen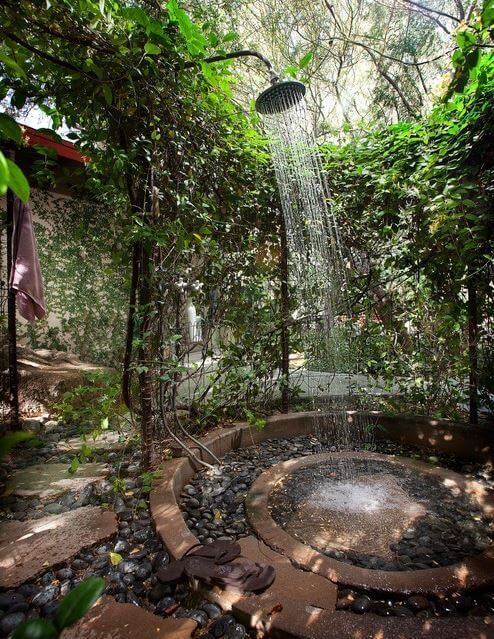 Designing an outdoor shower should be based on the size of the outdoor space you have in your house. It could be in your backyard or side yard, wherever makes you comfortable. This budget-friendly shower design has easy-to-obtain material.
This shower area has a privacy screen which is in the frame and it's covered in green leaves or some people called it as evergreen climbers. The pebble and concrete flooring and paving combo go really well with an outdoor vibe.
2. Simple Outdoor Shower Ideas for Swimming Pools Areas with Bench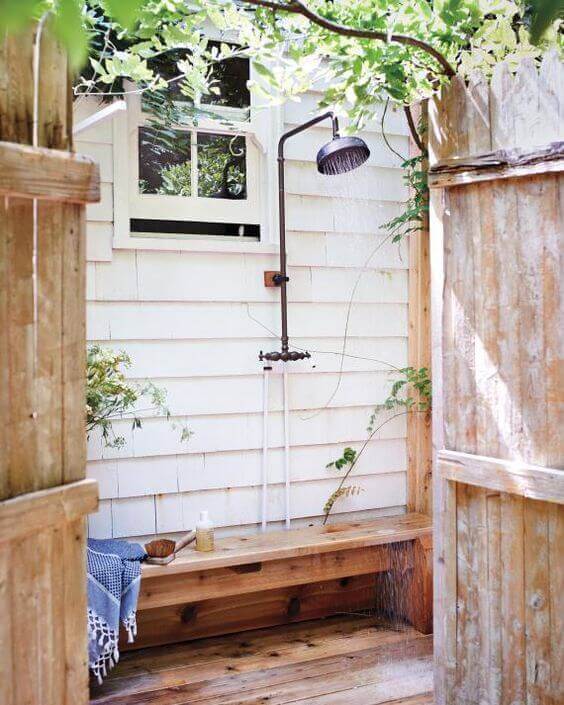 Adding a bench inside the outdoor shower area would be a clever move to make. A bench would be very useful when you are having a shower. You can sit down and rest while you're having a shower. It can also be used to hold your conditioner, shampoo, and other products.
A bench is alternative main furniture for the outdoor shower because it shouldn't be added with bathroom vanity and cabinet.
3. Simple Outdoor Shower Ideas for Camping with Galvanized Wall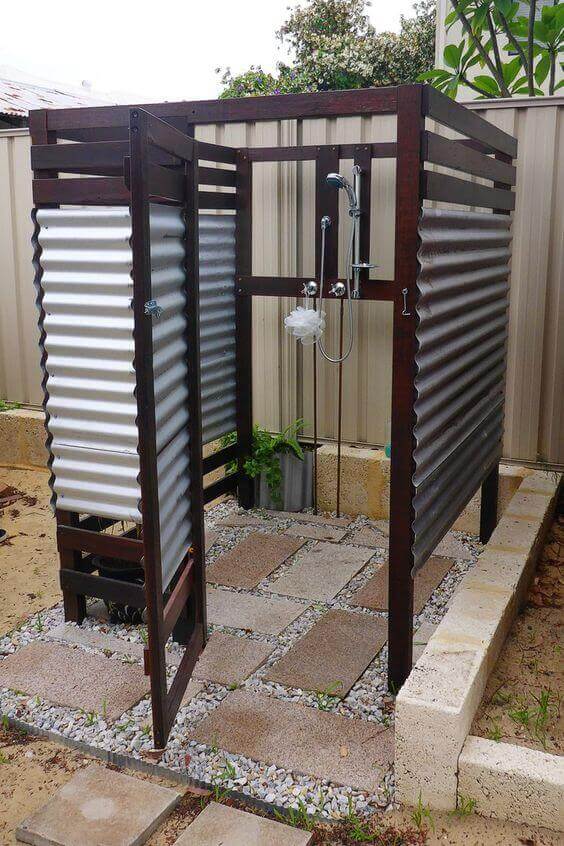 This is an example of a toilet and shower place you can find at a village. It looks like a small cage with a galvanized metal.
It would let you shower in the rain to refresh your body on a hot summer day. This open-slat shower has concrete and pebble flooring to maximize the experience of natural outdoor.
Things to note:
The galvanized steel will be easy to rust,
The plumbing could be an issue, and
Space seems to feel cramped.
4. Cottage Style Outdoor Shower Ideas for Beach House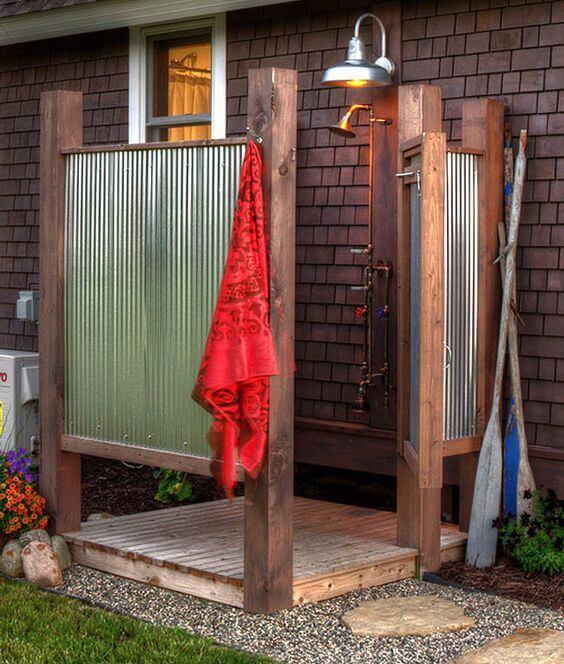 For a limited space of backyard, you can have the outdoor shower area attached to the outdoor wall of your house. This cottage style shower creates an amazing vibe to let you wash your body below the sky.
Quote. It's a perfect idea for you who have a swimming pool in your backyard. The outdoor shower area would be more useful to wash the body after swimming.
5. Best Simple Outdoor Shower Ideas Pinterest for Swimming Pools Areas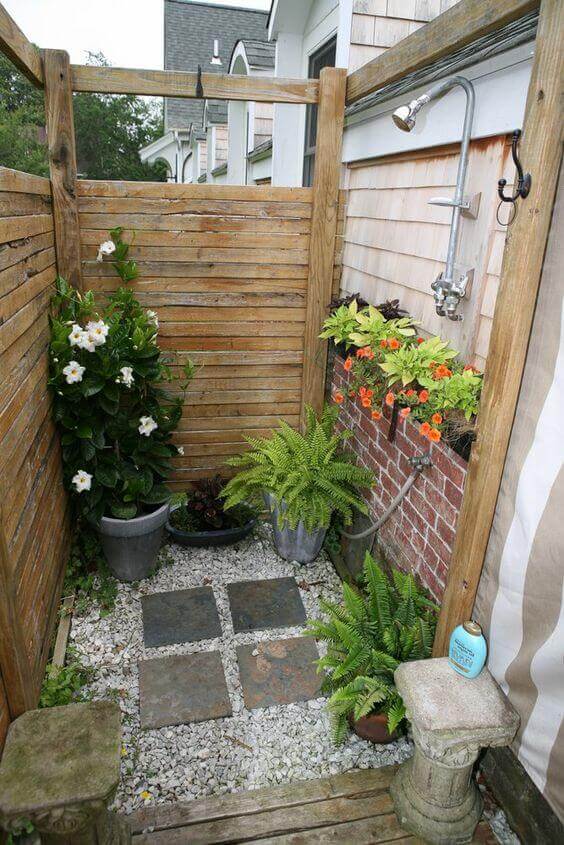 Building an outdoor shower is an easy task. So, having some ideas would get you more references to be inspired.
Some potted plants can be a great natural decor for your outdoor shower area. The potted plants seem to be placed where it belongs. When the flowers bloom, the shower area looks colorful.
A simple shower fixture would be okay since a function becomes more important than decorative for it.
However, you can't have too many potted plants inside the shower area because it could waste a lot of space especially when the shower area is already small.
6. Tropical Outdoor Shower Garden in Bali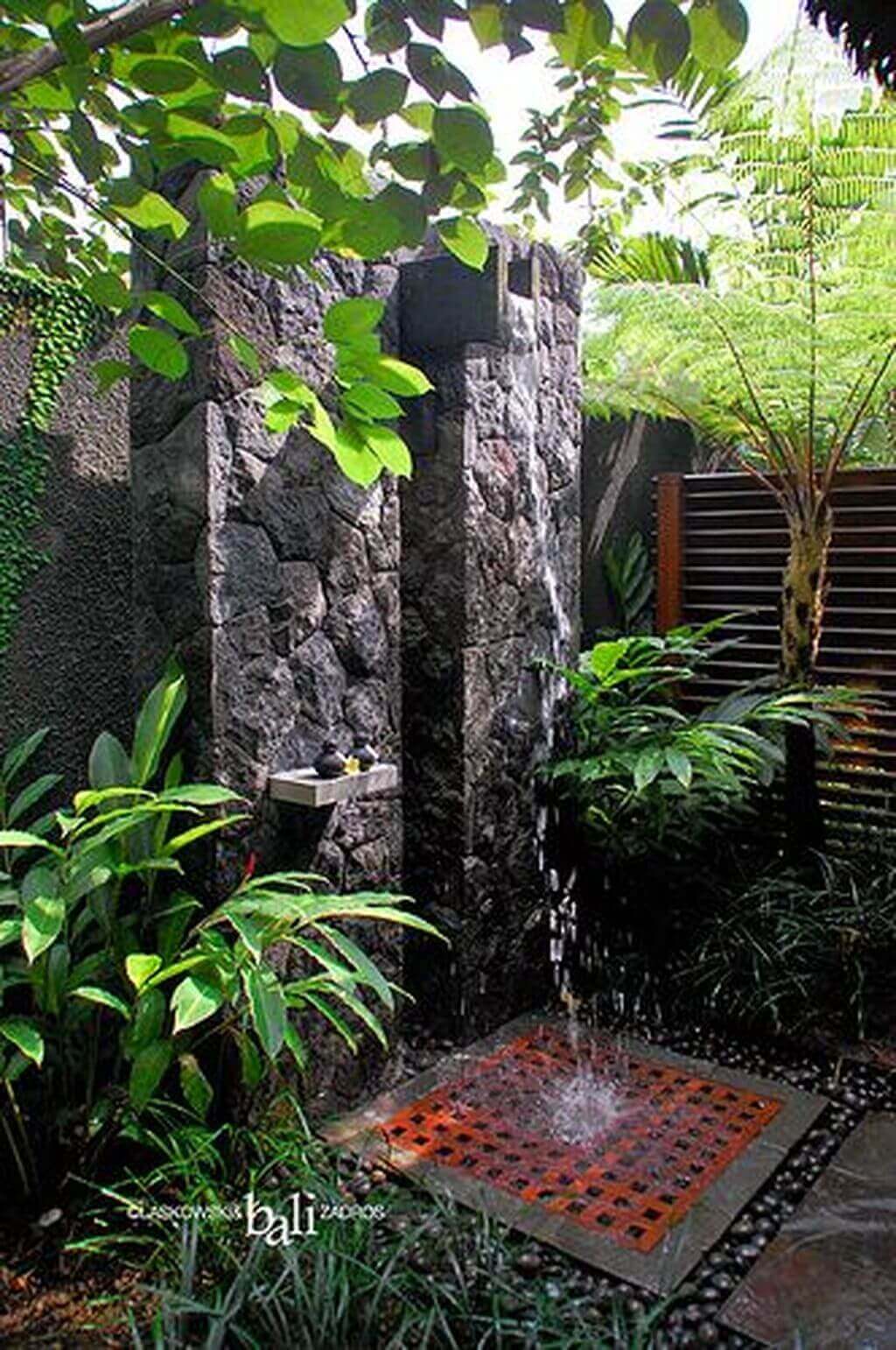 When you visited Bali, you probably find this outdoor shower design. The traditional exotic is the best scene that this place has to offer.
As you can see, it doesn't use the common concept of a shower. Instead, there's a small waterfall that would pour you with unlimited water flow.
On the ground, you'll see holes to let the water through. Having a waterfall shower surrounded by the garden is a remarkable experience. The natural color scheme could be included in the favorite bathroom color ideas for outdoor.
7. Stunning Minimalist Rustic Outdoor Shower Ideas DIY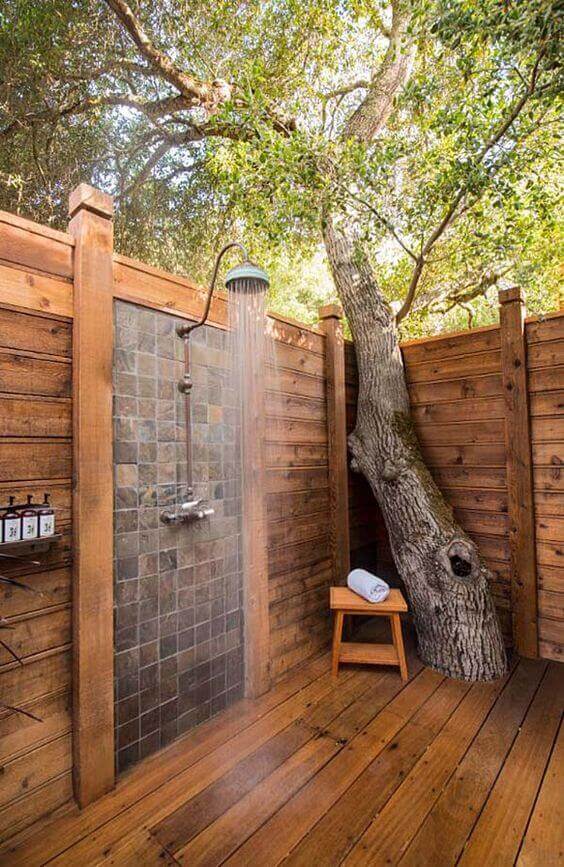 An outdoor shower is not about furniture. It's the second thing to have in mind. The first thing you should consider for your outdoor shower space is the location or spot. Check out this minimalist outdoor shower.
It's got a grown big tree inside the area. The designer chooses a unique spot for shower ideas by including the tree. It really offers a natural focal point for this shower area.
The wood board is all over this outdoor shower making it as the complete wooden outdoor shower experience.
8. Freestanding Shower Kits for Outdoor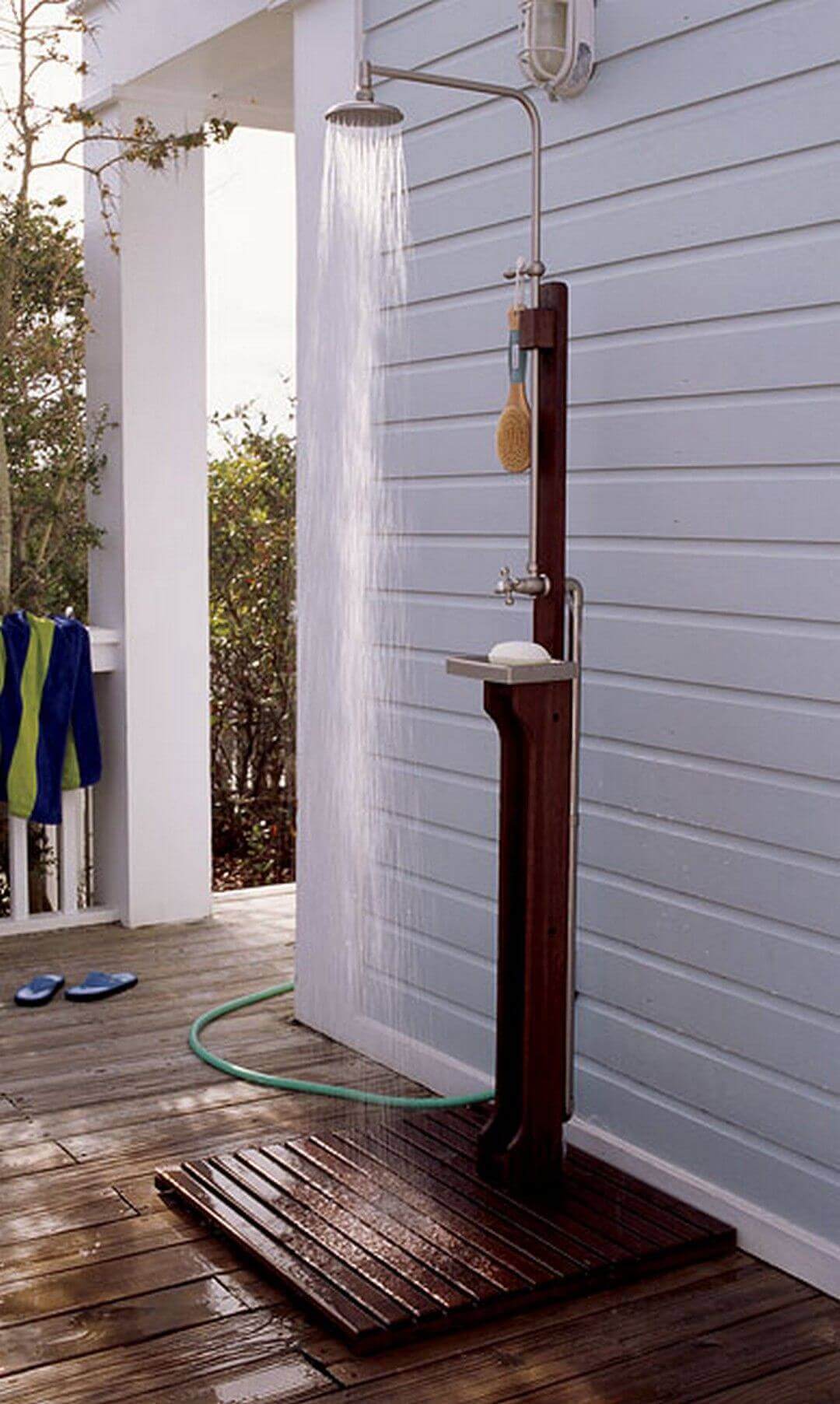 This shower fixture is specially designed for outdoor used. A simple structure of wood and plumbing could give you refreshment anywhere in your yard or patio.
The freestanding concept allows you to move the shower kit anywhere you want, as long as it can be reached by the water supply.
For a house that has limited outdoor space, a freestanding shower fixture is highly recommended. This simple shower won't waste a lot of space. It's simple design and portability is what people are looking for.
9. Best Outdoor Shower Ideas for Swimming Pools Areas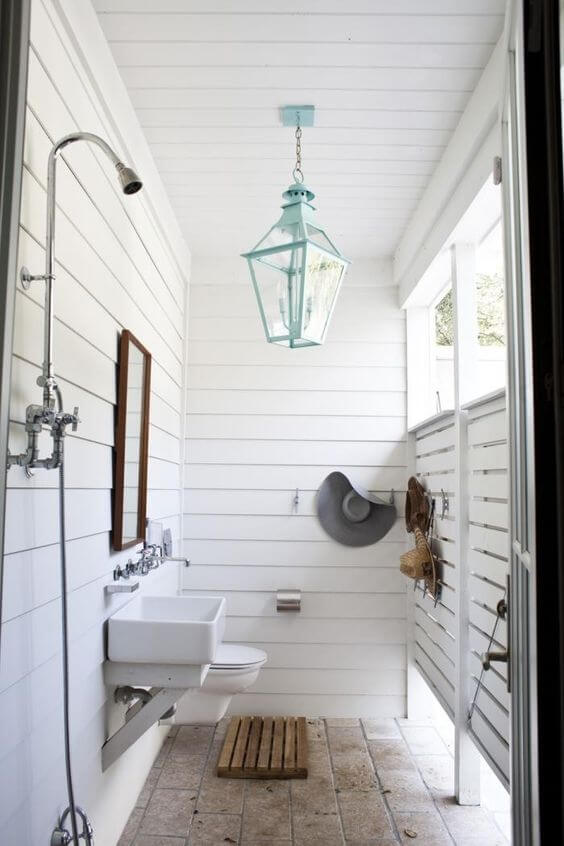 A space in the porch is left-out sometimes. So, you can apply an outdoor shower to your back porch. Just a simple addition of vanity set and standalone shower fixture, you can have such a beautiful outdoor shower.
The soft-blue light pendant hanging from the ceiling is really straight to become the source of attention for its simply antique looks. The shiplap wall and ceiling style offers an amazing texture to be enjoyed.
10. Outdoor Shower Design with Modern Approach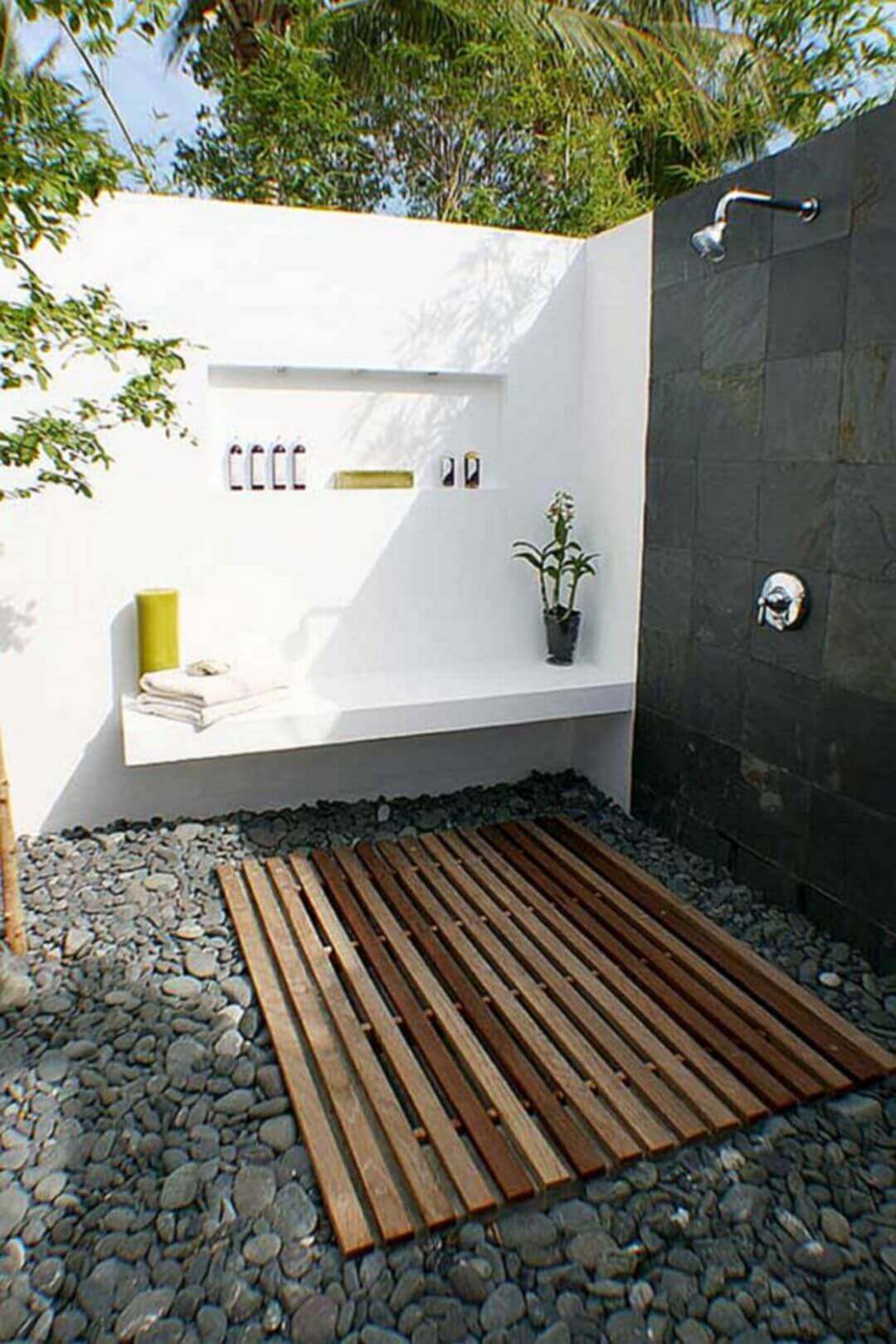 If you think a covered shower space is uncomfortable and cramped. Try having an open outdoor shower concept. You can enjoy the shower widely open. It also gives you a built-in bench to let your rest for a while.
The black slate tile is there to manage the outdoor atmosphere to absorb cool breezes. The ground is filled with round stones which can be uncomfortable for your feet. So, a wood slat is there to cover a spot for your shower activity.
11. Stone Shower Idea for Outdoor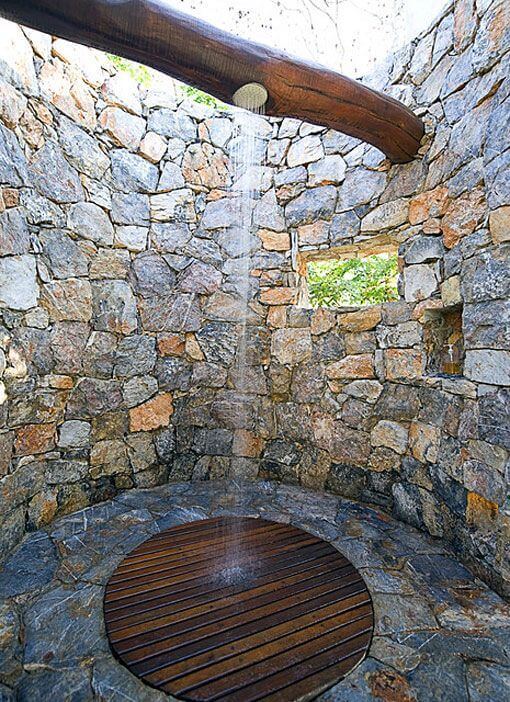 This outdoor shower really expresses the high amount of natural vibe. The stone elements seem to be applied all over the space.
The shower concept represents the world of nature. When you are entering this shower space, you will be amazed at the atmosphere that's built by stone, wood, and of course, water.
There's a hole on the wall to be used as a window to let breeze comes in. It can also be used as a shelf to hold your shower products.
12. Simple Outdoor Shower Ideas (Cascade)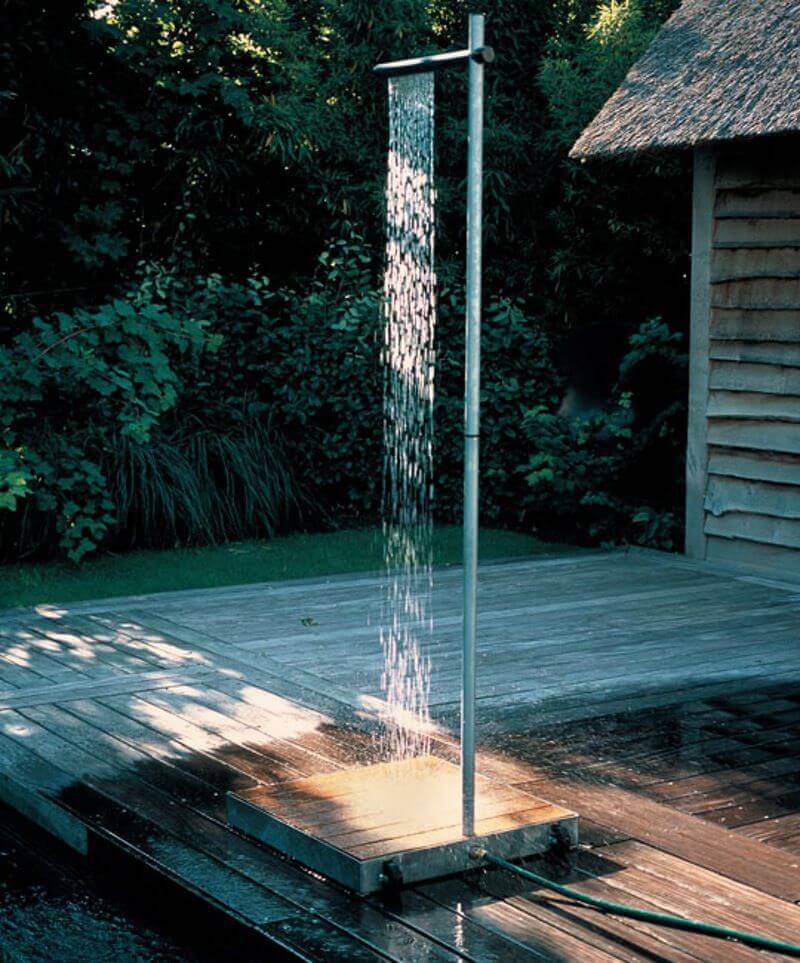 It's an outdoor shower that's designed for gardens and terraces. It's made out of galvanized steel. As the base, it uses acacia wood planks to make this shower comfortable and friendly to your bare feet.
What makes this cascade so unique is the horizontal tube that's functioned just like the common shower.
It also formed with a vertical tube that regulates the pressure for the shower. Cascade is the favorite shower in the market. It's easy to connect to a garden hose, terrace, or backyard with a quick connector.
13. Exclusive Tropical Bathroom Design Ideas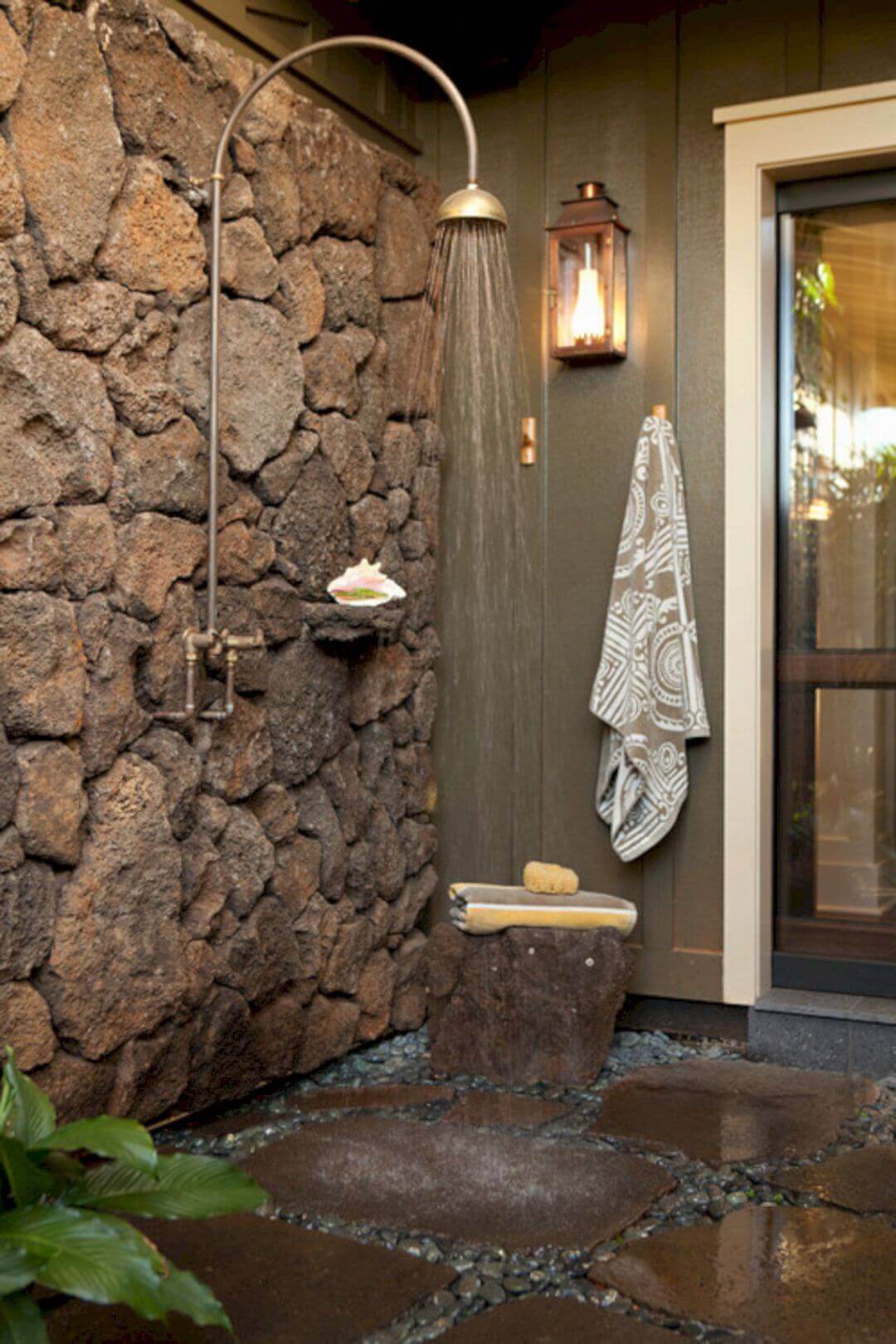 Using stone as the main attraction of an outdoor shower is quite common because when dealing with outdoor, we are also dealing with nature.
Adding stone to the outdoor shower concept is something that you are supposed to do to consider the design to be complete.
This outdoor shower has natural stones on one side of the wall. The pebbles and concrete flooring are designed to be friendly to your feet. It also supports the appealing stone tile.
14. Cottage Outdoor Bathroom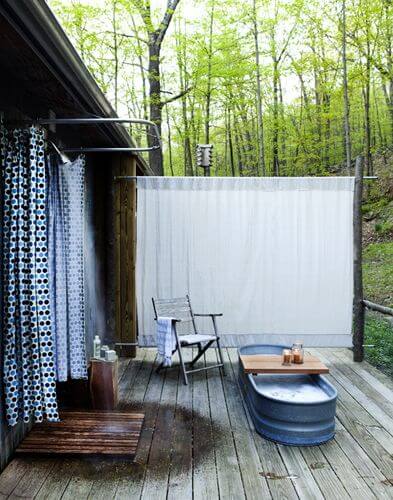 Well, just by seeing this picture, we'll easily decide that it's not an outdoor shower design. It's a design of a complete outdoor bathroom. It consists of a shower area with a curtain and a metal bathtub in the middle.
Check the color choice of the shower curtain; it would sure make the space more alive in your eyes.
The bathtub can also be used as a coffee table you can enjoy with the chair right before having a shower or after washing your body. There's a white fabric to cover the space for a little bit of privacy.
Indoor Outdoor Shower Ideas Images
15. A Bathroom, Pool, and Zen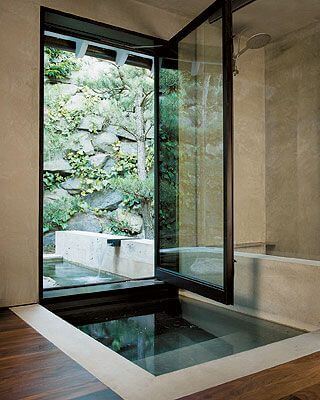 A Japanese tub or a Jacuzzi is a joyful element of a bathroom. This semi-outdoor bathroom can be a beautiful escape. You can enjoy the rainforest style of view right from the indoor bathroom.
However, the outdoor space is connected to the indoor space making it as a joined space together. Above the soaking tub, a shower fixture is installed from the ceiling to fulfill your shower needs.
16. Botanical Outdoor Bathroom Design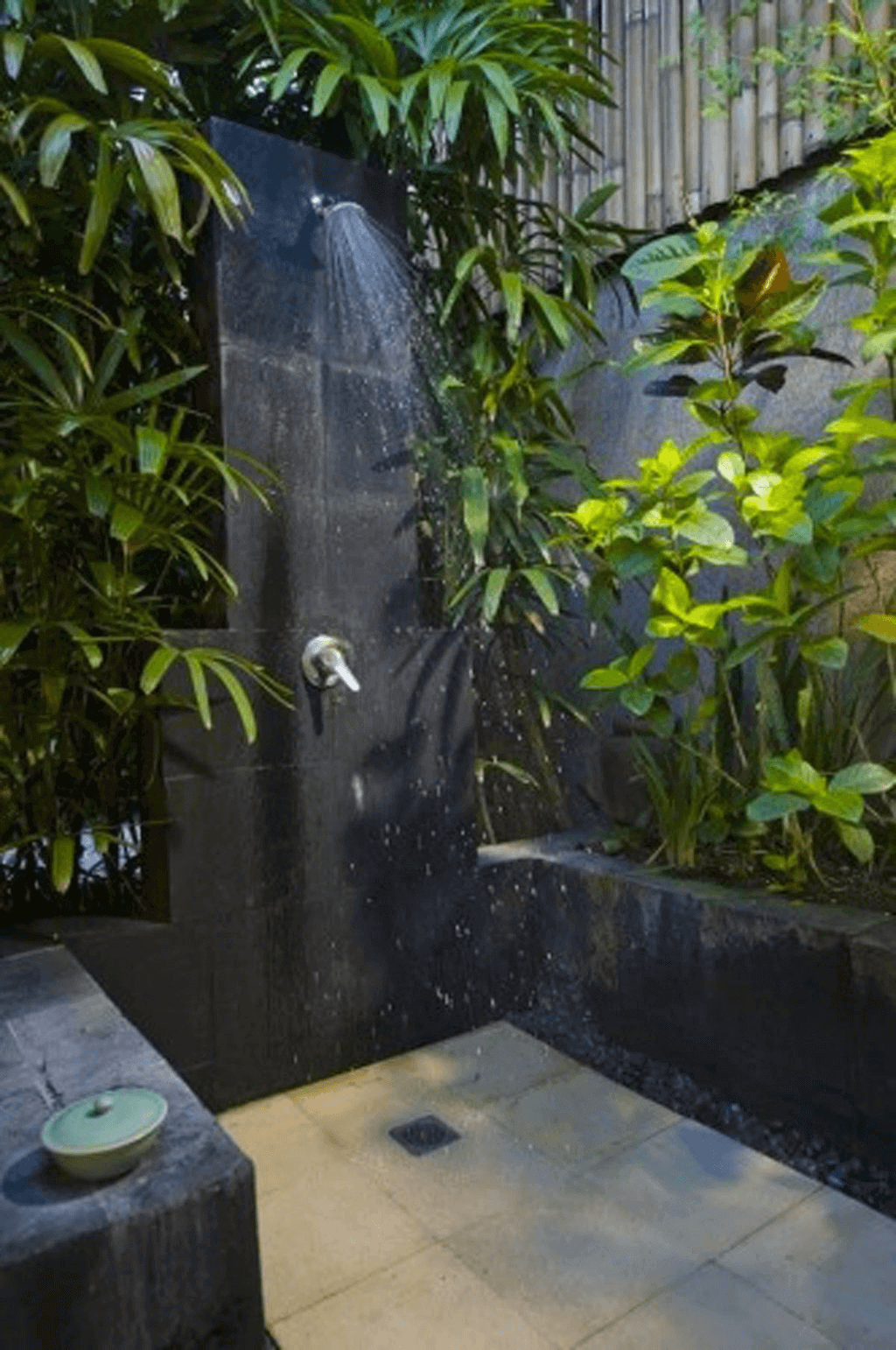 It's very obvious why this shower space is called a botanical style. All over the space is filled with plants. The green scheme from the plants offers a breath-taking atmosphere. It's got a refreshing air you can enjoy while in showering, thanks to the green plants.
One of the reasons this shower area has some healthy plants is the outdoor concept. So, all of the plants received the amount of sunlight and air they need.
17. Jungle Outdoor Shower Design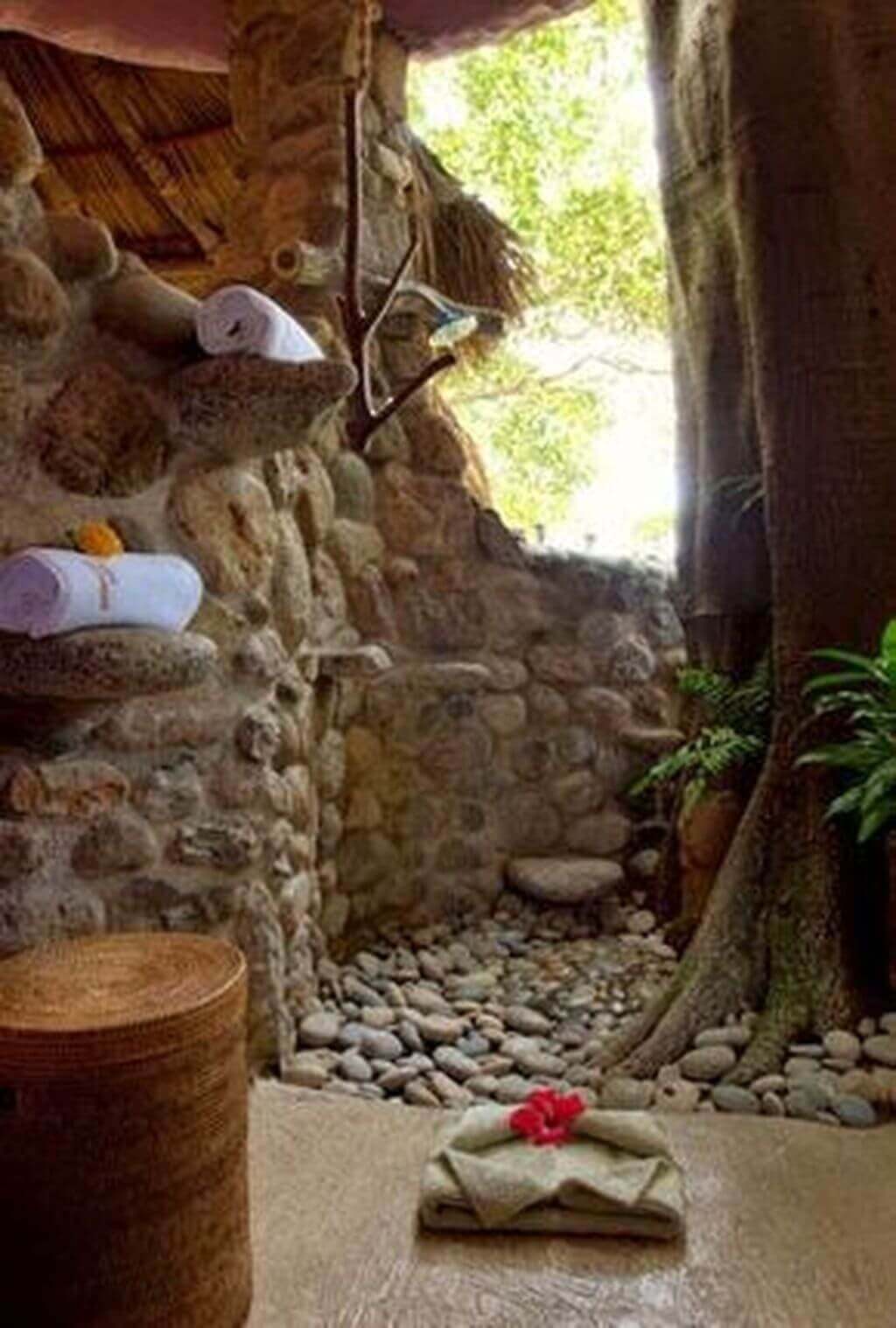 Want to take a shower in the jungle? This outdoor shower design might give you such an experience. As you can see, all of the elements in this shower area are from nature itself: the pebbles, a big tree, a wooden tube, and brick stone.
From this angle, this shower area looks like a cave. So, it's not just like showing in the middle of a jungle but also inside a cave.
18. An Outdoor Shower with No Roof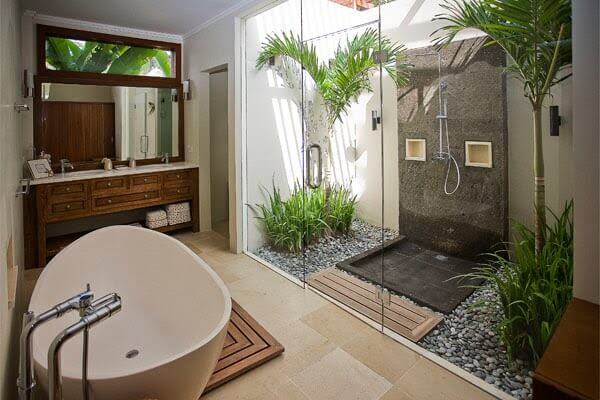 This Semi-outdoor bathroom has an amazing concept. As you can see, the only element which placed outdoor is the shower area. The indoor area has a standalone bathtub with a wood slat base and a large bathroom vanity set.
The walk in shower ideas with no roof looks as impressive as a whole bathroom design. This bathroom won't need any window; all the lights during the day would come directly from the outdoor walk-in shower.
19. Indoor Outdoor Shower Ideas with a See-Through Roof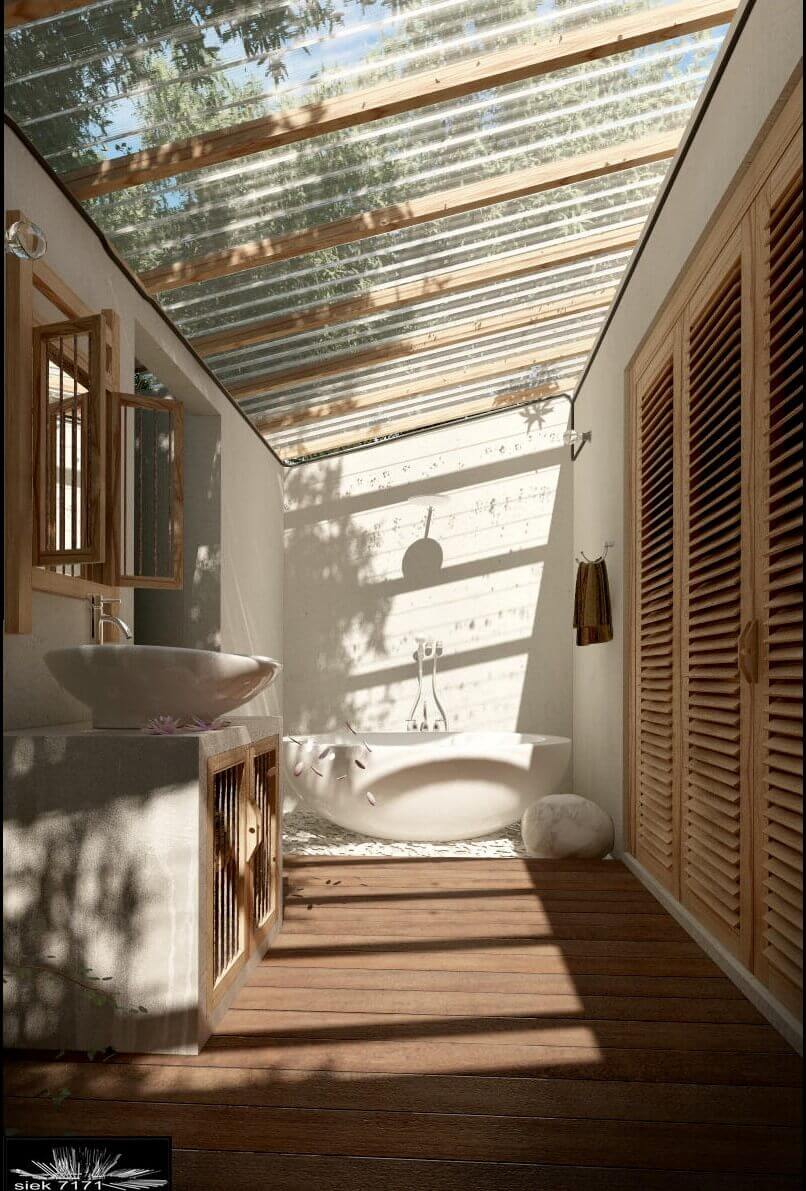 Actually, using a see-through roof for the bathroom doesn't make it be semi-outdoor. It only creates the illusion of an outdoor.
During the day, the sunlight would really make a statement all over the bathroom, that's the main point of having this well-designed bathroom idea. A touch of ethnicity is applied to the doors, windows, and flooring.
20. Zen Bathroom Design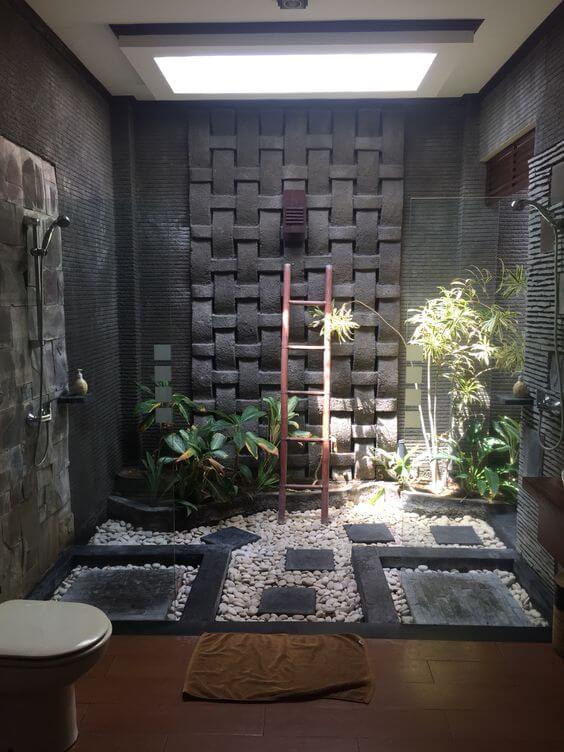 The natural decoration seems to be the strongest point of this bathroom. For some people, peaceful Zen in a bathroom is just what they need.
It's got a complete set of nature that you can bring to your indoor bathroom. It's a nice choice to be joined with master bathroom ideas.
This semi-outdoor bathroom only allows a little bit of sunlight comes in through a hole on the ceiling. That's needed as a window for this bathroom in order to support the growth of the natural plants. It consists of two shower fixture face to face that can be used by two people at once.
21. Forest House Bathroom Outdoor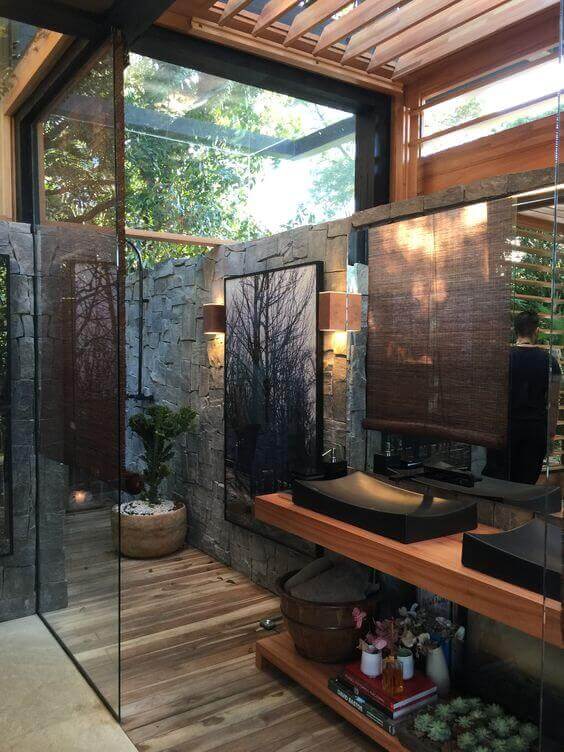 In this Luxury forest house, the bathroom decoration should be something special. As you can see, this narrow poolside bathroom would offer everything you need to have by the pool.
The artistic black sinks make a statement in this double vanity. It's got a wooden beam ceiling to maximize the architectural design of this poolside area.
22. Fresh Outdoor Shower Design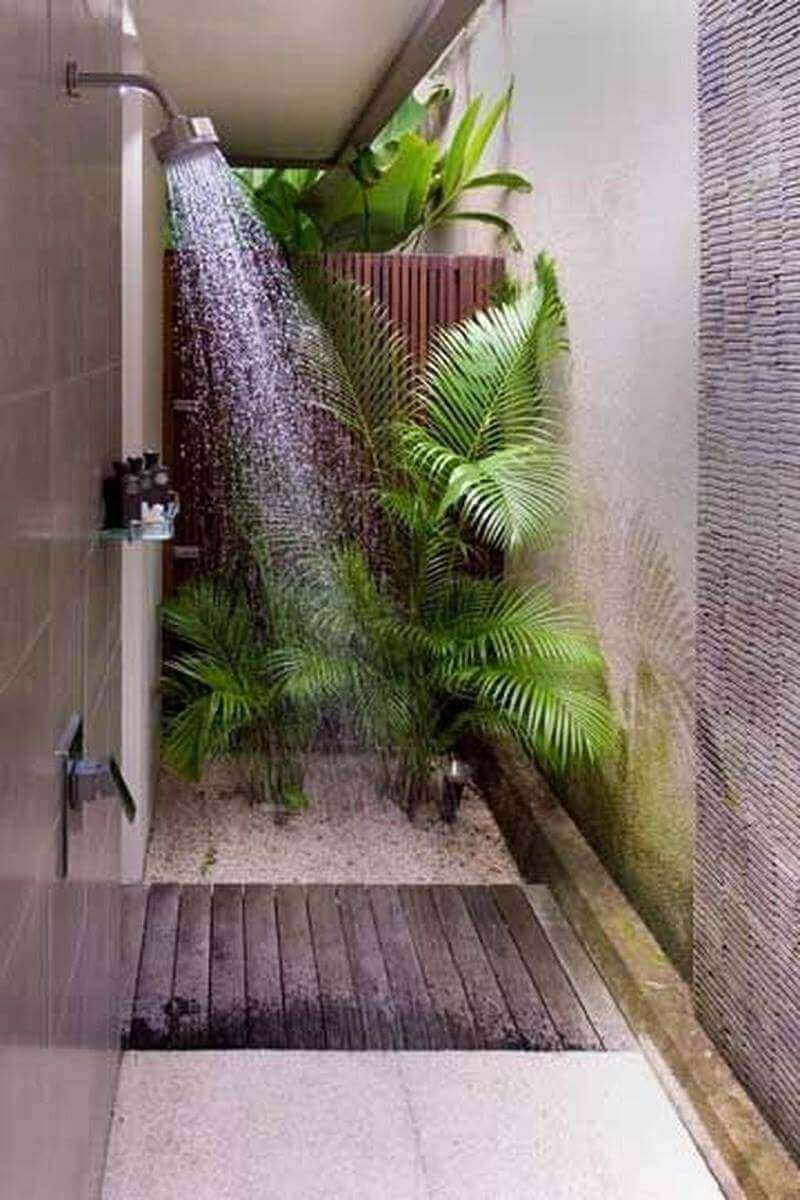 23. Farmhouse Rustic Outdoor Shower Ideas Concept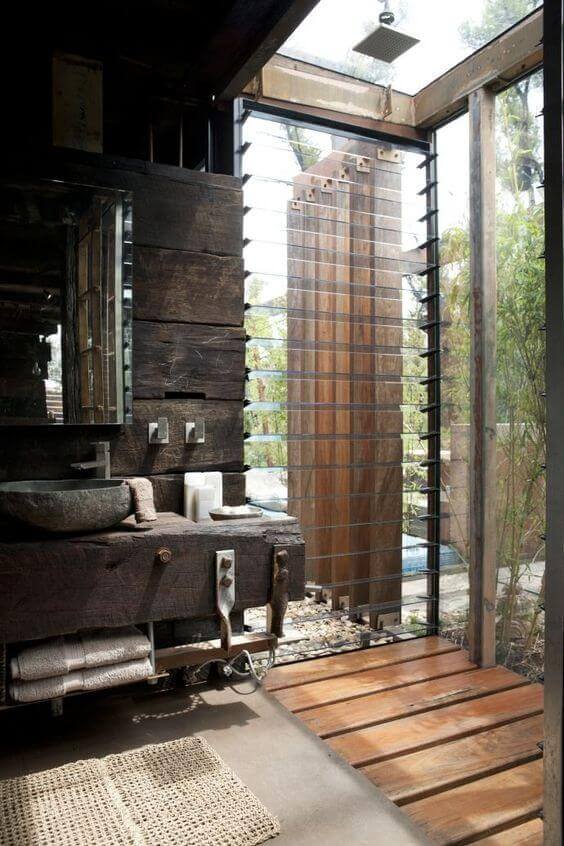 24. Rustic Outdoor Bathroom Ideas with Stone Flooring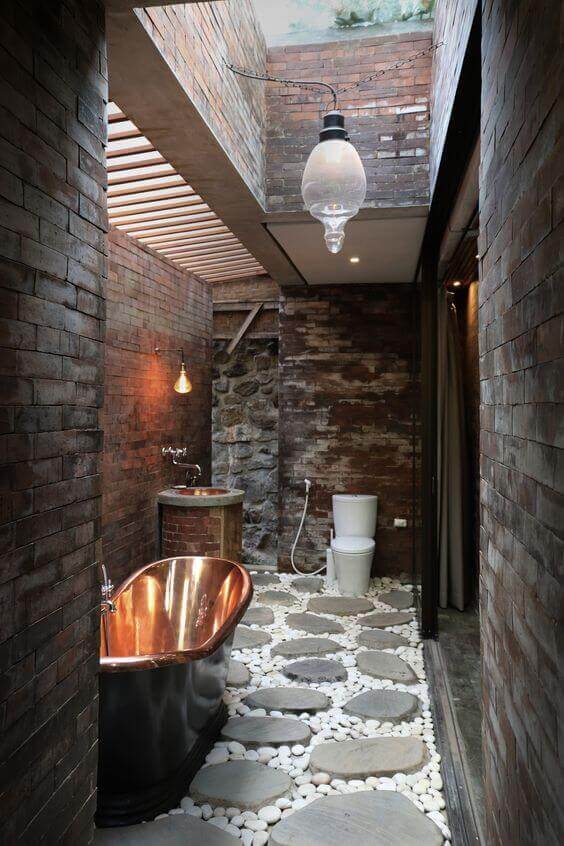 25. Modern Outdoor Shower Design with Wood Flooring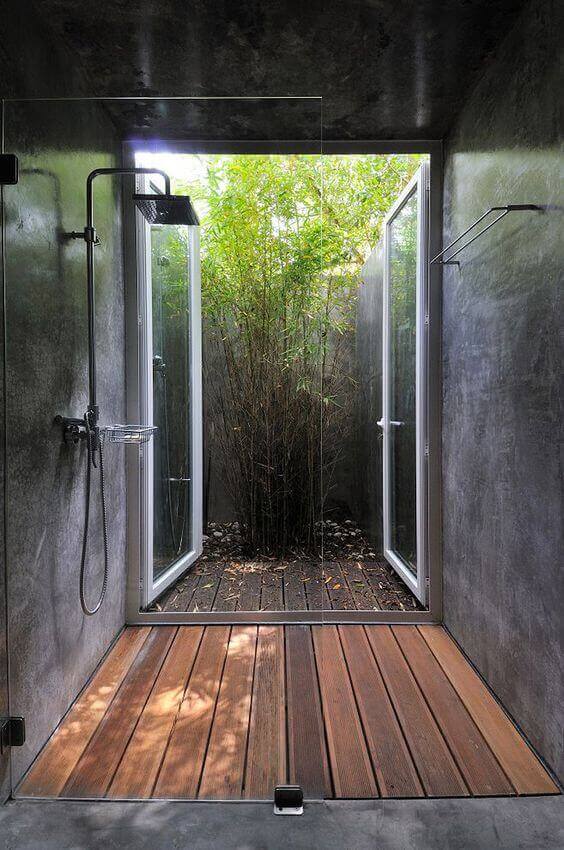 26. Eco Lodge Shower Design Ideas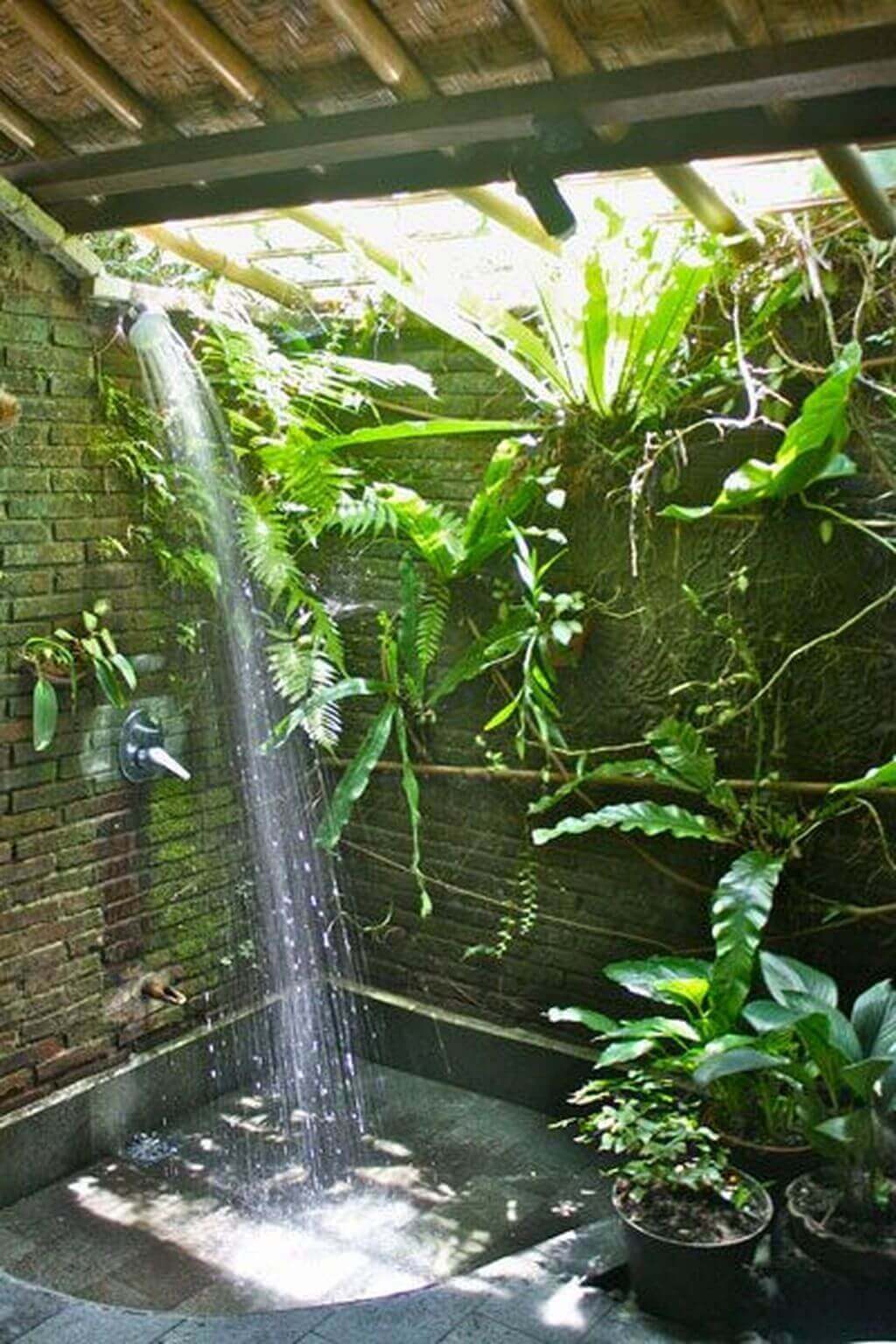 Outdoor Bathtub Experience
27. Claw-Foot Bathtub in the Middle of the Jungle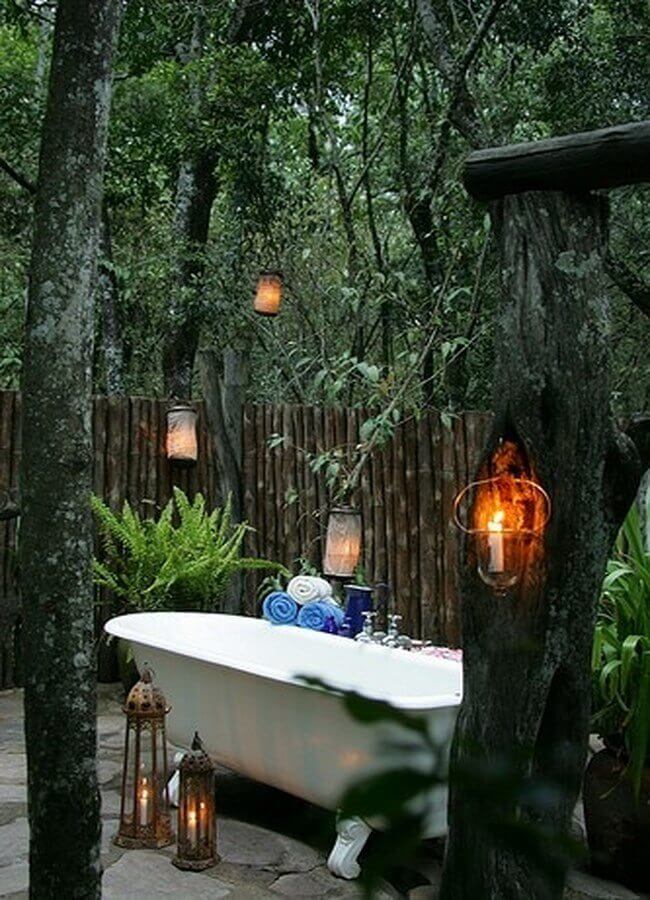 28. Romantic Bathtub with Lanterns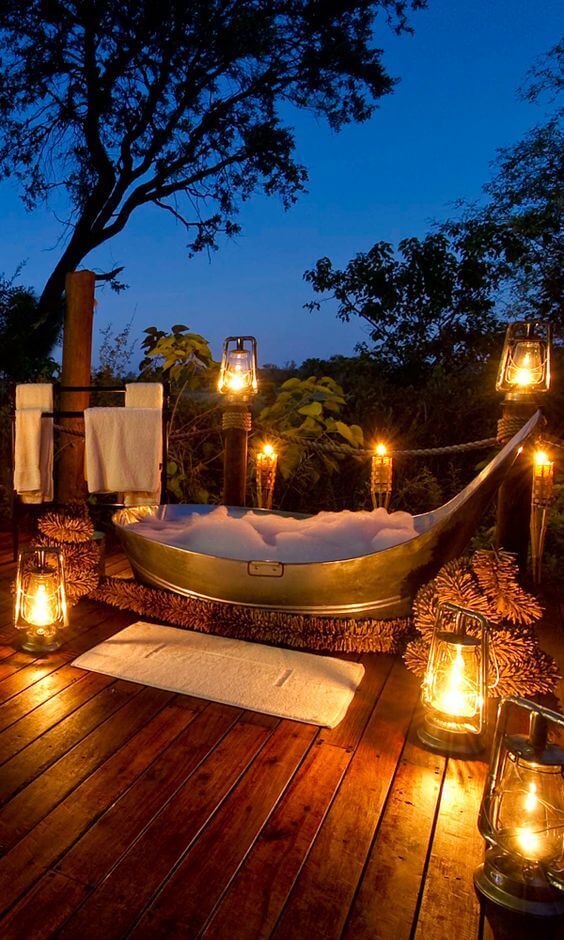 Conclusion
It's really obvious, having a shower or bathtub outdoor would be a wonderful experience. You will have a different feeling compared to indoor shower room.
Those outdoor shower ideas are great references to fulfill your summer season. Remember to consider the privacy of any outdoor concept you choose.