A bathroom in the basement sounds like a great help, doesn't it? Basement bathroom ideas are an escape.
For example, if there's a gym or home theater in the basement, there will be a need for using the bathroom after doing exercise or watching movies.
And since it can take some time to get back to the gym or home theater, it will be such a great idea if you can build a bathroom, so you don't have to go back and forth for it.
The question is whether you have a spacious basement or not.
Creating a basement bathroom gives lots of benefits, such as taking a shower or defecating without going upstairs. The basement becomes a one-stop area where you can do many things in one place.
1. Small Basement Bathroom Ideas on a Budget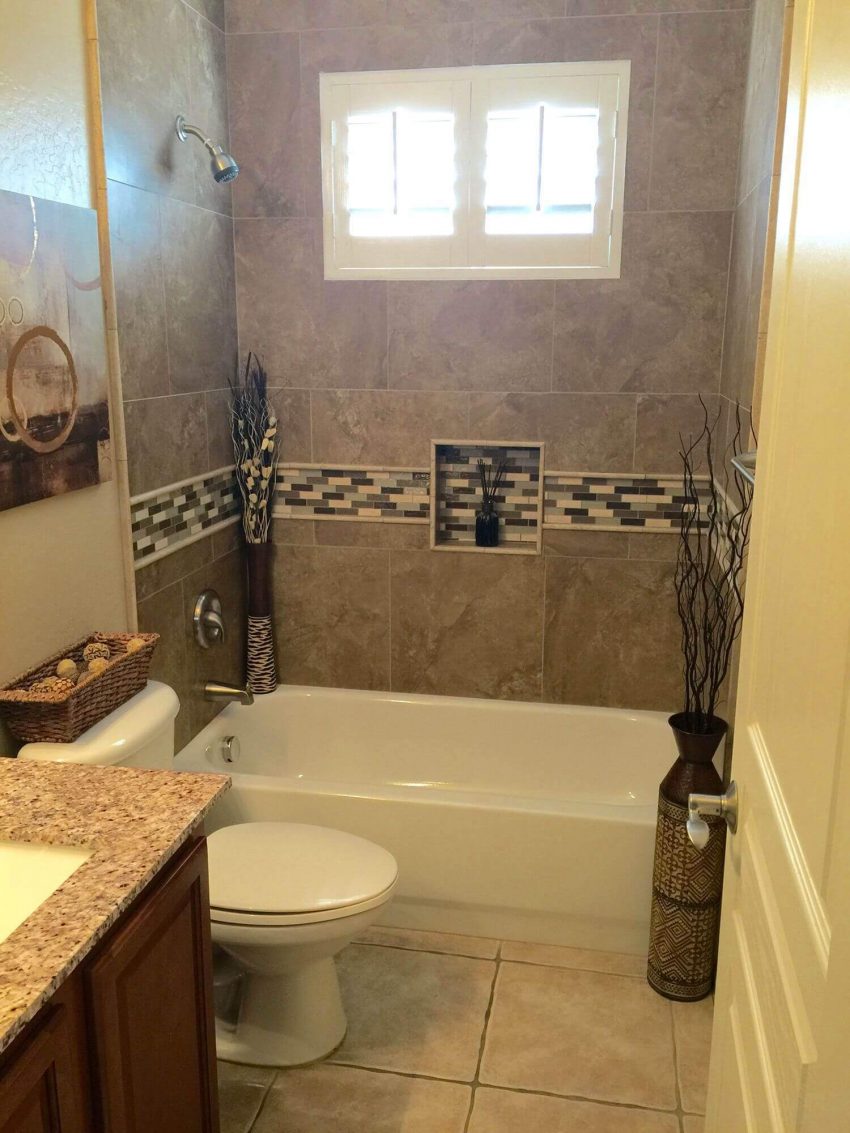 Being on a tight budget doesn't mean you can't have a nice thing you want for a bathroom. It depends on how you can manage the situation and how organized you are in dealing with the problem you currently have to face.
Easy! This bathroom won't make a hole in your pocket judging from its size and all the stuff in it.
This is a simple concept of a bathroom in the basement that you need to have a look at. It's not that small, and it provides what you need for a basement bathroom for certain.
Related Article: Master Bathroom Ideas
2. Modern Basement Bathroom Ideas Small Spaces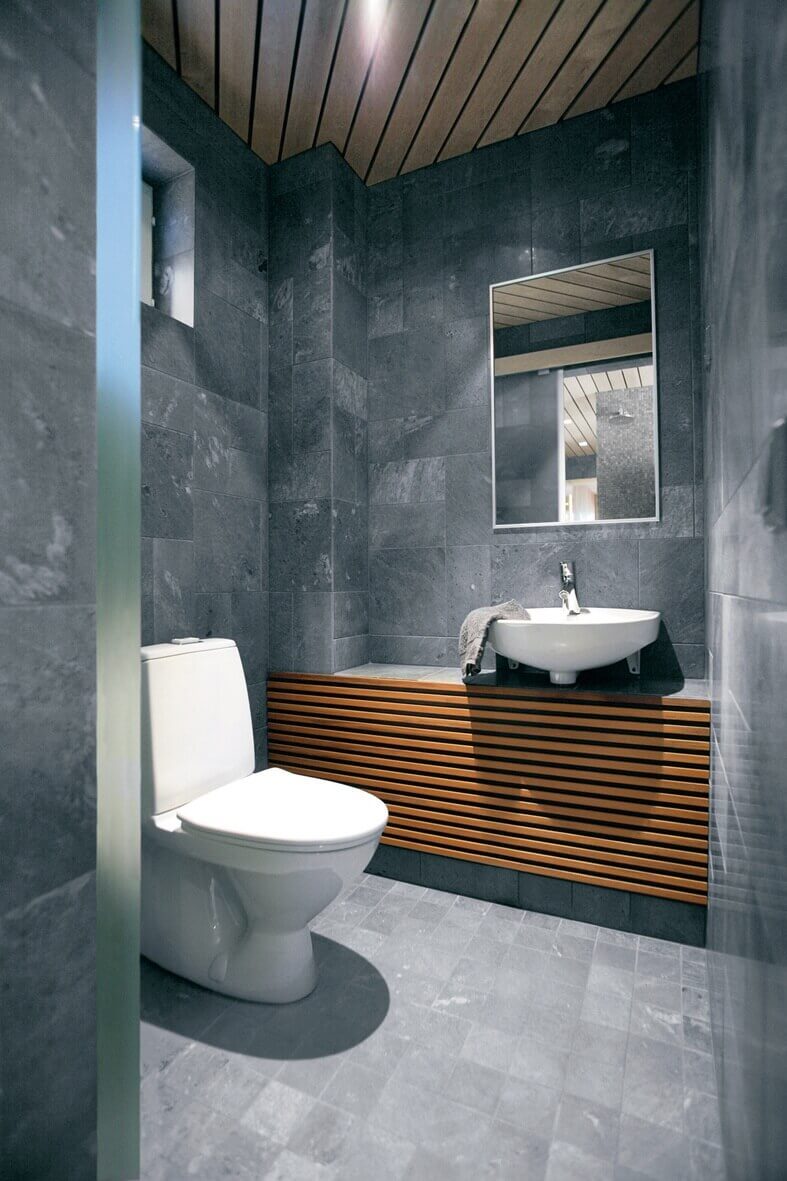 When renovating a room, whether it's a bedroom, kitchen, or bathroom, some aspects can affect or influence it.
Those can come from the floor, wall, or ceiling style that is a part of the place we're talking about – the bathroom in particular.
Basement ceiling ideas are one of the many aspects that can determine the room. This bathroom has a stunning panel ceiling.
Its size should also fit for a cramped space. It features a vanity, mirror, and toilet with the same tiles idea both floor and bathroom wall ideas.
3. Small Basement Bathroom Ideas Low Ceiling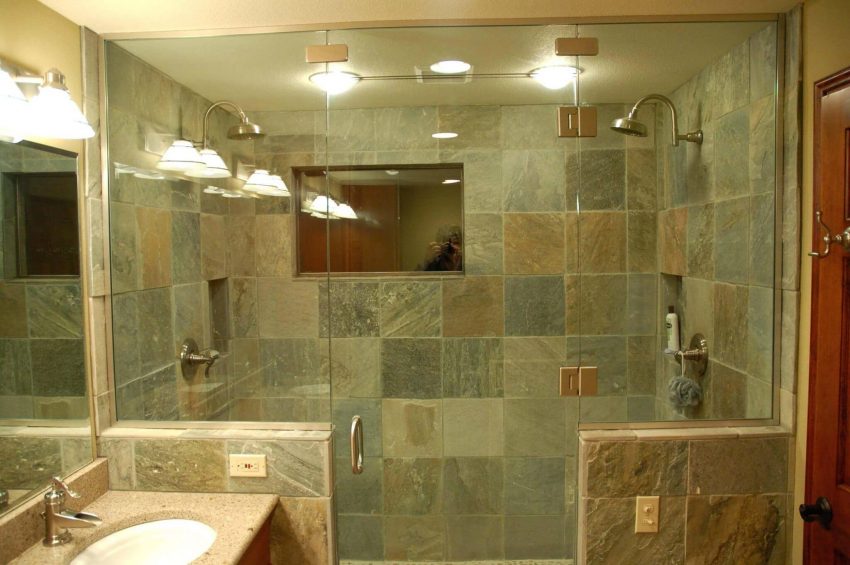 Some basements typically have a low ceiling. Basement bathroom ceilings can have multiple designs, colors, and patterns.
But in this case, it may not necessary to design a low ceiling one with a spectacular layout due to its fairly low height.
The bathroom is surrounded by stone walls. It has a glass door and half of its walls are using glasses
There's also storage on the wall in which you can store bathroom stuff
The ceiling is flat with bathroom lighting ideas that light the bathroom up
Outside the cubicle is vanity and mirror
4. Cool Basement Bathroom

Ideas with

Laundry Room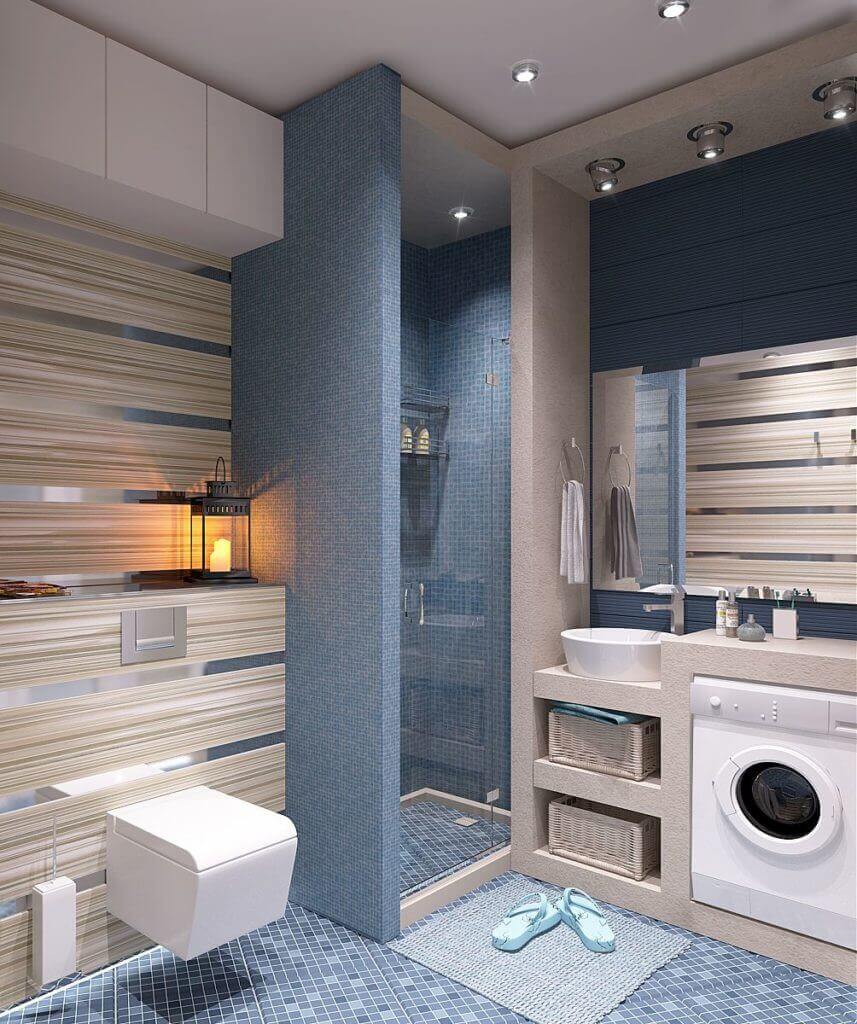 Not only a bathroom, you can even have a laundry room as well in the basement, but it requires some substantial amount of space. This bathroom looks so elegant with a high ceiling and blue tiles with attractive decoration.
Blue tiles that are applied for walls and floors leave a shooting feeling when the lighting idea lights them up. The furniture with its neutral look seems to balance the rest. 
Quote:

You should ask yourself when designing a basement bathroom these questions, does it have a low ceiling, is it cramped and are you willing to dig into your savings for the costs needed? Have a clear scheme will help you decorating the basement well.
Don't Miss: Guest Bathroom Ideas
5. Luxurious Finished Basement Bathroom Ideas Pictures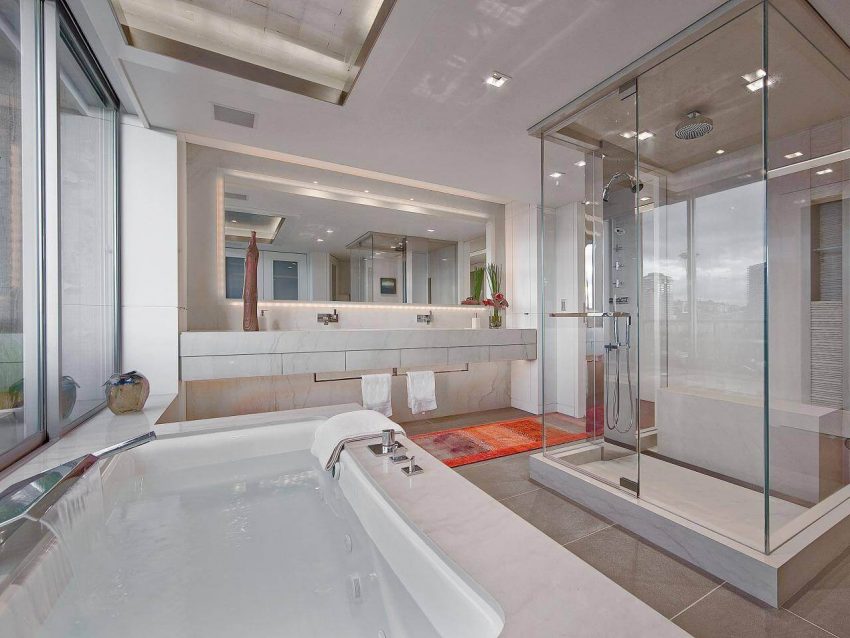 Basement floor paint is needed when you employ a wooden floor to make it have a beautiful surface or match it with the wall or ceiling idea.
But not with this one as the floor is made out of ceramic tiles. The floor has a calm look that goes well with the whole bathroom.
It has a shower with a glass wall from bottom to the ceiling that brings a luxurious look. In front of the shower is the bathtub, and there are also huge windows next to it.
The enormous bathroom mirror ideas near the door completes the bathroom and makes it feel larger somehow.
6. Go Check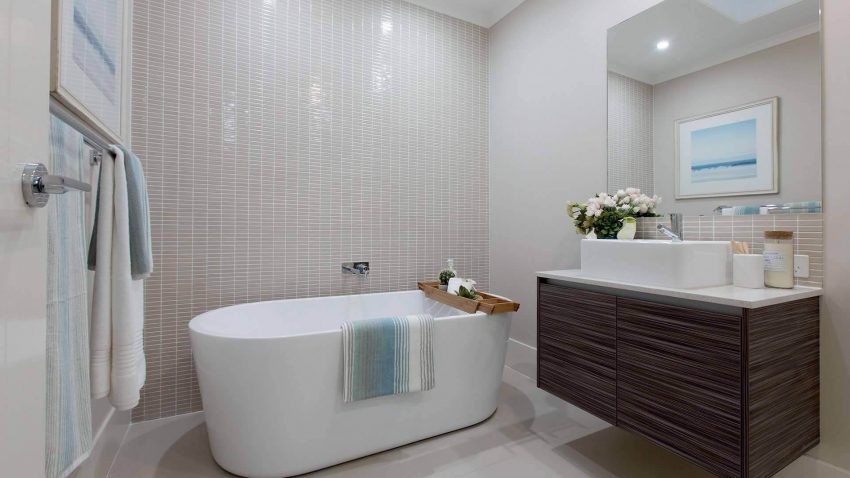 Basement finishing ideas are the last step you should do to see whether everything goes according to plan.
Make sure there won't be any problem that occurs later that can be a disaster for you. You should go check does the gutter works well or is there any leak?
After you've got everything covered, now you can be relaxed, and pamper yourself in this bathroom with tiny wall tiles.
It includes a bathtub, floating vanity, huge mirror with flowers and there's also a towel rack with blue painting.
7. Good Planning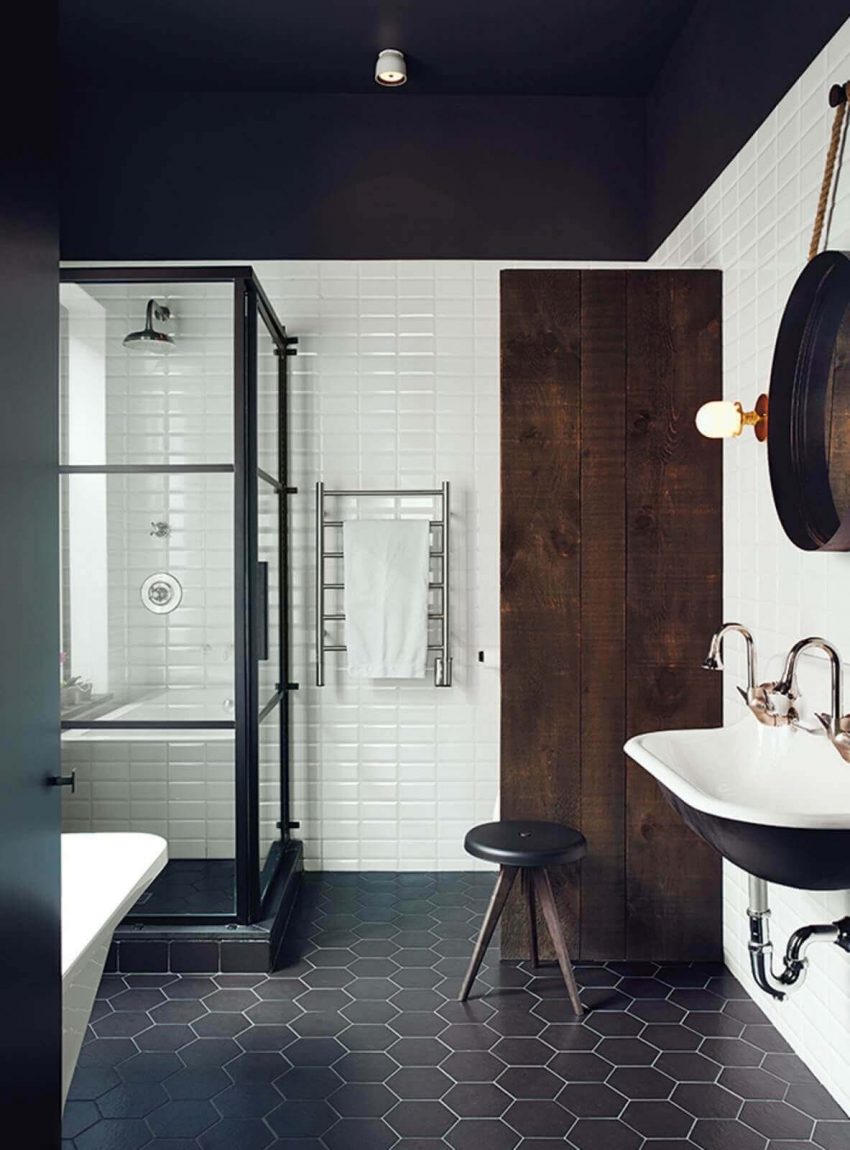 Without a proper decoration that can elevate the look, a home will look dull as the decoration is placed in inappropriate places.
With good planning, home décor will improve the current condition and it can be acknowledged from the admiration of people who see it.
The bathroom will be not so different from that. If everything well decorated, then you can have a nice one, although it may be small with a low ceiling, as long as adorned with suitable decoration, you'll find it comfortable enough.
When conducting basement bathroom ideas with tub, think about the budget whether you can cover all the costs to make sure everything is finished when you run out of the means.