Looking for some bathroom storage ideas to organize your bathroom? Well, you are in for a treat. In this page, you will be provided with a lot of inspiring ideas you can apply in your own bathroom. Having a well-organized small bathroom would get you faster in getting ready for the day.
Whether your bathroom is small or large, bathroom storage is the must-have items. You don't want the bathroom to be clutter right? There are so many ways to organize your bathroom using cabinets, drawers, or open shelves.
Take a look at some bathroom storage ideas here. There must be some ideas that suit your style.
Bathroom Storage Ideas over the Toilet
1. The Toilet Cabinet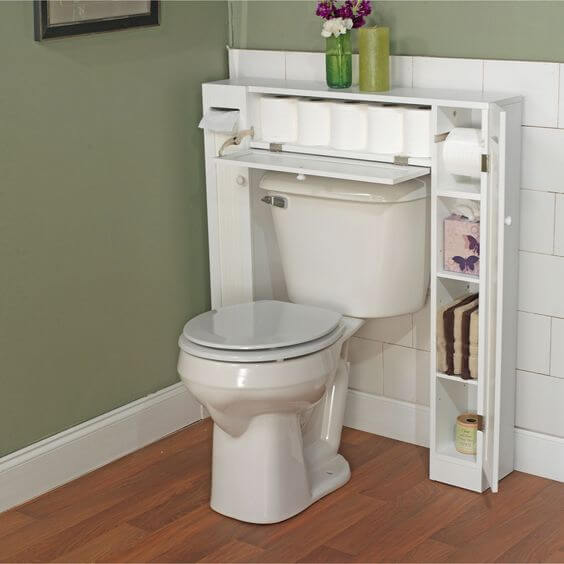 This is a smart option for a small bathroom. Some people don't need a lot of storage in the toilet so this thin cabinet which installed around the toilet would come in handy. The area around the toilet is sometimes left empty.
So, it would be better to make it useful by having a minimalist cabinet to provide the supply of your toiletries. The color of the cabinet matches with the white tile in order to get them seamlessly blend. It could be one of the nice bathroom color ideas you can have.
2. Stacks on Stacks Bathroom Shelves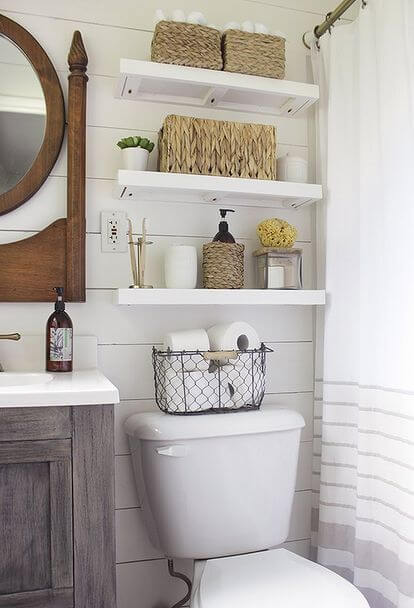 If your small bathroom doesn't have a space left, it's not going to be a problem. Because there are still some spaces left above the toilet.
You can have an open shelf in a form of stacks on stacks. It consists of three floating shelves that you can use to store your towels, toilet paper, and etc.
It can be used both decoratively and functionally. You can put some accessories to decorate the wall. So, you just don't get storage for your supply but also an interesting decoration for the bathroom.
3. Easy DIY Decoration above the Toilet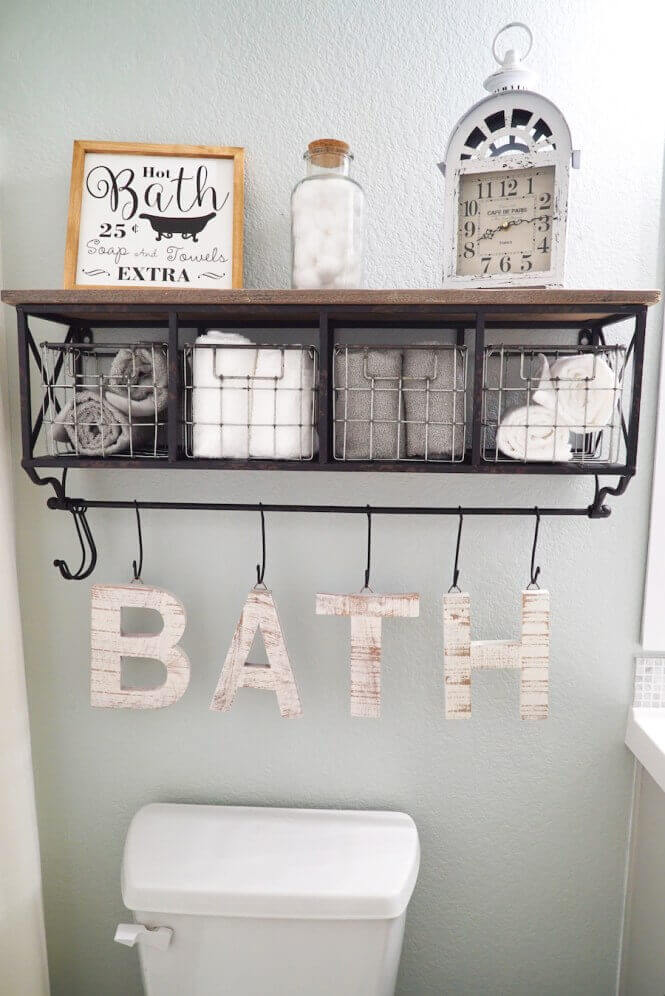 It's one of the easiest decors for your bathroom. It can also store some of your linen items safely in metal baskets.
There're some hanging letters of BATH above the toilet to set a chic look to the scene. With those hooks, you can hang some of your bathroom items too.
More accessories can be placed on the extra shelf on top of the baskets. Some interesting accessories like the old clock could spread a little bit of rustic charm.
4. Rustic Farmhouse Decor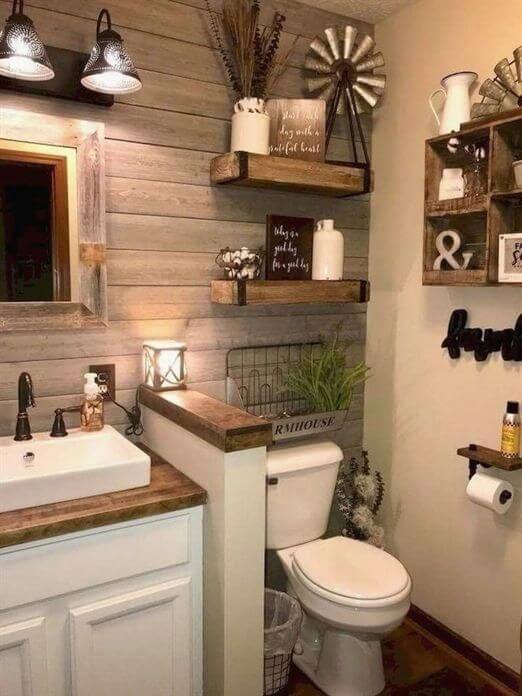 When dealing with the space above the toilet, it's not all about storage or space to keep your supply. It's also about decoration. In fact, some designer chooses to use the space just for decoration because there's already enough storage for bathroom stuff.
It's one of the bathroom decor ideas in maximal condition. The wall of this bathroom was filled with interesting rustic farmhouse decoration. Such interesting decors would make the bathroom activity more fun.
5. Woven Baskets on Floating Shelves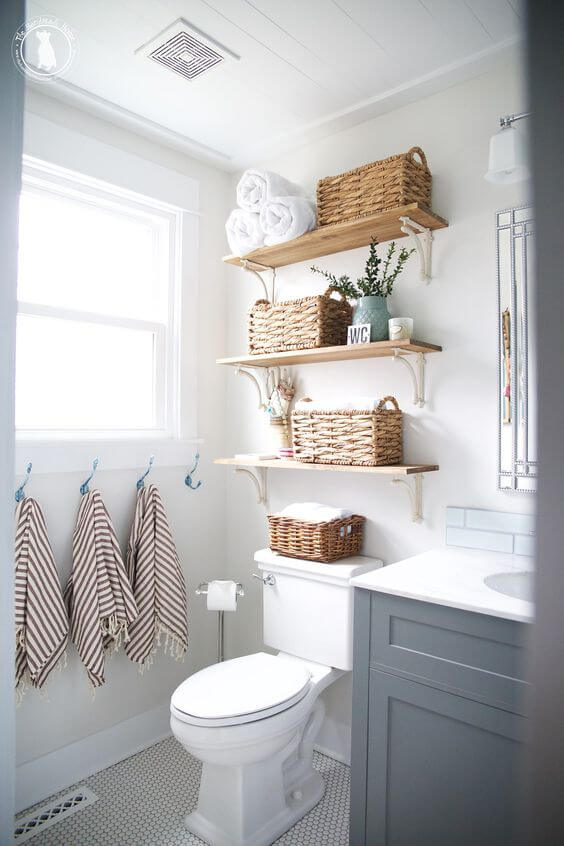 The use of woven baskets could really do the work in decorating your bathroom shelf. As you can see, that wooden floating shelves become the focal point of this white bathroom.
The addition of the woven baskets adds traditional charm into the mix. It shows you how beautiful bathroom decoration can be.
Here are things you can keep inside storage like those woven baskets:
Toiletries: toothpaste, mouthwash, toothbrush, facial moisturizer
Shower Supplies: Razors, shaving cream, shampoo, soap, body wash
Toilet paper
First Aid Kit
6. Ladder Organizer on the Toilet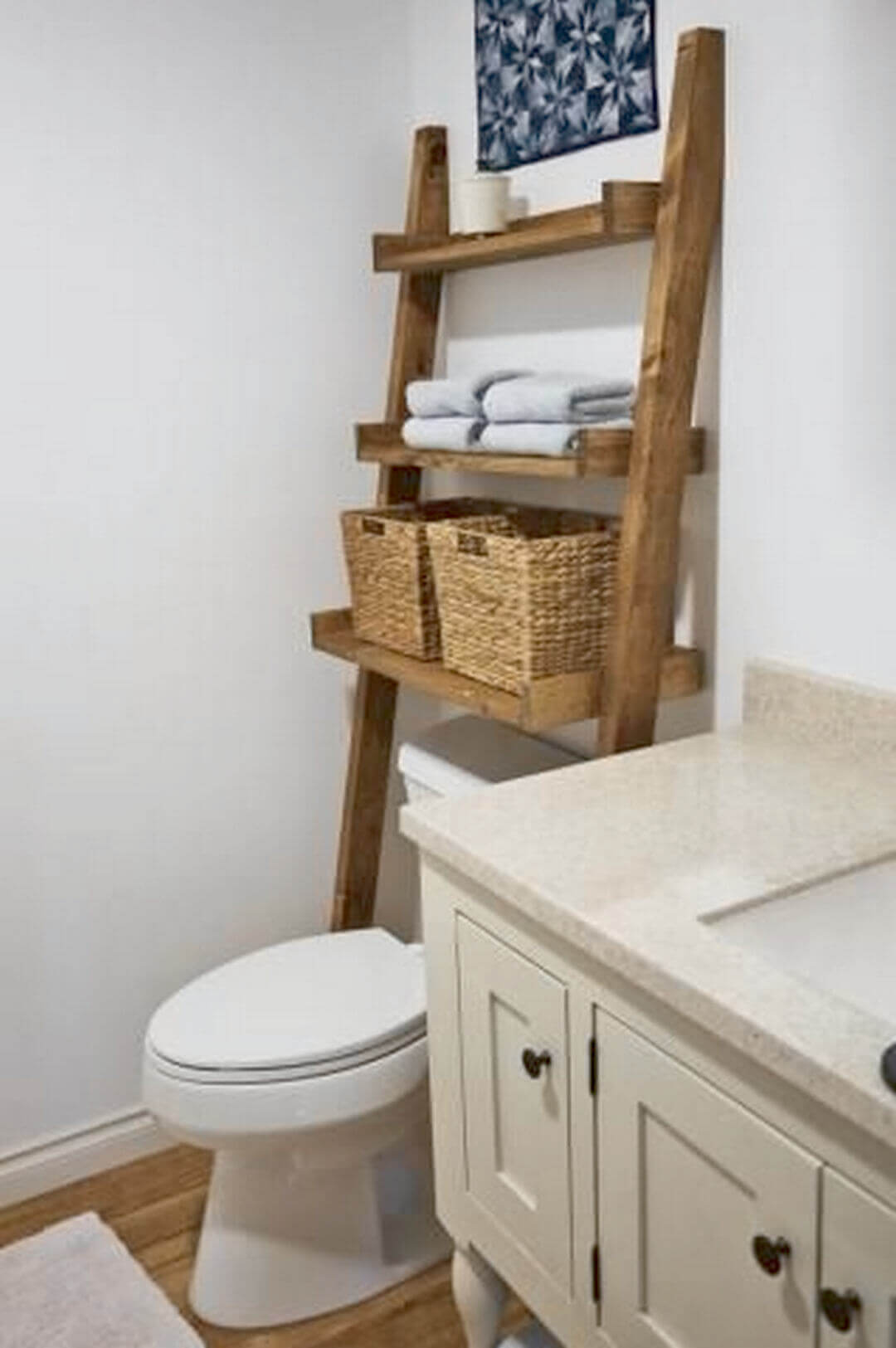 Choosing a ladder shelving to be placed on the toilet can add extra storage space for your toiletries. The use of ladder shelving is quite popular lately. Probably because of its flexibility, you can use it as shelves in almost every room.
You can even build your own ladder shelving in order to get it matched precisely with your bathroom style and space. The ladder can be built large enough to let you easily organize your bathroom items.
Space-Saving Bathroom Storage Ideas
7. Ceiling Level Storage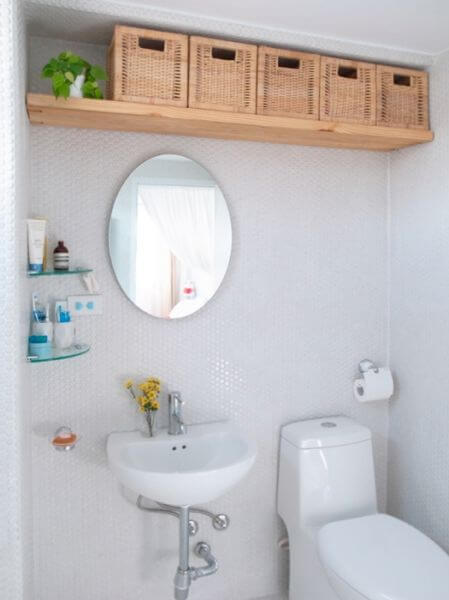 Well, the position of this bathroom storage is quite extreme. It's placed at the level of the ceiling. This is designed to store some bathroom items that you rarely use because it's probably hard to reach without a ladder or a level.
The baskets on the ceiling can also be useful to keep your bathroom supplies like shampoo, soaps, new towel, new toilet paper, and many more. So, you can reach them when some of the stuff runs out.
8. Pedestal Sink Storage Ideas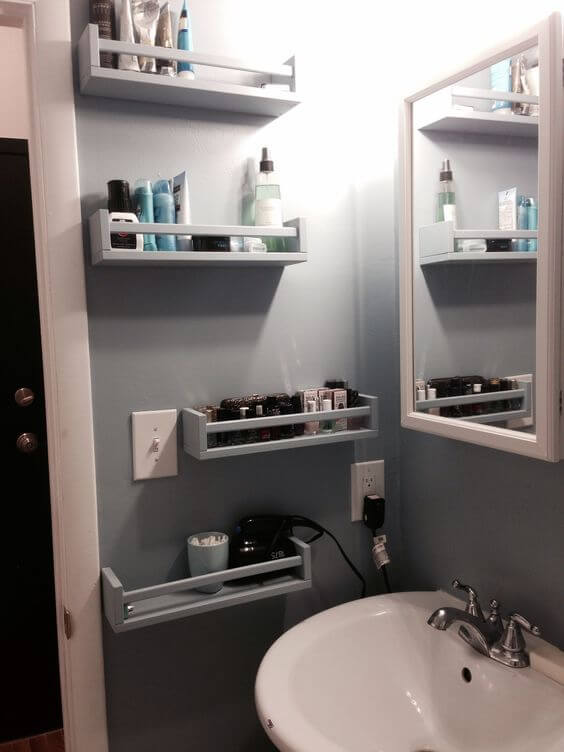 If you are having some issues with pedestal sink storage. You can add some shelves above the sink for easy access to your daily items.
Adding shelves is a great option for a bathroom that has a pedestal sink like this one. It provides some storage spaces to get your items more organized.
The color of shelves can be similar to the wall color to give a blending scene to create an outstanding look while having well-organized cosmetics, and other items.
9. Hanging Shelves beside Vanity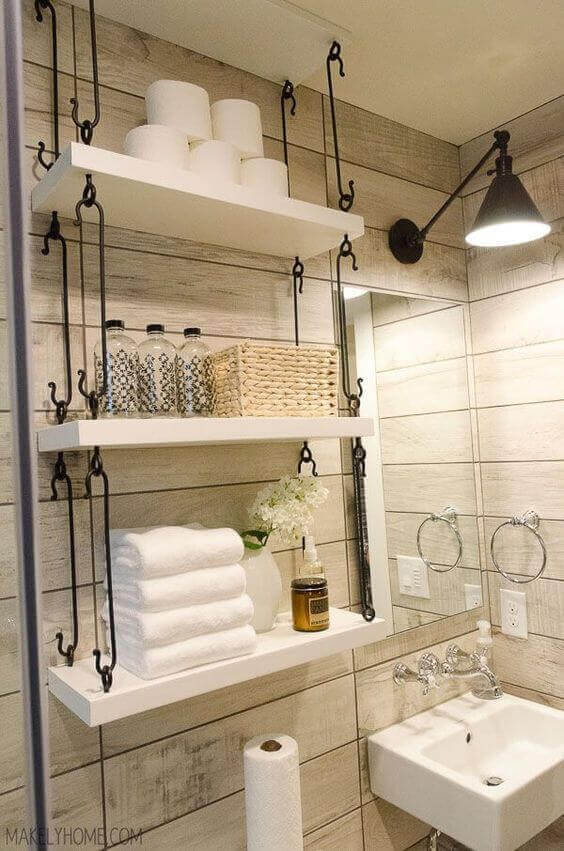 This is a unique concept of hanging the shelf. It's hanging with eye rings and long insertion hooks.
Not only quick and easy to make, but it also has an attractive look. This hanging shelf appears to be floating. It's actually anchored to the back of the wall and the overhead ceiling.
It's a perfect concept you can choose for your farmhouse bathroom style. The wooden-textured wall and sconces light fixture could really improve the experience. The sconces are one of the interesting bathroom lighting ideas for the bathroom.
10. Cleverly Work the Wall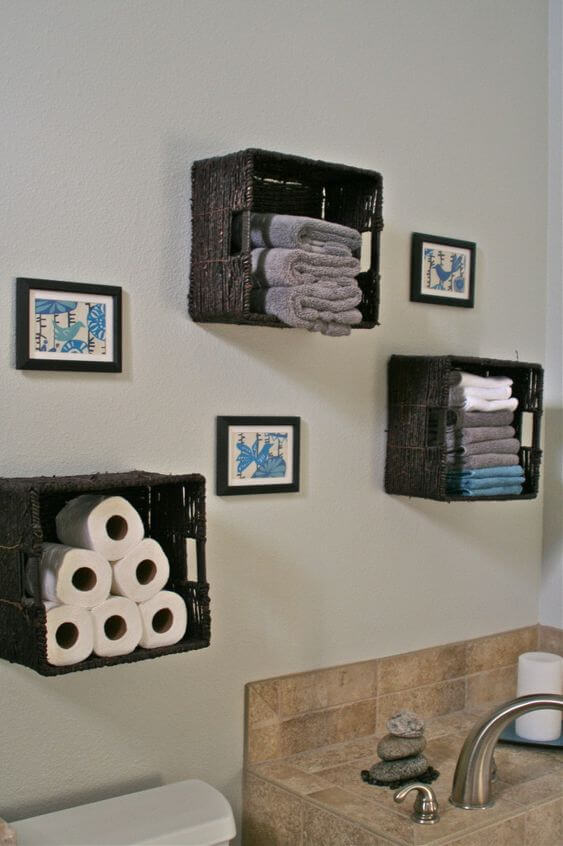 Instead of having a blank wall in your bathroom, you can put a little work on it. Use some of your woven baskets and attach it to the wall. You can turn them into some amazing and simple wall-mounted racks.
With these simple racks, you can maximize your vanity countertop space. It would also make the room have a more airy feeling because there's no clutter anymore. The racks can give your towel, toilet paper supply, and other bathroom items, a place to stay.
Toilet Paper and Towel Storage
11. Small Sink-Side Cabinet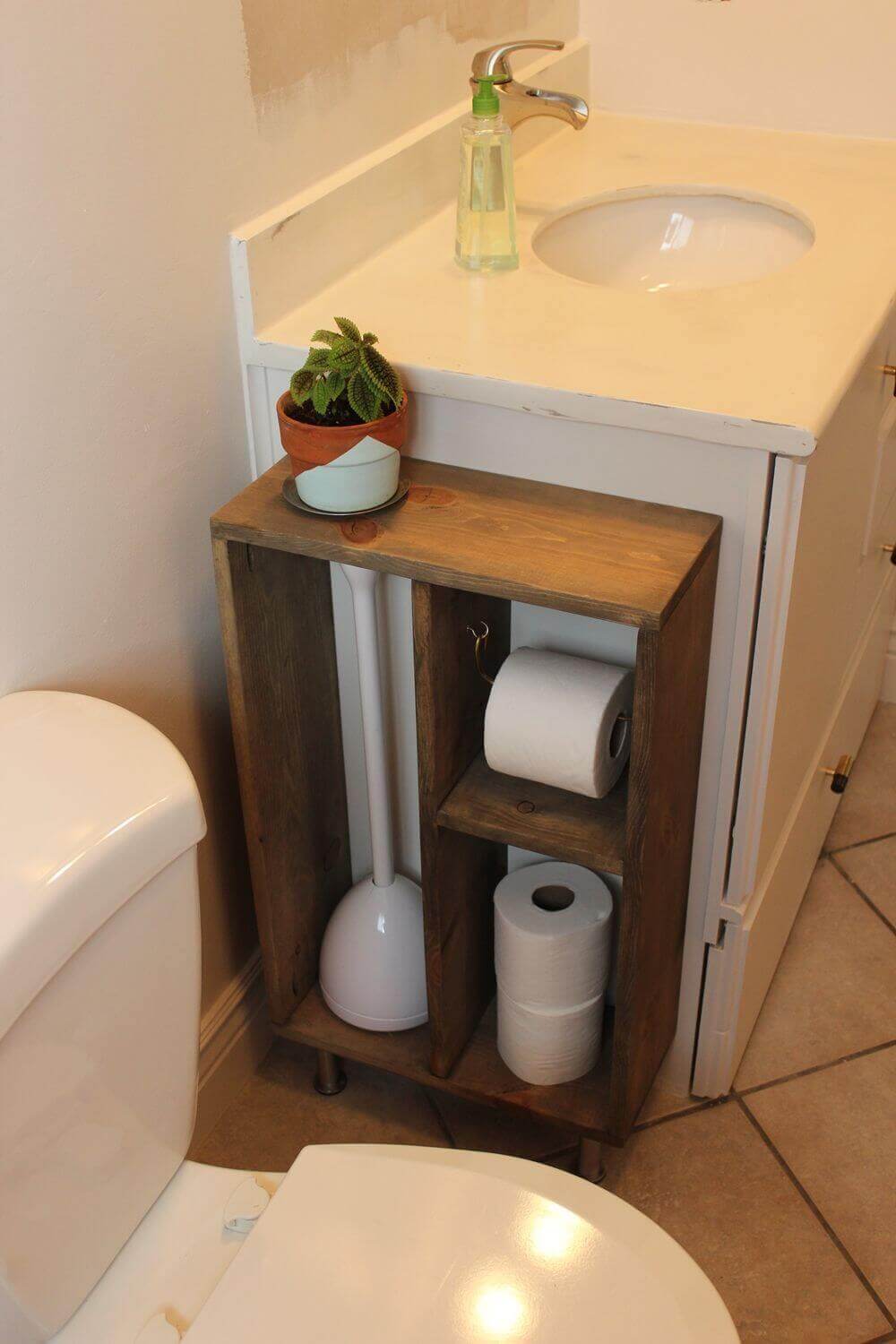 It's an easy way to keep hold your toilet paper and its supply. The bathroom would always need extra storage. If your bathroom needs one, this simple sink-side cabinet may be helpful.
It uses reclaimed wood as the main material. It's a good material since it can coordinate well with other wooden accessories.
You can decorate it with a simple small plant on top of the cabinet. But, don't forget to provide enough sunlight to let it lives healthy.
12. Towel Rods behind the Bathroom Door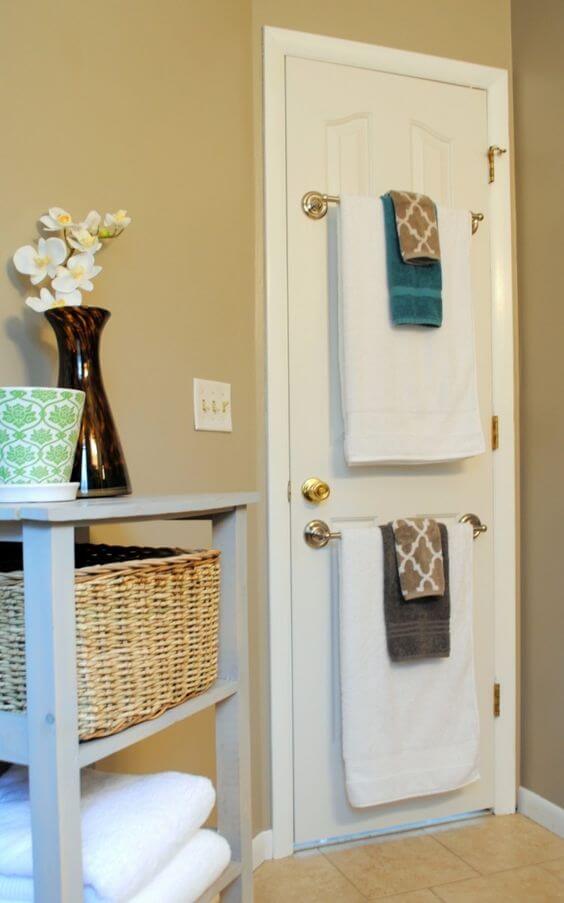 To maximize any space left in your bathroom, the back side of the door would always be available. So, you can install two simple towel rods to hang your towel. Don't bother messing with your wall, leave the wall alone, and play with the space on your bathroom door.
This clever but simple way of storing a towel could also be applied in other rooms like a bedroom. It's also often used as the walk in shower ideas in storing the towel.
13. Above Door Shelf In The Bathroom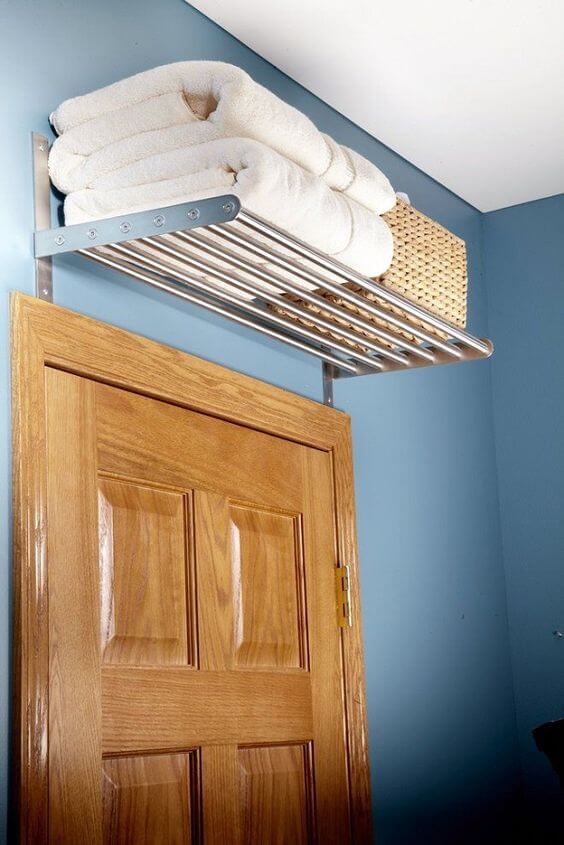 Just like the previous idea, a door would always have a space for you. The space above the door could also be something useful to have.
You can have a shelf for your towel right above the door. It's an overlooked storage bonanza. Add a woven basket to keep the clutter stuff.
In order to get the shelf secured on top of the door, you have to choose a steel shelf to get it securely attached to the wall and steel material is lighter than wood.
14. Dock Cleats Shelves for Towel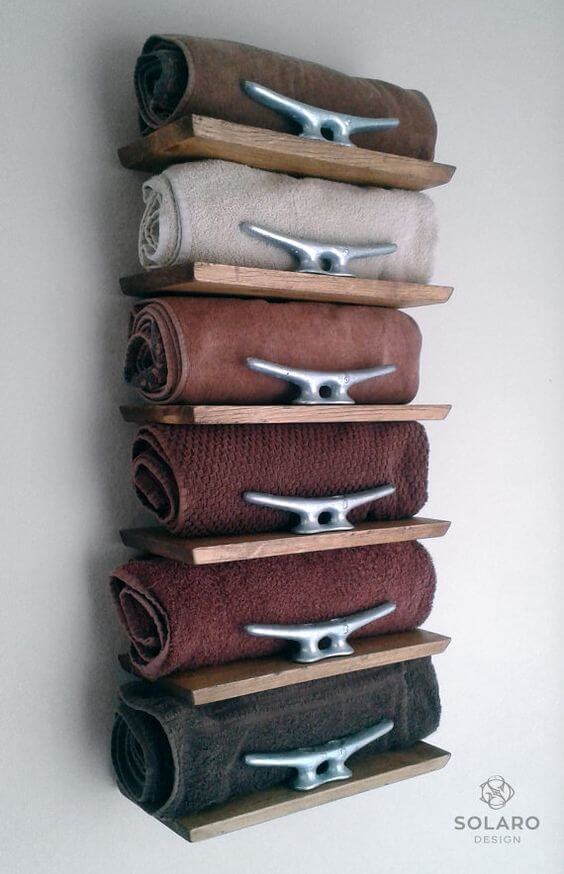 This is a clever way to make everyone in the house to stop leaving wet towels on the floor. Those 8-inch galvanized dock cleats hold the towel good. The dock cleats are the only one that makes this small towel shelves more interesting.
The towel in these shelves is kept in a form of the rolled towel. The whole shelf look offers a colorful nautical scene to the bathroom.
15. Toilet Paper Holder Nearby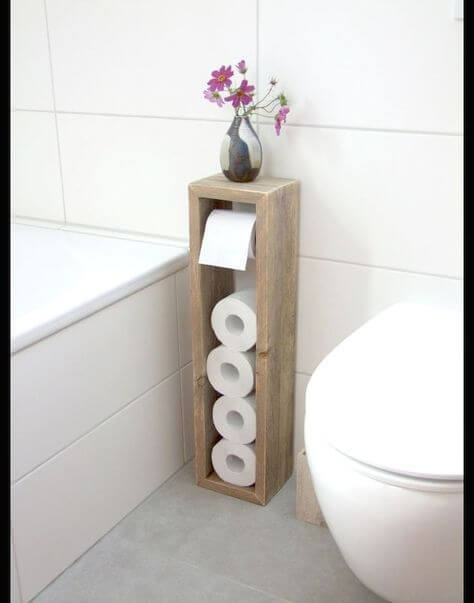 Having a toilet paper close by the toilet would save everyone's day. Toilet paper is the most essential element in the bathroom. This simple holder can hold up to 4 rolls of toilet paper excluding the one in use.
On top of the holder, you can't leave it empty. A beautiful small purple flower could become a pleasing focal point in this white bathroom.
16. Classy Recessed Toilet Paper Holder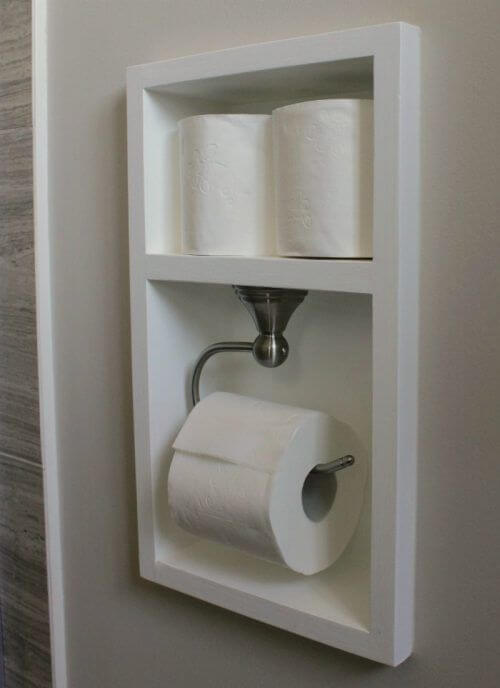 A built-in holder for toilet paper can save space on your bathroom floor. It's great because it's especially used by toilet paper. This holder consists of two spaces, one for the hook, and another one for the supply.
Quote. This kind of element for a bathroom would bother your wall. If you don't have it now in your bathroom, the wall needs to be hammered to create a hole for this holder. That would be a hard project for a DIY.
17. Slim Storage for Bathroom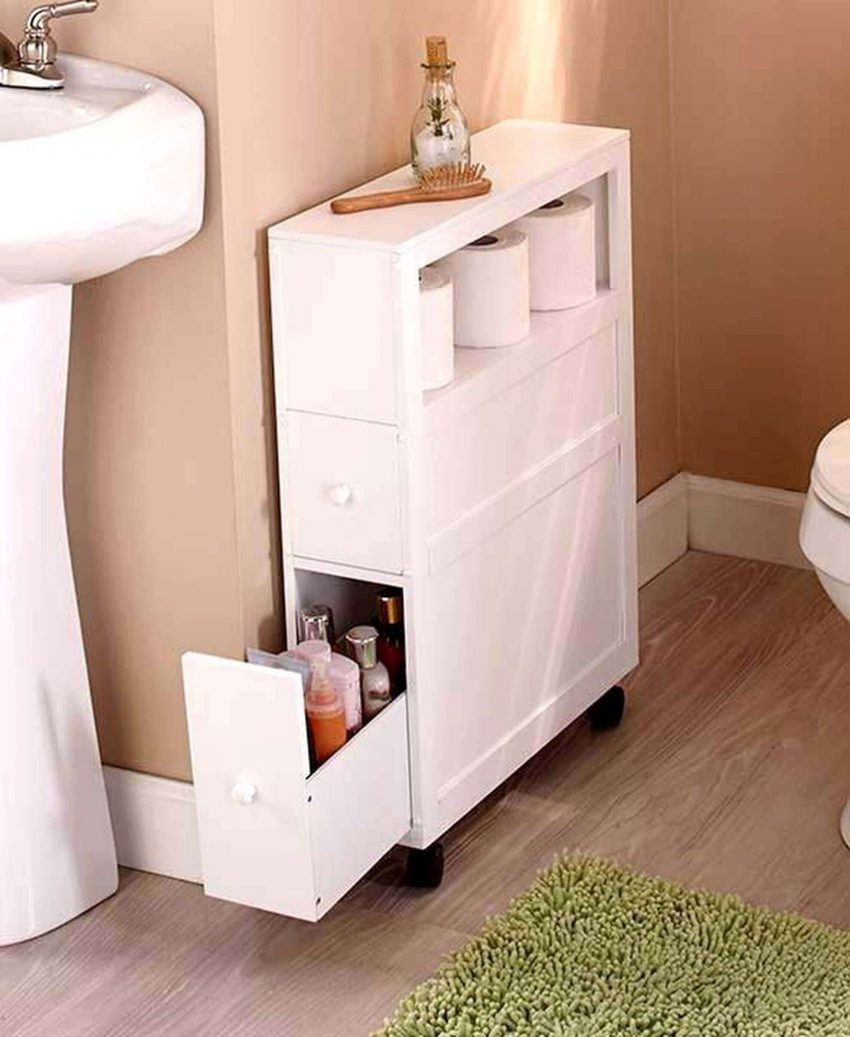 It's one of the most favorite bathroom storage ideas. People love this storage design because of its slim posture. It won't waste your bathroom's floor space. But, you can store a lot of items inside the cabinet.
From cosmetics to toiletries, this slim cabinet can handle everything. It's even better; it's got wheels that let you move the cabinet anywhere you want inside the bathroom. It works great with pedestal sink.
18. Large Towel or Linen Storage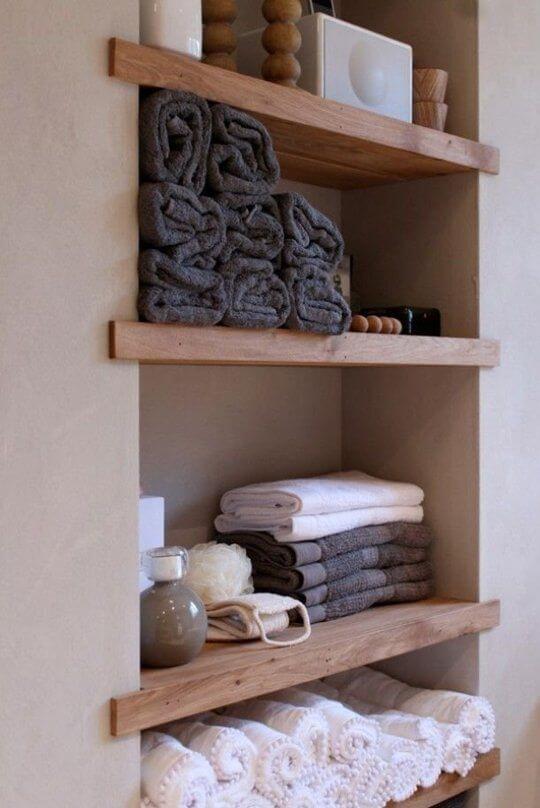 It's one of the best towel storage you can have in your large bathroom. The size of this storage is so large for just a towel. It's a perfect solution for a bathroom in a house that has a lot of family members.
Besides the towel, this storage would also accept other linen items related to your bathroom activity. But, it's important to keep it neat and well-organized because it's easy to look messy.
Other Bathroom Storage Ideas
19. DIY Ladder Bathroom Storage Ideas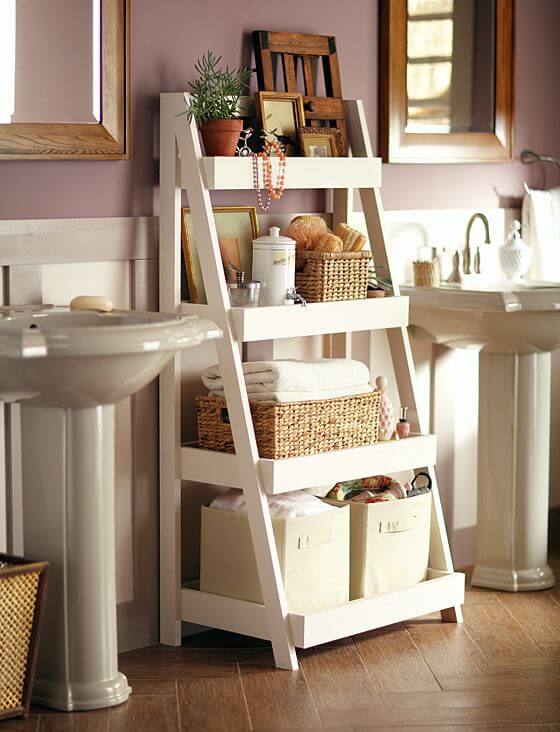 It's really interesting that this ladder storage is a piece of DIY furniture. It looks like furniture that you find on IKEA or other home improvement store. You can actually build this ladder by yourself with simple woodworking skills and some materials from Home Depot.
When it's done, you can add canisters, baskets to the shelf to keep your cluttering stuff out of sight.
Some accessories for decoration can also set the right mood for your bathroom. Because when it comes to bathroom storage, it can't only be about storage.
20. Storage under the Mirror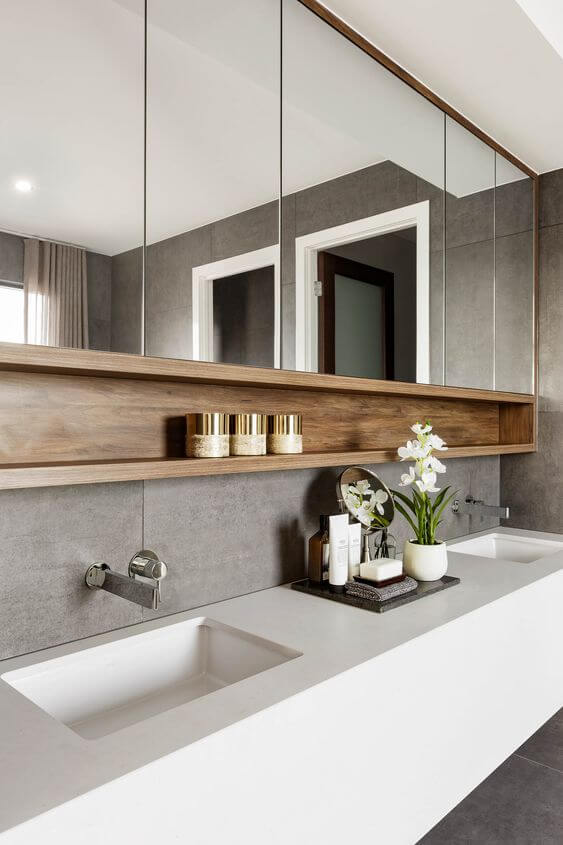 Storage for a bathroom vanity tends to be applied on a nearby wall or in a form of a cabinet.
This idea is pretty unique; there is a storage space under the mirror to let you organize your bath products. You can just decorate it with accessories you like instead leaving it empty and unused.
A space on the countertop can also be useful to store your items but it would be better if the countertop clean and empty. The room would feel airier than before. Just one flower on the countertop would be okay.
21. Storage for Hair Dryer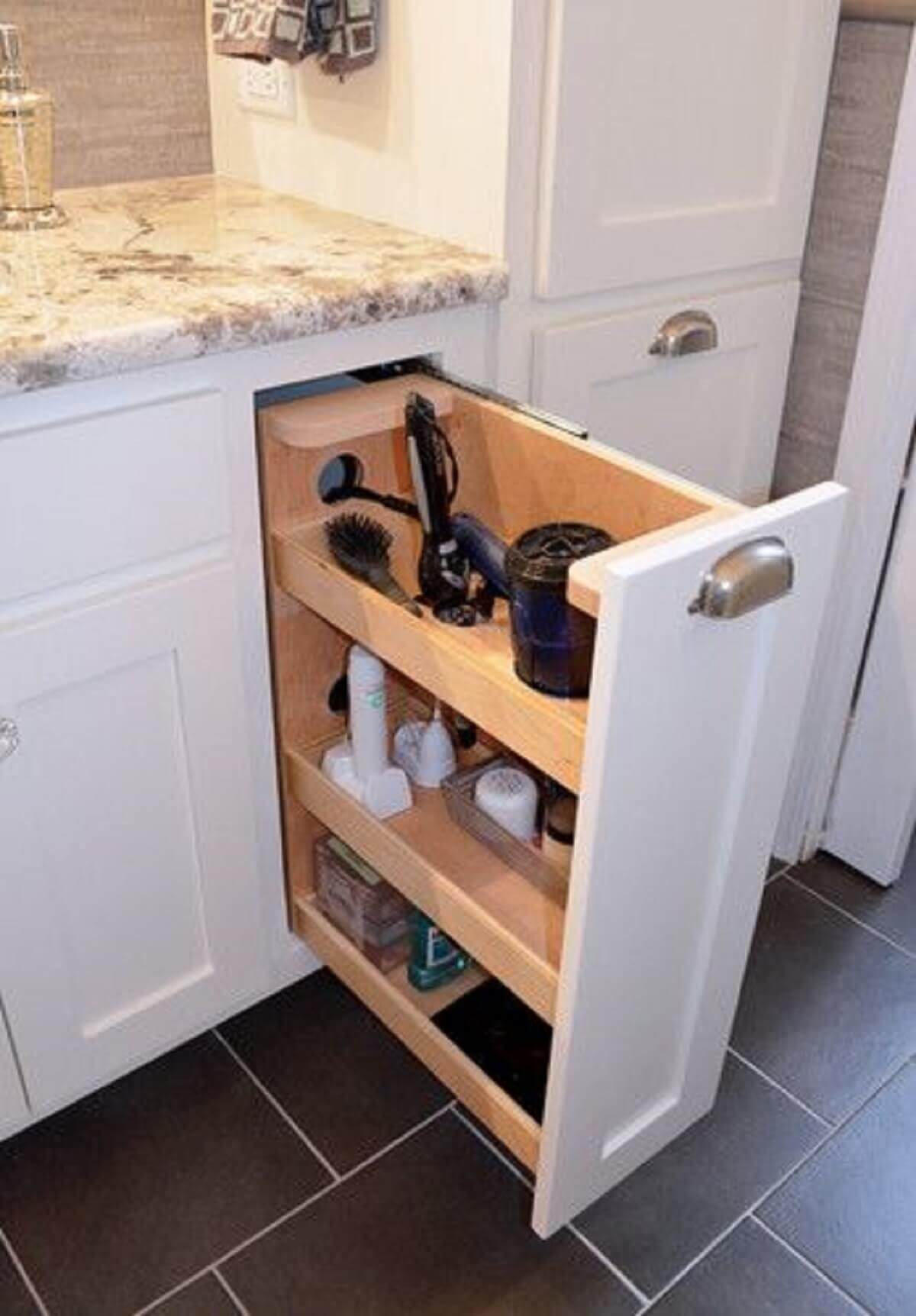 This is one good solution for you who want to keep the hairdryer and other tools in the right place. This pull-out cabinet is very useful for easy access to using the hair dryer or other tools that require electricity.
Some other items or products can also be stored inside this cabinet. As you can see, there's still other empty space you can use.
22. Over The Toilet Shelves With Woven Baskets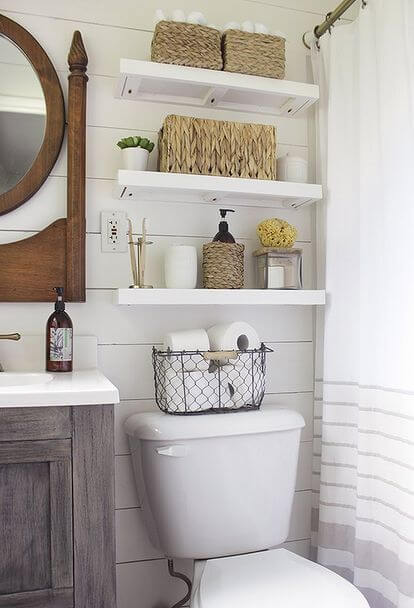 23. Natural Toothbrush Holder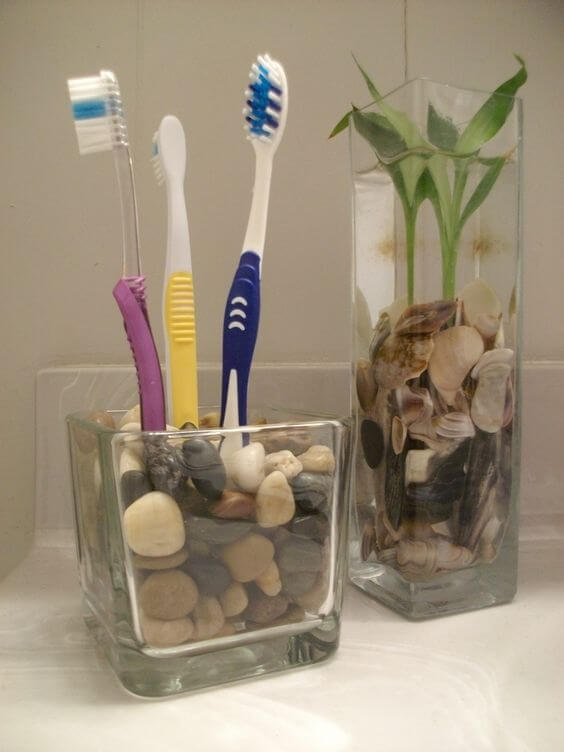 24. Small Bathroom with Built-In Tower Storage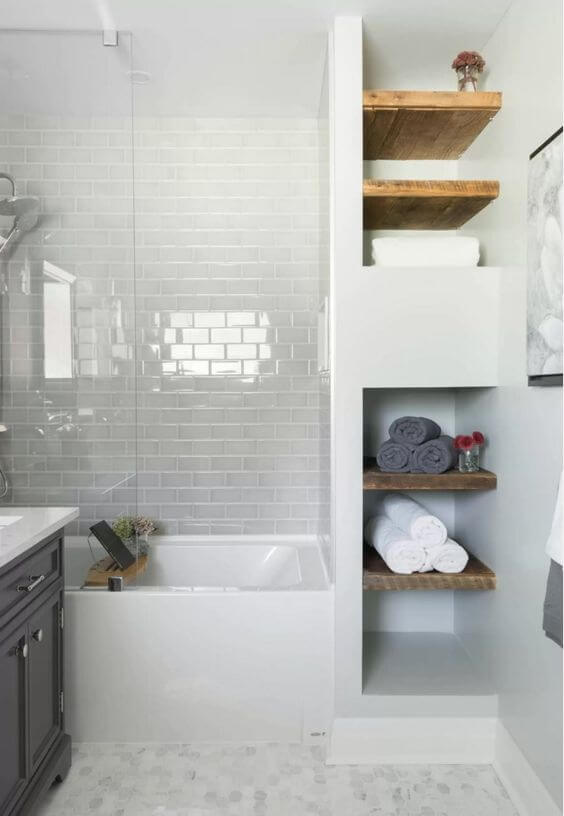 25. Innovative Storage for Bathroom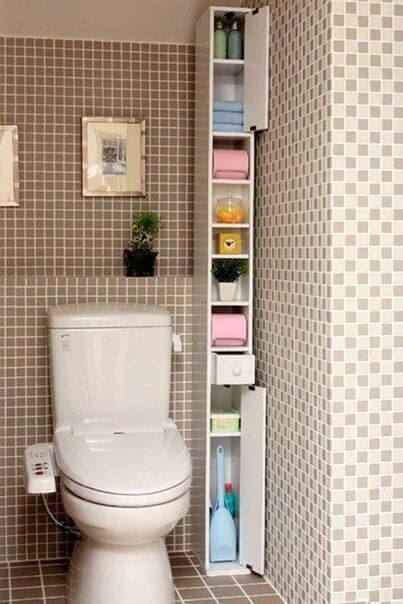 26. Tower Cabinet for Small Bathroom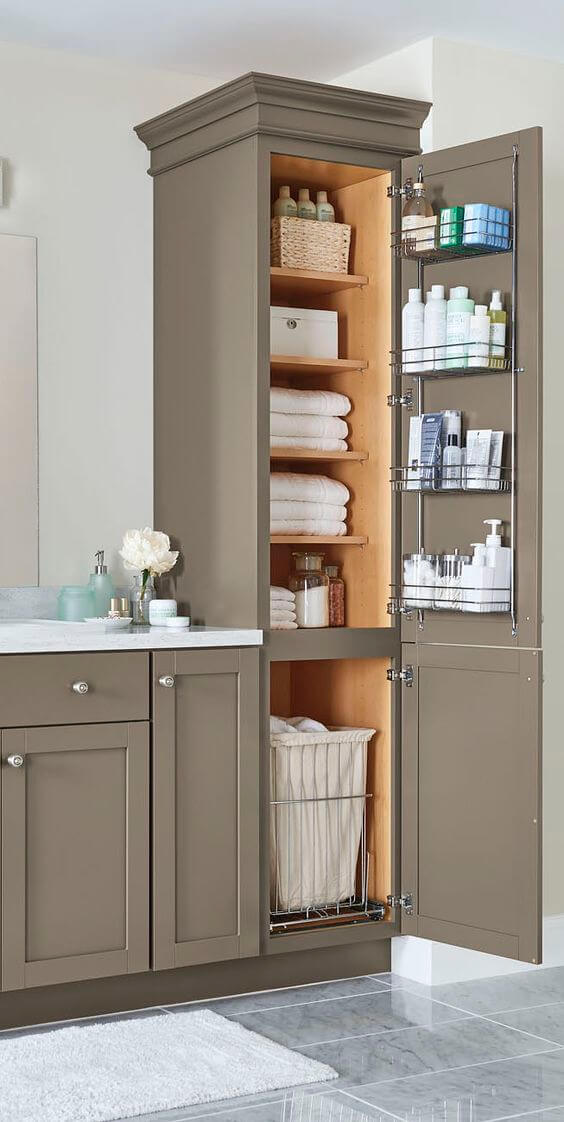 27. Stylish DIY Bathroom Shelves and Racks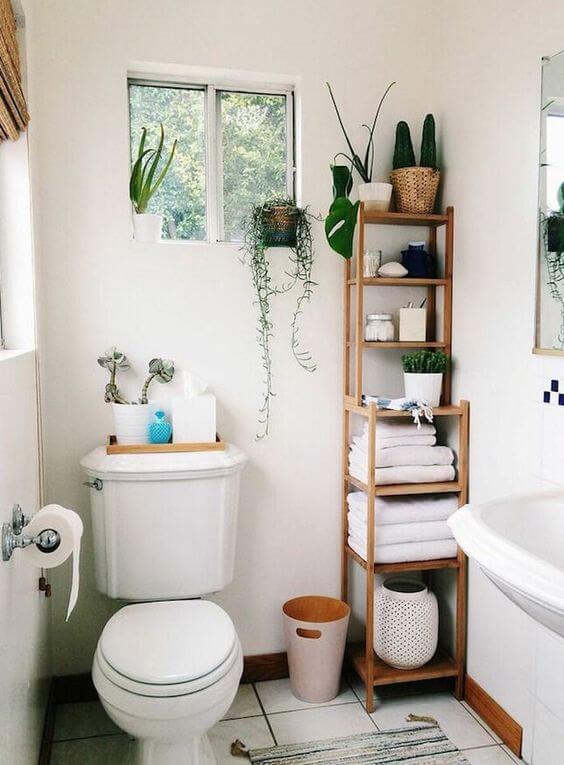 28. Stunning Bathroom with Rustic Storage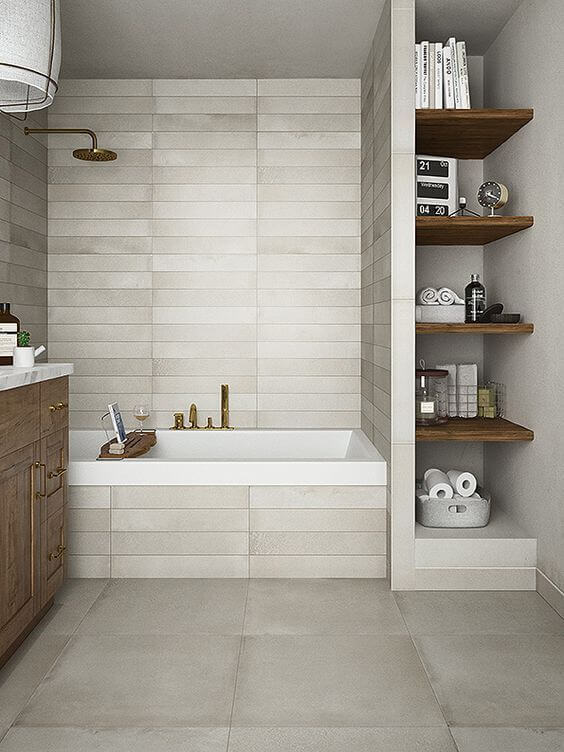 Conclusion
By exploring all 28 bathroom storage ideas, you will be easy to decide which storage you think interesting enough to be in your bathroom. According to your bathroom issues, one of the storage ideas above would solve the issues.