Farmhouse is all about warm, friendly, and inviting look. This concept has been applied to many houses as well as furniture pieces, including tables. Farmhouse tables are those with warm and rustic nuance, inspired by farm tables originated in 18th centuries. How about creating your own DIY farmhouse tables?
Creating a farmhouse table can be a precise decision to upgrade your woodworking skills.
You can personalize the concept and design to suit your preferences, at the same time furnish the house without spending a lot of money. Let's get to know more inspirational farmhouse tables for your next DIY project below!
Weathered Kitchen Table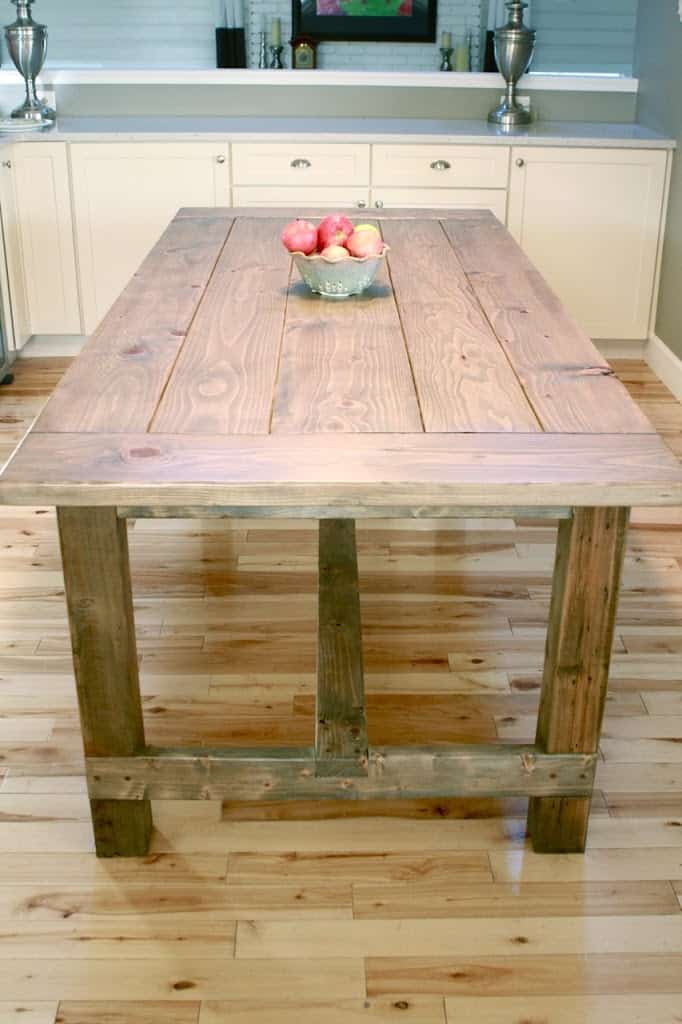 Let's begin with this farmhouse table that just fits your kitchen. Coming with simple and basic design, this table does not have too many details like other DIY farmhouse tables.
So, you won't find significant difficulties when doing the project. Built from hardwood material, this table offers ultimate durability.
The farmhouse table has stretchers that ensures its sturdiness, at the same time provides a rest for your legs.
You can choose the right material such as fir, cherry wood, oak wood, or precious teak to add the value. The right measurement is the key to this farmhouse table.
X-Brace Farmhouse Table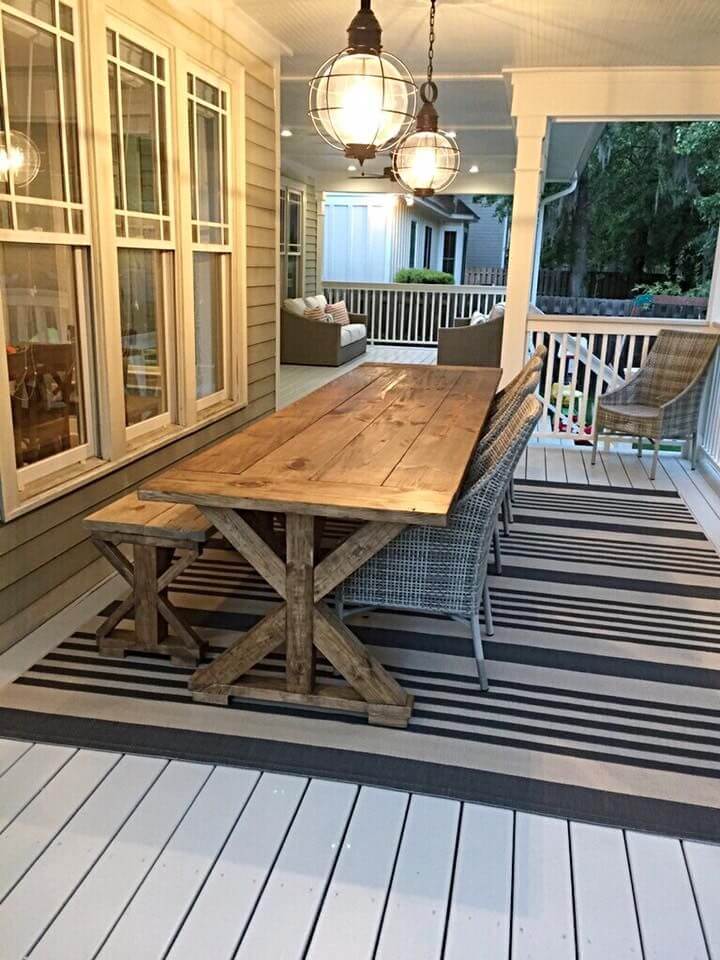 Once you decide to make a woodworking project, you may expect a long lasting furniture piece.
There are many things to elongate your furniture age, ranging from choosing the best material to choosing the right design. The following DIY farmhouse tables combine both of them.
This woodworking project is built from high quality material.
Designed with X brace, DIY farmhouse table and bench plans are made to be sturdy and durable to accompany your intimate moment with families or friends. These furnishings are suitable for indoor and outdoor.
Farmhouse Dining Room Table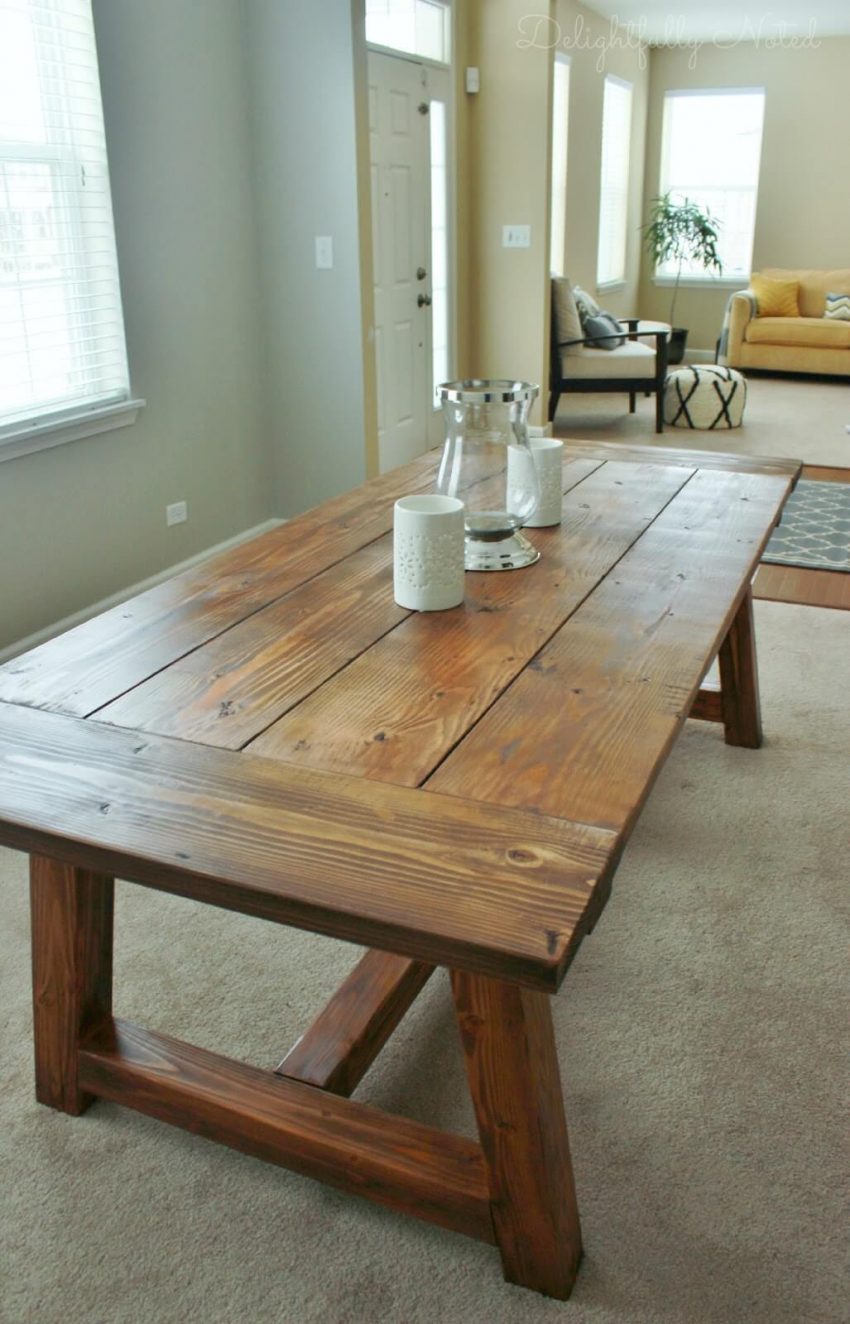 If you think that farmhouse table shouldn't be varnished, take a closer look to this picture.
The small coffee table delivers a strong farmhouse nuance, and yet it receives varnish finishing to add smooth and shiny look to the surface. The absence of aprons make this DIY console table look simple.
The beautiful wood grain offers a natural look. Angled legs with stretchers are the key to its strength and durability.
The table with medium size works well to complement your farmhouse living room, even if you have a small space issue. Combine with sectional sofas or couches in a similar concept.
DIY Farmhouse Tables Warmth Alert!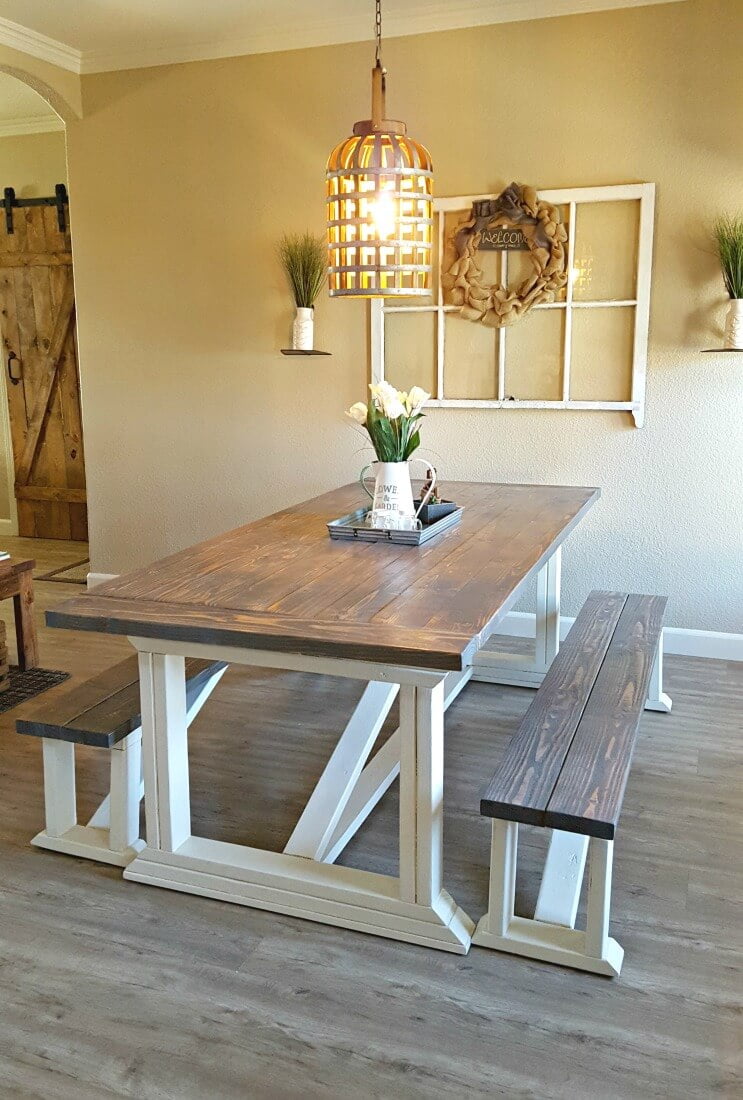 Do you often invite friends or relatives to stop by and enjoy some delish dishes? Your warm personality suits best this DIY farmhouse table and bench.
The warm and welcoming senses are so strong that you can burry your guests with loads of warmth and hospitality.
The wooden dining table and benches looks inviting. The DIY farmhouse table legs are painted and the tabletop is smooth, bringing in cozy atmosphere to indulge your guests.
The table and benches come in the right height to ensure your comfort even if you have to stay for a long time.
Farmhouse Square Coffee Table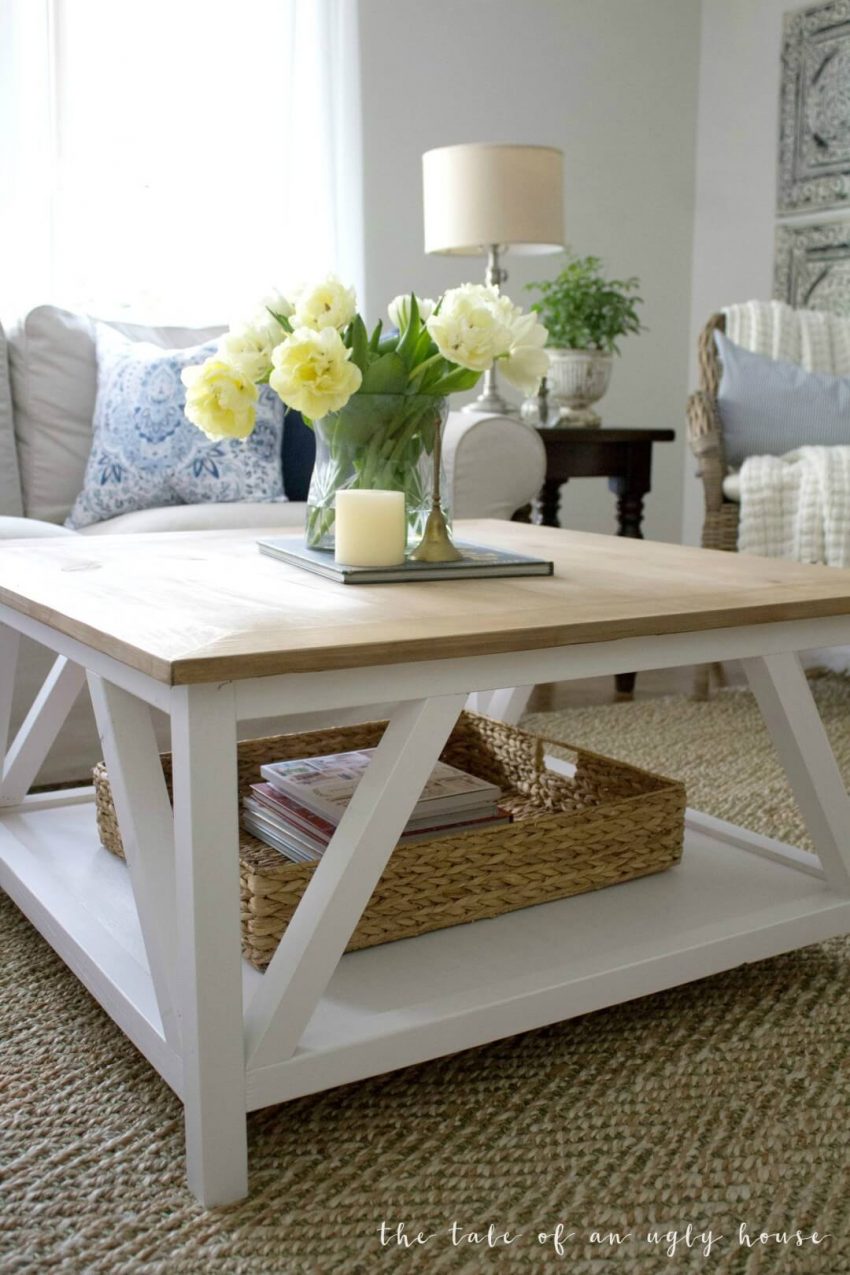 If painted base dining table is too overwhelming, pick this small coffee table for the upcoming project.
DIY farmhouse tables fuse the simplicity of modern style and warm sense of farmhouse. The color combination looks subtle, making it a perfect choice for any room.
Angled painted base with corner stretchers allow the table to hold heavier loads. More about the base, additional space is available to hold your magazines or newspapers.
The unfinished tabletop gives a strong sense of farmhouse and adds a visual interest to the interior, thanks to the natural grains it brings.
Wood and Wicker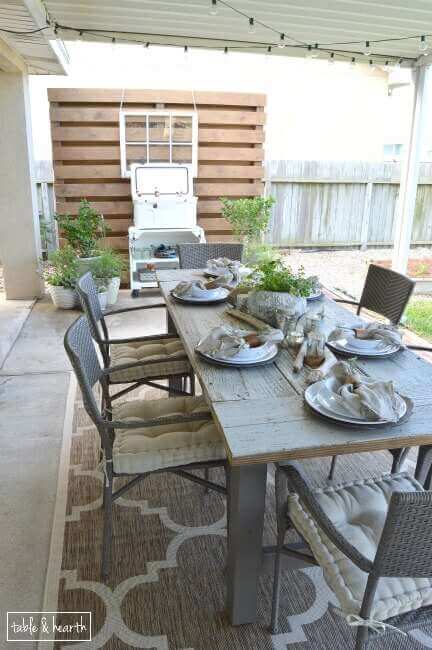 How about combining wooden dining table and wicker chair?
If you have a set of wicker chairs at home, all you have to do is build a farmhouse dining table as seen in the picture. This table is made of distressed wood which emphasizes the rustic sense effortlessly.
This DIY small farmhouse kitchen table is also built with gray-painted base with basic design to match the wicker chairs.
Aside from the design, measurement is also essential. Make sure to measure your dining room to get the right size unless you want to make a DIY farmhouse table outdoor.
DIY Farmhouse Tables Dark Wood Basic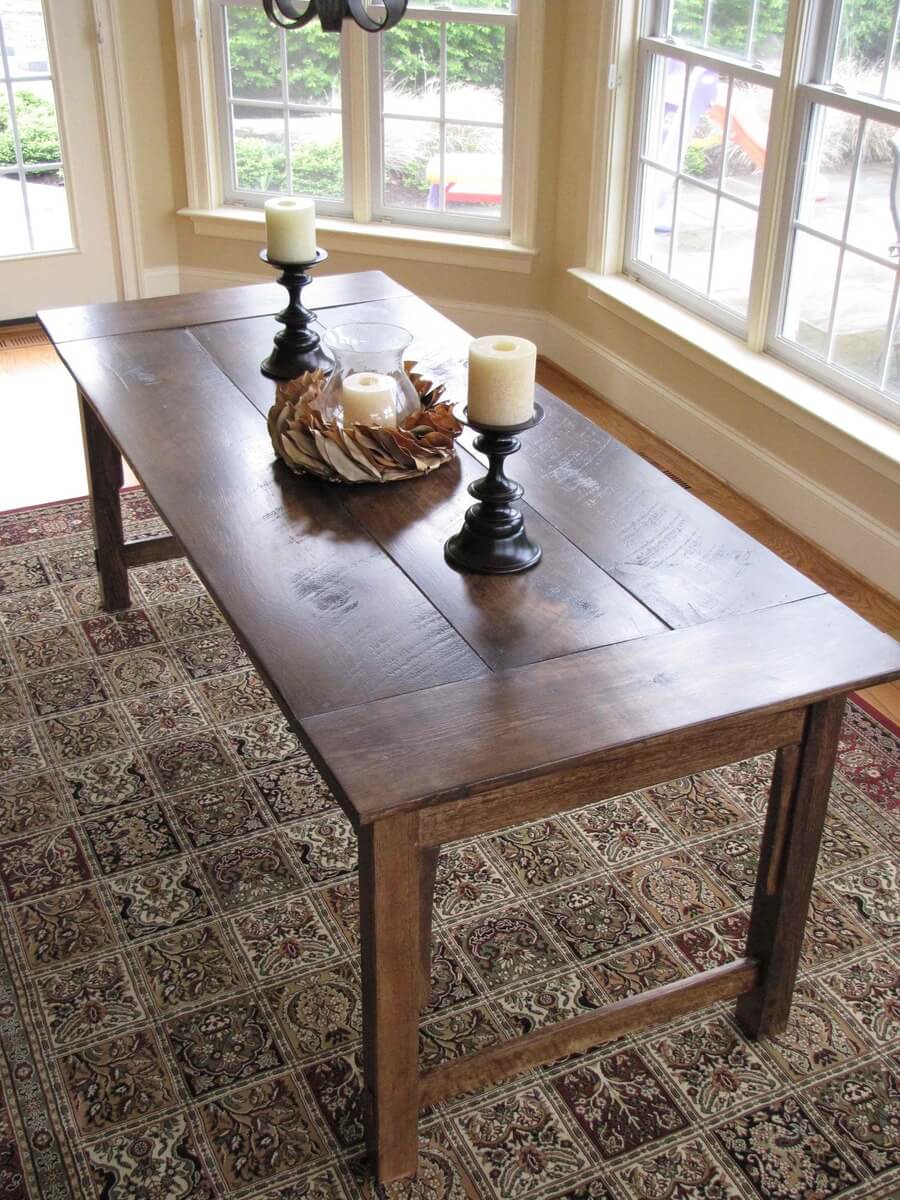 Revamp your dining room with this simple but stylish table. The mixture of dark wood and glossy finish gives a classy yet rustic appearance.
The DIY farmhouse table top offers a perfection to improve the dining room, either indoor or outdoor.
The four-legged dining table features side stretchers and aprons to make it look even better besides to keep the table safe when you start loading.
This dark wood dining table does not require a tablecloth, thanks to a smooth and glossy surface that makes you comfortable when using without a tablecloth.
Add Some Sheen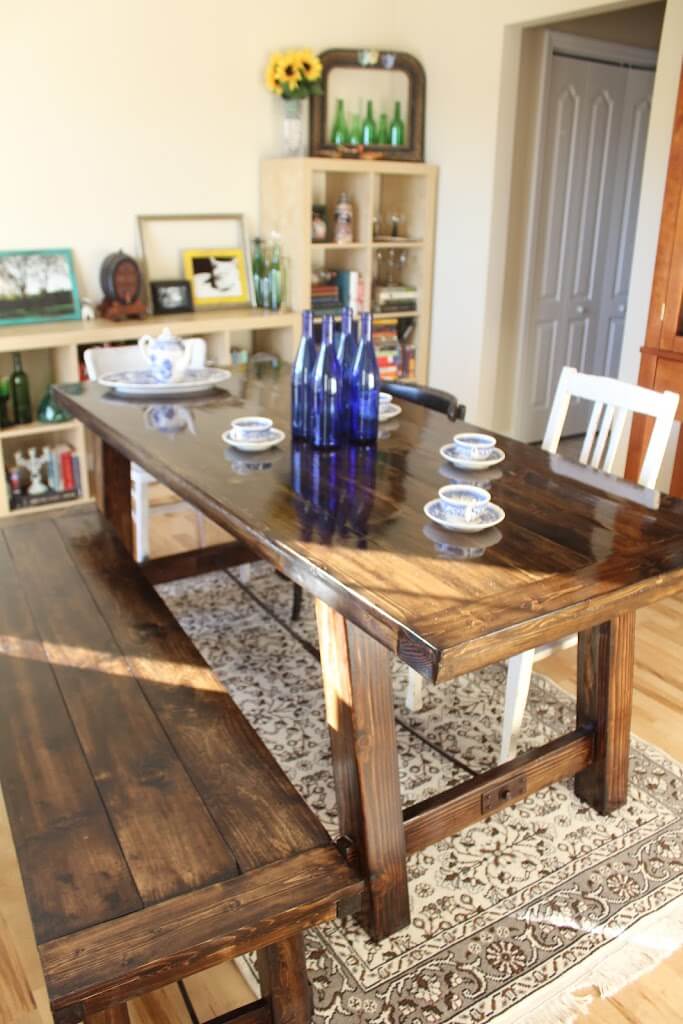 While most rustic and farmhouse tables are left unfinished, the following DIY farmhouse tables let you enjoy the sheen and gloss all over the surface.
The finish offers a clean look and easy maintenance. It is also worth mentioning that the glossy finish can keep termites at bay.
Inspired by DIY farmhouse console table, this small dining table is designed with angled base and side stretchers.
If you live in a small apartment or have a small family, building this farmhouse table can be a wise decision. As a complement, a bench can be built from the same material.
DIY Farmhouse Tables White and Blue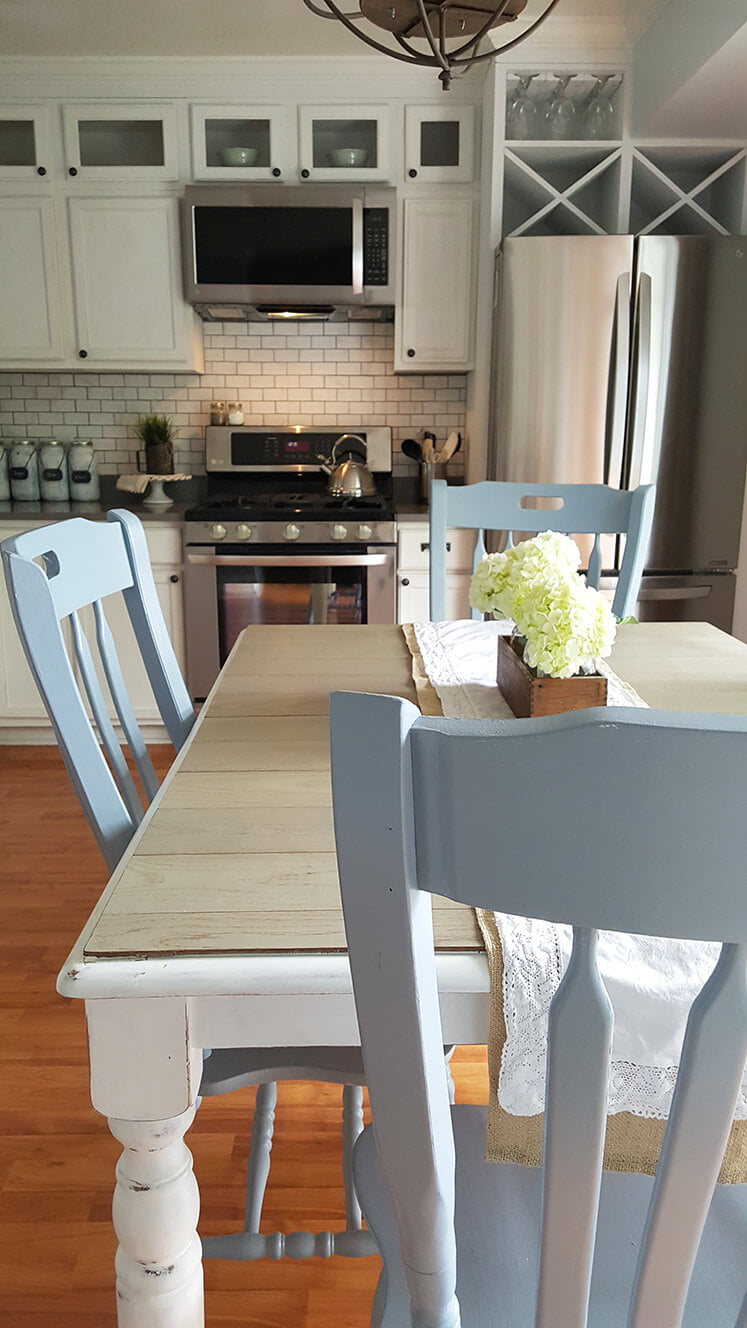 Do you need a fresh and distinct look? Borrow the sweetness of French country style and pick this idea for the upcoming woodworking project.
This table offers a raw wood tabletop combined with painted base. The white base delivers a shabby look that makes this table uniquely attractive.
A flair of French country nuance is perfectly delivered by DIY farmhouse table chairs painted in soft baby blue.
The mix-match evokes a new and refreshing style to revamp your dining room or kitchen. Build the table in the right size to fit your room.
Square Farmhouse Table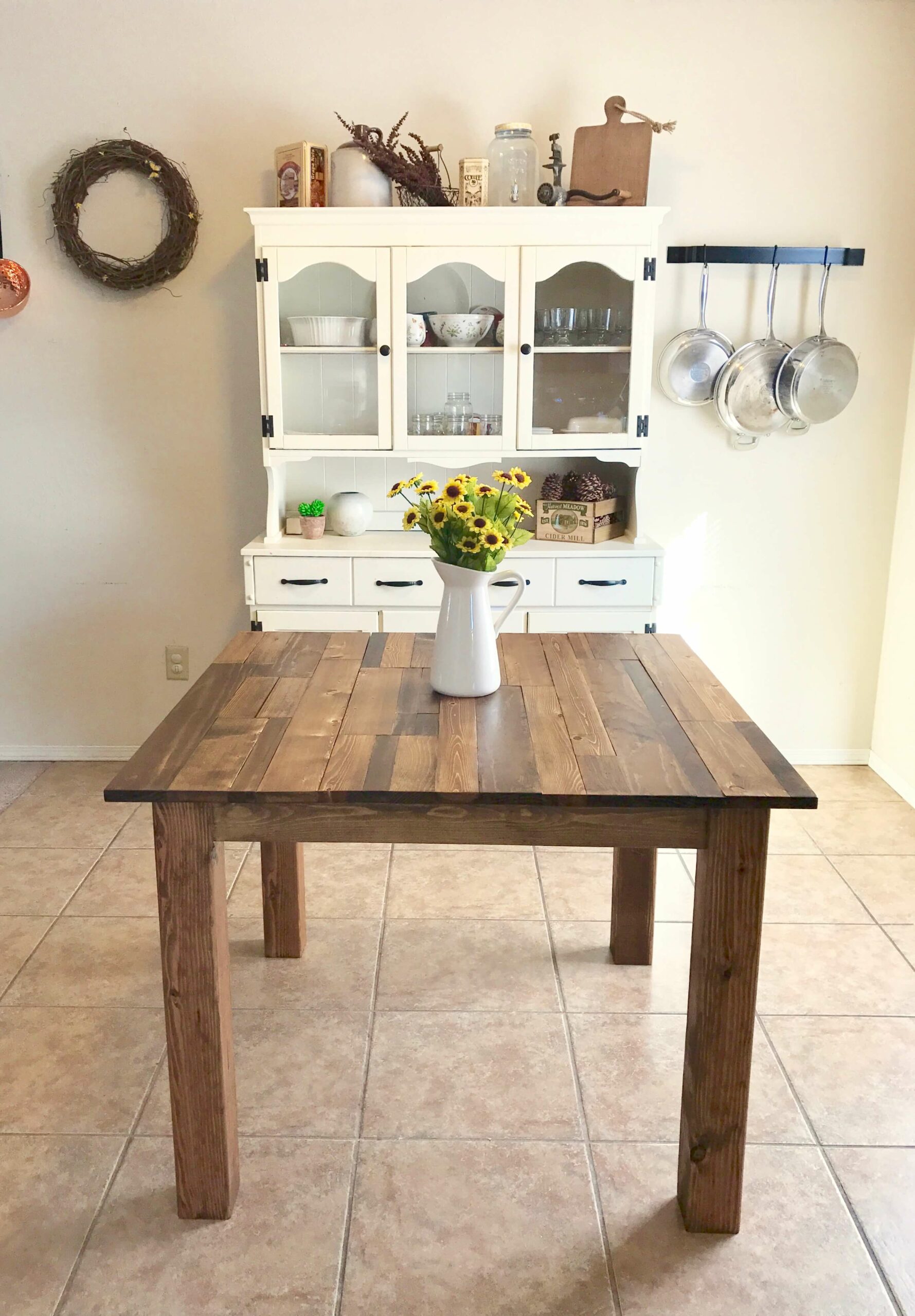 Don't judge a book by its cover. The saying best describes the following DIY farmhouse tables that come in a small size but offers big functionality.
This well-built furniture piece brings a strong sense of farmhouse to revamp your kitchen. At the same time, it helps you do cooking activity in the kitchen.
The square farmhouse table is built from short wood pallets arranged into a nice tabletop. This creates a unique texture that defines its appearance.
The aprons and base are basic so you don't need to spend much time doing the project.
Mix with Glass Top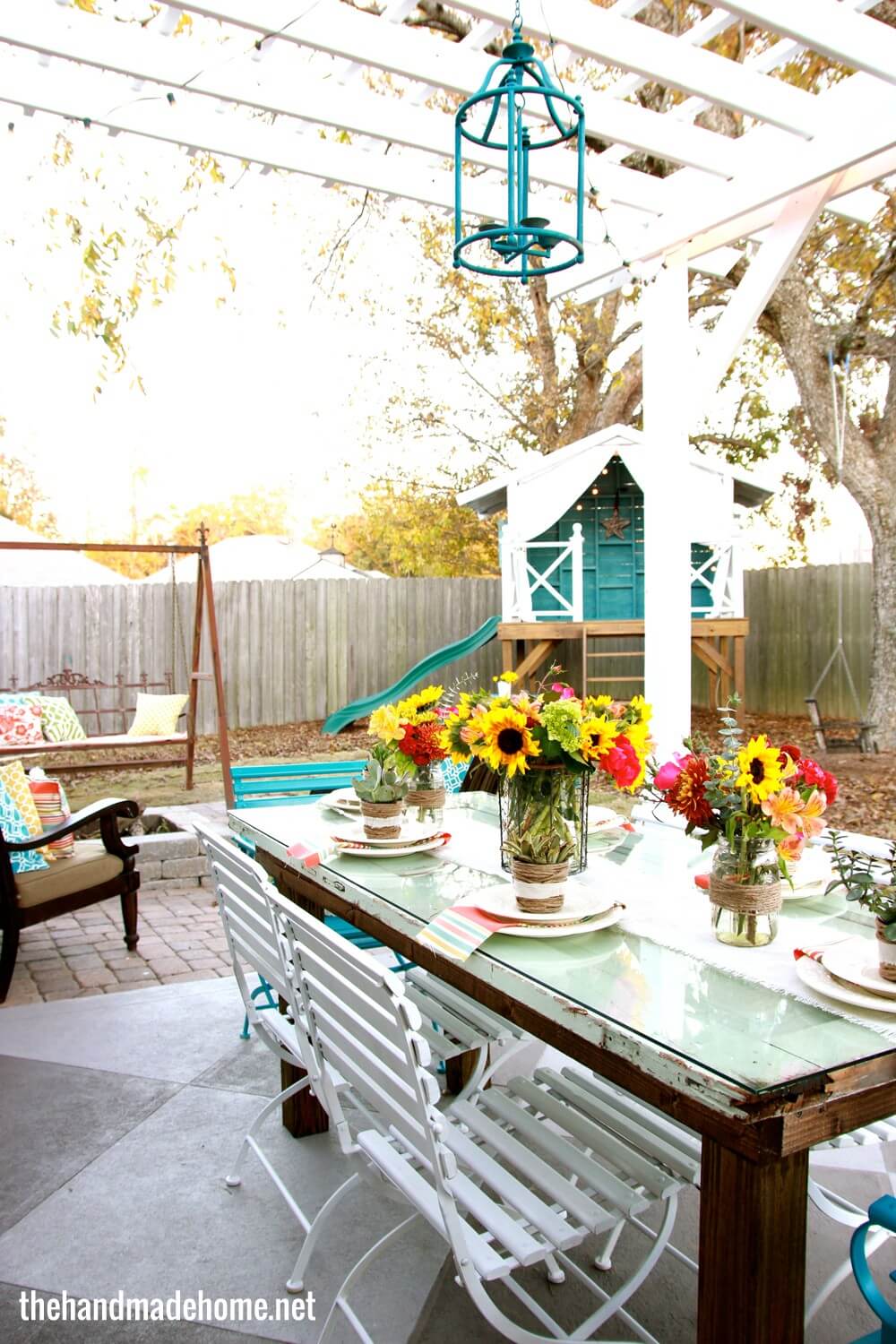 If you don't have enough skills to build a farmhouse table but really want to make a DIY project, you can always play safe.
This idea should inspire you to upcycle the old stuff and give it a second life. This enables you to reduce waste and cut spending. This may inspire you to build a DIY farmhouse sofa table.
You may have an old wooden table with improper tabletop. Don't throw it away. You can purchase a glass to cover the tabletop.
Now that you have a glass top, the table looks good as new. Natural wear and tear effects give it a perfect rustic style while glass top allows you to enjoy the dining in a clean surface.
Octagon Table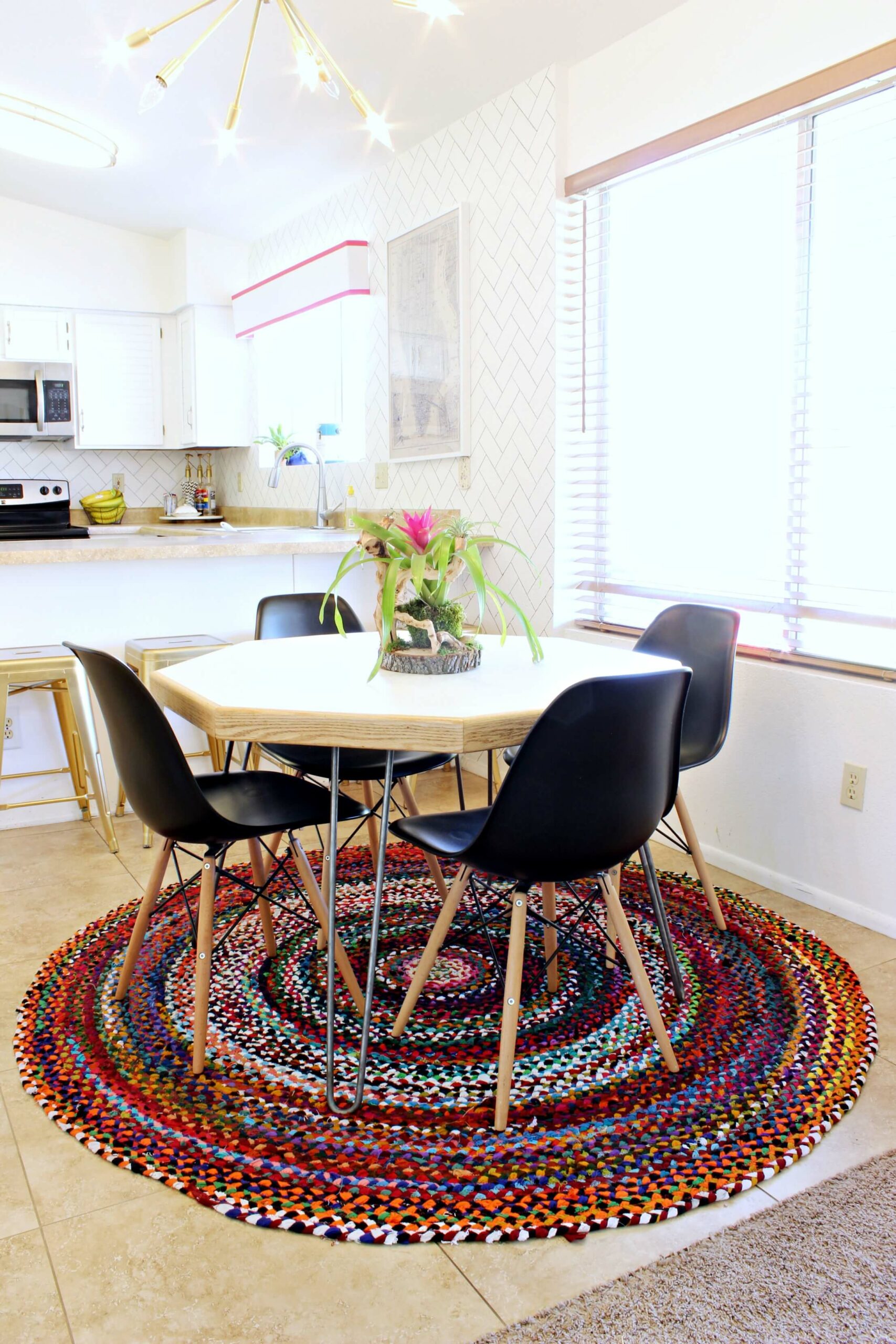 Do you know? Farmhouse concept can work well with your modern interior.
As seen in the picture, DIY farmhouse tables sit nicely by the window in a modern kitchen. The wooden honeycomb dining table evokes a flair of farmhouse among modern elements.
The small and unique DIY farmhouse dining room table is built with angled metal legs. The wooden aprons make this honeycomb table look neat and smooth.
The stylish honeycomb dining table suits your apartment or small kitchen. Combine with round area rug for additional visual interest.
DIY Farmhouse Tables Ornate Base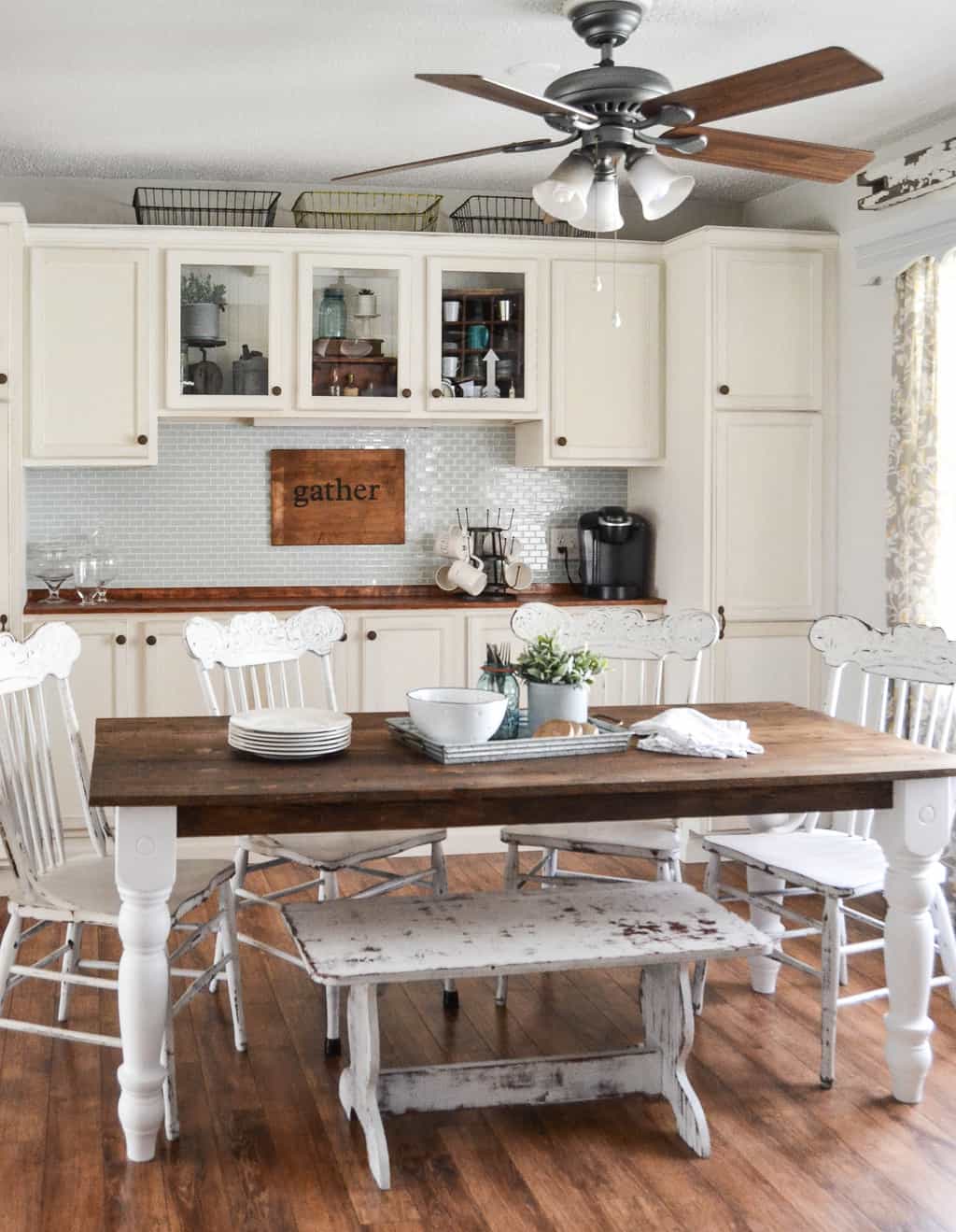 Having advanced woodworking skills is an advantage. You can build a farmhouse table with any design and concept.
If you want challenge yourself, this two-color farmhouse table idea is good to go. The tabletop may look simple but it is not the case with the base.
The following DIY farmhouse tables are built with ornate base that gives a decorative touch to this furniture piece.
The table legs may be available on the market but carving your own pieces leads you to an ultimate satisfaction.
Combine the dining table with washed out ladder-back chairs for a stronger farmhouse feeling.
Ordinary but Pretty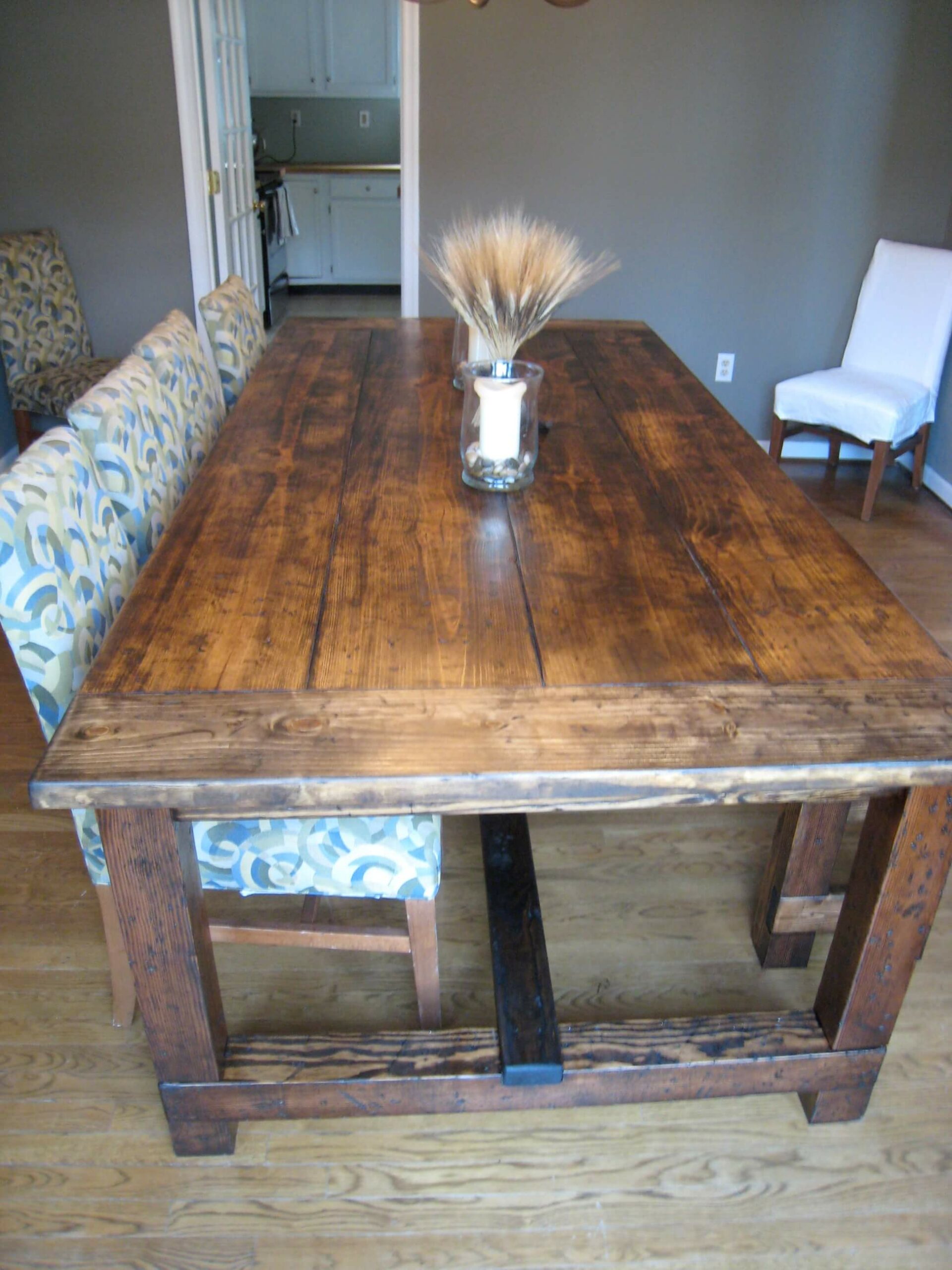 The next farmhouse table inspiration is presented by this simple and ordinary wooden dining table.
If you are afraid you cannot accomplish the project with intermediate woodworking skills, opt this farmhouse dining table.
The furniture piece comes with simple cut and design, which is good for you.
Despite its ordinary look, this farmhouse table looks pretty in your rustic or farmhouse interior.
The semi-gloss finish gives an added value while its natural patterns and grain emphasizes the sense of rustic.
The table dimensions fit up to six people, just a perfect size for your house.
DIY Farmhouse Tables with Bench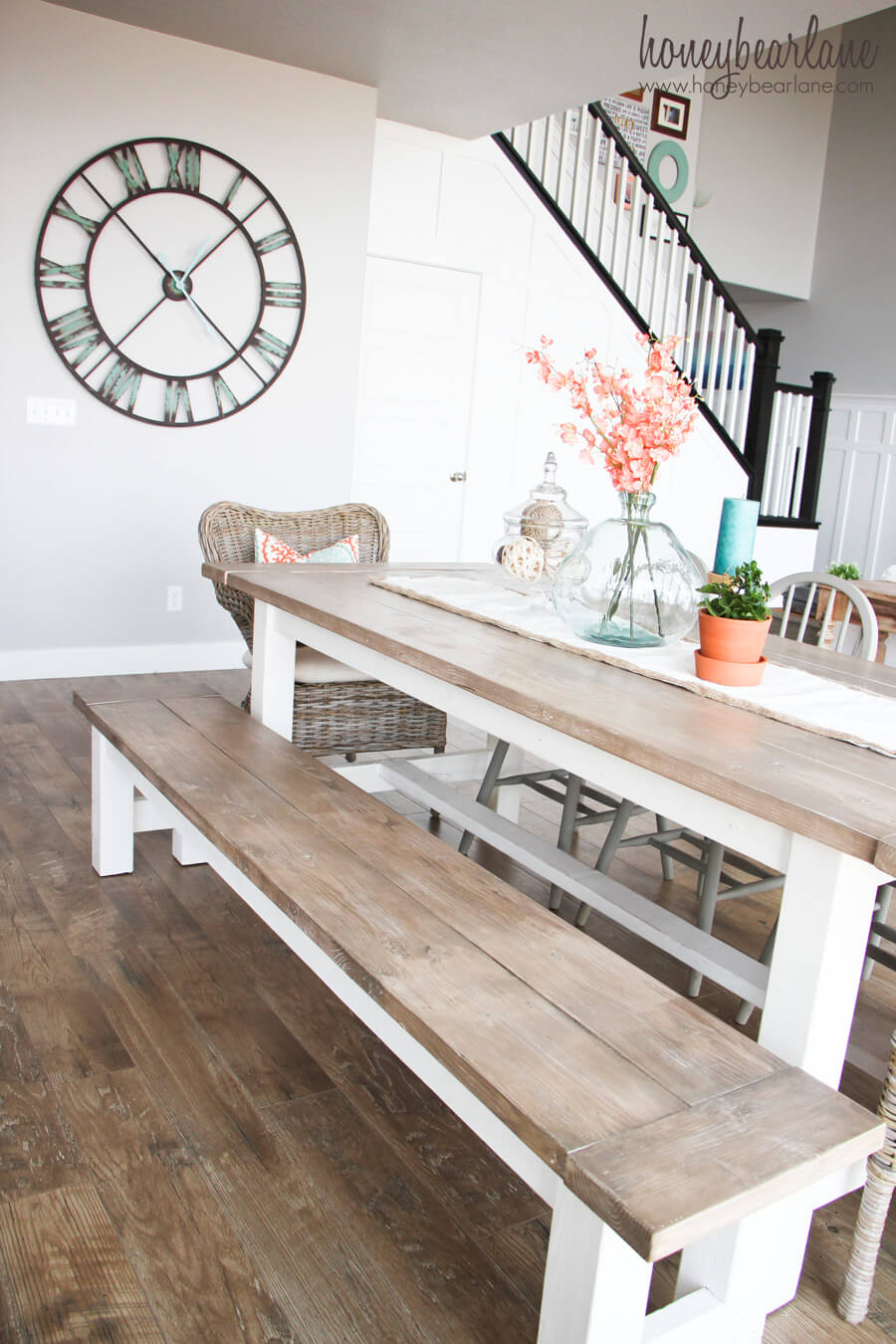 Supposing that you often invite some friends or relatives for a dinner, DIY farmhouse table and bench is the one to build in the upcoming DIY project.
The set of dining table and bench evokes a strong accent of farmhouse that captivate your heart.
The table stretches all the way to the other side of the room, which means you have enough space for more people.
The two-tone farmhouse table is built from unfinished raw wood material and painted base to add a visual attraction.
Get a DIY farmhouse table runner to complement this farmhouse table and bench. Or You can read following article sofa table decor.
DIY Farmhouse Tables Glossy Finish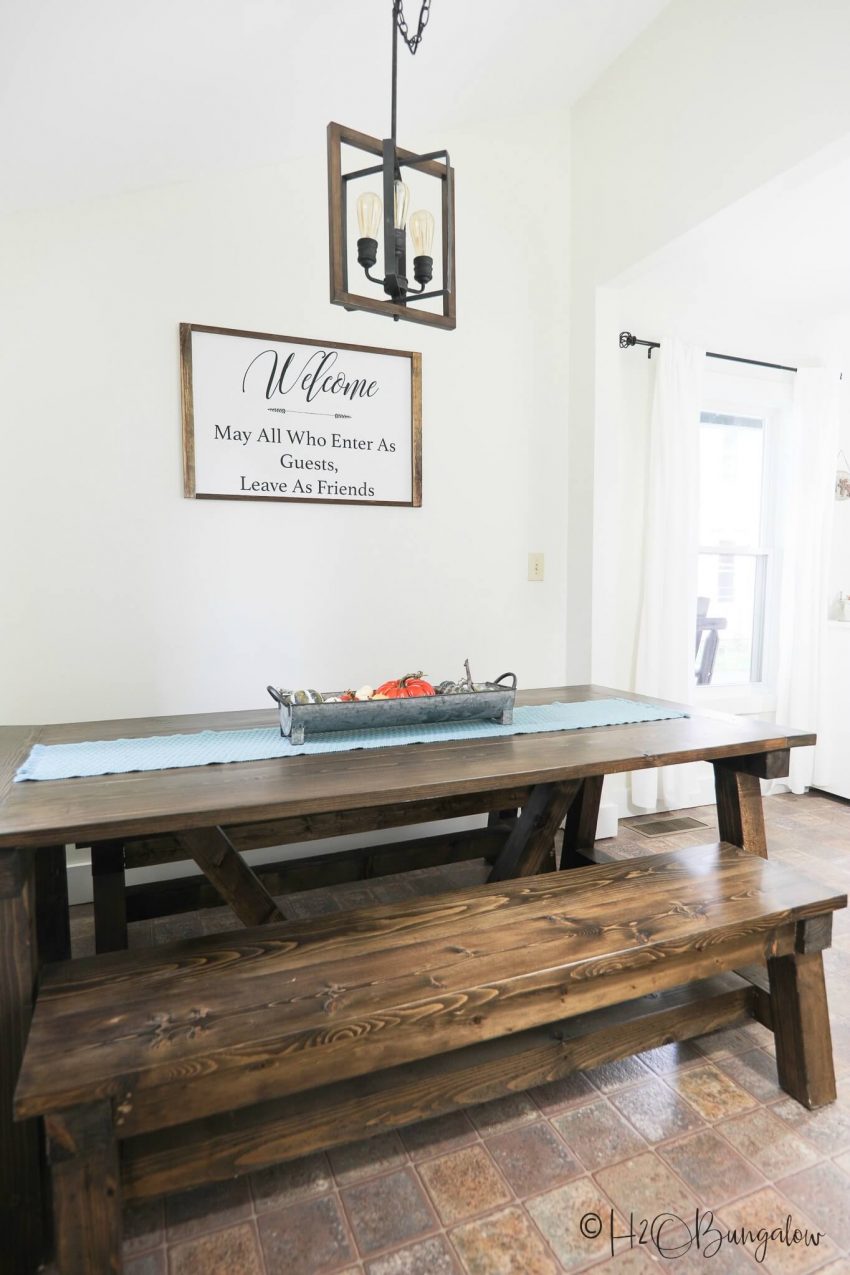 The following idea of DIY farmhouse tables is suitable for you who need to add some sheen to the interior.
Whenever you don't want to join the stream, this shiny farmhouse table is worth a thought.
In spite of being glossy, the table and benches offer natural wood textures to maintain the farmhouse accent.
The table and bench are built from hardwood material with a varnished surface to get the sheen.
These furniture pieces come with angled base, allowing you to load the table with more stuff. Thankfully, it comes with ample space to invite more people.
Classy Farmhouse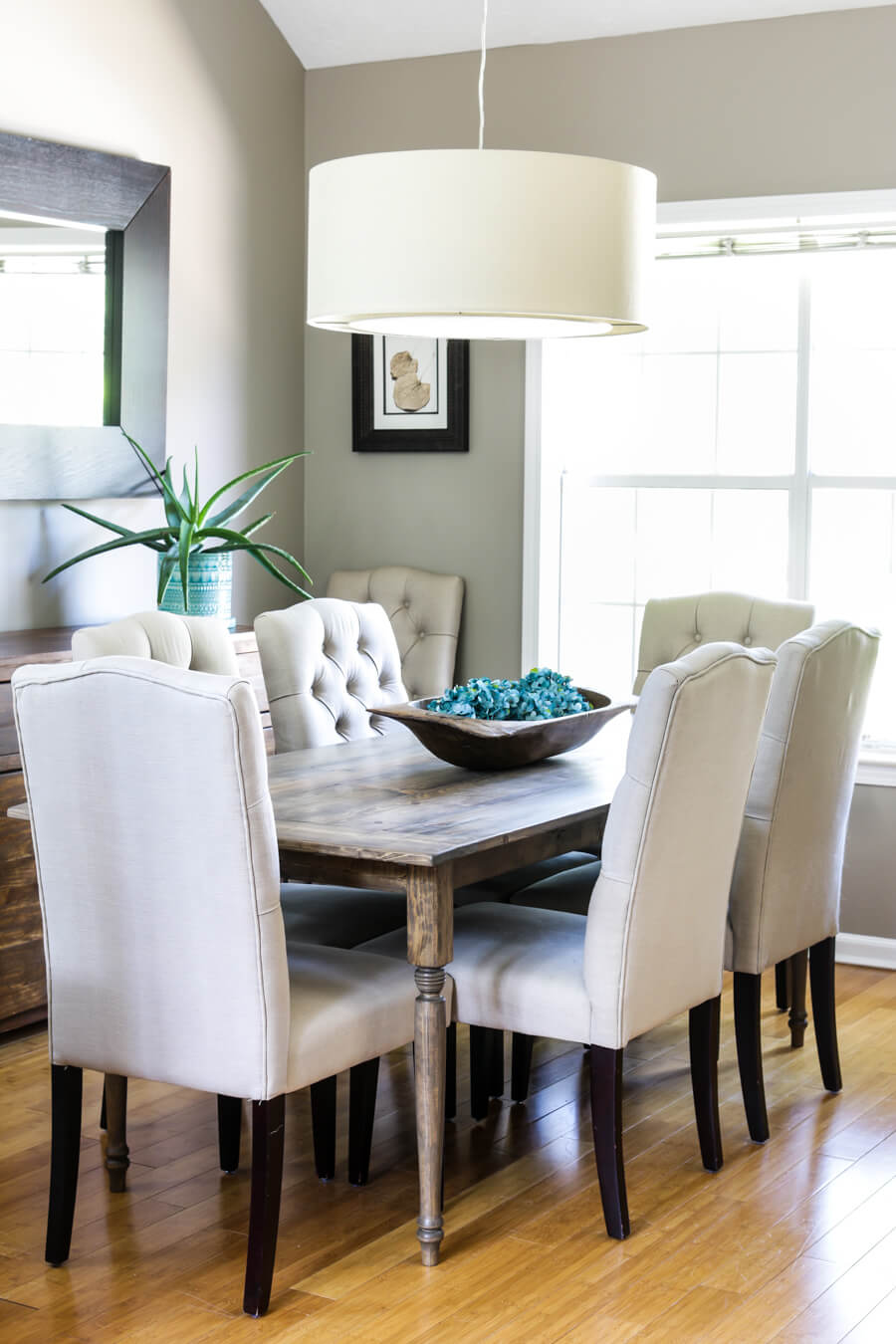 Your dining room deserves a DIY farmhouse table makeover. With the condition that you want to combine farmhouse and classy style, this dining table is what you need to choose.
The wooden dining table is well finished, ensuring the smoothness and shine of its surface.
The skirts are made to be narrow in order that you can move your legs freely. The small farmhouse table is suitable for urban houses with narrow space issue.
Upholstered dining chairs work great to evoke a sense of classy. The classy dining room will look better with a hanging light with the similar style and color scheme.
Perfect with Pedestal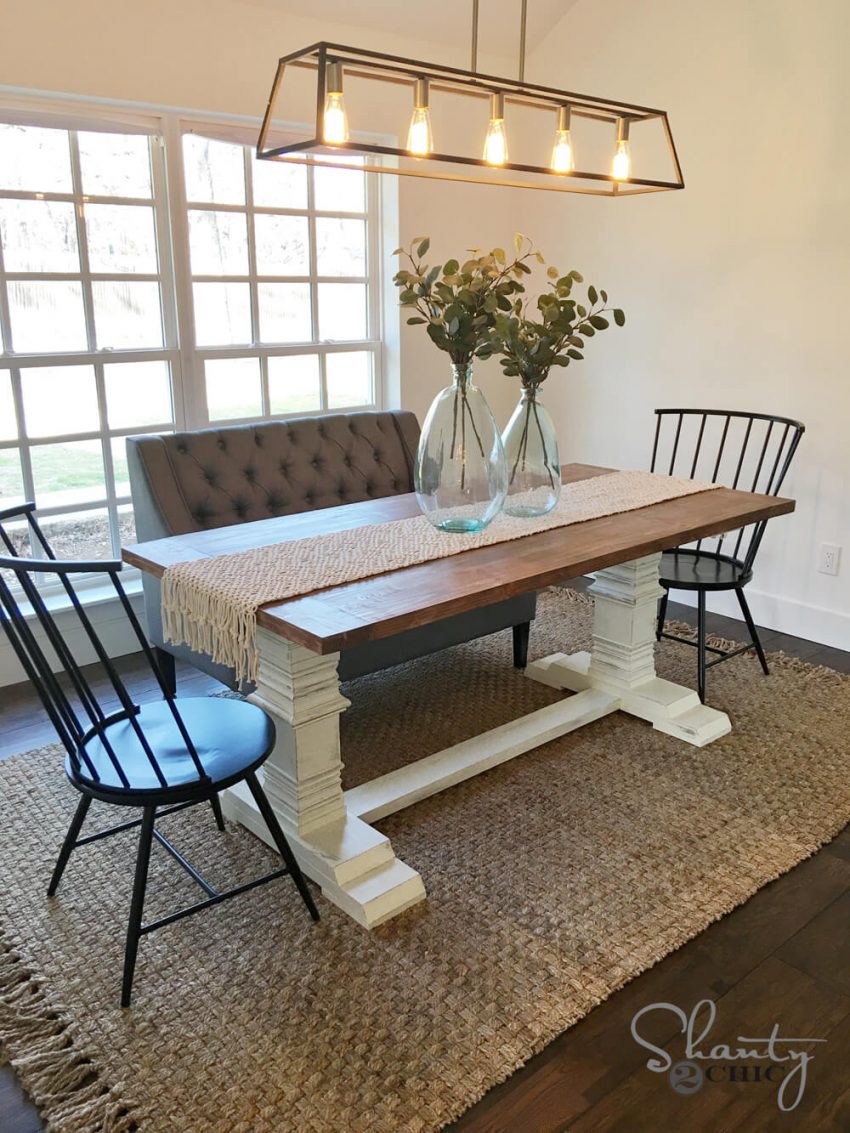 Supposing that you are an expert woodworker, the following DIY farmhouse tables will not be a big deal.
You can make a plan to build a pedestal dining table as seen in the picture and revamp your dining room.
The two-tone dining table looks just great to complement a farmhouse interior.
The painted base becomes the center of attention as it looks unique but a bit complicated.
The plain and basic wooden tabletop balances the base so that you don't make it too much. This furniture piece looks even better with industrial hanging lights over the table.
DIY Farmhouse Style Dining Table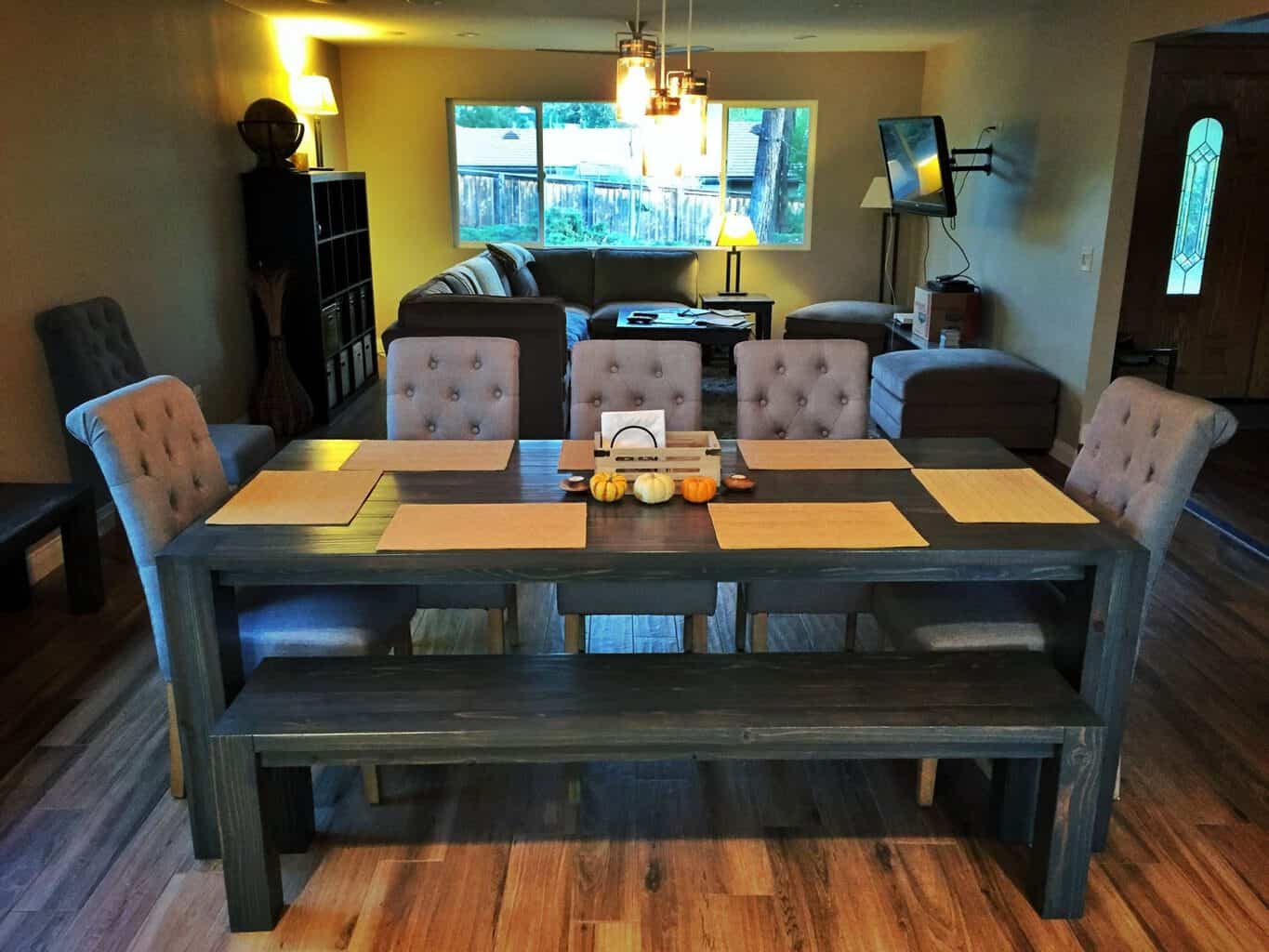 The next farmhouse inspiration may unleash the dark side of you.
This farmhouse table looks sturdy in black, giving a daring and distinct impression. Though it comes in a simple design, the color looks intimidating.
A bench with similar concept complements the table. You can also combine with dark upholstered dining chairs to evoke a gothic flair.
DIY Farmhouse Tables Sweet and Chic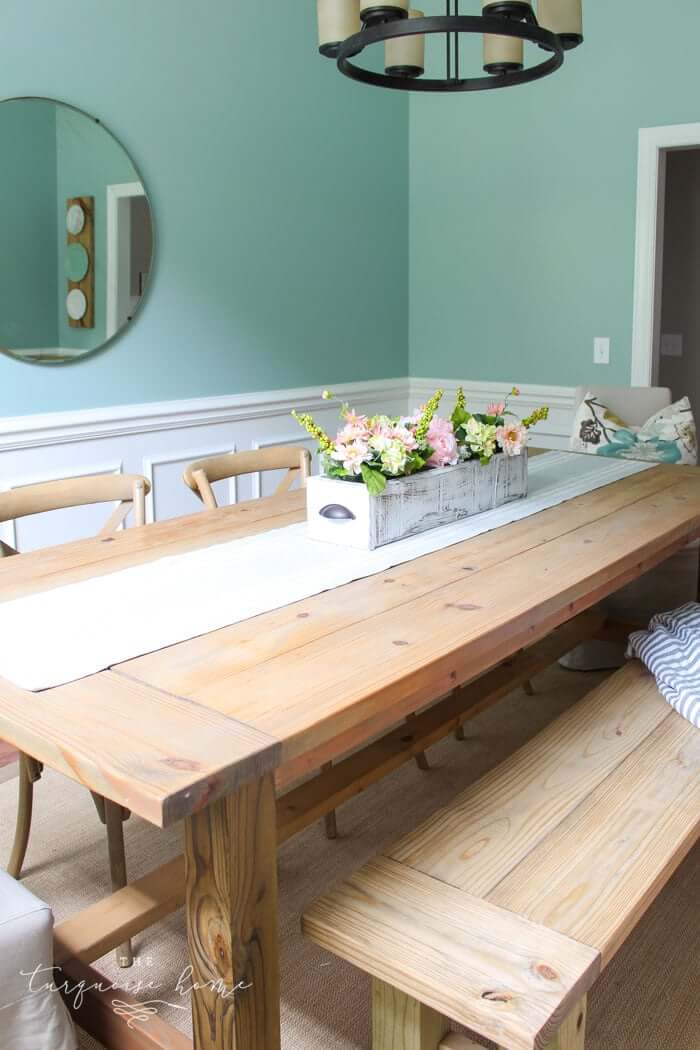 Sweetness overload! This farmhouse dining table offers a sleek look that indulges your eyesight.
The table is what you need to treat your friends with good dishes and ambiance.
You can build a bench that matches the table to make your dining time more intimate.
The following idea of DIY farmhouse tables has a strong sense of farmhouse, thanks to the unfinished raw wood material.
If you want to add a visual interest, get a plain table runner and tabletop accessories. Follow the DIY farmhouse table instructions to help you out.