Due to the COVID-19 pandemic, homeowners and families have rediscovered the joys of a cozy and comfortable outdoor living area.
As a result of the quarantine restrictions of the pandemic, outdoor living areas are no longer only used to entertain. It has now become a multipurpose area where people can cook, relax and even use it as a home office.
Since outdoor living areas are now being used more regularly, homeowners will want to decorate these spaces to look more modern, comfortable, vibrant, and homely.
However, decorating outdoor areas can be more overwhelming in comparison to decorating rooms indoors.
In this article, we'll outline a few simple décor tricks you can use to reinvent your designing an outdoor living area ideas with area rugs.
Choosing A Suitable Area Rug for the Outdoors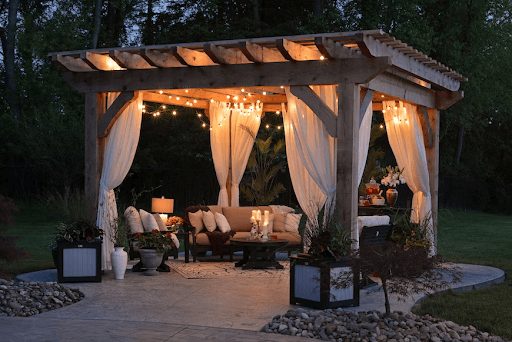 The first step in decorating your outdoor living area is choosing an area rug that will fit your tastes and furniture style. There are many types of rugs to choose from, such as Oriental rugs, Aloha rugs, and Villa collection rugs.
If you are looking to create a cozy and relaxing environment, then a villa collection rug is the way to go.
These rugs can be used indoors and outdoors and are made from polypropylene. The villa collection rugs have a modern feel due to the colors, patterns, and texture.
These carpets come in a range of colors, including blue, pink, charcoal, copper, and green. The range of patterns, lines, and geometric shapes makes it suitable for any decorative theme.
In most cases, outdoor rugs are made from synthetic fibres as they maintain colour, are resistant to mould and can withstand damage from hot summer weather and frequent barbecues.
Other types of rugs most suitable for the outdoors are those made from nylon, polyester and acrylic. Nylon is one of the most popular fibres used in the carpet manufacturing industry after polypropylene.
This is because nylon is durable, easy to maintain and suitable for high-traffic areas such as an outdoor living areas.
Polyester and acrylic rugs are made from softer fibres and are more suitable for outdoor living areas with less foot traffic.
Deciding on the Best Size for Your Area Rug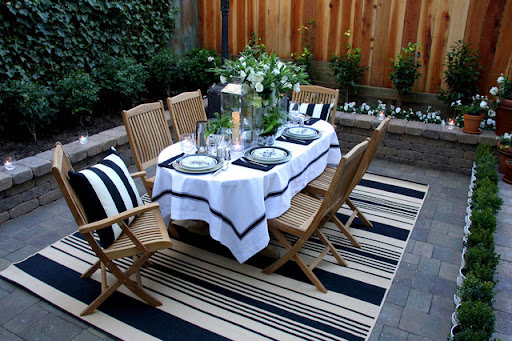 When decorating any room with rugs, one of the first things you should decide on is the size you need.
In this step, you will need to think about the furniture you have and how you plan to set up the area.
For example, if you have an outdoor dining table, then your rug needs to be large enough so that the legs of the chair always stay on the rug. Yes, even when the chair is pushed back.
If you plan to include a luxurious seating area instead, you will have more freedom to set up your outdoor living area.
In this instance, two legs of the sofa should be on the rug at all times, which creates the illusion of extra space.
On the other hand, you can have all four legs of the sofa on the rug, which creates a cozier feel.
Moreover, this location is close to the front yard landscaping ideas and wants to add a swimming pool. Of course you have to think carefully
Choosing a Shape of the Area Rug for the Outdoors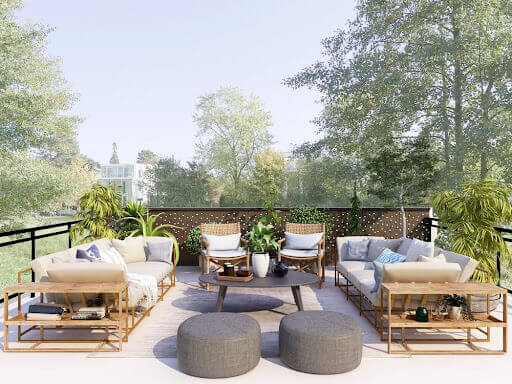 Area rugs come in a range of shapes such as square, rectangle, circle, oval, and runners.
With a wide range of shapes, you will have the freedom to decide on how you want your outdoor living area to look.
If you want to move away from the standard rectangle rug shape, then a circle or even hexagon-shaped outdoor rug will suit you.
Choosing a different shape of rug will introduce a new and unique element to your outdoor living design.
In addition, if you are using smaller outdoor rugs, you can have two or three rugs of different shapes. This will create the idea of extra space, allowing you to create a cozy, warm and homely feel.
The Best colors and Patterns to Use in an Outdoor Living Area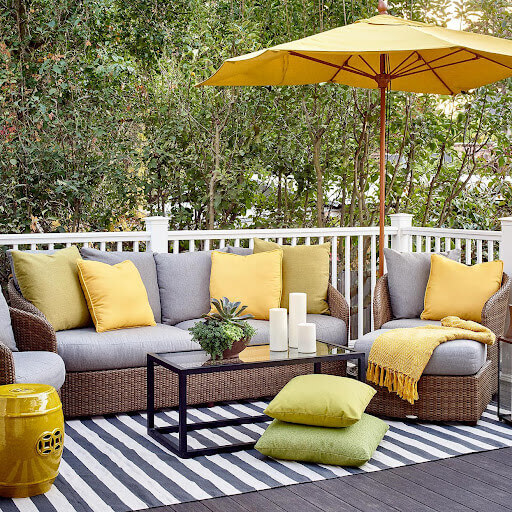 The colour palette and theme are key when decorating any area or room, especially when decorating an outdoor living space. Having an outdoor living where the colors and style of furniture clash is an eye sore.
Therefore, when decorating, it is vital to make sure that your area rug and furniture complement each other in terms of colour, pattern, and texture.
For instance, a green or copper rug will fit right in if your outdoor furniture is different shades of brown.
The theme of nature and anything green is key when decorating an outdoor living area. Therefore, when choosing an area rug, you can opt for one with bright, vibrant colors and snazzy patterns.
For example, an area rug with different leaves, diamond shapes, and horizontal lines is perfect for outdoor spaces.
When deciding on the pattern of the rug, remember to consider the patterns on your furniture as well. This can include the patterns on the outdoor seating, pot plants, front porch ideas, and decorative pillows.
Designate Areas in an Outdoor Living Area Using Rugs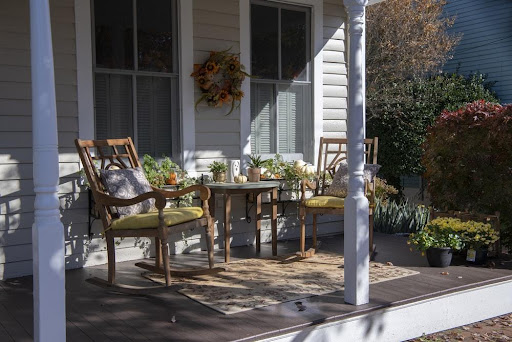 A popular way to make outdoor living more family-friendly is to separate the area into different sections.
Outdoor living room have a large open plan design. Certainly different from mid century modern living room ideas that are in the room.
Using area rugs and smaller rugs is an excellent way to separate the area and use the large space more efficiently.
For instance, a large area rug under an outdoor dining table will separate half of the outdoor living area. The other half of the area can then be used as a seating area or for an outdoor bar.
Decorating Your Dream Outdoor Living Area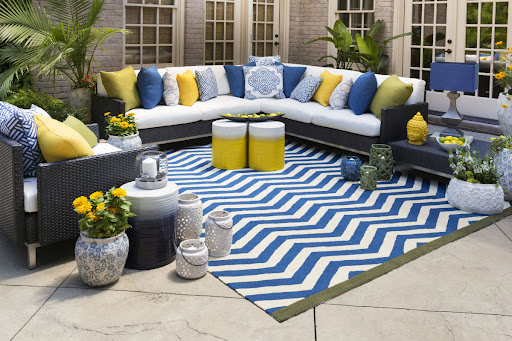 When decorating and designing your outdoor living area, there are many factors to consider. This can range from anything from the colour of your furniture to decorative accessories and even the materials of a carpet.
In this article, we have discussed a few simple ideas that you should think about when creating your perfect designing an outdoor living area ideas.