Kids and organizing usually don't get along well. After all, all kids like to play. And when they do so, they often leave a disorganized mess that the adults need to take care of later. No more of that. Our toy storage ideas here will help you keep your kids' toys organized in a fun and exciting way for them.
With the 21 ideas that we listed here, you will get insight on how to organize toys and make the best of available space. All is done in a way that makes it fun and exciting. Alright, with no further ado, let's get started.
DIY Toy Storage Ideas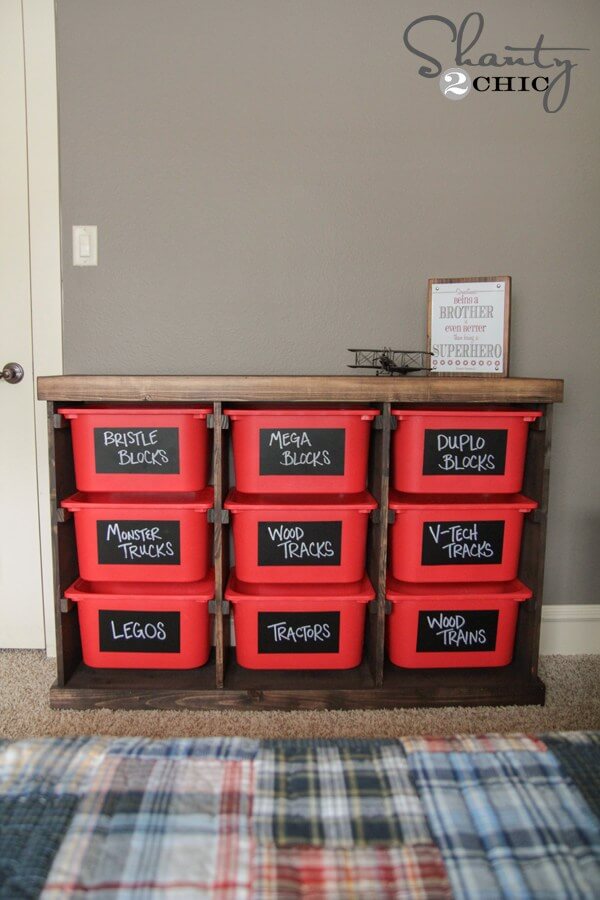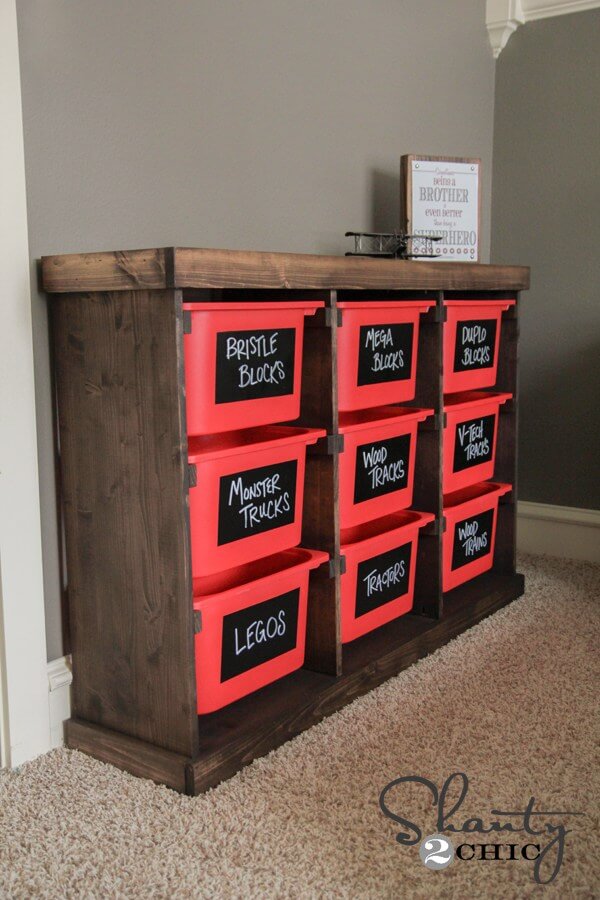 Kids love toys. And they will have more and more toys as they grow up. This results in them having a lot of toys. If your kids have a lot of toys, it is best to categorize and store them separately.
For example, this box is for lego, that box is for puzzles, the box in the corner is for cars, you get the idea. So, to make things easier, prepare several boxes and a cabinet.
Be sure that the cabinet can hold these boxes. Then, organize the boxes in a way that they can be reached by your kids easily.
Label Drawers With Chalk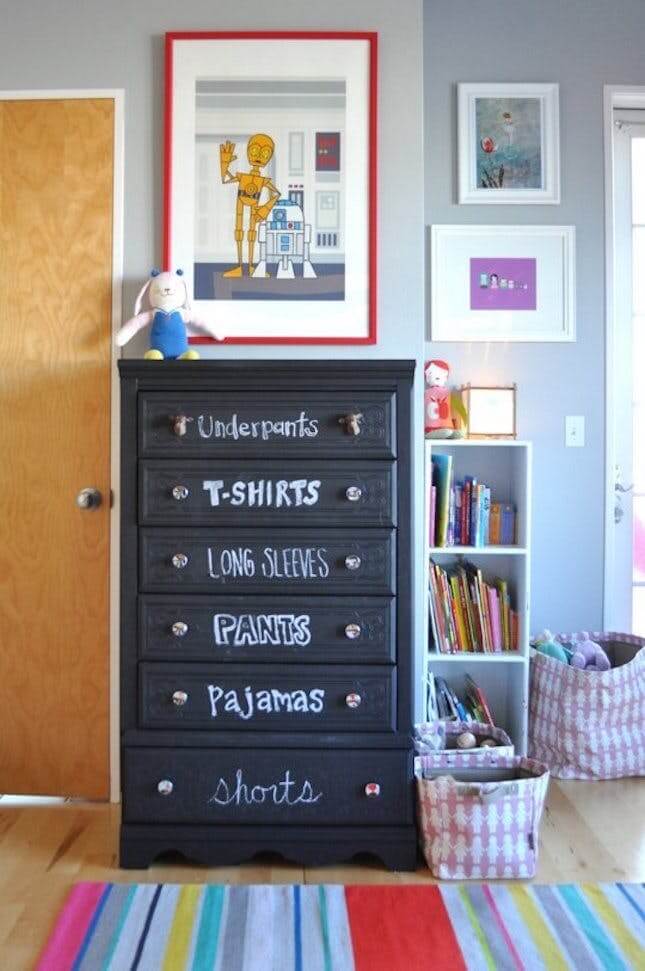 Perhaps your kids don't have that much of toys? In that case, a cabinet with several drawers will be just fine. Just like any other toy storage ideas, you need to categorize the storage. With a cabinet, you can write the content of each drawer on its front.
Using a cabinet is a good idea as all of the toys are stored in just one place. This makes organizing and managing a lot easier. It will be easier for your kids to find the toys that they want to play, too.
Cute Baskets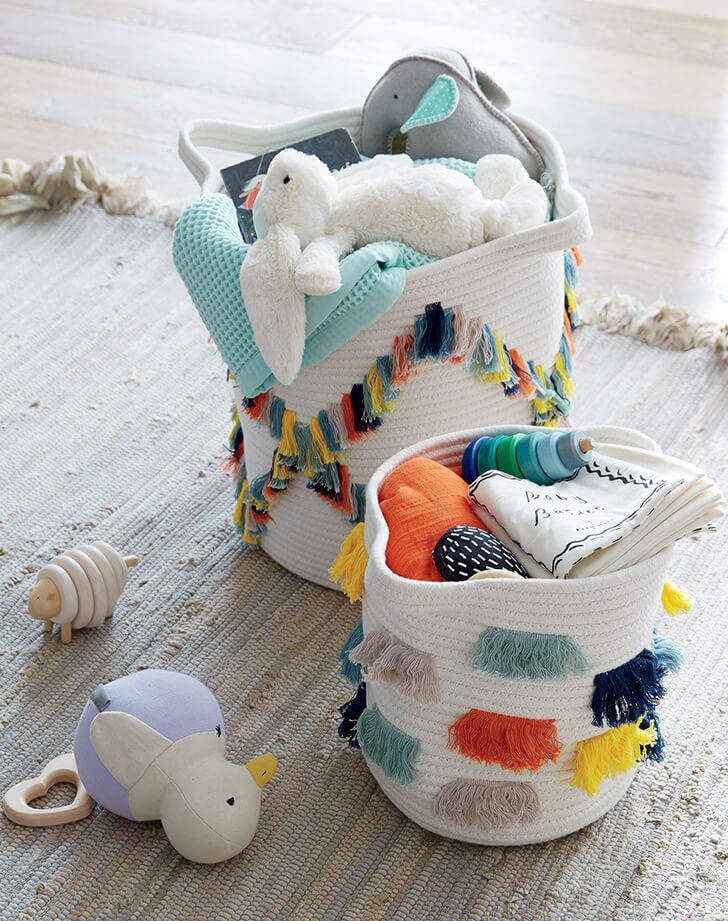 When doing things for kids, always keep fun in mind. Yes, that applies to their toy storage as well.  Being playful and fun wouldn't hurt, so you might want to try it. Here's an idea: use cute baskets to store your kids' toys.
Cute baskets like these look very appealing and memorable. While these baskets can be used to store just about any kind of toys, they fit fluffy toys the most. Another nice thing about them is that they are very portable. You can move it anywhere with ease.
Toy Storage for Living Room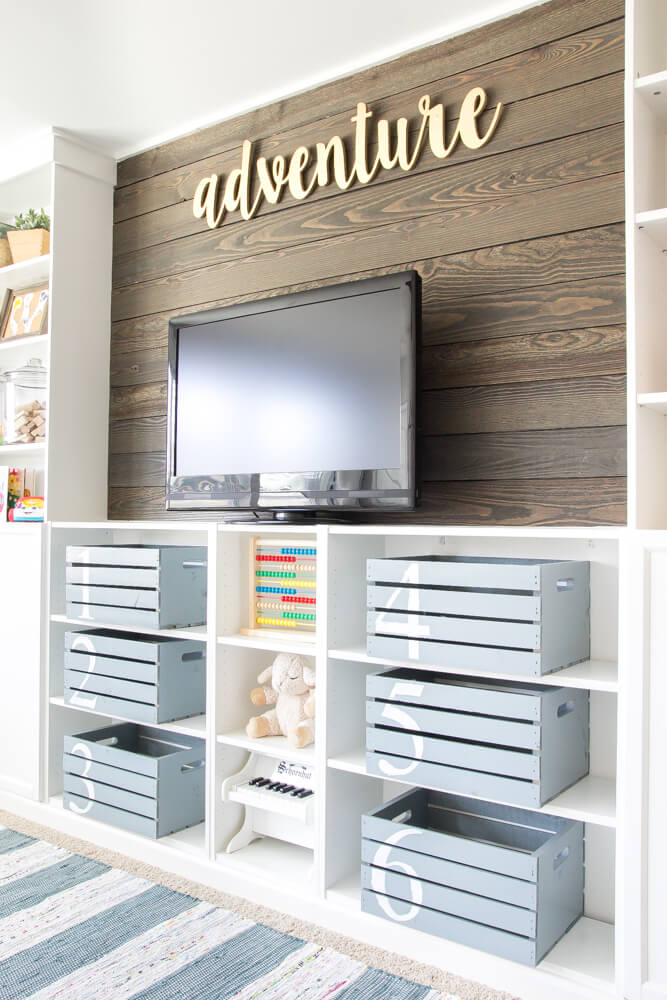 If there are lots of toys and they are heavy, crates are among the best toy storage ideas. Crates are designed for shipping, which is why it is easier to move around than other types of containers. They are also open at the top, so the kids can just grab their toys without having to call you to open it.
To include fun and playfulness, paint the crates with bright color. For example, paint them sky blue to contrast with the white cabinet. Writing or labeling each crate is a great idea too.
Toy Storage Ideas for Playroom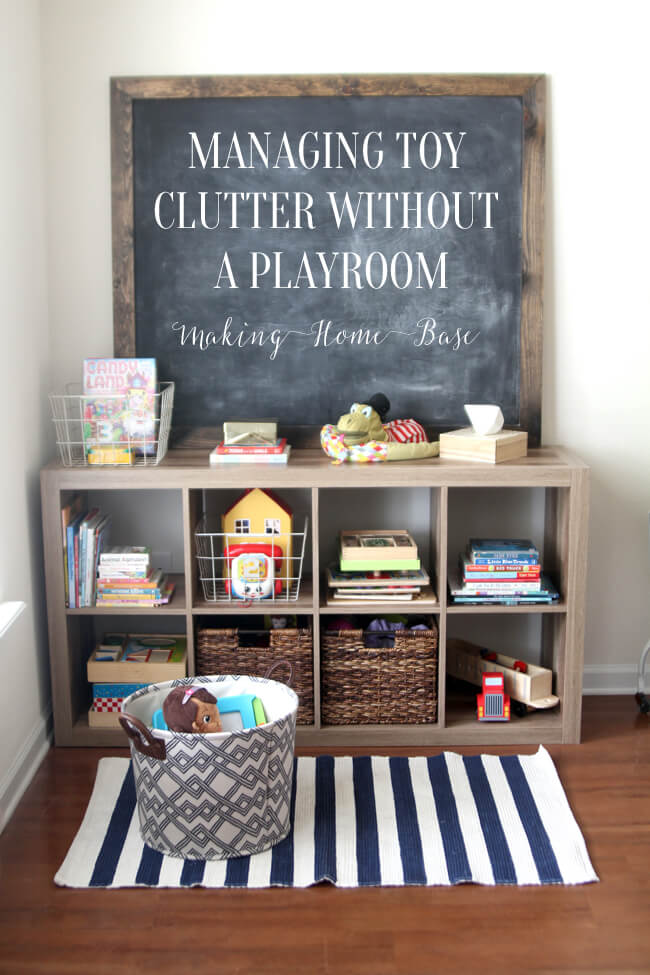 The next in our toy storage ideas list involve corners. Most parts of a house are usually filled with furniture. That is, except the corners. It is difficult to decorate corners, much less turning it into something useful. Here's a good idea: turn it into toy storage for your kids.
Notice how the cabinet occupies a small part of the corner. In front of it, there is a mat that makes it comfortable to sit on. In a way, the otherwise unused space becomes some sort of playroom. Both you and your kids will like it.
Wood Bulk Bins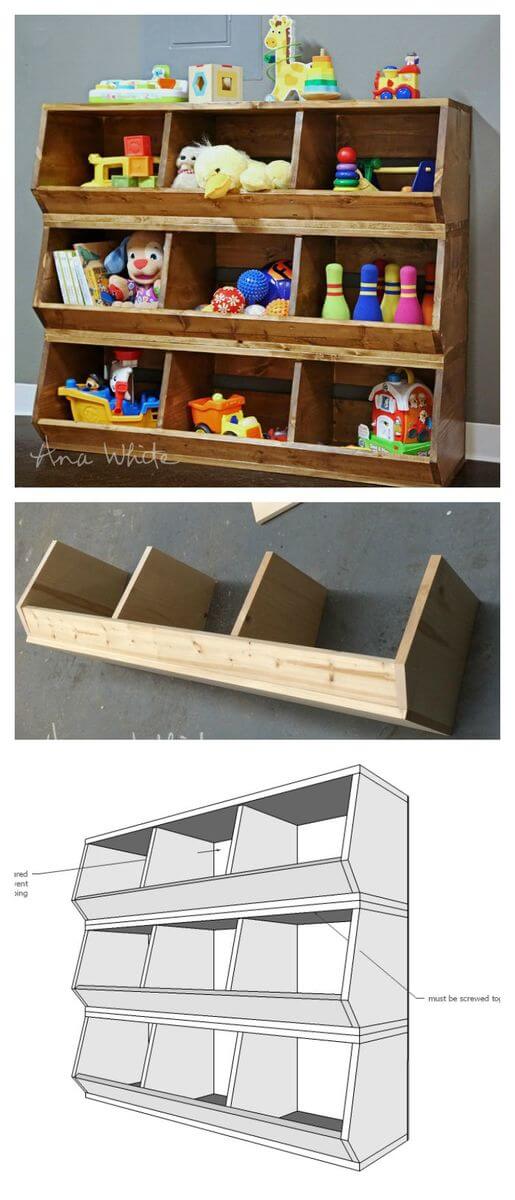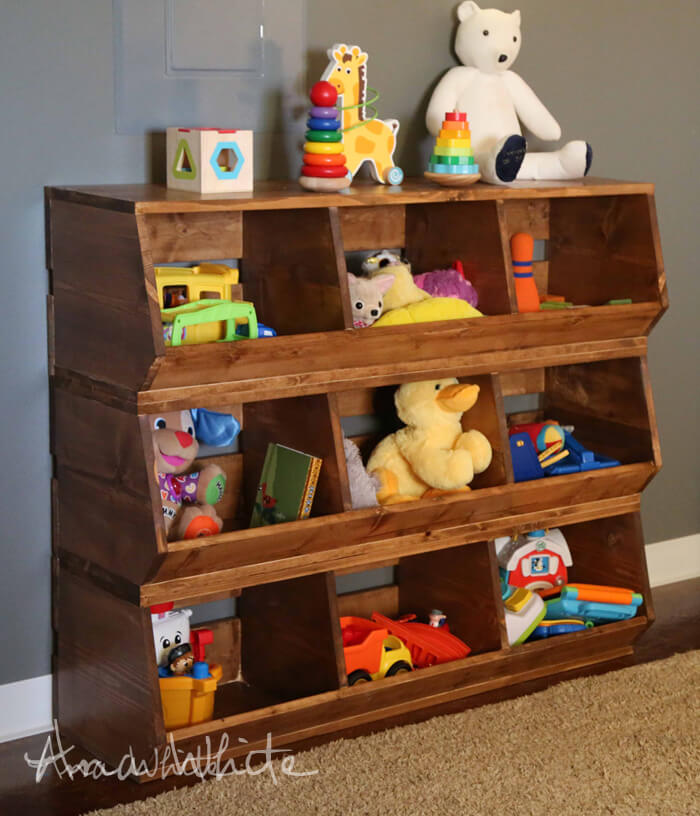 Perhaps you want toy storage DIY? If that is the case, just make one. The main advantage of DIY storage is that you can design it the way you want. The same thing can't be done to a premade storage.
These wooden toy storage DIY bulk bins are simple. All you have to do is to create two racks with three shelves in each. Then, stack one on top of the other and there you go. Now your kids have simple toy storage for their toys. The storage is short, so it can be reached by children of all age.
Simple Book Bin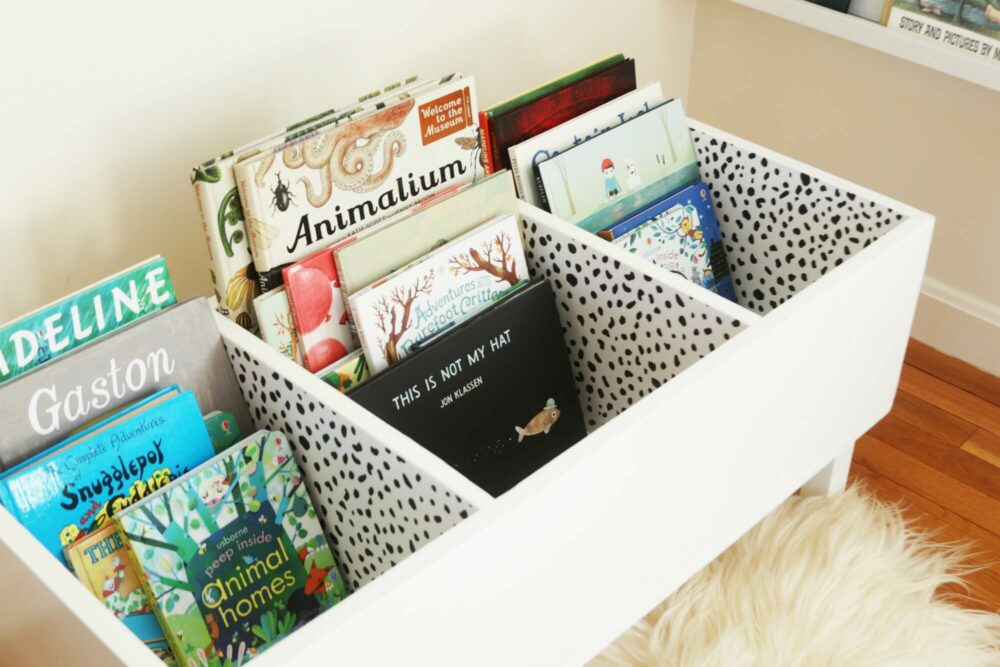 A book bin can make good toy storage. The only requirement is that the bin is short enough the kids can reach it easily and large enough it can hold many toys.
If you want to make it more interesting, pick a book bin that has light color outside and patterns inside. Since the book bin is sizable but not too bulky, it can be carried anywhere.
Indeed, portability is one of its benefits. If simple toy storage is all you needed, a book bin is among the most fitting toy storage ideas for you.
Outdoor Toy Storage Baskets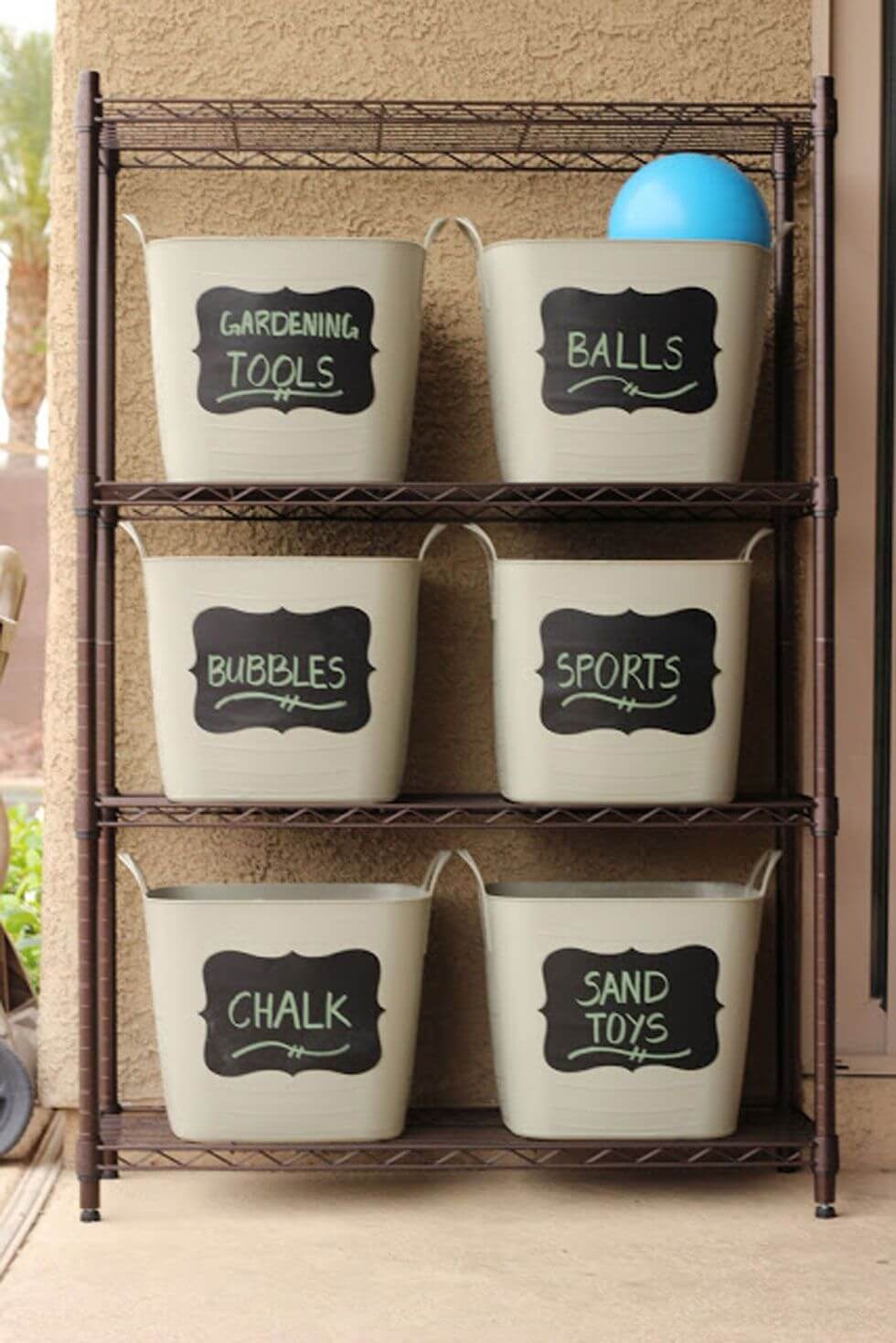 Children love playing with their toys anytime, anywhere. That includes outdoor, of course. One of the best things you can do to accommodate your kids' needs to play and make things more manageable is to add extra storage outdoor.
The outdoor toy storage organizer should be able to hold many large items. For example, various sizes of balls, sand toys, kids gardening tools, and items needed to play outdoor sports, among others. Also, label each container so it is easy to know which is which.
On the Wall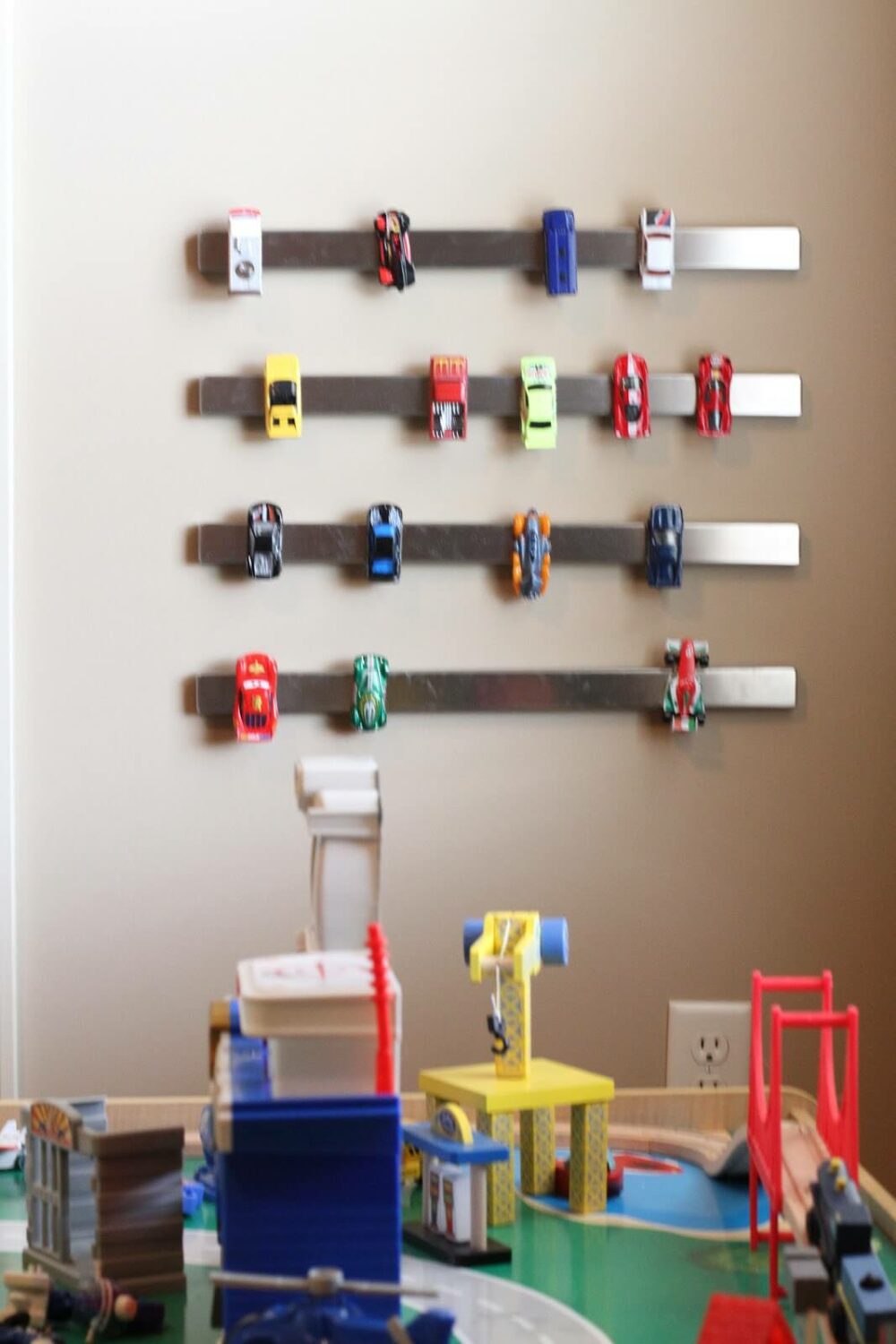 Compared to the other toy storage ideas here, this one is among the most creative ones. How could it not? Rather than, storing the toys in a container, they are showcased on the wall. This makes the wall more interesting, not to mention they are easily accessible by kids and space-efficient too.
All it takes is several magnetic platforms installed on the wall. And that's it. With such toy storage wall, your kids can store their favorite metallic toys on the wall. Simple? Yes. Practical? Without a doubt.
Toy Storage Furniture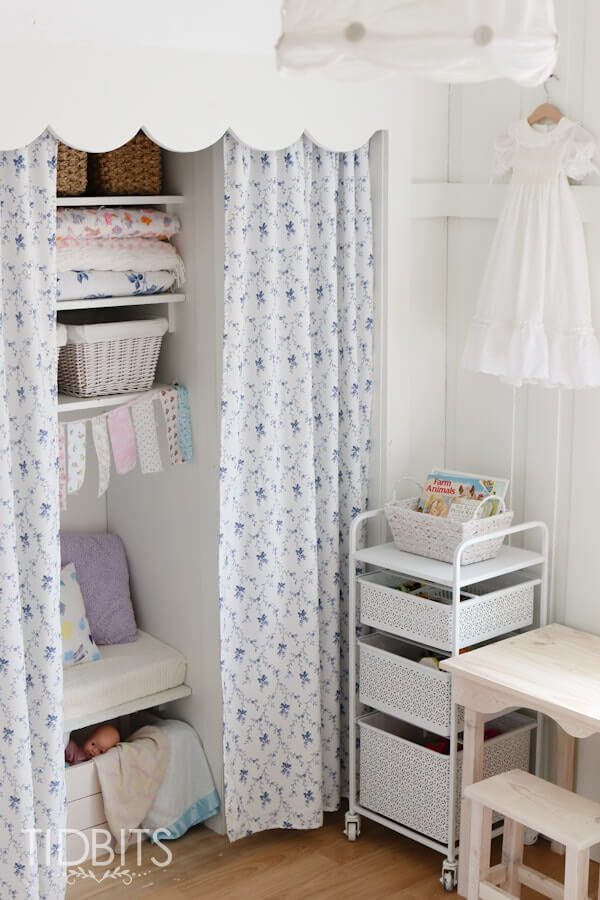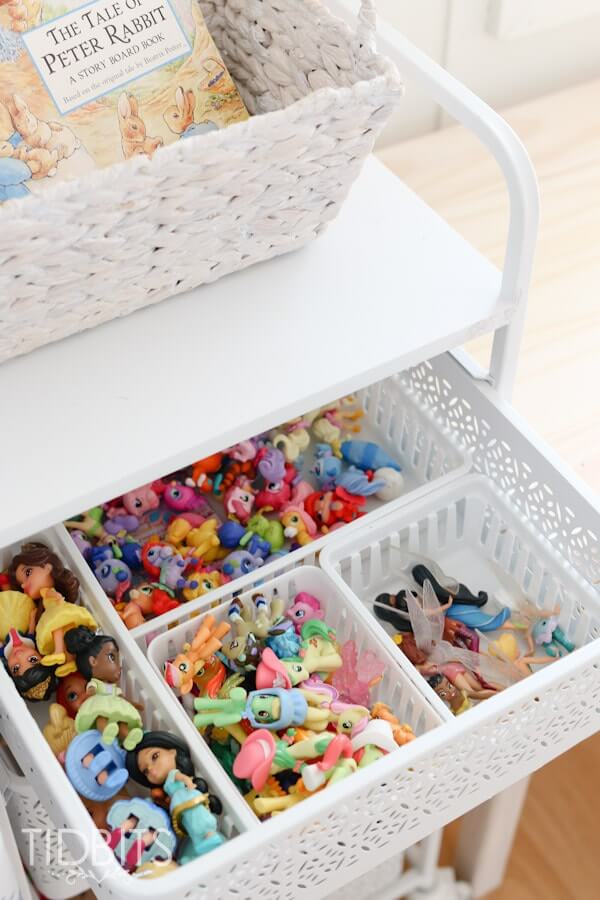 Girls love to play with dolls. Unlike boys, however, girls need less toy storage for their toys. Since girls don't need as much storage as boys do, you can turn a table with drawers into storage for your little girl's dolls.
To make it more organized, divide each drawer into several sections. One section is for the dolls, one section is for doll clothes, the other is for accessories, for example. You can involve your girl by teaching her how to store her dolls inside the appropriate storage. That will be fun!
Toy Storage Ideas in Bedroom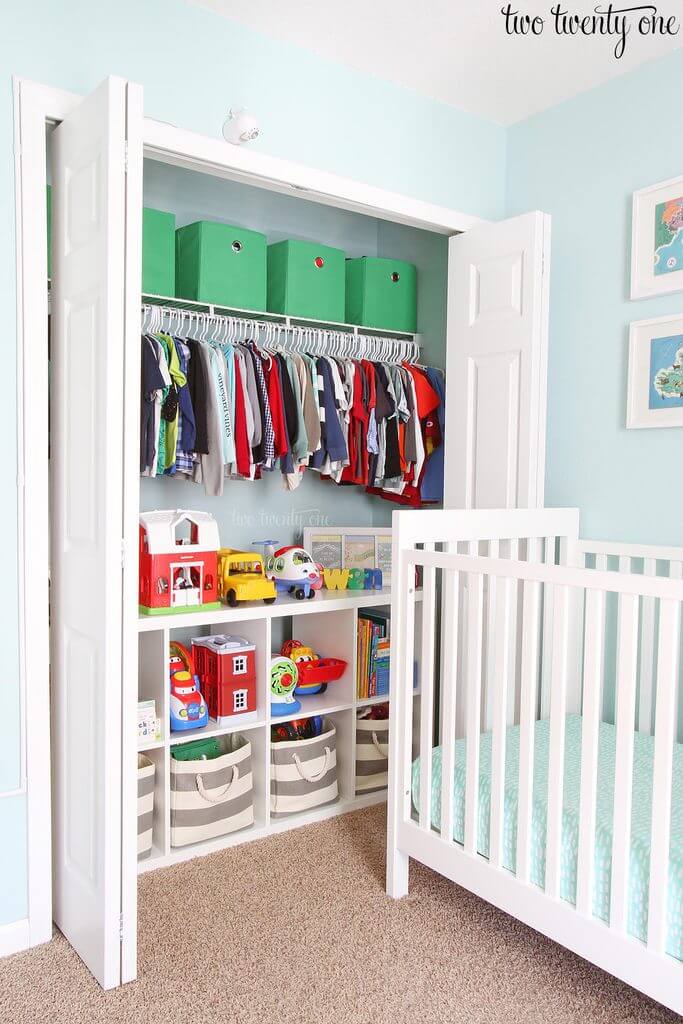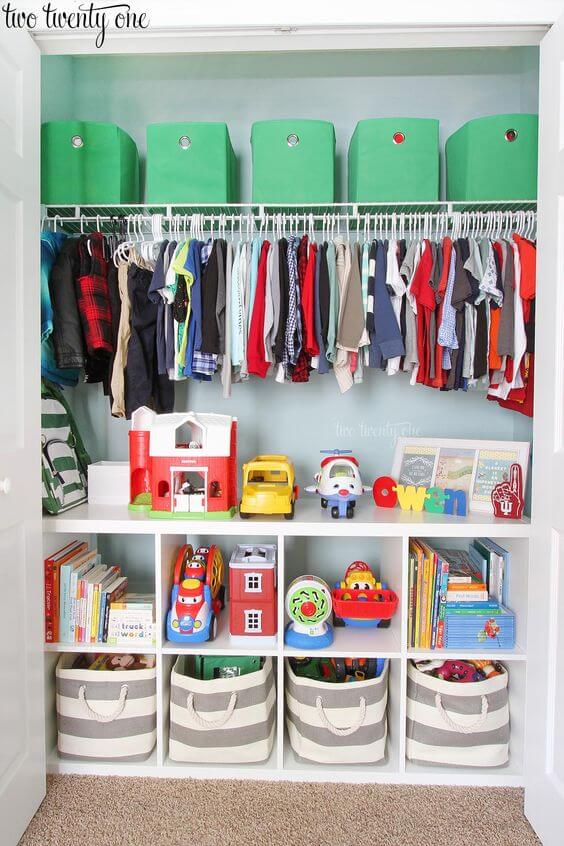 Tired of tidying up separate storage? Here's a quick solution: create all-in-one storage. All-in-one storage like this will be very helpful in keeping things tidy. Better yet, it doesn't eat up too much space and when you have to clean up, it is done in one place.
Since it is all-in-one storage, the toy storage is here as well. But, unlike other items, you need to keep it within kids range at all time so they can take any toy they want to play whenever they want. Want to make it better? Build this storage near the kids' playroom.
Having a separate room for your kids to play inside is nice. But, what kind of playroom should you have? Our kids playroom ideas here will inspire you.
Ladder Toy Storage Ideas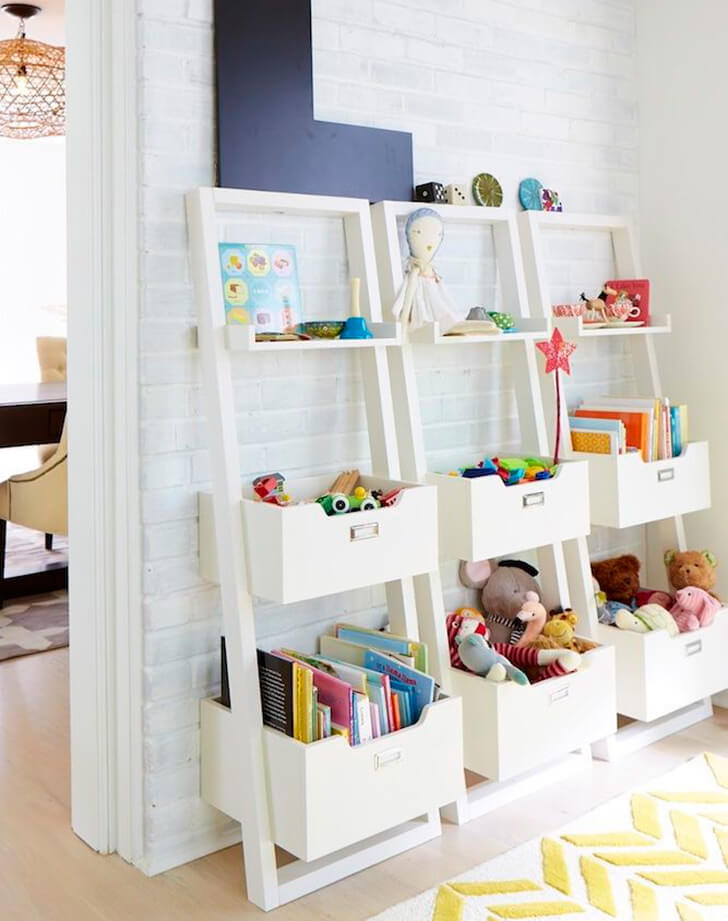 The main focus of storage is its functionality. However, that is not to say that the appearance doesn't matter. If you can make storage look good, why not do so? Our previous toy storage ideas have shown that but this one is a bit different.
The ladder-esque storage here not only store toys, but they also showcase it. This, in a way, turns the contents inside the storage into decorations.
Even more so thanks to the white background. Best of all, they can be reached by kids easily. It is an ideal combination of looks and functions.
Toy Organization Ideas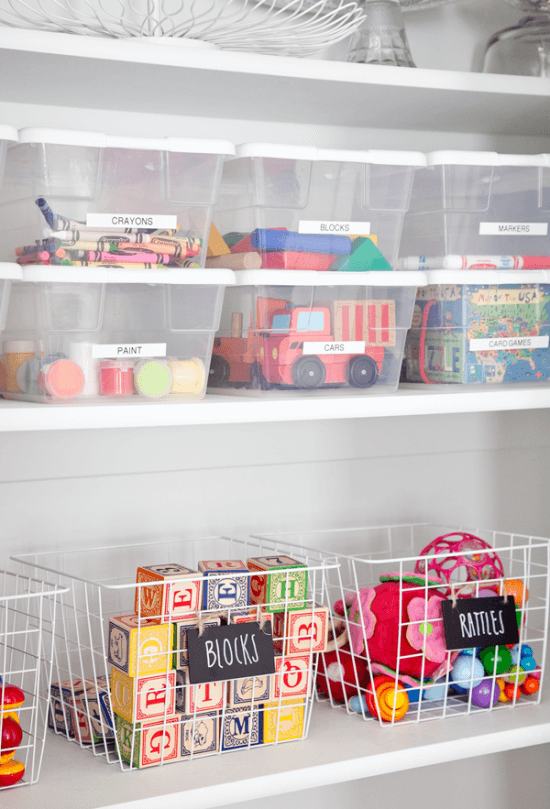 Dusty toys look bad. They are unhealthy, too. You wouldn't want your kids to play with dusty toys. The question is, how do you keep your kids' toys from dust?
The answer is to store them in containers. But if you do, won't it be difficult to tell where a certain toy is placed? Not if you use transparent containers.
Transparent containers will keep the toys from dust. At the same time, they allow you to see what their contents are. It is basically closed storage with the benefit of open storage.
Modern Toy Storage Shelves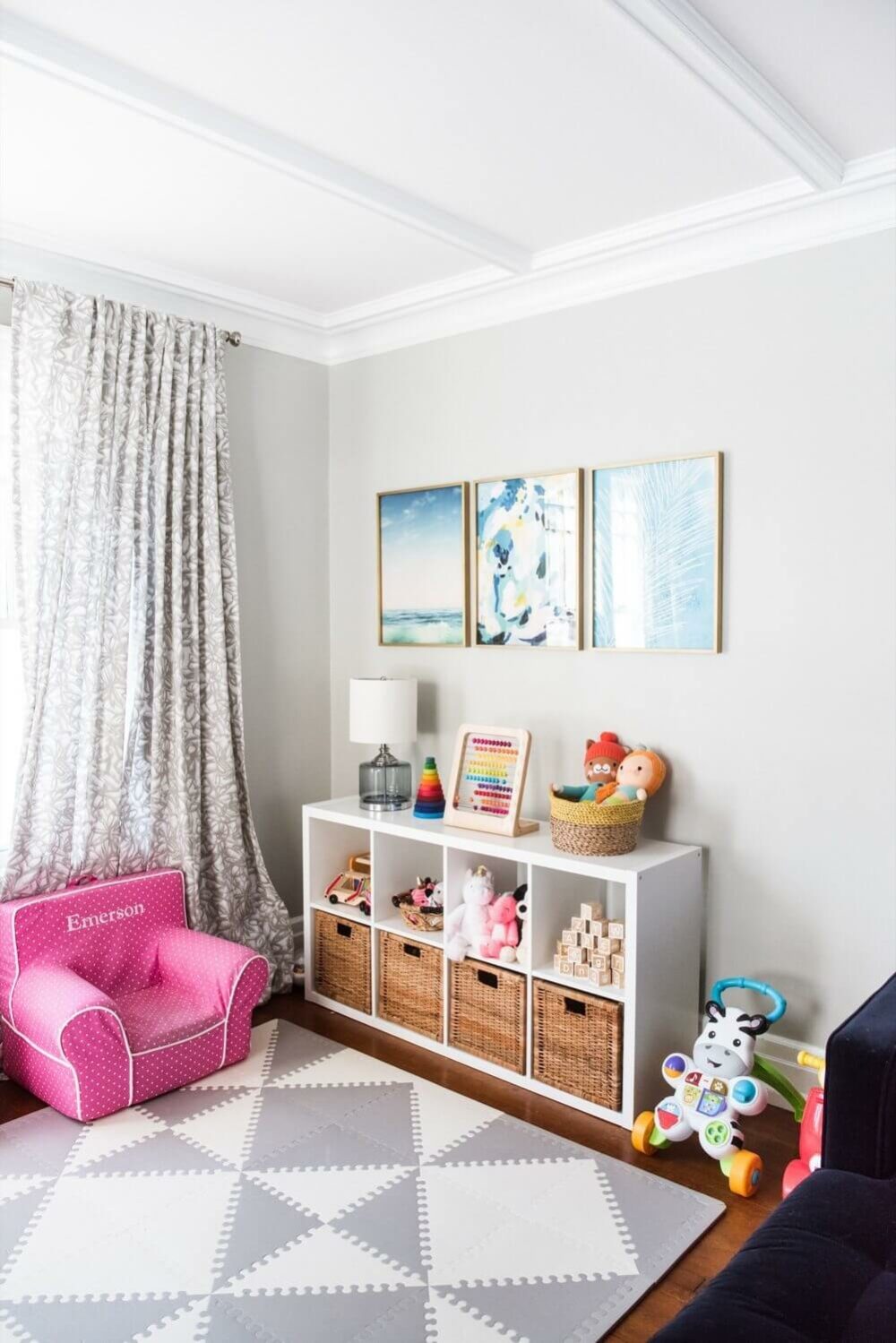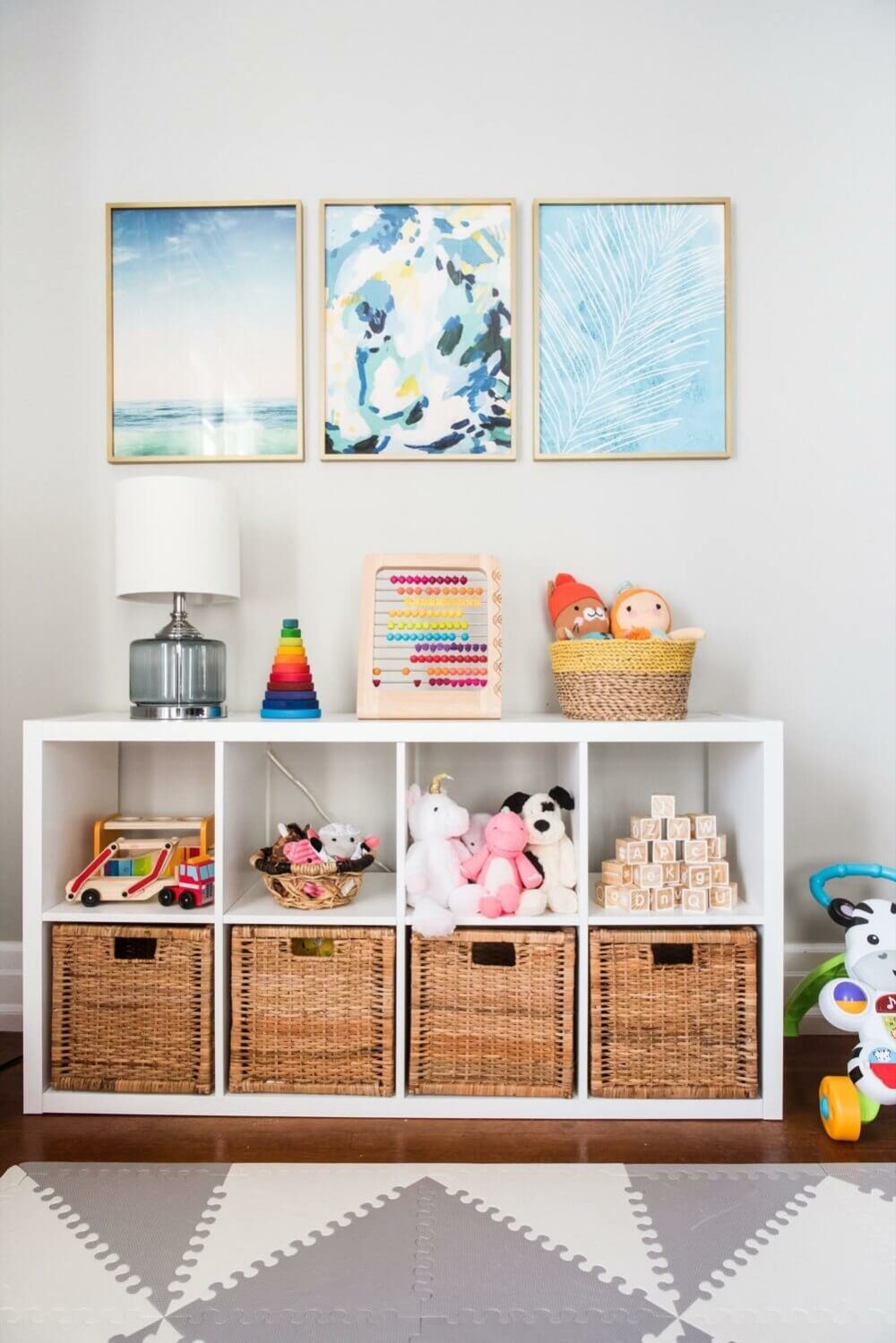 Another example of our toy storage ideas is toy storage with a modern touch. Again, the function is not be all end all focus here. There is always the option to make things beautiful.
In this case, toy storage modern will fit a modern interior though it can also be included in just about any interior décor.
Notice how the decorations are simple in design. Nothing superfluous, nothing looks obnoxious. Yet, it has enough storage for your kids' toys. For a more artistic touch and fun, you can hang relaxing pictures above the storage.
Toys Storage & Reading Nook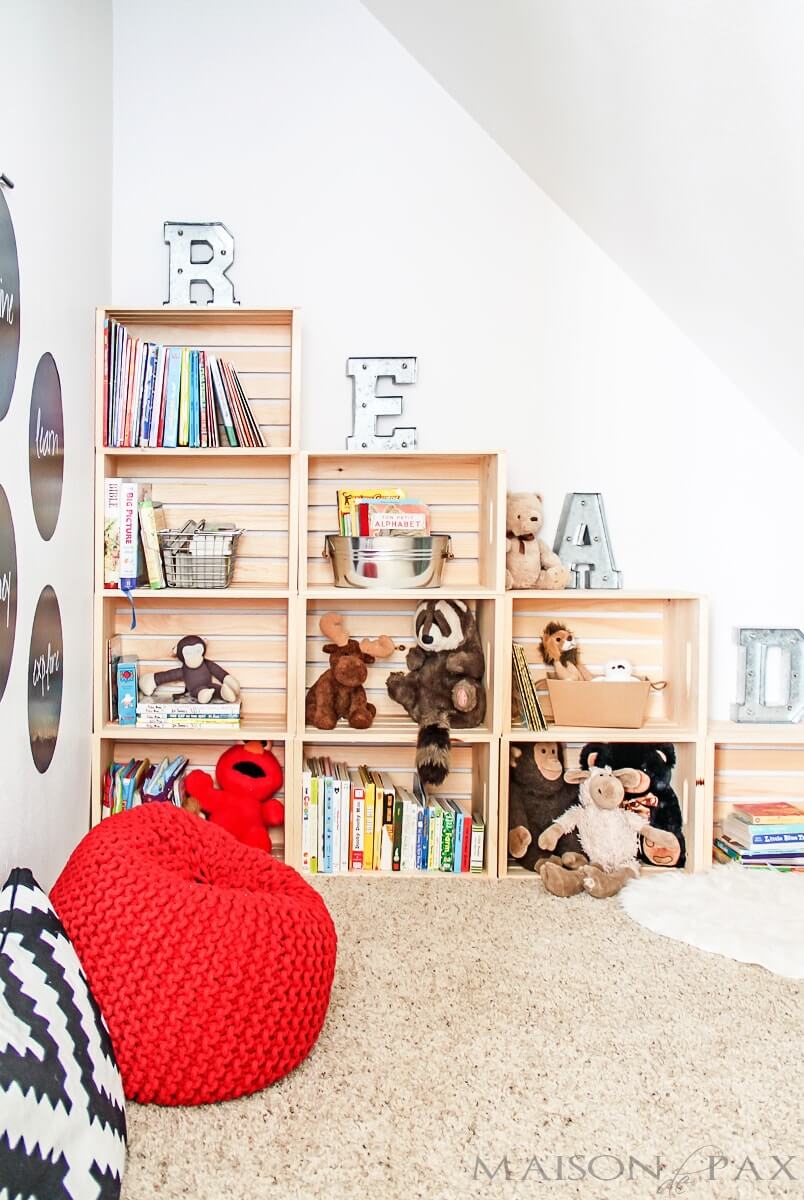 If your kids love their toys so much, you may want to create open storage for those toys. By open storage we mean storage that allows your kids to just grab the toys and play. No need to open the box or search for certain toys.
Another advantage of such open storage is that it serves as a toy gallery. The storage allows the toys and other contents to stand out and get displayed. Your kids can get the toys they want and you get good-looking décor. It is a win-win solution.
Handling a room for a toddler is very different from that of an older child. Don't know how to design a room for your toddler? Check out our toddlers room ideas for inspiration.
Simple and Clean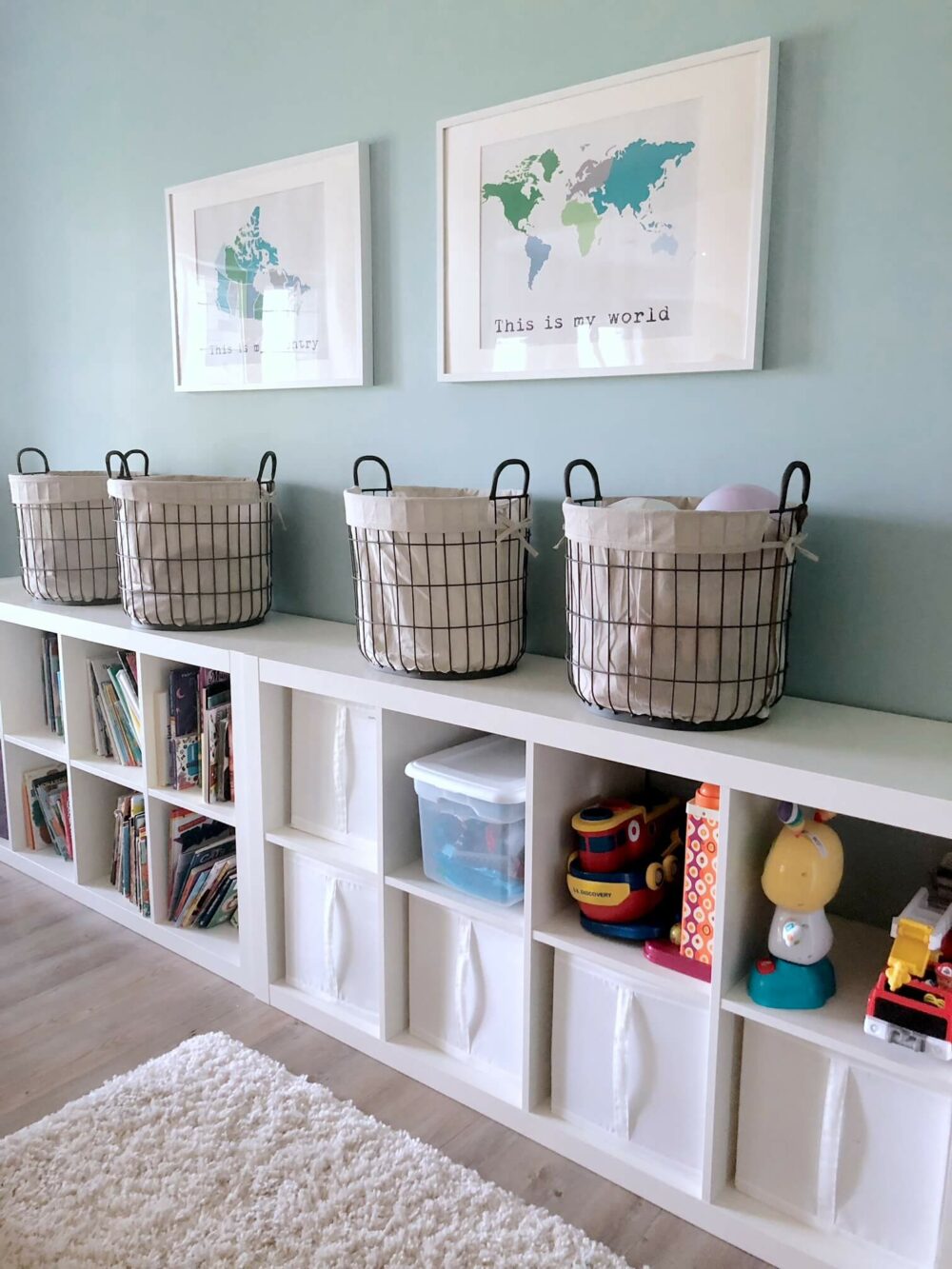 Can less be more? In some cases, it can.  This storage for small spaces just proves that. Rather going for a bright and bold décor, go for a décor that looks simple and clean. Notice how there isn't anything in the storage that stands out too much. And yet, it looks attractive.
The long, horizontal cabinet is a smart choice. Since it occupies the lower half of the wall, it frees up the upper half. Since the upper half is empty, you can decorate it with anything you want. For example, your kids' drawings.
Soft Toy Storage Ideas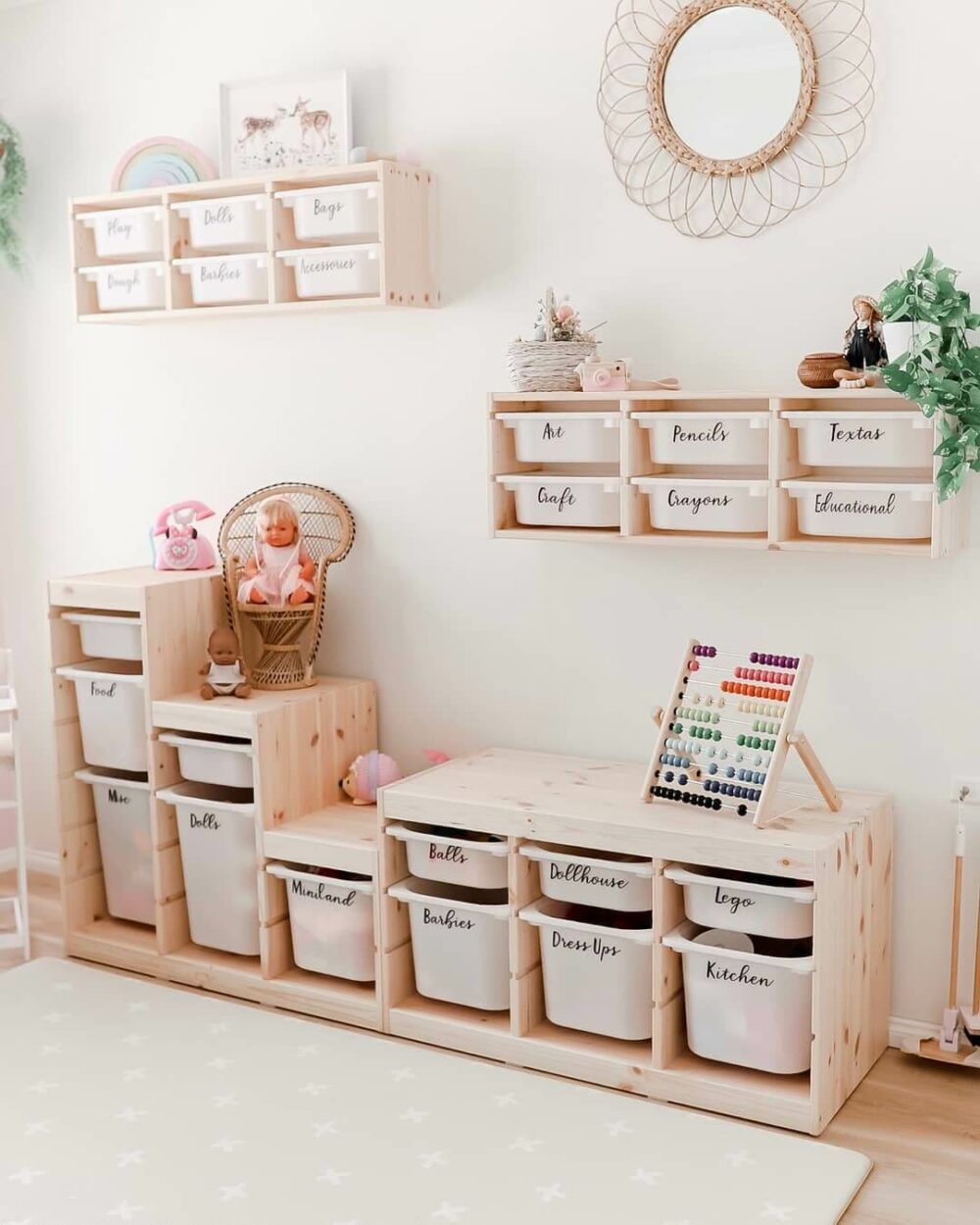 Next in our toy storage ideas is to build lots of storage. Some of us have more than one kid. If you do, you probably will need lots and lots of storage. Lots of storage will make it easier to manage your kids' toys. This is particularly true if your kids have different toys.
To make the toys easily manageable, write or label each container box with the content's name. So, a box with puzzles inside will be labeled "Puzzle," cars labeled "Cars," lego labeled "Lego," and so on so forth. Want to make it more fun? Allow your kids to write or label their own boxes.
Open Toy Storage Window Seat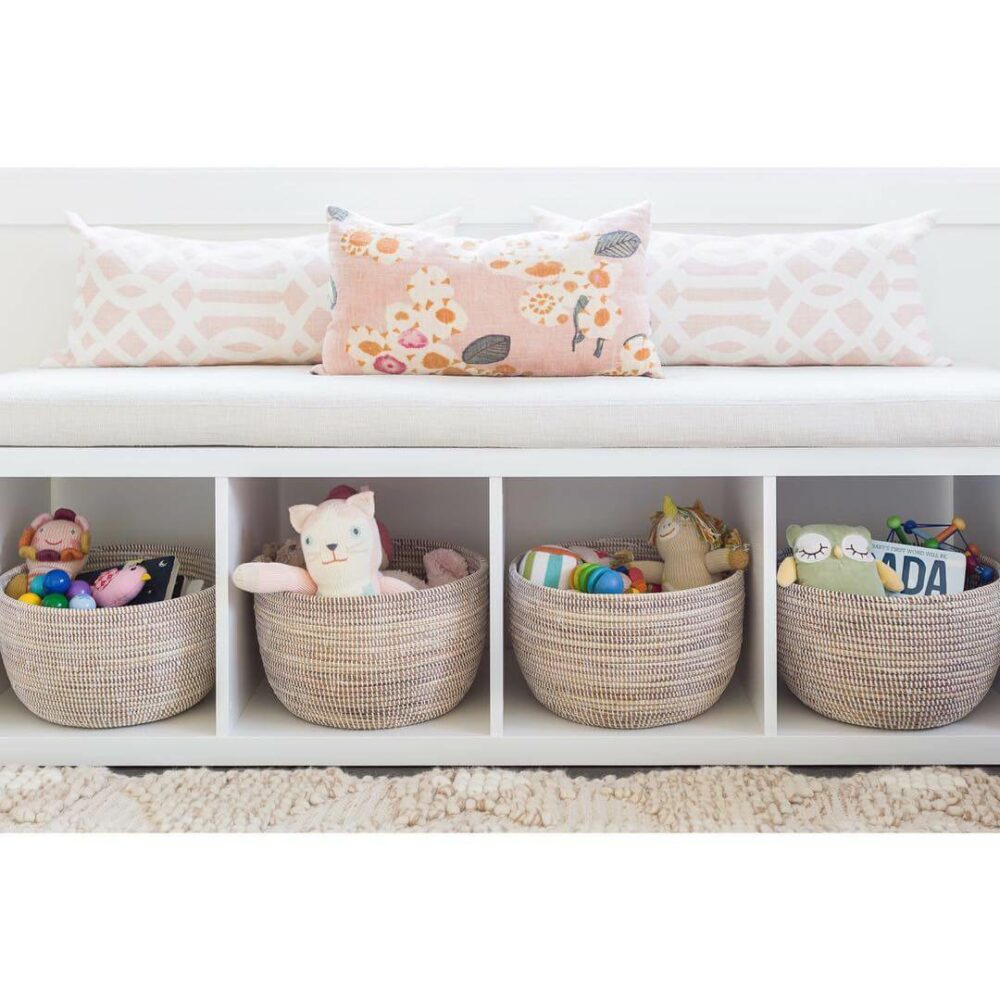 Who doesn't like 'hidden' storage? Most people do. After all, such storage is often not visible to the eyes but still have the functionality of the usual storage.
This one is 'hidden' toy storage for living room. Notice how the above of the storage has a cushion and pillows on it. That's right. It is a sofa/storage.
Clever space-efficient storage like this also fits you if your living room is small. It doesn't use up available space and yet, you get extra storage. When your kids are done playing with their toys, you just need to put those toys under the sofa. Neat, isn't it?
Organizing Playroom Toys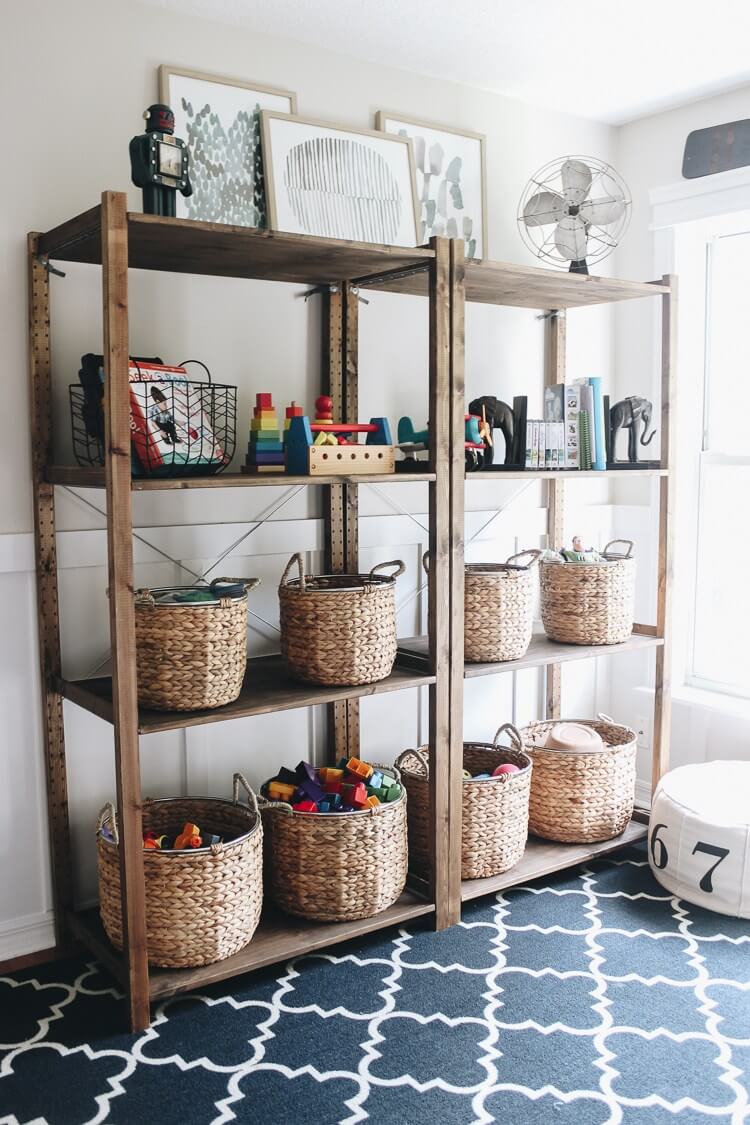 The last example in our toy storage ideas is open cabinets with baskets. This kind of toy storage cabinet is for you if you want to store your kids' toys while making the room feel open. Notice how there is a minimal constriction in the storage.
To make organizing a lot easier, consider adding toy storage baskets rather than placing the toys directly on the cabinets. With baskets, you can move the toys around quicker and with ease. It works well if your kids love to play around the house.