Need some succulent garden ideas for inspiration? The succulent plants have gained popularity recently. It is not surprising.
The succulent plants come in various size, shapes, and colors. They generally don't need to be watered frequently and can be planted both indoors and out too.
There are plenty of ways you can create a succulent garden. Below, we listed 16 different and unique gardening ideas that you'd want to try.
Upcycled Ideas for Succulents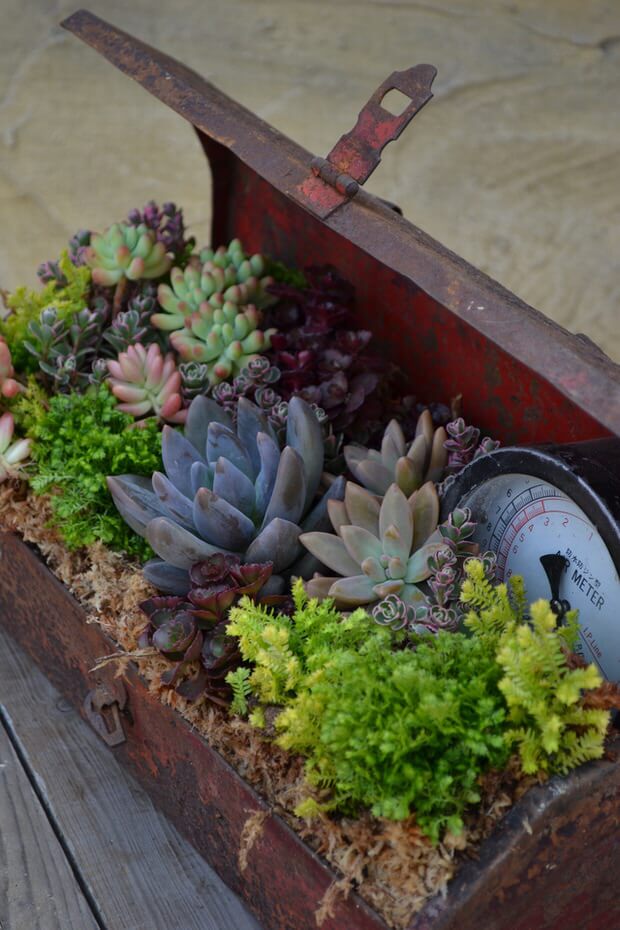 Have an unused toolbox? Here's a good idea you can try: turn the toolbox into a makeshift pot for the succulents. Will it look good? Well, of course. Succulents come in various colors. That means you can combine several colors at once, creating a very interesting pot.
If you want to try creative ideas for a succulent garden, turning unused items like a toolbox is certainly a good idea. Not to mention it is inexpensive too as it doesn't need many items to create.
Succulent Rock Garden Ideas

Since succulent plants come in various sizes, you can try lots of ideas for a succulent garden. Yes, including small succulent garden ideas. Here is the next idea in our list is to create DIY pot from stones.
Look how small the pots are. And yet, the succulent plants fit well inside the pots. The colors of the succulent plants only make the pots even more interesting. So if you love doing simple DIY projects, this is one of the best DIY succulent garden ideas that you should try.
Happy and Healthy Succulents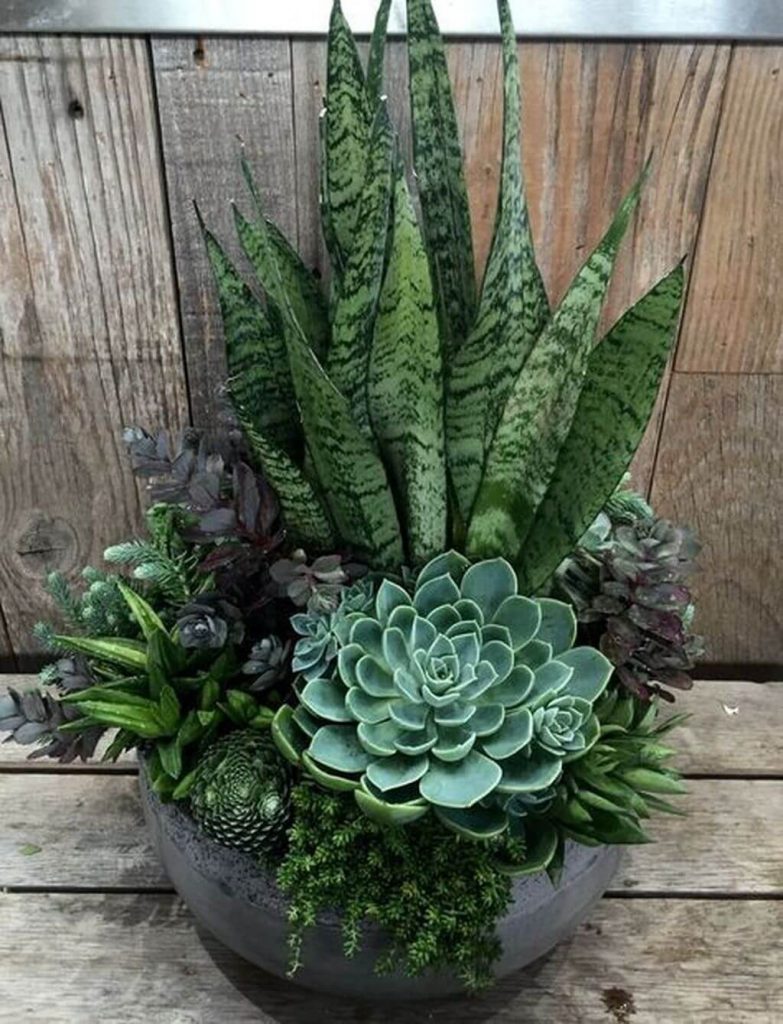 What if you just have one pot? Well, no need to worry. You can always go for the small-sized succulents and plant them in a single pot.
If there is enough room, you may be able to add other plants, too. It is a great solution if you have limited space to use for a succulent garden.
Planting several plants, among the succulents, in a single pot gives you a very unusual and unique tiny garden. This is particularly true if the plants have varying colors.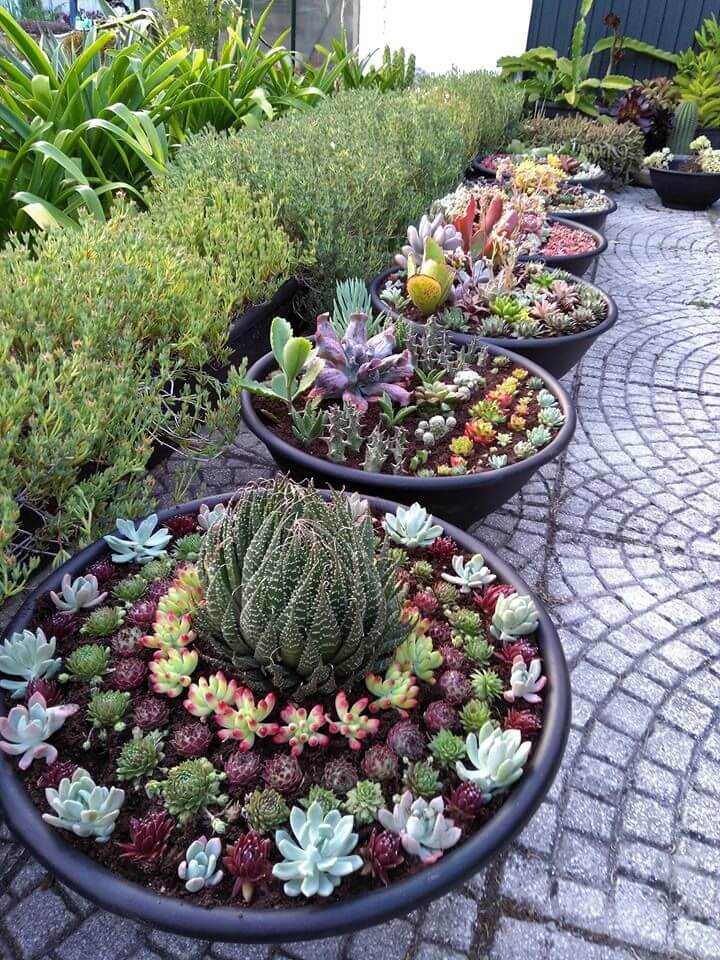 If you
have a spacious garden
like colorful pants
have the time to take care of succulents
Then creating a mini succulent garden is perfect for you. With succulents, you can mix and match various colors in a single pot. Not to mention you can play with the size differences as well. Yes, succulent plants are that versatile.
Better yet, since the succulents are planted in pots, you can take them just about anywhere you want. It doesn't matter outdoor or indoor as succulents can live in both. This gives you the freedom to design the garden in any way you want.
Speaking of gardens, are you interested in creating your own herb garden? If you are, check out our herb garden ideas here to get inspired.
Box Planters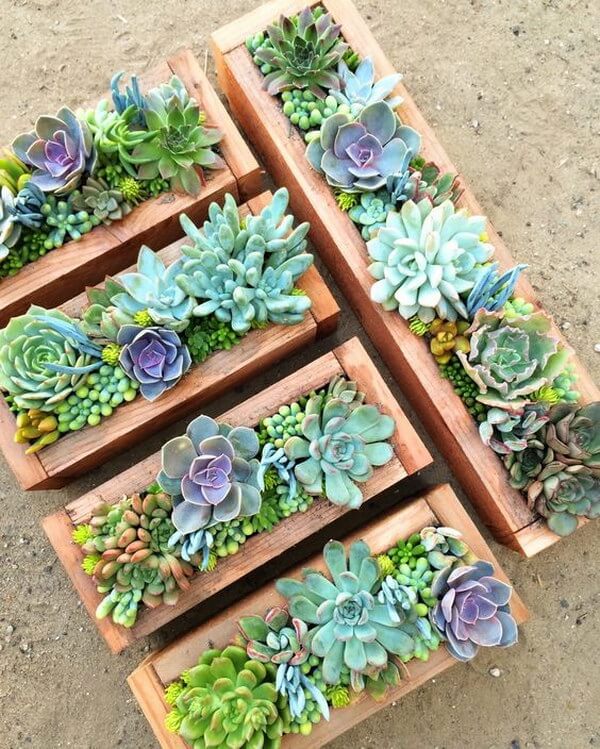 The next idea in our succulent garden ideas list is to use box planters. Since the box planters have rather simple looks, the highlight is on the succulent plants. This is a smart and practical way to make the succulent plants stand out.
To make the succulent plants more attention-grabbing, use unfinished wooden box planters. The contrast between the succulent plants' colors and the planters will create a very interesting look in the garden.
Tree Stump Succulent Garden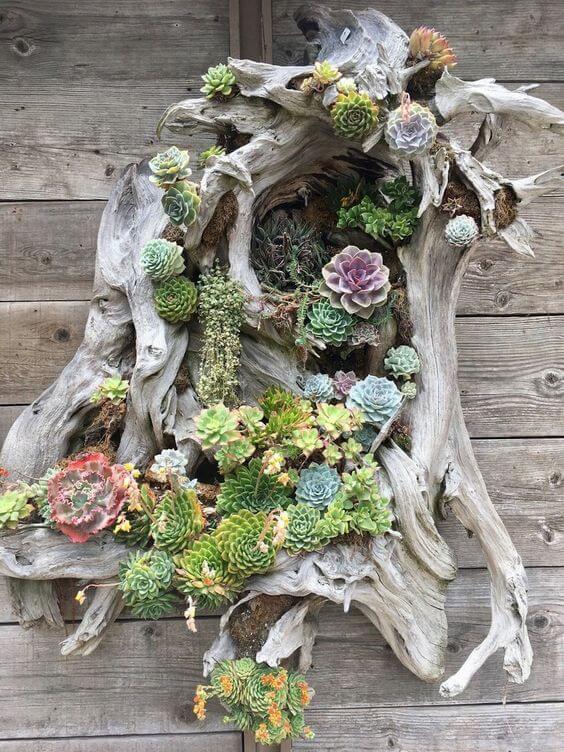 Do you have a tree trump that has been dried? If so, rather than leaving it unused, why not create a 'hanging' garden by putting the succulents in its crannies and nooks? That will be awesome! A 'hanging' garden like this is very inexpensive yet looks so appealing. No guests can just ignore such a garden.
Do you want to turn the garden into a focal point? If you do, you can attach the dried tree on a wooden wall, preferably one that has no finish. This will make the succulents stand out, turning them into a very interesting focal point.
Succulents in Bowls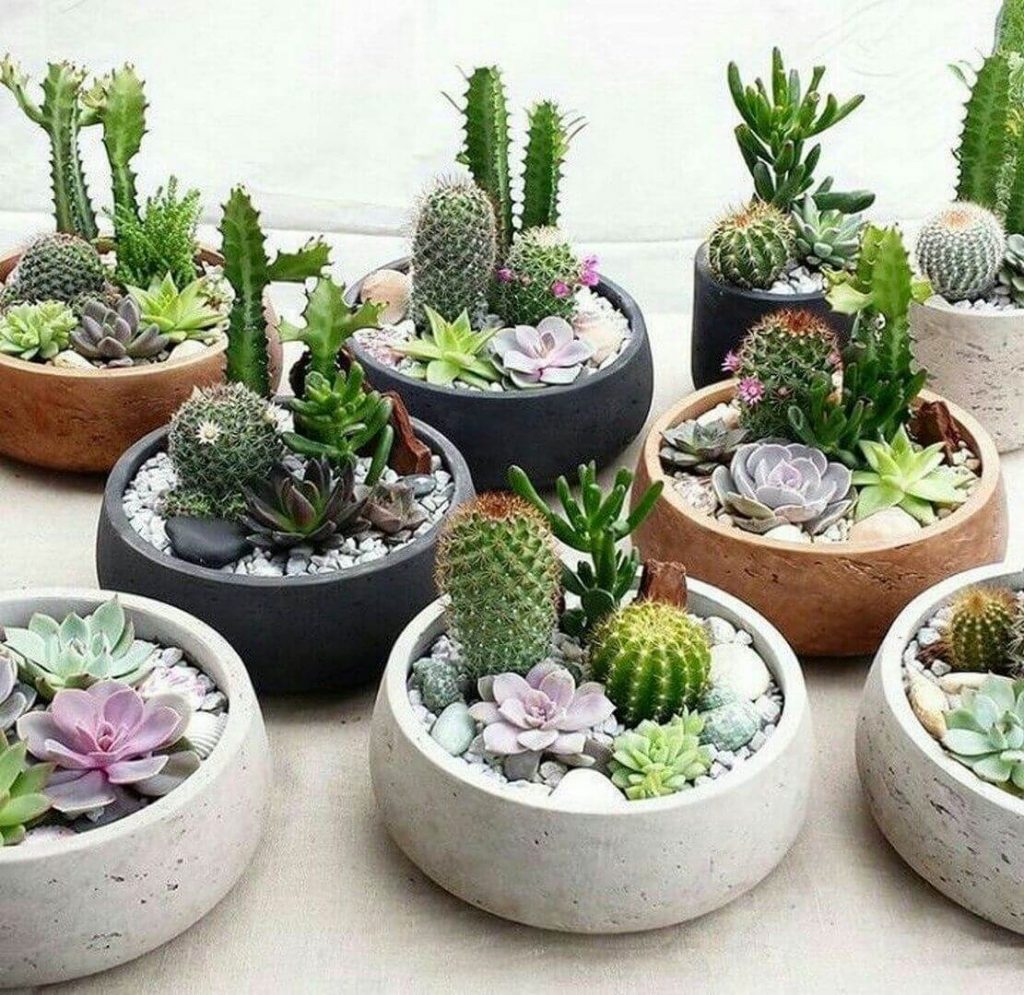 Looking for small succulent garden ideas? There are small-sized succulent plants that don't take much space to live. Even bowls can contain these succulents.
Perhaps you have several bowls that you no longer use? If you do, consider turning them into beautiful pots for your succulent plants.
This idea is among the best succulent garden ideas if you have small space to spare. Using the bowls, you can plant multiple succulent plants in your house, all without eating too much space. The best thing about these pots is that you can easily move them around, both inside and outside of the house.
Succulent Garden in Pot Ideas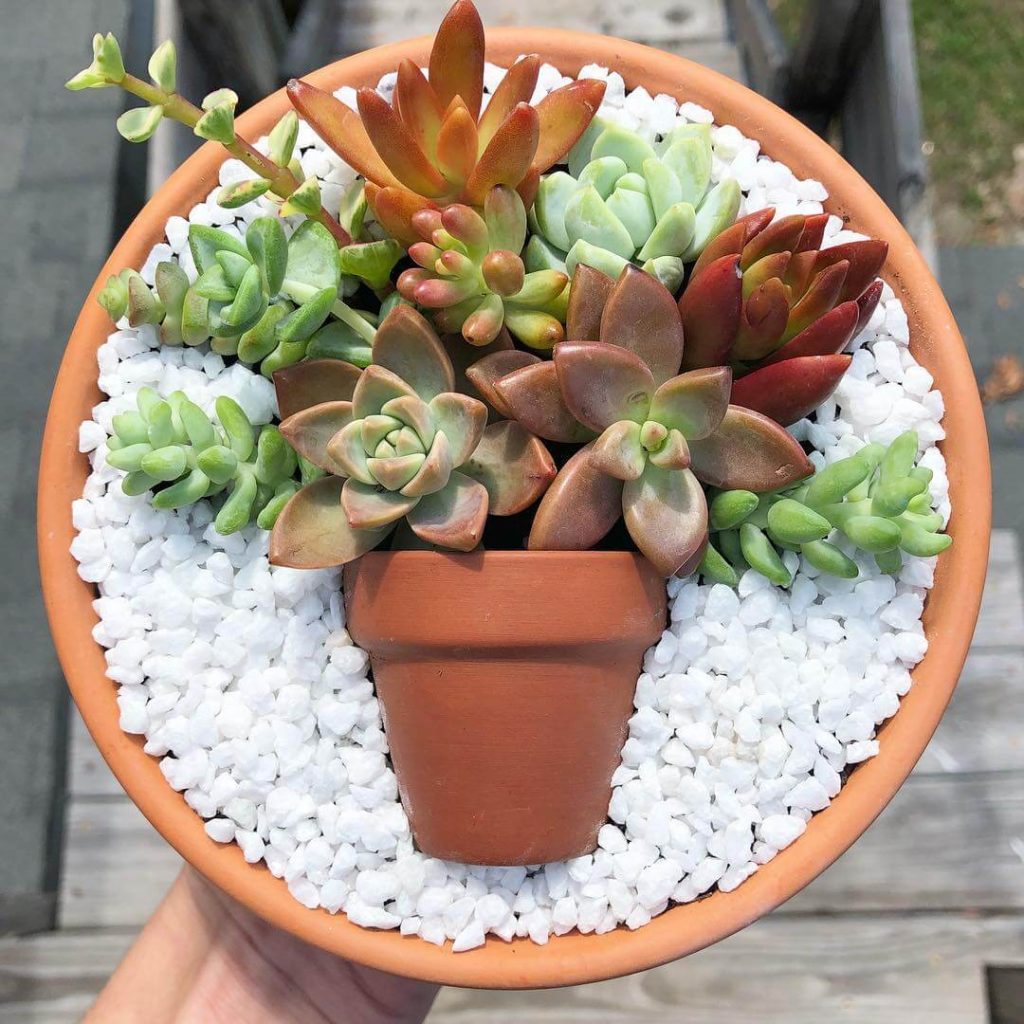 Looking for DIY succulent garden pot ideas? Try creating a pot within a pot like the above example. From above, the succulents look similar to flowers that are planted inside a pot.
From the sides, they look just like normal succulents. Unique, isn't it? You get different views based on the angle you are looking at.
Here, the larger pot should be able to contain a small pot, several succulent plants as well as soil, pea gravel or pebbles. Then, place the plants on one side and the small pot on the opposite side. There you go, you get a pot within a pot.
Teacup Succulent Garden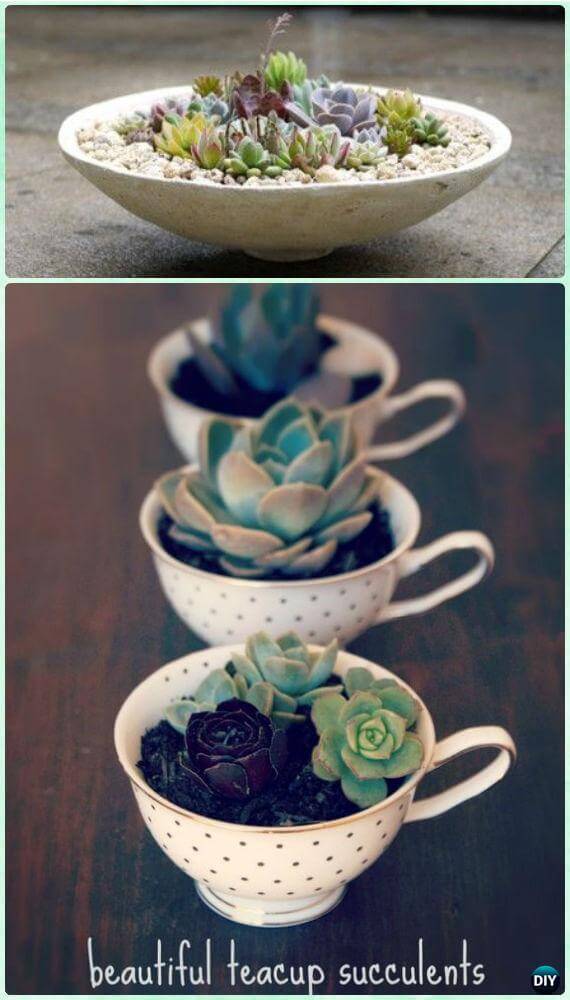 There are many indoor garden ideas that we included in this list. This time, it is teacup pots. Compared to DIY pots or bowls, teacups have unique patterns on their surface. Of course, these patterns only make the succulent plants look more extraordinary.
If you just want to add a natural touch of freshness into a room, using teacups as makeshift pots is certainly among the most creative and practical succulent garden ideas that you should try. These pots use up only a small portion of space but their effect can be significant.
Simple Pot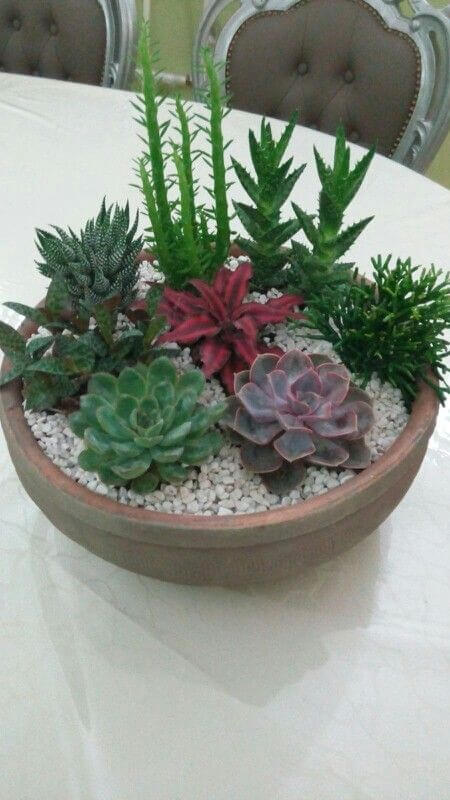 Not everyone likes an elaborate garden. Some people just want something simple that can make the space feel fresher and more natural.
Do you want these things too? If you do, rather than going for an elaborate garden, consider using simple pots to plant the succulent plants on.
For example, plant several succulents in a simple clay pot with pea gravel will be more than enough to bring in freshness and natural feel. To make it more interesting, try mixing and matching the colors inside the pot as well.
Succulent Fairy Garden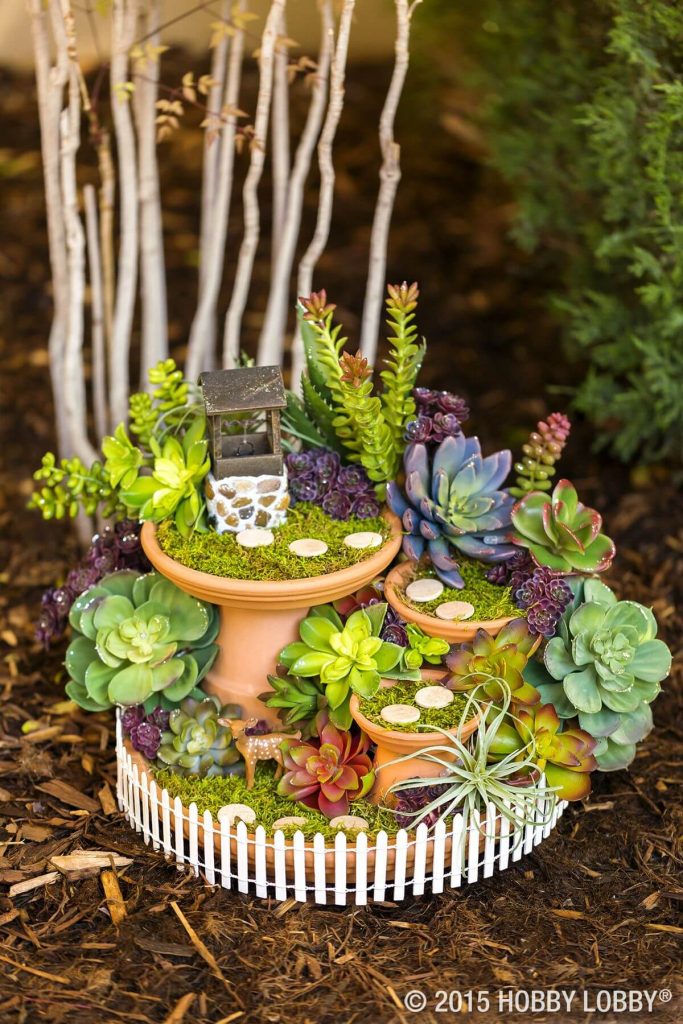 Do you have some dream succulent garden ideas that you really want to try but don't have enough space for it? Don't be disheartened.
Remember, there are many small-sized succulent plants. So, plant these succulents inside a pot and arrange them to create a miniature of your dream garden.
You can arrange the plants in a way that they look like a real garden only on a much smaller scale. The above miniature garden is a good example of this.
Succulents on a Log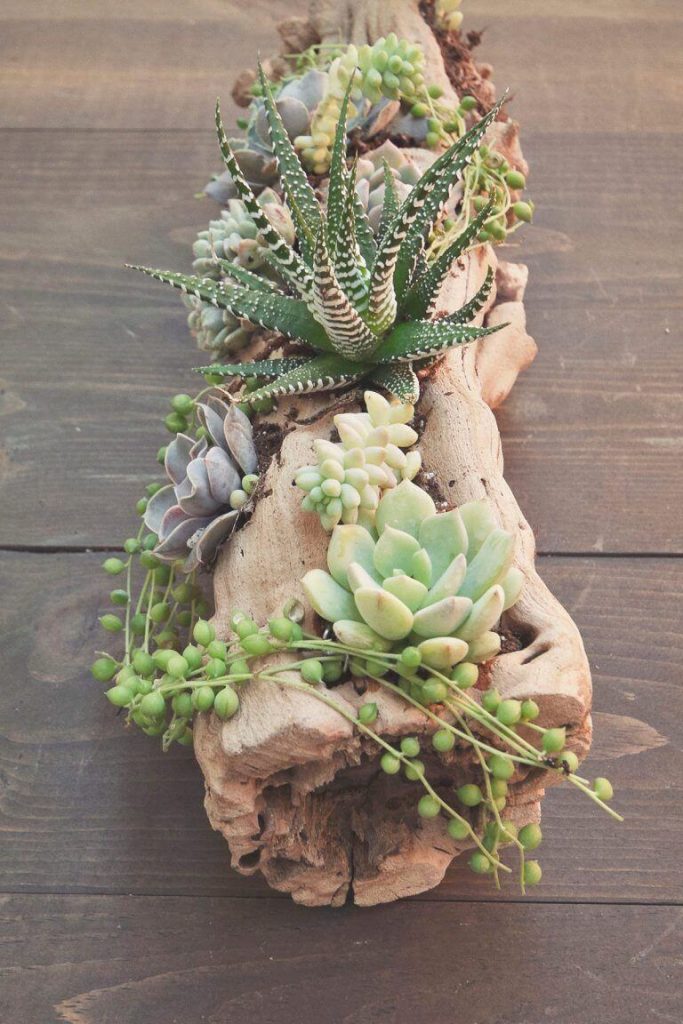 Succulents really are versatile plants. They can live on surfaces like soil, pea gravel, charcoal, and even a log. This enables you to plant them the way you wanted and try various succulent garden ideas, including planting them on a log. Succulents on a log look unique while at the same time give off a natural vibe.
To plant succulents on a log, you need to drill or saw the log so that the plants can be attached to it. If you do it right, the plants will look as if they are just sitting there on a log naturally. A mini succulent garden like that will undoubtedly look terrific.
Bento Garden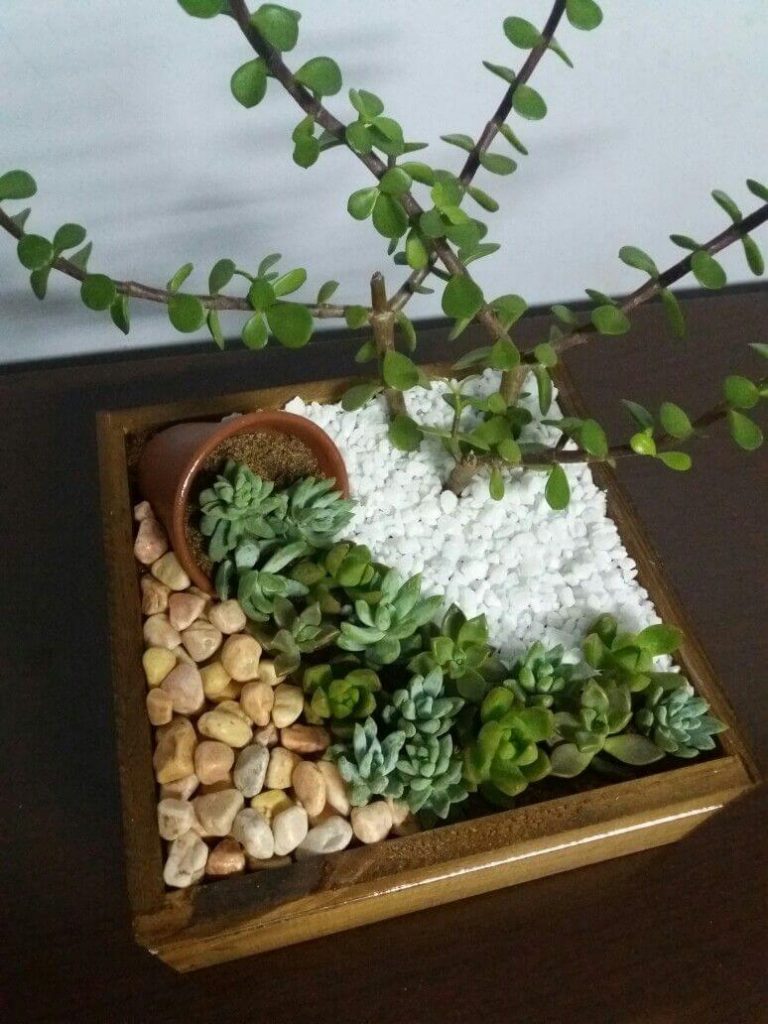 Do you know what a bento is? A bento is a decorated lunchbox from Japan made from wood. If you want a unique succulent garden, you can try creating a bento-shaped plant container like the above. Then, separate the contents of the pots in an orderly manner.
Notice how the white pea gravel acts as the rice while the plants and the pebbles act as the main dish. The best thing about this bento garden is that you can place it in whatever room you like to add a focal point in said room. Creative? Yes. Decorative? Also yes.
Succulents with a Candle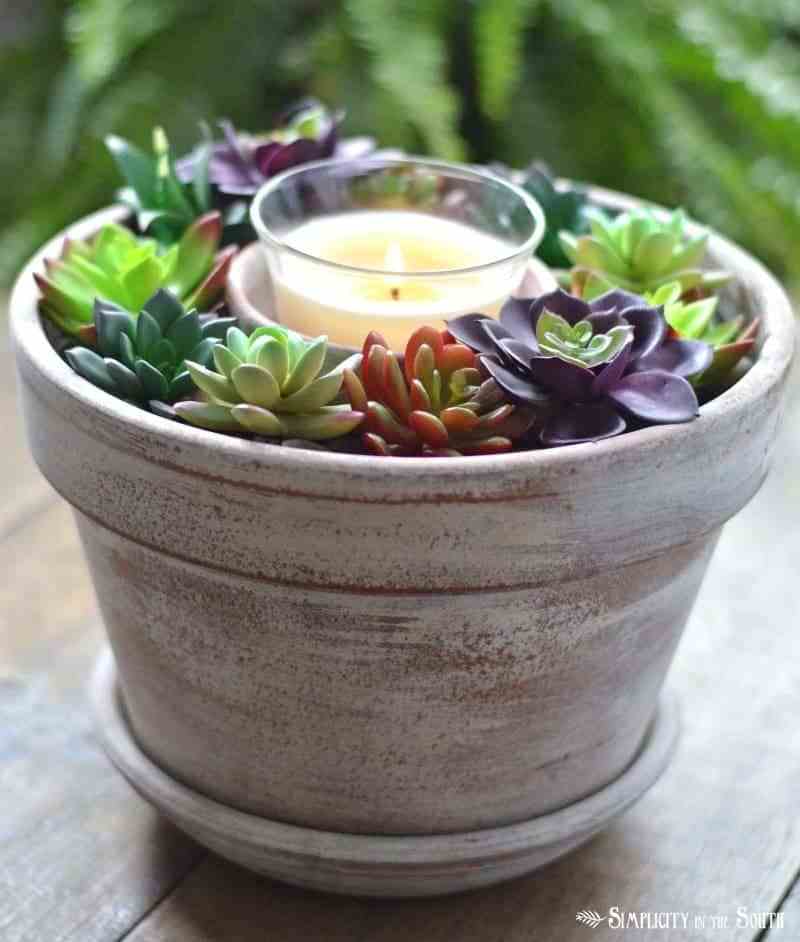 Most succulent garden ideas use the succulent plants as the main points of interest. That doesn't mean they always have to be.
You can use another object as the main point of interest. For example, encircle a candle in a pot with succulent plants. Want to make this even better? Use an aromatherapy candle.
Mini Succulent Garden Ideas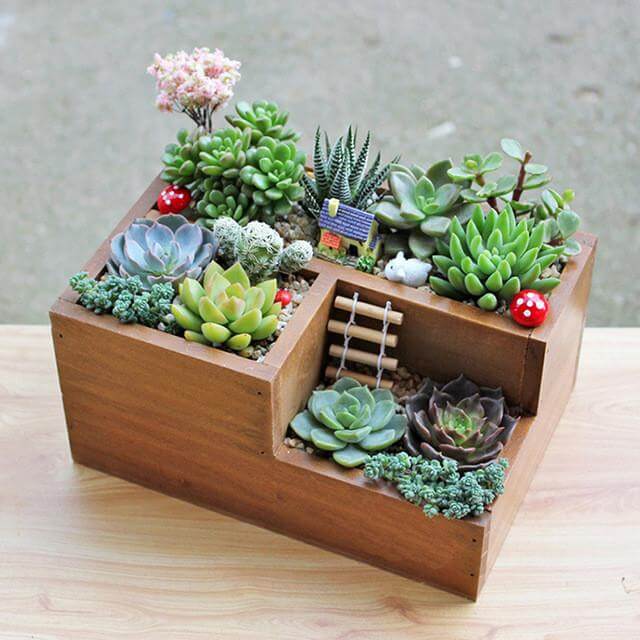 The last in our list succulent garden ideas is a mini succulent garden. Compared to the previous miniature garden, this one looks simpler.
It is a miniature garden with two stories and a ladder. Notice how the container is divided into three parts: one part below and two parts above.
Mini succulent garden ideas, including this one, are a good option if you just started planting succulent plants. It doesn't take a lot of space, easy to maintain and is also portable. Depending on the succulent plants you choose, this miniature garden can be placed indoors and out.