A kitchen isn't just a place for cooking the meals. It should be a haven where your daily routine starts such as preparing meals. These kitchen cabinet color ideas for small kitchens with a variety of color combinations will certainly bring a colorful place.
When you remodel a kitchen, you may want some changes such as furniture, equipment, and colors.
The budget should also be something that you should put into consideration because even a small kitchen may require a huge amount of money.
To get a suitable look for the kitchen, you can mix and match every element in the kitchen starting from the ceiling, walls, furniture, and floor. You can discuss it first with your partner which color suits you best.
1. White Hues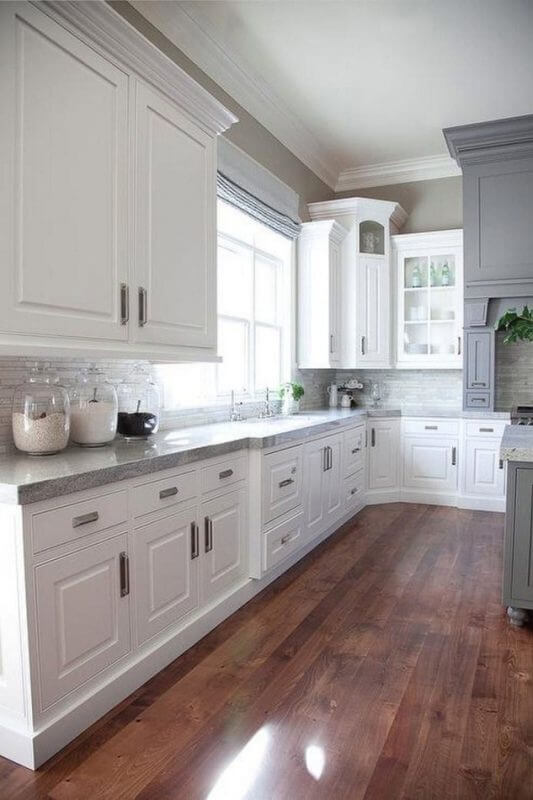 A kitchen cabinet typically appears in such a huge size that it can consume some substantial amount of space in the kitchen, which will affect the look of the kitchen.
In this kitchen, the white kitchen cabinet has a timeless tone that makes you feel calm and relaxed.
2. Energetic Yellow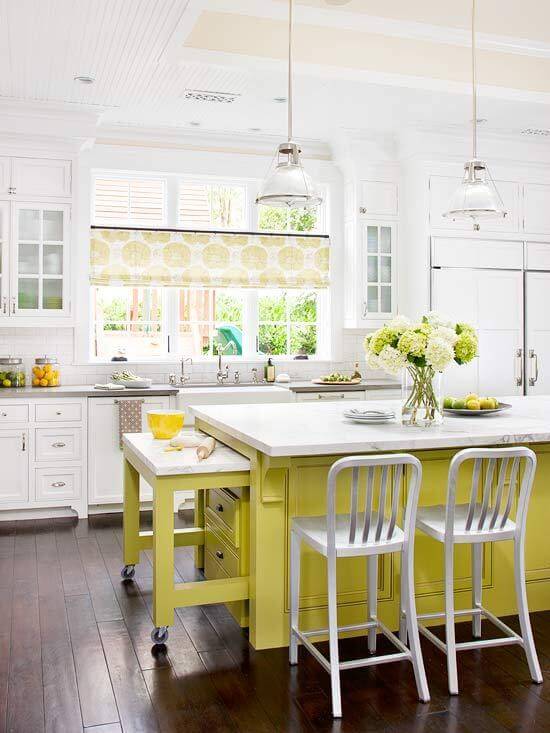 If you want to fill the kitchen with a fun and energetic vibes, bright and colorful furniture can certainly be added just like this lively yellow kitchen island.
Kitchen cabinet ideas are great for kitchen storage as they have lots of drawers to keep lots of kitchen stuff.
The kitchen stands out with a combination of a yellow and white color scheme. The floor keeps the kitchen circumstance balance with its dark surface. It would be a glaring place if the kitchen were applied by a bright tone too.
3. Calm & Cool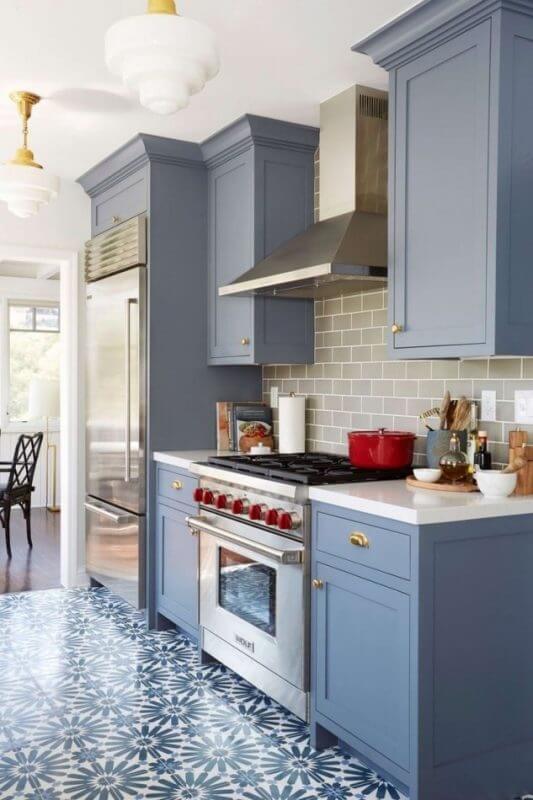 Blue and white are colors that can bring a calm and cool look. And this grey kitchen cabinet color ideas merge with this floral deep blue color, spreading a bold blue tone. A kitchen can have so many designs and styles.
A freestanding kitchen, for example, is an idea when you want your kitchen to be flexible. It can be relocated as the island and kitchen units aren't fitted or mounted to the wall and floor.
The benefits of having such an idea are that you can remove them without destroying them.
4. Kitchen Cabinet Color Ideas for Small Kitchens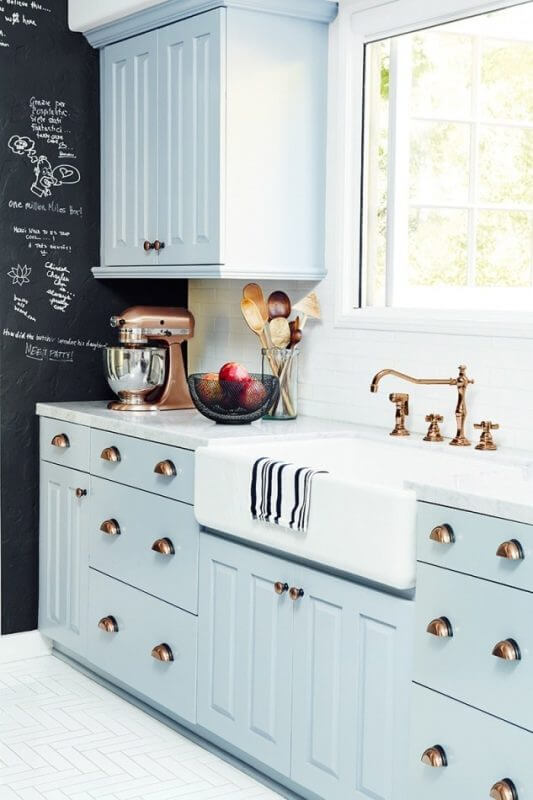 Small space would need compact kitchen units and cabinets. Although you have cramped space, you can still have a beautiful kitchen with this light blue kitchen cabinet color ideas with small golden handle doors.
5. Dynamic Blend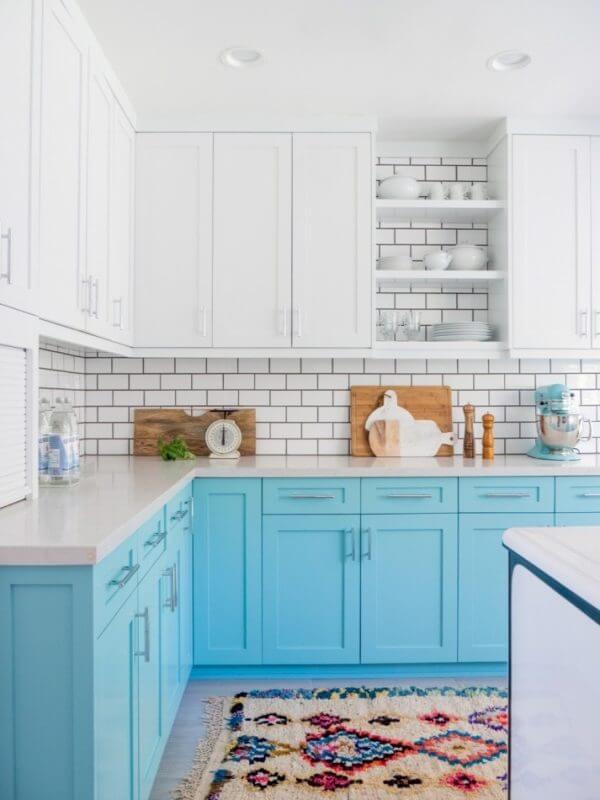 A nice blend of white and blue resulted in such a dynamic appearance in this kitchen.
The upper kitchen is fitted to the ceiling, giving some space for the backsplash. The light blue kitchen cabinet color ideas bring positive energy with its bright look.
6. Harmony of Color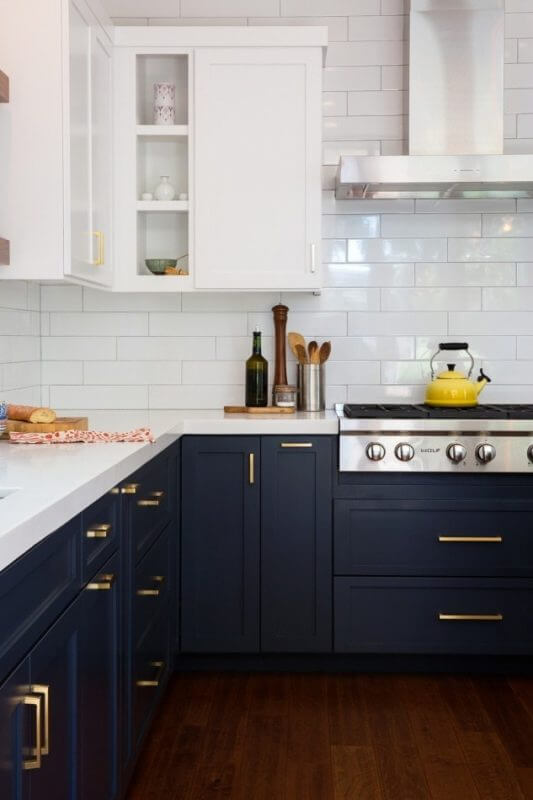 This one of white kitchen cabinet color ideas for small kitchens shows harmony with a white and dark blue that's nicely presented here.
It looks stunning with only two main colors applied for the cabinets. The subway tiles wall make the kitchen have a stunning view.
7. Gray Tone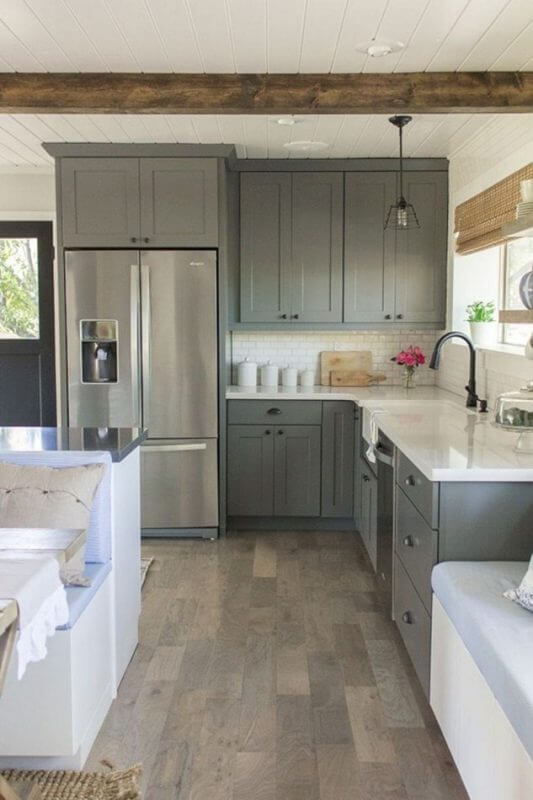 The farmhouse kitchen cabinet color ideas match with the floor as it features a similar tone, and they spread a calm look throughout the kitchen.
The white paneling ceiling with an exposed beam seems to blend well with the grey cabinets.
A classy touch from the stainless steel finish is kind of impressive when matched to the surroundings. The kitchen may a bit shallow as it has a low ceiling, but it's wide enough and pretty airy if opening the window.
8. Mysterious Tone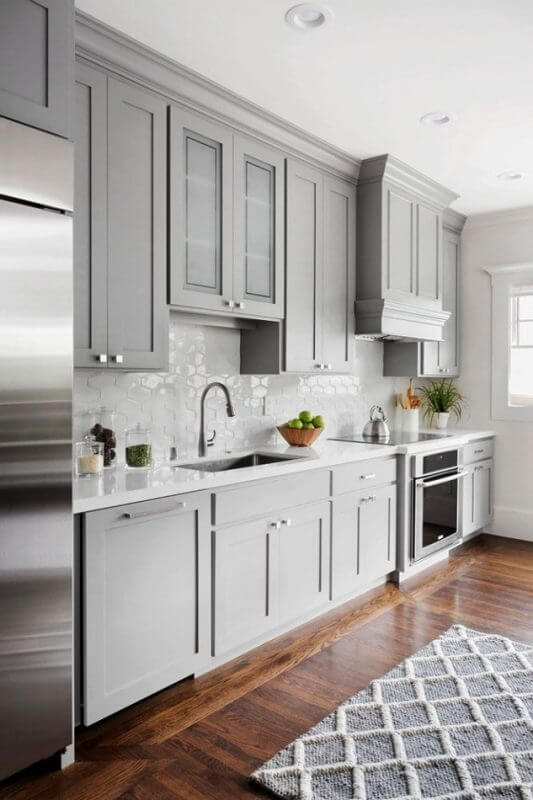 Grey has a strong gravitational magnetic pull that drags people to admire its mysterious and strangely likable tone.
It perfectly suits the beautiful kitchen backsplash ideas. The kitchen cabinet ideas correspond to the kitchen units and refrigerator.
9. Beautiful Small Details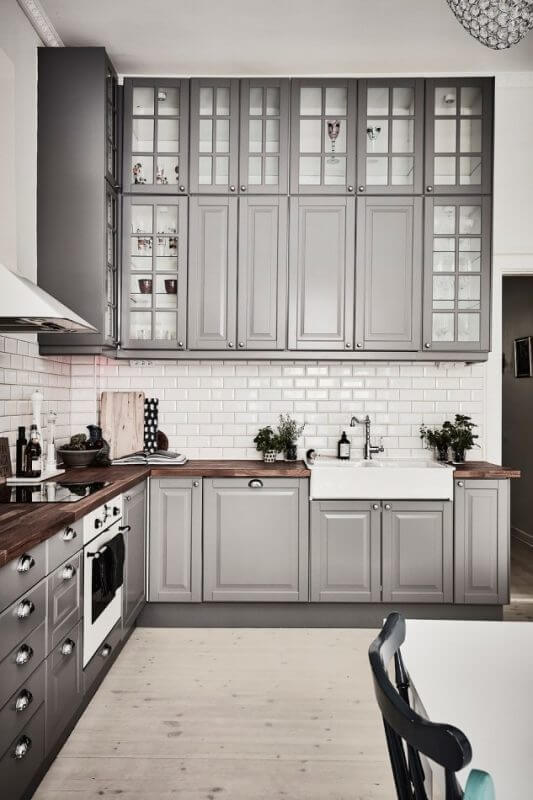 It may only have a small proportion in the kitchen, but backsplash, a small area between the cabinet and kitchen units, is a useful space that can prevent water damage.
It also prettifies the look of the kitchen to some extent, isn't it?
The cabinets surely are attractive with some see-through rooms that give a nice detail to it. The countertops leave a subtle touch of elegance with its brown surface whereas the microwave and cooker hood drop a smooth, crisp look.
10. Install Skylights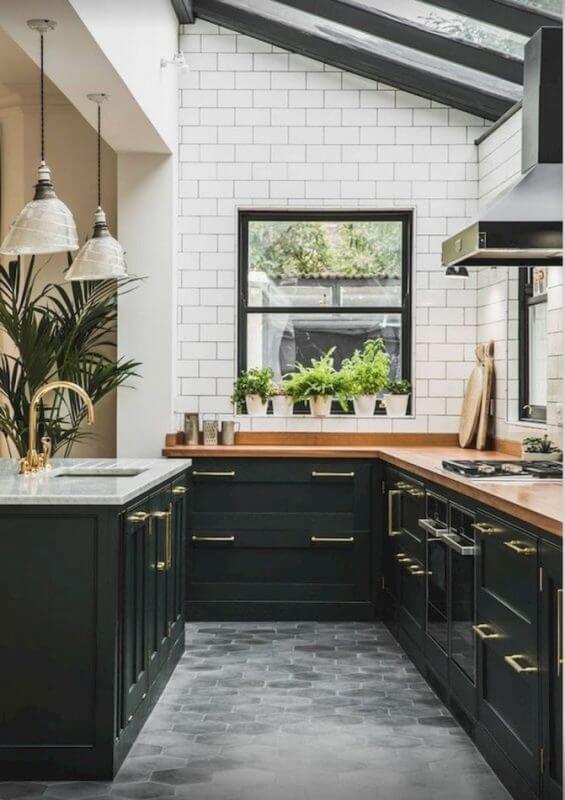 Who on earth wouldn't fall in love with this kind of kitchen with an airy space like this?
It has skylights that make sure the kitchen well lit naturally. The subway tiles wall makes a good pair with the dark kitchen units.
11. Modern Kitchen Cabinet Color Ideas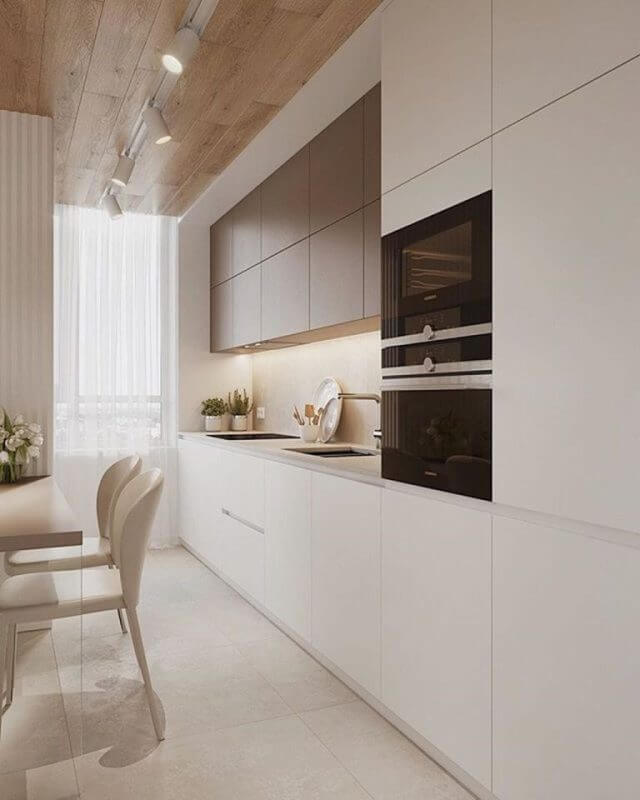 A soothing modern touch can be strongly felt in this kitchen with tiny tracking lights. The kitchen is applied with a beige color scheme from the cabinet floor, table, and chairs.
The ceiling seems to have a similar color with a neutral wooden style.
12. Modern Wood Kitchen Cabinet Color Ideas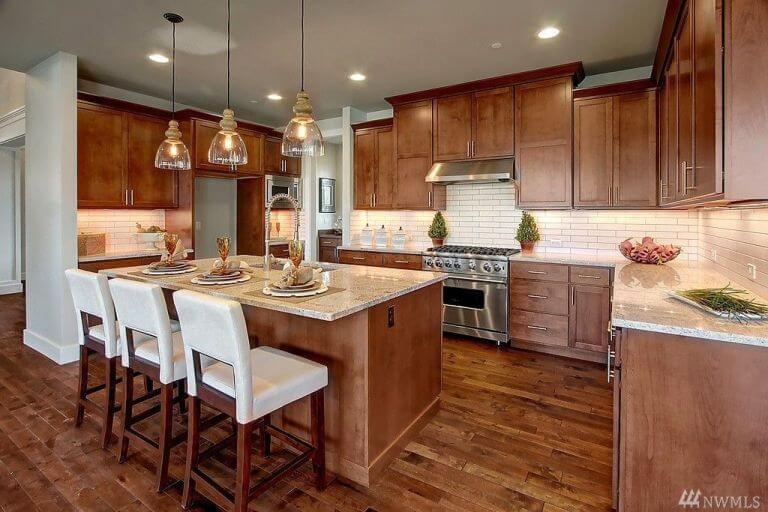 It looks like brown has conquered almost every part of the kitchen except for the ceiling.
From the flooring idea, kitchen island, and cabinets are in brown. Wood kitchen cabinet color ideas contribute lots of benefits for the kitchen. Therefore, their existence is needed.
13. Wood Kitchen Cabinet Color Ideas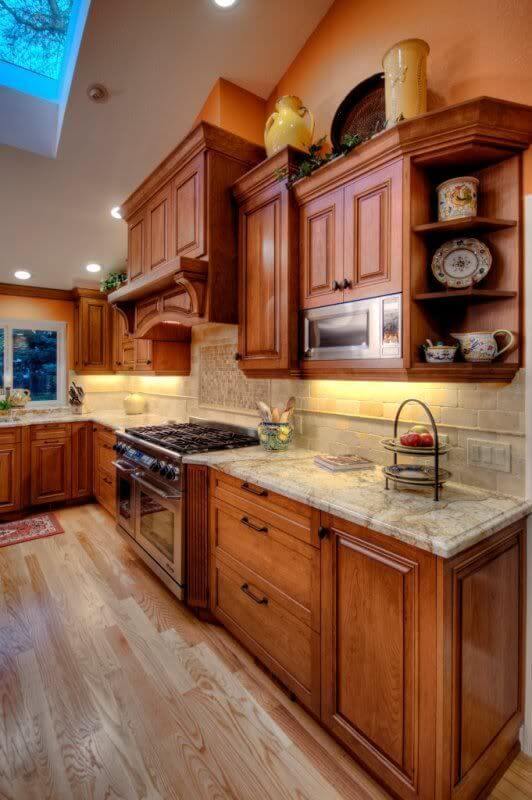 A layout of a kitchen is what determines whether the kitchen has a good workflow or not. That's why it needs to be arranged systematically.
It's important especially for you who an extreme kitchen activity or love to cook a lot like every day.
14. Neutral tone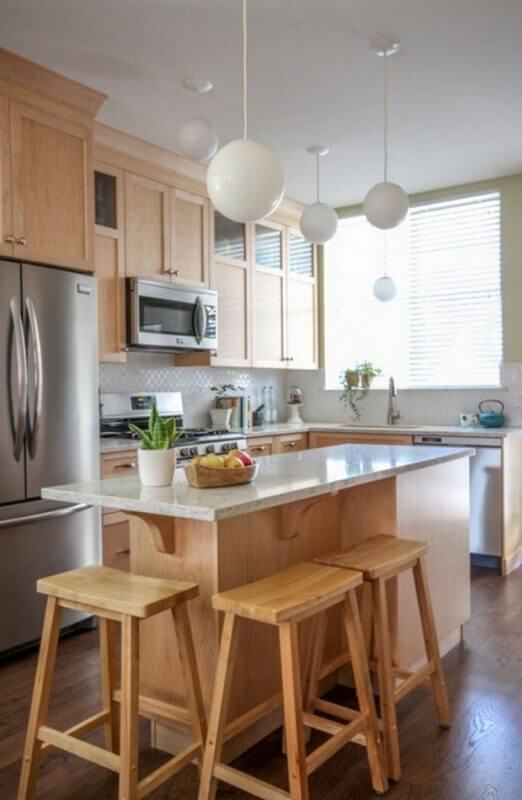 Some people would love to follow the latest trend that's happening from changing or buying some new stuff that's hit at the moment. Some may feel comfortable enough with what they have in the kitchen already.
This wood mode kitchen cabinet color ideas for small kitchens has a sweet neutral tone that's applied for the island and its stools as well.
It leaves a simple and modest style with such a finish while the white round-shaped lights elevate the entire kitchen.
15. Elegant Touch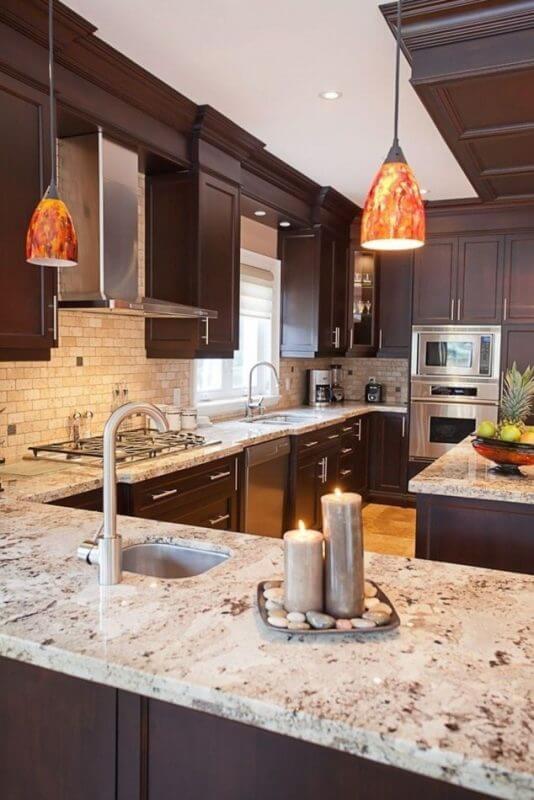 This kitchen shows an elegant modern kitchen cabinet color ideas with deep brown skin and granite countertops.
An L-shaped kitchen with two sinks and terracotta tiles backsplash has been infused with a luxurious touch of the stainless steel element.
Or, go check the kitchen countertops ideas. It will totally inspire you to find the best way to maximize your kitchen.
The kitchen is equipped with a window as a natural lighting source. It's essential for a kitchen because you don't have to turn the lights on, which means you can save some electricity.
16. Color the Kitchen with Fun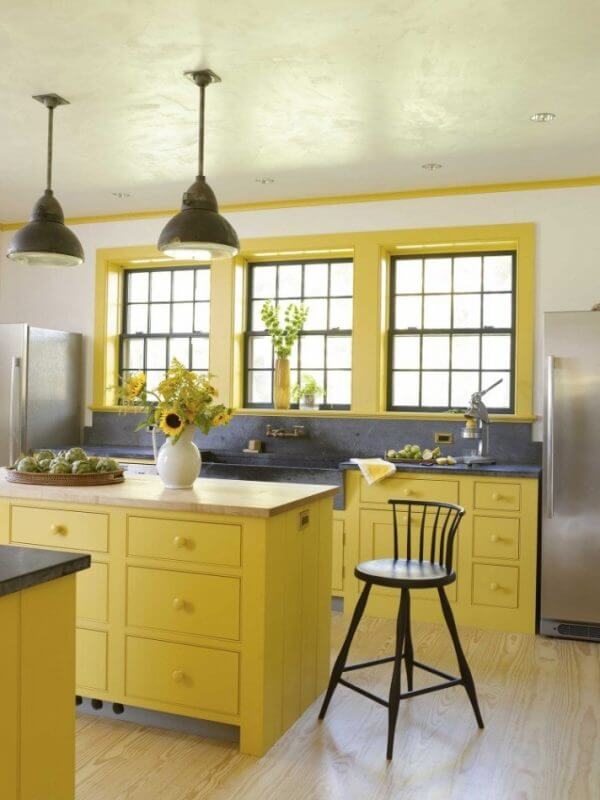 A nice yellow color scheme colors a most of the kitchen, and it's even applied for the windows as well.
This bright color seems to bring fun and enjoyment to the kitchen. This one of paint kitchen cabinet color ideas mix grey and neutral tone.
The neutral tone is derived from the strangely attractive flooring style. A vase of sunflowers are also added and they pretty much enhance the current look.
17. Let Sunlight Pierces Through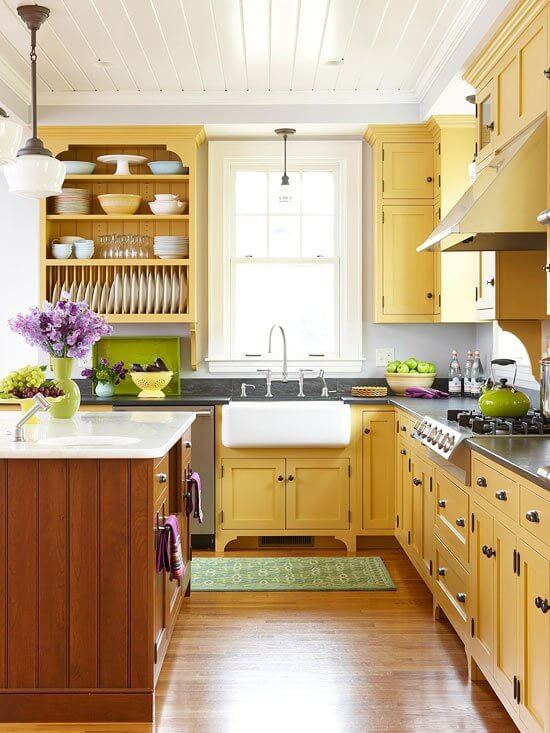 An open cabinet can be a perfect place for displaying your ceramic collection or other accessories to adorn the appearance of the kitchen as seen in this picture.
The two toned kitchen cabinet color ideas have a close tone to the floor and island.
The countertops play a nice role as a divider with its gray surface. The cabinets look bright as the sunlight shines through the window in front of the sink.
Don't you think it's nice? Look at kitchen pantry ideas for the more outstanding combination. Hope it will inspire you!
18. Add Greenery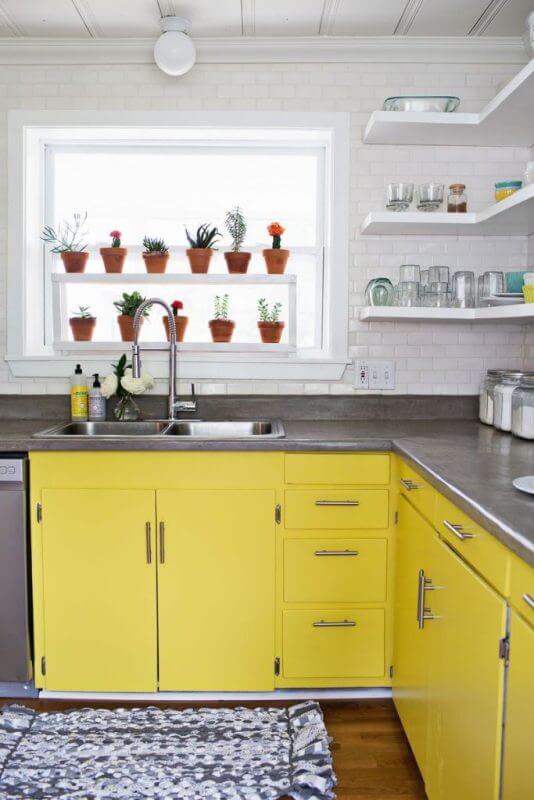 Greenery is often employed by many homeowners as a natural means to decorate a room.
In this kitchen with a bold yellow and dramatic two toned kitchen cabinet color ideas, greenery is set precisely before the window to get sufficient lighting from the sun.
Some shelves are also attached to the terracotta walls as an alternative to kitchen cabinets. There's also a carpet under the sink to prevent water drops from wetting the wooden floor.
19. Lie a Carpet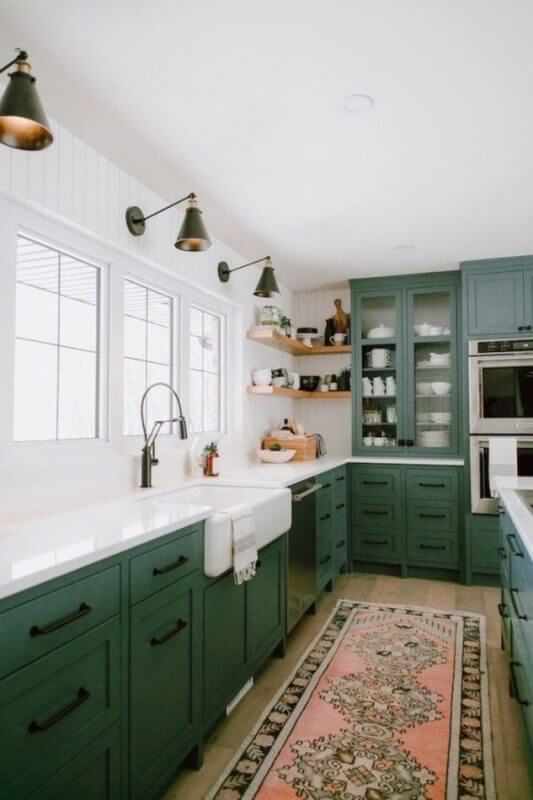 The kitchen seems to look cramped, but it sure has an attractive look by mixing and matching a white tone with a deep green one, resulting in such an exciting combination. Despite having a compact room, the kitchen looks neat and tidy.
A decorative carpet lies between the kitchen units and island creating a warm look here whereas corner shelves are nicely installed adjacent to the cabinet and they fit there.
20. Retro Vibes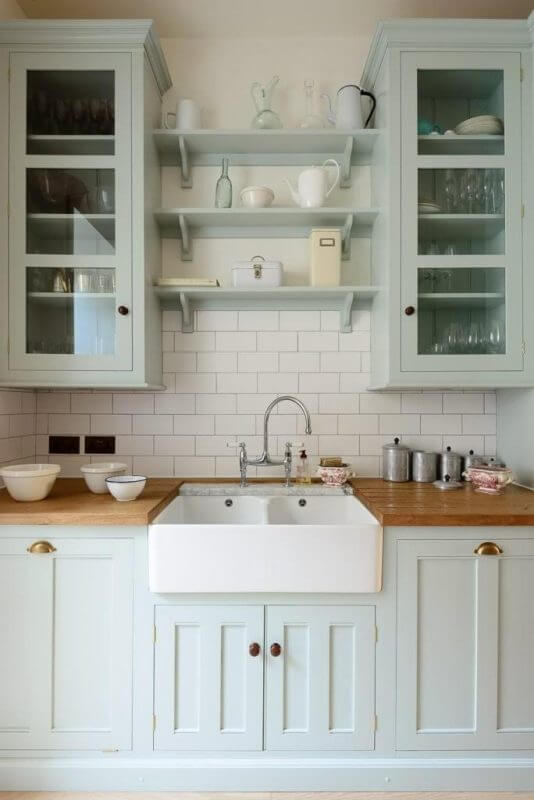 Isn't this mint green kitchen cabinet color ideas adorable?
Yes, it is. It brings back the good old day vibes as it satisfyingly pictures a huge retro style in the middle of 20 century.
The upper cabinet feature glass doors that allow you to see through what's inside the cabinets.
21. Paint Kitchen Cabinet Color Ideas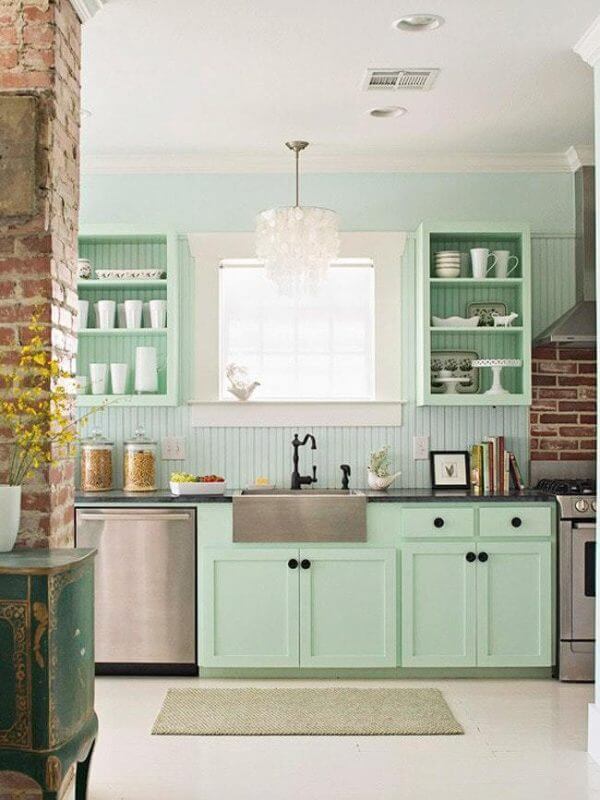 A very pleasing color scheme of a painted kitchen cabinet color ideas in soft mint that makes the kitchen possesses a feel-at-home vibe.
You can create a custom-made kitchen cabinet and it'll be a fun DIY project if you're good enough at making stuff.
The exposed brick walls infused a traditional kitchen environment that completes the surroundings. It becomes a lovely complement to the kitchen for sure.
Some souvenirs are exhibited on the cabinets, making the room to have something to stare at.
22. Dark Cabinets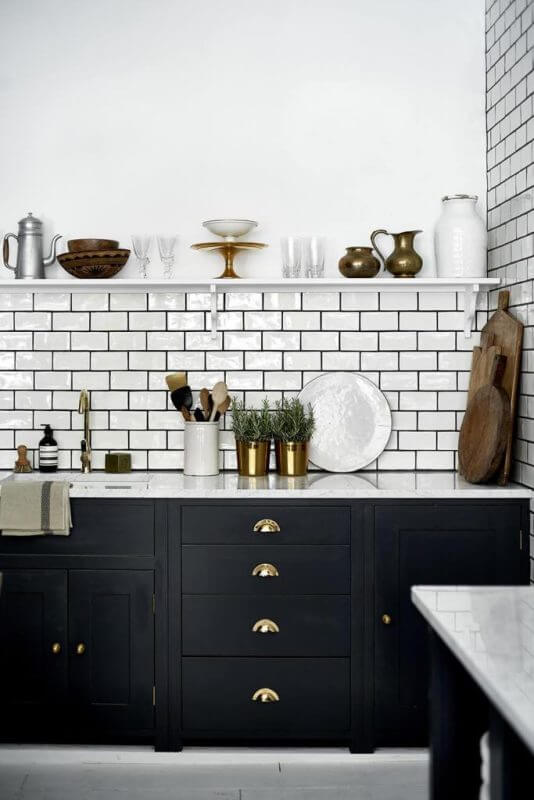 This charcoal-inspired tone is so mesmerizing when it merges with white.
The golden handle doors look glowing somehow due to its deep dark color that the cabinet is painted with. The marble countertops on which kitchen utensils are put embrace the white hues.
23. Grey Kitchen Cabinet Color Ideas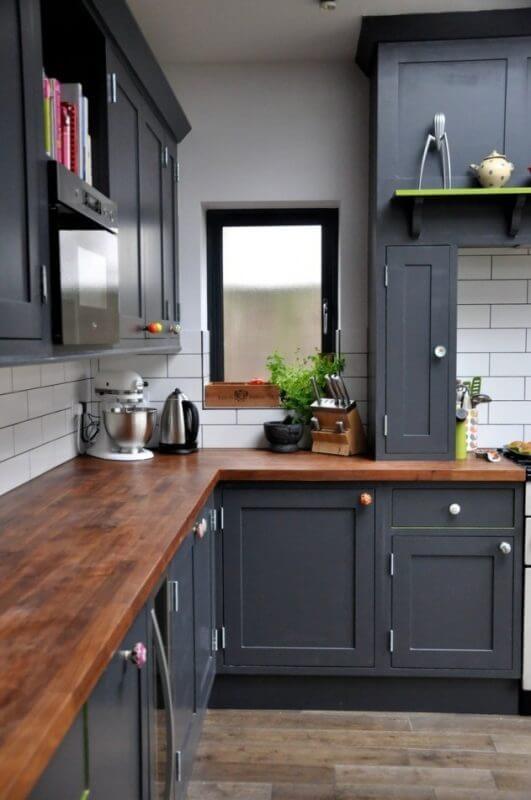 The wooden countertops stand out in this kitchen as it becomes the only area in brown. The rest is gray kitchen cabinets with subway tiles that work as the backsplash.
Gray brings a cool and calm look in any room that's why it's frequently used for any furniture in the kitchen.
Kitchen cabinet color ideas for small kitchens will likely take up some significant area of the kitchen. Make sure you weigh up their advantages and disadvantages first.