Selecting the perfect indoor or outdoor kitchen countertop ideas is no easy task with so many beautiful options to choose from. This is a huge decision with cost being a major factor as well as the aesthetics and whether the material is practical in terms of function.
The cost of a high-end kitchen countertop would make up a large part of the expense for remodeling a kitchen, so it's important to get this right.
The right countertop can make a huge difference in the functionality of your kitchen, is easy to maintain and can greatly enhance the look and ambiance of your kitchen.
The scope of materials used in making kitchen countertops is quite diverse, with some materials even being a bit surprising.
Just like most things, each one has its pros and cons, which should be carefully considered when making your choice.
The more unusual materials, like stainless steel, bamboo and zinc are generally too expensive for most homeowners, not to mention the difficulty in maintaining them.
Most people are a little more practical, preferring materials like ceramic tile, engineered stone like quartz, conventional laminates and various solid surface materials.
But, I would advise keeping an open mind until you have more information on each option. These option for new diy kitchen countertop ideas materials:
Laminate Kitchen Countertop Ideas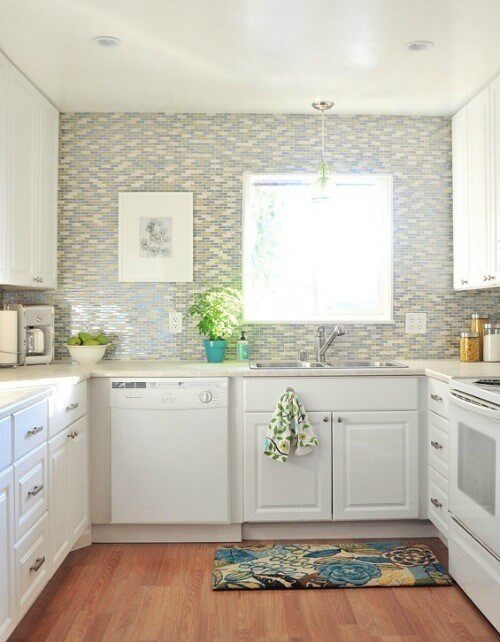 Very cost effective.
Easy to clean and maintain.
Available in a broad range of colors, textures and patterns.
Incredibly stain resistant.
Easily damaged by sharp knives and heat with no effective repair solution.
Not great for the back splash, tile would look more modern.
Approximate cost would be $20-$60 per sq. ft.
Granite Kitchen Countertop Ideas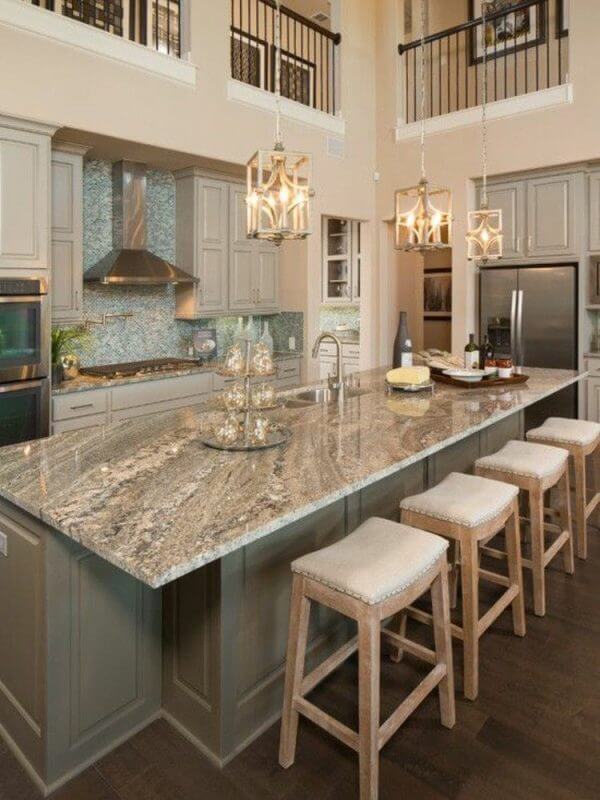 Withstands heat, spills, knife marks and other abuses quite well.
No two granite stones look alike, so the appearance could vary within your slab or between the sample you selected and your finished countertop.
Available in a variety of natural textures, colors, and finishes.
Highly resistant to chipping and cracking for the most part; but, the edges can chip if a heavy object drops on it.
Needs to be resealed every 6-12 months.
Approximate cost would be $45-$100 per sq. ft.
Marble Kitchen Countertop Ideas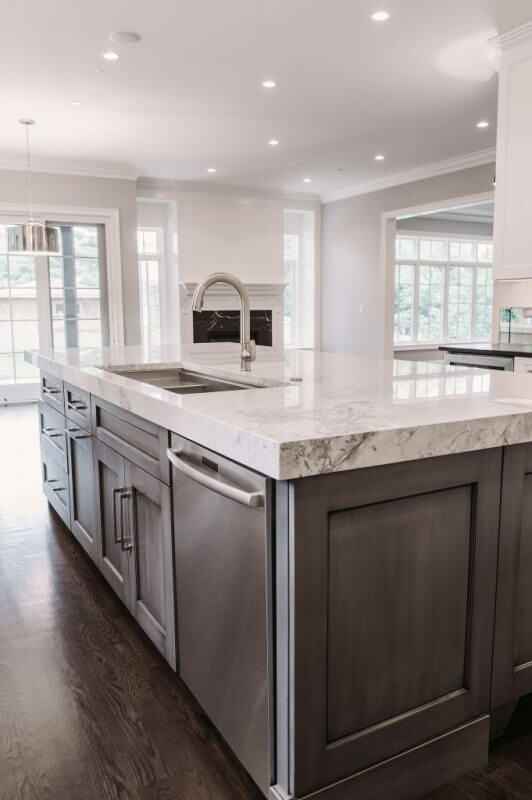 Elegant, classic, and timeless.
Withstands heat well.
Quite prone to staining even when sealed.
Chips and scratches more easily than other options.
Approximate cost would be $50-$125 per sq. ft.
Quartz Kitchen Countertop Ideas (Engineered Stone)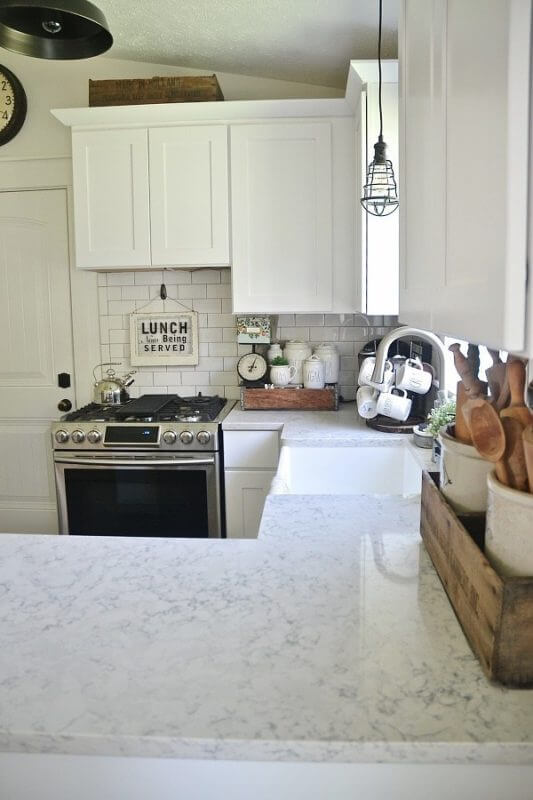 Fabricated by combining crushed quartz with resin and looks just like a natural stone slab.
Available in a broader range of colors and patterns than you would find in natural stones.
Nonporous material makes quartz naturally antibacterial while also being eco-friendly.
Seams are hardly noticeable.
Most resistant of all materials to damage and staining.
Requires no maintenance at all.
Approximate cost would be $40-$90 per sq. ft.
Corian (Solid Surfacing)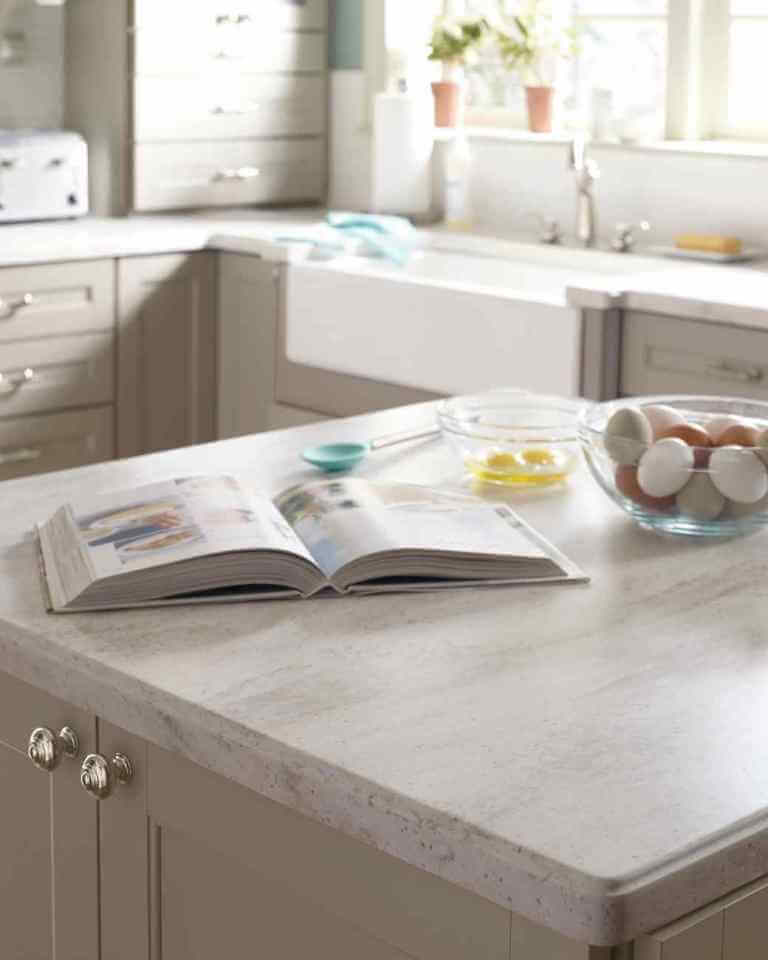 Fabricated from polyester and acrylic resins combined with pigments as well as powdered fillers.
Nonporous so no sealing or special cleaning required, which makes for easy maintenance.
Resistant to bacteria, mildew and staining.
Vulnerable to burns and scratches, but these can easily be sanded out as the color remains consistent the entire way through.
Available in a broad range of colors.
Dark colors tend to make fingerprints more noticeable.
Installation is seamless with no cracks to gather dirt and grime.
Approximate cost would be 435-$100 per sq. ft.
Butcher Block Kitchen Countertop Ideas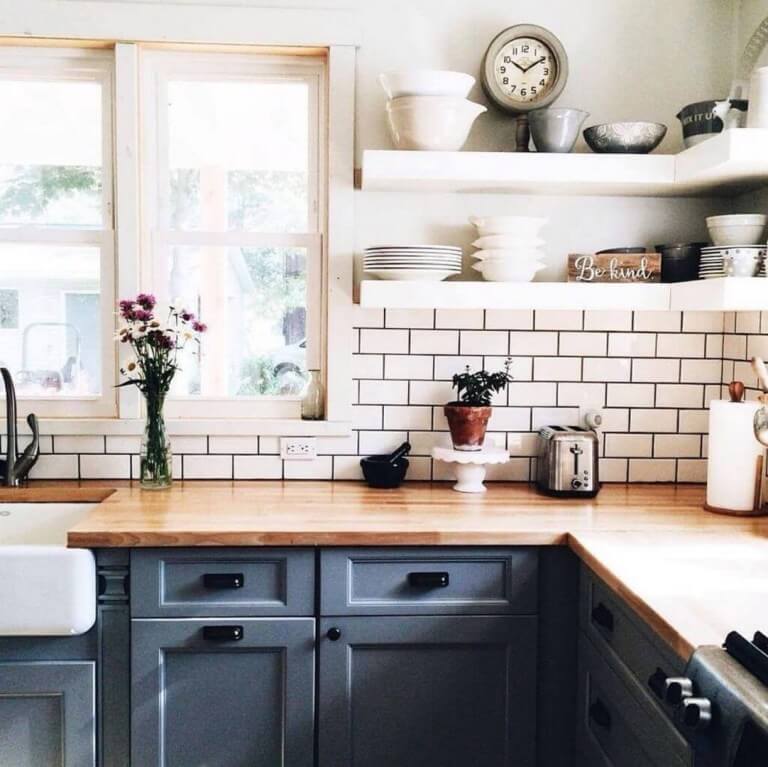 Creates a naturally warm classic look.
Periodic oiling is all that's required, so very low maintenance.
Cleans up nicely with just soap and water.
Easily scratched, but these can be easily repaired as well.
Wood tends to swell and contract depending on the moisture.
Traps bacteria so must be frequently disinfected to be safe.
Blends well with a variety of other countertops and is often installed on kitchen islands
Approximate cost would be $35-$70 per sq. ft.
Concrete Kitchen Countertop Ideas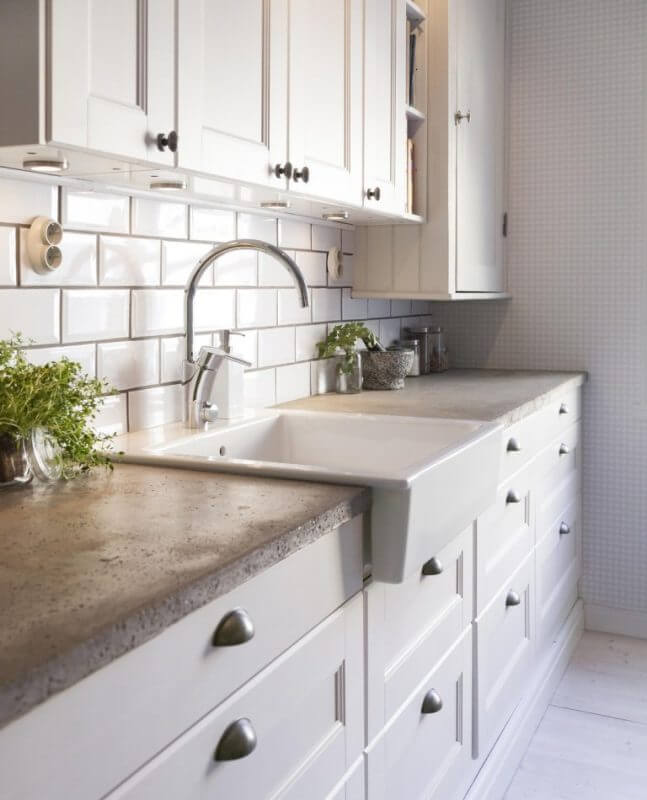 Industrial chic in appearance.
Color and texture can be added.
Withstands heavy use well, but not as heat resistant as some other options.
Prone to staining unless frequently sealed.
Tends to develop tiny cracks over time.
Very heavy so installation requires strong supports.
Even when sealed, oil or moisture can make the concrete countertop appear wet.
Approximate cost would be $65-$125 per sq. ft. depending on customization.
If you love the chic industrial appearance of a concrete countertop but are turned off by the price, don't give up. Try a faux concrete look, which can be installed on top of a traditional laminate countertop.
Faux Concrete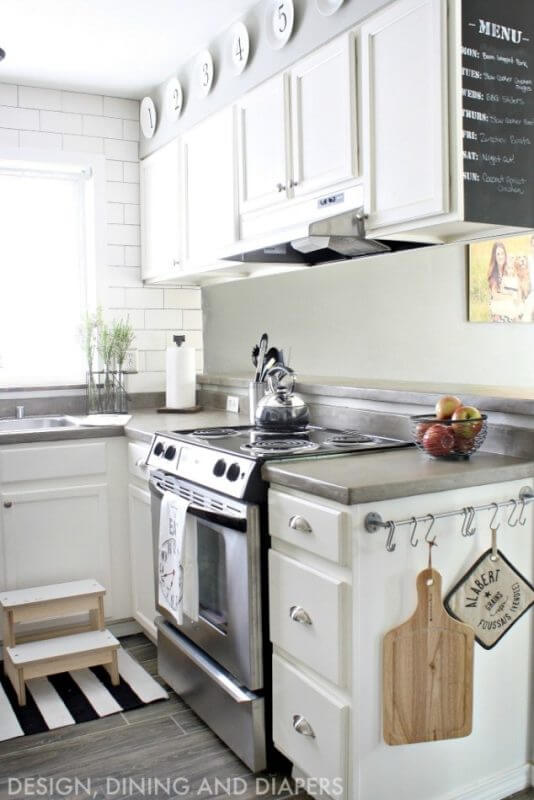 More Details
The first order of business is to select your countertop material. Once that's decided, you will need to choose the color, pattern, finish, etc. Here are some things to consider:
Generally, the darker the countertop (especially black) will make fingerprints, dust, crumbs and streaks more apparent.
To avoid this and hide marks, choose a lighter, polished material with more pattern variations.
Ensure that your choice of countertop compliments the other kitchen choices. Compare countertop samples with tile and paint samples under natural light in your home to make sure you like them together.
If you can't decide on one specific material, try mixing and matching them until you find a look you like!
For more inspirational ideas, check out the following:
White Quartzite Countertop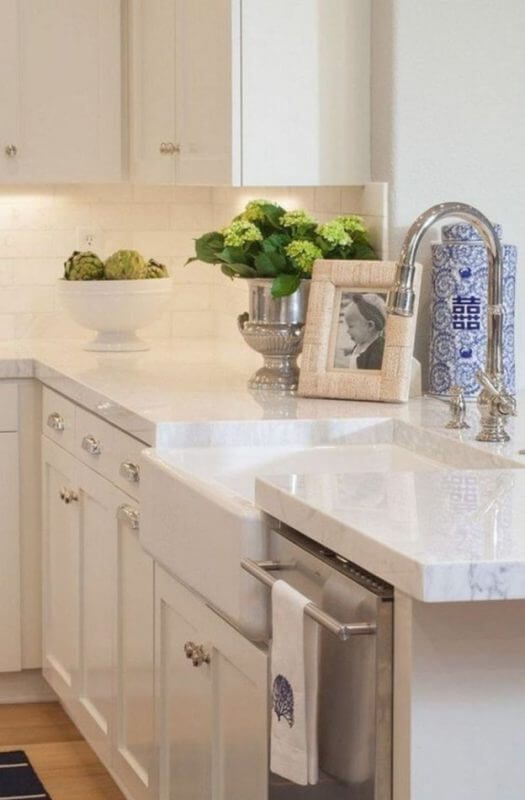 Manmade quartz countertops have become very popular in recent years with brands like Cambria and Corian® Quartz (formerly DuPont Zodiaq).
This material is fabricated from crushed up waste rock mixed with various resins that bind while hardening the "quartz."
Therefore, these countertops are not made from solid or cut slabs of quartz, but are a manmade stone product that often contains antibacterial ingredients.
Quartz is fast surpassing solid-surface materials as a countertop option over natural stone.
| | | |
| --- | --- | --- |
| Pros | Cons | Conclusion |
| Quartz countertops are gorgeous, with their quartz crystals and other eye-catching natural minerals. | Quartz countertops are very heavy. | With a quartz countertop, you have the best of both worlds: a beautiful countertop that looks just like natural stone, yet with the flexibility you would get with a solid-surface material. |
| Homes with quartz countertops are in high demand, increasing their resale value. | They are also just as expensive as natural granite countertops. | – |
| Quartz countertops are available in a wide variety of colors and styles. | Installation must be done by highly skilled installers. You cannot DIY. | – |
| These counters have more durability and are less vulnerable to scratches than a solid material. | – | – |
Concrete Countertops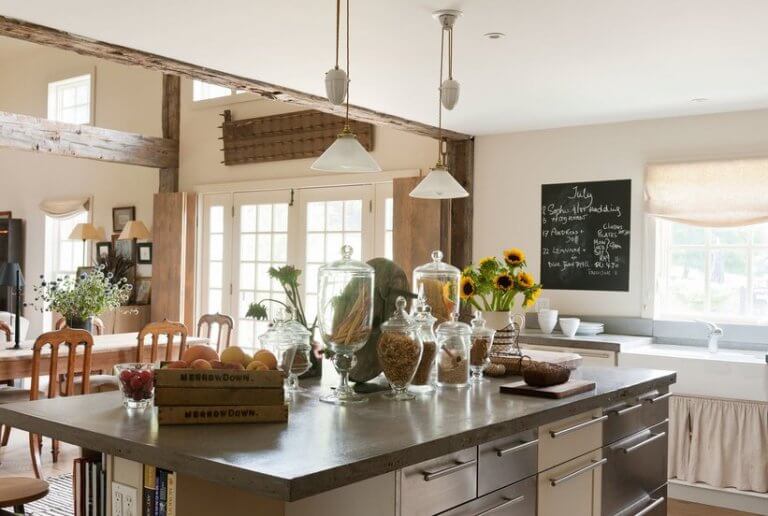 For some, a concrete kitchen countertop can seem an odd choice, but there is no doubt that it can give the kitchen an especially unique appearance.
Don't you think it's nice? Look at kitchen lighting ideas for the more outstanding combination. Hope it will inspire you!
The concrete is usually poured on-site and this would need to be done by experts from forms matching the space.
Homeowners can ask that colors and/or textures be added, or they can have the concrete surface polished to a high gleam if they want.
| | | |
| --- | --- | --- |
| Pros | Cons | Conclusion |
| Because they're so unusual, if you install a concrete countertop people will notice and comment on it. If you want a conversation piece, your concrete countertop will make a great one. | Because solid concrete is so heavy, it does need additional bracing. | Not everyone is going to appreciate the look and expense of a concrete countertop, but designers might recommend them for very expensive and uniquely modern high-end homes. |
| Concrete can be poured into any size mold, shaped to match your countertop. | Concrete countertops are made by highly specialized and skilled craftsmen, which adds to the cost, making them quite expensive. | – |
Granite Countertops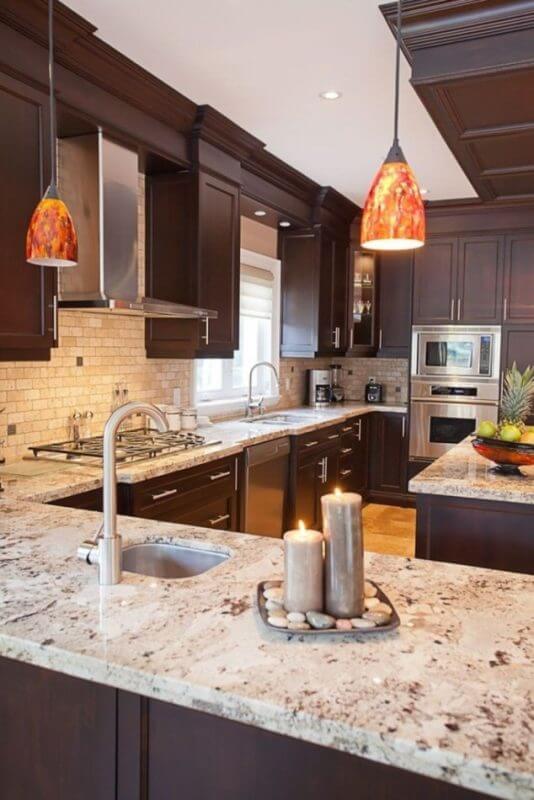 The most popular type of natural stone used for countertops these days is granite. Solid slabs of natural granite come from stone quarries and are custom fabricated to the specifications of the customer.
Highly skilled crews are needed to handle the installation due to its weight and other factors. However, granite tiles or modular granite pieces can also be configured into gorgeous kitchen countertops.
| | |
| --- | --- |
| Pros | Cons |
| Granite countertops are very attractive with long-lasting durability. | Granite can be quite expensive. |
| There are no two slabs of granite that are alike, so each granite countertop would be unique. | Like most natural stone materials, granite would need to be sealed and resealed periodically to prevent it from staining. |
| Granite is a high-end building material, which means a granite countertop would enhance the value of your home. | A granite countertop cannot be installed on a DIY basis – you would need to hire professional installers. |
| A Granite countertop can be made from a solid slab, so there would be no seams. But, granite countertops can also be made from tiles or modular pieces. | – |
Marble Countertops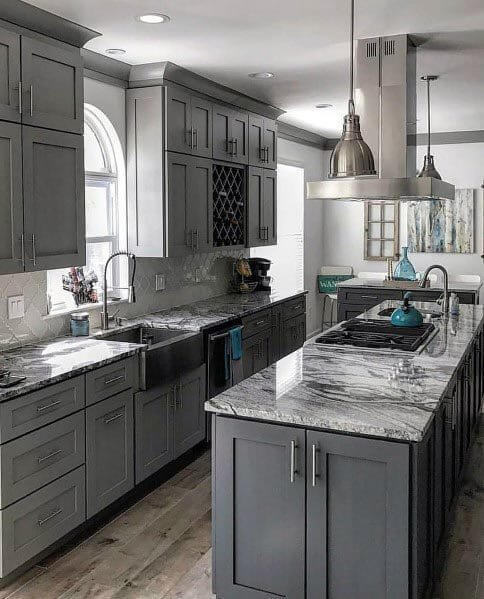 Marble is also quite popular for kitchen countertops, even though it does have certain limitations. Its best feature is its uniquely attractive appearance. Replete with beautiful veins, granite countertops are among the most stunning.
However, this natural stone is relatively porous and soft, which means it must be fully sealed and regularly resealed if installed as a kitchen countertop.
Marble, just like granite, also comes in three different forms – marble tiles, modular marble pieces, and solid slabs. Most homeowners prefer their marble kitchen countertop to be made from a solid seamless slab if they can afford it.
| | |
| --- | --- |
| Pros | Cons |
| Marble's natural veining makes it highly unique, with many claiming that of all natural stones, marble is without a doubt, the most beautiful. | Marble is extremely porous, which makes it very vulnerable to staining unless it is fully sealed and resealed on a regular basis with a premium sealer. |
| As with granite, no two marble countertops are alike due to each slab's unique veining. | Marble is also quite soft, so cutting boards would need to be used to avoid being scratched by various kitchen utensils including knives. |
| – | Marble is more expensive than many other countertop materials, therefore it can get quite expensive if you have a large kitchen counter area. |
Laminate Countertops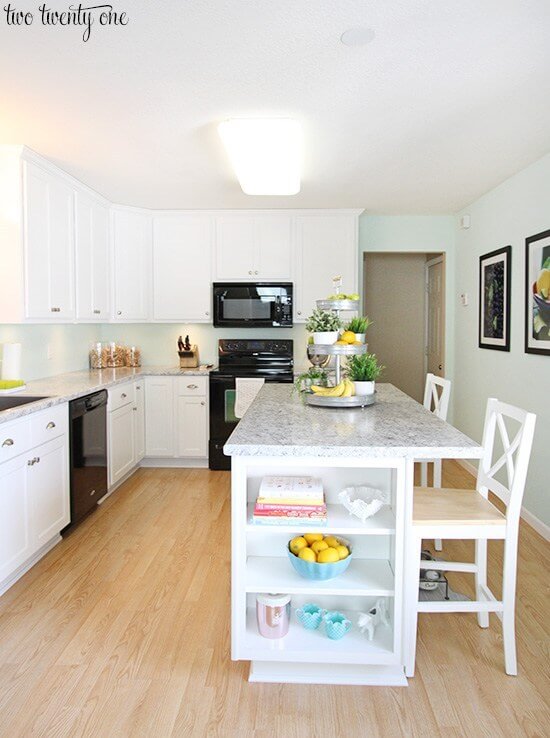 Laminate countertops are layered with the plastic laminate on top bonded to either fiberboard or particleboard beneath.
Many different manufacturers make laminates, with two of the most well-known brands being Wilsonart and Formica.
Homeowners can choose from literally hundreds of different styles and colors when it comes to laminate countertops.
And, dreaming more inspiration of the kitchen look, finding them on tile kitchen backsplash ideas!
| | |
| --- | --- |
| Pros | Cons |
| Laminate kitchen countertops are very affordable. | Because some homebuyers may think of laminates as being "cheap;" a laminate countertop may become a liability when it comes time to sell your house. |
| Installing a laminate countertop can be a DIY project if you're installing it in prefabricated sections. | Laminates are not very durable and tend to chip, peel and burn quite easily. |
| More Kitchens with Black Appliances in Trending Design Ideas | A laminate countertop can seem lightweight and somewhat hollow when compared to tile or stone. |
Butcher Block Countertops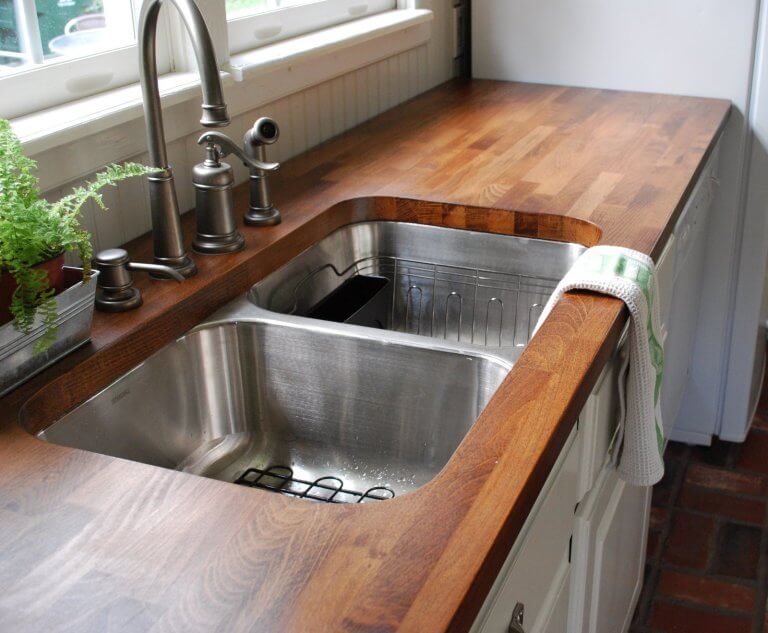 Wooden butcher block countertops provide a warmth to your kitchen with a classic and inviting feel.
To ensure a continuously to new look, they must be sealed with a very durable polyurethane. To protect them from scarring and heat damage, you should regularly use cutting boards, pot holders and trivets.
Two Tone Kitchen Countertop Ideas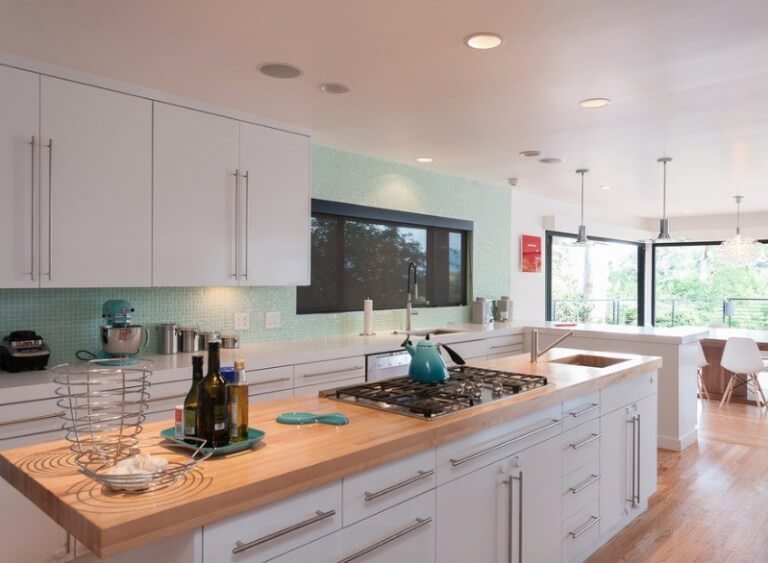 Inspired by professional bakers and chefs who needed a cool marble countertop for rolling dough and preferred stainless steel for other kitchen counters due to easy cleanup, two-tone countertops are now being customized for high-end residential kitchens.
If you want something truly unique, you may want to consider a two-tone look. Or You can get more decor with best green kitchen cabinet ideas.
Wrapped Kitchen Countertops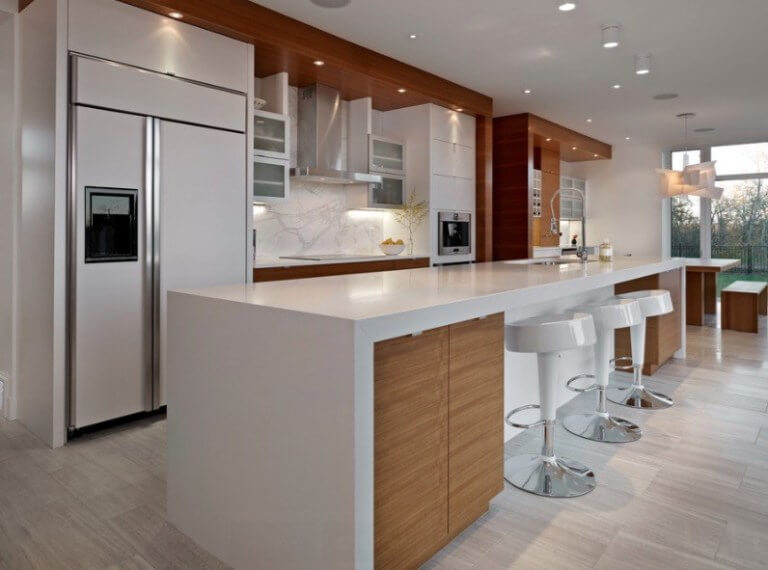 One of the latest trends in kitchen designs is the wrapped countertop look, which involves covering the sides of your cabinets with the same material as your countertop. Best Cherry Kitchen cabinet ideas will also help you to find the fittest one to your kitchen.
This wrapped counter look draws attention to other areas of the kitchen. Accentuate the effect by having the countertop and sides in a contrasting color to your cabinets and other elements in the kitchen.
Bonus
Stainless Steel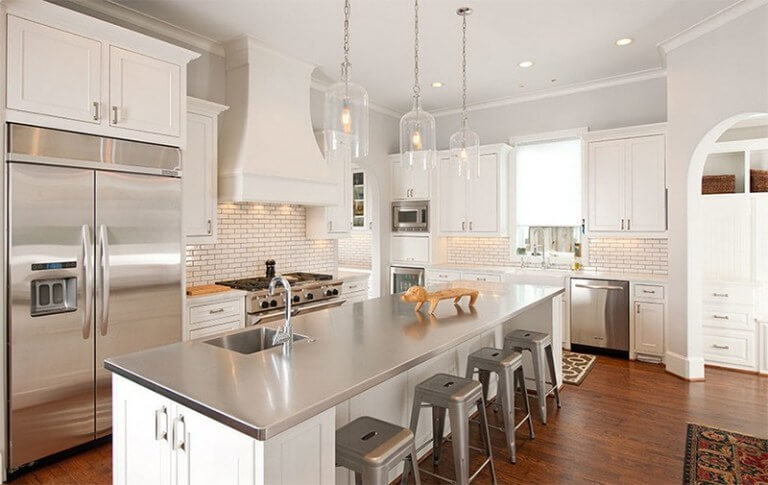 Stainless steel countertops are quite versatile in terms of design. You'll find them in both traditional and modern kitchens. Their popularity seems to have come from the surge in stainless steel appliances.
They work particularly well adjacent to ranges and cooktops where people often place hot pots and pans or on center islands where food is predominately prepared and served. Costs start at about $78 per sq. ft.
Zink Countertops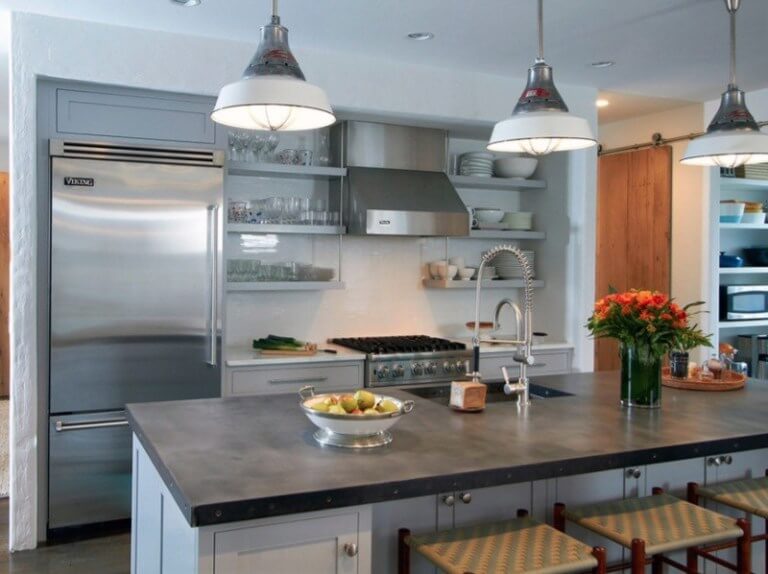 Zinc countertops develop a distinct bluish patina over time, so if that color blends well with the color scheme in your kitchen, zinc might be perfect.
You should know that over time zinc will react to oils, citrus juice and water, which is what creates its gorgeous signature patina. Zinc is a metal, so it would be best if it remained in its natural state with the matte finish.