Rustic Bathroom Ideas here for you who want to create a bathroom that feels elegant and earthy, timeless and edgy. This kind of style is focusing on raw, found materials that connect to nature.
With rustic style in your bathroom, you can receive a place that feels approachable, texture-rich, clean, and serene all rolled into one.
If you want to know why rustic can have a major moment in your bathroom decor, you should to keep reading this rustic ideas.
Here are 28 rustic bathroom ideas to make a big impact on your bathroom atmosphere:
Rustic Bathroom Design Scheme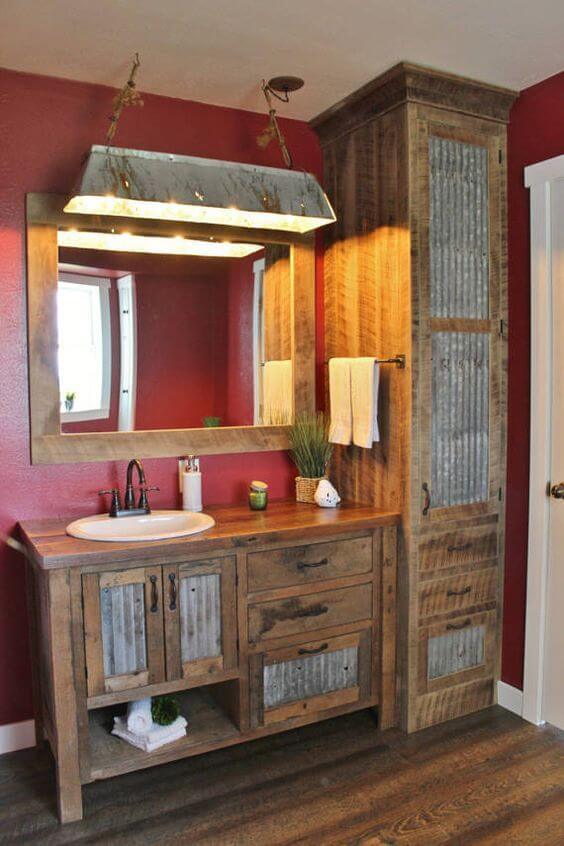 1. Rustic Bathroom Decor with Galvanized Metal Cabinet
The moment I entered this bathroom, the rustic design of the cabinet caught my eye. Well, the cabinet has an edgy wood surface with a galvanized metal accent.
It's a great combination of rustic items. Pairing it with the red wall as the background won't give the cabinet enough chance to shine.
The rustic metal lighting gets added to save the cabinet's charm by lighting up the vanity space. It extends the chance of rustic galvanized cabinet to shine even better.
2. Dark Oak Wood Bathroom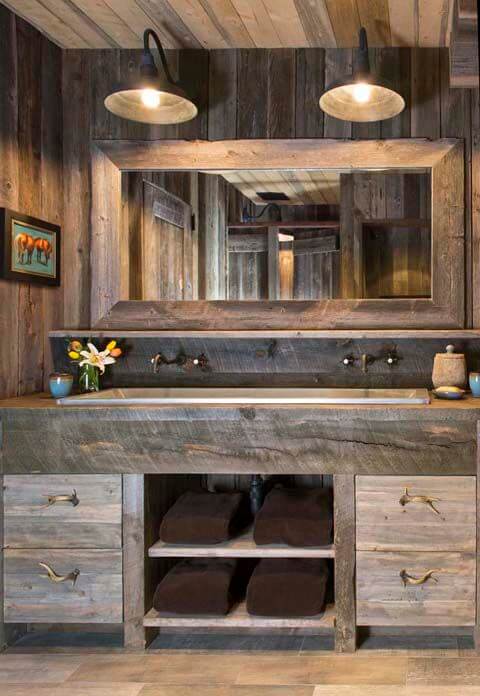 It's hard to define rustic style without wooden elements. As you can see, all of the elements in this bathroom are wood.
This bathroom vanity set is all in dark oak wood. The shiplap wall, ceiling, and flooring are all in the same tone as the vanity. There's no room for another color to blend in inside this dark wood bathroom.
To add a splash of color, you can do it by adding some colorful accessories like a little flower on the countertop. On top of the vanity mirror, there is a double light sconce to blend with the rustic atmosphere.
Don't Miss: Basement Bathroom Ideas
3. Modern Rustic Bathroom Tile Ideas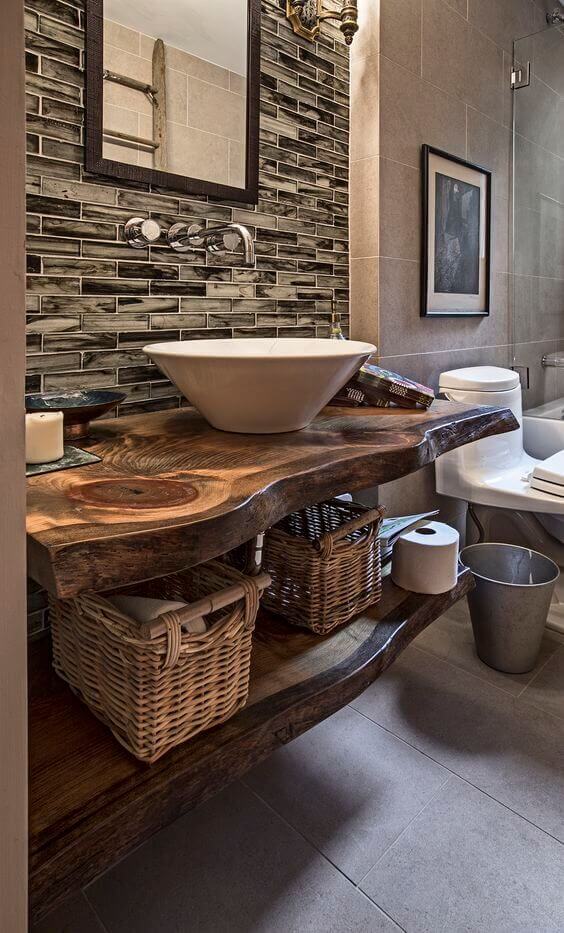 Using reclaimed wood to add a rustic charm into your modern bathroom is one of the favorite tricks to do in designing a bathroom.
This bathroom can be called rustic. It's still a modern elegant bathroom, but it's accentuated by a unique reclaimed wood vanity.
This artistic design of walnut wood vanity would offer an exotic view inside the bathroom. The countertop vessel sink seems to be blending with the rustic scene in the vanity.
The mosaic tile wall is installed in order to balance the contrast combination between modern and rustic style.
4. Barn Wood Interior for Rustic Bathroom Ideas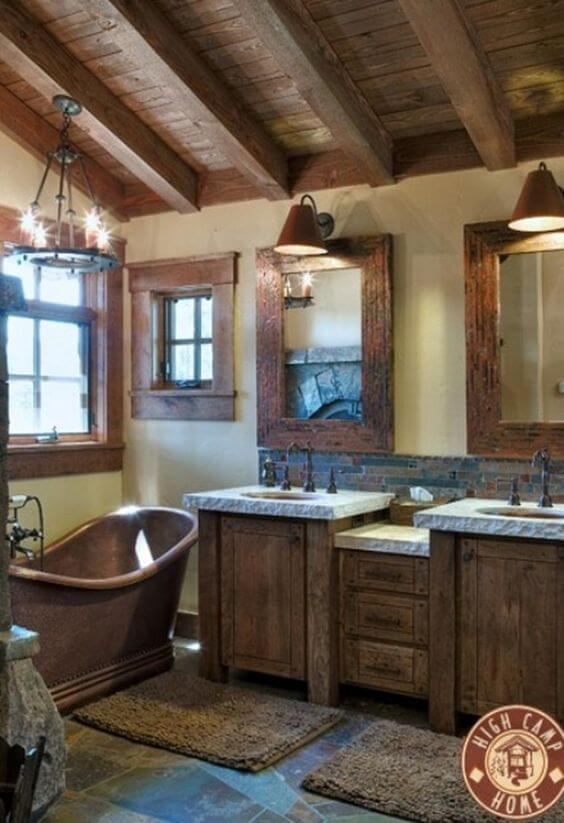 A double wooden vanity would also look amazing in rustic style. The wood-paneled ceiling in this bathroom is a typical barn style room. Rustic and barn style seems to be a perfect combination.
A freestanding brass bathtub is placed under the window. A rustic concrete flooring in this barn bathroom matches with the surrounding.
5. Country Rustic Bathroom Ideas Design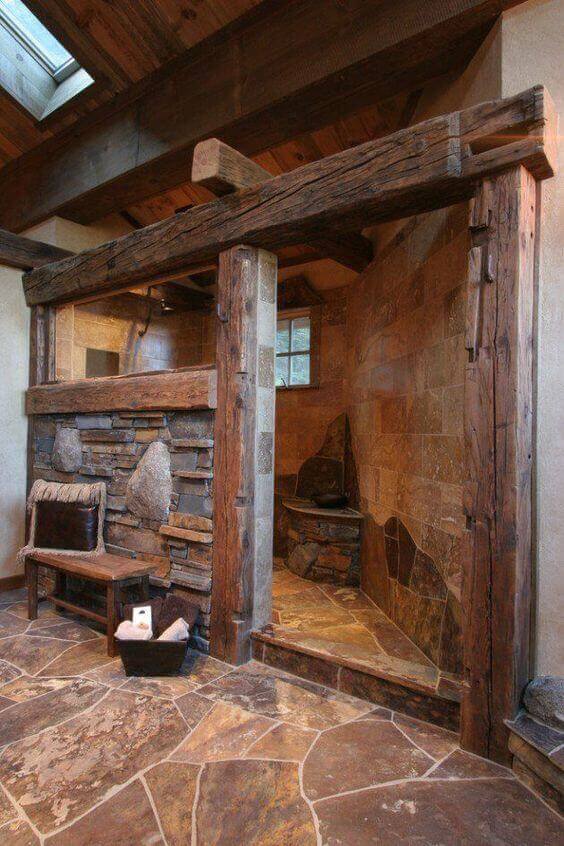 This is one of the most interesting log cabin bathroom designs. It's extremely rustic for a bathroom.
It might feel a little bit weird if you are not into the country rustic bathroom like this. This country bathroom has rustic elements all over the space.
The rustic flooring has a faux limestone finish to maximize the log cabin concept of this bathroom. When you have a shower in this bathroom, it would feel like having a shower in the ancient time.
6. Rustic Cabin Bathroom Design Ideas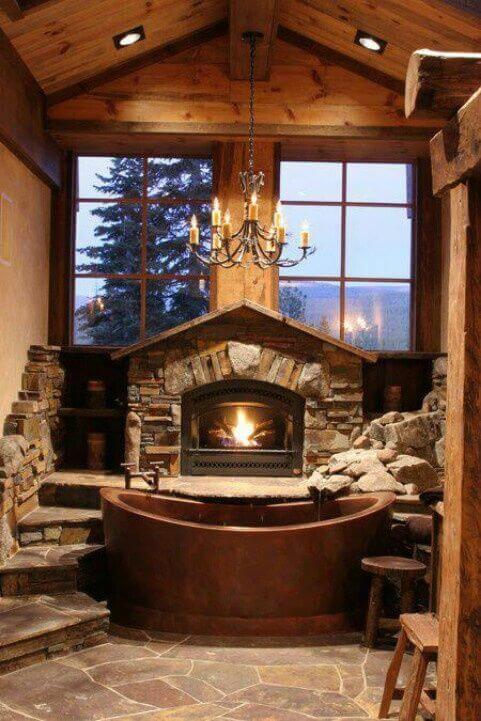 Stones with classic tone could make an outstanding cabin bathroom. All of the antique elements in this bathroom bring you back to the past. Above the freestanding bathtub, you can enjoy a piece of the artistic chandelier.
On the background, you can enjoy the main feature of this bathroom, a classic fireplace. You can enjoy this warm atmosphere in your own bathroom.
Such an amazing traditional fireplace would let you feel the authenticity of antique and traditional style bathroom.
Related Article: Outdoor Shower Ideas
7. Country Western Bathroom Decor Ideas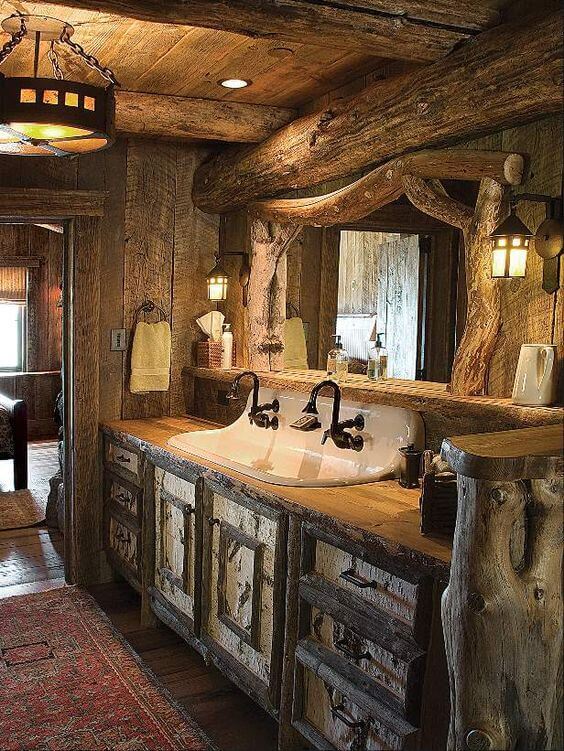 A sense of warm is something you can expect from a rustic bathroom. Because rustic color tends to be dark and gloomy, it's because the light fixture offers the right mood for the room.
Check out this country western bathroom. It's full of the rustic element; some of them are in extreme level of rustic.
The sink and its faucet work together to blend in with other contrast furniture style. With the log cabin ceiling, this bathroom would turn your world upside down.
On each side of your mirror, you can have an antique light pendant that's suitable for your bathroom vanity.
Also Read: Bathroom Lighting Ideas
8. Vinyl Flooring On Bathroom Walls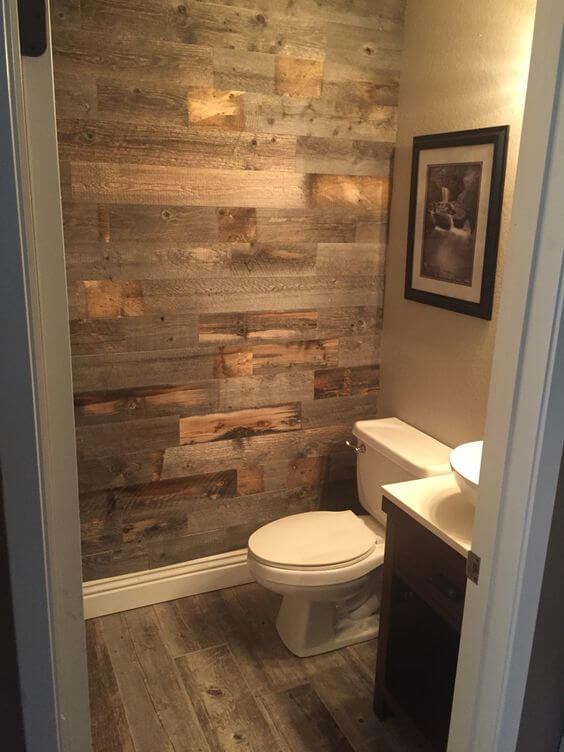 Sometimes, the designer of a bathroom gets the bathroom wall design inspired by the design of flooring.
As you can see in this bathroom, the wall and floor design are just the same. It looks like you are facing your flooring when entering the bathroom.
The goal that the design aims is to maximize the appearance of the wood texture in the bathroom. The vinyl flooring on walls is not something uncommon.
Most designers have the vinyl wall texture that's not similar to the typical wood floor.
9. Rustic Master Bathroom Ideas with Artistic Stone Flooring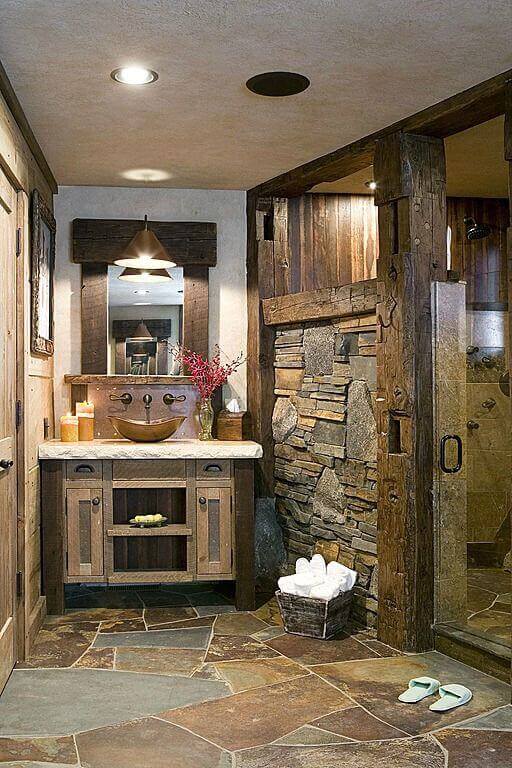 When people enter this bathroom, they will be looking straight to the flooring and wall design. These traditional antiques would bring back you to the ancient showering experience.
Some people would be uncomfortable with this kind of rustic design. But, people who appreciate the work of rustic art, this might be the bathroom of their dream.
Quote. A unique vessel sink that looks like a brass bowl is the focal point of the bathroom vanity. This antique bathroom vanity can be one of the simplest antique styles of bathroom cabinet ideas.
10. Rustic Bathroom Ideas in the Lakeside Cabin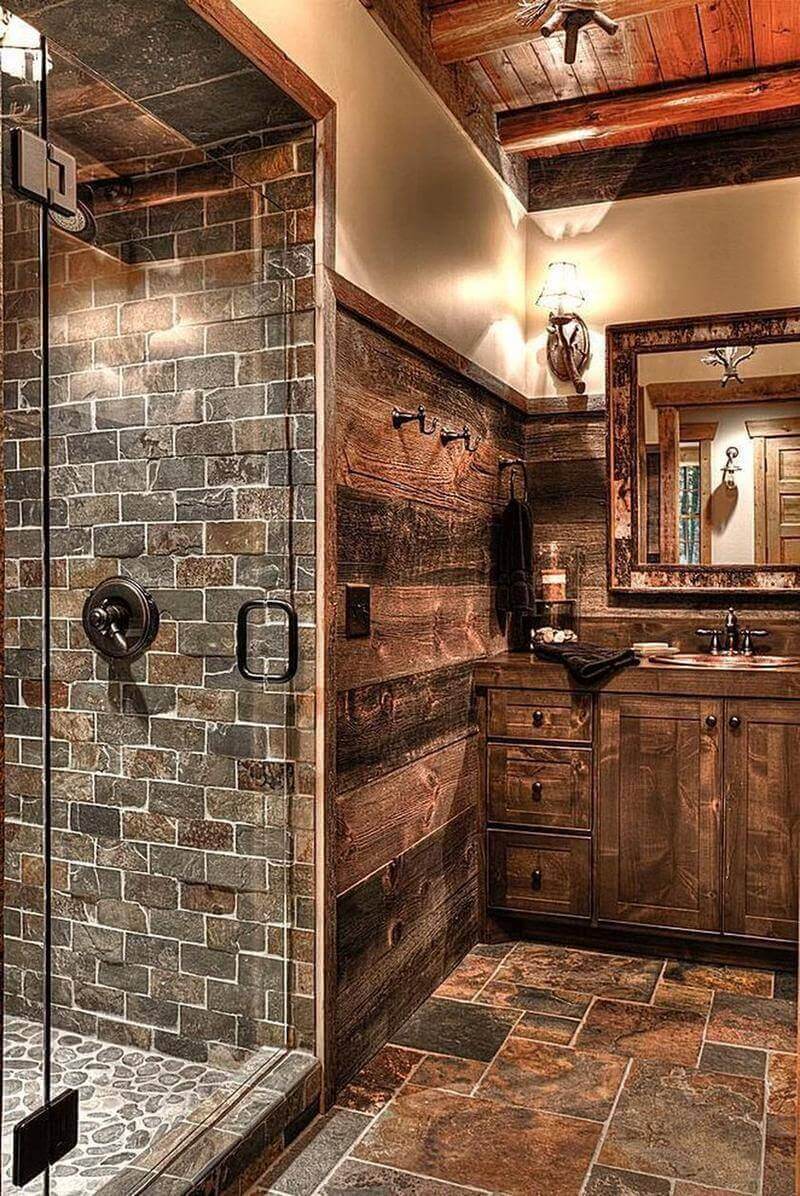 According to a home design website, this bathroom is considered as the most rustic cabin bathroom ever.
Probably, it's because this bathroom has a lot of rustic charm spreading inside a small space. This bathroom is a part of the Lakeside cabin in Milwaukee.
Comparing to the other rooms in the cabin, this bathroom has its own source of aesthetic. The design doesn't represent the aesthetic of the whole cabin house. It's one of the walk in shower ideas that can go with rustic style.
11. Country Rustic Bathroom Wall Decor Ideas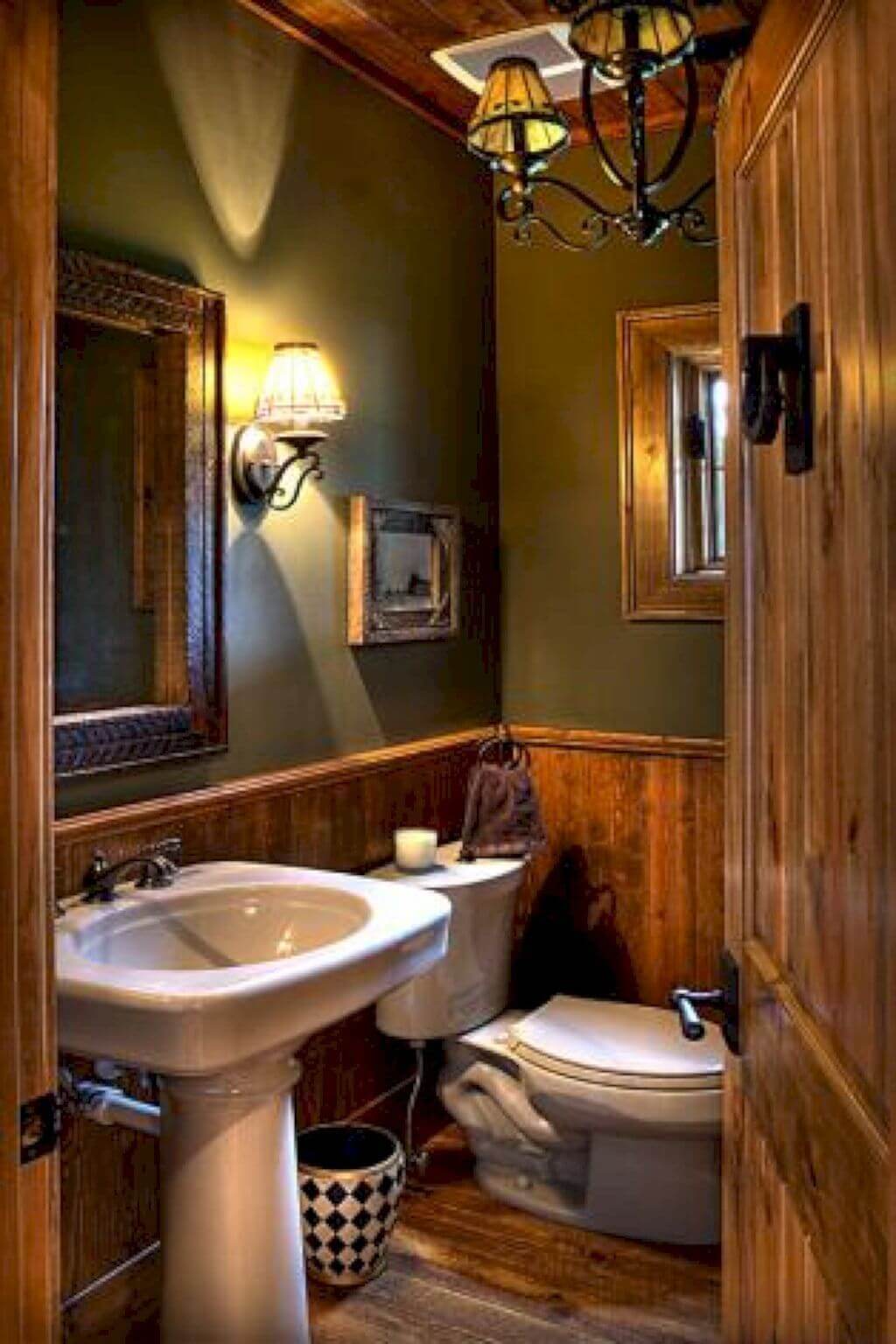 A decoration in a bathroom is quite important since it has the potential to be a boring room.
People won't spend too much time inside the bathroom, so the designer needs to make it memorable with some accentuating bathroom wall decor.
For instance, in this small rustic bathroom or powder room, there light pendants beside the mirror create a perfect ambiance to set the good and warm mood inside the bathroom.
It also adds a dramatic accent to the wall with its light. The wall over the toilet could be filled with an interesting framed picture to avoid emptiness.
12. A Bathroom Filled With Stones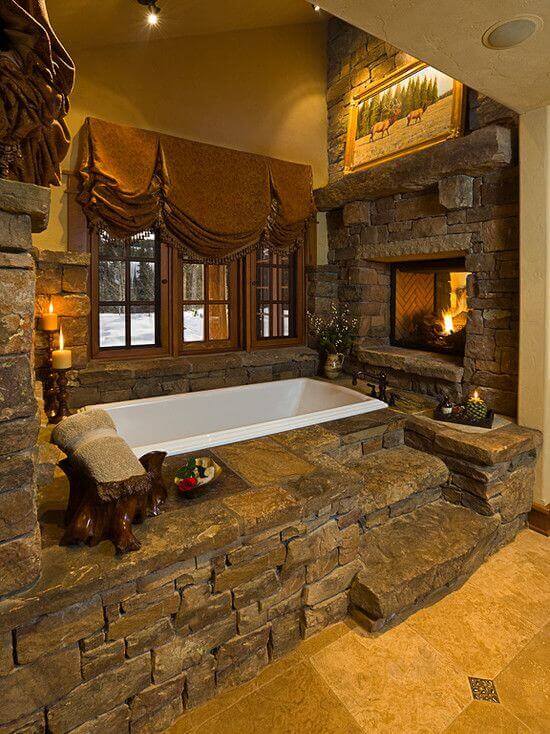 Are you a fan of stone art? Some people choose to have some part of their house as natural as possible. The natural style is not just about indoor plants or wooden furniture, but also about stones.
Piles of stones can be a work of art. Take a look at this bathtub stone set. In making this majestic bathtub, some artistic skills need to be involved.
Stones have its own natural texture that can turn your bathtub into a stunning Jacuzzi scene with a fireplace.
Rustic Bathroom Wall Decor Ideas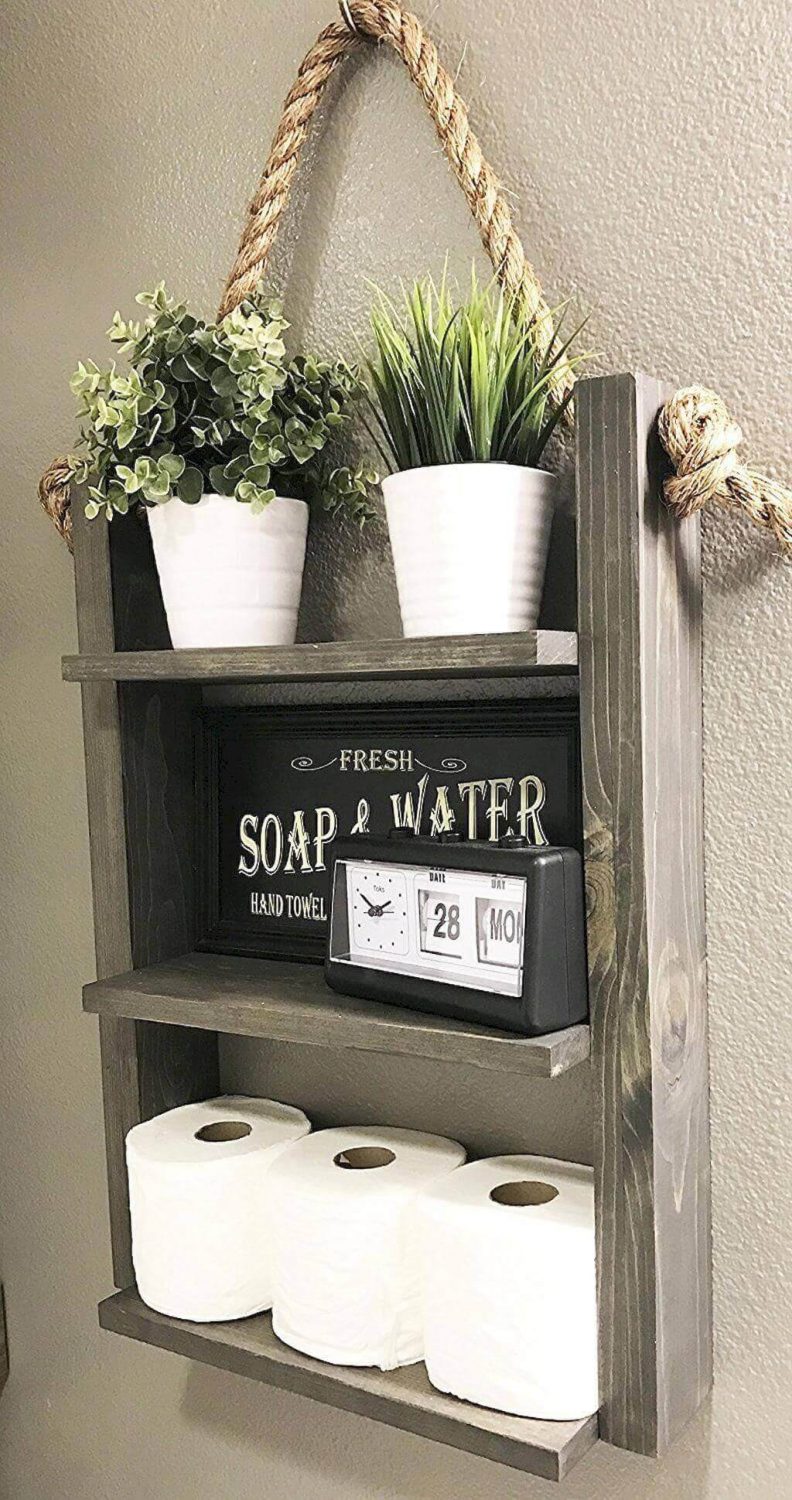 13. Rustic Little Shelf as Toilet Paper Holder
Simple wall decor can give an extra vibe to make the bathroom even more stylish. The addition of wall decor to an empty bathroom would get the bathroom to be more alive.
The wood wall decor design can be based on the amount of space that the bathroom has.
This toilet paper holder has a rustic design with an organic rope to hang it on the wall. You can have this wall decor on the wall above the toilet.
So, the toilet paper supply would be easy to reach. It can also give the wall an interesting scene.
14. Elmwood Modular Shelf for Rustic Bathroom Ideas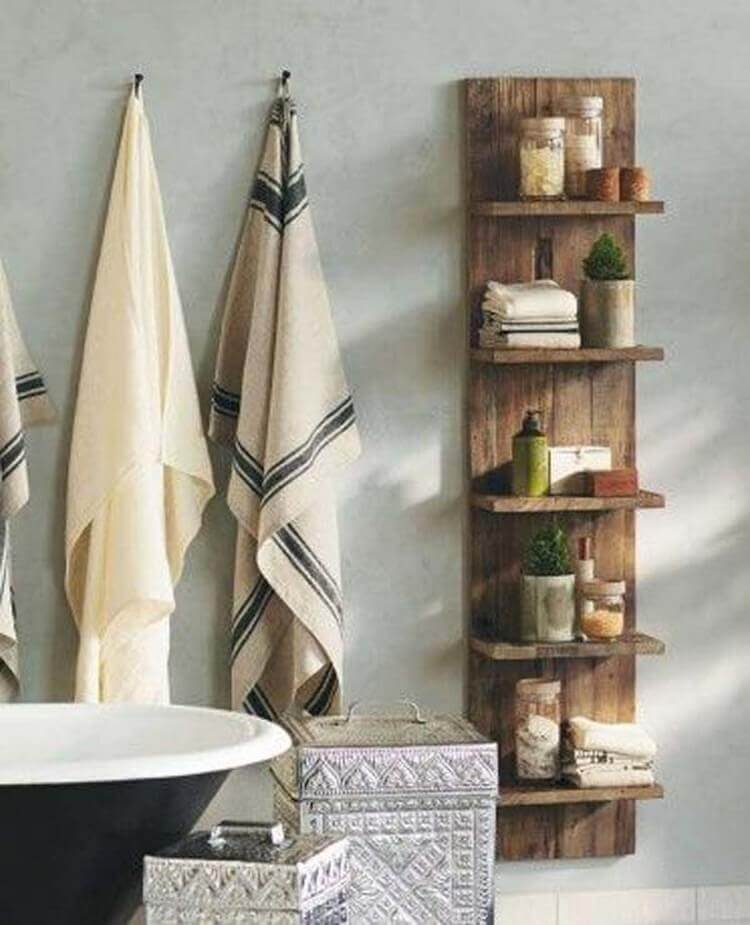 One of the interesting bathroom storage solutions you can attach to your bathroom wall. The rustic wood material could really add color to your bathroom wall.
Beside storage solution, this shelf would become a stunning wall decor. As you can see, it consists of 5 spaces to let you organize your bathroom items or accessories.
For a rustic bathroom, this shelf could be a best friend to its wall. You can have it side by side with your towel, just like what you see in the picture.
15. Rustic Bathroom Shower Ideas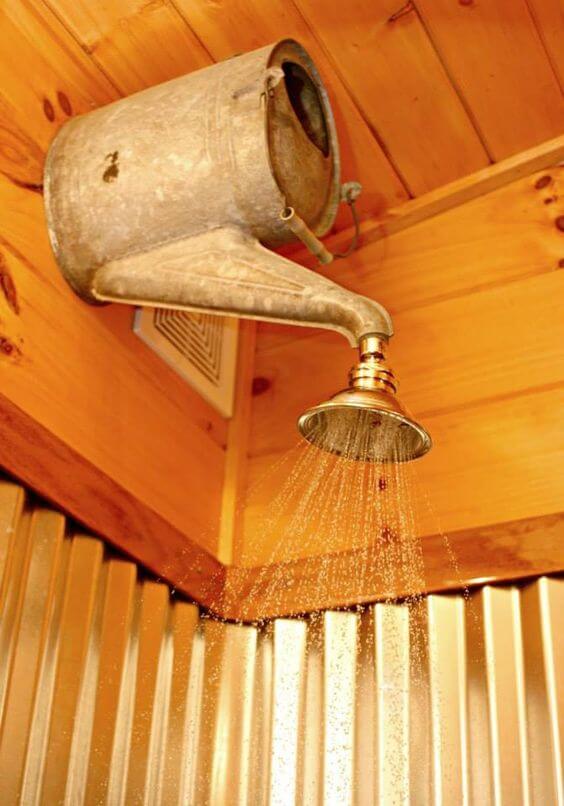 It's an interesting design for your rustic bathroom
Obviously just a watering can that is used as a shower
It's a very unique and clever DIY project idea
A watering can tend to be used to watering plants and flowers. Maybe, when you take a shower using this unique shower fixture, you'll be watering just like a flower and sooner or later you'll be blooming.
16. Farmhouse Style Decor Over the Toilet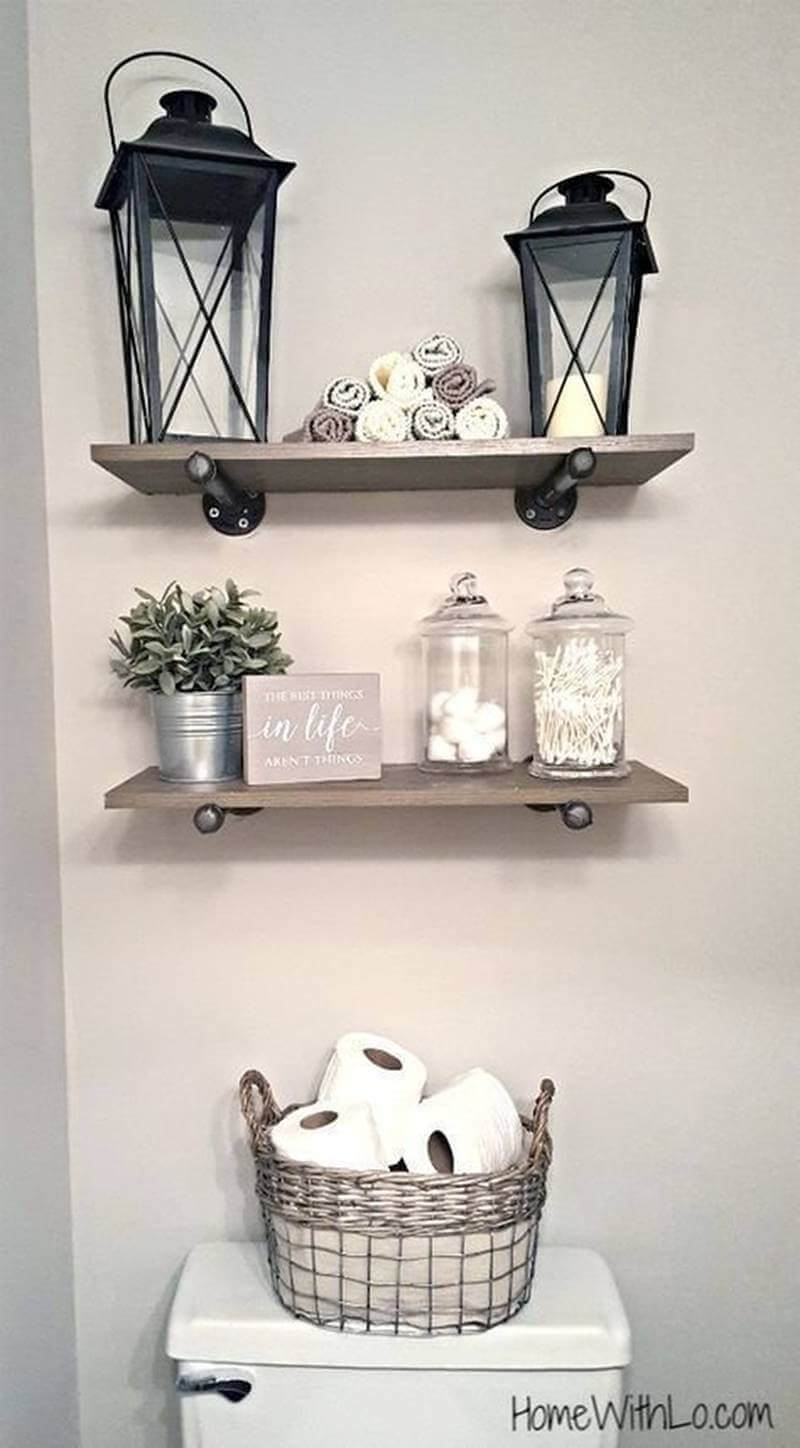 A wall space over the toilet seems to be the most favorite place to apply wall decor. Because this space is mostly unused and left empty, it would be great for the bathroom to have a wall decor like this mini shelf.
A simple shelf allows you to put the accessories and a little bit of supply. There are two lanterns in different size taking over the scene. It's a nice addition to your farmhouse bathroom.
17. Potted Flowers Wall Decor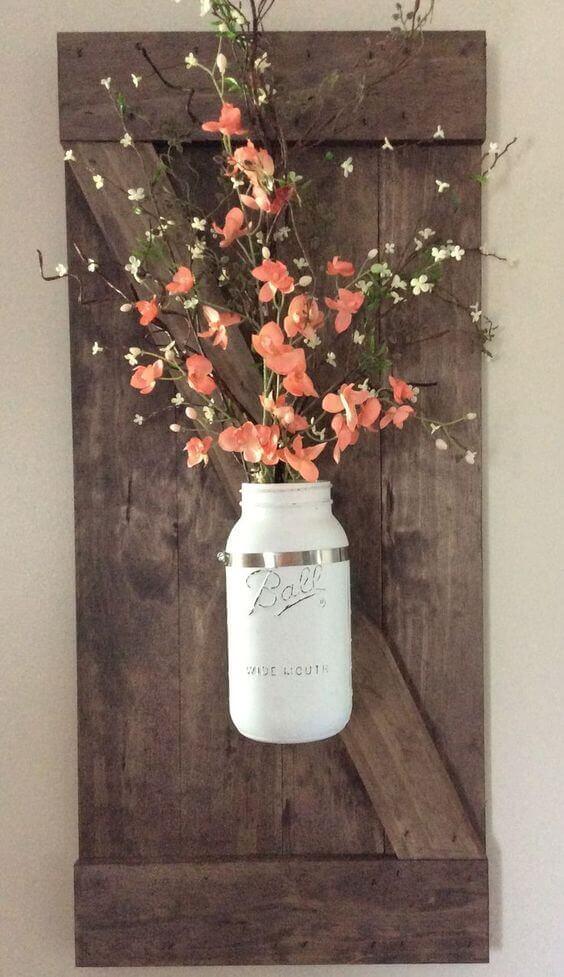 A romantic addition to the wall won't bother the rustic vibe inside the bathroom. That's right; it's because of the baseboard.
It's the important element of this wall decor. This rustic board makes a perfect background for the flowers. It let the flower shine in its own way.
The Mason jar pot is colored white to make a good contrast with the background. Well, your partner would love this rustic flower wall decor attached to the wall in the master bathroom.
18. Distressed Wood as Rustic Bathroom Ideas Wall Decor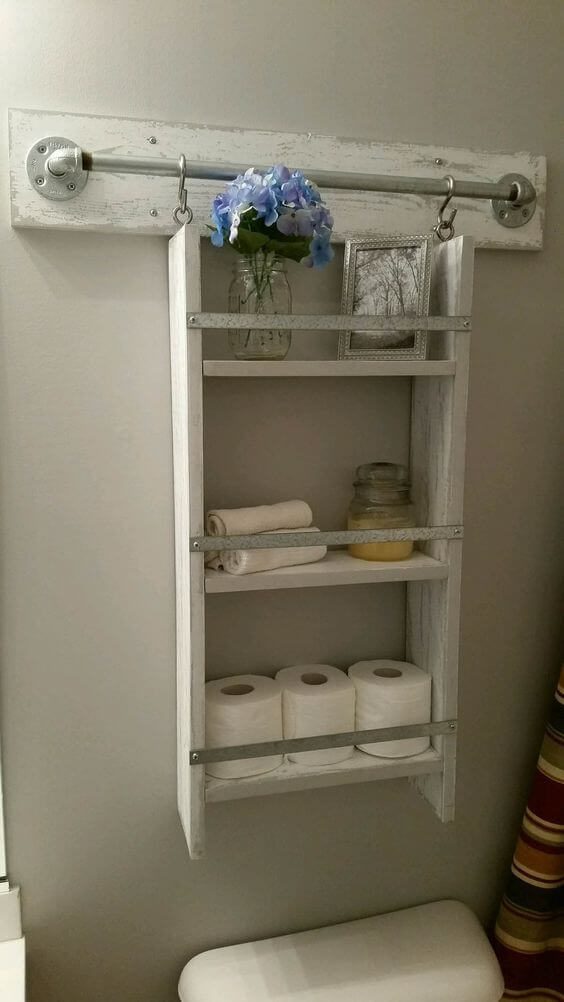 It's an easy DIY project that would make use of wall space over the toilet. The toilet paper would come in handy in every bathroom. The color of this shelf is similar to the wall background.
That means the shelf won't give any splash of color to make the wall more interesting. But, you can do add a splash of color by adding a colorful item like that purple flower.
19. Useful Decor on the Countertop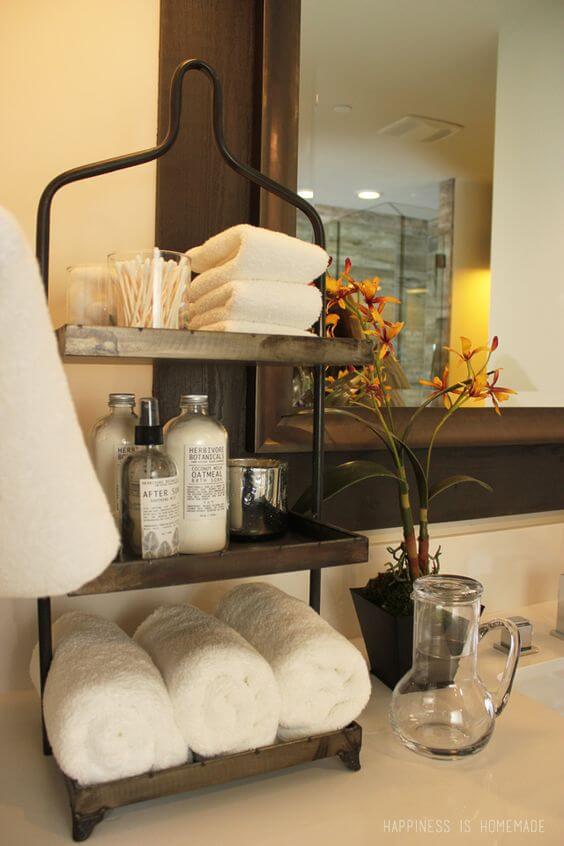 It's quite important to have a simple storage solution near the vanity mirror. It can be used to store some makeup, beauty products, hair products, etc.
Check out this three-tiered metal storage. It's great because of its portability. You can even hang it on the wall hook or carry it anywhere in the house.
It offers you with a bit of spa-like experience. You can store your towel rolls too. The space is quite small but it's enough to handle some of your products.
20. Rustic Shelf Organizer by the Sink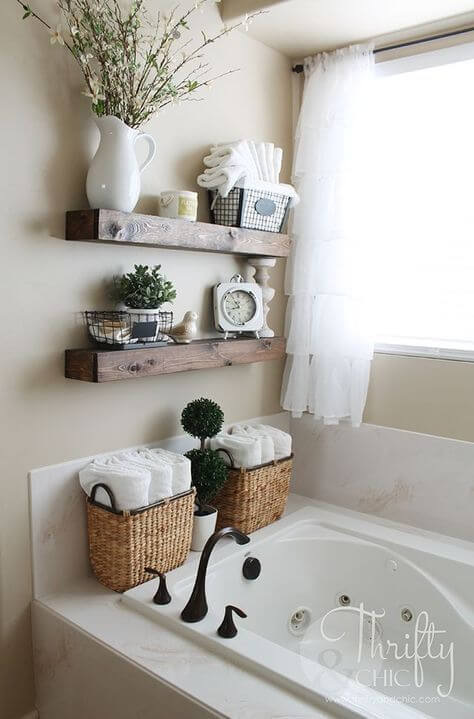 Having a shelf or an organizer by the sink tends to happen inside a kitchen, not a bathroom. But, this time, you see a simple open shelf placed next to the sink.
It's obviously not useful for storage; it's filled with accessories ready to be exposed by the sunlight from the window.
For the sink itself, it doesn't affect anything. It only gives something interesting to see nearby the sink.
21. Easy Rustic Bathroom Ideas Makeover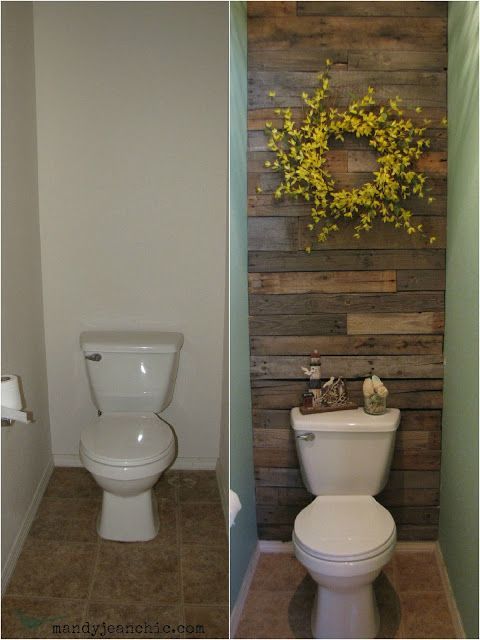 For an empty boring toilet space, this idea is really interesting to copy. It only includes wood planks, interesting wreaths, and a few rustic accessories.
The design idea is both clever and beautiful. After the makeover, I believe you will really enjoy your time in the toilet.
Things to consider:
Space is really narrow.
Those rustic accessories on the toilet is a little bit unnecessary
The rustic wooden wall is quite complicated to install.
22. DIY Rustic Functional Decoration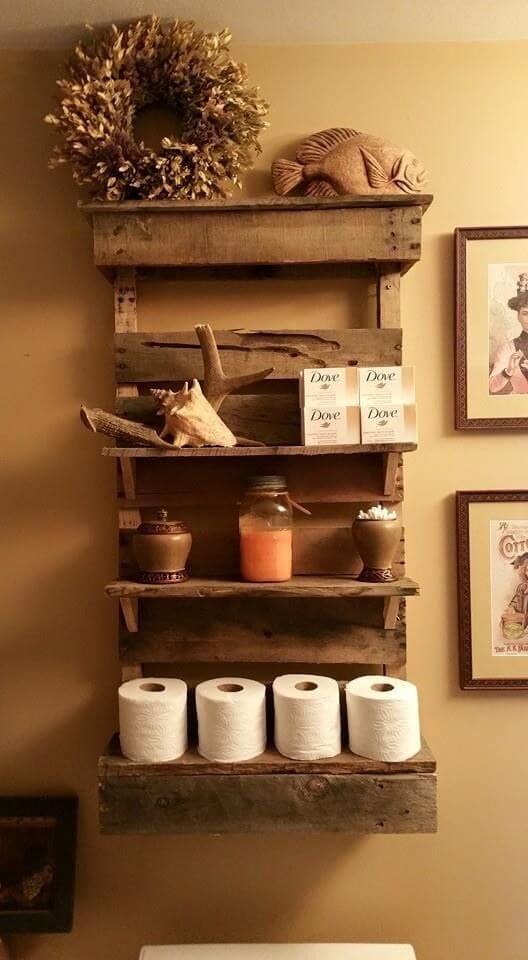 23. Rustic Toilet Paper Roll Holder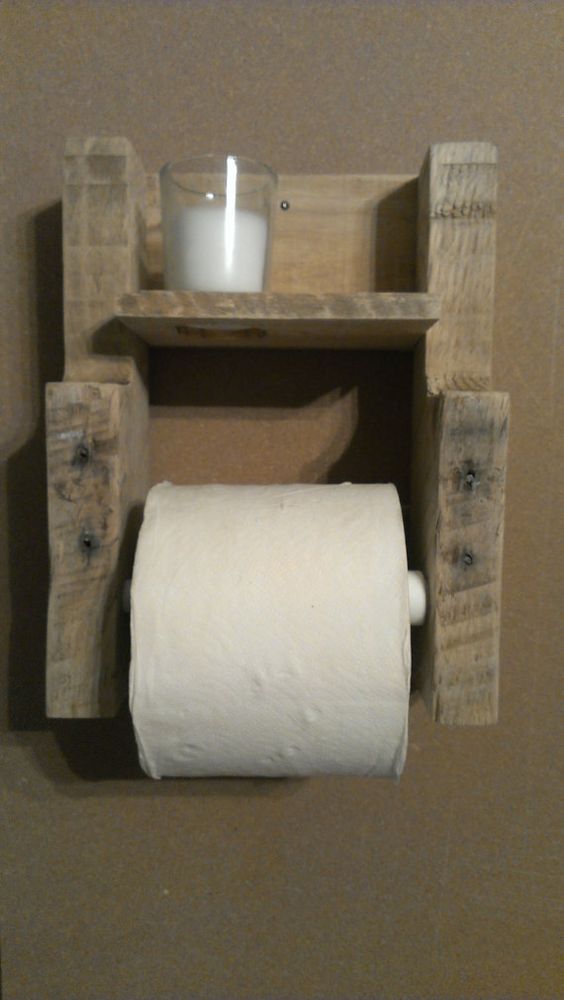 24. Small Rustic Bathroom Ideas Wood Beam Shelves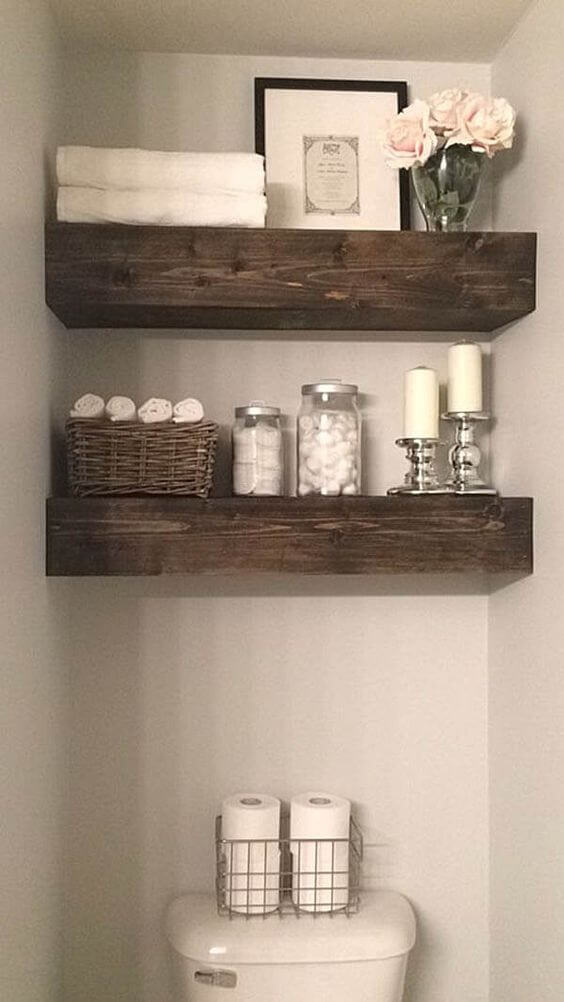 25. Rustic Bathroom Decorating Ideas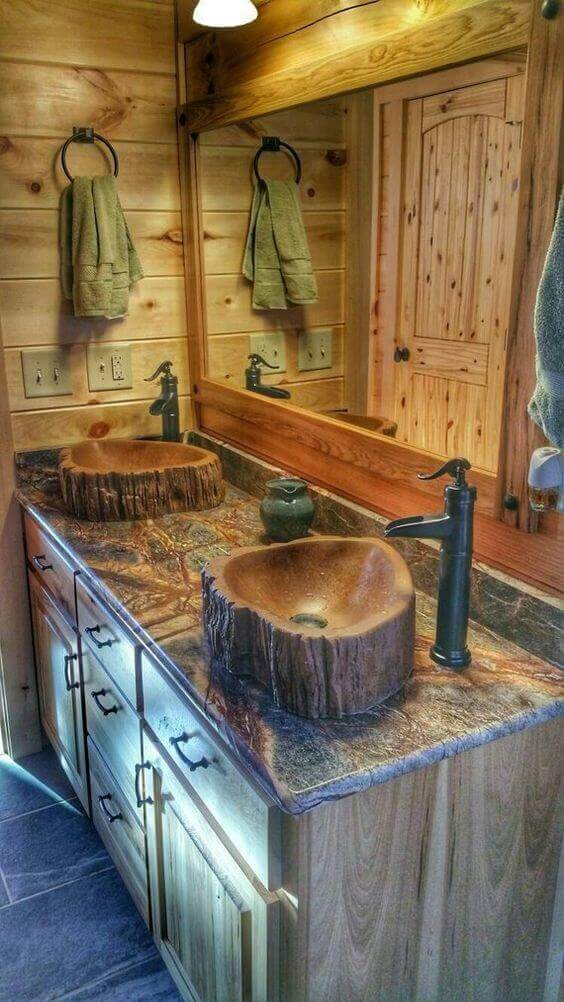 26. Ladder Shelf for Spa Bathroom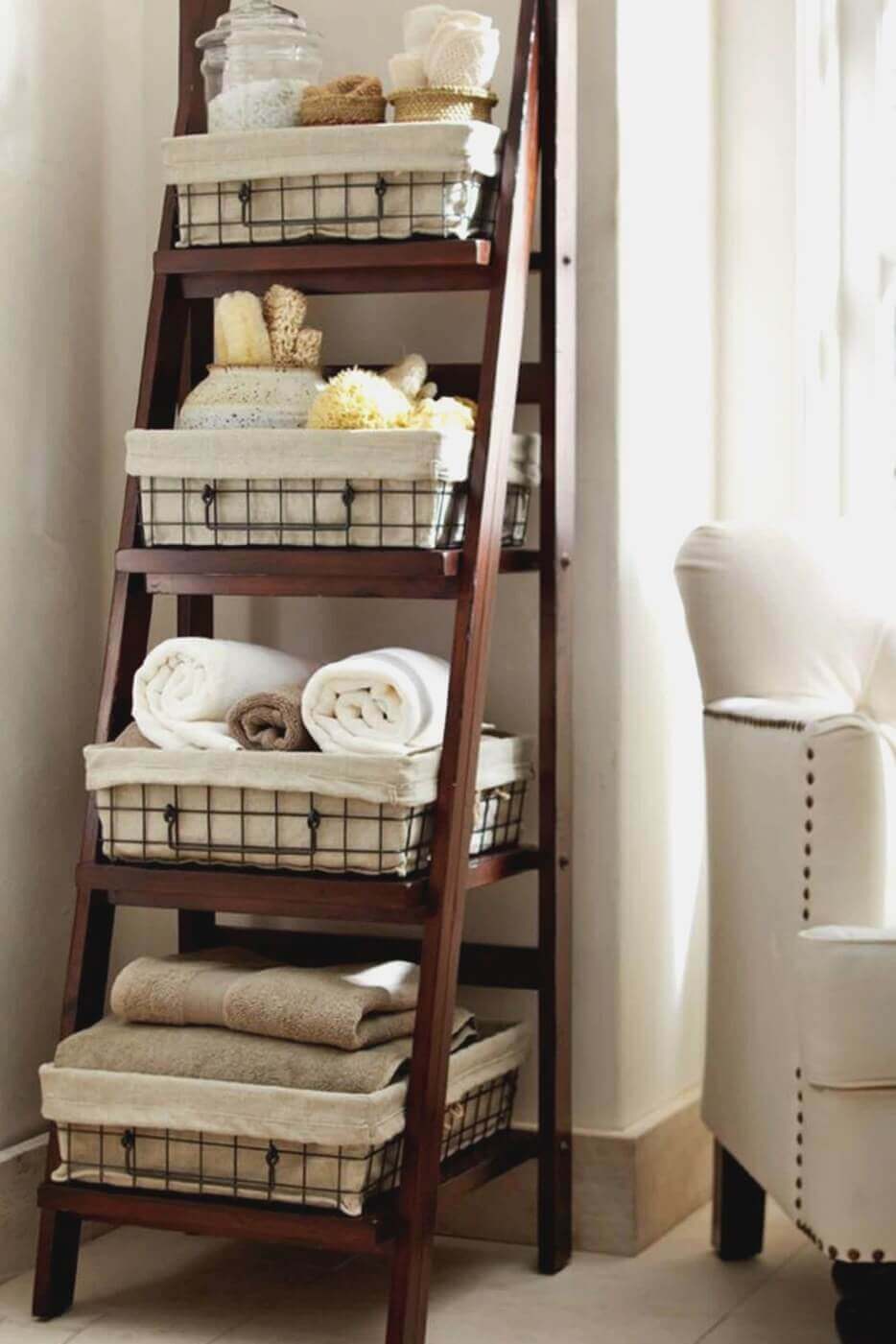 27. Rustic Small Bathroom Vanity Decorating Ideas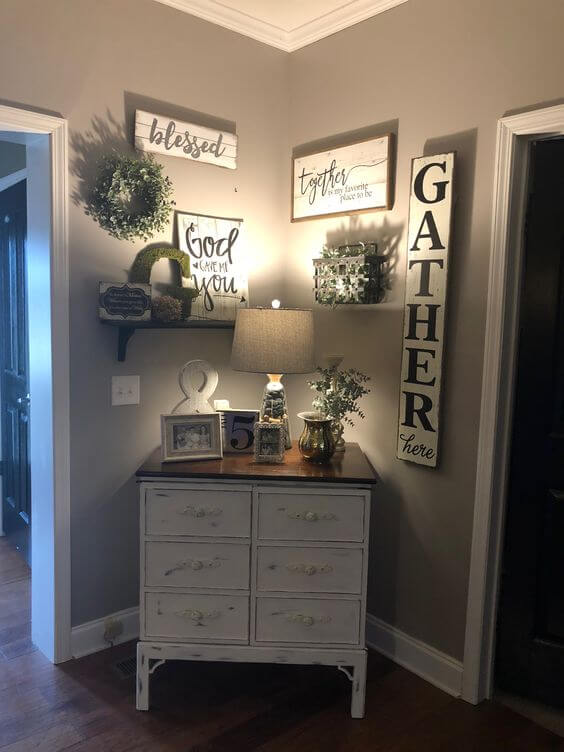 28. Modern Rustic Bathroom Ideas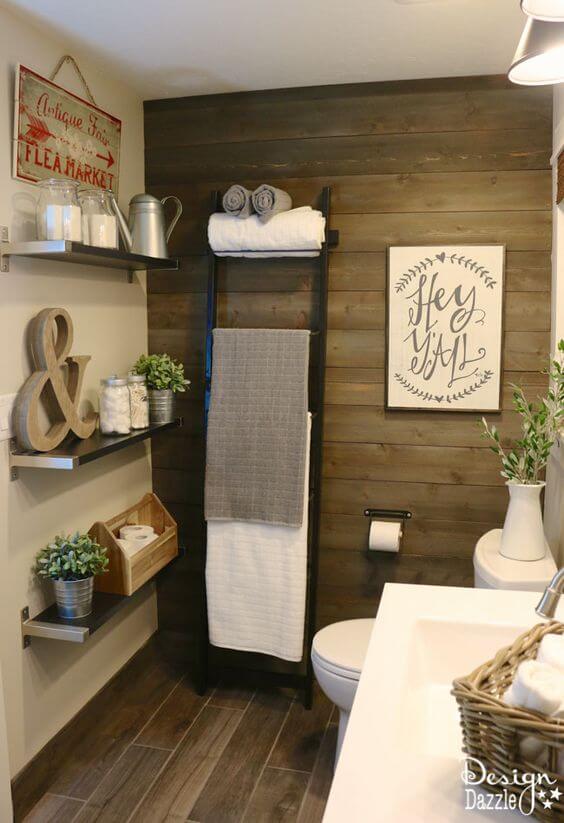 Conclusion
All of those 28 Rustic Bathroom Ideas would surely make a big impact on your bathroom atmosphere. Choose one that represents your rustic style.