Living in a modern era affects the way of thinking of all house owners. This is why more people are into corner fireplace ideas in stone these days.
Everyone seems can't resist the beauty of a fireplace in the house. It can warm the people around it better when the weather is cold.
And it also can be just a decorative aspect in the living room if the weather is warm enough. So, the ideas to put the fireplace in the right place must be concerned at the most.
They think that it becomes a compulsory feature in their living room. Plus, many types, sizes, and designs are available to choose from!
Here some ideas to make your family room become the most comfortable modern small living room corner fireplace ideas in the house with fireplace by Harp Times:
1. Small Corner Fireplace Ideas in Stone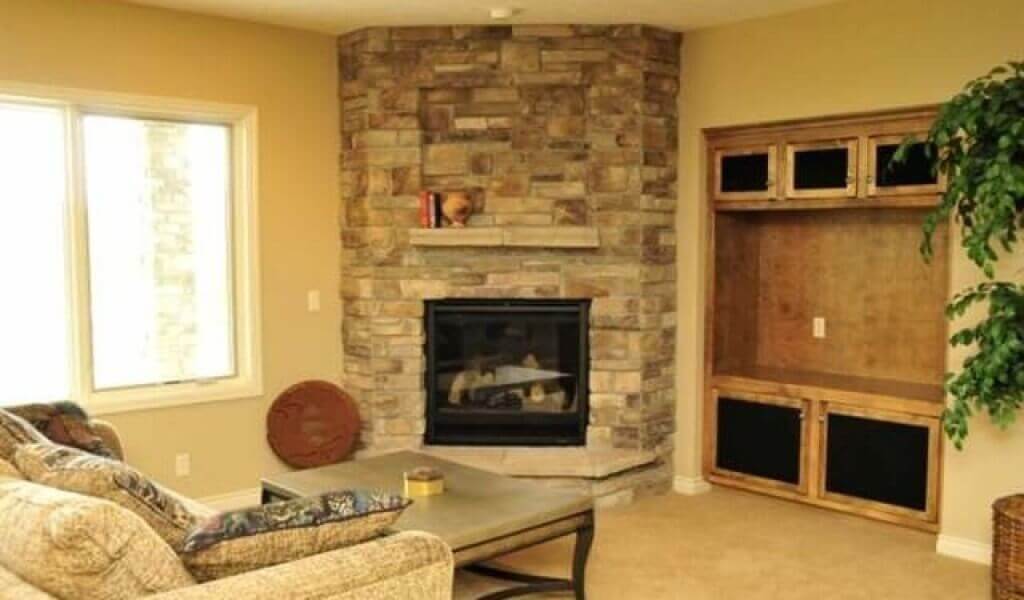 A stone corner fireplace is a perfect addition to a nice meal, candlelight, and family gathering.
It offers a romantic nuance and brings a homey mood either in the living room or dining room wall decor. The extra stone patio helps to increase the ambiance, too.
2. Mountain Style Stone Corner Fireplace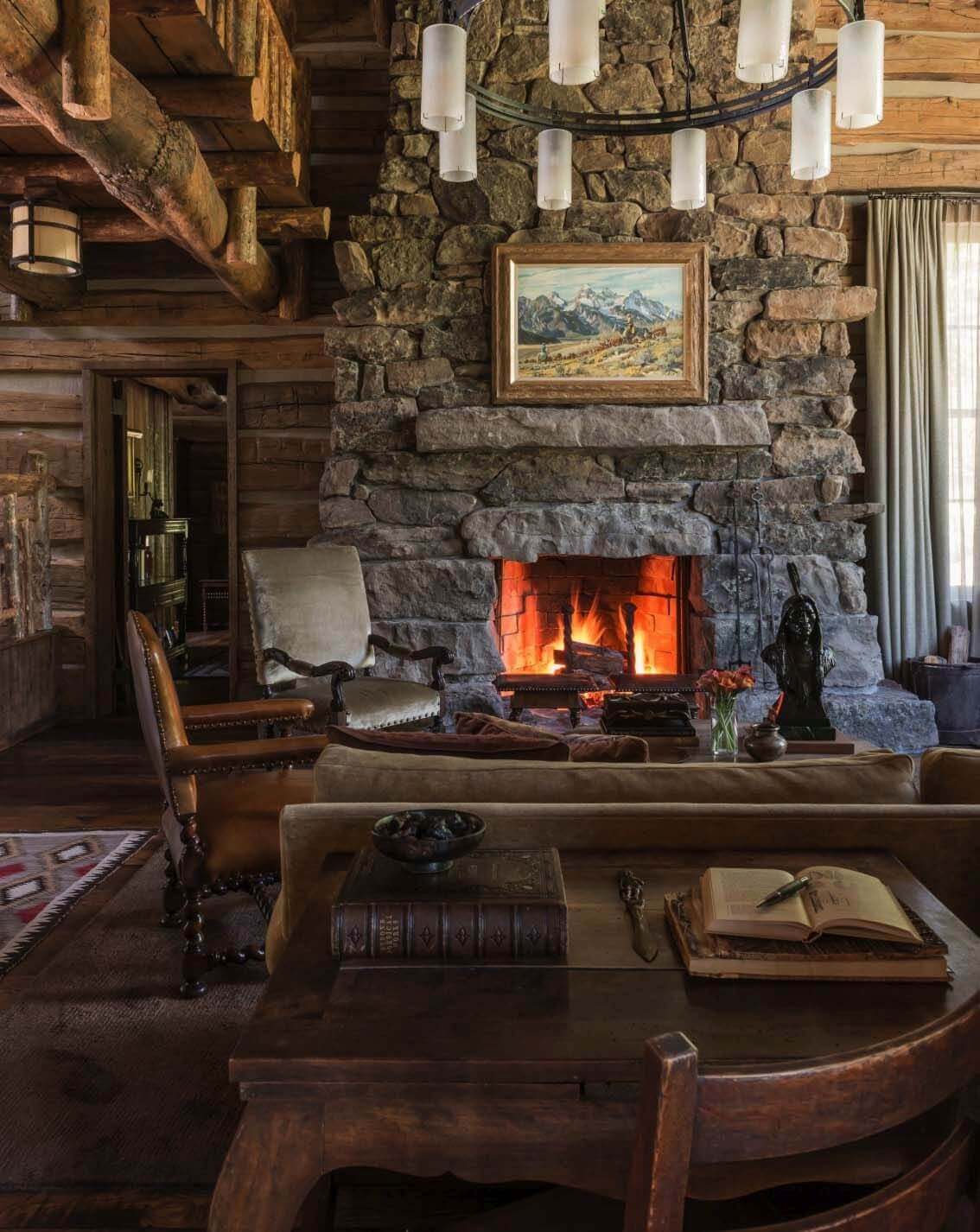 As the name suggests, it represents life in a country mountain house. This stone corner fireplace idea resembles an enchanted forest and handsome place for living. Also, do not fail to notice the curtains living room ideas here.
The elements that emphasize the rustic and traditional style of the living room:
Hanging ceiling lamps,
Wooden furniture, and
Neutral toned rug
3. Master Bedroom Style
Somehow, a stone corner fireplace matches a master bedroom ideas well. This style features a rustic bed and pastel theme. The ambiance feels quite comfy despite the small size of the room.
4. Living Room Corner Fireplace Furniture Placement Ideas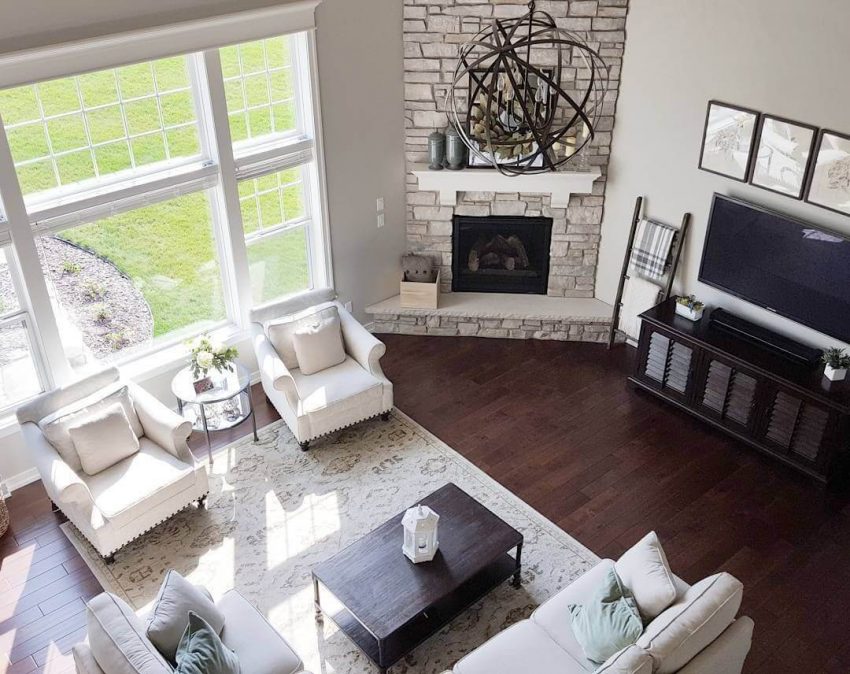 For some people, a corner fireplace perhaps seems troublesome due to the complex furniture arrangement. This won't be an issue if homeowners have several ideas on how to arrange the furniture.
5. Sectional Seating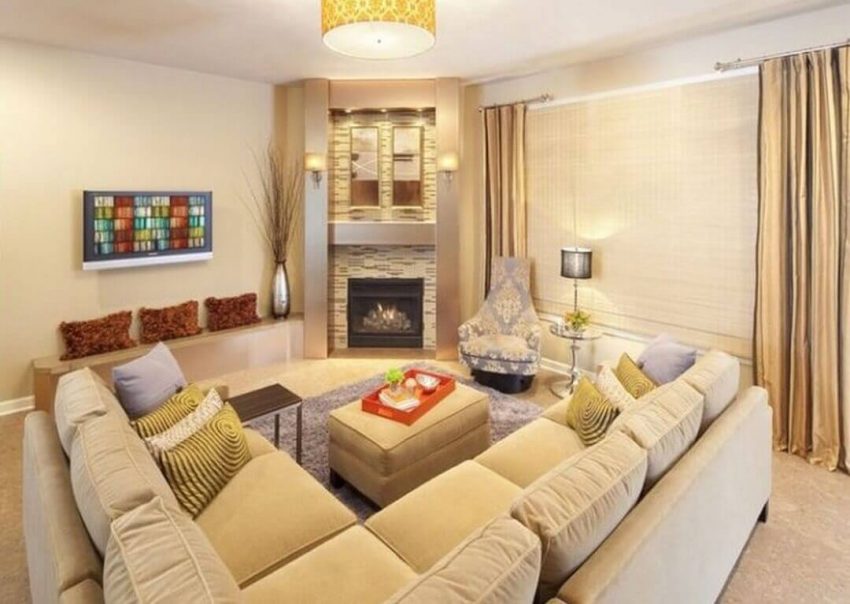 A sectional sofa is a recommended combination to a corner fireplace. It even works well with a TV located next to the fireplace. Here is a consideration, though. The arm of the sofa should be far from it, as it may cause a fire issue.
6. Subdivide the Living Room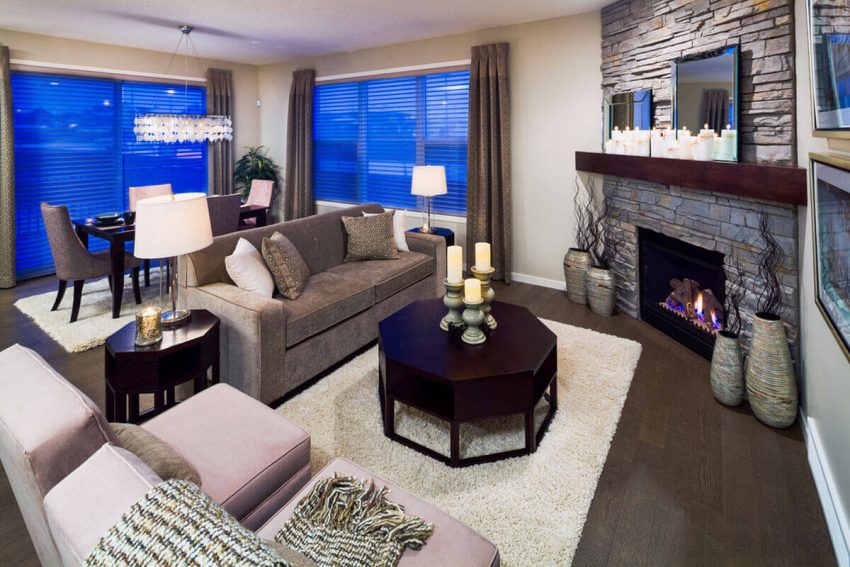 This concept is suitable for a large living room. The aim is to subdivide the space into several zones using a preferred furniture arrangement.
It is recommended to put some chairs perpendicular to the fireplace. It helps to create a reading space!
7. 

Electric Modern Corner Fireplace Ideas Living Room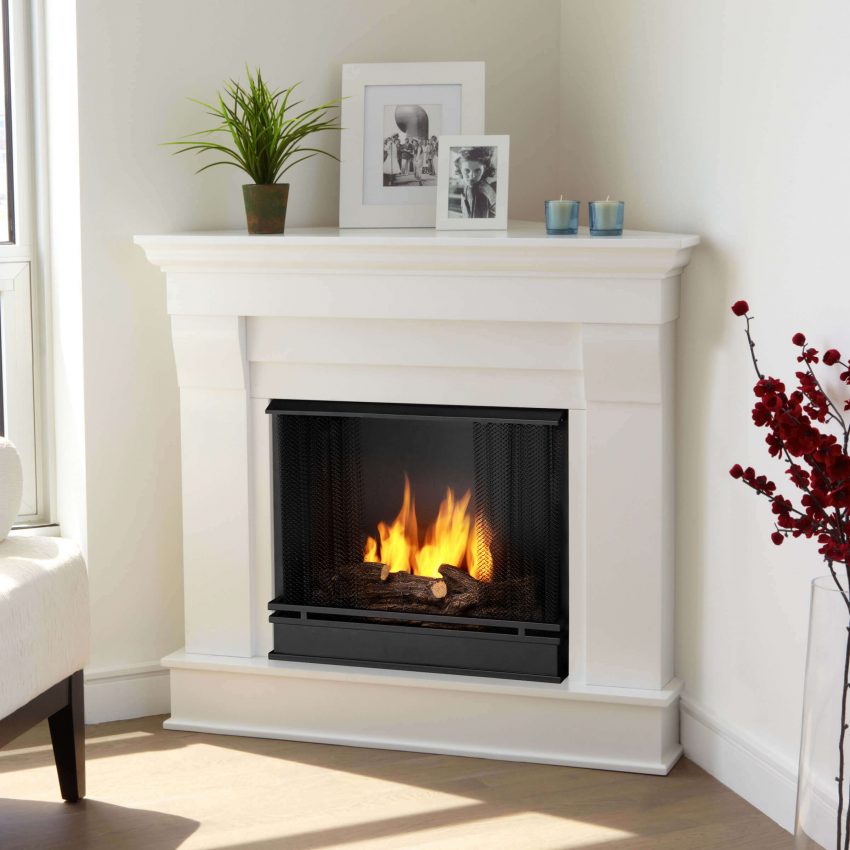 This modern electric fireplace is more compact and looks better than the regular one. It is suitable for a contemporary house, but the price is somewhat pricier than a common corner fireplace. The appearance looks better, though.
8. Ornamented Electric Corner Fireplace Ideas Pictures
It doesn't have to be a complex concept, as homeowners can use this simple and unique electric corner fireplace idea. It only features some ornaments like candles, photos, etc.
9. Advanced Electric Fireplace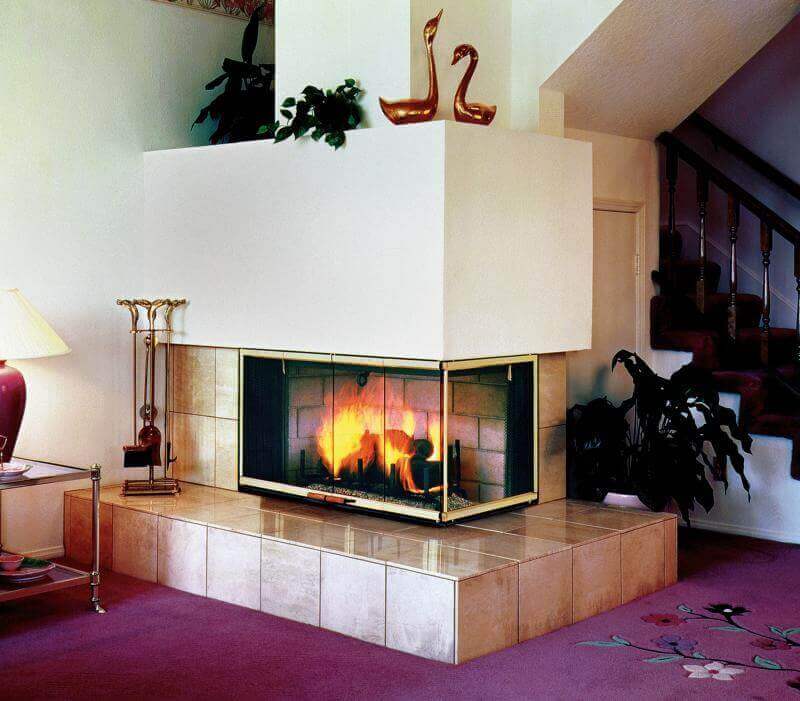 This idea is considered innovative, as it includes various features including a creamy coating, a metal rectilinear frame, heatproof glass, remote control, and even flame effects! Don't forget the soft carpet, too.
Quote:

A corner fireplace is the one that has suitable features for a curve room. According to experts, this has been used for centuries and it is considered a distinct style in the market. No wonder, buyers always have many options to choose from out there.
10. Small Corner Fireplace Ideas in Stone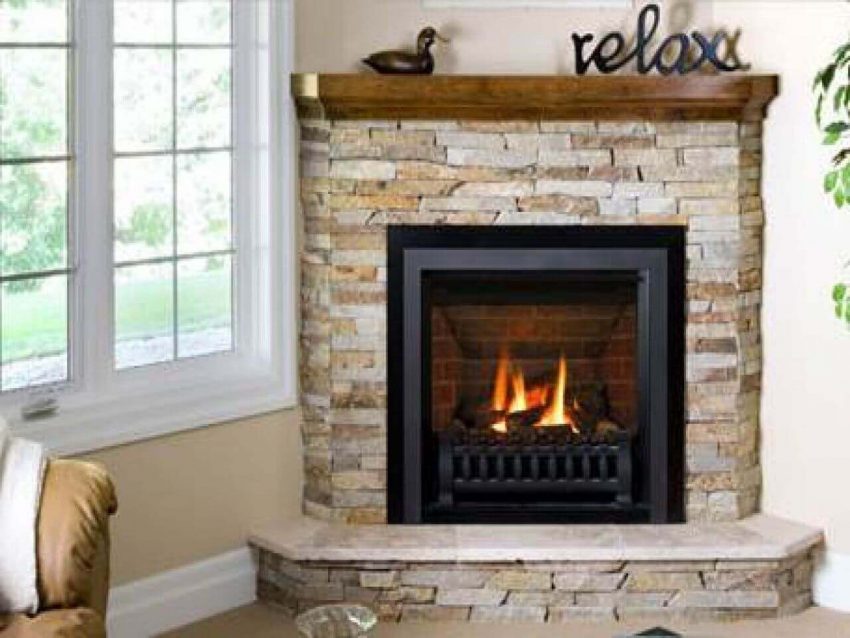 A small corner gas fireplace is perfect for a small living room. Moreover, it comes with various features choices like a natural vent, exhaust-free, and direct design. Plus, the styles vary in the market.
11. Spanish-Style Small Corner Gas Fireplace Ideas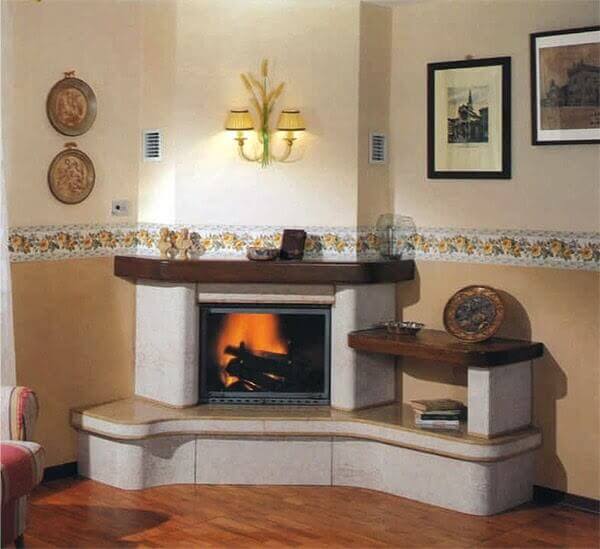 It is easy to bring the ambiance of a European country to the house. With this Spanish-style corner gas fireplace, the living room looks mesmerizing. Some hanging ornaments and figurines can be a nice addition, too.
12. Summer House Corner Gas Fireplace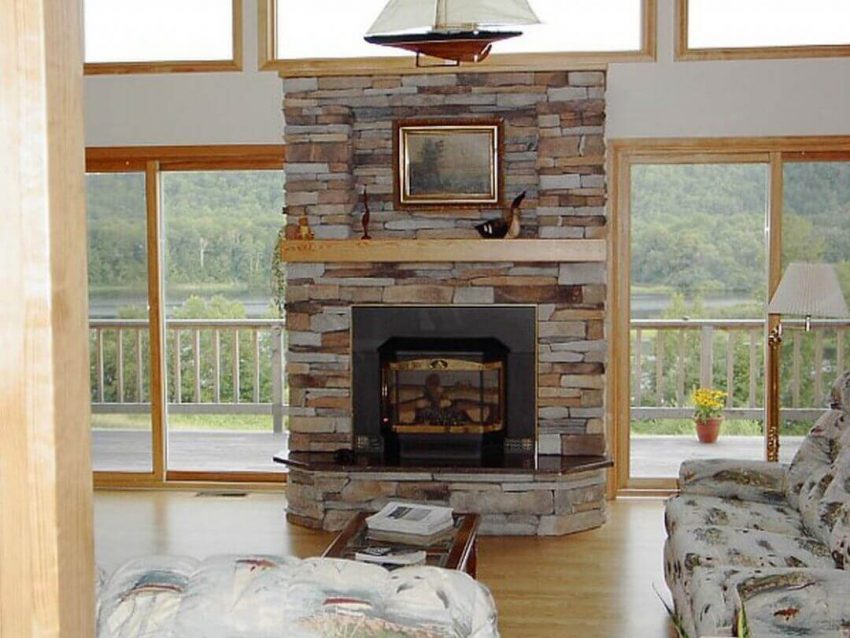 Many aspects occur in this type of corner gas fireplace. These include a stone fireplace with big hearth and elegant traditional furniture. Sofa table décor is an example, which may give better comfort to the room.
13. Rustic Corner Fireplace Ideas with TV Above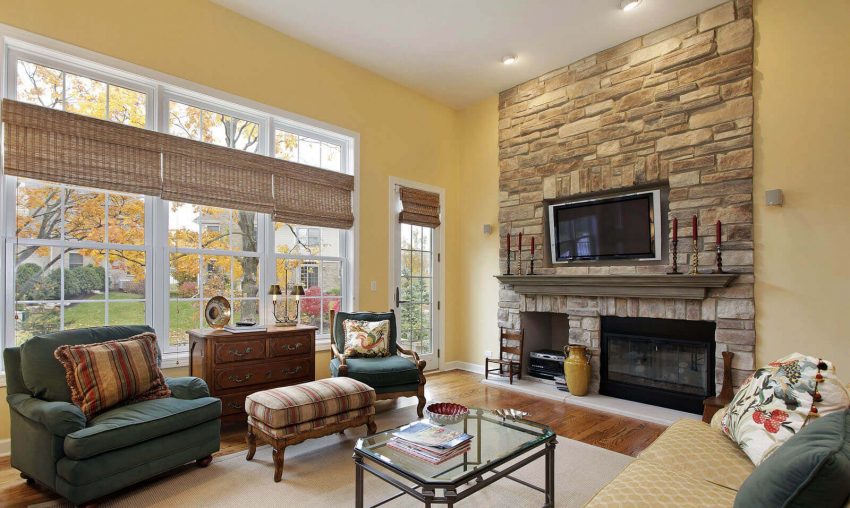 Modern life represents luxury, simplicity, and style. Installing a corner fireplace with a TV above would be a good idea, therefore. Not to mention many ideas are available to apply on regardless of the size of the farmhouse living room ideas.
14.

Beach House-Style Corner Fireplace Ideas with TV Above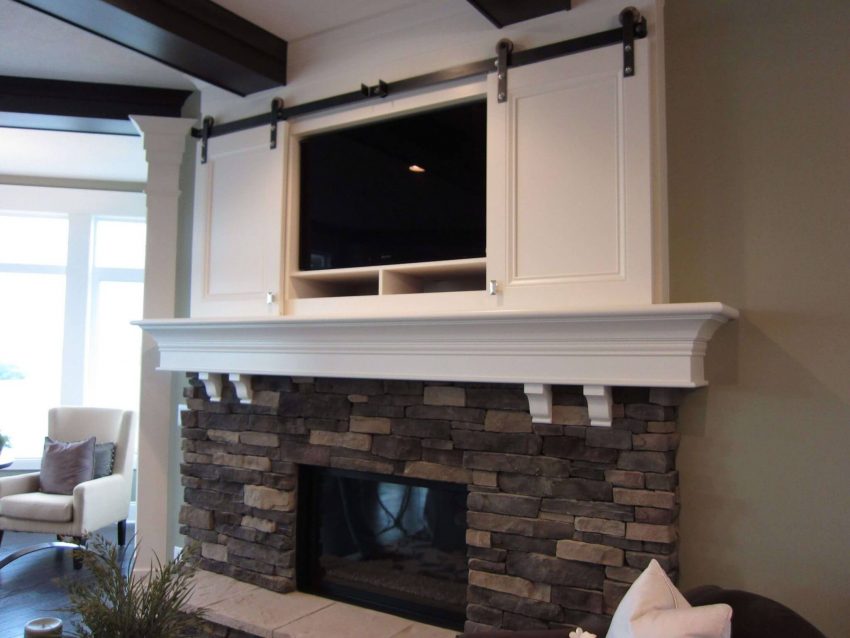 This style provides both comfort and entertainment. With a breezy wind passing through the window, what a nice place to relax! Modern living room ideas are a good addition to it.
15. Modern Fireplace Ideas with Hidden TV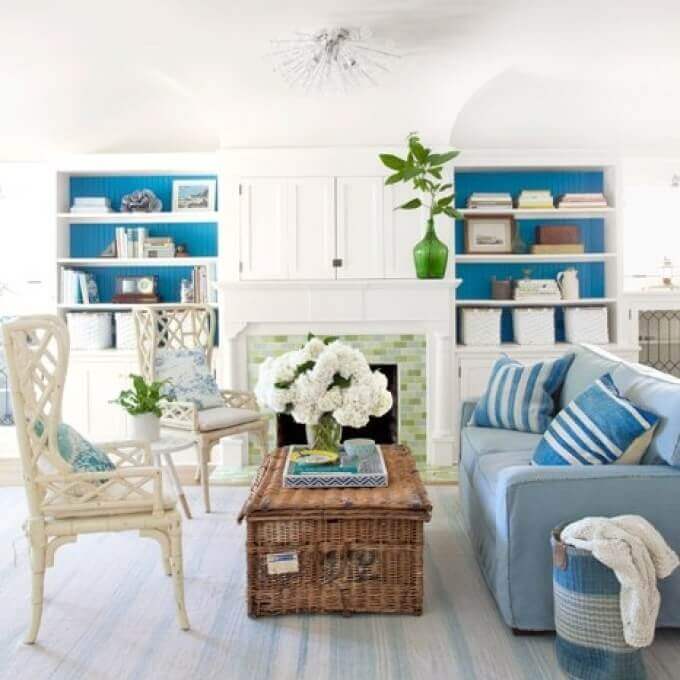 Another great option is to creatively hide or disguise the TV behind either hinged sliding doors. As for the furniture and ornaments, it can be anything based on one's preferences. The example above applies a blue and white theme.
16. Rustic Corner Fireplace Ideas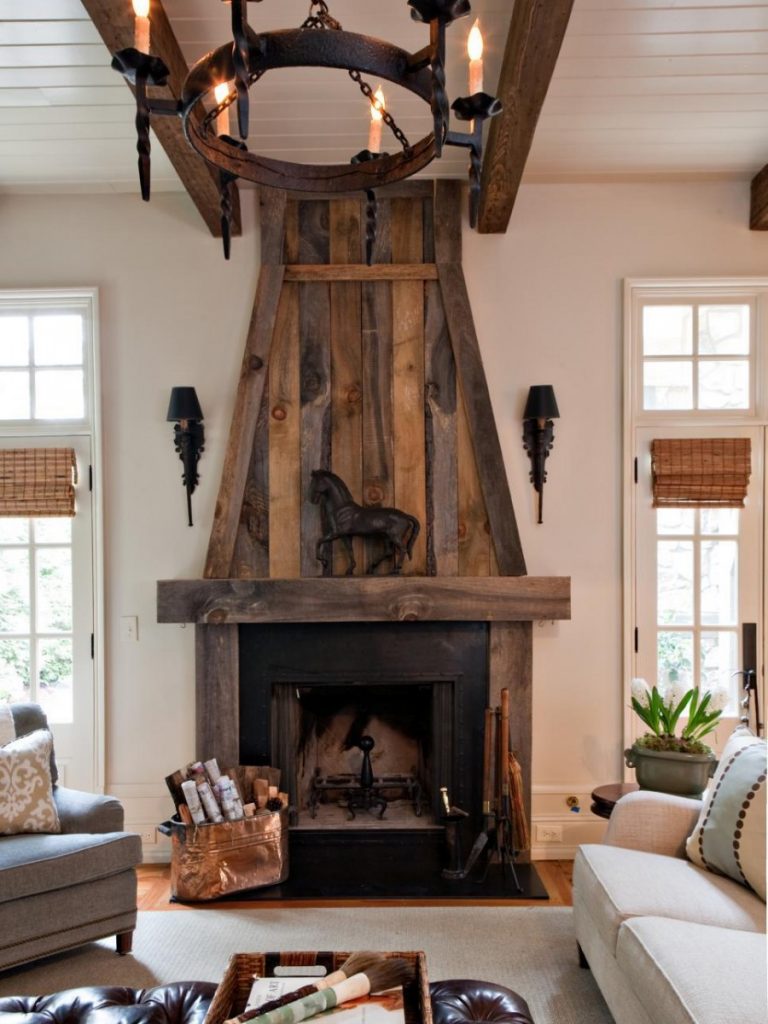 If you want to have a warmer theme in the living room, you probably will decorate it using more wooden materials. You will go with brown full leather sofa, parquet floor, desert sand or beige wall paint color and the last piece you need to get well – mixed with the atmosphere is the stone motive for your fireplace.
The position of the fireplace is suggested to be in the corner and it is diagonally facing your couch. So, you can have two big windows on the right and left sides of the fireplace. By doing this, you can save more artificial light energy. And you can use more natural light from outside to make warmer touch there.
The key to get rustic theme is by using the bricks' concept for the surroundings of the fireplace. It gives a rough look but more comfortable to be around it.
In addition, if you want to have more rustic way, you should go with the big traditional kind of fireplace rather than using the electric one. You will satisfy to have those ethnic and cultural touches in your house.
17. Modern Industrial Corner Fireplace Ideas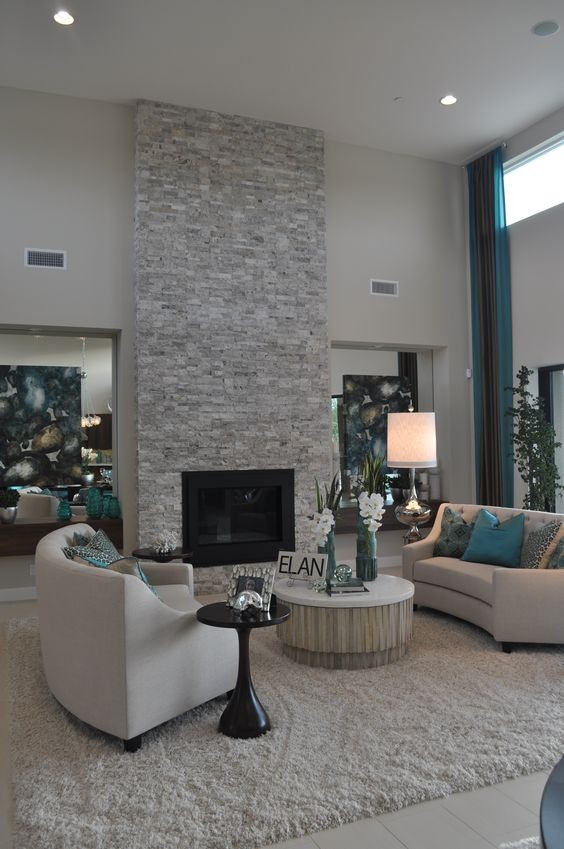 Nowadays, people want something simple but still more elegant fireplace decoration in their house. Most of us know that the most design ideas for the fireplace is by using bricks. But since there is savvier technology of the fireplace called portable fireplace, your wish can come true.
The design of the portable piece is usually black. It means that it goes well with your dream to have more minimalist in the living room. In addition, you do not need more complicated design for the wall around the fireplace.
What you need is only solid color around it. For instance, you can use white, grey, dark grey and smoke black motive for the drawers beneath it.
And for the position, you just need to put the portable fireplace goes symmetric or face front go along with the other furniture in the living room in the corner of the living room.
Having the electricity heater is giving a full satisfaction in the life. By mimicking the natural gas, wood or the burning coal effect, the heater looks much more chic than you can imagine. You can make a new whole in your wall or just put it in your old fireplace position.
In the modern home theme, if you use this kind of heater, you will not need chimney anymore. It has more advantages such as it is safer to use, more convenient and do not need wood burning which will give more pollution in the house.
18. Casual Beach Living Room Fireplace Ideas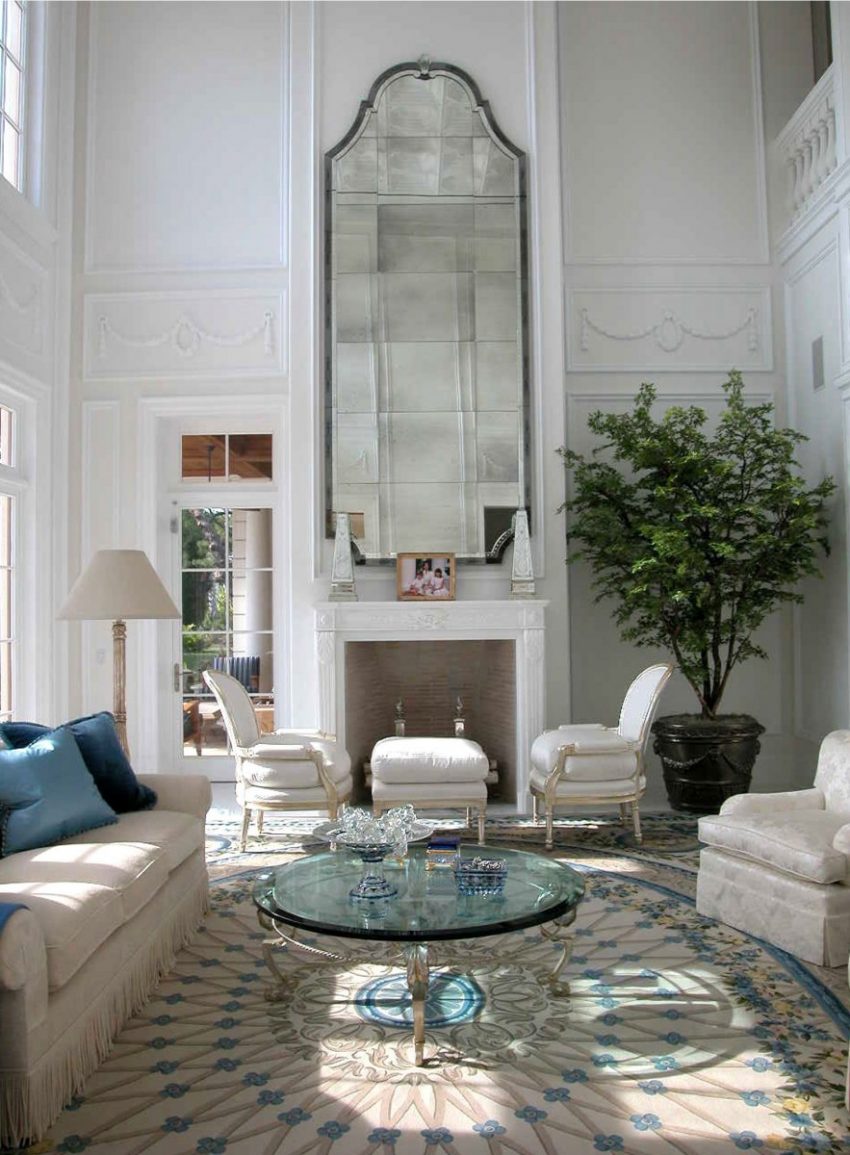 Do you have full glass big windows in your living room? Do you want to add fireplace there but have no idea how to do so because you do not have space more?
To overcome your problem, thanks to the latest technology, now you do not need to have big old wooden brick fireplace inside your house. Rather than having dirtier place if you place like that inside the house, now you must buy the portable or electric fireplace.
You just need to put the small electric portable fireplace in one of the corners you have in the living room. So you will have cleaner and more modern touch of the current style of fireplace.
Even though you do not have spacious room in the living room, you can still make your dream to have corner fireplace ideas in more chic way. And in addition, you do need any wall art anymore because the look of the fireplace is enough to make a big statement in the room.
You can bring the other element such as the wooden parquet to give warmer atmosphere in the room.
And you do no need curtains to cover the windows because it is more exciting and more beautiful to sit in the front of electric fireplace whilst watching the beautiful scenery outside.
19. Marble Countertop Fireplace Ideas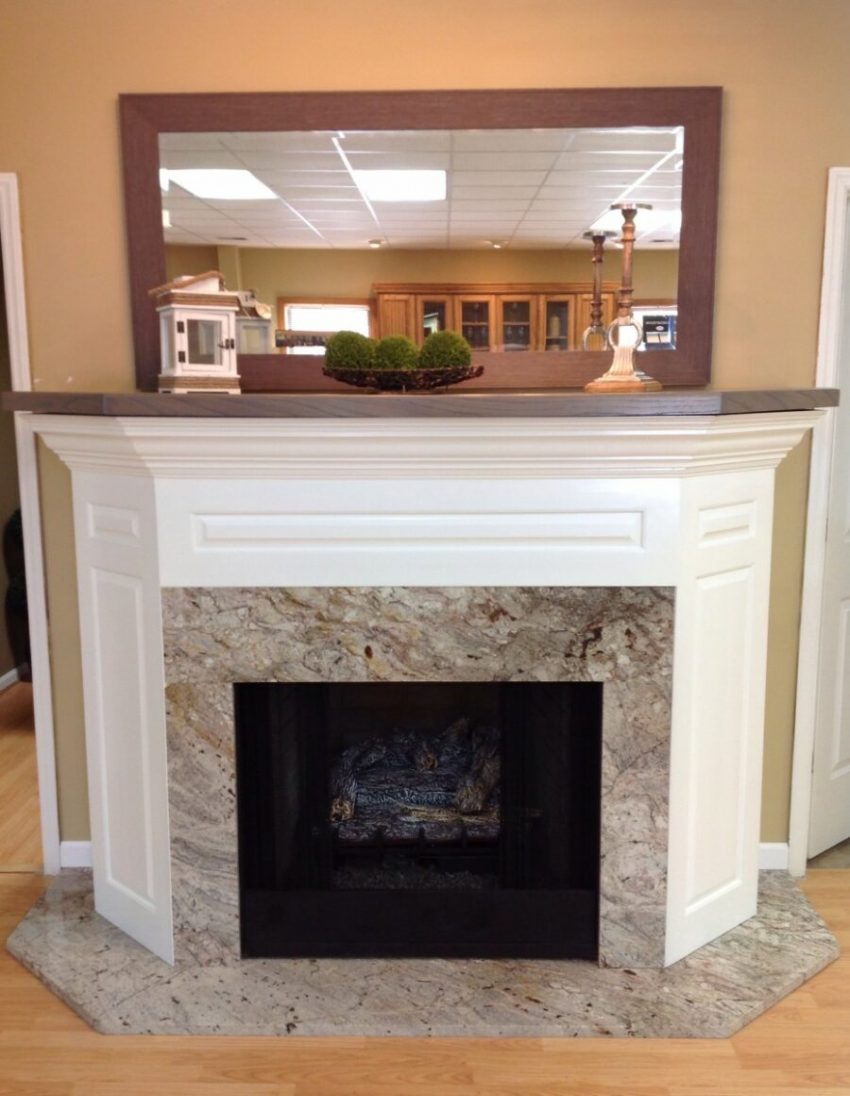 Marble countertops are always associated with the kitchen's or bathroom's cabinets. It makes everything go super elegant. The strokes in the marble motive countertops are always beautiful to watch.
By using that countertops beneath or around the fireplace, it brings a new feature between the old fireplace and the more modern look of it.
Usually the countertops will be looked in high price if you choose to buy the black or white dominant color of it. And that color will be still well – mixed with the wooden look of the fireplace.
20. White Glass Fireplace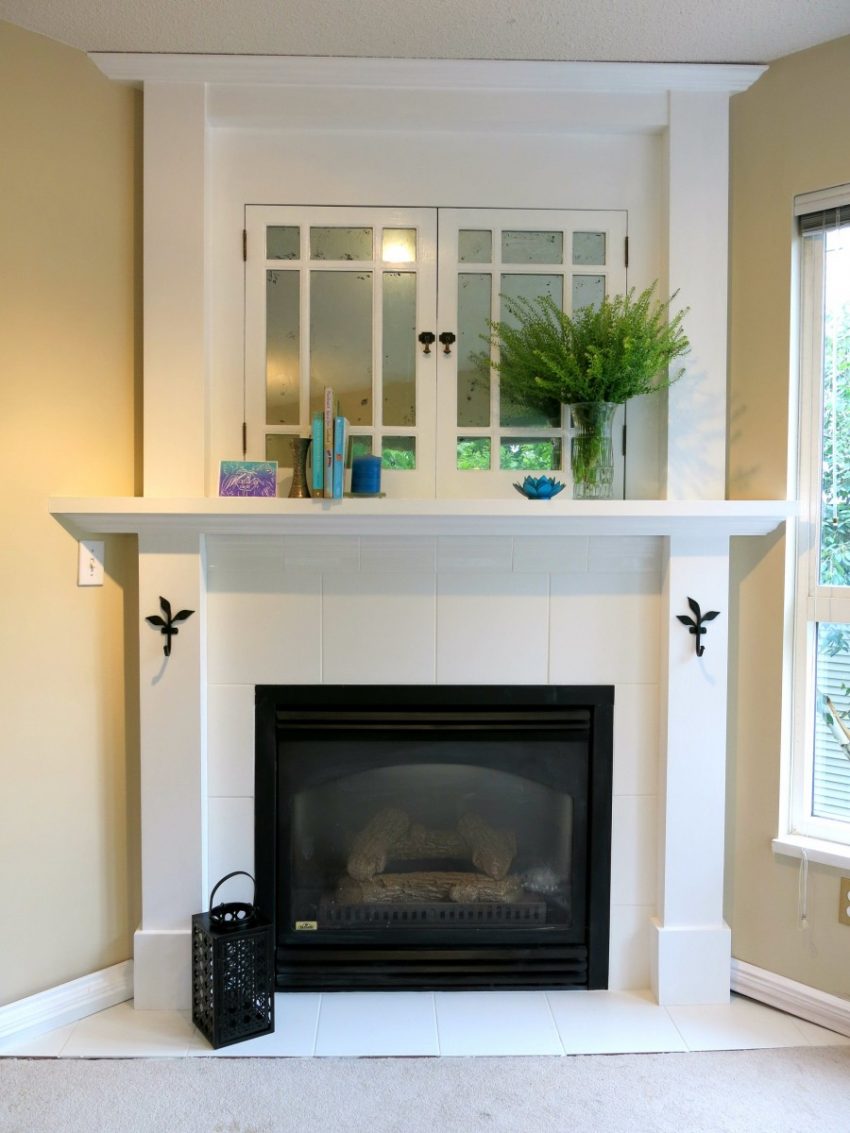 If you want a minimalist yet comfortable white living room theme, you can go with this idea. You only need to add big mirror over small black portable fireplace.
The mirror like in the image will give more dimensions in the room. And the all-white couch, cushions, pillow, wall paint and the rug will look whiter and nicer.
White is the most elegant color to beautify your house. The challenge is only one. It is about how to keep it really white as new and how to clean all the white stuffs in the living room around the fireplace.
21. More Living Room Corner Fireplace Ideas in Stone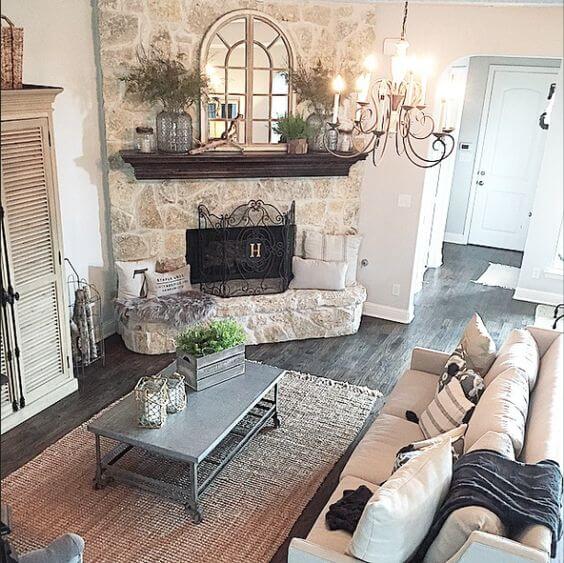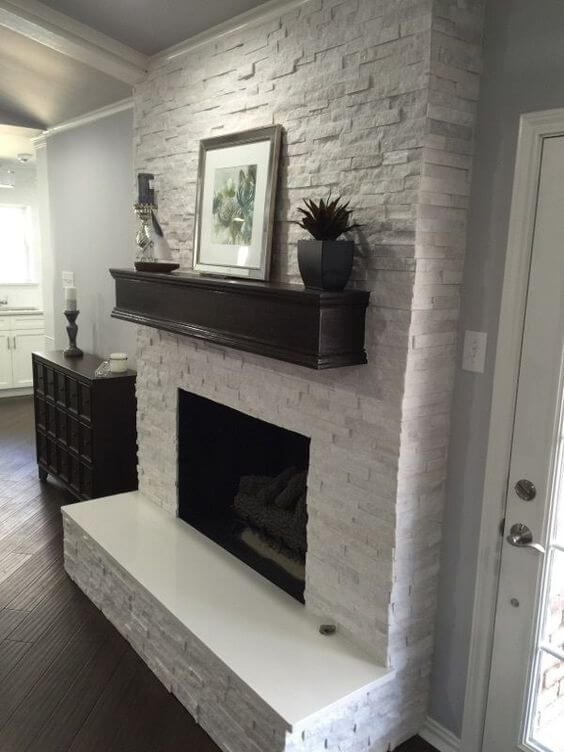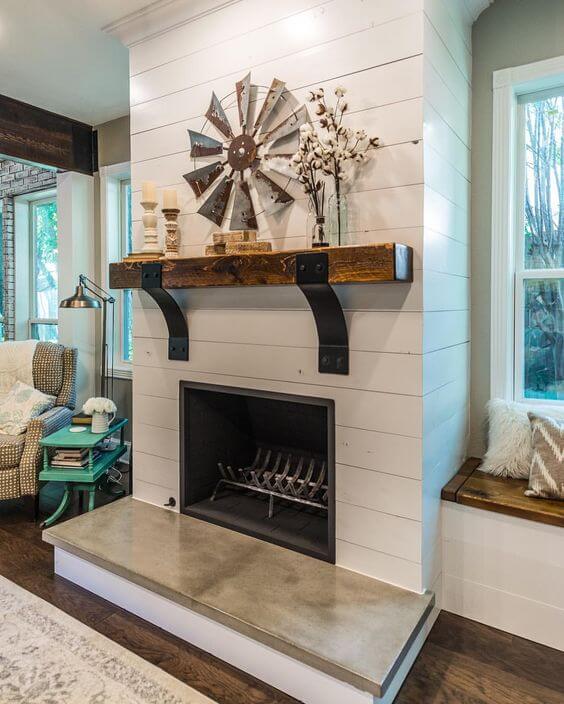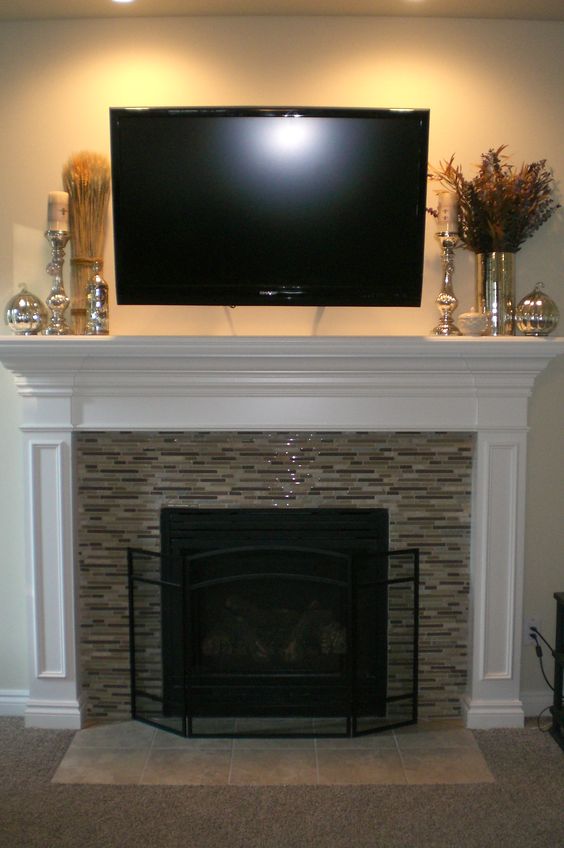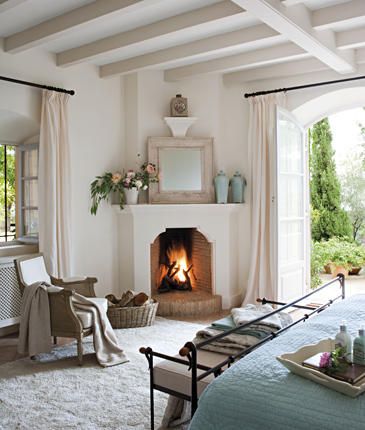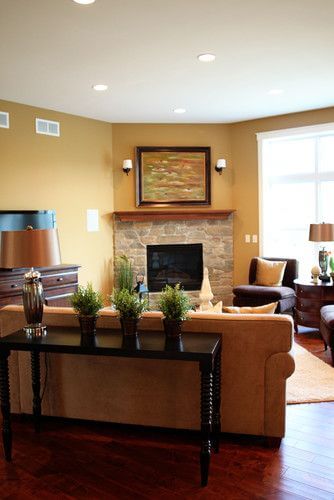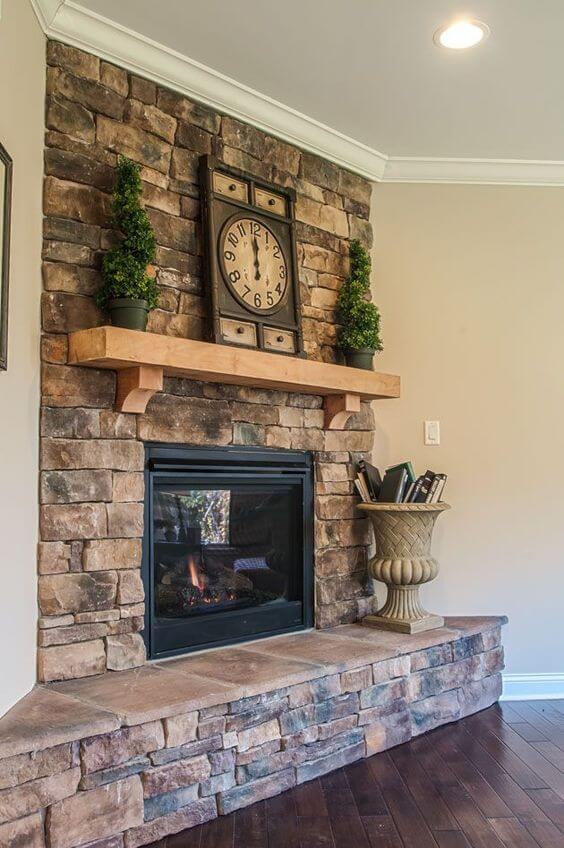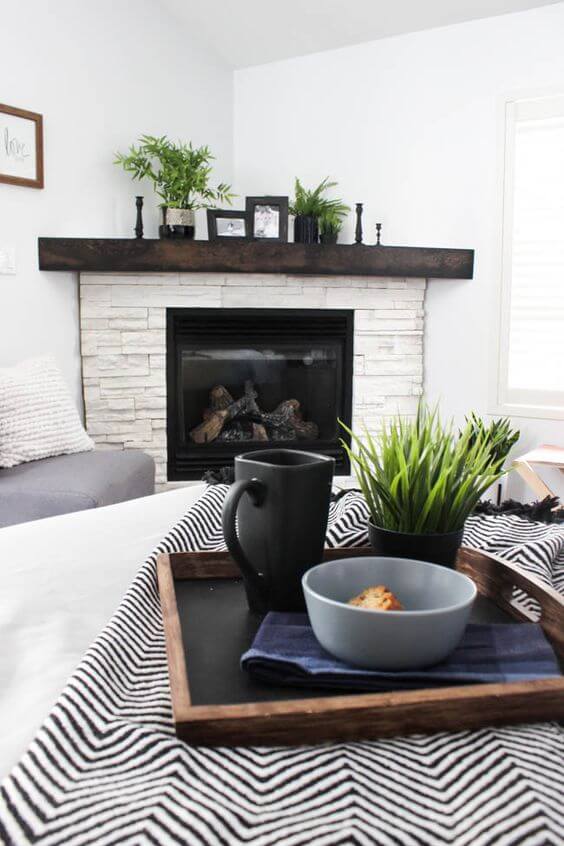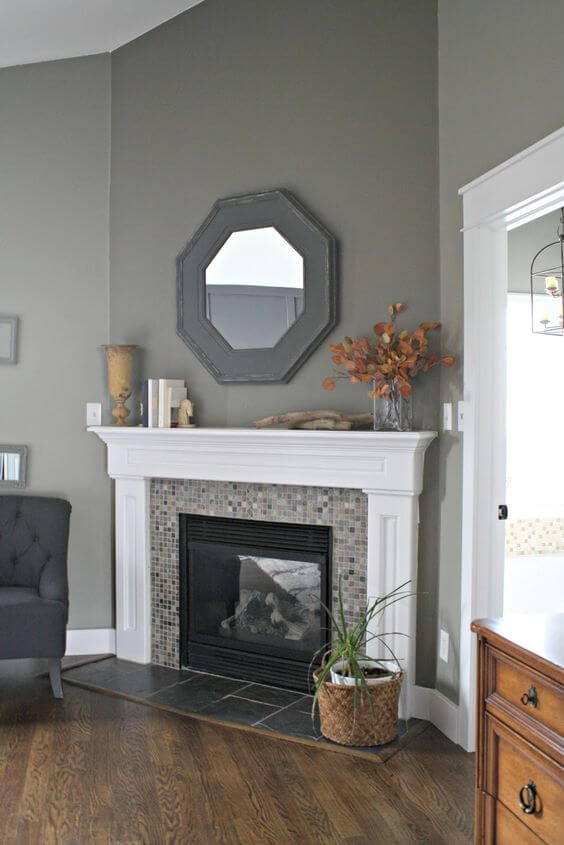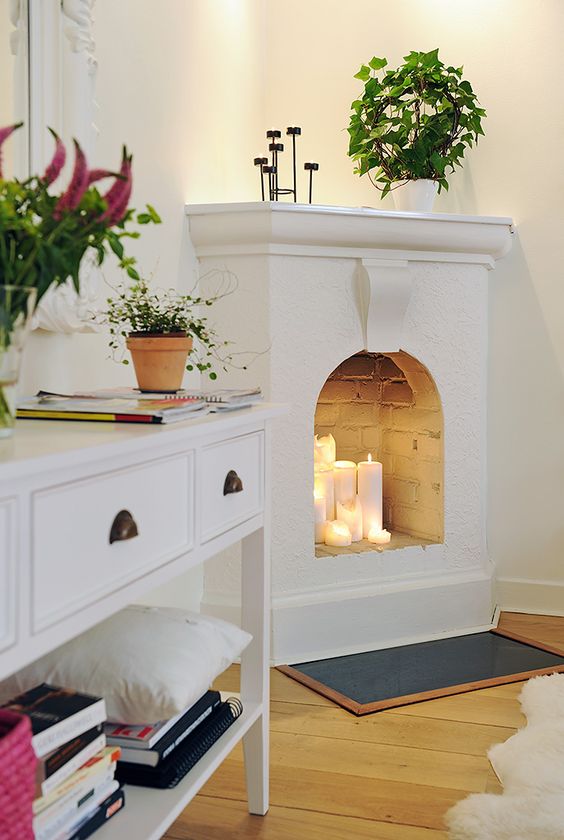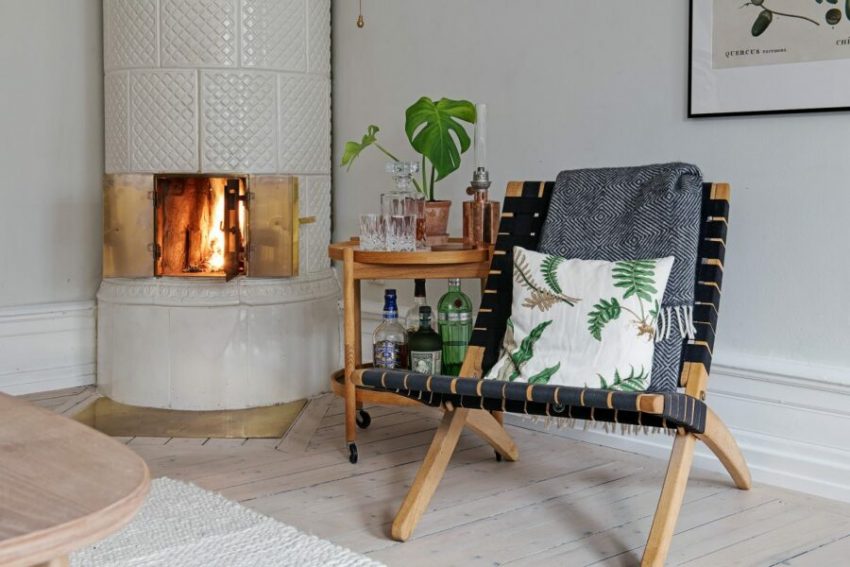 A little trick to make a little different angle to watch your living room now is by giving a little black color. If you want to add the black color but too much, it will not make your fireplace to be the center of attention of everyone.
So, in order to do so, you just need to give a little touch of black over the fireplace or the list of the bottom surroundings of the fireplace. You can make some black lines around the mirror for example.
Verdict
Corner fireplaces have a similar function to usual fireplaces. The only difference is the shape or structure, which is meant for a curve space.
Those corner fireplace ideas above are good enough to choose, either based on materials or styles. All of them provide comfort to the room, still.