Old but not obsolete. This represents what French country decor is all about. The most significant element of this style is the rustic and well-worn appearance that provides an impressive look to the house.
Harnessing the charm of nature is another significant feature of this style. Therefore, exposed beamed ceilings and stone or brick walls are the common things you find in a French country house.
And do not forget to include the stone fireplace as this is one of the most indispensable elements of it.
Many people think that if they want to apply this style, they can just furnish the house with old furniture. Nothing could be further from the truth because thorough plans are still needed to make a perfect French country look.
Read on to find more than 30 French country decor ideas that work like a charm:
1. Roll-Out the Red Carpet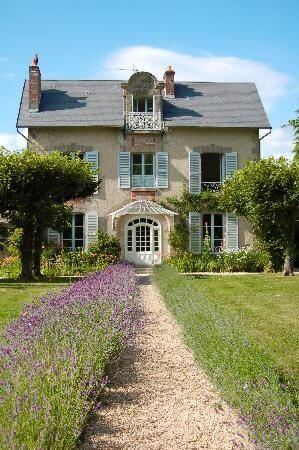 Having a large front yard is such a fortunate. You can avail yourself of this opportunity by having a lawn and growing some plants for your front yard landscaping.
Just a small advice, low-maintenance plants like Butterfly Bush, chrysanthemum, and hydrangea are your best bet if you are not an avid gardener.
Since you want to accentuate the French country style, let your plants grow naturally would be nicer. But do not forget to make a path with beautiful shrubs along it to escort your guests to the front door.
2. French Country Decor House in the Town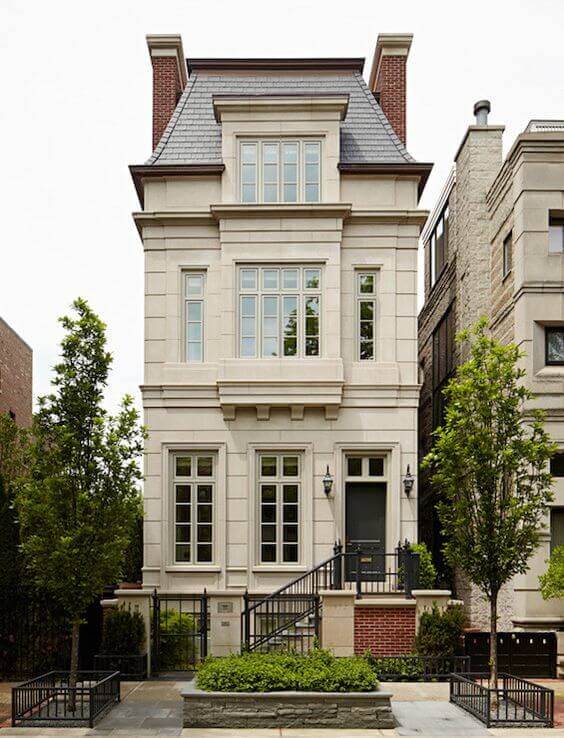 Although you live in a town, it does not hinder you from having a French country house. You still have a perfect look of this style even if you only a have sidewalk in front of your house instead of a spacious front yard.
To achieve this look, you can apply these things to the exterior of your house:
Build a roof with gables. It will be better if it is steeply pitched.

Stick to earthy and neutral colors.

Install wrought-iron sconces next to the door to enhance the classic look as well as illuminating the porch.
Also Read: Wall Paneling Ideas
3. Let Nature Escort Your Guests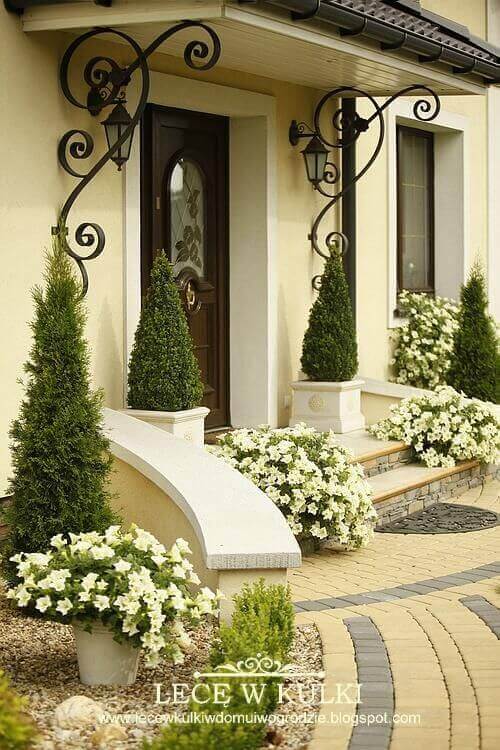 The homeowner of this house prefers to have paved front yard instead of lawn for a reason. He might not really into gardening.
Or, maybe he wants add patterns to his front yard. But one thing for sure, he still harnesses the charm of nature to impress his guests.
The front door is decorated with curvy wrought-iron sconces illuminating the porch. It is also embellished with two planters with boxwoods looking like two guards that are ready to welcome the guests with their hospitality.
4. Let's Sit Back and Relax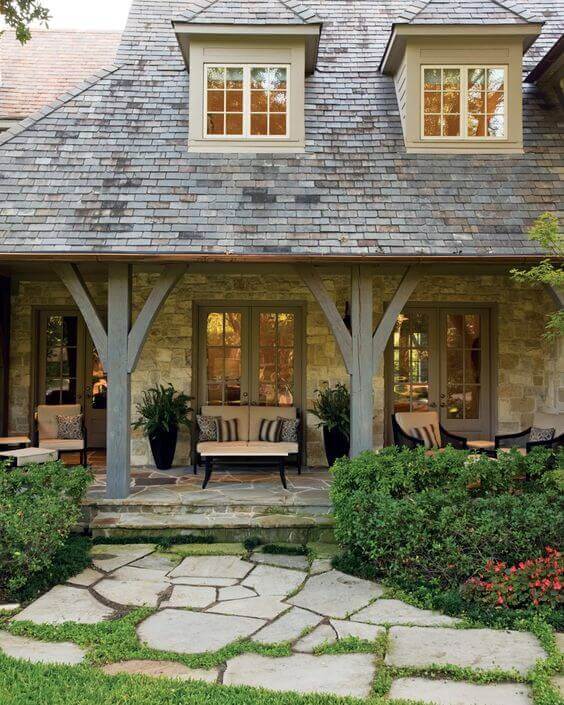 Spending time with family or friends in the backyard is such a great idea to release stress. The combination of beautiful flowers and the epic stone wall and floor will perfect your tea-time.
Just make sure you place some comfortable sofas or chairs so you can linger over the spectacular scenery while reading your favorite book.
 Quote: Nothing can beat the pleasure of spending time together with beloved family and friends while enjoying the beauty of nature.
5. An Elegant French Country Decor Bathroom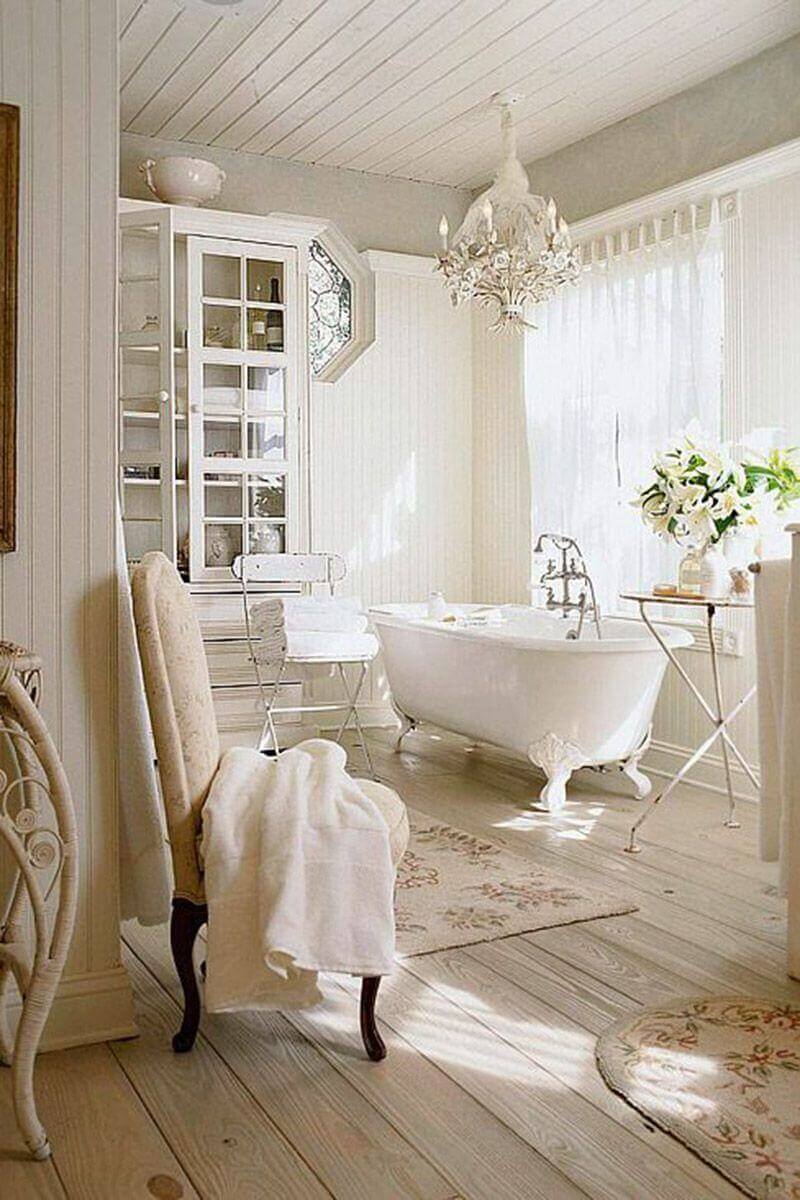 Related Article: Master Bathroom Ideas
6. Cozy Place to Curl Up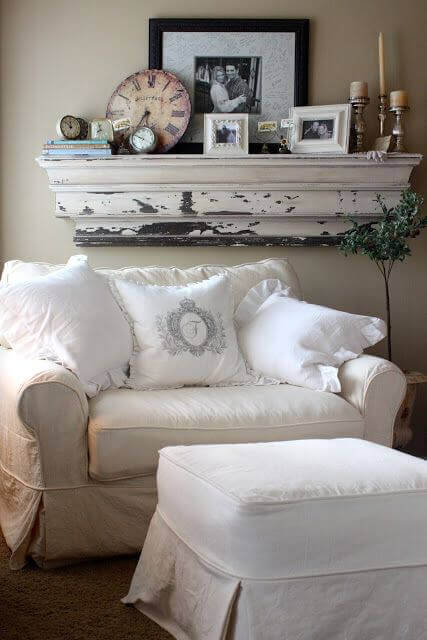 Living room is the most essential room in a house as you gather with your family and welcome your guests here. Therefore, it should be awesome and comfortable.
Comfort is the key element of French country décor. To get the ultimate comfort, place a bulky cozy sofa and cushions in your living room.
For the focal point, you can have a wall-mounted shelf with trims and distressed finish to highlight the well-worn look.
You can also collect some photos and tack them down on a cork board. It will be nice cork board ideas.
7. Lavish French Country Decor Living Room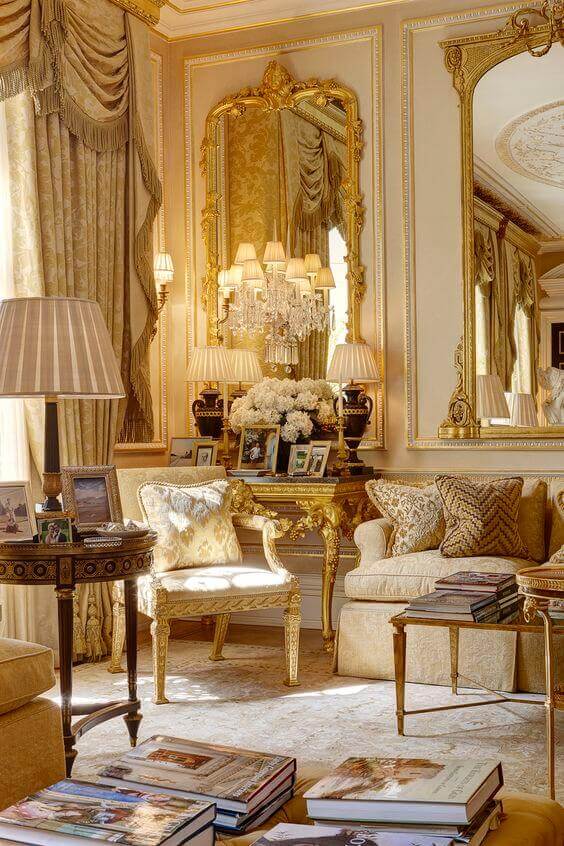 Gold finish rules this living room, creating a lavish look. Large mirrors with golden frames make a pretty good focal point that can draw eyes in a wink.
A table with raised golden legs holds some white hydrangeas and table lamps that prettify this room.
For the window treatment of this luxurious French country living room, you can havelush drapes hung from ceiling to floor. They supplement the lavish look very well.
8. Luxurious Bedroom with Crystal Lights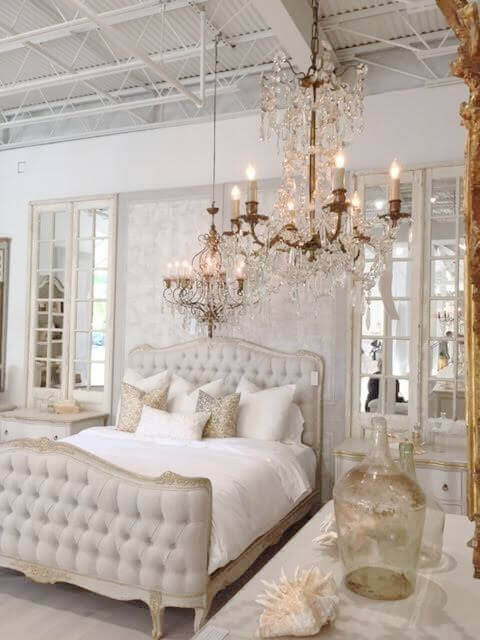 French country décor is not only related to rustic look, but also elegant look. Therefore, investing in some antiques that can boost the elegance of your room will help you to get this look effectively.
This all-white bedroom features curvy headboard and two crystal lights. These crystal lights add the touch of elegance to your bedroom ideas.
But it would be nicer if you only hung one crystal light over the bed to keep you focus on getting a perfect sleep.
9. Rustic Window with Flower Bed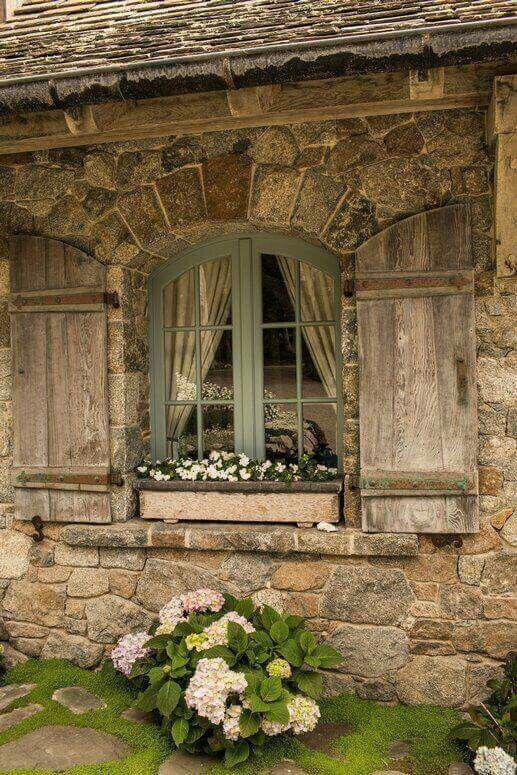 10. French Country Decor for Small Spaces
Although you do not have a large front yard, you can still create an impressive look in your undersized porch. You can achieve this ultimate goal by placing two planters with shrubs right beside your front door.
Instead of using tongue-and-groove paneling to cover the porch, you can try using vines.
The dangling vines will lend a more dramatic look to the porch which creates a relaxed ambience. To illuminate the porch and the vines, use wrought-iron sconces.
11. Romantic French Country Decor Kitchen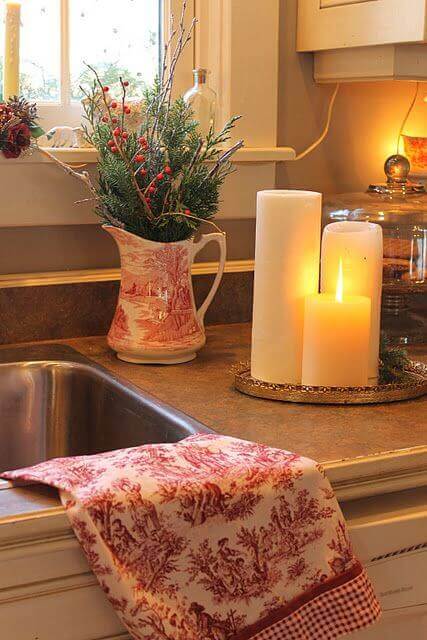 It turns out that not only a bedroom but also a kitchen can provide a romantic ambience if you decorate it properly, just like this kitchen.
Three big candles standing on a tray next to the sink provide dim light that adds a romantic ambience to this kitchen.
A ceramic teapot with toile pattern has been turned into a vase that holds nice plants. A toile cloth also hangs on the sink, accentuating the French country look. Kitchen Decor Ideas.
12. French Country Decor Backyard for All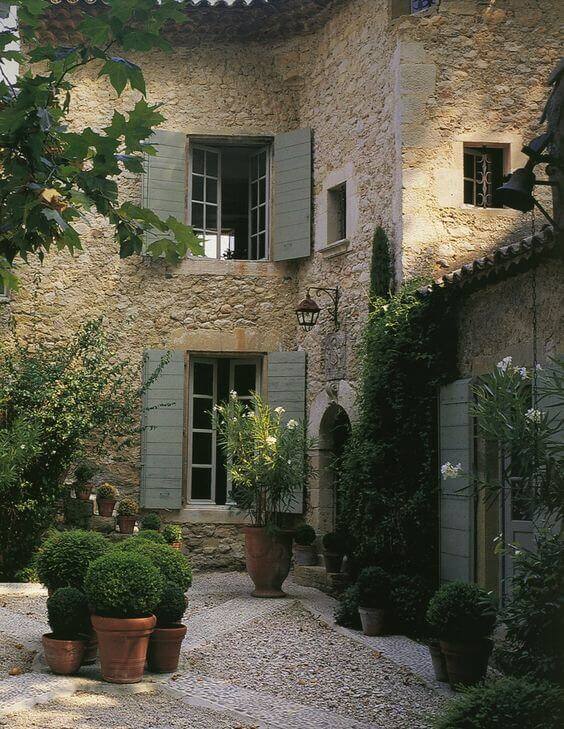 13. French Country Decor Bathroom with Nature Backdrop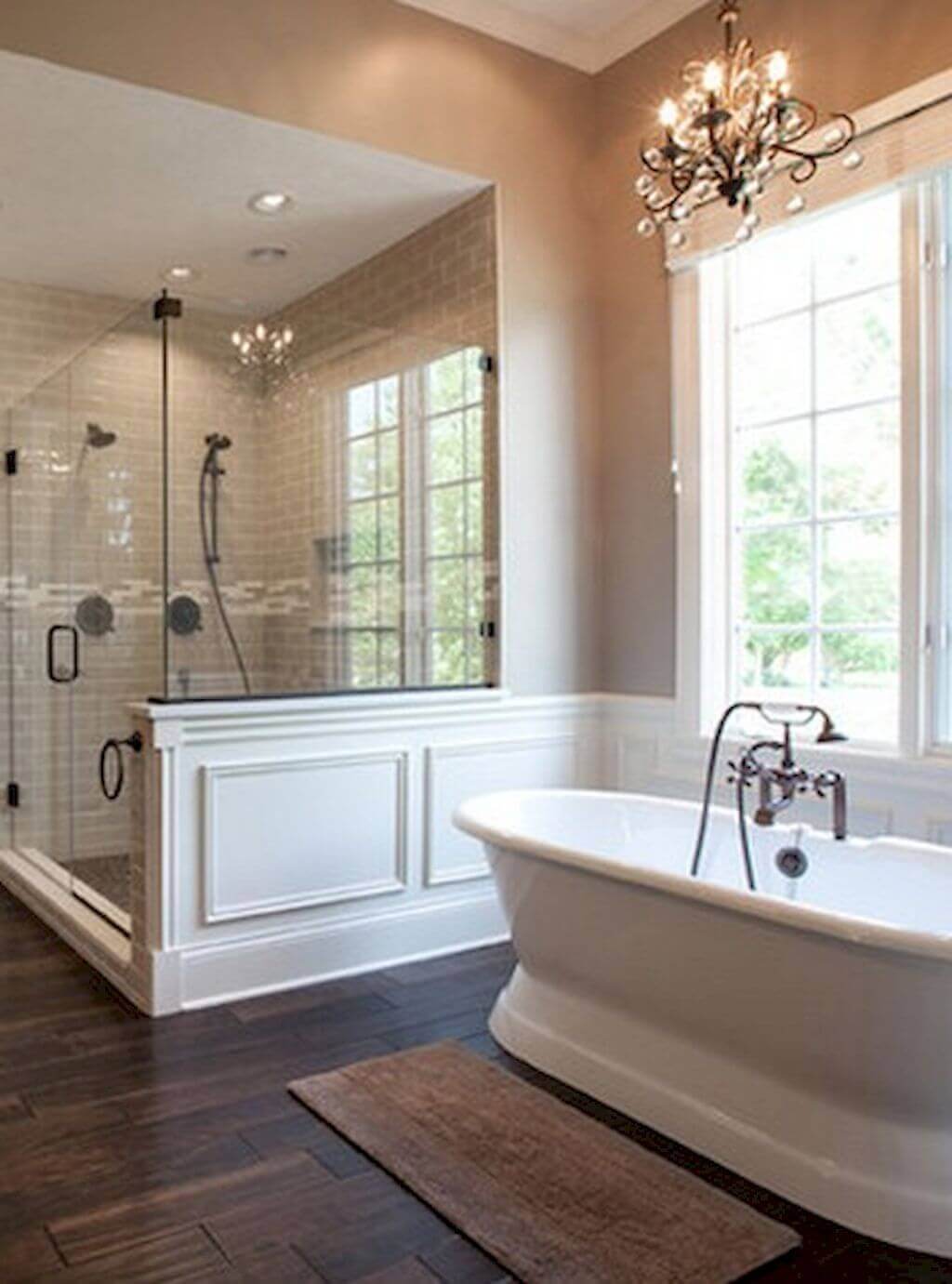 No one can resist from indulging in this comfortable bath tub as you can feel more relaxed and escape from the hurly-burly of the busy workplace for a little while.
You deserve your me-time. And thus, taking more time in your bath tub is not a bad idea at all.
The best part of taking a bath in this bathroom is you can refresh your body and mind while enjoying the beautiful scenery that you can see through the windows.
It would be better if you put some scented candles near the bath tub to boost the relaxing atmosphere. Rustic Bathroom Decor Ideas.
14. All-White French Country Decor Kitchen with Open Shelves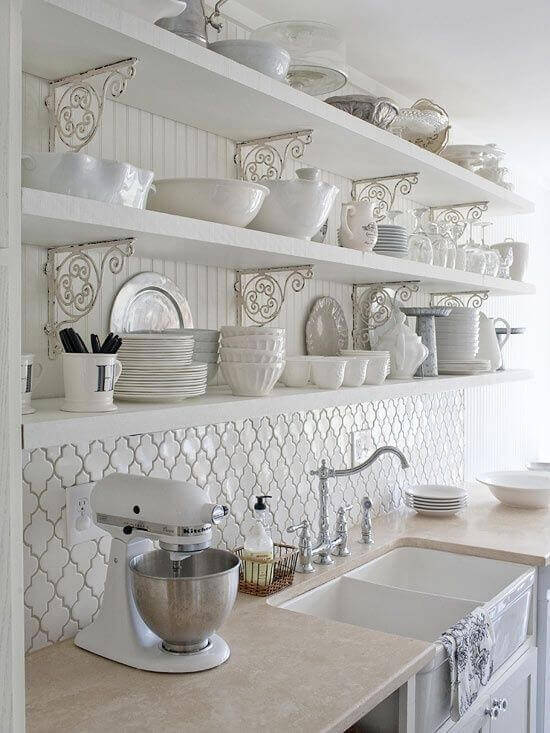 Some people are dying for shaker cabinet doors that provide a more modern look in their French country house without banishing the classic nuance.
But opting for some wall-mounted open shelves is not a bad idea at all. Besides, you can get several benefits if investing in these shelves.
You can grab your planters or pots in a jiffy.

The wrought-iron brackets add more charm to the kitchen.

You can display your planters as decorative elements of your kitchen storage ideas.
15. Rustic French Country Decor Open Shelves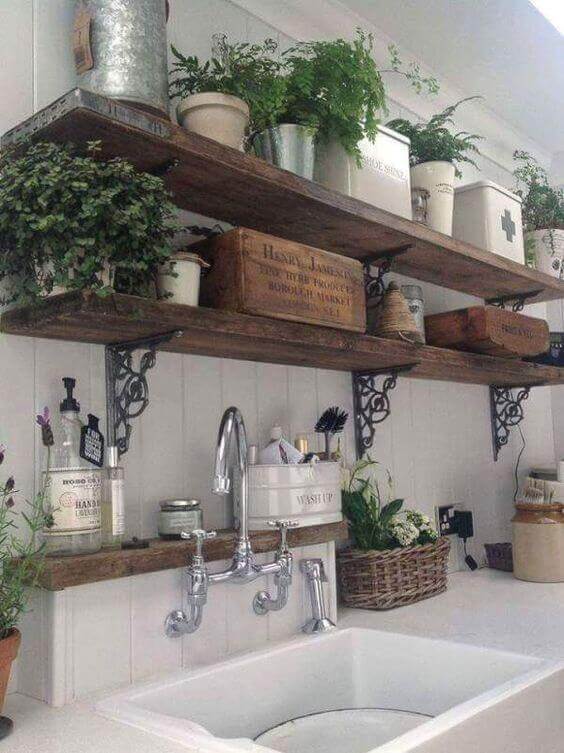 Also Read: Wall Shelving Ideas
16. A Dramatic Master Bedroom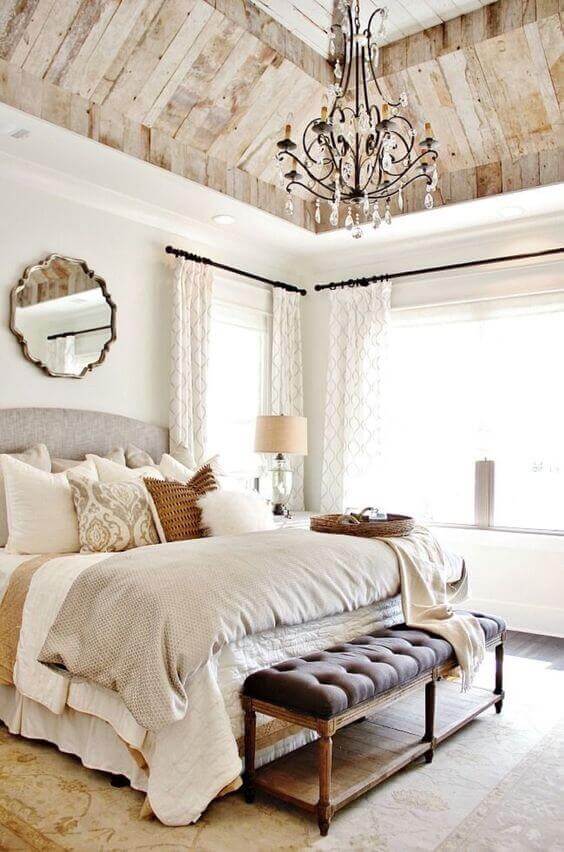 If you are looking for some master bedroom ideas, this one may suit your needs well. This master bedroom looks dramatic with the tongue-and-groove ceiling that has been slightly stained to maintain the natural look.
A crystal light hangs nicely over the bed, illuminating the entire bedroom during the night.
To make the bedroom feel airy and appear to be larger, some big glass windows are installed. These windows allow natural light to get into the bedroom.
17. Let's Dig in!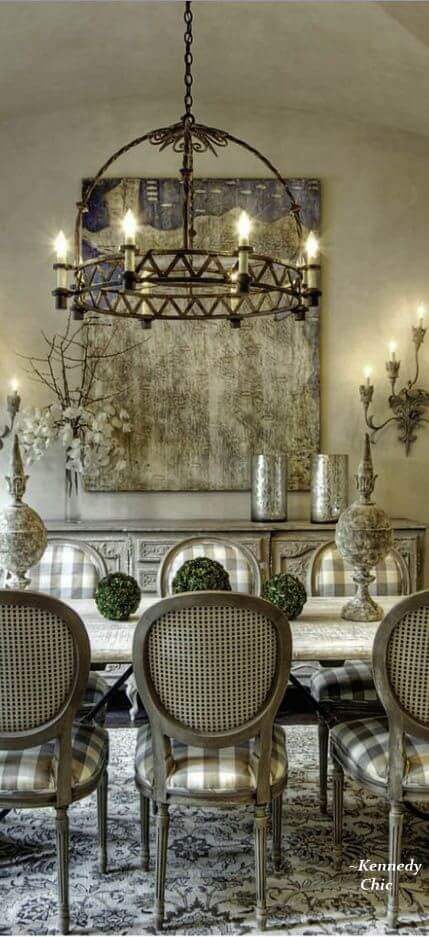 18. Dream Bedroom Ideas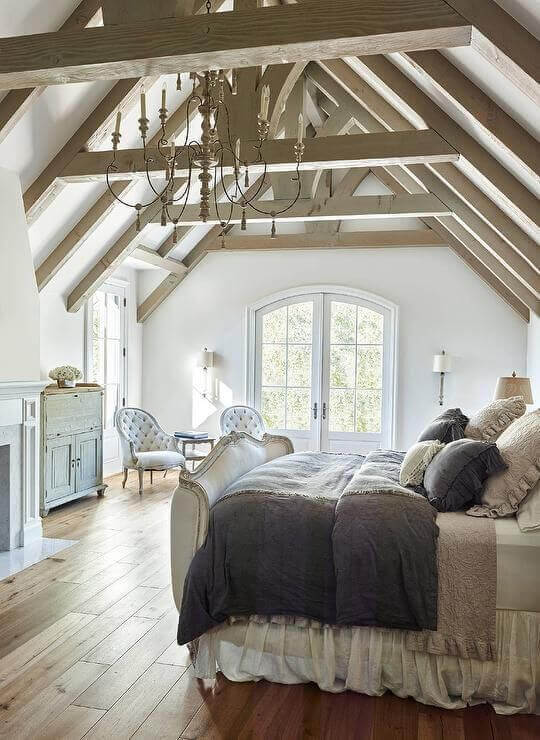 When it comes to decorate a French country bedroom, you will also need to consider bedroom paint colors ideas.
And – of course – sticking to neutral and earthy colors is the best choice as bold colors will ruin the French country look.
This bedroom is only colored with white and brown hues. The use of less furniture makes it look more spacious, not to mention the glass windows and door that let the natural light to illuminate it.
The most conspicuous thing in this bedroom is the exposed beamed ceiling with the hanging chandeliers that add a dramatic look to the bedroom.
19. Simple French County Decor Dining Room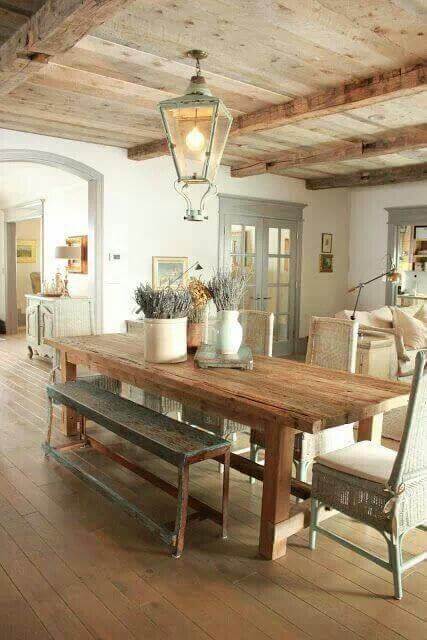 20. Outdoor French Country Decor Ideas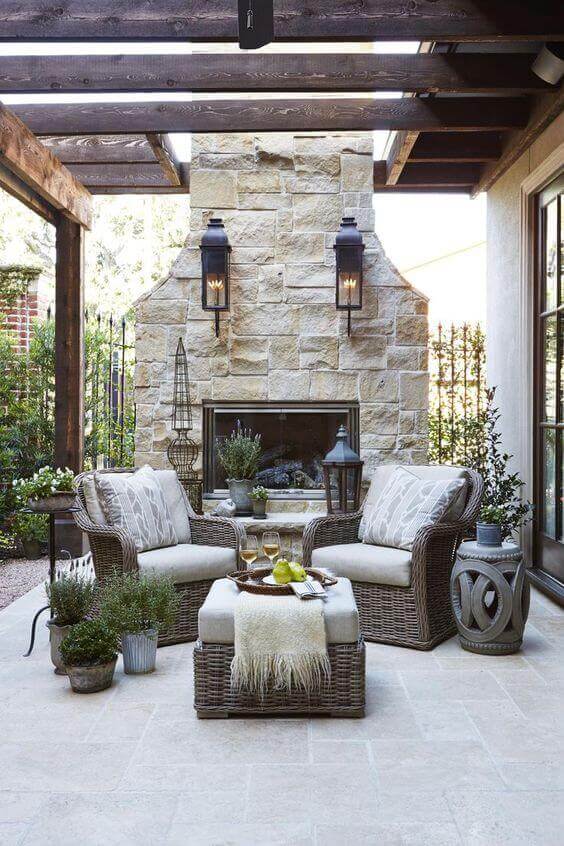 This patio can be a great place to hang out with family and friends because it fuses classic and modern look at once. The woven chairs and ottoman belong to the classic era which is the characteristic of French country décor.
The modern style is represented by the LED fireplace installed in the stone fireplace with classic lanterns. To reinforce the classic look, distressed wooden pergola is used as the patio cover.
21. Vintage French Country Decor with Distressed Vanity Mirror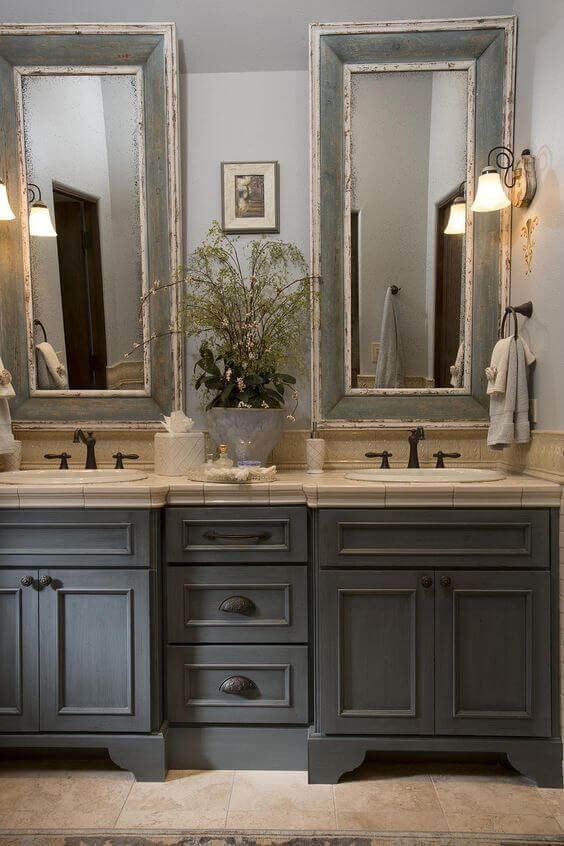 Related Article: Bathroom Mirror Ideas
22. Stunning Marble Countertop

If you want to add the touch of luxury in your kitchen, you can try installing a marble countertop.
Nothing can beat the luxurious look of marble countertops. The sleek and glossy finish provide a timeless beauty. Therefore, it can be used in any kitchen style.
A marble countertop tends to be stable in temperature as it does not conduct heat. And thus, you can work with your pastry well. Besides, the glossy finish can reflect the light, making the kitchen look more spacious.
23.Fancy Kitchen with Chandeliers

24. Show What You Have Got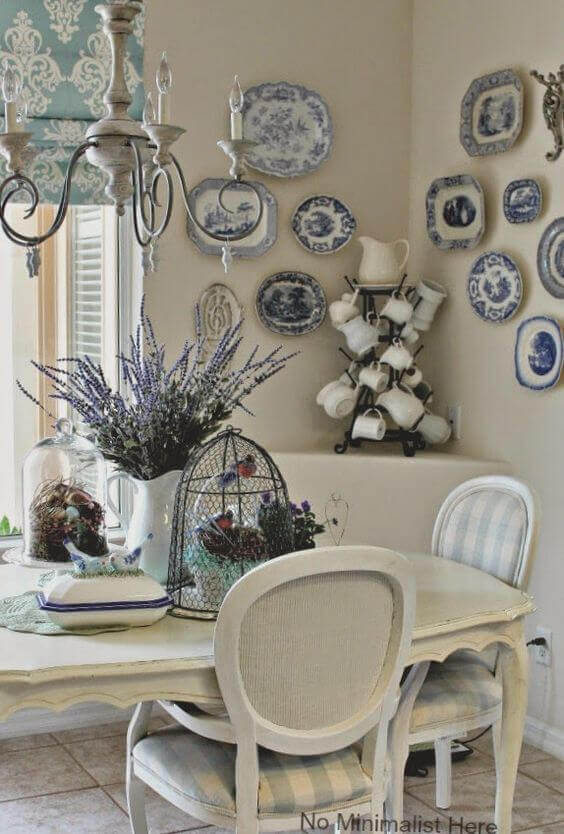 Creating an accent wall in your dining room can be done in may ways. You can hang a painting to impress those avid painters.
You can also mount some quotes that denote the room or provide good advices. But since it is a French country dining room, you might want to opt for plates with toile prints.
Hang and meticulously arrange your plates on the wall to create a nice accent wall. You can also play with the composition by hanging plates with different sizes.
To tie them all, a vase with English Lavenders or Fountain Grass is put on the dining table.
24. Luxurious White Kitchen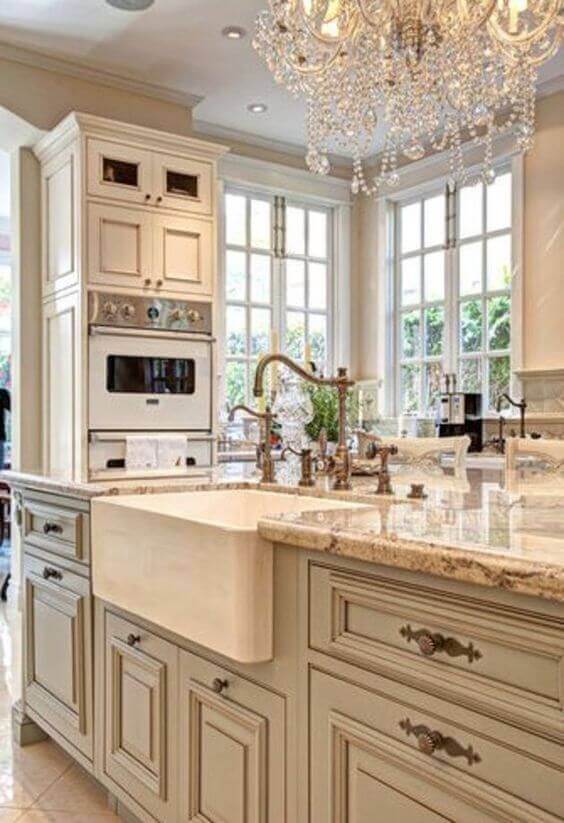 25. Calming Blue Subway Tiles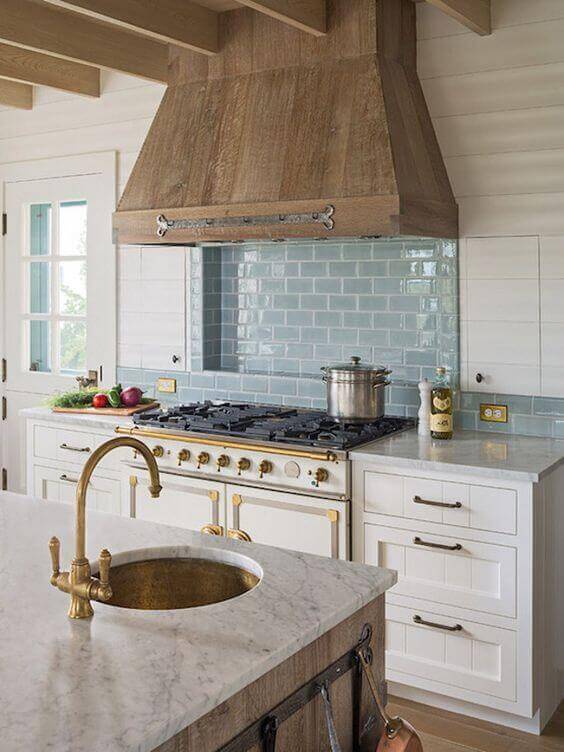 Subway tiles are a part of the classic charm. They never fail to bring back the previous trend to your home and even blend with the current trend perfectly.
This kitchen features subtle blue subway tiles as the backsplash. The distinctive look of the tiles and glossy finish make a nice focal point.
Besides, the light blue finish has a calming effect that you might need when you are slaving over a hot stove in the morning, preparing for breakfast for your family.
26. Classic Lanterns and Planters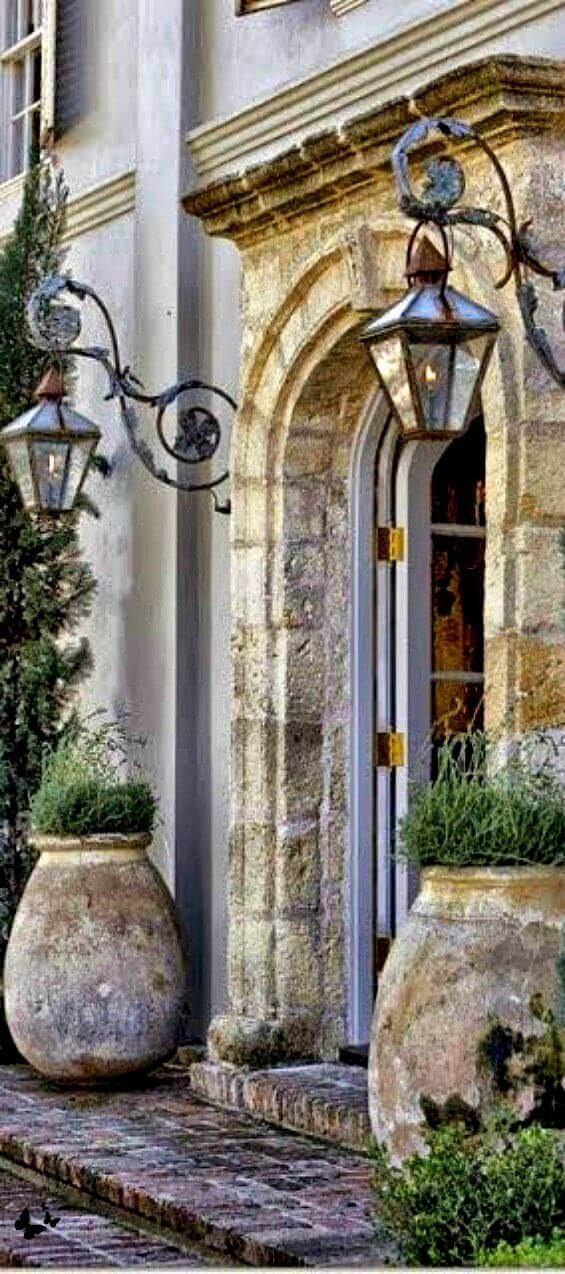 27. Frame Your Door with Wisteria Vines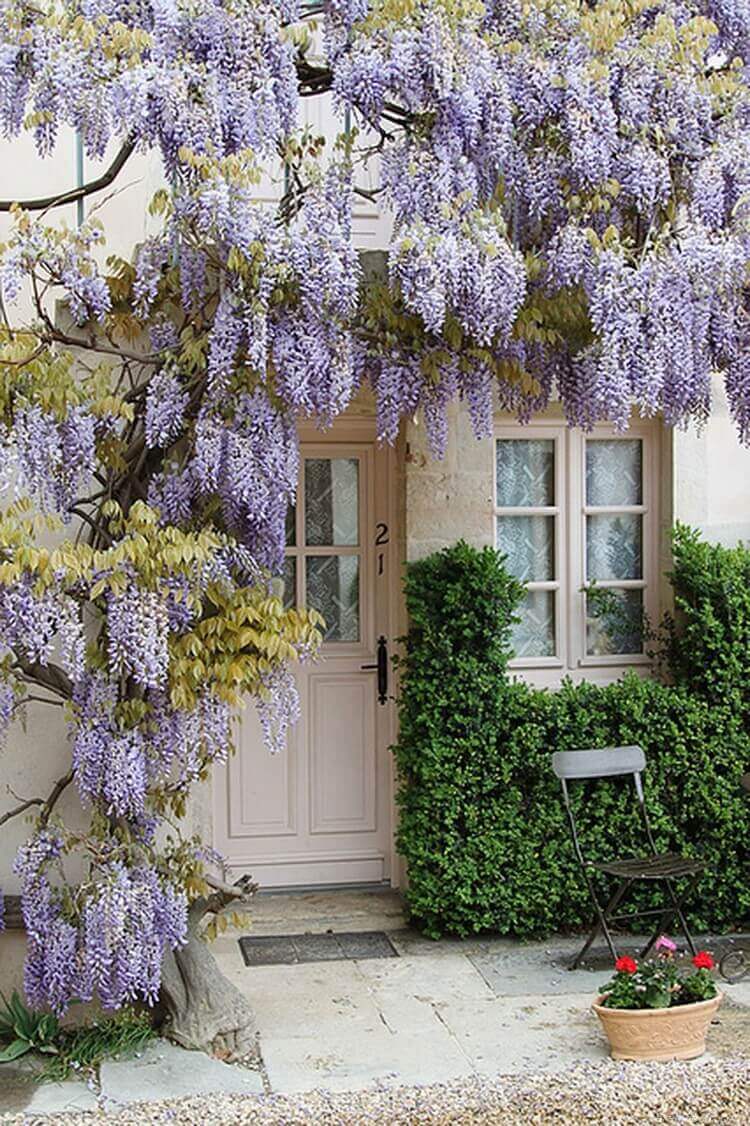 French country décor entails lots of natural accessories that can adorn both the interior and exterior well. The adornment can be in the form of trims, textured walls, or even plants.
If you happen to have a plain window and door like these ones, you can make them look more fabulous with the power of nature.
Try growing wisteria vines to emphasize your door. The purple flowers will dangle over the door and make it look splendid.
28. French Country Decorating Ideas On A Budget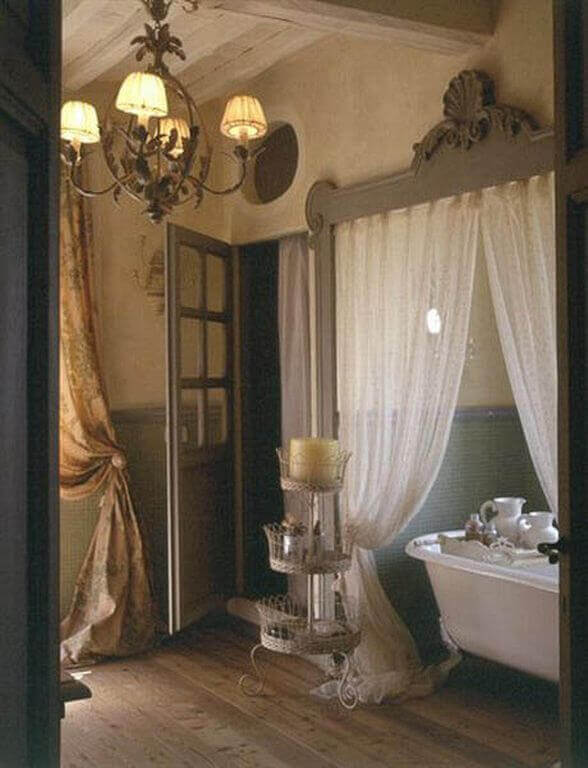 29. 

Modern 

French Country Decor Ideas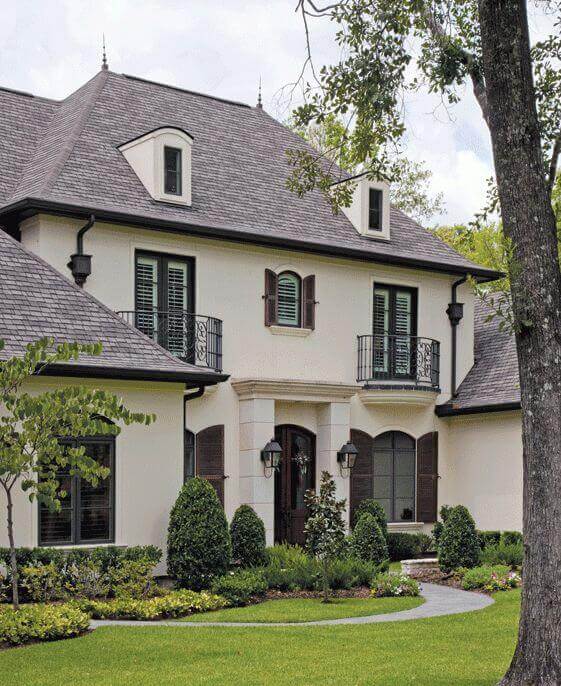 French country modern houses are similar to the classic French country styles to some extent. The more classic styles usually feature exposed brick or stone walls and let the plant grow naturally.
On the other hand, a French country modern house tends to use plaster walls with subtle color hues. The decorative plants are trimmed fastidiously to provide a more modern look.
You can still find some classic elements here like the big shutters, gables, and wrought-iron railings and sconces.
30. White Kitchen Ideas
31. Let The Roses Climb Up The Wall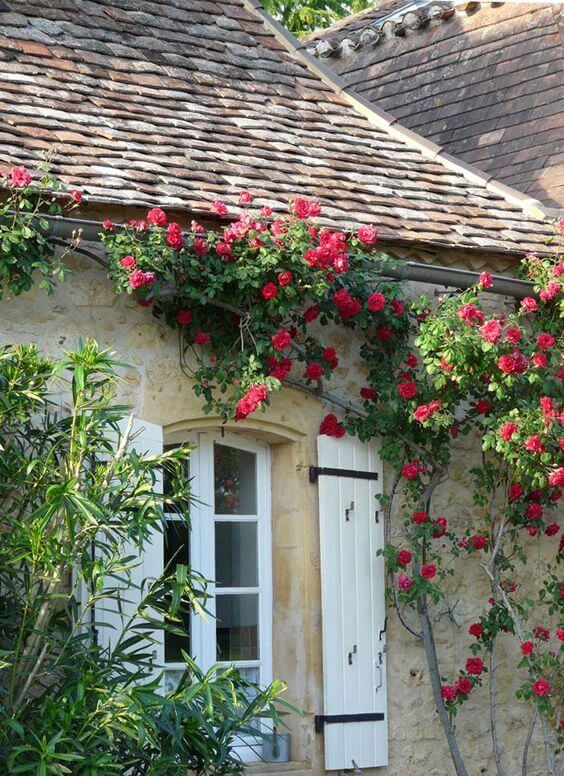 There are many things you can do to adorn your exterior wall and accentuate your window. One of them is by growing red roses by the window.
Let the roses climb up the wall to create a spectacular look. The climbing roses will color up the stone wall as if it were a piece of painting.
Quote: Rosescan protect themselves with thorns despite being beautiful. Therefore, you should become like a red rose which is pretty yet strong.
Don't Miss: Accent Wall Decor
32. The Touch of Mint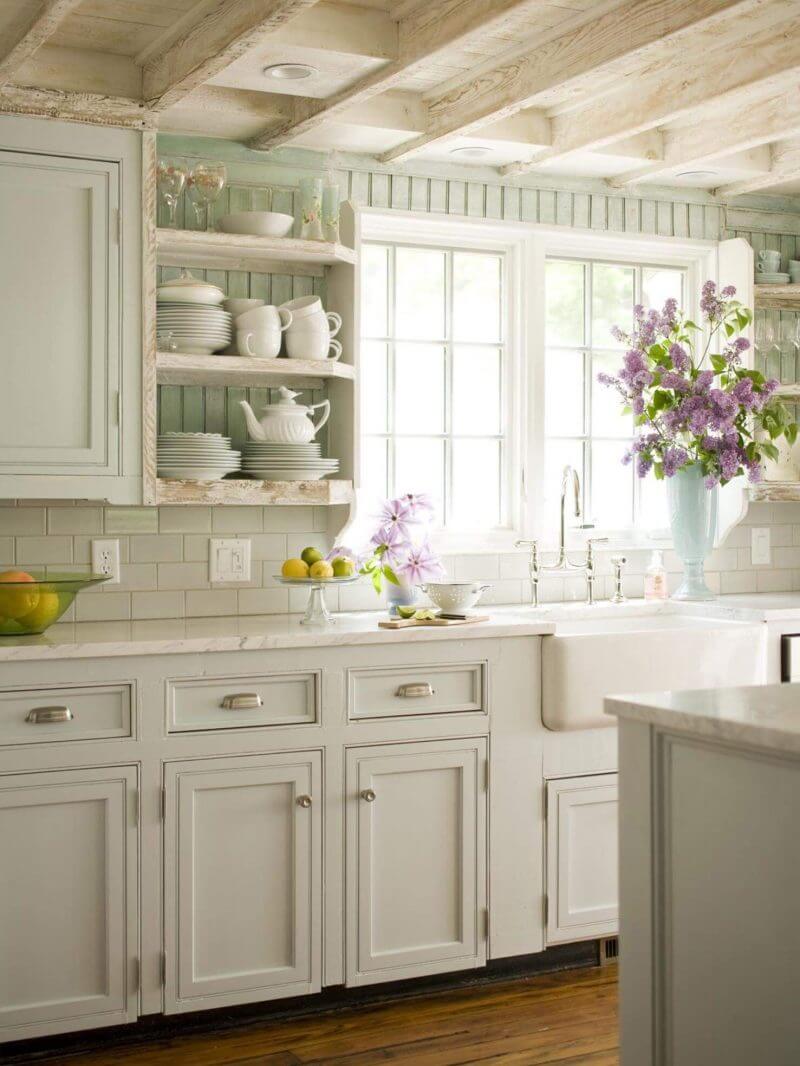 Creating a classic ambience in a French country house is not that hard, right? But you still need to apply French country décor meticulously. You can just pick one of these ideas or combine some of them to meet your style.